Here's a quick plugin overview of WP VR.
After you have installed and activated the plugin, click on the WP VR menu on your dashboard.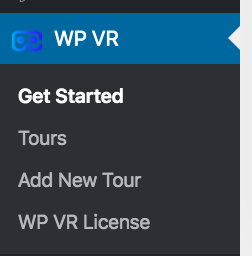 As you can see, under WP VR, you will get the following sub-menus:
Get Started
Tours
Add New Tour
WP VR License
1. Get Started #
When you click on WPVR it will by default take you to the Get Started page.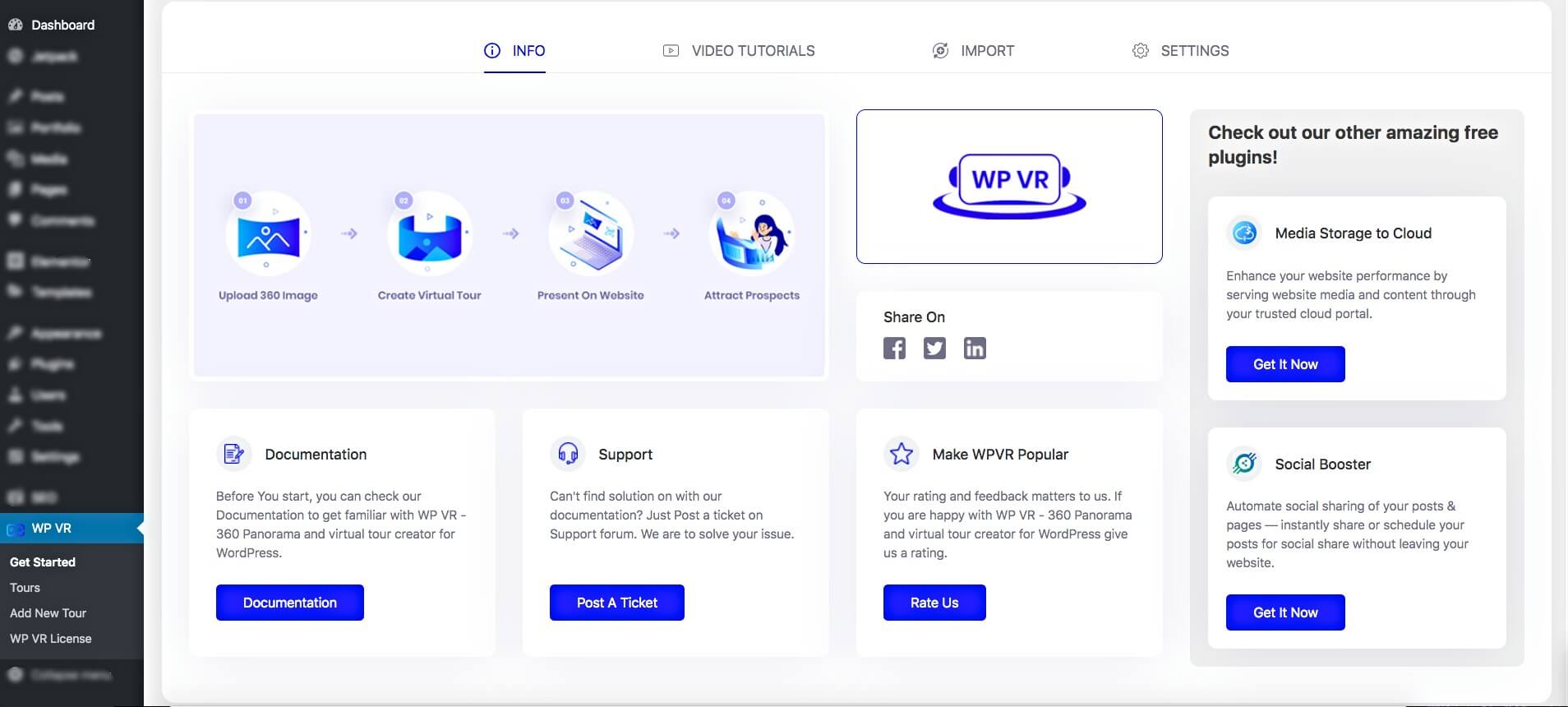 Here, you can see, on top, there are a few tabs:
Info
Video Tutorials
Import
Settings
Initially you will be on the INFO tab.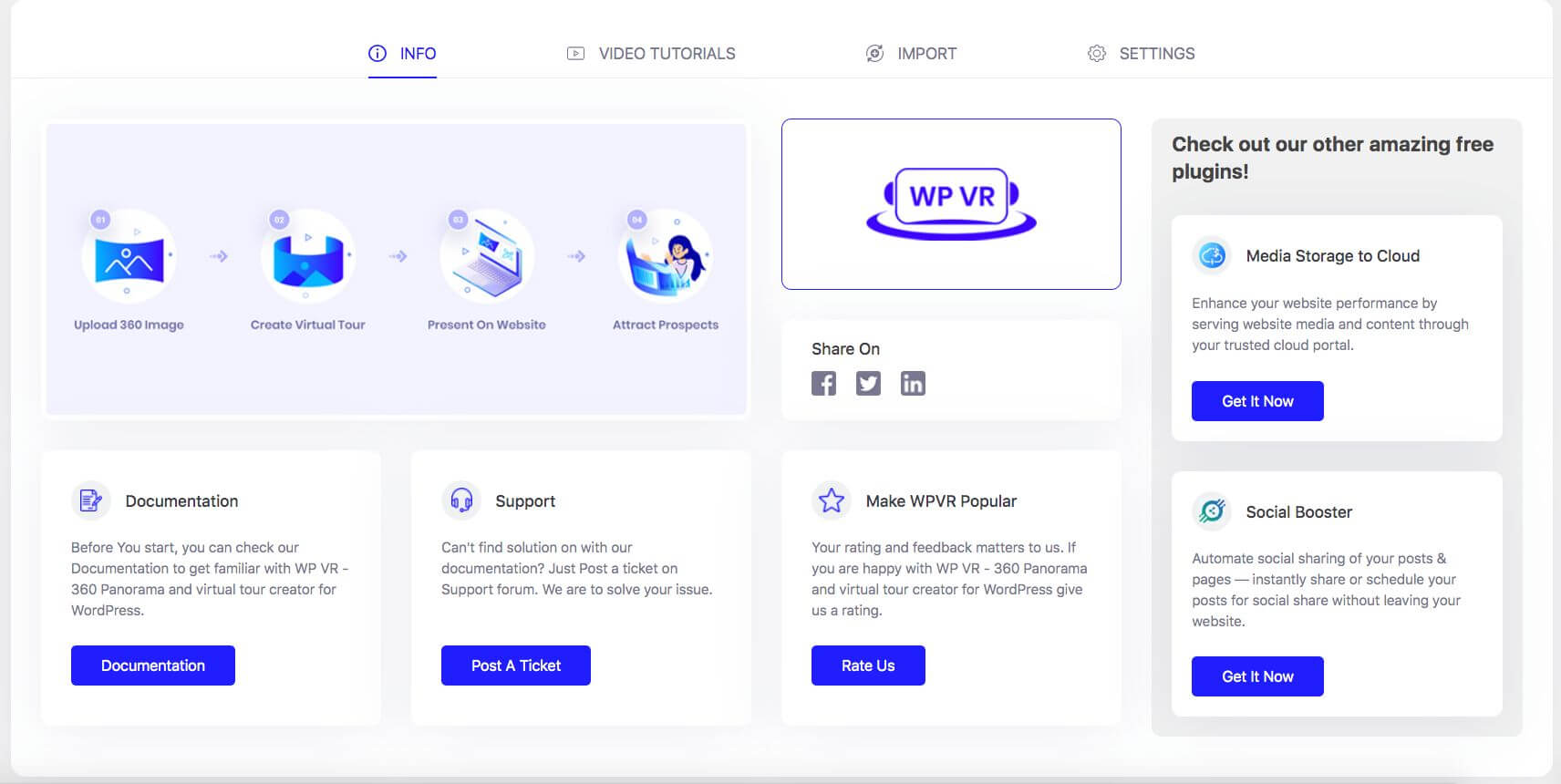 Here, you can get links to our documentation and support forum to submit tickets, or options to share the plugin on your social media or you can also check out some of the other plugins we created on the right side.
The VIDEO TUTORIALS tab will include tutorial videos to help you learn WPVR.

The IMPORT tab will let you import an external virtual tour created using WPVR.

For example, if you have a second site, and you created a great virtual tour on that site. Let's say you want to embed that virtual tour on this website as well. Then you can simply export that tour using WPVR and then import it here using this option.
In the SETTINGS tab, you will get several important settings and features.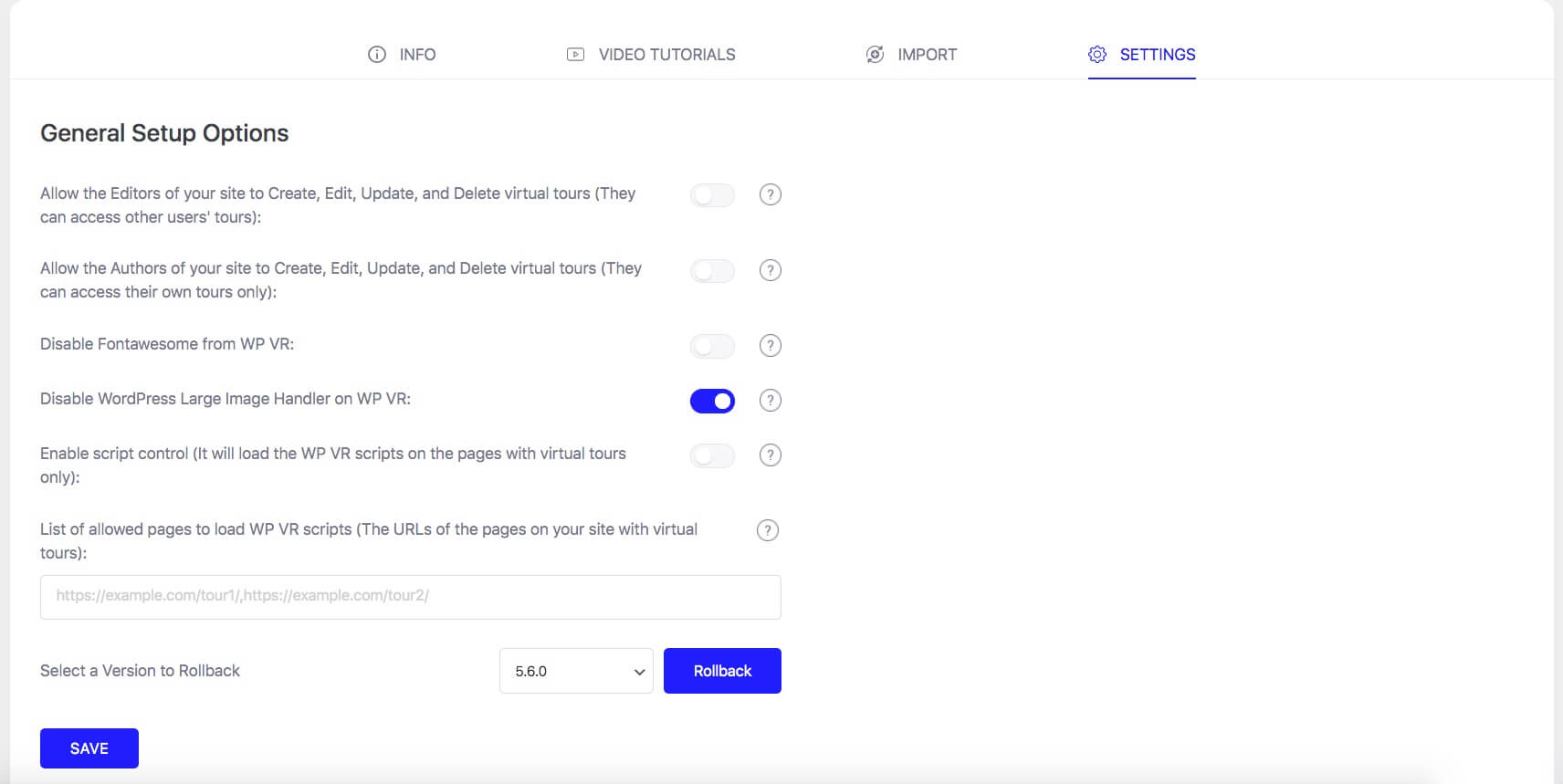 Here, you will be able to assign roles such as the Editor or Author to someone in your team to be able to modify or create tours other than yourself (the admin).
You can also disable Fontawesome icons from the plugin, disable WordPress default large image handler, and set it up so that only selected pages will load Scripts from the plugin.
2. Tours #
Next is the sub-menu Tours.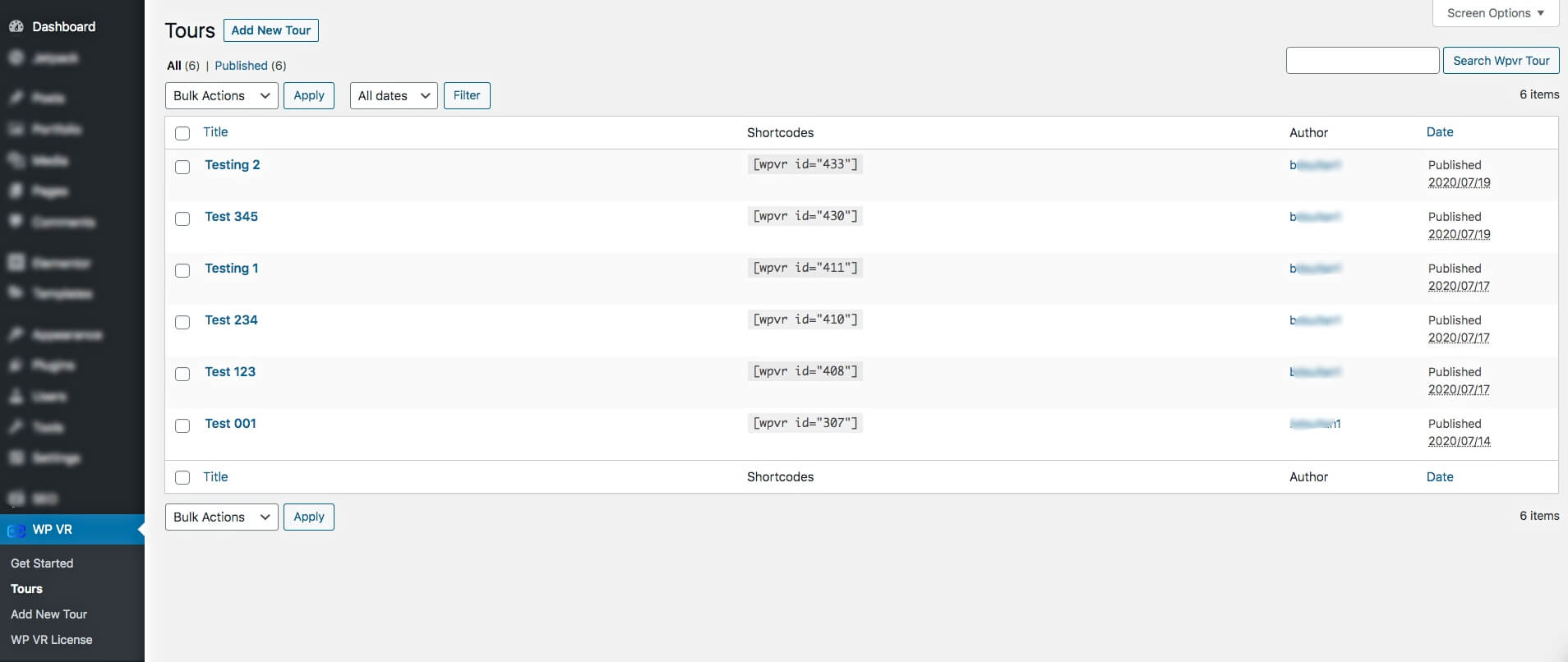 All the virtual tours you create and publish or save to draft will be listed here.
Here, for each tour you can see:
Title – The title of the tour you set.
Shortcodes – The shortcode generated for this tour.
Author – The user that created the tour.
Date – The date and time the tour was published/modified.
Here, you can copy the shortcode of a tour and use it to embed that tour on a page or post.
**You can only embed published tours. Even though drafted tours have shortcodes generated, they will only work when published.
When you hover the mouse on a tour, you will get few general options.

Clicking on Edit will take you to the tour edit page.
Clicking on the Duplicate button will create a copy of the tour and take you to the edit mode of the copied tour.
3. Add New Tour #
Going to Add New Tour means you will start creating a new tour.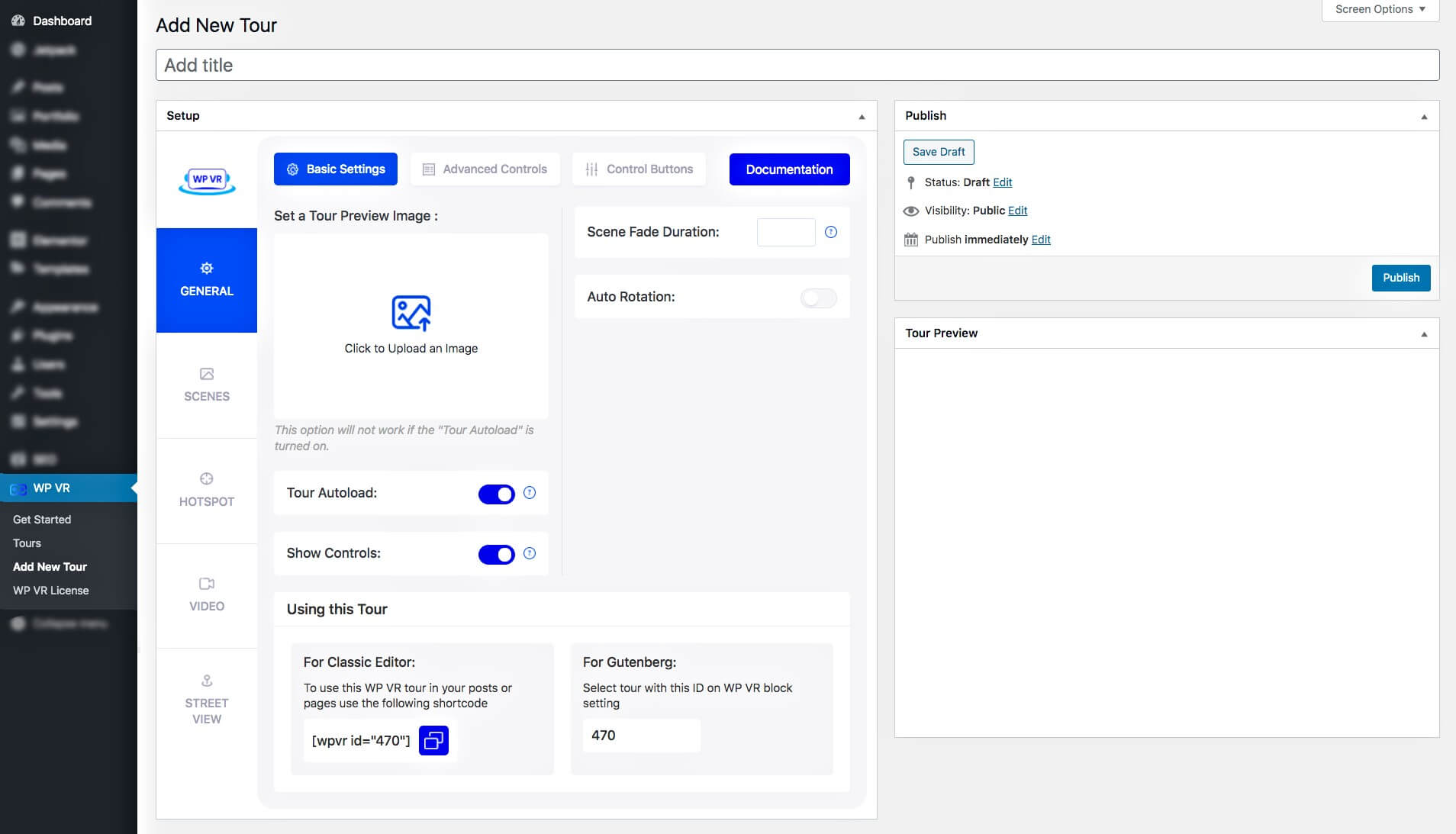 This is where you use all the features to create a virtual tour.
4. WP VR License #
When you upgrade to pro, this is where you need to come to input the license key and activate it to use all the Pro features.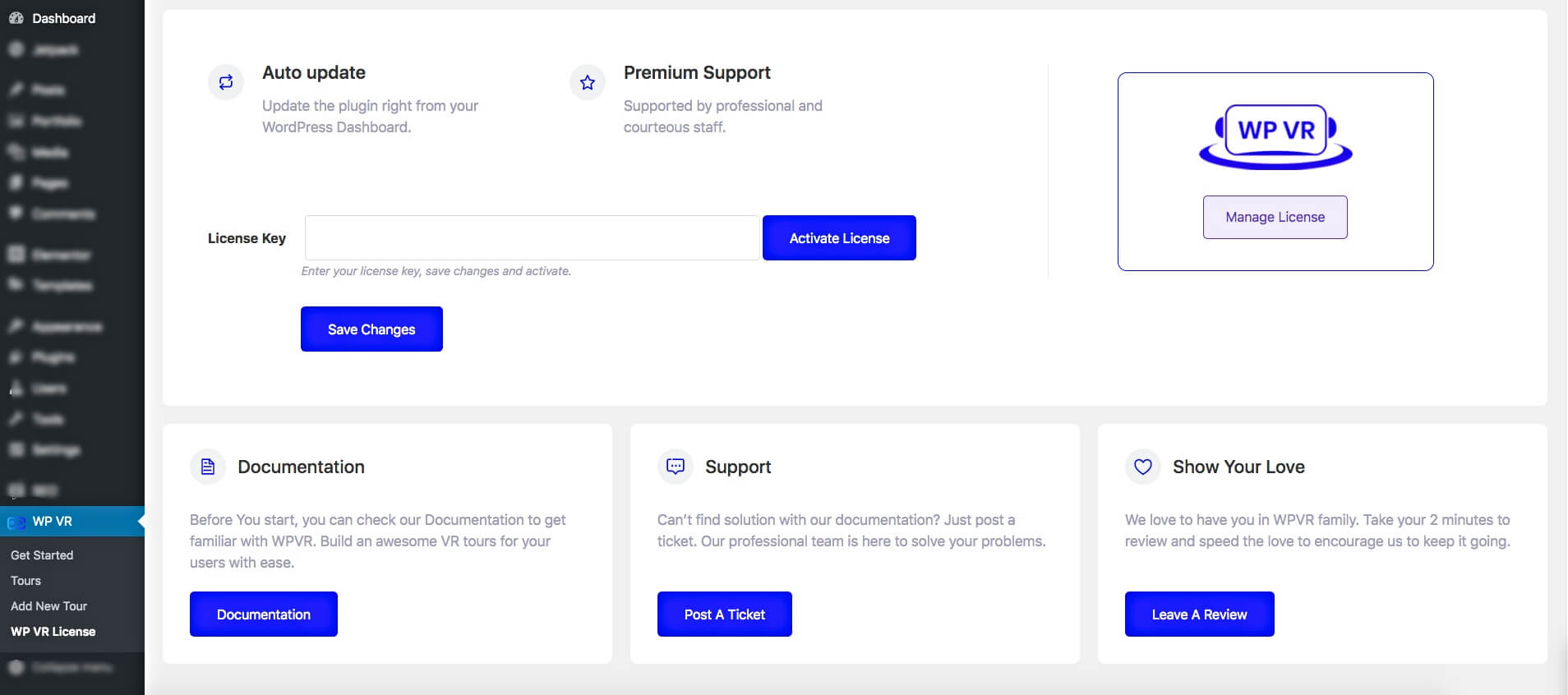 Here's how you can upgrade to Pro and activate the license.
Now, that you got an overview of the plugin, now let us move to learn about all the features that you will wish to create a virtual tour.