Cart Lift Pro is now fully compatible with Twilio SMS Service, which means, you can run abandoned cart recovery campaigns for your WooCommerce store using SMS as well as emails at the same time.
This will double your chances of winning back lost sales due to cart abandonment.
The average open rate for text message marketing campaigns is 98%.
Follow the step-by-step instructions below and start using Twilio SMS with Cart Lift Pro and increase your revenue.
So, once you install and activate the plugin, you need to first connect Cart Lift to Twilio and then enable SMS recovery for your abandoned cart recovery.
Let's get started.
1. How To Connect Twilio To Cart Lift Pro #
First, follow these simple steps for Twilio integration with Cart Lift Pro.
Step 1 – Configure Your Twilio Account #
If you do not have a Twilio subscription yet, then create one.
Once you have an account, verify your email address and phone number.
**Initially you will get a trial account, which you can upgrade at any time. To run successful recovery campaigns with SMS, you will need a Twilio Premium account. The trial version will only let you test the service out.
Step 2 – Collect Your Account SID and Auth Token #
You need to collect the Account SID, the Auth Token, and your Twilio number to complete the integration.
Simply go to your Twilio Dashboard and under the Project Info section, you will find your Account SID and AUTH token.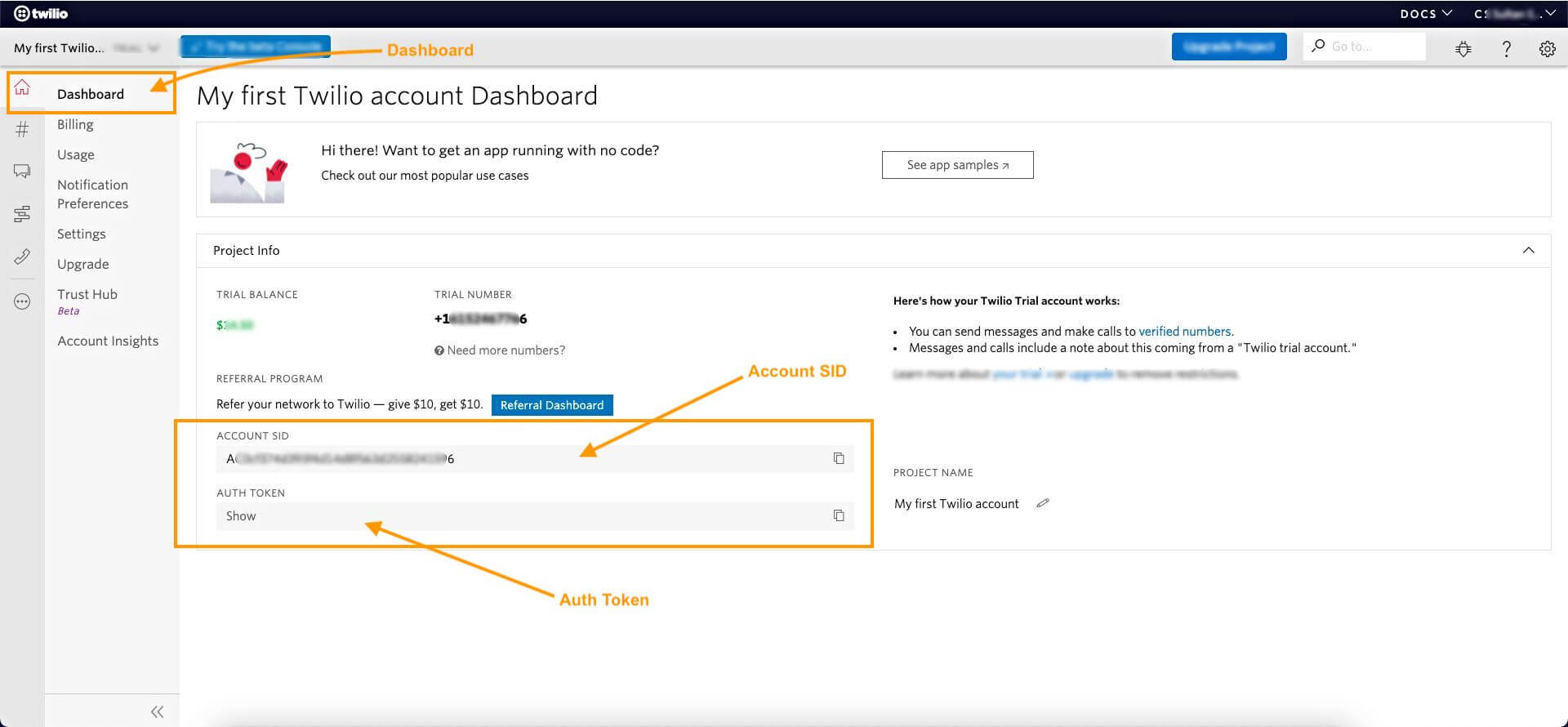 To find your Phone Number, navigate to menu with the # icon and go to Manage Numbers > Active Numbers. You will find your active numbers here.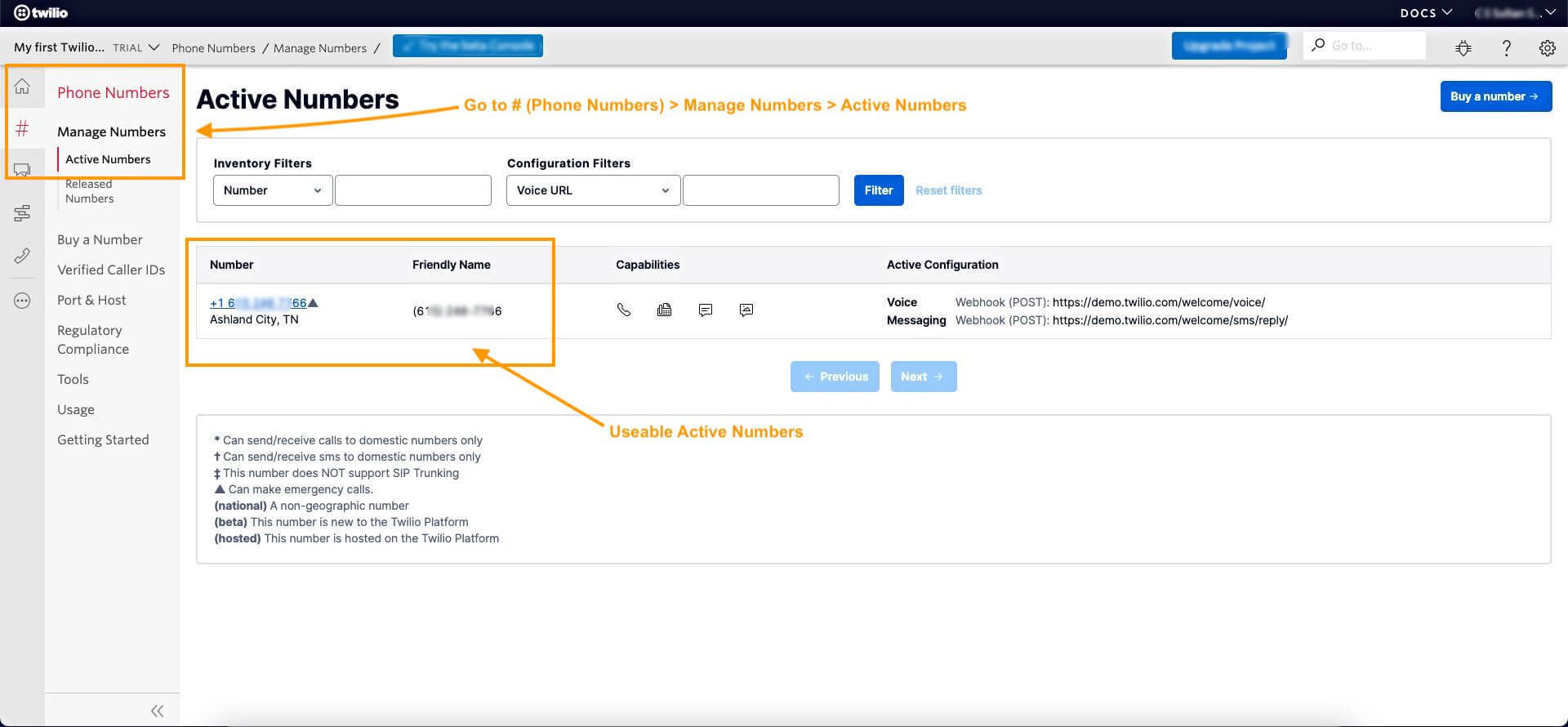 Now, that you know where your Account SID, Auth Token, and Phone number are, it's time to use them to connect Twilio with Cart Lift Pro.
Step 3 – Connect Twilio To Cart Lift Pro #
Go to Dashboard > Cart Lift > Settings and here go to the SMS tab.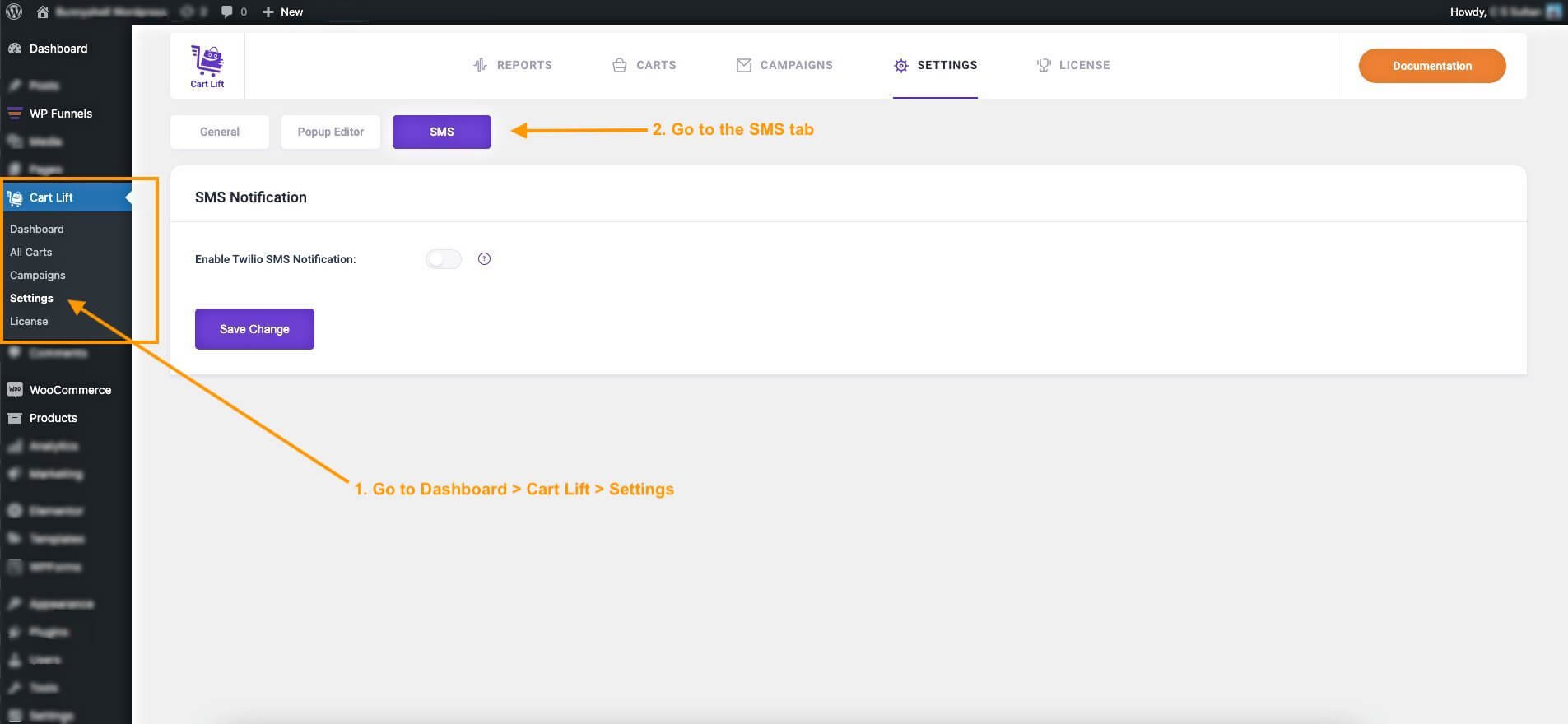 Here, enable the option 'Enable Twilio SMS Notification" and a few fields will appear for credentials to integrate with Twilio.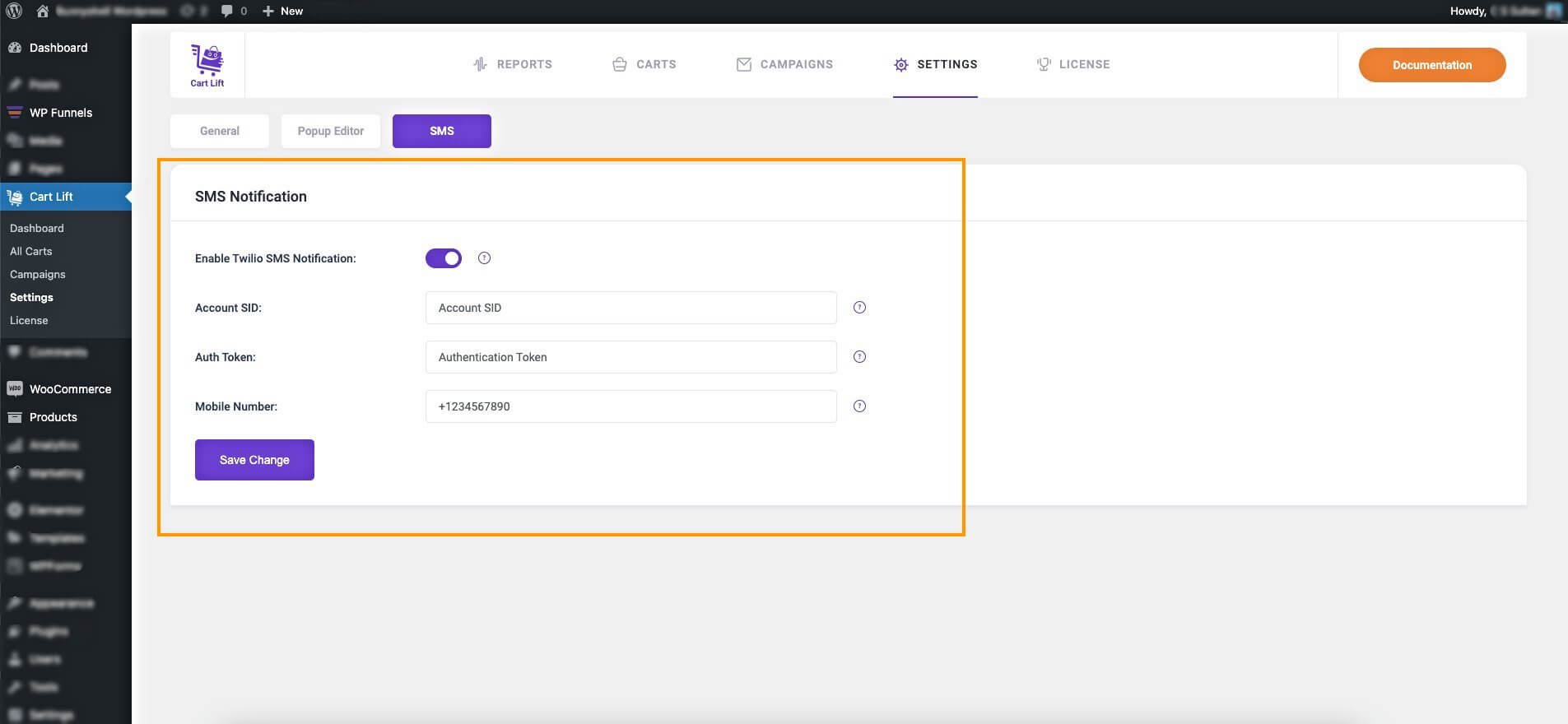 Input the Twilio Account SID, Auth Token, and the Mobile Number in their respective fields.
Then click on Save Changes.
That's it, the Twilio integration is initiated. The next thing to do is to set up the Twilio message for the recovery campaigns in which you want SMSes to be sent.
2. Start Using SMS Service For Abandoned Cart Recovery #
Step 1 – Enable Twilio SMS For Your Recovery Campaign #
First, go to Dashboard > Cart Lift, and click on the Campaigns Section.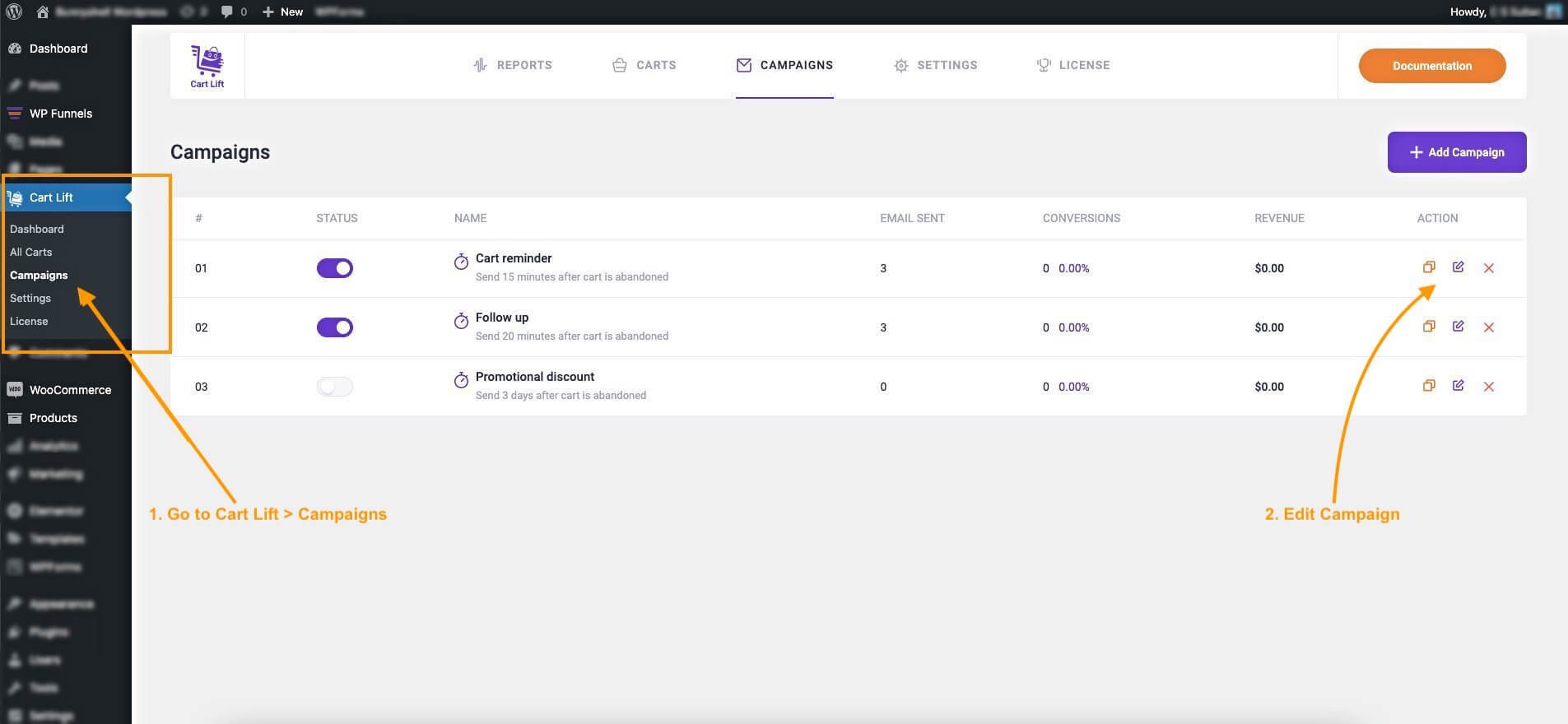 2. Here, edit a campaign in which you want to use the Twilio SMS service.
3. Scroll down and below the email body, look for the option, "Enable Twilio SMS" and Enable it.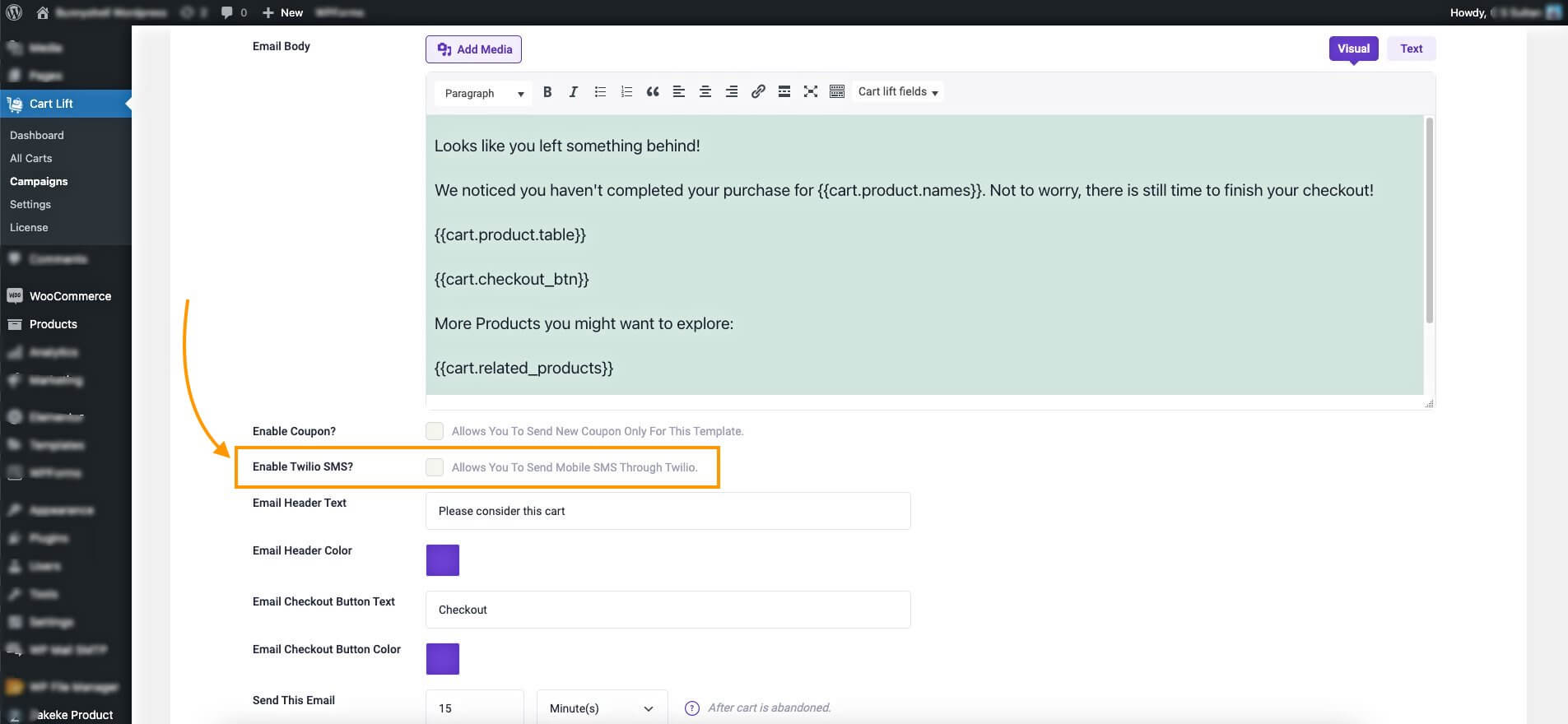 You will see a new section appeared called Twilio SMS Body.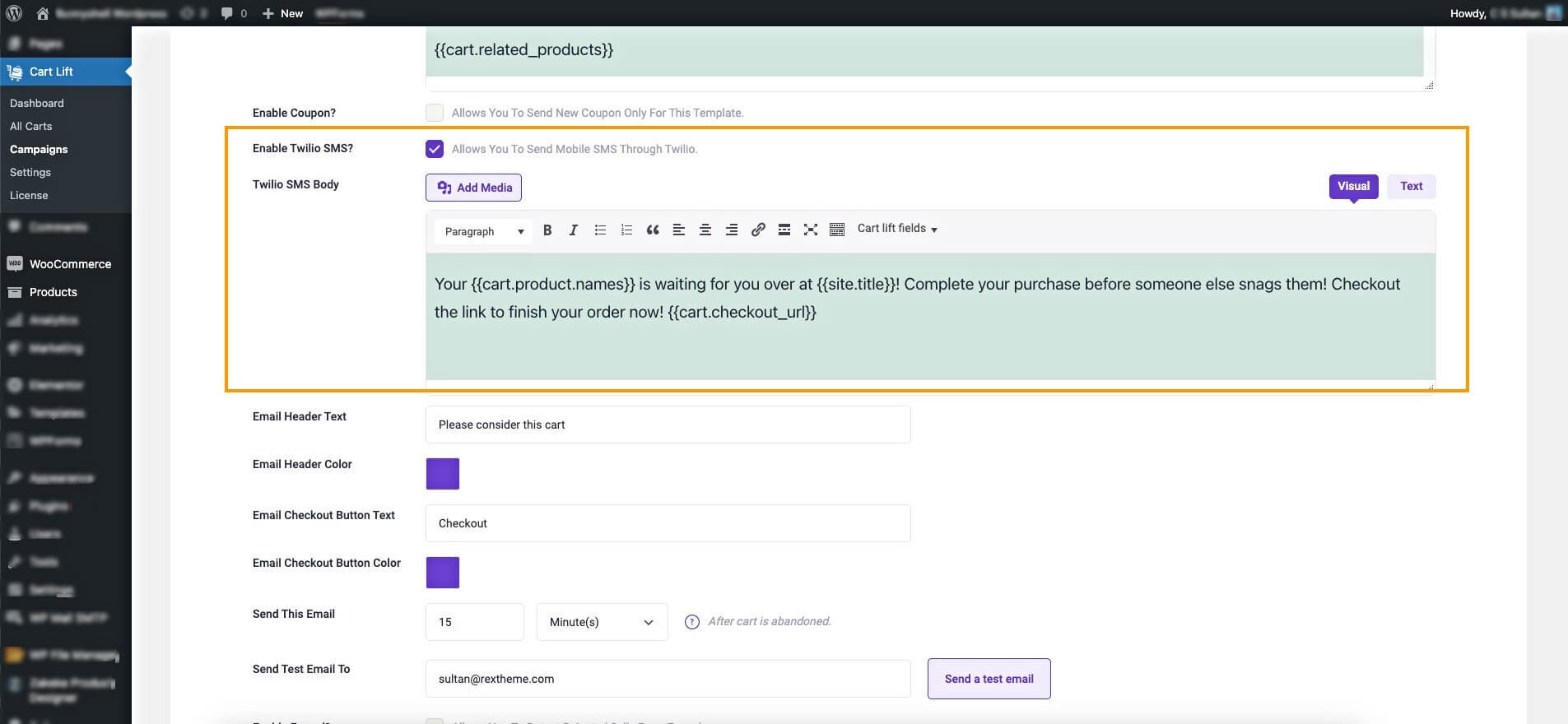 Step 2 – Set Up The SMS Body For Your Campaign #
1. Edit or use a compelling SMS to reach out to your abandoned customers.
Cart Lift will by default come with a good SMS copy. But you can make changes if you want to using the Rich Text Editor or Text View.
2. Use the Cart Lift fields to use dynamic data in the SMS as well.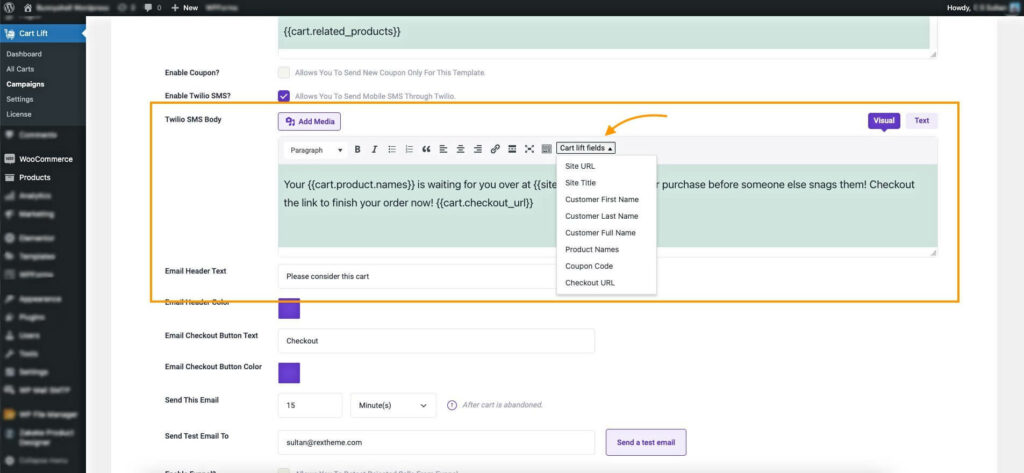 3. Scroll down and click on Save Changes.
And that's it. Your SMS integration with the abandoned cart recovery campaign is set up. Follow the same steps to enable this service or the rest of the campaigns as well.
From now on, any abandoned cart customer who filled out the phone number on the checkout page before abandoning, or has a user account with his number in the account details, will get an SMS reminder along with the recovery email.