If you're using WPVR free and looking for more exciting features like unlimited scenes, hotspots, and customization options, you should upgrade to pro.
The WPVR Pro will allow you to properly customize your virtual tours and give more control of the tour to your viewers.
Upgrading to WPVR Pro is a simple and easy process.
Follow these steps to upgrade to WPVR Pro.
Step 1: Get WPVR Pro #
You can get WPVR Pro from the plugin dashboard.
Go to your WordPress Dashboard > WPVR > Get Started.
Here you'll find a section for upgrading to pro.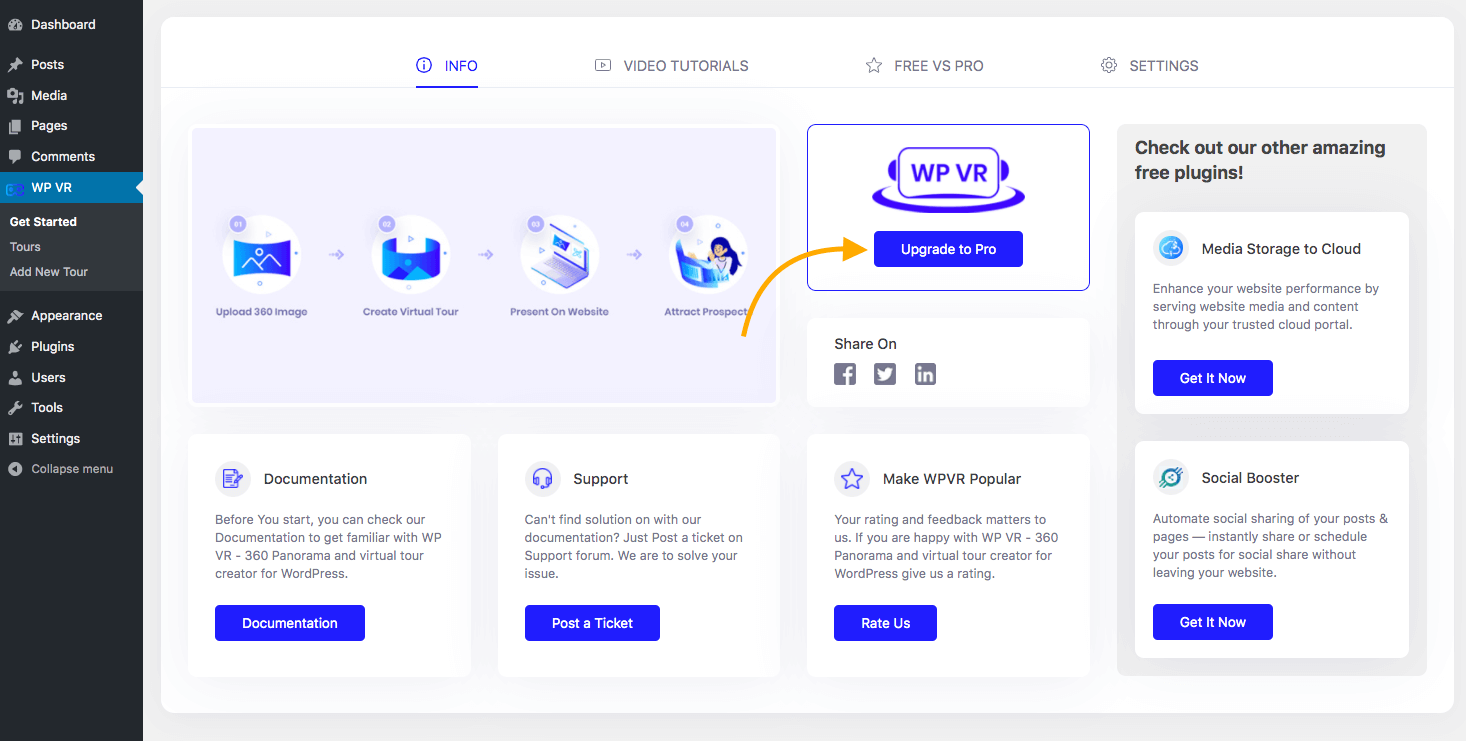 Click on the Upgrade to Pro button.
You can also click on the Free VS Pro tab on the top to check out the premium features you'll get on WPVR Pro.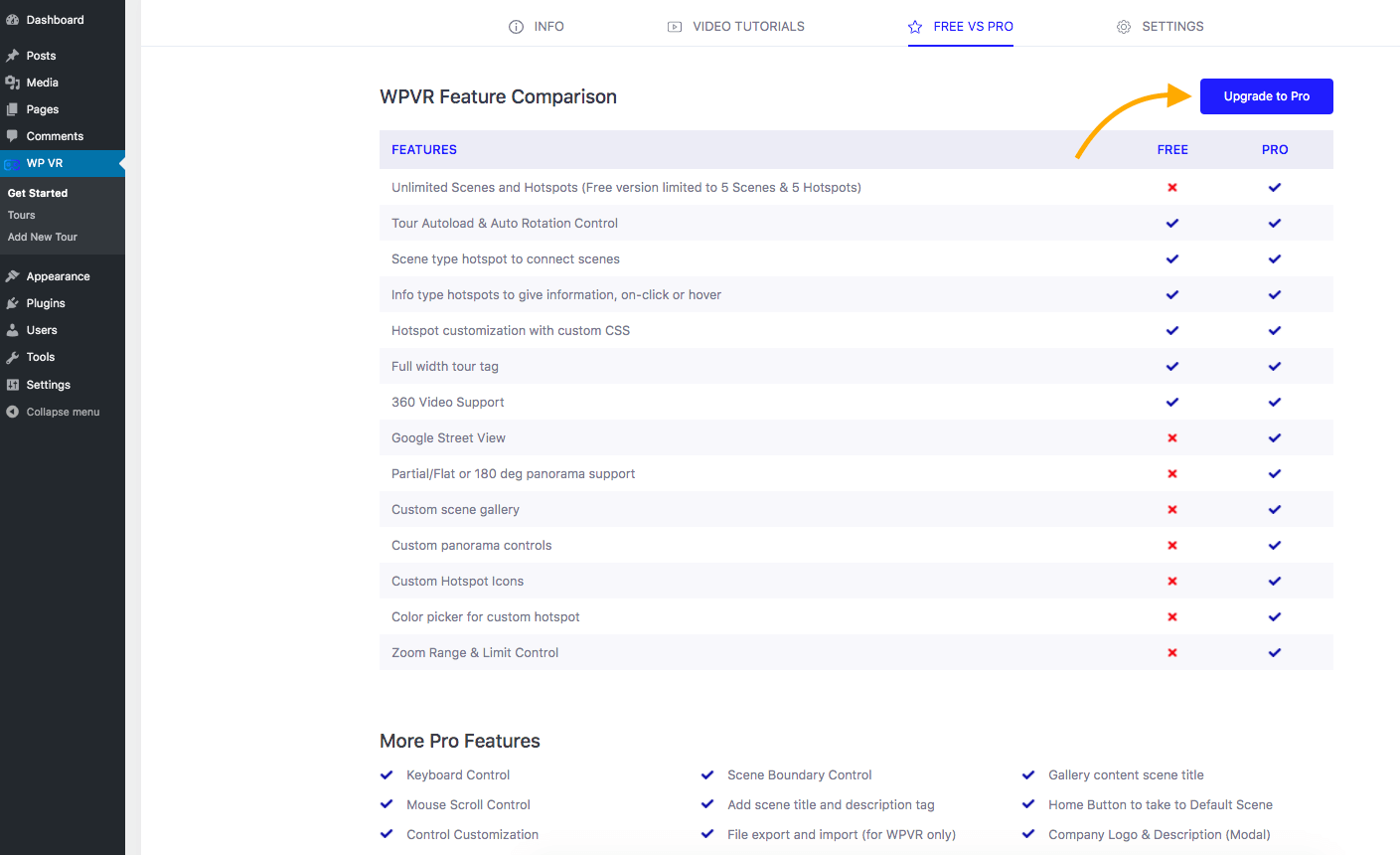 This page also contains the Upgrade to Pro buttons which you can just click to get the pro plugin.
After you click on the Upgrade to Pro button, you'll be taken to the WPVR plugin page.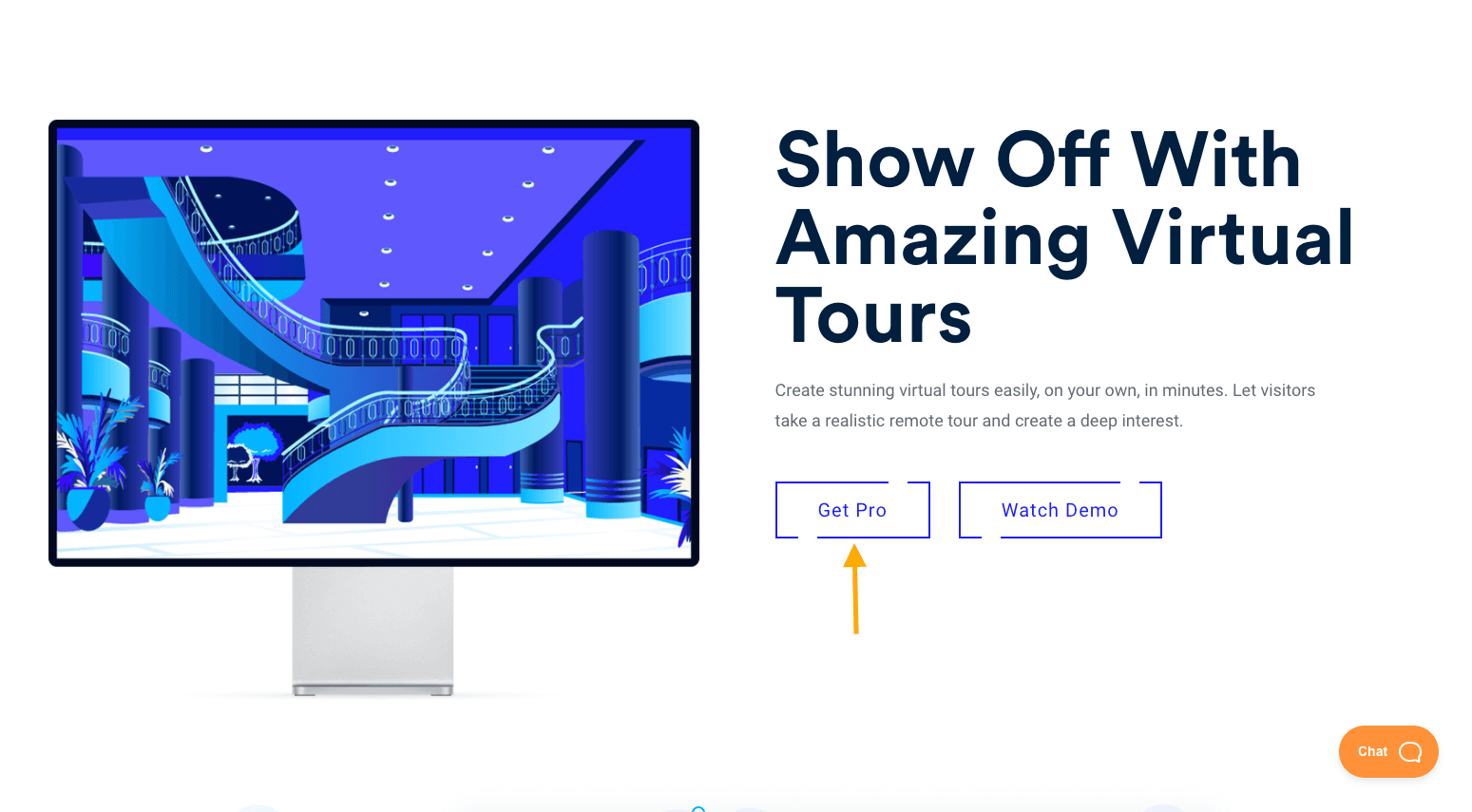 On the WPVR plugin page, click on Get Pro.
This will take you to the Pricing Plans section of WPVR.
WPVR has two different sets of pricing plans.
By default, it will show you the Annual Plans.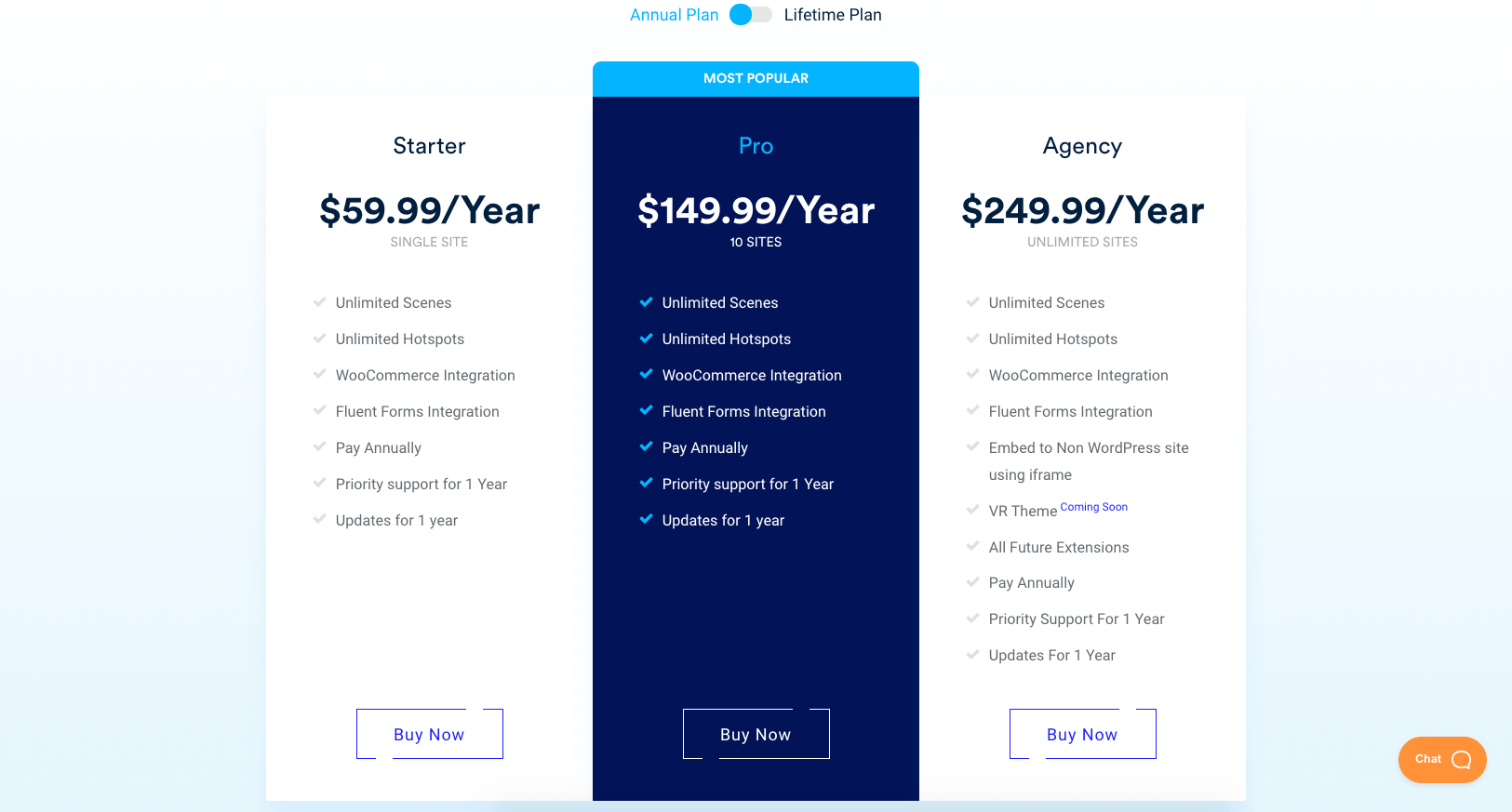 Click on the toggle option above to see the Lifetime Plans.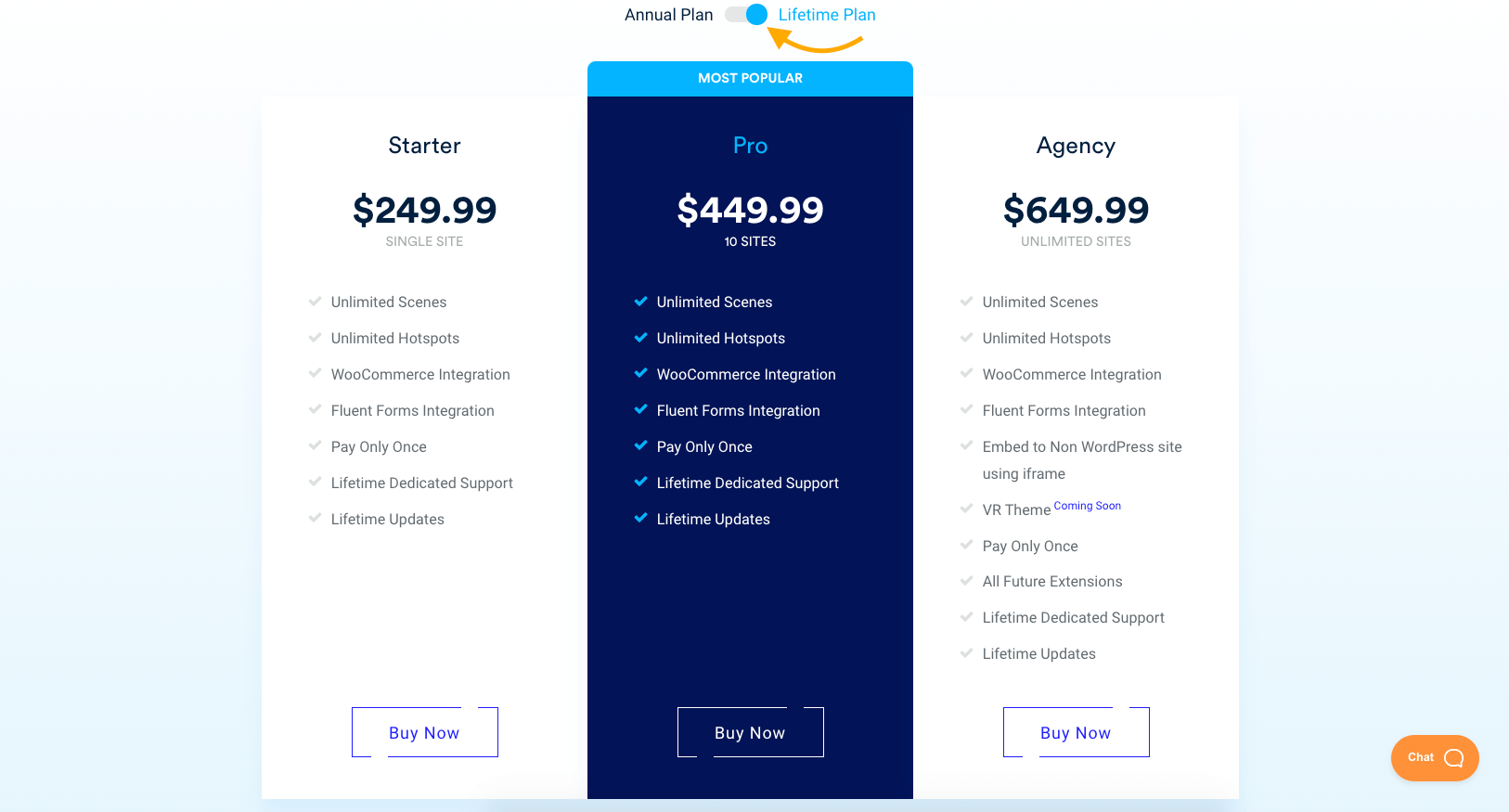 Select the plan which is most suitable to you and click on the Buy Now button below that plan.
Once you've selected your plan and choose to purchase it, you'll be taken to the checkout page.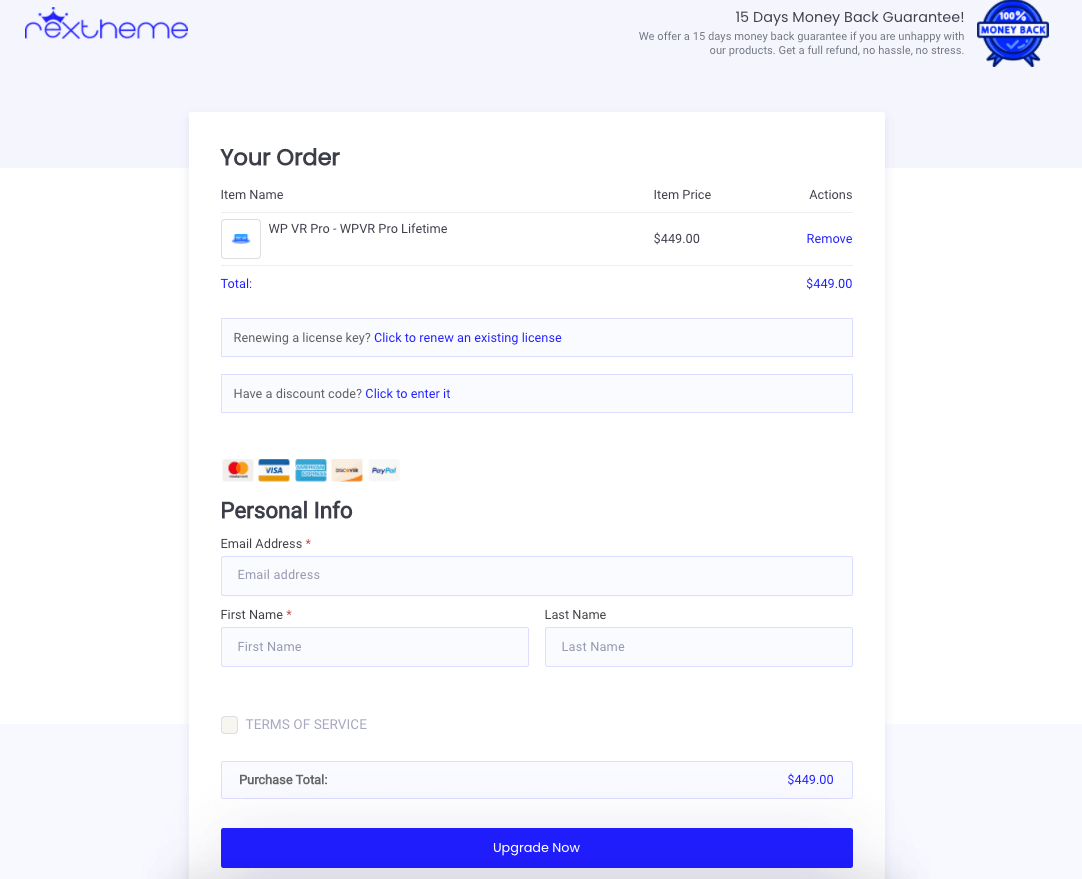 Provide your personal information on this page and click on the Upgrade Now button.
On the next step, you have to provide the payment information for your preferred payment method.
Once you're done with this process, you'll WPVR Pro.
You'll be notified when you've successfully completed the purchase. You'll also get an email from us which will contain your purchase details, your license key, and the 2 most latest versions of WPVR Pro.
2. Collect WPVR License Key #
If you couldn't find the email containing your license key, you can manually get it from your RexTheme account.
Go to the RexTheme homepage here.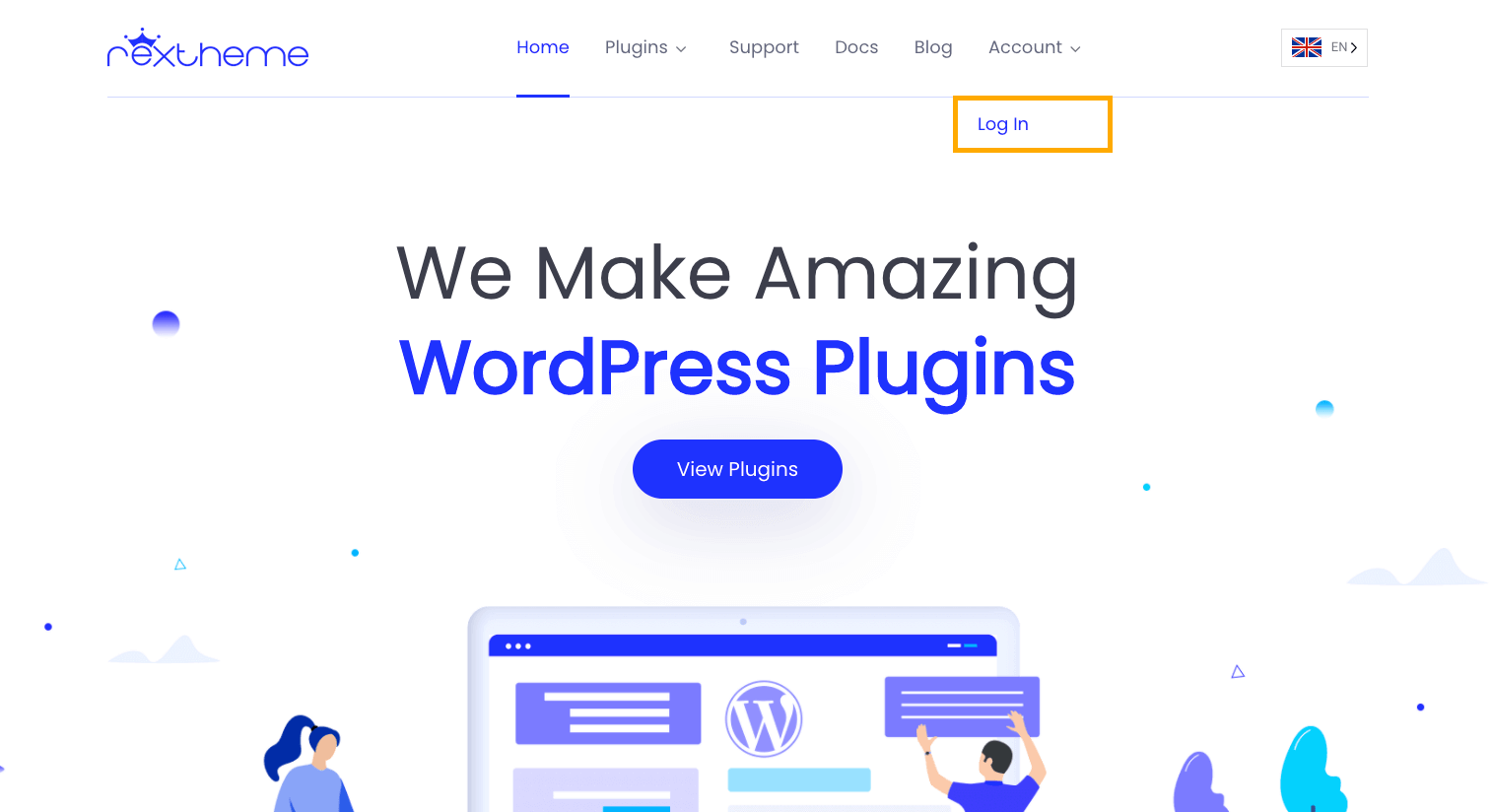 If you are not logged in, you will need to log in with the ID and Password that you set at the time of purchase.
Otherwise, you will be taken to your account page.
Click on the License Key section and you'll find the license key for your WPVR Pro.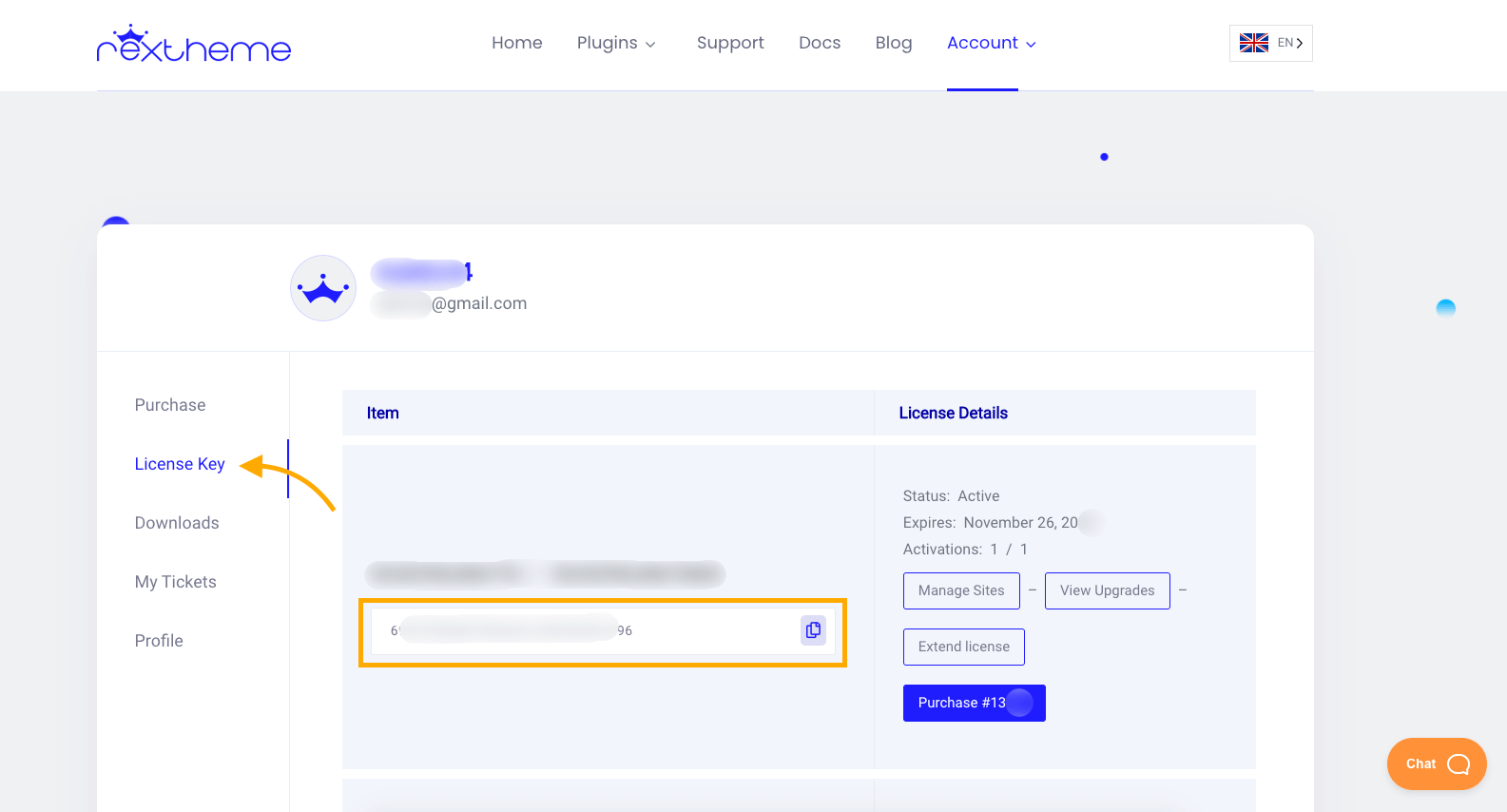 3. Activate WPVR License Key: Upgrade to Pro #
Once you have the WPVR-Pro zip file and the License Key, you are ready to upgrade to Pro.
**Make sure you have the WPV Free version installed and activated on your site.
Go to your Dashboard> Plugins > Add New.
On the top left corner, you will get the option to Upload Plugin. Click on that and upload the WPVR-Pro zip file.
Once you upload, install and activate WPVR-Pro, you will notice on your dashboard, a new tab has been added below WPVR called WPVR License.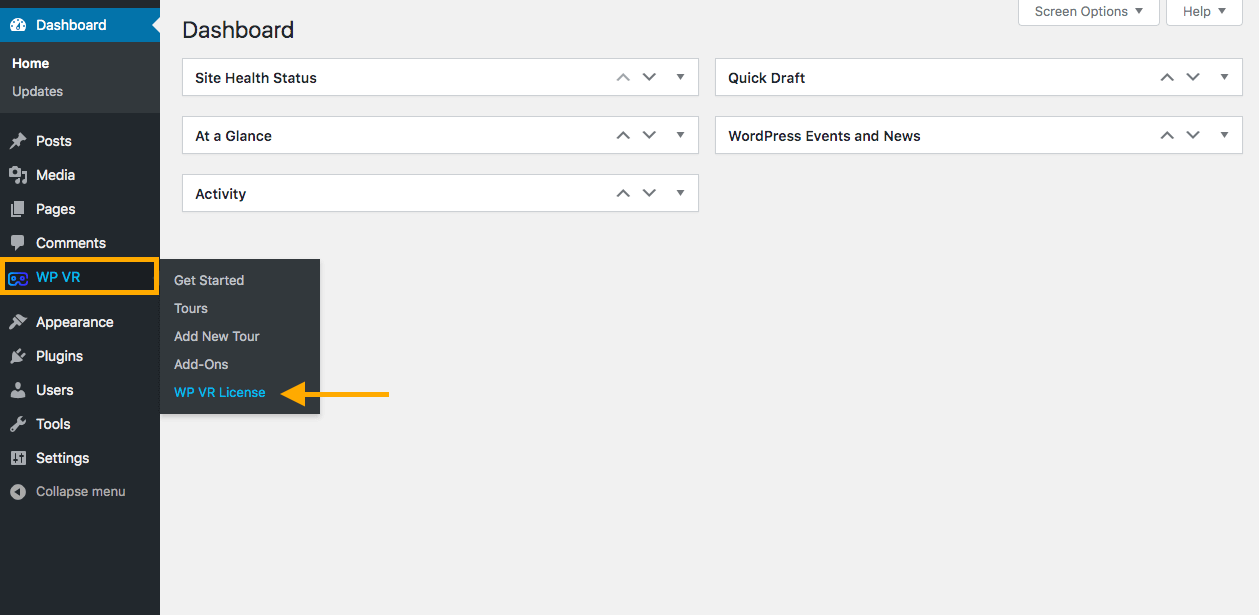 Click on this option.
It will take you to the License Key page.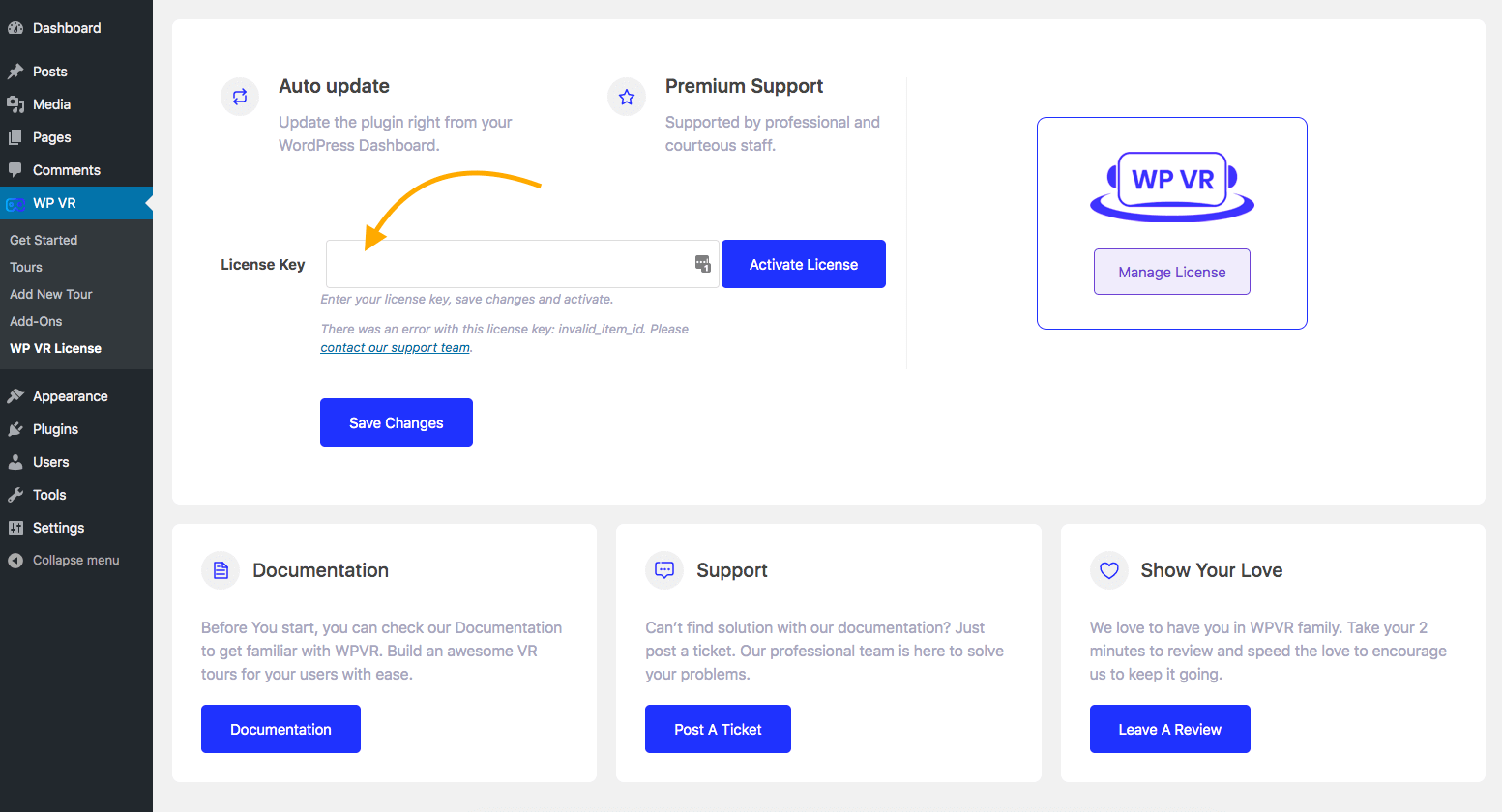 On the License Key field, set the license key of your WPVR Pro and click on the Save Changes button.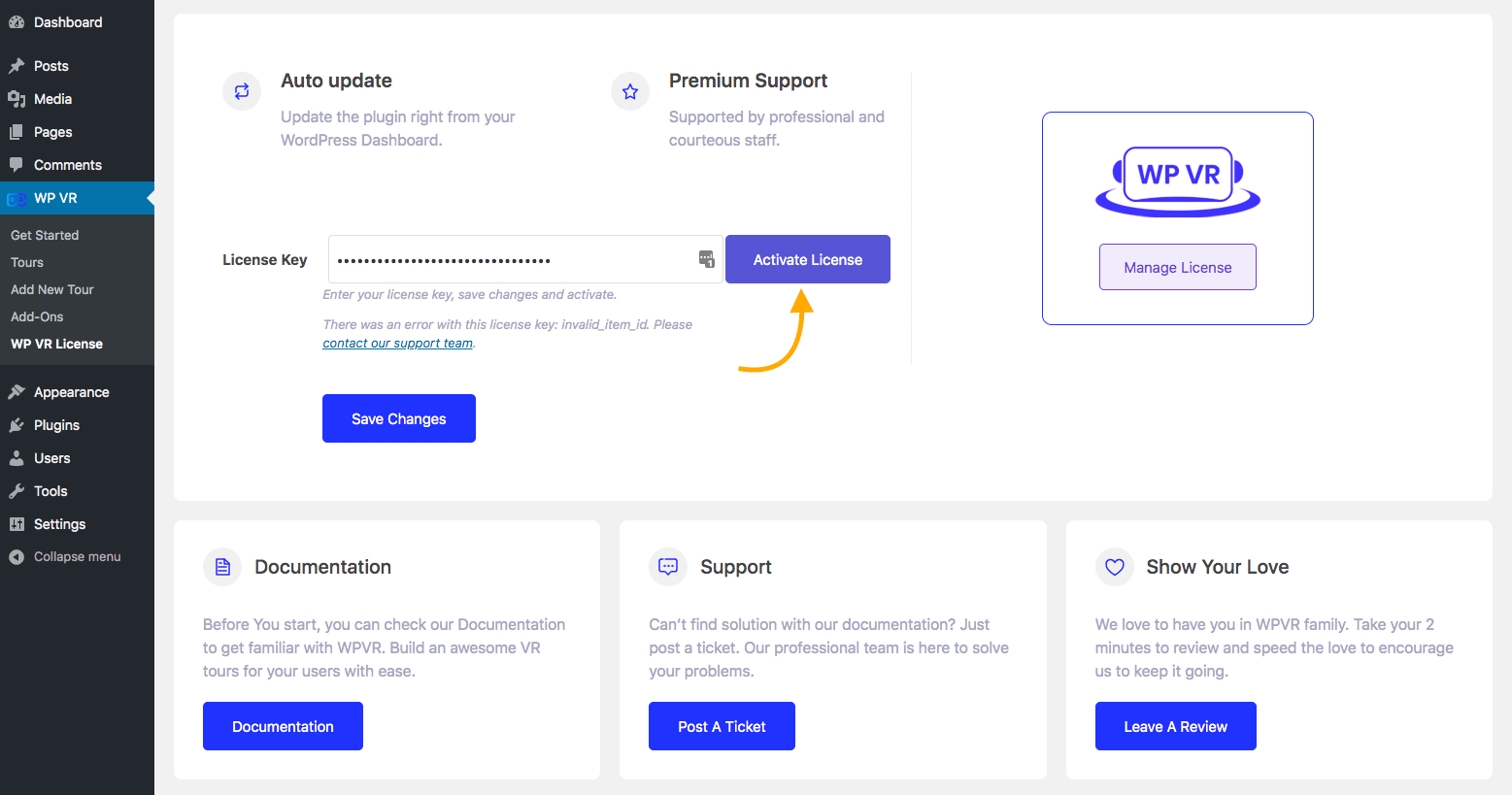 The page will reload.
Now click on the Activate License button.
**Make sure you've clicked on the 'Save Changes' button before you activate your license.
And that's it! You license key will be activated.