Last updated on:

9 mins read
How To Showcase A Luxury Hotel Virtual Tour To Get More Bookings Online [2023]
As a luxury hotel owner, you understand the importance of providing your guests with a top-notch experience.
However, with increased competition in the market, it's becoming more challenging to attract visitors to your hotel.
To stand out from the crowd, you need to explore new and innovative marketing strategies. One such approach is a virtual tour of your hotel.
A luxury hotel virtual tour will allow you to connect with potential clients by giving them a realistic, immersive experience. It will eventually help to amaze guests into booking it for their next trip or event.
Today, we will discuss how you can use a virtual tour to showcase your luxury hotel online.
After reading this article, you will learn:
How you can organize a complete virtual tour of your luxury hotel.
The right tools to create a compelling virtual tour.
How to make your virtual tour more interactive and optimized for bookings.
Eventually, you will have an edge over your local competitors online.
So let's begin.
How Virtual Tours Influence More Bookings For Luxury Hotels
Since the end of COVID-19, people are now more enthusiastic about traveling. And many tend to look for luxury hotels to experience amazing hotel service.
However, the biggest advantage here is that since the pandemic, people are now more accustomed to booking their trips online.
More and more people are getting comfortable booking hotels directly from websites.
Hence, it is crucial for you to make it super easy and exciting for your potential guests to book or reserve your luxury hotel.
Sure, high-quality pictures or high-definition videos are a great way to present your exquisite hotel.
However, a virtual tour here can make a huge difference in people's decisions.
Your potential clients may get a unique personalized experience and get more eager to visit your hotel just by looking at all the magnificent decor and top-notch services you offer.
For instance, the Ritz Carlton Hotel in Bali used a virtual tour to showcase its exquisite rooms, state-of-the-art facilities, and breathtaking views.
The interactive virtual tour allowed guests to experience the hotel's ambiance and amenities as if they were physically present.
You can do the same and make your hotel a prime choice to lodge at during trips.
With the interactive and immersive experience, guests can get a feel for the hotel's environment and plan their itinerary before arrival.
This level of engagement and personalized experience builds trust, and guests are more likely to book a room directly from your website.
Planning & Crafting Your Luxury Hotel Virtual Tour
Now that you understand the advantages of using a luxury hotel virtual tour let us look at how you may plan one for your website.

1. Capture 360-Degree Hotel Room Images
First, you will need a good 360 camera to be able to capture panoramic images of your hotel.
In this case, it's best to choose a high-quality camera so that you don't miss out on any single detail.
Quality is a key factor here because we are talking about a luxury hotel here, not a random local hotel.
Once you have the camera, you can get a gizmo or a tripod (or maybe a drone) and capture 360 panoramic images of your hotel facilities.
In case you are uncomfortable with taking pictures on your own, you may hire professional photographers to do it for you.
They will be able to maintain proper lighting and high-quality output.
2. Use A Virtual Tour Creator That's Easy To Use & of High Quality
Once you have the 360 images ready, you may go ahead and upload them to a reliable virtual tour creator to craft stunning virtual tours.
There are several tools out there. It's important to choose one that has all the features that can make your virtual tour more immersive.
If you have a WordPress site, then you may use WPVR, which is the no. 1 VR plugin out there, and perfect to showcase your virtual hotel tour online.
3. Create Virtual Tours For Each of Your Facilities
Since it's a luxury hotel, it's likely that you have a lot of facilities available for your customers.
And a single virtual tour of the whole hotel will be quite difficult for your clients to browse through in full.
It may often confuse people and drive away potential clients.
In this case, create separate virtual tours for specific room types along with the bedroom and bathroom, plus the added facilities such as a private pool or jacuzzi.
Then, create more tours for each of your grand luxurious halls, garden, game zone, fitness center, food cuisines, or maybe the casino (if you have one).
And then, create a central landing page to highlight all your facilities and allow clients to visit the facilities they are interested in.
Having separate tours for each will help clients only to visit what they are looking for and not waste their time.
In fact, you can have a separate landing page for each of your facilities which will allow you to rank higher on SERPs for your potential clients.
How To Optimize Your Luxury Virtual Hotel Tour For More Engagements
Creating your virtual tours is just half the task. Making them more engaging and resourceful is the main challenge here.
Rather than giving a playing 360 environment to browse through, including a few elements to it to make it feel more realistic and personalized.
Let us look at a few features that you should consider using when creating your virtual tours.
1. Use Interactive Content To Add More Interesting Details To The Tour
Make your tour more informative so that the visitor can find it more exciting to go through.
A good way to do this would be to use informative content via hotspots in your Hotel 360 tour.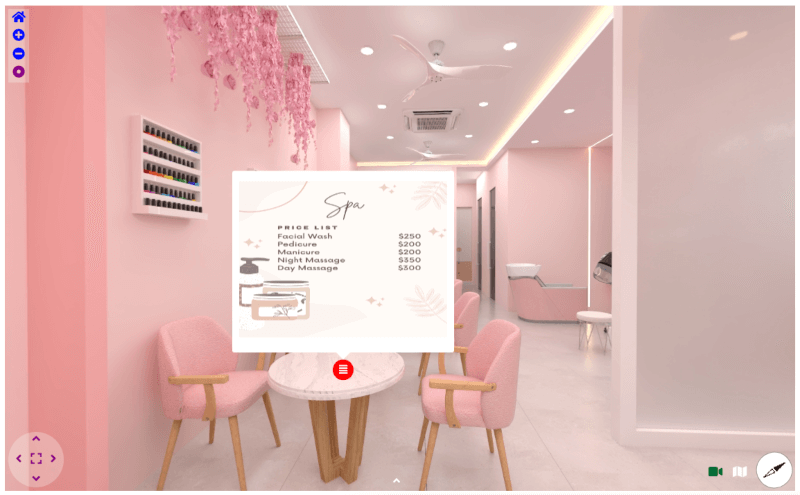 The hotspots are like small icons that visitors can click to get more information, such as:
Texts.
Images.
Promotional Banners.
Videos.
Room details.
GIFs, etc.
In your tour, you may level these information bubbles on top of specific items or resources to give more details to your clients.
For example, if there is a rooftop pool for members only, then you can add a hotspot at the ergonomic desk by the pool to give details on becoming a member, along with a video of how enjoyable it is to relax in the rooftop pool.
This is a great way to personalize with potential clients.
2. Communicate Through An Explainer Video
The hotspot option sounds great, but what if you could communicate directly with your prospects when they visit the tour?
That's exactly what an explainer video will allow you to do.
An explainer video on a virtual tour is basically a small video screen on the right corner of the tour which visitors can play while taking the tour.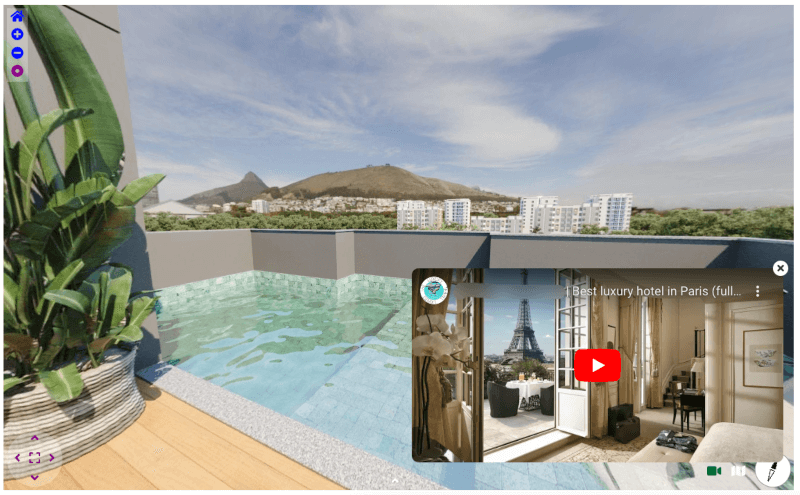 Here, you can leave an introductory video or explain your facilities in detail via a well-planned video.
This could act as an elevator sales pitch to convince the client to book your luxury hotel.
3. Land Bookings Within The Virtual Tours
Let's say a prospect browsed your Premium Room with a private pool. What now?
Does he have to go to an external page to confirm the booking, or maybe call you?
No need! Let your clients place bookings while experiencing the virtual tour.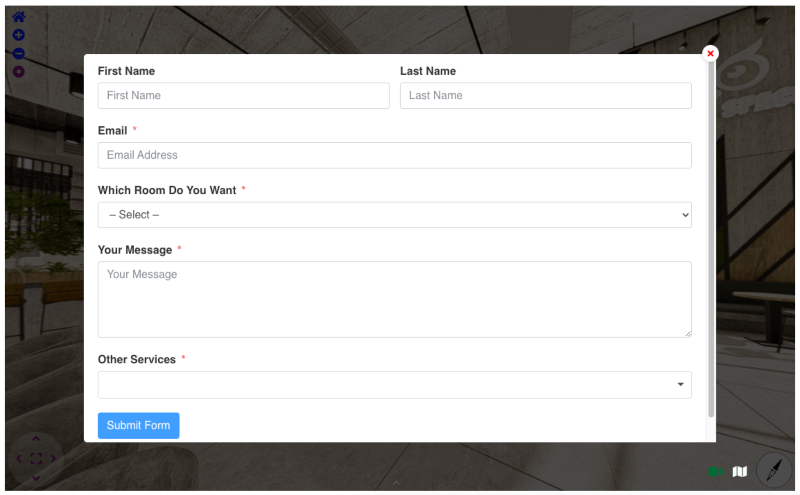 This will help to increase your number of bookings as the prospect will have no chance of getting distracted from his decision.
4. Guide Your Clients With An Interactive Floor Plan
In case you do choose to include a central virtual tour that leads to various facilities, you may include a floor plan of your hotel to help the visitor navigate through the tour.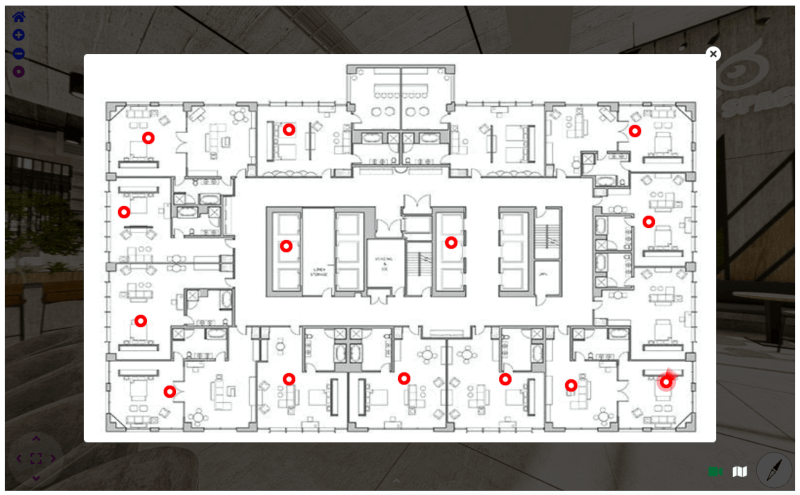 This will help the clients to get accustomed to your luxury hotel even before visiting it in person. Plus, it will act as an added element of getting the prospect more excited about the tour.
5. Offer A Realistic Experience With VR Headsets
Apart from taking a realistic tour on a desktop or a mobile, you may also allow your clients to get a complete VR experience via VR headsets.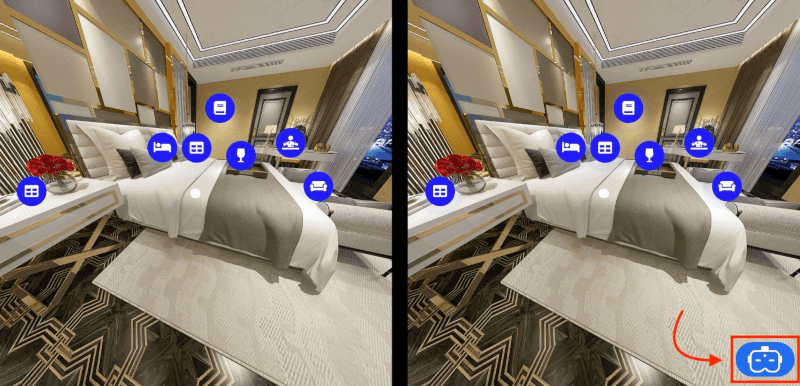 People who love virtual reality often enjoy direct virtual tours.
Naturally, they are excited to travel and visit beautiful places. If your luxury hotel is well-decorated, it will help pique the interest of such clients.
It will not only make the experience near-perfect to reality, but it will leave a long-term good impression on your quality.
6. Optimize Your 360-Degree Hotel Virtual Tour For Smartphones
Since this is the age of smartphones, it's evident that you should make your virtual hotel tour optimized for smartphones.
Responsive Tour:
In most VR plugins, you will find a way to make the tour responsive for mobile devices with Mobile Media Resizer and make the tour more smooth and more enjoyable.
Gyroscope Support:
Gyroscope will let your visitors enjoy the virtual tour by moving their smartphone devices around just like they would have to move on a live visit.
Overall, if you can make the experience hassle-free and attractive at the same time.
Using A Virtual Tour Creator You Can Rely On – WPVR
Now that you know how you can start using luxury hotel virtual tours and attract more clients, a crucial part of your whole plan will be choosing the right tool.
In WordPress, the best plugin to help you create the stunning virtual tours you want is WPVR.
It is the only WordPress plugin that comes with all the amazing features that help to increase engagement in your virtual tour while being reasonable in price.
You will find several features, such as :
Custom Hotspots.
Booking Form Embed.
VR Headset Support.
Minimap.
Explainer Video.
360 Video Tours.
Custom Navigation Icons.
And many more.
Final Thoughts
Using a luxury hotel virtual tour can be a game changer to help you stay ahead of your competitors.
And, if you can advertise your website well, these tours will help you increase your conversion rates significantly.
So go ahead, and prepare to create your own luxury hotel virtual tour and grow your online bookings in no time.