Laatst bijgewerkt op:

11 min gelezen
Zet uw WooCommerce site om in een online virtuele winkel [2023]
Online sales have gone up and recently, people are more comfortable buying from home than visiting a store directly. But, just like some products sell more online, there are products that people prefer buying in person.
For example, if you are selling products such as home decor, electronics, kitchen appliances, etc., your buyers may not wish to purchase them online based on mere images and descriptions, even if you have a well-organized WooCommerce store.
What if you could combine them both? What if you could create an online store, where people can get a similar experience that they would get on a live visit, while still being able to order products?

Guess what, it's possible. Simply create an online virtual store.
An Online Virtual Store will help you make the shopping experience more realistic for your buyers by letting them take a tour of your shop and, view and order products right from within the virtual store.
Today, you will learn how you can turn your WooCommerce store into a 360 virtual store, and why you should use it actively.
So let's begin.
Why Use Virtual Store Tours? Do They Really Work?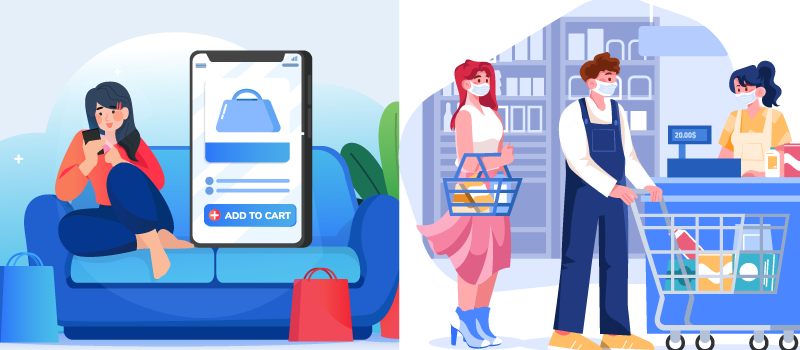 Two out of every three people recognize and enjoy virtual tours. And if you can use virtual tours in the right way, then your WooCommerce sales may significantly go up.
Following are some of the reasons why you and your buyers will love using an online virtual store:
Save Generous Amount Of Time
Customers can save a lot of time when they shop with a virtual tour. They don't have to spend extra time traveling to the stores. Instead, they can just visit the virtual store and buy the products directly.

**People are often reluctant to purchase a product just because they have to get out of their house and visit a store. A virtual 360 virtual store will mean they will now be comfortable ordering whenever they please.
Never run out on supplies
If you are the manufacturer of your products, then you do realize that you may often run out of stock and need to get more supplies from your warehouse. This is pretty common for shops that sell clothes, spices, cosmetics, etc.

The drawback here is, on a busy day, when you run out of stock, a potential buyer may go ahead and get the product from another nearby shop. So you lose a sure-sell.

But, an online virtual shop will mean the buyer will still get the shopping experience, while there will be no chance of getting out of stock. You can simply deliver directly from your warehouse.
Make Holiday Sales Easier
During the holidays, markets and shops are packed. It's quite difficult to deal with the crowd, waiting in line for checkout, not being able to inspect a product due to others checking it out, etc.

This may lead several buyers to consider hurrying up and not purchasing a lot of the things they initially planned for. But if you use a 360 virtual store, then the buyer will have enough time to peacefully look around and purchase everything he wanted. He may even end up buying more stuff.
There are several other advantages, but these are the most significant ones.
How Different Businesses Can Utilize Online Virtual Store Tours
Virtual Tours in WooCommerce Sites include the products that a buyer can purchase directly from the store. Your customers can explore your virtual store, and easily add any product they like into their carts from within the tour.
And then, once they are ready, they can simply visit the checkout page and complete the purchase in just a few seconds.
So, when you allow your customers to shop in a virtual store, you're allowing them to shop from the comfort of their home – thus increasing the possibility to sell more.
Let's take a closer look at a few businesses where virtual store tours have a lot of potential.
Virtual Retail & Wholesale Stores
Virtual Store Tours can be a must-have method for both retail and wholesale businesses.
Rather than showing a few products in a small shop, you can create a whole virtual store with a larger space where you can show all your products in a broader view.
Virtual Store Tour will let your customers shop without any inconvenience and give them a personalized purchasing experience.
As a retailer, you can expect people to order from you more frequently, and then handling the delivery is quite easy, since you can deliver directly from your warehouse.
Virtual Book Stores
Buying new books has always been quite difficult from a physical store. You may not always realize what type of books you want or what books are available.
A virtual bookstore may solve this problem. Simply create separate views for separate genres and allow your buyers to move to the area with their desired genres in a few clicks.
Plus, the added control in your tour will allow you to view some unique descriptions of the book by hovering over it. And then you can allow clicking to view and order it.
Books can satisfy the heart's hunger. But it's not always possible to go to a store, check different genres, and find a suitable book.
This is a great way to represent your WooCommerce store when selling books.
Virtual Fashion & Lifestyle Stores
Fashion and Lifestyle stores usually contain makeup, clothing, and other fashion accessories. And a virtual store may be the most effective for businesses in these industries.
Famous brands like Ralph Lauren and Sephora are already utilizing virtual tours to showcase their available products.
Just imagine how amazed and delighted your customers will be when they get an immersive experience while shopping for their luxury comfort item through a virtual tour on a WooCommerce website.
So if you are selling clothing products or luxury items, then you should definitely consider preparing an online virtual store for your business.
How to Create a 360 Virtual Store Tour- Step By Step Guide
There are several no-code app builder tools to create Virtual Tours. However, we propose using one of the simplest WordPress plugins available, WPVR.
WPVR plugin is available in both free & pro versions. It is one of the easiest plugins to build virtual tours for your WooCommerce store.
It's simple to understand and all you have to do is take clear 360 panoramic images of your store and include them in your virtual store tour.
You can even use either DSLR Cameras or iPhones to take stunning panorama pictures.
For your WooCommerce Store, you'll need the WooCommerce addon as well as WPVR Pro Version to let your customers shop with the virtual store directly.
Keep reading the following guide to learn how to do that.
Here's how you create an interactive online virtual store tour for your WooCommerce Site.
1. Install & Activate WPVR Plugin
At first, you'll need to install the free version of the WPVR Plugin. For this,
Go to your WordPress Dashboard -> Plugins -> Add New
Search for WPVR and the plugin will come up in the search results
Install and activate the plugin.
Now you'll need to upgrade to the pro version of the plugin to get the WooCommerce Addon.
Once you've upgraded and activated your license, install WooCommerce following the same steps as before and activate it.
2. Get the most out of your WPVR Plugin
Following the installation and activation of the plugin, a WPVR section will appear. Go to the WPVR and select General Settings from there.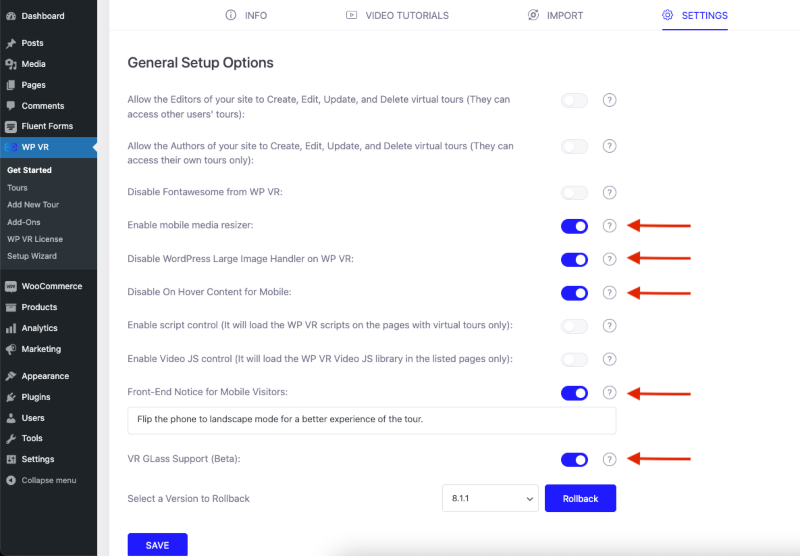 Mobile Menu Resizer:
This feature ensures that your virtual tour is compatible with smartphones and that the tour size is adjusted to fit your phone's screen.
Disable WordPress Large Image Handler:
By default, WordPress reduces image files. When you enable this option, 360 images will not be compressed when uploaded, preserving the tour's good quality.
Disable On Hover Content for Mobile:
Smartphones do not have the ability to hover, therefore this feature disables the on-hover content for them.
Notice to Mobile Users on the Front End:
Set customizable notices for your customers when they are experiencing the tour using a smartphone with this feature.
VR Glass Support:
Use VR Glass to experience virtual tours in a realistic manner.
Then, Hover over WPVR and Select Add New Tour.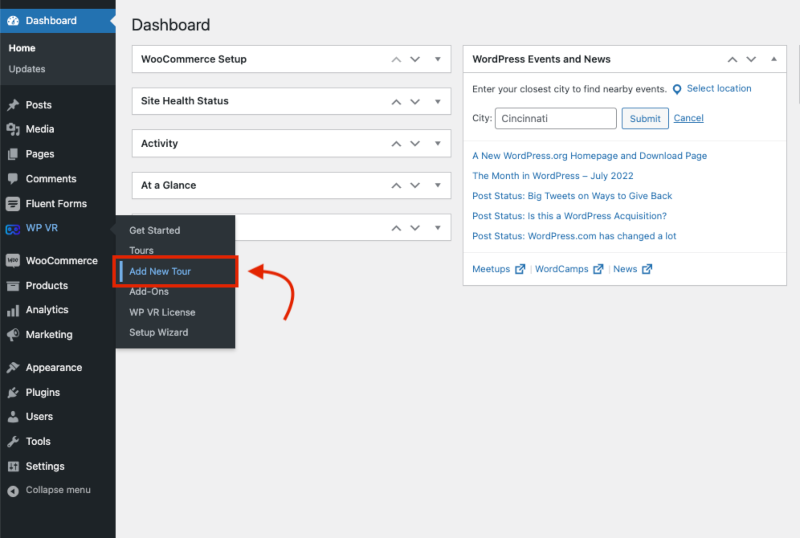 Now, move on and give a title of the tour,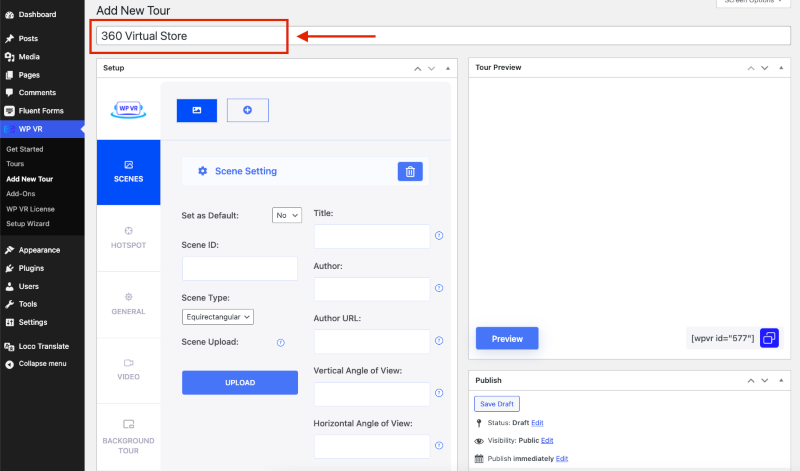 3. Create Your First Scene of 360 Virtual Store with WPVR
We're in the Scenes Tab now.
Provide a Scene ID. Make sure you don't give any special character or space inside the Scene ID
Then click upload for adding a 360 panoramic image to your virtual tour.
After you've uploaded the scene, click on Preview to load the tour on the backend,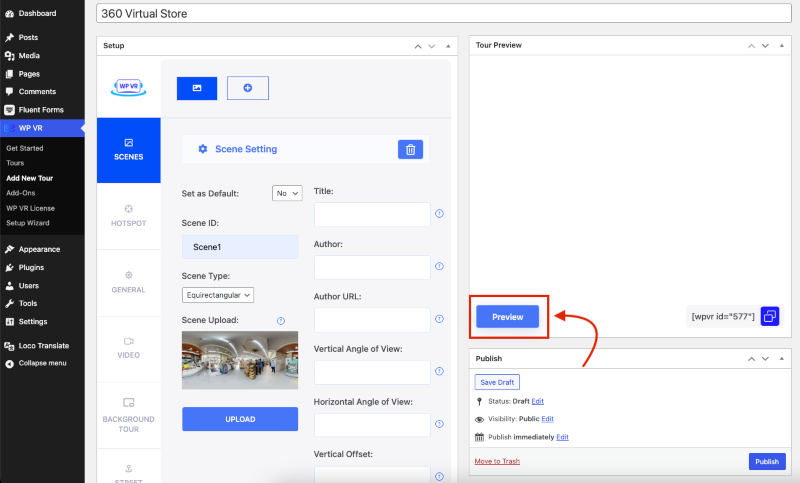 You'll then see a Tour Preview has appeared on the screen.
Give a Title that you want to display at the Frontend.
If the Tour Preview seems okay to you, click Publish and your tour will be ready.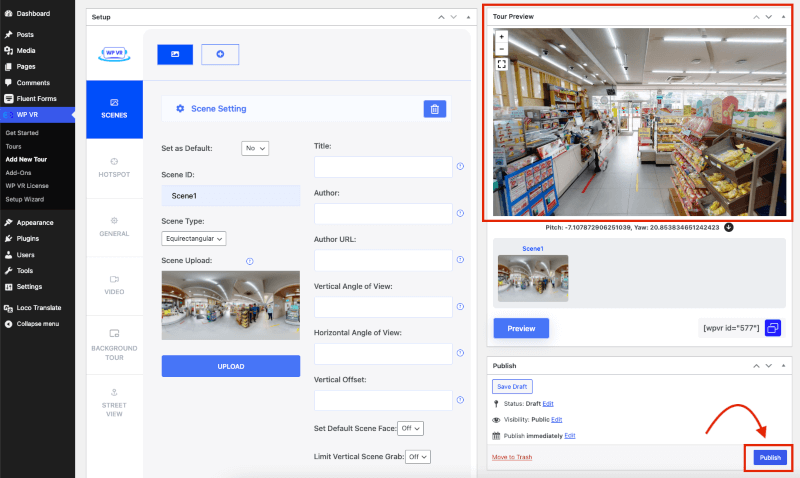 And you're all done creating your first virtual store tour!
4. Advanced Controls
Now, let's move on to the WPVR Pro controls. The first one is Advanced Controls from the Generals Tab.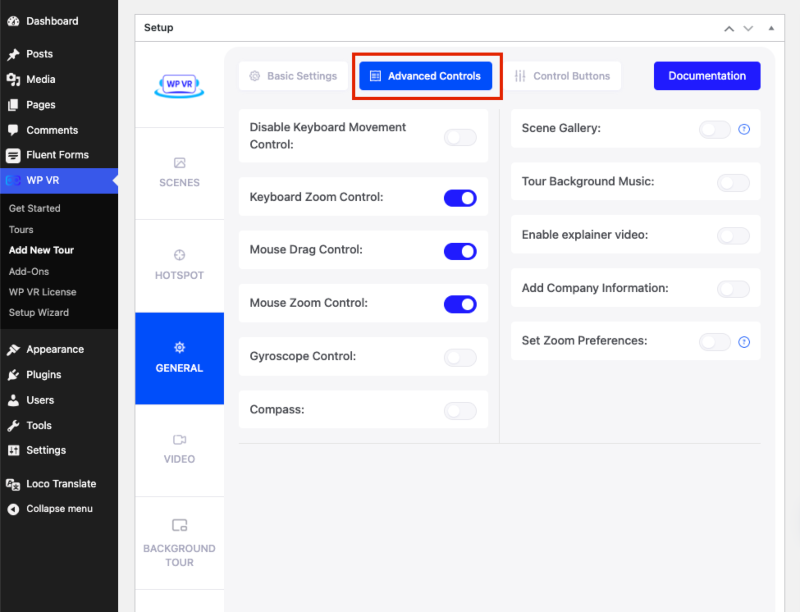 Here are some exceptional features you should have in your Virtual Store other than the usual settings,
Gyroscope Control:
If you want your customers to shop using smartphones, this is a must feature for you.
This feature helps you to optimize the whole virtual tour for smartphones. So that your users can enjoy the tour from wherever they want.
– Learn More about Gyroscope Control
Scene Gallery:
Your store must have various types of products and aisles in one store. Showcase all the aisles in different scenes.
Once you have multiple Scenes in a Virtual tour and enable the advanced Scene Gallery option, your customers will be able to move from one Scene to another in one click via the Scene Gallery.
Now your customers will be able to jump from one scene to another from the scene gallery.
– Learn More about Scene Gallery
Add Company Information:
Provide brief descriptions of your store brand or company and also add the logo so that your customers know about your online store.
– Learn More about Company Information
5. Control Buttons
Next, move on to the Control Buttons. Leave the options enabled if you want to have that specific control feature in your virtual tour.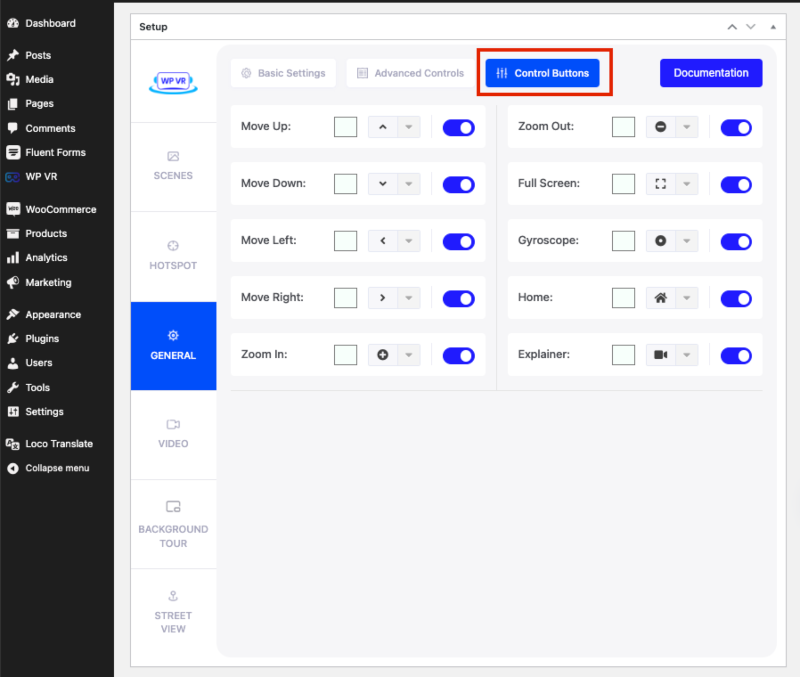 6. Add WooCommerce Product
Now, it's time for you to add WooCommerce Products to your virtual store. With WPVR, there's an option for you to add WooCommerce products as hotspots.
Here's how you can add a new hotspot to your scene.
Let's see how you can do that,
At first, Add a hotspot using the "+" button
Provide a hotspot ID.
Point to the product that you want to add as a WooCommerce product and some coordinates of that product will appear as Pitch & Yaw.
Copy-Paste those coordinates in the dedicated fields.
Select the Hotspot-Type as WooCommerce Product.
Also, add a customized Hotspot Custom Icon & Color if necessary.
Add a product from the product section
Add an On Hover Content such as "Buy Now"
Preview & if the tour seems okay in the preview then publish it.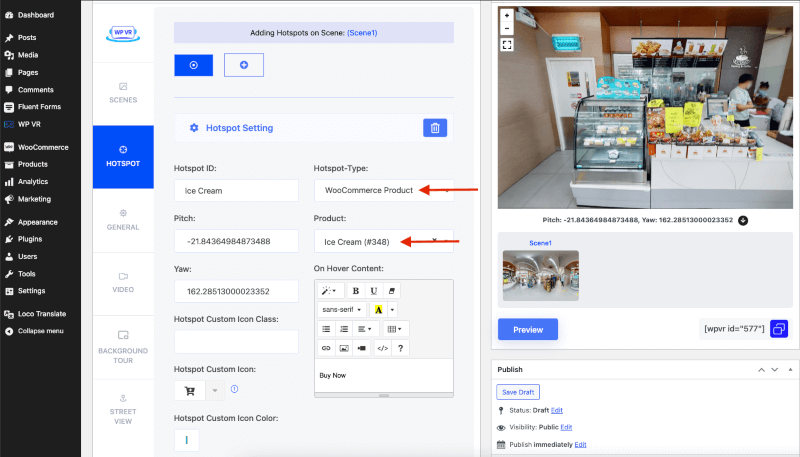 Note: The Custom Icon & Color won't appear on the tour preview. You'll only be able to see that from the Frontend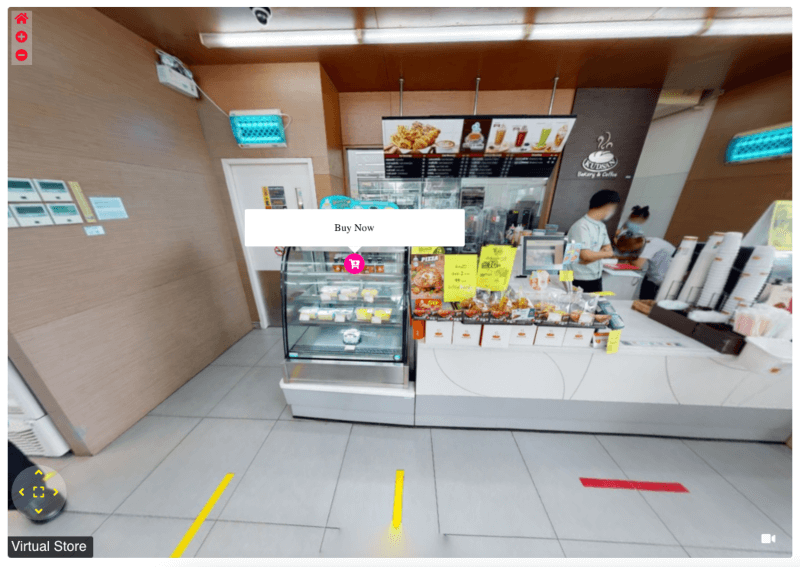 When the customer clicks on it, the product appears and they can add the product to their cart directly.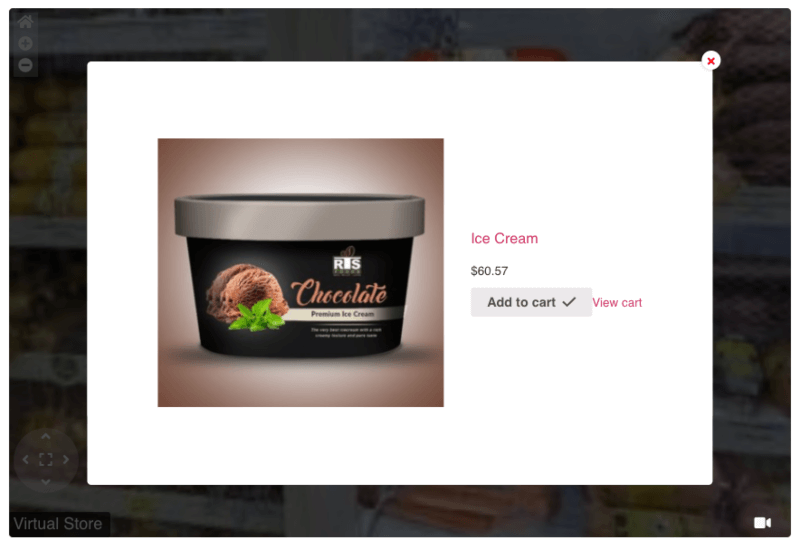 This is how a virtual retail store can be set up on a WooCommerce site. You can now carry on to making your entire store virtual.
Summary
Virtual store tours should undoubtedly be used to boost the value of your store's brand, regardless of what you sell. And it is more engaging because it allows the prospects to take a tour similar to a live visit.
Even when your store is not physically large, a virtual tour delivers a luxury touch to it.
And most importantly, it is a great way to make your buyers order more while getting a real shopping experience.
So go ahead and Start Offering Virtual Shopping with WPVR.
Make your plain WooCommerce site unique and special with an organized 360 Virtual Tour.