Last updated on:

15 mins read
How To Create A Hotel Virtual Tour To Increase Online Hotel Booking [2023]
It's that time of the year when people have started planning for short vacations and traveling. And if you own a hotel, then it's crucial for you to grab their attention for more bookings.
While trying to rank higher online with your website and running Ads, you must get your website ready for more conversion.
Now, people usually browse through available hotels in their planned destinations before heading out. But stale images and even video tours have become quite common nowadays and don't always impress possible customers.
So what can you do differently? Use an interactive hotel virtual tour.
Did you know that prospects browse 5 to 10 times longer on websites that have a virtual tour?
And the longer a prospect stays on your website, the more the chance he/she will book a room in your hotel (if it's within their budget).
In this article, you will learn why you, too, should use a virtual tour of your hotel and how you can easily create a hotel virtual tour where the buyer can book a room directly from within the tour.
So let's begin.
Why A Hotel Virtual Tour Is The Perfect Solution For More Bookings
A hotel virtual tour not only gives the prospect a clear view of what they can expect in real life but also increases their confidence in your hotel.
According to Virtual360NY, over 50% of adults prefer viewing virtual tours when researching hotels and resorts.
In fact, according to a survey from 3D Tours Dubai, a quality virtual tour can increase online bookings, during peak season, by up to 85%!
And why not? A virtual tour can clearly make it easier for your prospects to choose the right hotel.
The prospect will get a clear idea of exactly how the rooms are organized and what other facilities they might get when staying at your Hotel. This is often not so realistic via images.
A virtual hotel tour will give the prospect the control to navigate themselves around the hotel and view available rooms. This extra control will make them feel special, and they will find it more comfortable with making a decision.
You will be able to exclusively highlight your main feature of a room in an interactive virtual tour. For instance, let's say your hotel room offers a private pool, and you added a virtual tour of the room along with the pool. The client will remotely experience exactly how amazing that is.
Plus, you may include tooltips that they can click to get a written description. In the case of the pool, you can mention if you allow a mix of warm and cool water, and you can even mention the capacity.
And most importantly, you can have your prospect attempt to book a room while on the virtual tour.
There are countless reasons why a virtual tour makes it easier to connect with the prospect. But the most important of them all is that you will give the prospect full control.
This means you will not decide how they will view your hotel. The client will be moving around and deciding on the rooms they find suitable for them. And if you make the tour well detailed, for example, naming each room and mentioning the facilities for them, including the right hotspots to provide important information, and including a booking form for your rooms, the client is more likely to take a positive decision.
Now, many say creating a virtual tour is quite expensive or complicated. But guess what, it's quite the opposite.
You will find several tools online that will help you create virtual tours easily. All you need is a good 360 camera to capture 360 panoramic images of your hotel rooms and the places around the hotel. And then, you can use them to generate an engaging virtual tour in no time.
If you have created your website using WordPress, then it's even better for you. You will find a reliable plugin called WPVR, which is right now the best virtual tour creator in WordPress. It's super easy to use and not at all expensive.
Let us look at how you can easily create a hotel virtual tour in WordPress using WPVR.
How To Create A Hotel Virtual Tour In Your WordPress Site
Following is an example of an interactive hotel room virtual tour created using WPVR.
You can see there are icons that you can click to get more details about the service you get, and you can navigate a whole 360 view to get a good idea of how the room is organized.
Plus, there is a booking form for you to book the room right away.
You can clearly see how engaging this is. In the next few steps, you will learn exactly how you can create a similar tour using WPVR.
Once you know how to create a scene for a hotel room, you can then go ahead and create a complete hotel tour by adding more scenes of the rooms, hallways, swimming pools, and other facilities of the hotel.
How To Make A Virtual Tour On Your Own In WordPress
1. Preparing Proper 360 Degree Images
First, you should consider taking good quality 360-degree hotel pictures. You can use a good DSLR camera or even an iPhone to take pictures of your hotel.
A good picture will always make sure that what you're trying to show is reaching the customer. Don't lag behind on the basics. Let's check out a quick guide on creating our own virtual tour of a hotel room.
2. Consider Using A Single Image for Hotel Rooms
One tactic you may consider following is to use a single 360 image for each of your hotel rooms, angled from the center. We have seen in the past where people used multiple images of a room from different angles, which resulted in a lower conversion rate. This is mainly because the room may look different from different positions. Rather it is wise to give a 360 view from the center of the room.
However, if you are offering a honeymoon suite or royal suits with more than one room, then you can consider including one scene from each room. If you want to add multiple scenes for your virtual tour, you may follow this guide.
3. Install and Activate WPVR on Your WordPress Site
Now, go ahead and activate WPVR on your WordPress site. (It's free)
Go to the WordPress Dashboard and hover to plugins.
Click "Add New".
Search for WPVR. Once you find it, install and activate it. (You may also download and upload the plugin directly from the WP VR page in the WordPress repository,)
Next, get WPVR Pro and activate it.
You will also need the WPVR Fluent Forms Addon.
**The free plugin will let you create a simple virtual tour, but you will need WPVR Pro if you want to make it more engaging and meaningful.
**The WPVR Fluent Forms Addon is used to embed booking forms within a hotspot. You will learn more about it later in this article.
4. Basic Configuration Of WPVR
Once you have WPVR on your site, there are a few things you need to configure in the General Settings.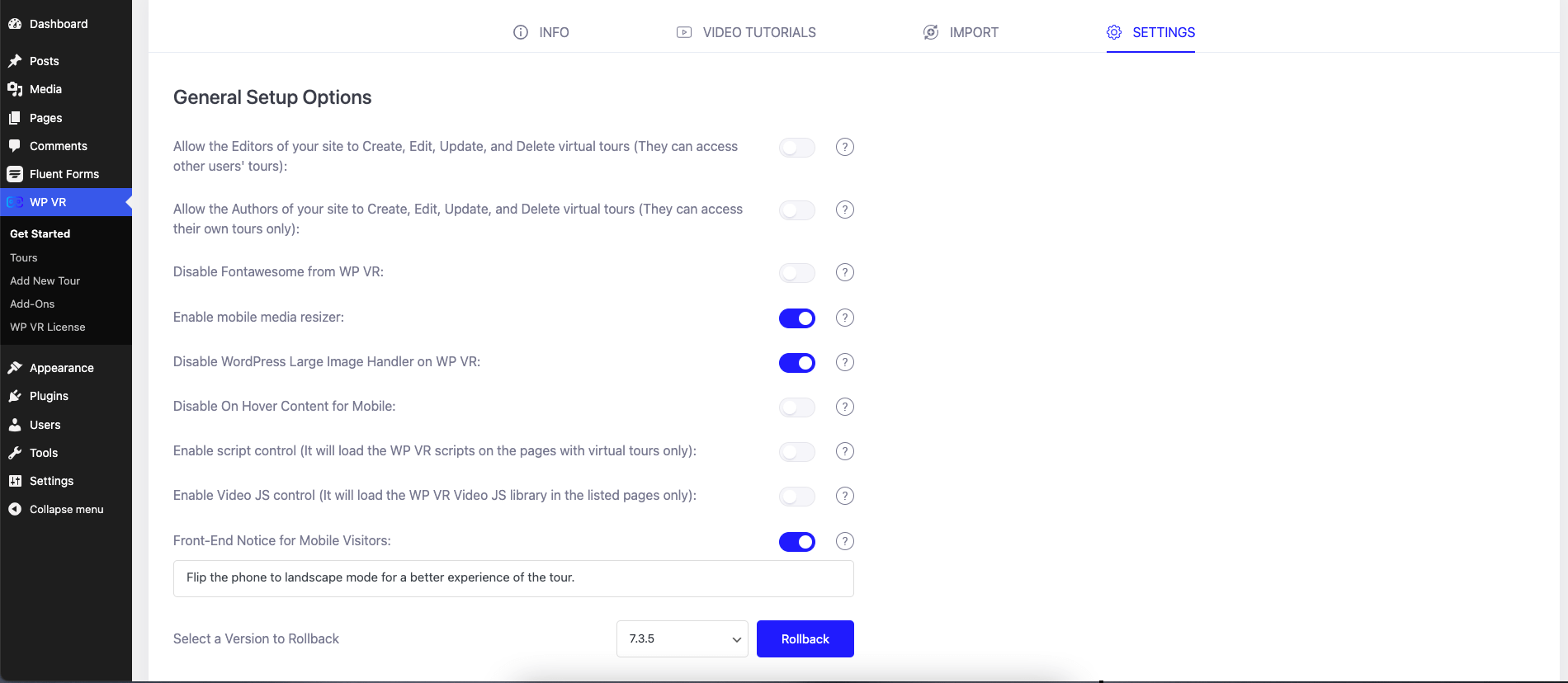 Disable WordPress Large Image Handler on WP VR:
Since you're showing off your hotel rooms, you need good-quality images. Good quality images tend to be large files. This option lets the large images keep their quality and stop WordPress from compressing them.
Enable Mobile Media Resizer
This option will let your 360 images get optimized for smaller screen sizes, especially for mobile and smartphone users.
Front-End Notice for Mobile Visitors
You can give any custom notices to mobile users about flipping their phones for a better experience.
5. Create The Hotel Virtual Tour Scene
We'll now focus on creating a virtual hotel 360 room tour with the WPVR plugin.
On your Dashboard menus, hover on WPVR and click on Add New Tour.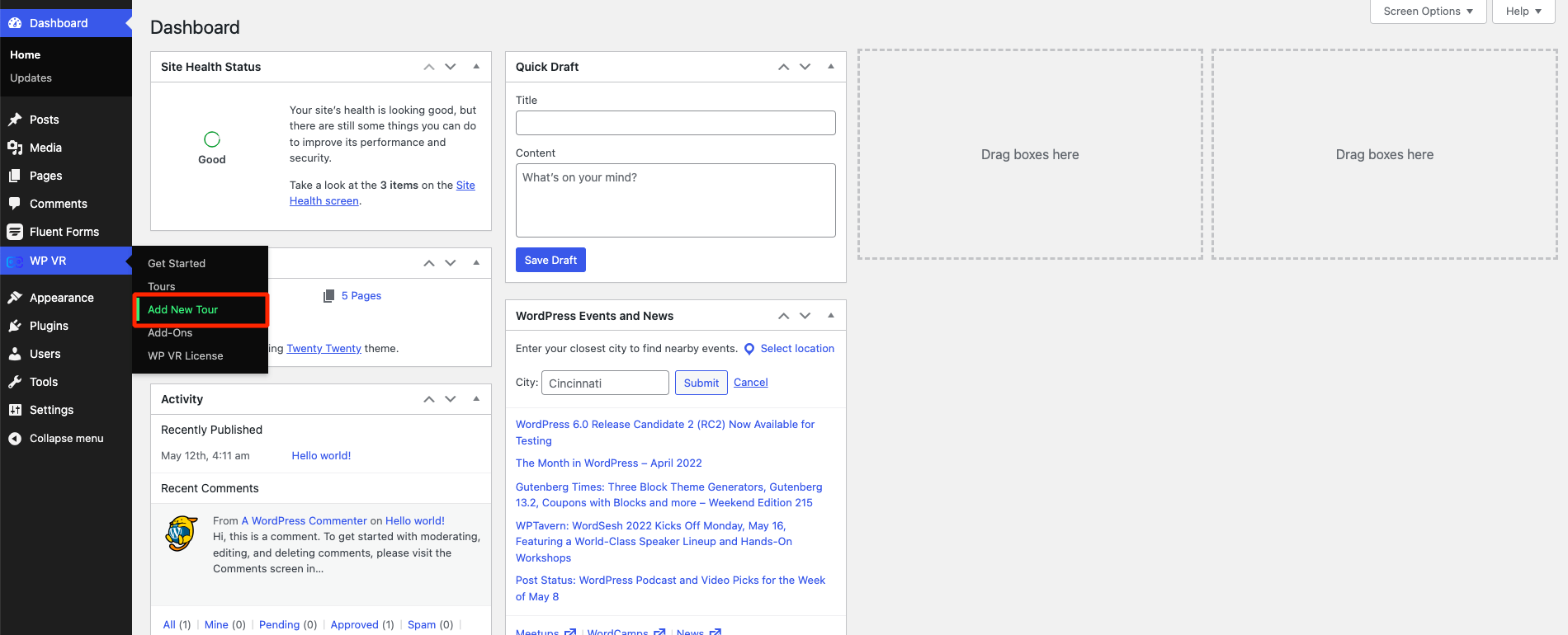 It will take you to the new tour creation page.
Here, first, give a title to your tour.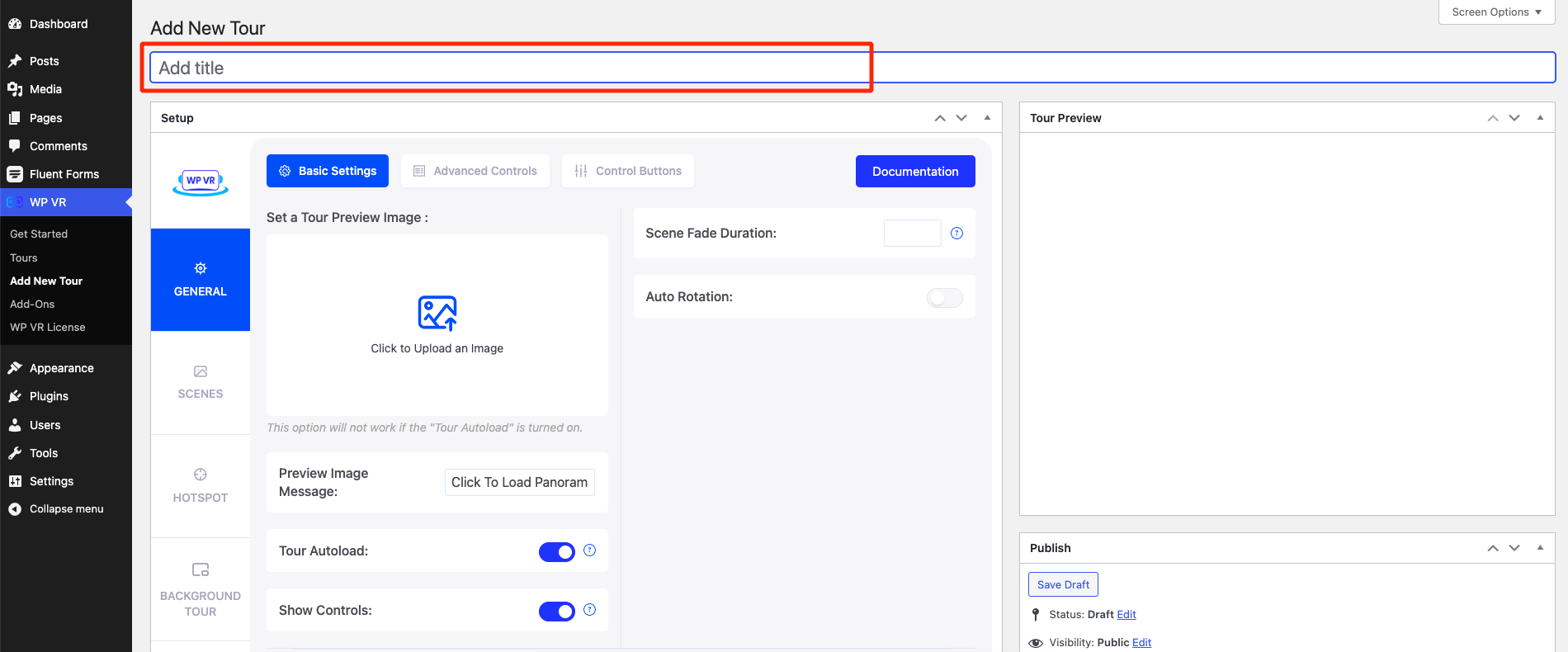 Next, enable the Auto Rotation feature.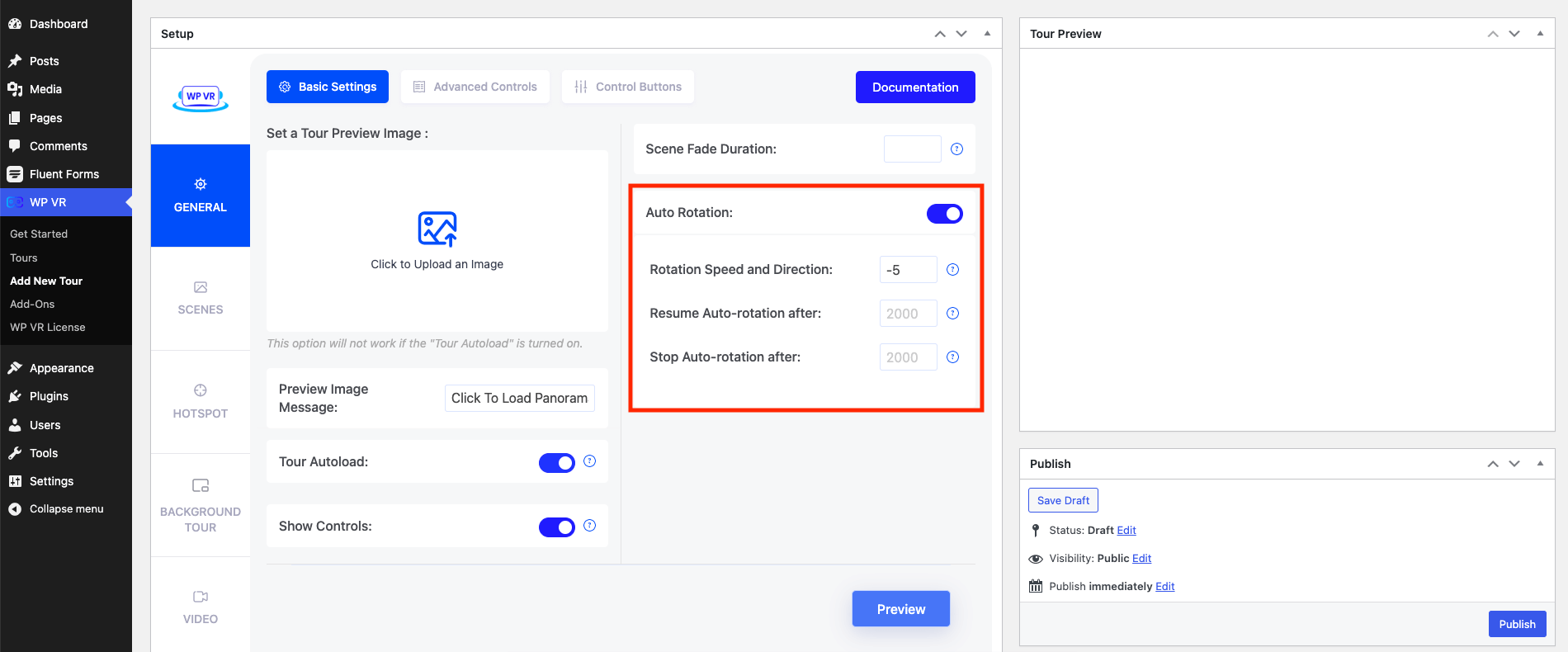 Set the rotation speed to a slow velocity (-5 is a good value) so that your tour doesn't rotate too fast.
Now, move to the Scenes tab and upload a 360 image of your hotel room.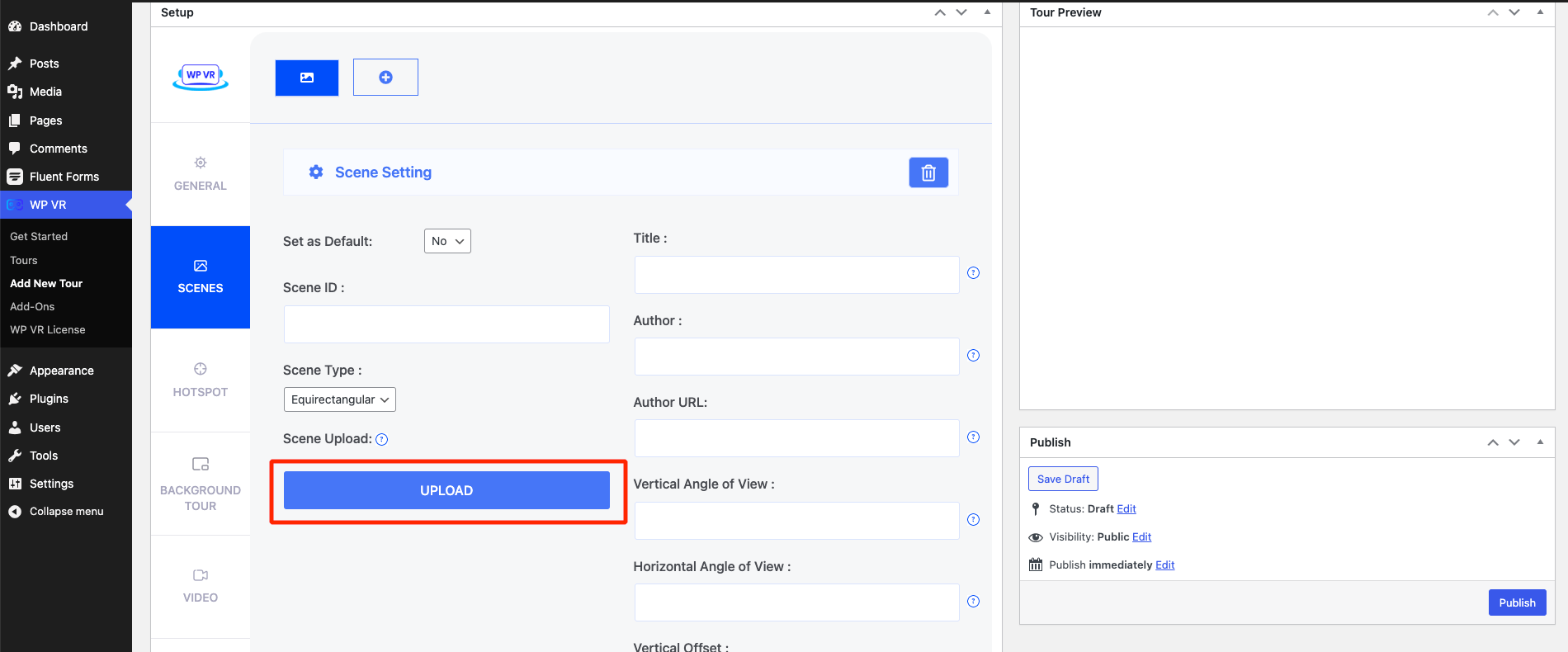 Then provide the Scene ID, scroll down, and click on Preview.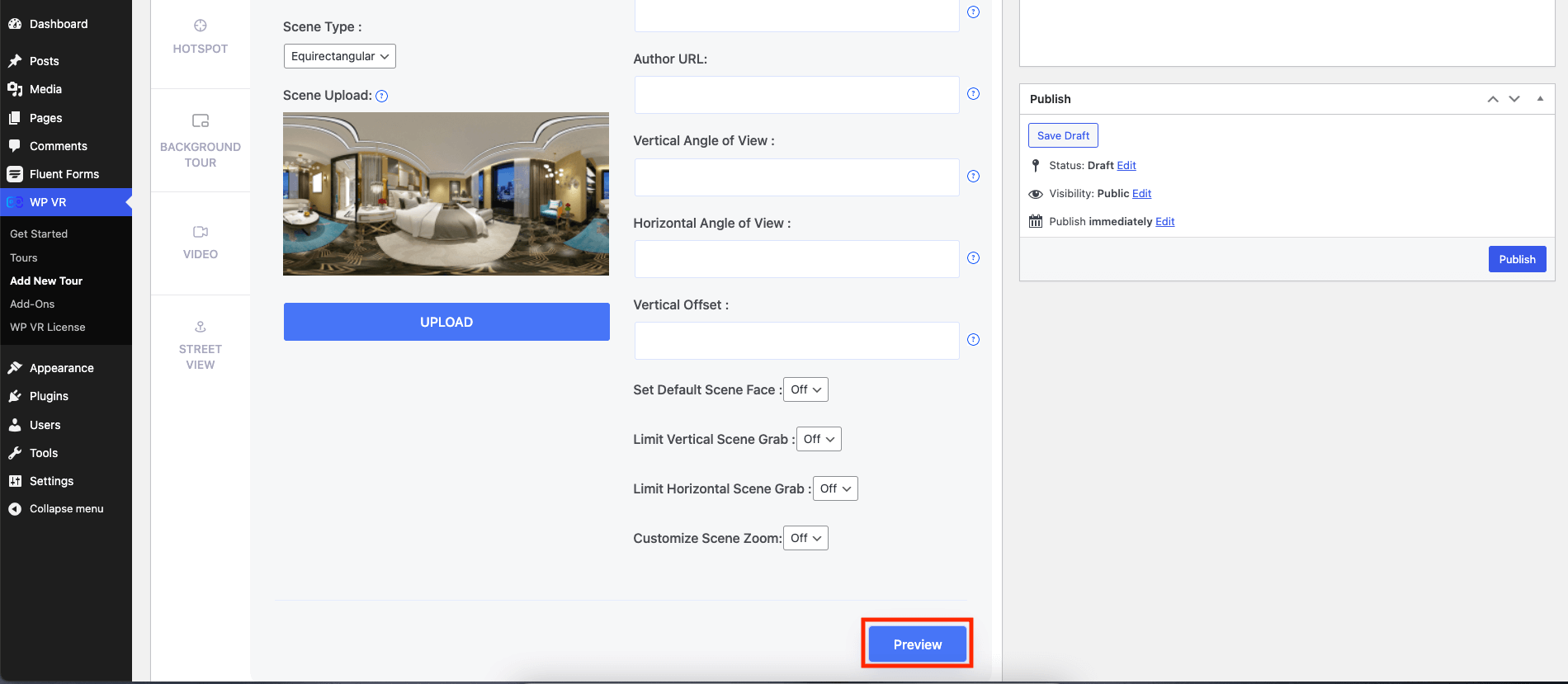 This will convert the 360 panoramic images into a virtual tour and give you a preview of how it looks on the right side.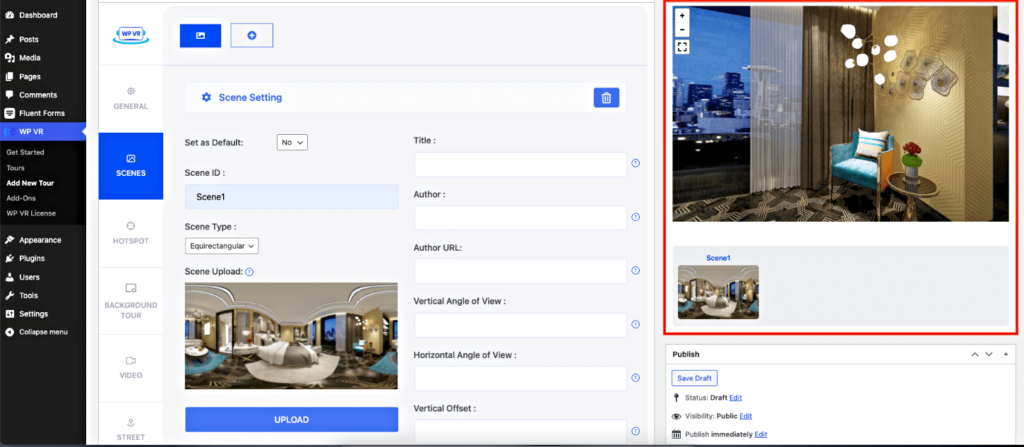 Here, you can see the basic controls appear on the left side of the top left corner of the tour preview. You can also see that since I added a title to the image, the title has also appeared in the tour preview.
Then click on the Publish button above the preview and the tour will be saved.
So far, what you have created is easily doable with the free version of WPVR.
Now, let's add more features to this virtual tour to make it more engaging, and the features we will be using next are the reason why you need WPVR Pro.
6. Use Advanced Control Options
In the Generals Menu, if you go to the Advanced Controls Tab, you will find several Pro features that can increase your conversion via this virtual tour.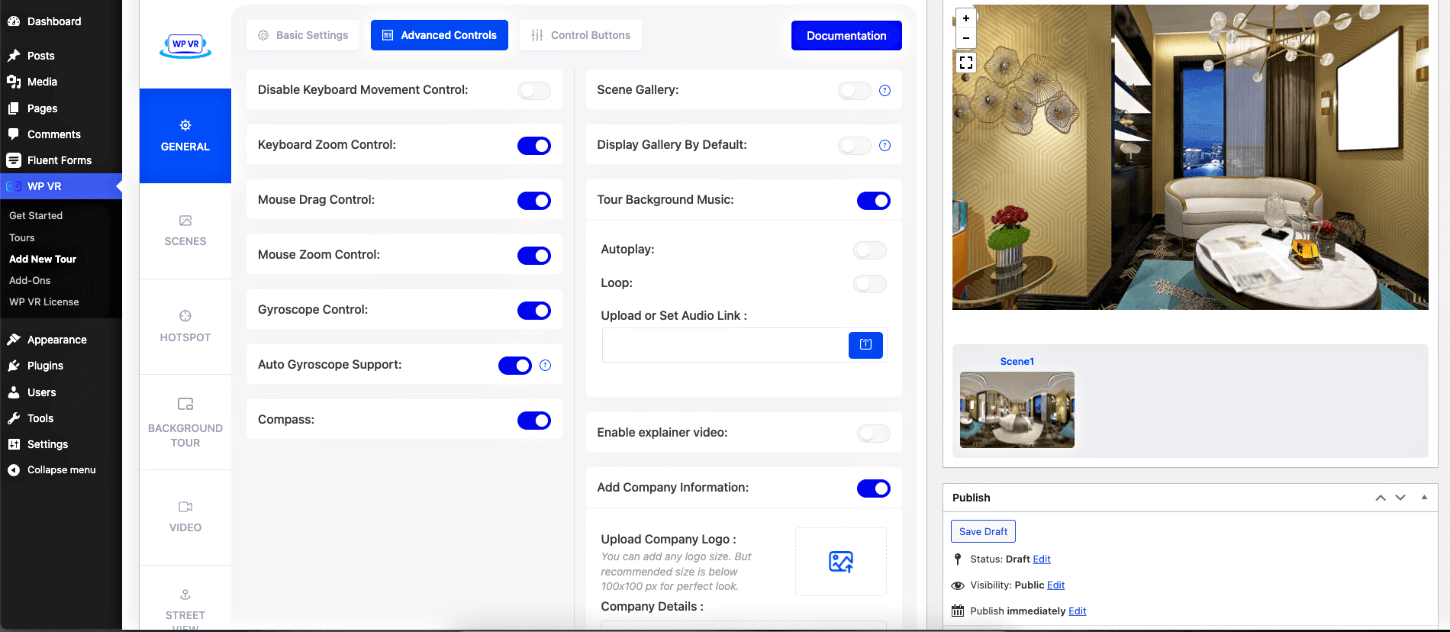 You should use the following features for your Hotel room tour:
Gyroscope
Enabling this will let your prospects experience an improved experience on their smartphones.
Compass
This option will view a compass on tour, which will help the viewers to understand the direction.
Background Music
The Tour Background music is a crucial feature that can make the tour more attractive. You can either add a personalized recording or simply add soothing music on tour.
Add Company Information
Your hotel branding is necessary for marketing and advertising. Add your hotel's logo and details to this section.
Explainer Video
You can also use the explainer video feature to add a short introductory video of yourself, which the prospect can view if they want to.
You can then go to the Control Options tab and use custom icons for the control buttons in the bottom left corner of your screen.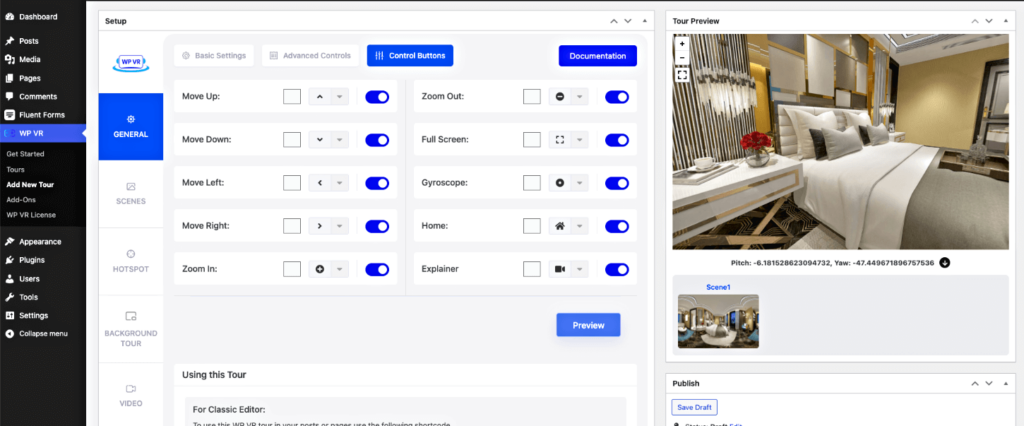 7. Use Hotspots For Improved Engagements
Hotspots are the best feature of WPVR. This is what will make your tour from a basic 360 panorama to an interactive virtual tour.
In the example tour you saw above, you will notice a few blue icons that you can hover over or click to get more details. Those are what we call 'hotspots' in WPVR.
It's basically an icon that you can use to create engagement with the buyer by providing information on click/hover, showing images or videos on click/hover, adding music, and even offering the booking form.
Let's see how you can use them.
First, go to the Hotspot Menu just below the Scenes Menu.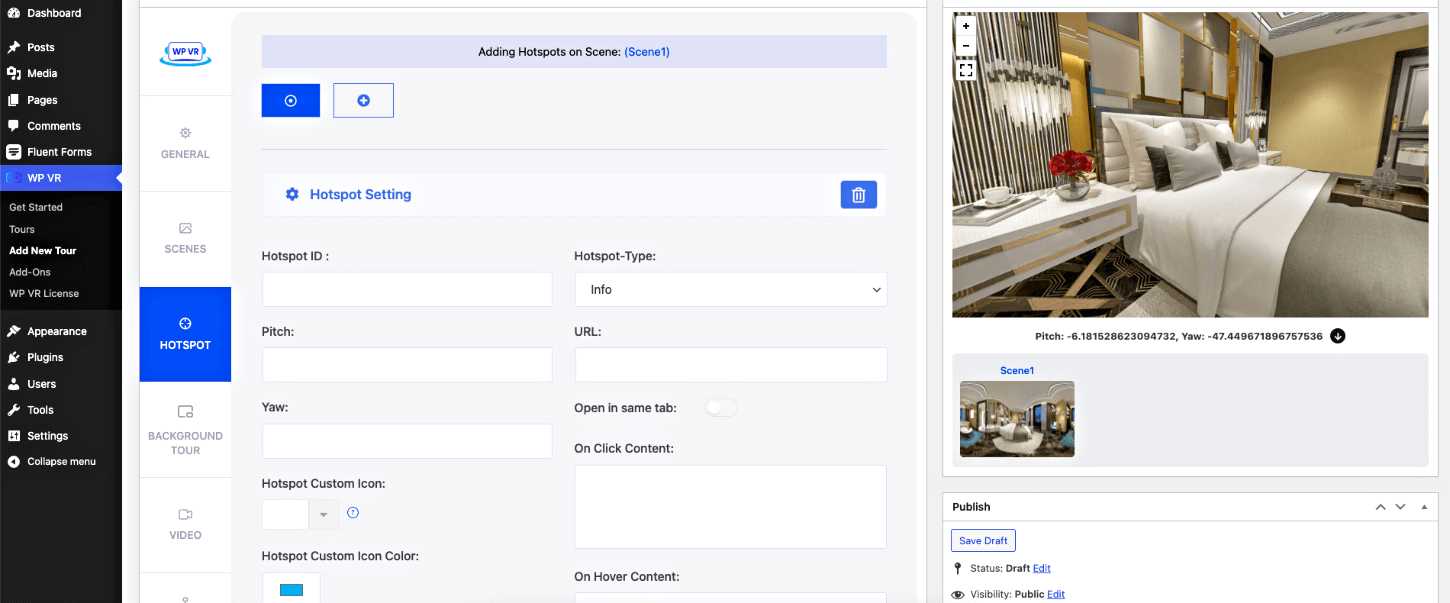 Now, there are 4 types of hotspots. Let's know about them real quick.
Info Type
Info-type hotspot allows you to view information either on click or on hover (i.e., a tooltip). You may also display images, videos, or gifs (which you can include using basic HTML).
– Learn to use it more effectively here.

We will be using hotpots of this type.
Scene Type
This type of hotspot will let you connect two scenes. So, if you have two rooms, you can include a Scene Type hotspot to allow the visitor to click and move between the two rooms.
– Learn to use it more effectively here.

In a hotel room tour, we will not use this unless it's a two-room suite. But for a complete hotel virtual tour, this will be very useful to allow visitors to move between different locations in the tour.
Fluent Forms
This is a great feature. The way you add a booking form to WPVR is by creating a form using Fluent Forms. Once you have a form ready, you can then assign that form to a Fluent Forms type hotspot. Then, a visitor can click on it to get the booking form right within the tour. You will get this option when you have the WPVR Fluent Forms Addon.

We will be using this type of hotspot to place a booking form within the tour.
WooCommerce Product
This hotspot is used to link WooCommerce Products to the icon, which visitors can click to purchase products while on tour. Learn more.

We will not be using this type of hotspot in a hotel room virtual tour. But this can be used in the complete hotel virtual tour, around the bar area, or maybe a souvenir shop where you take orders.
Now that you know the hotspot types, let us learn how you can add a hotspot meaningfully.
While on the hotspot menu, initially, a blank hotspot is available to be set up.
Here, include a hotspot ID. Then on the tour preview, click where you want to place the hotspot icon.
Then below the preview, you will see some coordinates updating. Click on the button beside the coordinates, and you will see the Pitch and Yaw values updating on the left side.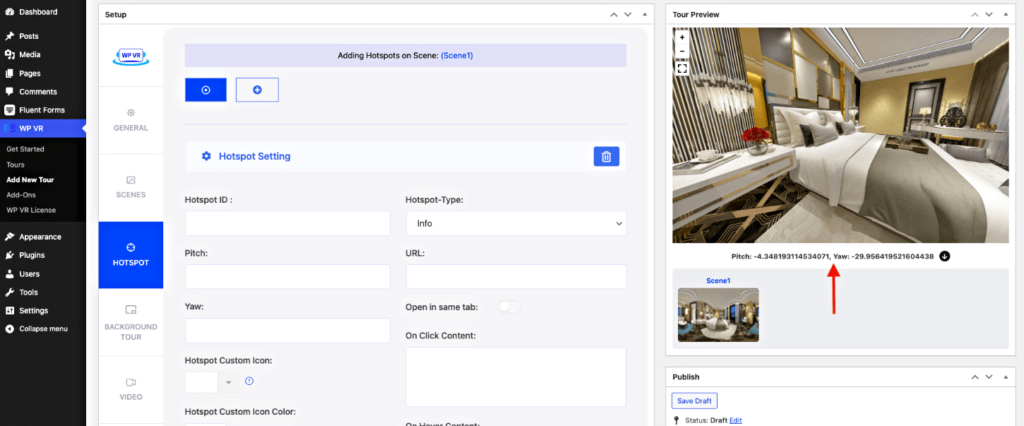 Then, assign the hotspot type and input the required details.
For example, let's say you set a hotspot on the pillows of the bed. Now, choose the hotspot type as Info Type, then below, on the on-hover field, input the text "Soft cotton pillows."
What this will do is this will view the hotspot icon on top of the pillow, and upon hovering, it will display the text "Soft cotton pillows."
Next, change the icon of the hotspot and assign a suitable color.
Now that the hotspot is in place, you can update the tour, and on the preview, you can see where the hotspot is placed.
But you will notice the custom icon you used is not visible in the preview. That is something you have to view in the front end. Here's how you can place the tour in a post and page to view them:
Use that to get a preview of how it has turned out so far. Here's an example view: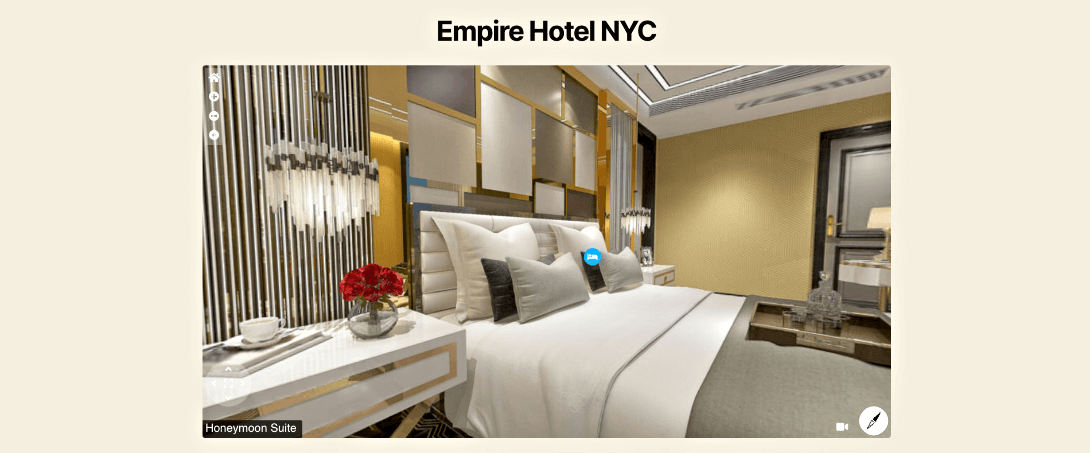 Just like this, if you have multiple scenes, you can add hotspots in different scenes easily.
You can read this to learn how.
To add a second hotspot in the same scene, simply click on the Plus icon '+' above, and options to configure a second hotspot will appear.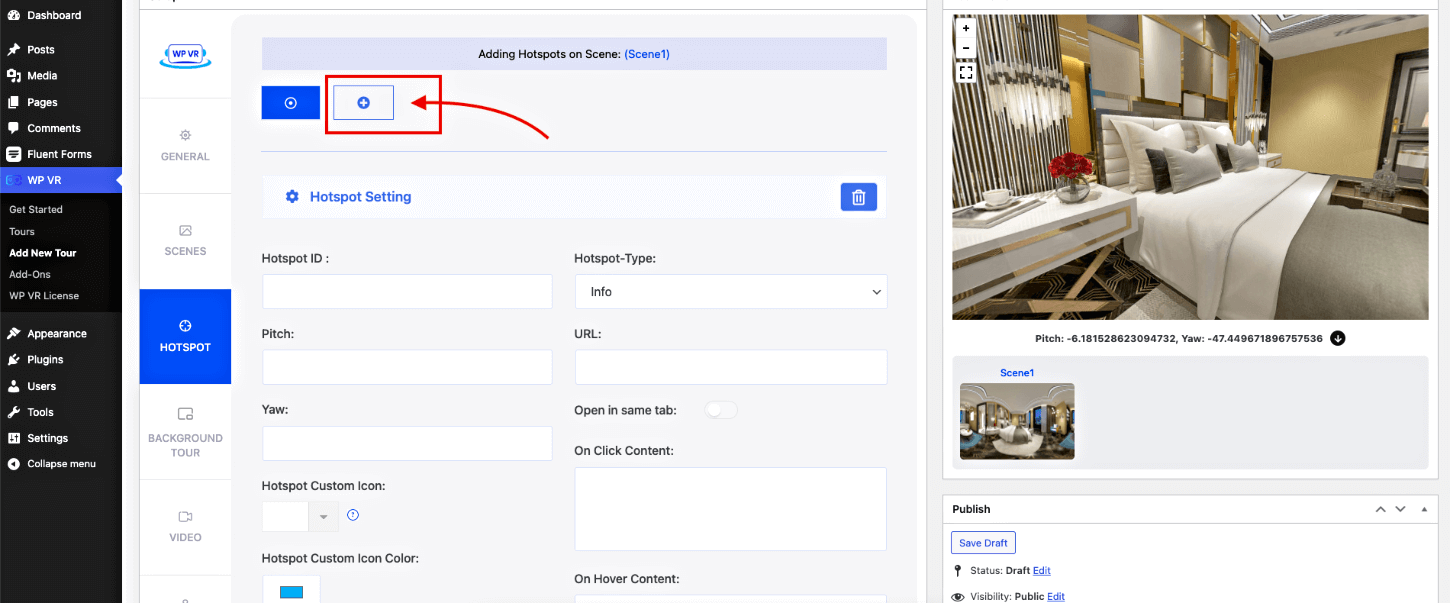 Now that you know how to add hotspots let us go ahead and add the booking form.
8. Add A Booking Form In Your Hotel Room Tour
Before you can assign a form, you need to create one in FluentForms.
In Fluent Forms, you will find a beautiful room booking form that you can use on the go. Or you may create one from scratch.
Once you have the form ready, go back to the WPVR tour you created and add a hotspot just like you did earlier. But, this time, choose the hotspot type as Fluent Forms.
Once you do, you will get all your available forms on a dropdown view.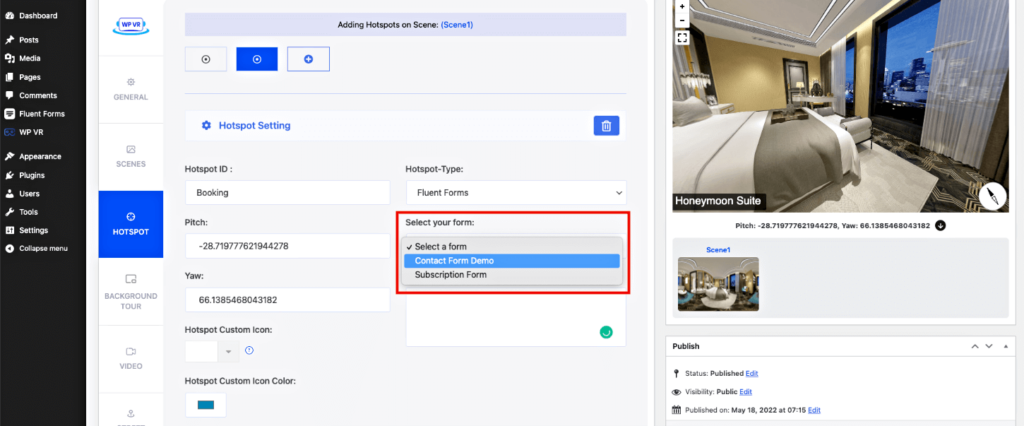 Simply select your desired booking form and then add a text in the 'on hover content' field that says "Click To Book This Room Now" so that people can hover on it and know that they can book this room by clicking there.
Once you have the form up. Update the tour, and the changes will be saved. And that's it. Your Hotel room tour is ready. You may directly embed it on the main room listing page, where people browse to view available rooms. (You can also include a preview image of the tour, which will be visible upon embedding on a page, so that people can click on it to enter the tour.)
So, you can either create a separate hotel room tour for each of your rooms and use them on your room listing page, or you can add more scenes of different rooms and other facilities of the whole hotel and turn this into a complete interactive tour.
– Here's how you can add more scenes to the same tour.
That's it. You now know how easy it is to create a hotel virtual tour in WordPress.
Author's Notes
Using hotel room tours or a complete hotel virtual tour can make a huge difference. People will definitely find it more convenient to book rooms in your hotel over others who simply display images.
It's high time you include virtual tours as part of your marketing strategy to avoid missing out on the possibility of converting more prospects and triggering more bookings, especially in the upcoming vacation season.
It will give you a good idea of why it is a great investment to start using WPVR for your WordPress hotel website.
Even if you do not use WordPress for your main website, you can still consider getting a second website in WordPress just to host the virtual tours, which you can then embed in your non-WordPress website.
Wishing for you to double your bookings soon. Cheers.