Laatst bijgewerkt op:

9 min. lezen
Gids voor virtuele luxe tours voor uw onroerend goed bedrijf [2023].
Selling luxury homes is quite different than selling the usual homes. Aside from the expense, a luxury house has a lot to do with how well it is decorated, furnished, and architected.
So this is evident that quality plays a big role in convincing buyers to consider purchasing one.
As a realtor, you have to work on creative ways to highlight the best features of the luxury homes you sell, and at the same time, make them feel emotionally connected to the property.
The best way to do this is to use virtual luxury home tours.
A virtual tour will ensure that your potential buyers will get a chance to explore this wonderful property in their own free time, even if they have a tight schedule. There are tons of other advantages.
In this article, you will learn:
How luxury home virtual tours can help you close more deals?
How you can create a luxury home tour easily?
And why this works?
And eventually, you will be able to target prospects easily and sell more properties.
So let's begin.
Why Create Virtual Luxury Home Tours
A virtual tour will help potential buyers take a look at the property in a realistic way so that they may decide if this is for them.
On top of that, you probably already know that there could be various types of luxury dream homes and each buyer may have different preferences.
Let's say one of your clients prefers an industrial-style house with detailed mechanic structures, while another likes antique statues and terracottas around the property.
A virtual tour can help to highlight these special features easily. Your buyers will be able to be in full control in learning how the property looks, and if it has the right elements.
And you will be able to add extra details to the tour such as tooltips to learn about the historic significance of the decorations, or maybe background audio to make the tour more soothing.
Overall, this will ensure your potential clients be able to get a glimpse of what they can get and increase your chances of booking a visit soon.
Creating A Compelling Virtual Luxury Home Tour
As you saw above, a virtual tour will give you an edge when it comes to selling luxury homes. But much like the house itself, you need to make sure you go out of your way to make the virtual tour the best virtual experience ever.
Creating a virtual tour is actually quite easy. All you need are 360 images of the location you want to highlight, and the right virtual tour builder.
If you use WordPress, then WPVR is currently the most affordable solution you will find to create virtual tours. Simply upload the 360 panoramic images and the tool will turn that into an amazing 3D virtual tour.
The plugin has everything you need to create stunning 3D Luxury Home Tours with advanced features such as hotspots, embedded explainer video, company contact info, etc.
Once you have the basic tour ready, now it's time to optimize this tour for conversion.
Let us look at the ways you can improve your virtual tour.
1. Make The Virtual Luxury Home Tour More Interactive
Hotspots help to pinpoint an element inside a virtual tour with different Contents. Hotspots let you add contents inside of a Virtual Tour with specified coordinates.
There are four types of hotspots available in the WPVR.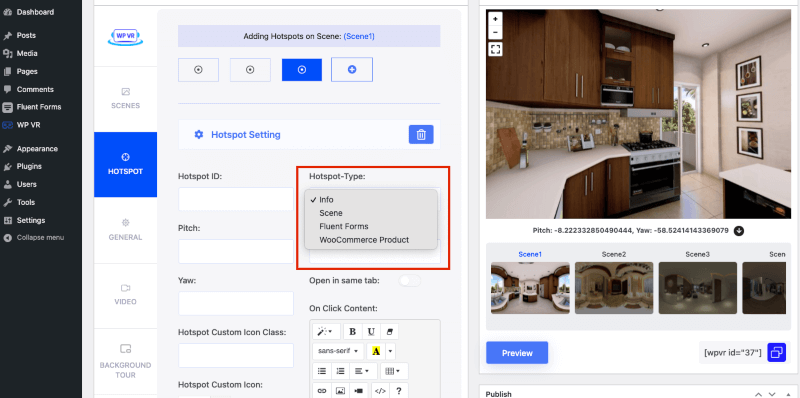 You can add different content like Text, Video, Images, GIFs, and so on. It's possible to add all the content in one single hotspot as well.
Also, there are options to customize the color and hotspot of the hotspot.
Here's an example of how hotspot content looks,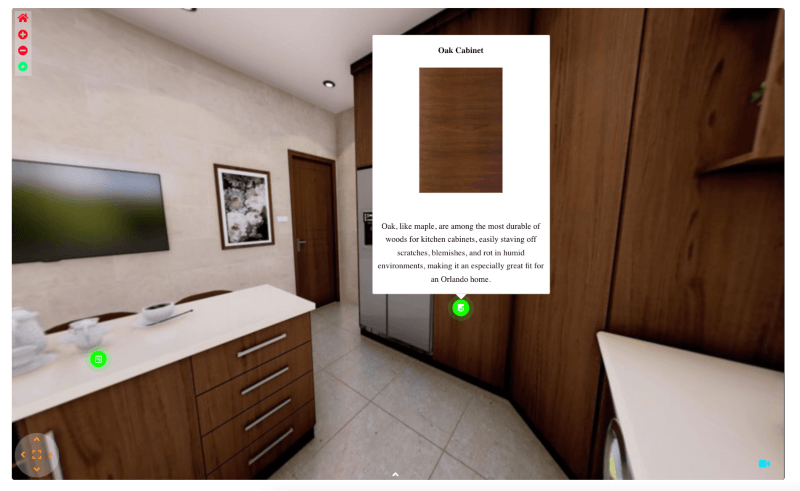 There's another option which is the Scene-Type Hotspot. Multiple rooms in luxury homes can be uploaded as Scenes and displayed in one Virtual Tour.
Here's what the Scene-Type Hotspot looks like,
2. Contact Forms To Let Your Clients Reach You
A contact form is crucial for your virtual tour so that you can allow interested buyers to get in touch with you without any hassle.
WPVR Pro has the Fluent Forms Addon that lets you add a Contact Form for the clients to contact you.
You can use this form to let your clients contact you for an appointment.
Learn How To Set Up A Contact Form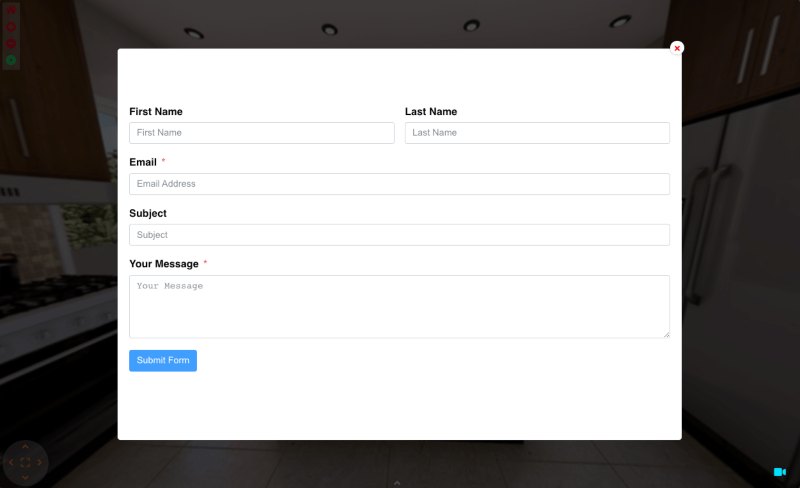 3. Add An Engaging Explainer Video
Let's say you have a video explaining what a particular house offers and what the exceptional qualities are.
You can easily add that explainer video to your dream home virtual tour. Your clients will be able to check out the video while taking the tour.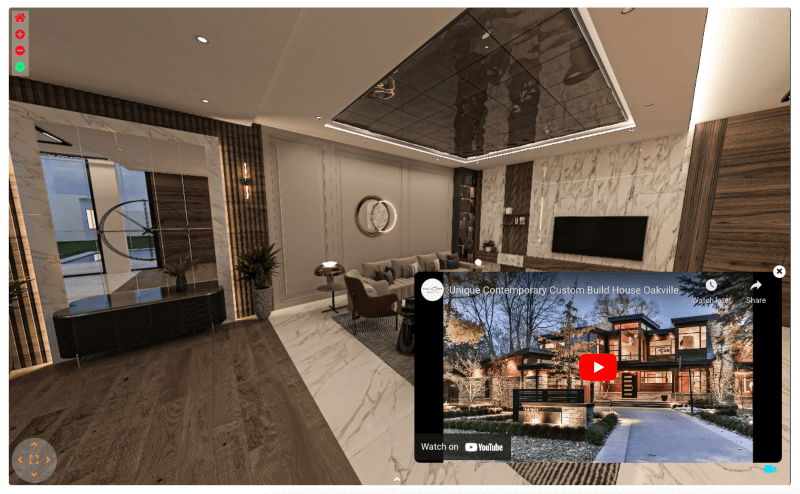 Learn How To Add an Explainer Video In A Virtual Tour
4. Scene Gallery To Display All The Scenes In One Place
Scene Gallery offers a gallery where all the Scenes of a Virtual Tour are displayed in one place.
There are several rooms present in a luxury home virtual tour. So, with the help of the Scene Gallery, clients can easily move from one scene to another with a click.
Learn How To Set Up Scene Gallery
Here's a look at the Scene Gallery View,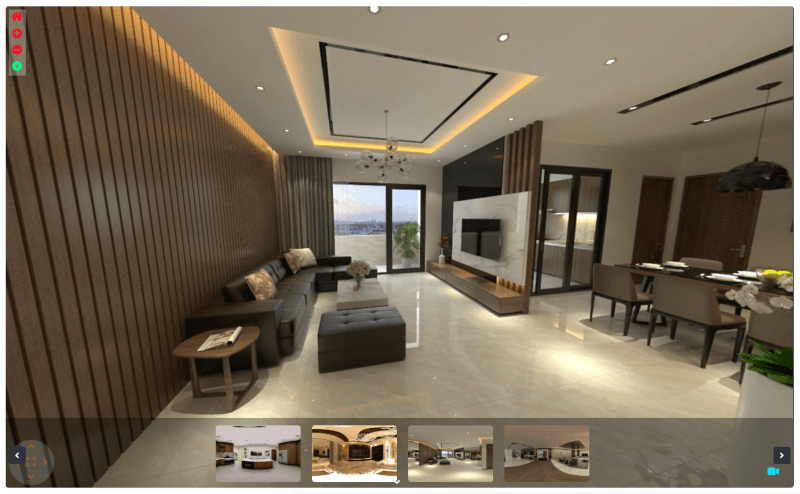 Other Ways To Make The Tour More Engaging
There are many other options to make your Virtual Tour of the Luxury Homes more interactive such as Compass, Gyroscope, etc.
1. Compass
Compass is an essential feature for house buyers. The compass feature lets the clients understand the room position inside a house.
While many people prefer the south side of a house, others might prefer the east side. So it's a necessary feature for decision making.
2. Gyroscope
The Gyroscope is also a necessary feature. Enabling this lets your clients enjoy virtual tours with smartphones.
Learn More about Gyroscope Feature
3. VR Headset Support
Your potential clients with a VR headset or VR cardboard will be able to experience your luxury home virtual tour in a setting as if they're already inside the house.
This will help them decide if they want to live in a house like the virtual tour showing them.
It's also helpful in figuring out how spacious a place is or how they can decorate the house.
Learn about VR Headset Support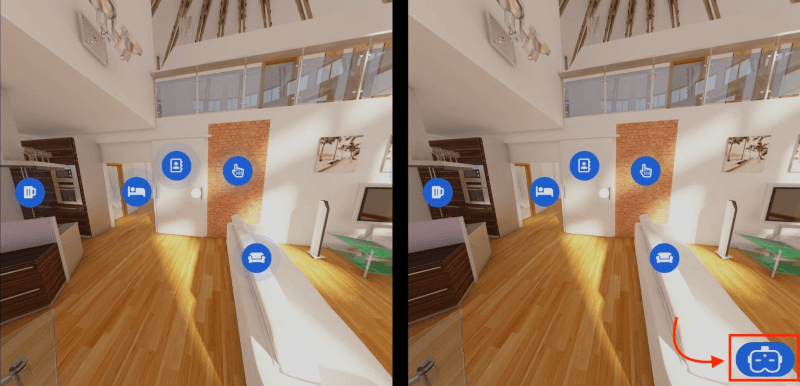 Optimizing Your Website To Connect With The Right Clients
Now that you know how you can create an engaging luxury house tour, let us look at how you can effectively optimize your so that your high-end clients are hooked with the properties you have listed.
1. Add A Short Promo Video On The Home Page
This is a tactic that most realtors avoid because they don't want to invest in a video that includes properties that may be sold soon.
The idea is, you can create a promo video, maybe of 2mins max, that will show a glimpse of various luxury properties that you have under you.
Here, you have to capture the view that will highlight the best features of the property, and also express its theme, i.e., what type of luxury home it is.
This can help to make buyers curious and take a look at your available luxury homes listings.
2. Make It Easier To Look For The Right Luxury Homes
Even if you know your luxury homes are quite expensive, some are way too expensive compared to others. So a price filter can be useful when a certain buyer has a fixed budget.
For example, if a prospect has a budget ranging from $3-5 million, then he should be able to view the available homes in that price range.
Again, some of the homes have a cultural or historical significance which you can easily identify as Modern, Contemporary, Mediterranean, Greek Revival, Victorian, etc.
So categorizing the homes under such titles can help buyers to find the right type of homes they are looking to purchase.
Then there are luxury homes that are available for renting as well. So you can have a single filter to separate the ones that are available for rent.
3. Include The Virtual Tour On The First Section Of The Property Page
Whenever someone enters the property page, he should be welcomed with an interactive virtual tour. This will lead to many of them taking the tour immediately and getting interested even before looking into further details.
It will also have a psychological impact as later on, every detail they find out will sound more exciting than they normally would.
4. Highlight The Best Details In The Product Description
Despite having a virtual tour available, you still need to work on highlighting the best features of the luxury home in question. So in the description, create sub-headings with the special features and mention the details on them along with images or short videos.
This extra effort can make a difference in how interested buyers will get while checking out the property.
5. Collect Leads & Inquiries On The Property Page
Many realtors make the mistake of taking the buyers to a separate form on another page to submit an inquiry or quotation. Rather, you may design the page in a way so that they have access to an inquiry form right on the property page, if possible, with an option to request a call from you.
This will increase your chances of speaking directly with your potential clients, and hopefully, booking a visit.
Laatste gedachten
Managing luxury home sales may take some extra effort, but when it sells, it brings in a fortune.
And virtual luxury home tours can have a significant impact on converting more prospects into buyers if you have created one correctly. Make sure to keep things as fabulous as possible, and highlight all the best features of your luxury home in the virtual tour.
So go ahead and start using WPVR and increase your chances of selling more luxury homes.