Last updated on:

11 mins read
6 Best Marketplaces To Sell Jewelry Online And Increase WooCommerce Sales
The online jewelry industry has seen impressive growth in recent years and is estimated to be valued at $19.88 billion by 2024.
So, if you sell jewelry online then you probably realize how competitive the industry has become. And besides trying several sales tactics to increase conversion, you have to look for ways to reach more potential buyers.
And one of the best ways to do this is to promote on large online marketplaces that are popular for jewelry. For example, Overstock is a well-known online marketplace where people regularly order jewelry online. And if you have your products listed there, you too can get great exposure and more sales.
Today, we will look at 6 online marketplaces where you can list your jewelry products and expect to reach more potential clients than you normally can in your WooCommerce store.
So, let's begin.
Top 6 Marketplaces To Sell Jewelry Online And Increase Sales
The following marketplaces are trusted by thousands of buyers, and a ton of buyers browse and order jewelry from these websites on a regular basis. So you should definitely consider promoting in these places.
1. Etsy
Etsy is the go-to online marketplace for selling handmade or vintage products. Jewelry is one of the most popular categories on the Etsy platform.
With around 96.3 million active users, Etsy is ideal for promoting your jewelry products.
Traffic Stat of Etsy ( Jun – Aug 2022)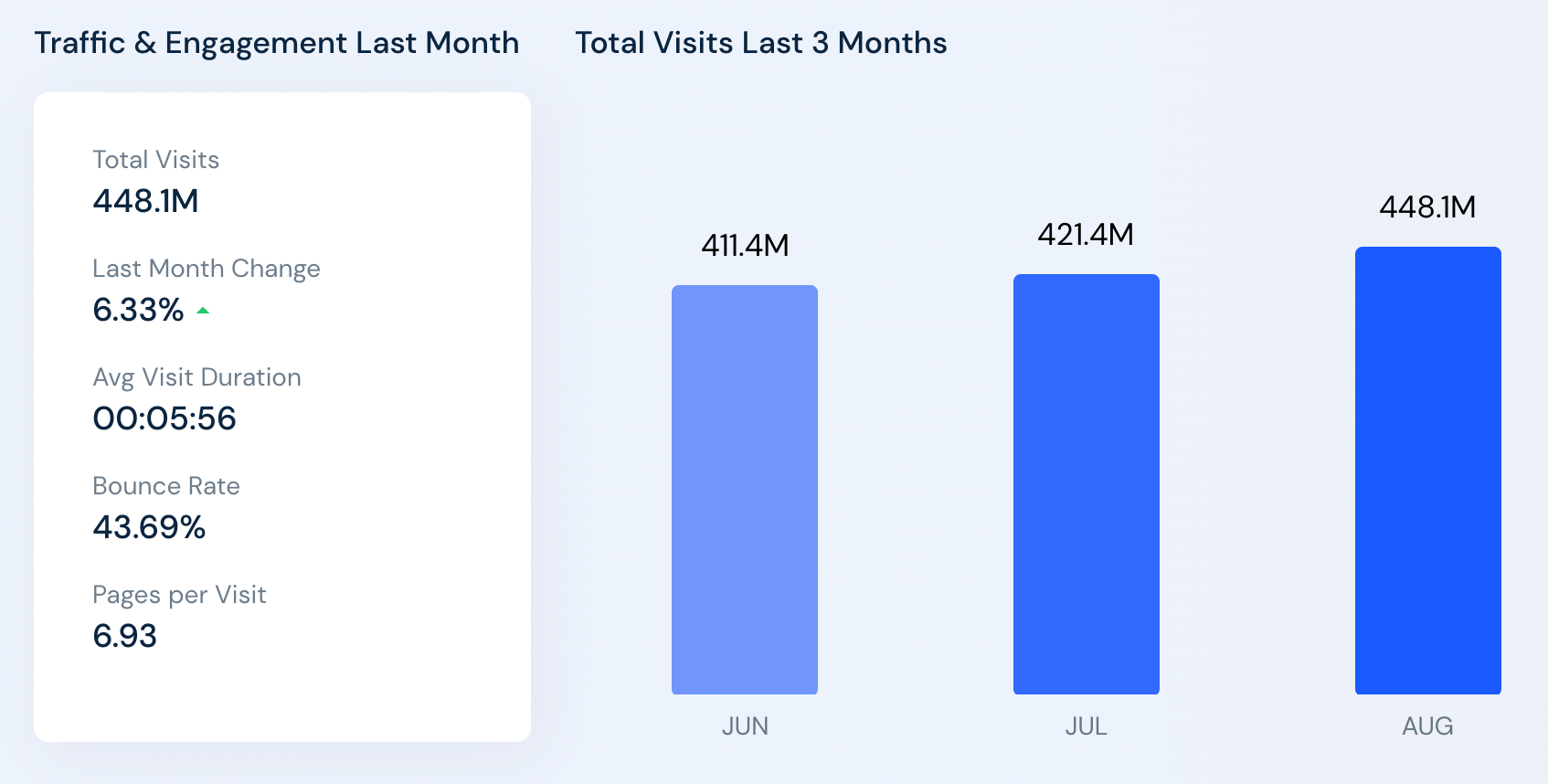 Why Should You Sell via Etsy
When listing jewelry on Etsy, you're simply promoting products in front of a massive audience of interested buyers. With a proper listing, you can always expect many sales here.
On top of that, Etsy is a high-ranked platform and its listings have better visibility on search engines. It even has a built-in ads platform. So, if you list your jewelry items with appealing pictures and optimized keywords, it'll help to reach even more potential buyers.
Besides, Etsy has a super easy dashboard to handle product listing, inventory tracking, and monitoring the exposure.
Highlights of Selling Jewelry On Etsy
Currently, there are over 40 million jewelry listed on Etsy, making it a prime marketplace that consumers look at when thinking of purchasing jewelry.
Prices are quite competitive, and if you can give a lucrative offer, then people will buy your products more.
Esty products rank well on Google if you provide a compelling title and product description.
Cost Of Promoting On Etsy
Setting up an account on Etsy is free, however, you have to signup for a plan depending on your needs.
Standard: Good for starting a business. There are no monthly fees on it.
Plus: Good for expanding business. It has a $10 monthly charge.
Apart from the account plans, there are a few small fees for listing and selling products:
To upload a single product listing, you will have to pay $0.20, with 4-month validity.
There is a 6.5% fee for every sale you make.
If you run offside Ads via Etsy, then there is a 15% Ads fee when you make a sale via Ads.
2. eBay

With over 159 million active buyers, eBay gives you plenty of product-promoting opportunities. As it is the largest auction site, it helps you to list your jewelry quickly and get good value for unique items.
Traffic Stat of eBay ( Jun- Aug 2022)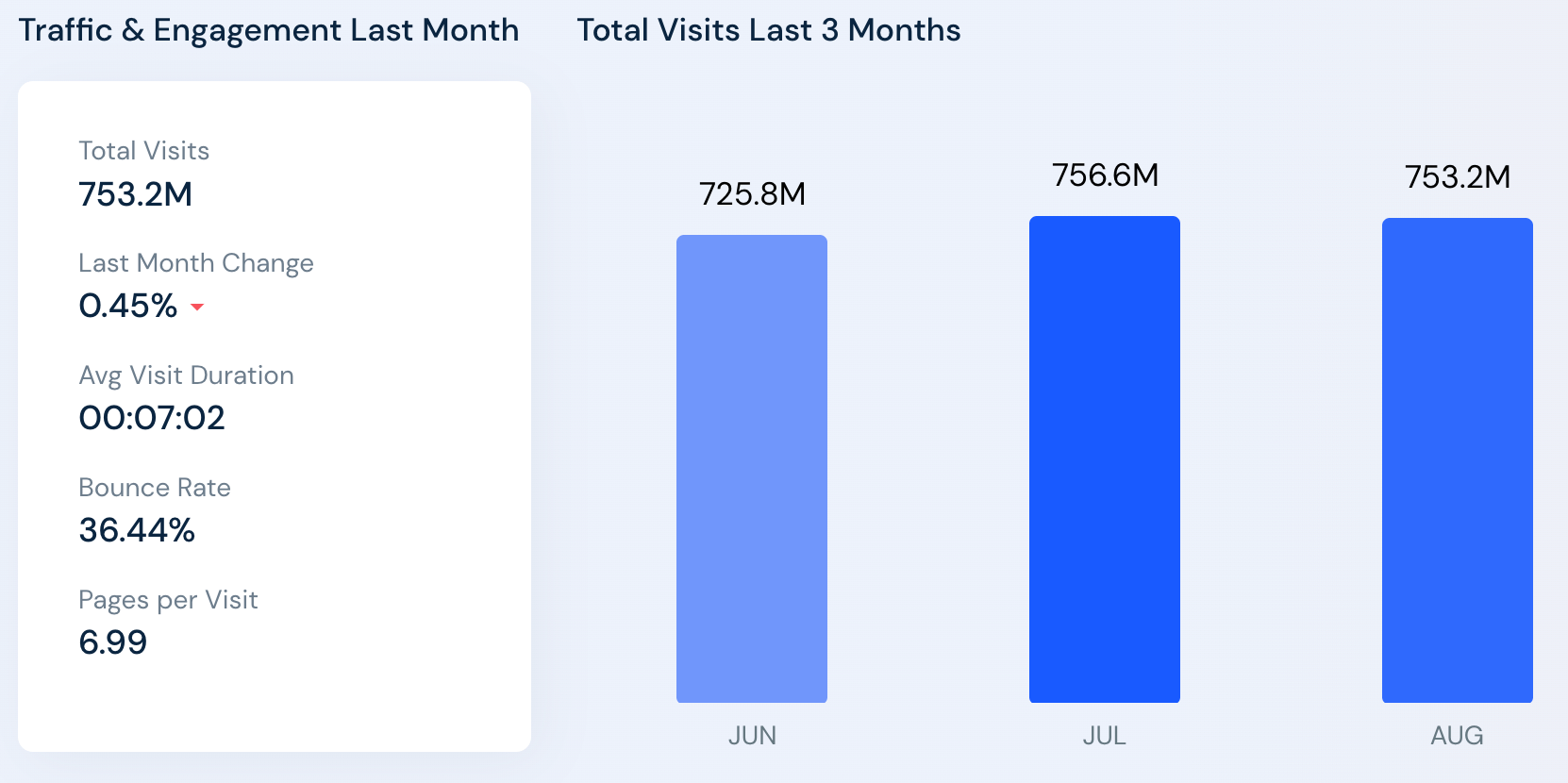 Why Should You Sell Jewelry via eBay
Besides being the third largest store in the world, eBay also has a reputation of being the 2nd best website for jewelry sales.
The eBay MIP marketplace and the auction center make this a unique and preferred place to shop from.
Highlights of Selling Jewelry On eBay
eBay is an excellent place to sell high-priced jewelry items as long as they are authentic.
Top-selling jewelry categories on eBay are fine jewelry, vintage jewelry, wedding jewelry, and men's jewelry.
eBay demands a good logistics standard, so you must make sure you deliver on time with high quality.
When using the auction feature, make sure your products have a minimum price that generates at least a minimum amount of profit.
Costing Of Promoting On eBay
Listing up to 250 products in the jewelry category is free on the marketplace.
For auction, you can list up to 50 items for free.
Apart from listing fees, you have separate fees for sales:
Products with prices ranging from $1,000 to $7,500 are subject to a 6.5% fee.
Products with prices more than $7,500 are subject to a 3% fee.
Learn more about eBay selling fees here.
3. Walmart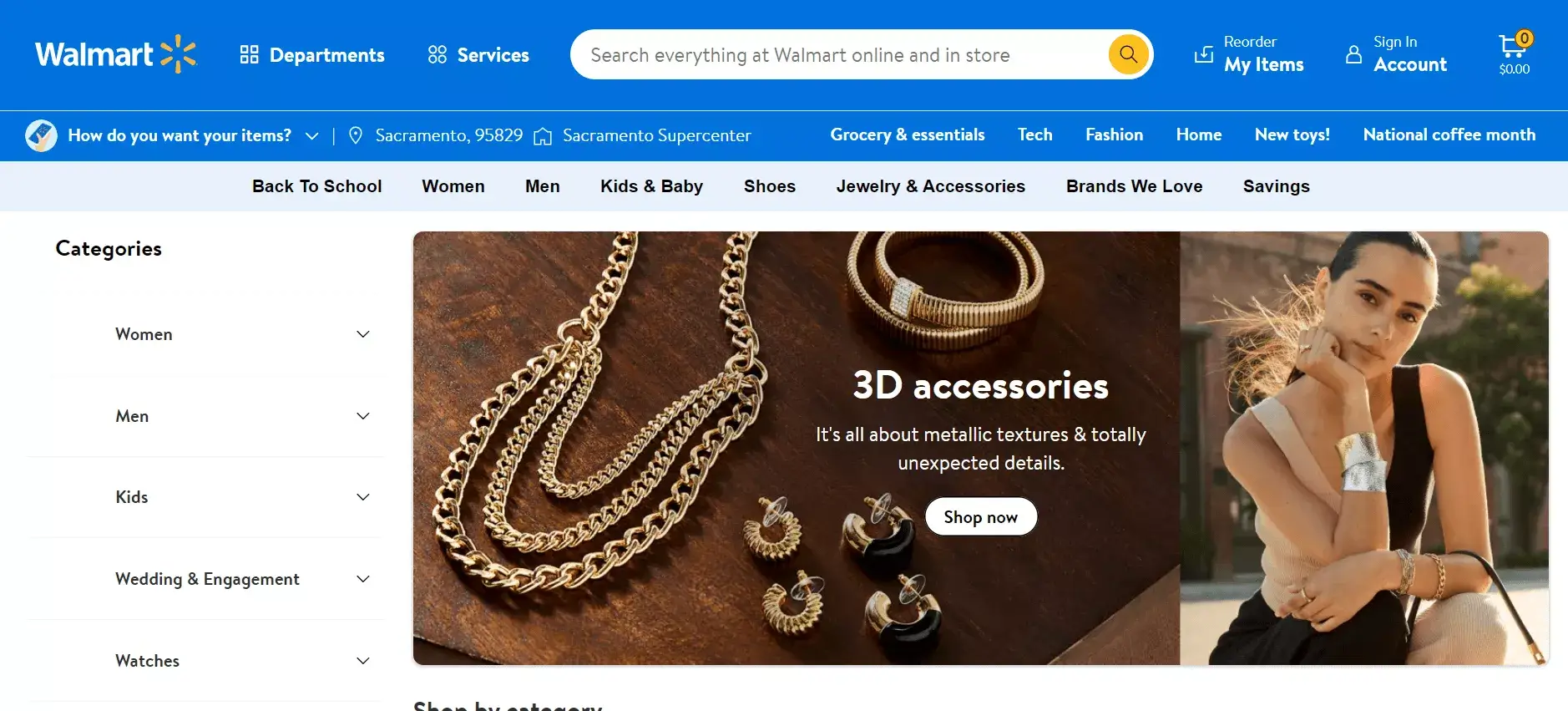 Walmart Marketplace is one of the fastest-growing online marketplaces for household products in the USA, with over 120 million active users. However, it has also got a new-found fame in the jewelry industry with a lot of local vendors listing products on their online marketplace.
Since Walmart handles the delivery themselves, it's a brilliant place to list your products and get more sales.
Traffic Stat of Walmart (Jun – Aug 2022)
Why Should You Sell via Walmart
About 6.5% of Walmart's listings consist of jewelry items, but they seem to see a lot of orders. This means that there is less competition but more possibility of conversion.
Hence, if you offer a good price, people will love to purchase your jewelry items.
Apart from a user-friendly marketplace, Walmart offers free 2-day shipping, which helps to attract more buyers easily.
Highlights of Selling Jewelry On Walmart
To sell on Walmart, you must include a GTIN for each of your products
Walmart goes by the "Customer is priority" module and has strict no-question return and shipping policies.
As a seller, it's wise to take advantage of its own delivery system, saving you the hassle of handling shipping.
Since Walmart is locally popular in every state, people will trust to purchase your products from their site, more than via your own WooCommerce store.
Learn more about Walmart's seller approval guidelines here.
Cost Of Promoting On Walmart
Listing products on Walmart is free. Plus, there are no monthly fees.
Walmart charges a specific 6-15% referral fee for each sale depending on how expensive your product is.
4. Facebook Marketplace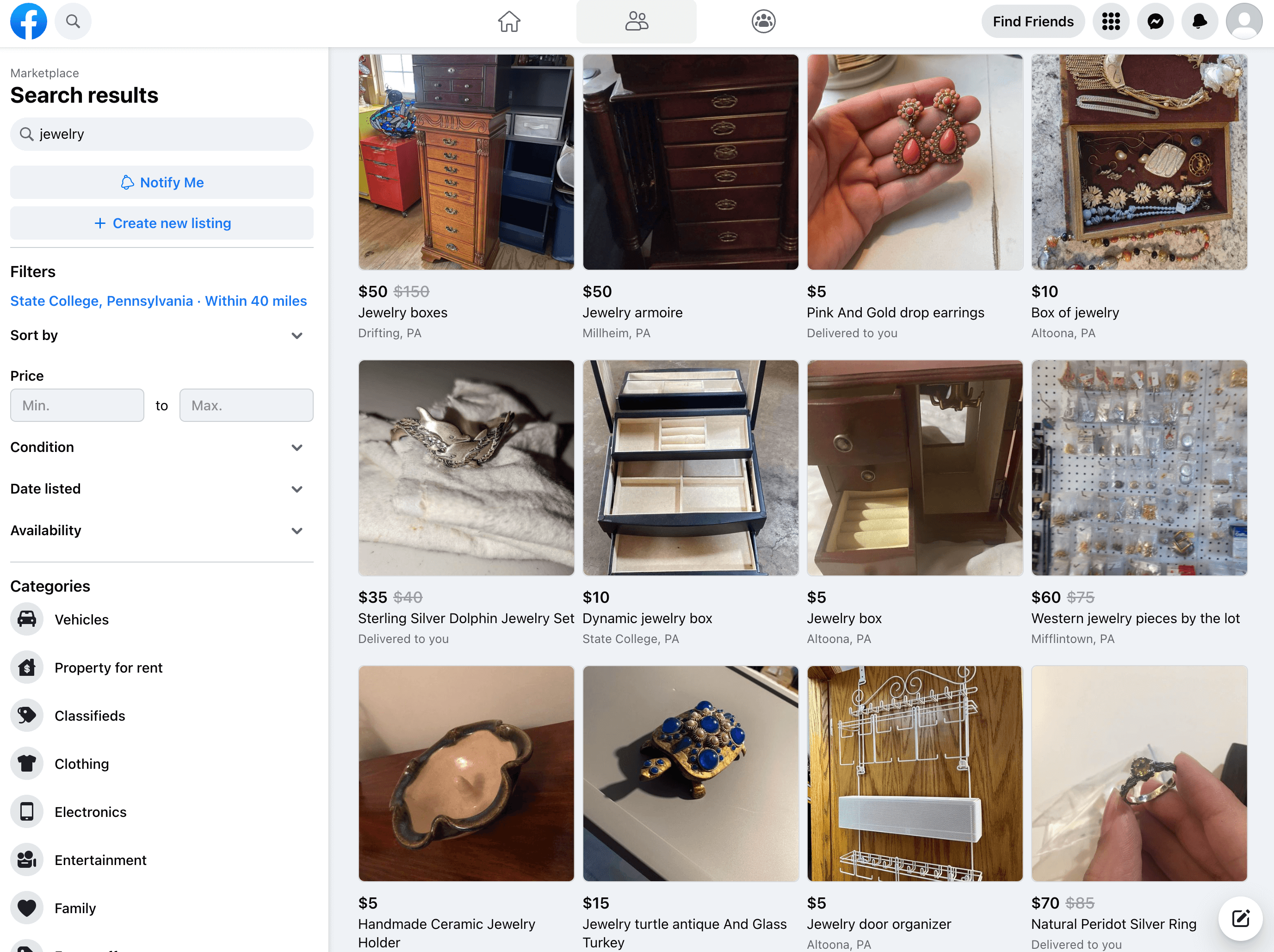 Facebook is the leading social platform in the world today, and likewise, its online marketplace makes it easy for businesses to expose their products to tons of Facebook users.
Traffic Stat of Facebook Marketplace( Jun – Aug 2022)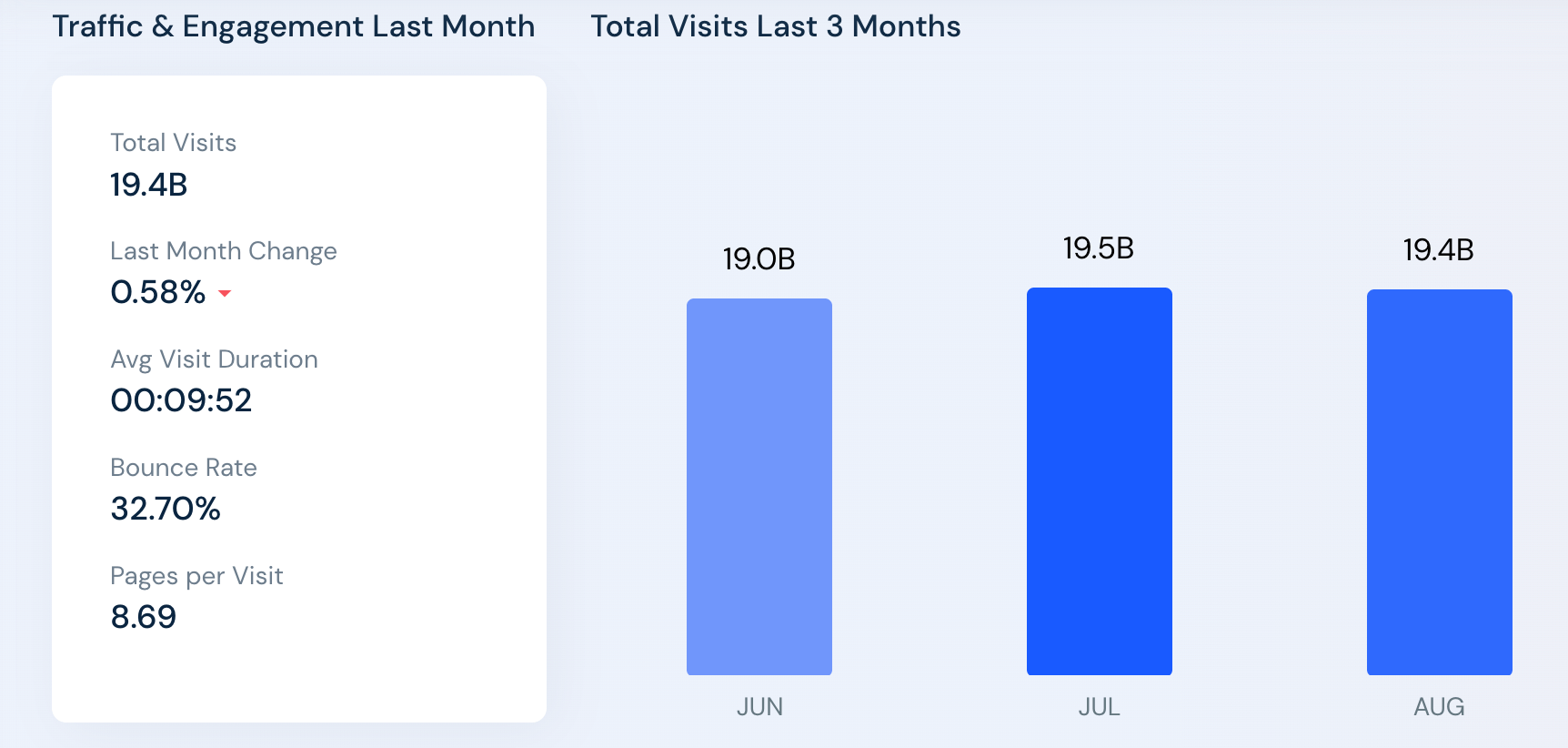 Why Should You Sell Jewelry via Facebook Marketplace
A few years back, besides the shop page, Facebook introduced its own online marketplace where online store owners can list their products to drive potential buyers to their site.
The way it works is, once you list your jewelry items on the Facebook marketplace, these appear on the search results for people who search for specific jewelry that matches your products. At the same time, you may run Ads for each of your jewelry locally to reach even more potential buyers.
Recently, Facebook Live has become more popular for connecting with jewelry lovers and providing them with an interactive shopping experience.
Highlights of Selling On Facebook Marketplace
You may direct buyers to your WooCommerce store to complete a purchase or pay via Facebook.
The PPC campaigns are very successful on Facebook for the jewelry industry all over the world.
Since the social platform has data on people's interests, the products are mostly displayed to potential buyers.
Learn about Facebook Marketplace guidelines.
Costing Of Promoting On Facebook Marketplace
There are no fees for listing products on the Facebook Marketplace.
At the current demand level (September 2022) for jewelry, it will cost you $0.94 per click or
$12.07 per 1,000 impressions.
5. Bonanza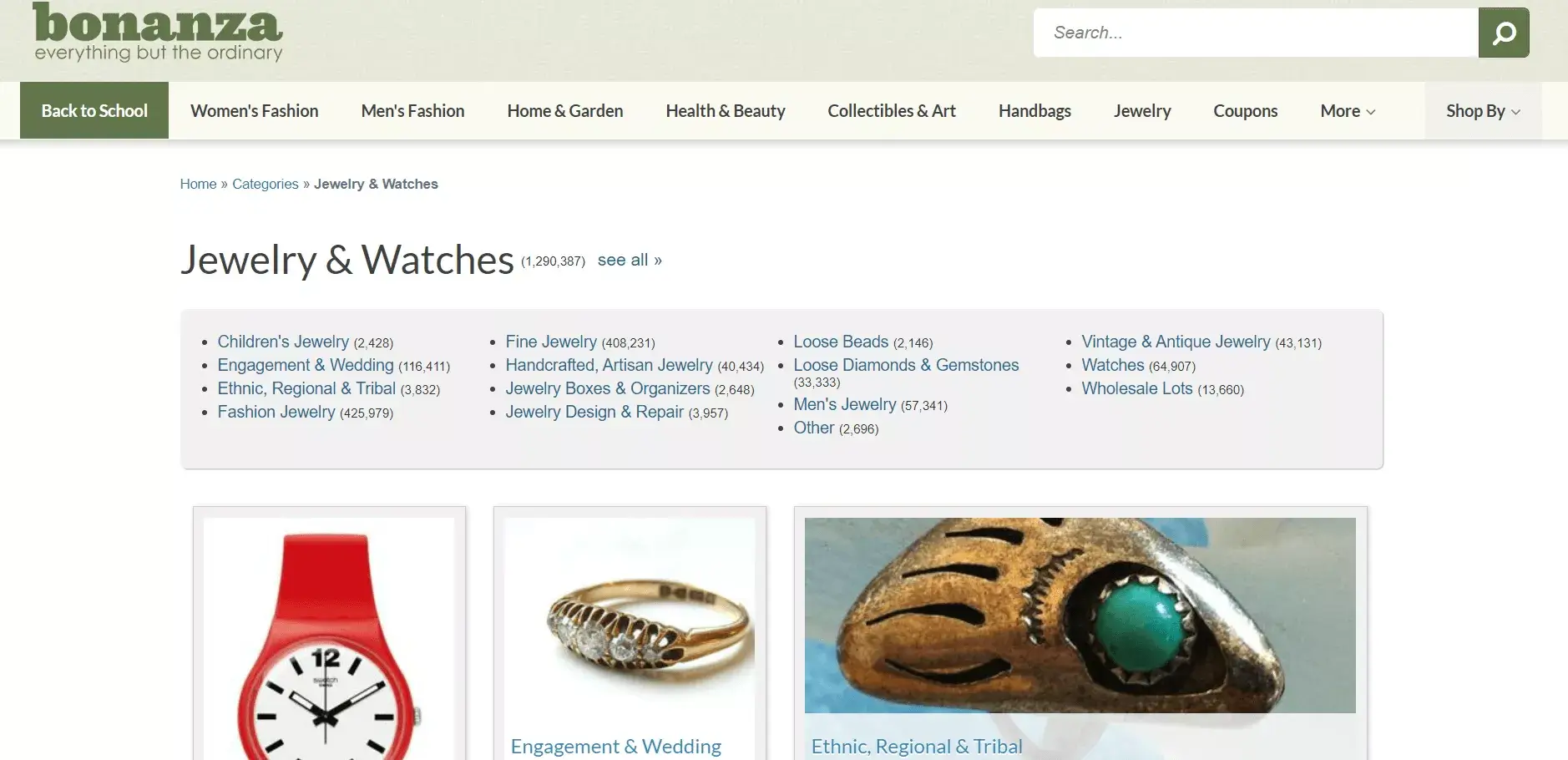 Bonanza is an emerging marketplace in jewelry eCommerce. Most buyers use the Bonanza App to shop online via their mobile phones. And this marketplace is quite popular for selling jewelry.
Traffic Stat of Bonanza ( Jun – Aug 2022)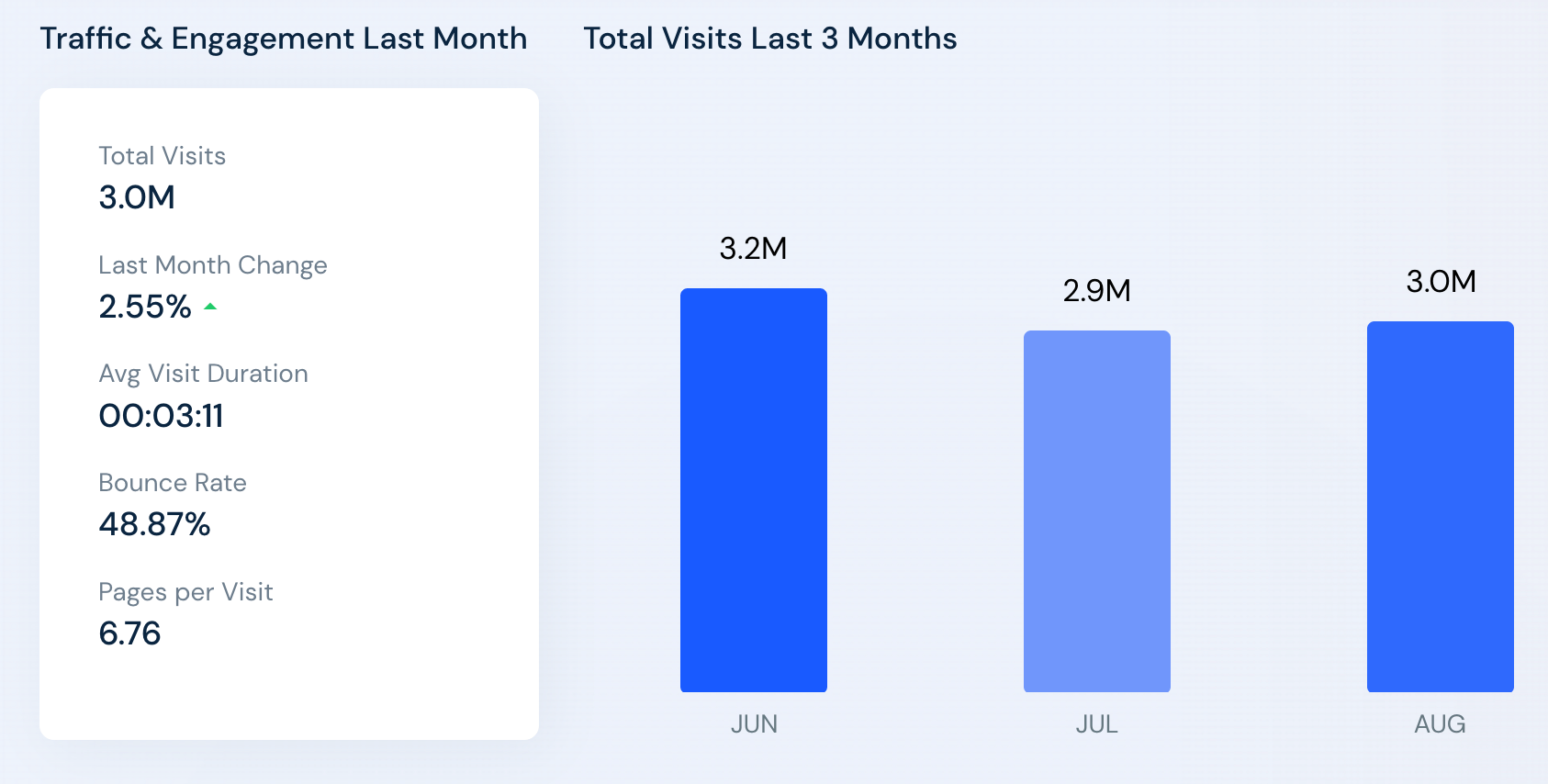 Why Should You Sell Jewelry via Bonanza
Bonanza comes with seller centric-nature to help local sellers have a platform of their own. And WooCommerce store owners like yourself can take advantage of this.
The marketplace has this special feature called the Bonanza booth that allows you to create a complete store within the Bonanza marketplace. So you will be able to design your own booth and highlight the products you want. And buyers will be able to visit this personalized shop of yours when purchasing via Bonanza.
Highlights of Selling Jewelry On Bonanza
Bonanza has a significant representation of jewelry on the market, including artisan jewelry, fashion jewelry, and diamond jewelry.
Bonanza is strict about local product listings, giving you the edge over the international competition.
Buyers in Bonanza love discounts, hence if you run discount campaigns, you are more like to get more sales.
The Bonanza booth will help you rank as a shop within Bonanza if you have on-demand products listed.
Costing of Promoting On Bonanza
There are monthly fees or listing fees.
For products worth below $500, you are entitled to pay a fee of 3.5% per sale
In the case of products worth $500 or above, you are entitled to pay a fee of 1.5% per sale.
6. Overstock for selling Jewelry online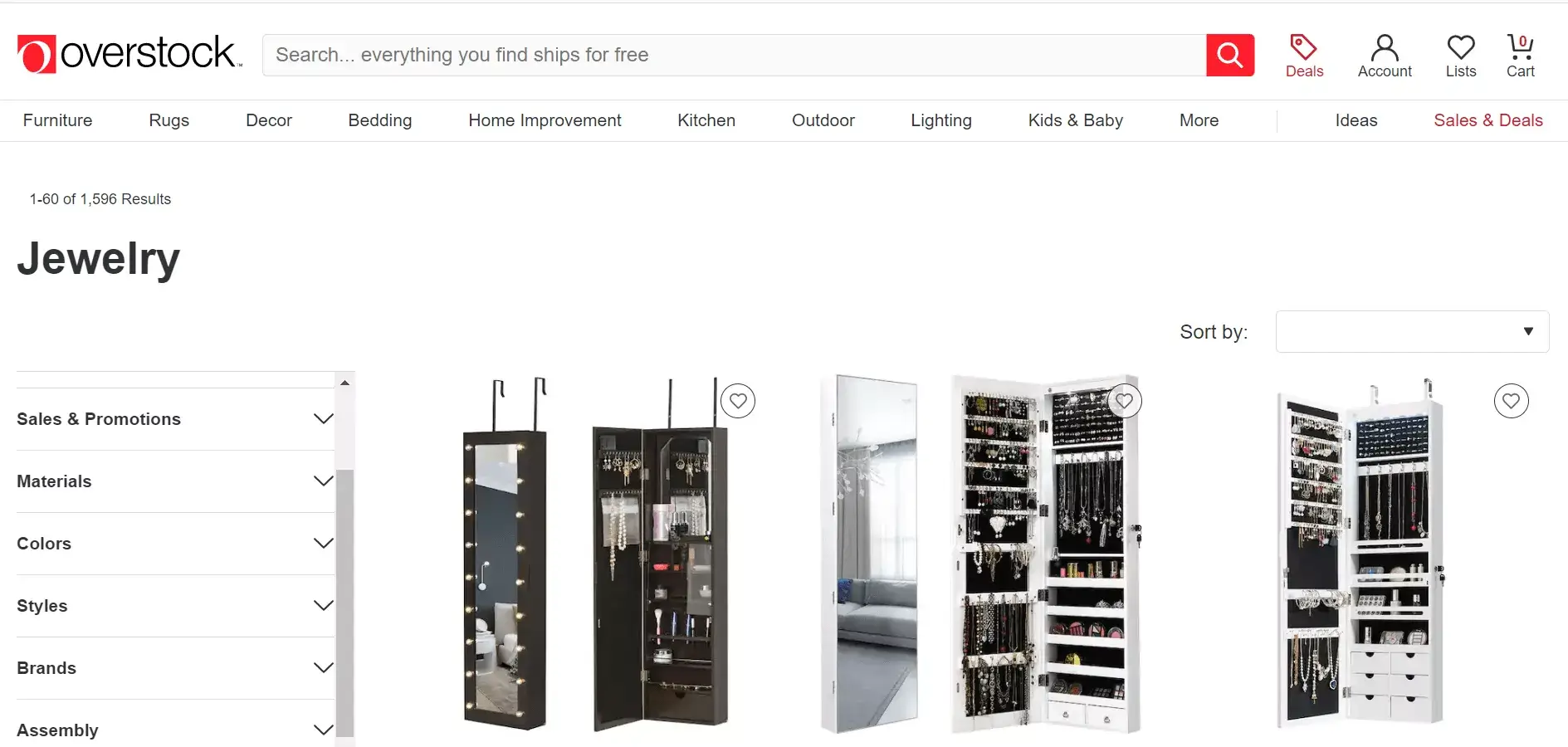 With over 30 million active users, overstock is one of the most popular online marketplaces in the USA for fashion products, jewelry, and home decor.
Traffic Stat of Overstock ( Jun – Aug 2022)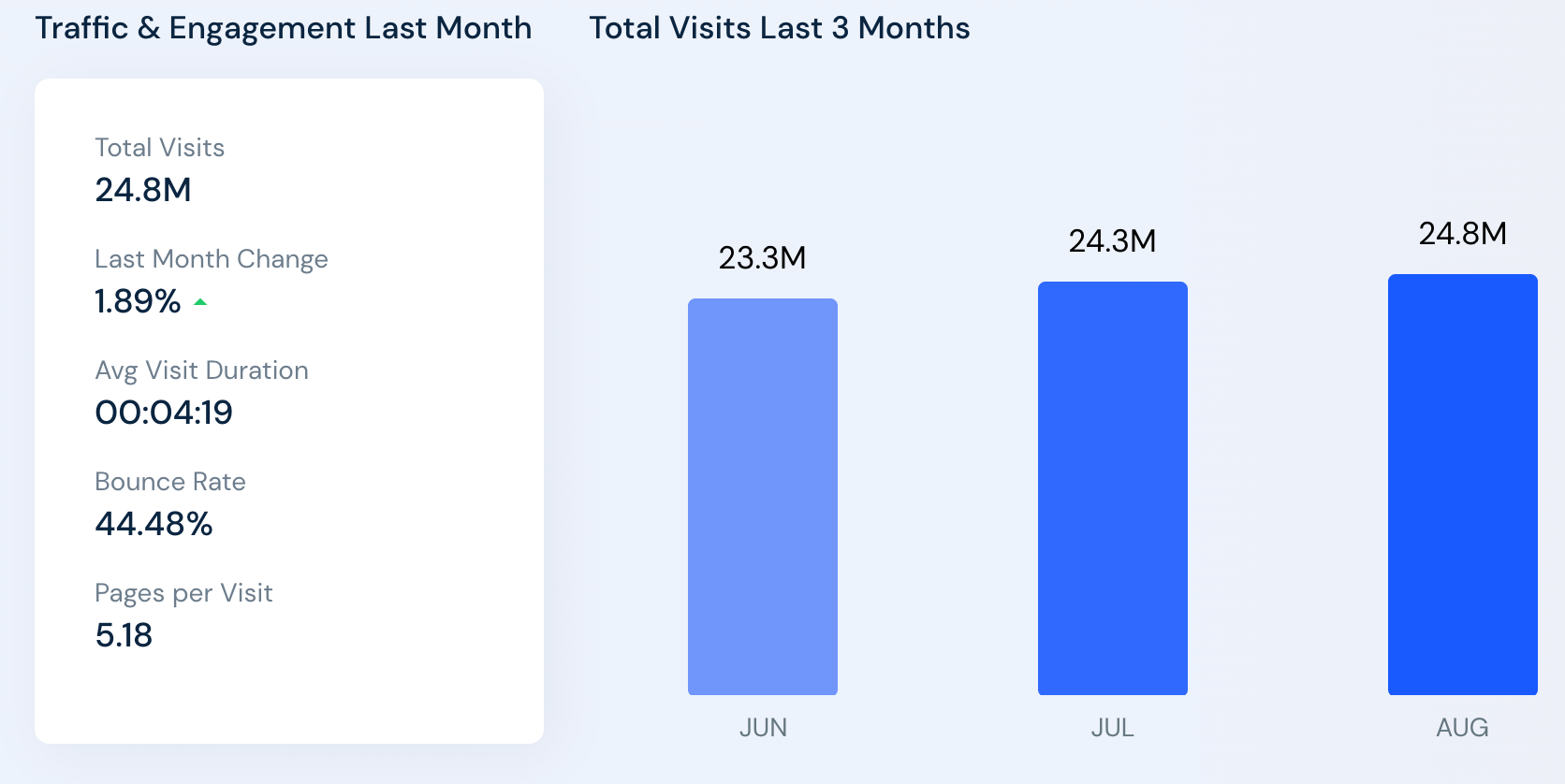 Why Sell Jewelry via Overstock
Promoting on Overstock lets you connect with millions of unique and potential buyers every month. Most of the buyers at overstock are housewives, and homemakers, thus increasing the chances of selling jewelry.
The marketplace has made a name for itself for eliminating fraudulent products – only real manufacturers are allowed to sell via their marketplace.
Here, renewing inventory is easier. It also offers fulfillment through shipping.
If you are in the USA, then selling jewelry via Overstock is a no-brainer.
Highlights of Selling Jewelry Online via Overstock
Overstock is a great auction site for expensive products.
Fine jewelry and classic jewelry are top sellers in the jewelry section of Overstock.
Buyers at Overstock seek offers on Diamond, golds, and handmade items. So discount campaigns will work really work well in this marketplace.
Overstock provides its own fulfillment service, saving you from worrying about logistics.
Costing of Promoting On Overstock
The following costs apply when listing products on Overstock:
Listing costs on Overstocks may vary between $0.10 to $3.15.
You may subscribe at $6.95 per month to add up to 25 listings with no extra listing fees.
Following are the commissions you pay when you sell via this marketplace:
For products under $25, you are entitled to pay a 3% commission per sale. For products with higher prices, it will vary depending on your store's reputation. You will be informed of your possible fees after you submit an application to sell via their platform.
You may pay $1 to display bold text and $5 for highlighted background for your products
A featured auction will cost $13.17 for a single product.
Start Listing Your WooCommerce Products On Large Marketplaces Without Any Hassle
So far, you learned about the places where you can sell jewelry online and get more sales. But as a WooCommerce store owner, it could be quite time-consuming to manage listings on multiple marketplaces while still managing your own WooCommerce store.
However, there is a plugin that can make this much easier, Product Feed Manager.
Product Feed Manager for WooCommerce lets you generate an accurate product feed for large online marketplaces in just a few clicks. This you can submit to your preferred online marketplace and start promoting real quick.
And then, all you have to worry about is delivering your products when you receive your orders and updating your WooCommerce stock. Later, can generate the lists again with the new stocks with a few clicks and update your feed in your marketplaces.
Start using Product Feed Manager for WooCommerce now.
Wrapping Up
Selling jewelry online via large marketplaces is the key to establishing a successful online presence in jewelry eCommerce, especially if you are a startup or a medium-level business.
So besides applying all the sales tactics and conversion optimization strategies, start promoting on large online marketplaces to get more sales.
Reach more potential buyers with the best online marketplaces and grow your WooCommerce sales easily.