Zuletzt aktualisiert am:

13 Min. gelesen
Wie man einen virtuellen Autohof erstellt - Virtuelle Realität (VR) in der Automobilindustrie [2023]
Virtual Reality is slowly becoming a trend in almost all businesses, and the automotive industry is no exception.
It is estimated that the automotive VR industry will see a 79% growth in annual revenue by 2026.
Large car brands such as BMW, Ford, Tesla, Audi, and many others are already using VR technology to promote their latest car models. And likewise, several car showrooms all over the world have started using Virtual Tours to help car enthusiasts find their desired cars before visiting the showroom.
If you are a car dealer or own a car showroom, then you too should consider embracing VR technology to increase your chances of closing the deal.
Having a virtual tour of your showroom on your website will not only attract more buyers but will also help you gain more trust and authority from potential buyers who value technology.
If you have a WordPress site, then you will be glad to know that there is a reliable tool that will help you create your own virtual car showroom easily, without any high costs. (Learn about it later in this article.)
After reading this article, you will learn:
How a virtual tour of your car showroom can boost your revenue
How you can create a VR Car showroom on your own in WordPress easily
Fangen wir also an.
What Is An Ideal Interactive Virtual Car Showroom
When you picture a virtual tour, normally, what comes to mind is a video demonstration of a showroom.
But that's not what we are talking about here. What we are focusing on is a virtual car showroom where people can move about in a 360 view and engage with some elements there to get more details.
A modern-day virtual car showroom is where you create an interactive tour with various views within your VR car showroom, and visitors will be able to move from one scene to another and navigate a 360-degree view.
You can include hotspots that visitors can click to get more information, watch videos, or listen to audio, all within the tour.
But that's not all. You should also create virtual car interior experiences so that people can click and enter the interior of your cars and get a 360 view from within.
Here's an example of what we are discussing here:
As you can see, this creates a user-friendly environment where the viewer will feel like he is taking a real tour.
Now, he could be sitting comfortably at home or, maybe, taking a coffee break at the office and visiting via a mobile phone or simply searching for his ideal car with his wife. The fact is, he will not be in a hurry and will be in a state of mind where he can choose a car with some real thought.
The tour will help highlight the main features of the car and allow him to picture how he can expect the car to be in real life. Thus, once he decides on a car, it will be a real decision to buy, not a dilemma of whether he wants a car or not.
So in a sense, the virtual car showroom tour is more of a passive sales pitch to attract real buyers.
How Can A VR Car Showroom Help To Increase Car Sales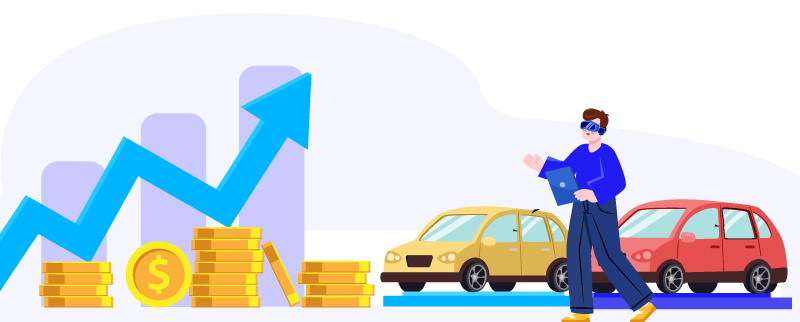 So far, you already got a brief idea of how a virtual car showroom can be a great sales pitch. But let us identify more reasons why you must consider using one at this point.
1. Create A Meaningful Experience For Potential Buyers
Any brand new car looks awesome in photographs. But then why does a buyer reject cars when visiting in person?
Yes, the price may be a factor to think about at times, and that is something you can't avoid. But there is more to it than just the price.
The fact is, when a person thinks of buying a car, he tries to imagine himself with the car, either sitting inside or standing by it.
An image can always mislead the prospect into imagining something more than what it is. But, a virtual tour will give him a more realistic idea of how the car actually looks. And an interior tour will help him decide if he is ready for a test drive or if the interior is not cozy enough for him.
Plus, for high-end buyers, the virtual tour will help them judge if the car goes with their profile.
2. Provide Relevant Details Than Can Drive Decisions
When choosing a car, a person also wants to ensure it has the right features and specifications.
For example, if someone is looking to purchase a Super Car, he will surely want to know about its engine, zero to hundred calculation, horsepower, etc.
You can include them as hotspots that prospects can click or hover to read. You can also include audio explaining its features. An even more engaging approach would be to include a click-to-view promo video on your cars.
If you can provide the right details along with the virtual tour, it will make it a lot easier to trigger a temporary decision from the buyer.
3. Give A Complete Car Showroom Experience
You can take the experience one step further by allowing the prospect to book a test drive or a direct call with you or even allow him/her to submit questions for you to answer later.
All you have to do is to add a booking form or contact form within your tour, where the buyer can choose a suitable schedule or simply submit questions that you can later answer via email or phone call.
This will give you the added benefit of having a list of leads that are genuinely interested in buying a car that's in your showroom.
At the end of this guide, I'll tell you how you can easily set up contact forms inside your virtual car showroom and allow your potential customers to reach you easily.
So, keep on reading.
Some Components You Should Include In Your VR Car Showroom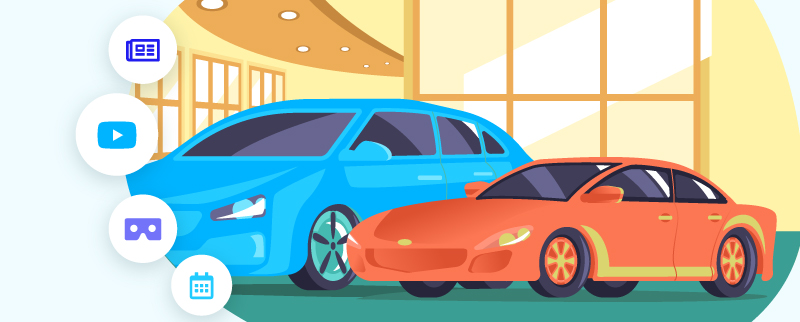 Here are some of the elements you must include in your virtual car showroom to achieve the above benefits.
Car description
This may include the base price, real-life photos of the car in use, promo video, model no., details on design (interior & exterior), engine type, performance, comfort, safety, specifications, etc.
Client Experience Video
You may include a testimonial video of a real buyer who used the car and was satisfied
Introductory Explainer Video With Recommendations
You could include an explainer video to invite your buyer in and recommend some of your cars for various cases, such as suggesting a certain Sports car for more speed or another car for a better luxury interior, or you can even suggest the newest model in your showroom.
Include Showroom Address And Directions
You can include your company information, contact numbers, and a link to directions for your showroom within the virtual tour.
Booking form for test drive or appointment
As mentioned earlier, you can allow the prospect to book a time for a test drive, an online meeting, or even a meeting in person.
Now, let us look at how you can create a virtual car showroom easily, on your WordPress site.
Step By Step Guide To Create A Virtual Car Showroom
When creating a virtual car showroom tour, it's crucial to use a tool that is easy to use and does not hamper the quality of the environment.
In WordPress, you'll find WPVR, is one of the easiest virtual tour builders out there. Using this tool, you can turn a 360 panoramic image into a 360 virtual tour with just a few clicks. And then you can customize the tour by adding the necessary elements and making the tour engaging.
Having said that, you will first need to capture 360 panoramic images from different views of your car showroom. You can read this guide to see how you can capture 360 panoramic images using a 360 camera. Or you can read this guide to see how you can capture panoramic images using your phone.
In the next few steps, you will learn how you can use WPVR to craft virtual car showroom tours on WordPress while providing actionable instructions to optimize the tour for car sales.
Fangen wir also an.
Step 1 – Get WPVR And Install & Activate It On Your WordPress Site
You will need to first install and activate WPVR free version from the WordPress repository.
Simply go to Dashboard > Plugins > Add New and search for WPVR. It should appear as the first option. Install and activate it.
Next, you need to get WPVR Pro.
The free version will let you create a simple virtual tour. The Pro plugin will let you add all the amazing elements to make the tour more engaging such as an explainer video, contact form support, hotspot icon customization, etc.
Once you have purchased WPVR Pro, install and activate it as well. Then activate your license key to get access to all of its premium features.
Step 2 – Configure WPVR For Best Output
Before creating your VR car showroom, configure WPVR for a better output in the General Setup Options.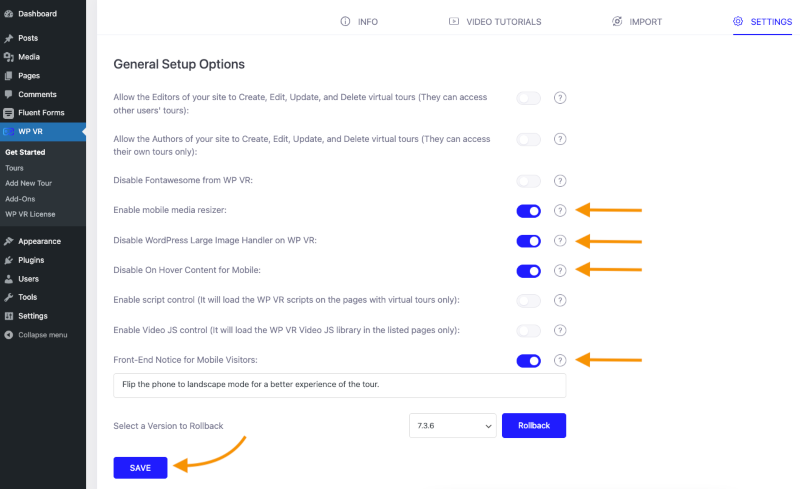 Make sure the following options are enabled:
Mobile Menu Resizer:
This will ensure your virtual tour is optimized for mobile devices.
Disable WordPress Large Image Handler on WP VR:
WordPress normally compresses image files. Enabling this option will mean when you will upload 360 images, they will not be compressed, thus maintaining a high quality of the tour.
Disable On Hover Content for Mobile:
This option is useful because there is no option to hover on mobile devices. So it's rather wise to disable it.
Front End Notice for Mobile Users:
A notice to ask viewers to rotate the mobile to landscape view will help to improve their experience.
Step 3 – Create The First Scene Of Your Virtual Car Showroom Tour
Now, in less than a few minutes, we'll make a simple virtual car showroom tour.
Hover on the WP VR menu in your WordPress Dashboard and select Add New Tour.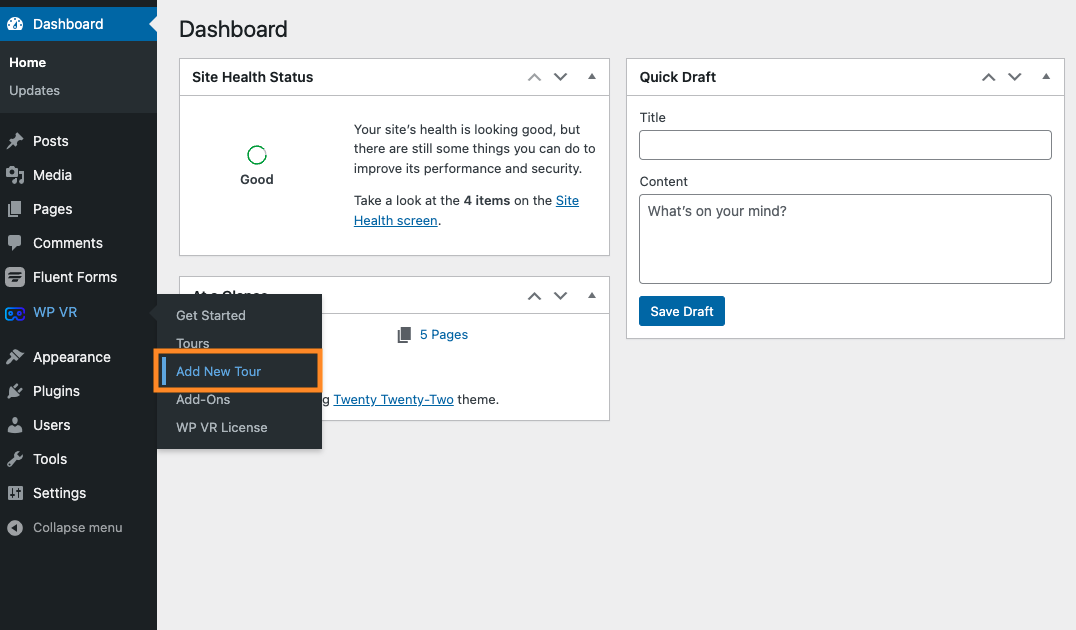 You will be taken on a new tour and initially, you will be in the Basic Settings tab on the General menu.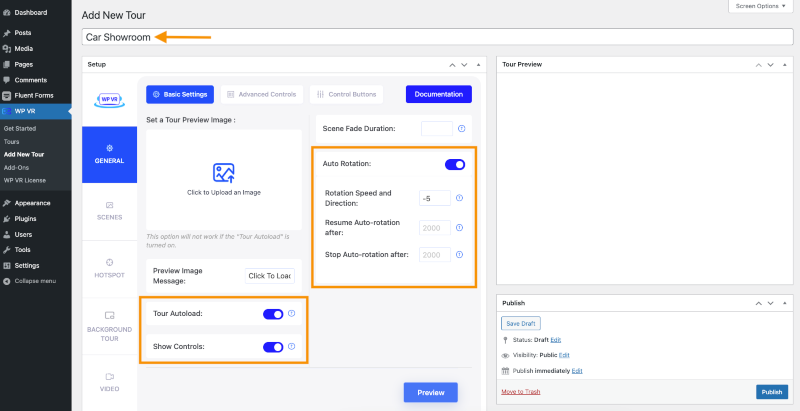 Add a Title to your virtual tour.
Enable the Auto Rotation & keep the speed slow. We recommend keeping it to -5.
Add a Preview image. This will act as a placeholder when you place the tour on a page. People can click on it to access the tour.
You can create a custom image to use as a preview image where you can include a cool image of your showroom and add a CTA text saying "Take a virtual tour and be amazed by your favorite cars" or something along that line.
Step 4 – Upload Your 360 Image And Create A Scene
Scenes are the part where the images will be uploaded.
Select the Scenes option.
Create a distinct Scene ID (Without any special characters and spaces).
Select the first panorama image of your flat by clicking the Upload button under the Scene Upload area.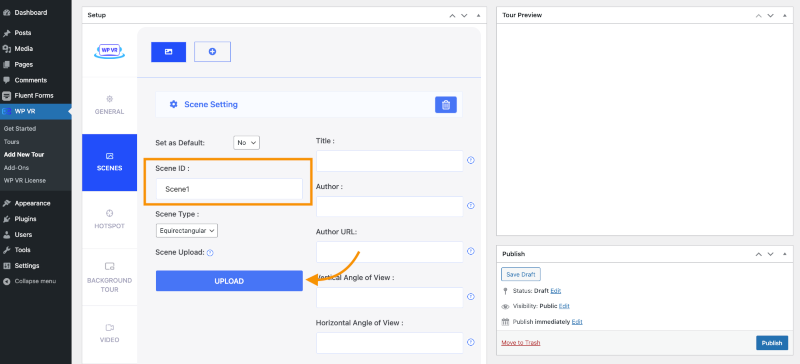 After the image has finished uploading, scroll down and click on the Preview button.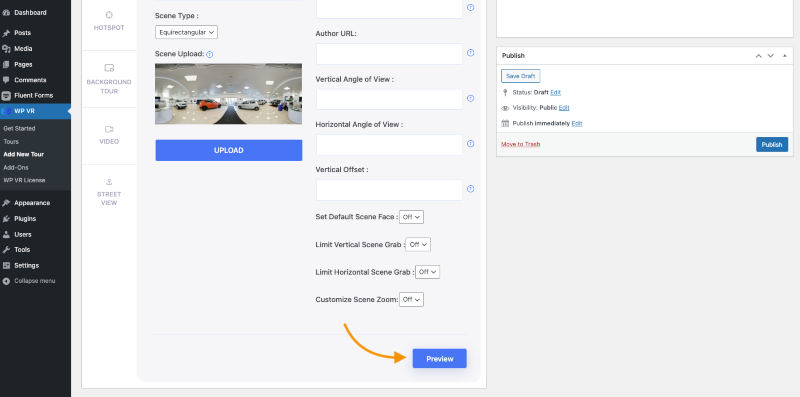 You'll see a live preview of the tour in the Tour Preview section. You can move around this basic tour and use basic controls.
Give a Title of the image to showcase the name and Update.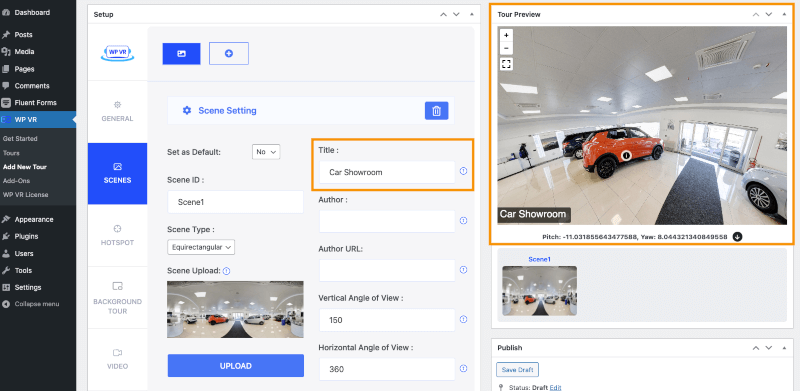 That's it. See, how easy it was to create the virtual tour?
Let's add more features and control options to make this a complete virtual car showroom tour. Here are the details:
Advanced Controls
Go to General > Advanced Control tab and enable these features:
Scene Gallery: Scene Gallery will let you keep an inside image of a car in the picture gallery.
Gyroscope: Gyroscope Feature will let you load the car showroom on Mobile.
Explainer Video: With the Explainer video, you can add explained details of the car.
Add Company Info: Time for the branding of your organization. Company info is very important while showcasing the car.
Tour Background Music: Tour Background Music will help with the engagement of clients.
Control Buttons
Now, Go to the Control Buttons tab.
Keep all the options enabled in this section. Go through the Navigational Features to understand how the control buttons will work for your own VR Car Showroom.
Extra Tips:
Author and Author URL fields are necessary when there are dedicated authors for images.
Default Scene Face will set a default scene for every tour.
With Customize Scene Zoom, you'll receive three new options that let you adjust the zoom level to your preference. This Customize Scene Zoom will help you with the details.
You can now add additional panorama images to this VR Car Showroom tour by adding more scenes and different parameters.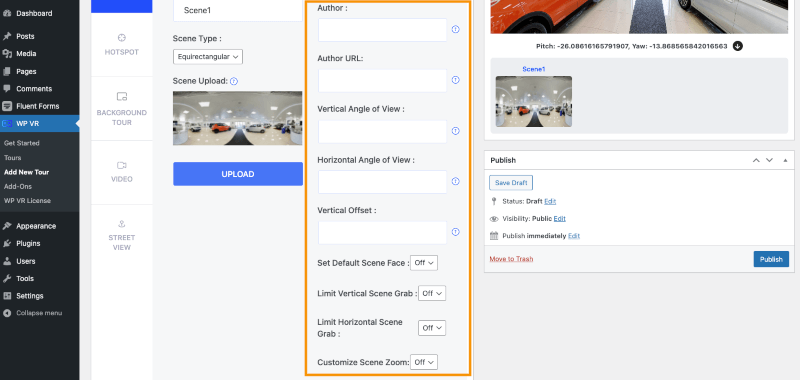 Step 4 – Use Hotspots – Connect Panorama Images with Hotspots to Display Additional Information
Since you're building a Car Showroom tour, it's time for you to show the cars and their details. Let's work with one car for now. To add a hotspot you'll need to go to the hotspot section and add one.
Give an ID for the Hotspot. Note: The ID should be one word without any special characters.
Add Pitch & Yaw from the section of the panorama where you want to place the hotspot.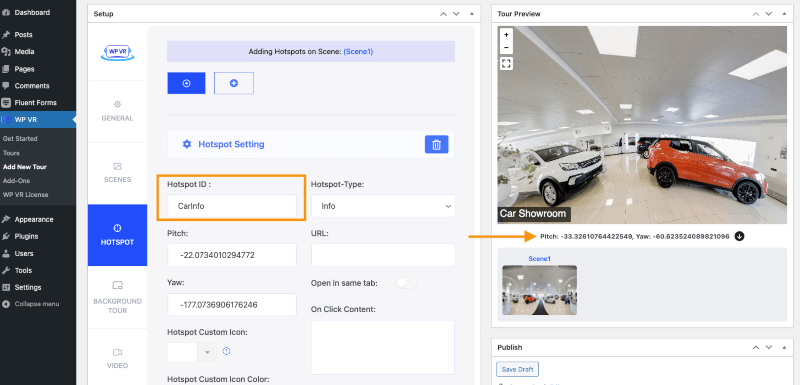 Now scroll down, then you can add a custom icon. And on hover content write what you want to display when your clients hover on the hotspot. The best part is you can add images, and gif files as well.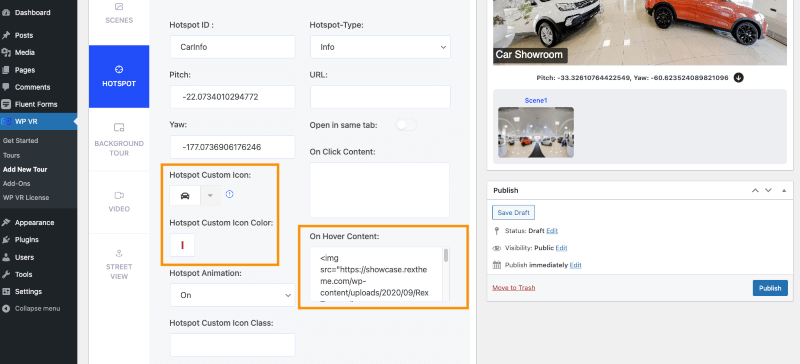 Let's add another hotspot and see how it looks on the frontend: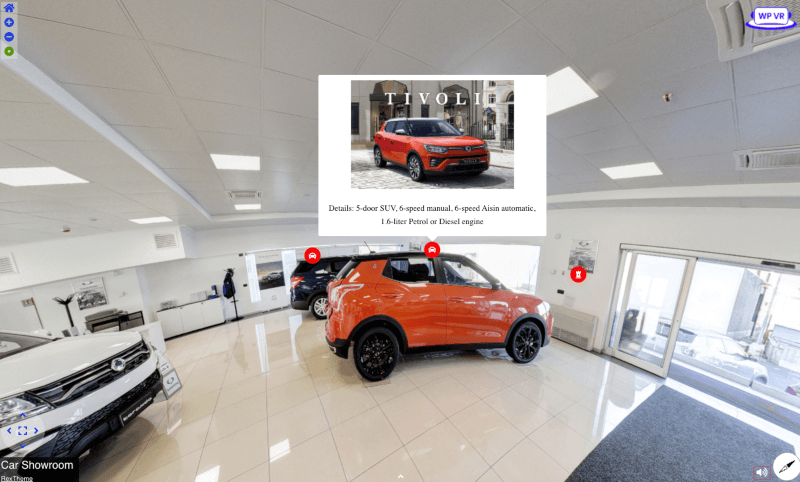 Tip: I've added engine details in the hotspot as well. If you want to showcase the car features individually, you can do it this way.
You can even showcase the inside image of a car by moving from one scene to another. For this, you'll need to use the Scene Type Hotspot.
You can also add a URL link to a Car's product page from where the client can directly purchase the car.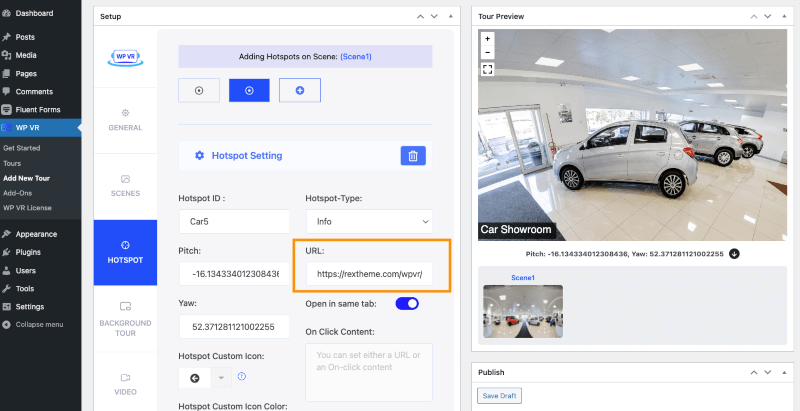 Now, you've created a complete VR car showroom. And the next move would be to impress your customer with your presentation or answers and close the deal.
Yes, you still need to put in some effort to close the deal, but you can see how a virtual tour can reduce the amount of effort you would normally need to invest in convincing the buyer who just walked into your showroom to view cars.
Follow this simple guide to easily add contact forms inside virtual tours.
Schlussfolgerung
The VR automotive industry is quite on the boom and you can tag along by using virtual tours for your car showroom (if you haven't already).
The amount of engagements you can make with a virtual car showroom tour is immense compared to a normal website. Plus, as you saw, it is so easy and affordable to create a virtual car showroom tour.
So it's high time for you to start using VR technology to drive more sales.
This could be a game-changer in helping you attract more potential buyers and increase your car sales.