Zuletzt aktualisiert am:

26 mins read
Was ist eine virtuelle Tour? Erfahren Sie alles über virtuelle Touren - detaillierte Wissensdatenbank [2023]
Virtual reality has been booming since late 2019. And after the Covid-19 outbreak & lockdowns, more and more people started to embrace advanced technology.
In fact, virtual reality is now one of the prime technologies in demand.
It is estimated that the VR industry will reach about $57.55 billion market value by the year 2027.
The most significant form of VR technology today is virtual reality tours or simply virtual tours.
In fact, virtual tour technology is a revolutionary element in the 21st century, for many industries such as real estate, hospitality, hotel & tourism, etc.
Today, you will be able to get a thorough understanding of 'what is a virtual tour'.
We've gathered every essential information you may want to learn, starting with the basic definitions to advanced uses of the virtual tour.
After reading this article, you'll learn:
What a virtual tour is and it's purpose
Knowledge on different type of virtual tours
How a virtual tour is beneficial to your business
Affordable solution to creating a virtual tour
Basic knowledge on creating a virtual tour on your own
Example implementation of virtual tours.
In short, you will know exactly why you should start using virtual tours to grow your business.
Fangen wir also an.
Learn All About Virtual Tours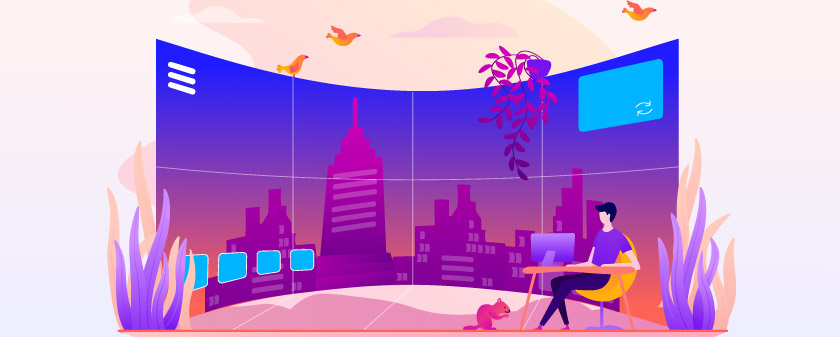 1. What Is A Virtual Tou

r?
Virtual Tour Meaning:
A panoramic view or video simulation of an existing or conceptual place that can be viewed online, i.e., exploring a realistic place virtually.
Imagine you live somewhere in the US and you always wanted to visit the Eiffel Tower in Paris.
What you can do is use your smartphone and search for 'Eiffel Tower virtual tour' on Google or Duckduckgo. On the search results, you will find the first choice is a virtual tour of the Eiffel Tour. Click on it and you will be looking directly at the Eiffel Tower through your phone screen!
Notice that you can listen to the tourists' chitchat and move your phone to look around the place. It's as if you are really there and you are enjoying a tour of the Eiffel Tower.
This is exactly the realistic experience you can get with any virtual tour.
A virtual tour is usually a virtual representation of a real place, which you can explore remotely from your phone or computer.
Just like the Eiffel Tower, you can create virtual tours of any place for various reasons. For example, realtors often use virtual tours of properties to attract buyers.
Virtual Tour Definition:
A virtual tour is a type of semi-immersive virtual reality where you view a virtual environment for a semi-realistic experience.
Let us look at it more elaborately.
Virtual reality comes in many forms and the virtual tour is one of them. While defining a virtual tour, you may look at a few features that make a virtual tour different from other forms of VR.
It's when you view a virtual environment through a device, but you do not necessarily need to move to view the tour. Neither you control a character.
You simply get a view of the environment as if you are looking at it in reality (often referred to as the first-person view), and you can look around using a mouse or a keyboard on a PC, or by swiping your fingers on a smartphone screen.
The first example of a virtual tour dates back to 1994 (as per Wikipedia). An interpretive tour was created for a museum that included a 3D walkthrough of Dudley Castle (1550) virtually reconstructed.
Most virtual tours have Gyroscope support, which somewhat gives you a near-realistic experience since you have to move the phone to look around.
The ones that are supported by VR boxes, those virtual tours feel more realistic as when you experience one, you will feel like you are standing in the center of the place.
However, you will only be moving your face or turning around – movements of your body parts won't have any impact on the tour.
Nevertheless, it is still the most effective and affordable VR solution.
Is Virtual Tour And Virtual Reality The Same?
Virtual reality can be referred to as any form of a virtual environment that requires engagement. This could be fully immersive (e.g. virtual medical training), non-immersive (e.g. RPG strategy games), semi-immersive (e.g. virtual tour), etc.
A virtual tour is a type of semi-immersive virtual reality experience.
2. Types Of Virtual Tours
Apparently, virtual tours evolved gradually with technology to increase the engagement it has today.
In the past, guided video tours were often referred to as virtual tours.
Let us look at a few types of virtual tours.
i. Guided Video Tours
ii. 360 Virtual Tours
iii. Google Street View Tour
iv. Virtual 360 Video Tours
v. Visual 3D Dollhouse
 i. Guided Video Tours 
When thinking about developing virtual experience, the early so-called virtual tours were actually guided video tours where a sequence of videos was used to give you a tour of a location.
Though it can be considered as a virtual experience, it is rather a tour where you, as a viewer, have no control. You will only look at what is being shown in the video.
As per modern-day knowledge, a guided video tour is no longer considered a VR experience.
 ii. 360 Virtual Tours 
People have long advanced from guided video tours and started using 360 virtual tours.
A 360 virtual tour is basically where you can get a complete virtual 360-degree view of the environment – you can view the place from the center, with more control over navigation.
Virtual 360 Degree Meaning –
You will be able to completely turn in a circle in any direction whether top and around or sideways within a virtual environment.
This is the modern-day virtual tour that most businesses use nowadays. In fact, it is the most affordable form of virtual tour solution out there today.
iii. Google Street View Tour
Google also came up with an exclusive solution for virtual tours. Since Google already has the Street View feature in the maps, they decided to allow users to extract the virtual view of a certain location and embed it on their website or mobile app.
This Street View tour is a typical virtual tour connected to the Street View world in Google maps. So initially, you will start at the intended location, but then you can navigate yourself to other places just like you do in Google Earth.
 iv. Virtual 360 Video Tours   
Then emerged the new form of virtual reality, 360 video tour. It is a form of a virtual tour where you get to experience a 360 video and navigate in a 360 view while the video is playing.
These types of virtual tours became possible thanks to the high-quality 360 digital cameras that were invented and released in the last two decades.
However, as amazing as it sounds, it still didn't get as much popularity as an ordinary 360 virtual tour simply because of the high expenses involved, and the lack of engagements compared to a traditional virtual tour.
 v. Visual 3D Dollhouse 
The most advanced form of a virtual tour was developed by a handful of companies, the most notable one being Matterport.
They introduced the Visual 3D Dollhouse form of virtual tours. It's the only form of a virtual tour that is closest to a real walking tour.
However, it is also the most expensive form of a virtual tour (ranging from 2k to 8k dollars for a single tour).
Initially, you will get a 3D model of the house, and then you may enter the house to get a virtual tour where you can click to move here and there within the house. It doesn't stay limited to the center of a room; rather you can move positions within a room.
The dollhouse concept was mainly used by Home Development Companies and Architects before a house was built. But many large firms invested in creating a Dollhouse virtual tour for themselves and to get more online traction.
Comparing A 360 Virtual Tour And A Virtual 360 Video Tour
| 360 Virtual Tour | Virtual 360 Video Tour |
| --- | --- |
| Created by converting a 360 panoramic image into an equirectangular virtual environment. | A 360 video can be directly recorded using digital 360 cameras. |
| More scope of interaction with tooltips, click-to-play videos, multiple scenes, custom hotspot icons, etc. | Limited to the video itself with just 360-degree navigation from the center. |
| Less expensive to create and develop professionally. | More expensive when hiring a professional. |
| Tools to embed a virtual tour on a website offer more interactive customizations to increase engagements. | Embedding a 360 video tour on a website has no extra customization scopes, hence no extra engagements. |
| Gives more control to the visitor and creates more interactions, thus helping to trigger a buyer's interest when using virtual tours for business purposes such as selling a house, promoting hotel rooms, etc. | It is more ideal for fun and social activities such as traveling, vlogging, or parties, but not engaging enough to help in boosting business revenue., |
So in short, use 360 virtual tours when it is a business purposes, and use virtual 360 video tours when it is for fun and entertainment.
3. Who Uses Virtual Tours And Why?
In the last decade, a lot of industries started to use virtual tours more expressively and are definitely seeing positive results. However, many businesses are yet to explore this emerging technology and should get on board ASAP.
Here is the list of industries or businesses that should use virtual tours (if not using already) as a part of their marketing strategies.
i. Real Estate
This is probably the industry that is using virtual tours more than any other.
When selling a house or property, or simply renting out an apartment, a virtual tour can help buyers get hooked immediately.
The potential client will get to experience a realistic view of your property, which is way more engaging than regular images. So you will have a better chance to get calls from interested clients.
Sadly, many prominent realtors are still hesitant about using such technology and prefer going the old traditional way. This will have to change soon if they want to stay in the competition for long.
ii. Hotel & Resort
You will find that a lot of international hotels are now using virtual tours to attract tourists and travelers.
Most people usually like to find out how a hotel looks and get information on the services and charges, before deciding where to reside during vacation or tourism.
And you can show them every little detail about the rooms you're offering by adding a ton of information inside the virtual tour itself using tooltip hotspots and other customizations.
iii. Museums:
Since the pandemic began, most museums have gone through some really tough times.
But a few museums managed to keep their reputations up by offering free virtual tours of some of their sections while promoting paid virtual tours on other sections.
Virtual tours are also a great way to preserve historic relics online.
iv. Restaurants & Bars
When visiting a bar or restaurant, people tend to notice if the environment is suitable for hanging out or comfortable, else they refrain from coming back.
If you are confident about your restaurant or bar, then you may create a virtual tour and place it on your website. This will help to grab the attention of the people who are researching online to find out a suitable place to hang out or probably dine in.
A well-made virtual tour of your restaurant will always encourage your customers to consider taking a visit and if they enjoy their first visit, they will definitely become returning customers.
You may also provide your menu and contact details on the tour, or even add a contact form for home delivery.
v. Art Gallery or Exhibition Halls
One of the more potential industries that can flourish using virtual tours is Art Galleries or Exhibition Halls.
Most art galleries and exhibitions regularly organize live events to showcase the artworks which are often open to auctions or purchasing.
The good news is, these creative arts can be auctioned and sold online as well. But rather than creating an e-commerce style online market, you can consider using a virtual tour.
In that regard, online visitors will enjoy the tour and will get to view all the available arts in a realistic way.
Plus, you can use tooltip hotspots to provide extra details about the arts such as the meaning or the thought behind the artwork or the artist details, etc. And you may even add a contact form for inquiries related to purchasing and auctions.
If your artworks are not for sale and you are organizing a paid event, then you can use virtual tours for two exclusive purposes:
All a free virtual tour of a small section of the exibit and ask your visitors to buy tickets to the actual event.
You can run an online virtual event and allow people to take access to the exibit for a small fee.
Whichever way you use virtual tours, it will get you great exposure and good business.
In fact, a virtual tour will mean people from all over the world can take part, and you can get visitors 24/7.
Also, you will still have a running event despite any mishaps such as the lockdown during the recent pandemic.
There are tons of other industries that can benefit from using virtual tours such as:
Tourist Destinations
– to promote tourism
Universities and Colleges
– to highlight the exclusive campus to potential new students
Local Pubs
– to attract more local customers
Departmental Stores
– to get extra sales online
Clothing Stores
– to create a virtual shopping store
Car Showrooms
– to showcase available car models
Beauty Parlors and Spa
– to highlight the comforting environment
Und viele mehr.
4. Traditional Virtual Tour Creation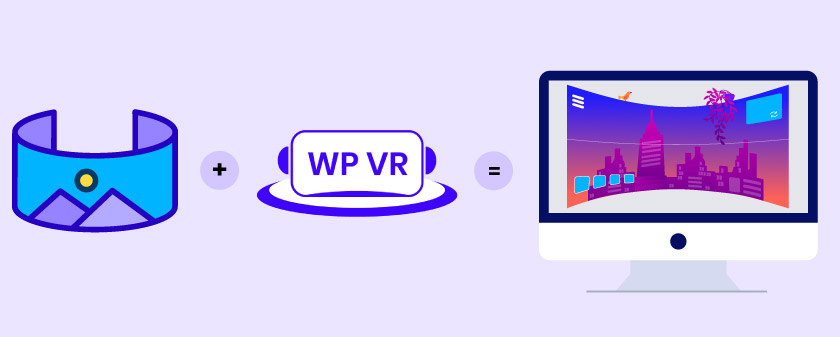 Once you know the basics about virtual tours, your next question is probably "How to create a virtual tour?".
Creating a typical virtual tour can be very affordable or expensive depending on how you create it or what purpose you are creating it for.
Normally, to create a 360 virtual tour, you will need 360 panoramic images and a virtual tour builder.
360 Panoramic Image –
A type of image that is captured through Panoramic photography and can be converted into a 360 virtual tour using an appropriate tool.
You may seek professional help to create virtual tours, which can be quite expensive since 360 photography costs a lot (ranging from 1500 to over 3000 dollars), and agencies tend to charge a high fee when building virtual tours (commonly around $500). But you will get quality output.
However, it is possible to reduce that cost by capturing 360 panoramas on your own and using an online virtual tour builder.
Creating A Virtual Tour On Your Own
If you have time, then it's best to create your own virtual tour without any professional help and believe me, it's not as complicated as it sounds.
To create a virtual tour on your own, you will simply need to follow the 3 steps below-
i. Collect the right virtual tour equipment to capture 360 images
When capturing 360 images, you will need a digital 360 camera and a Monopod. We suggest you use the Ricoh Theta V camera.
Initially, a digital 360 camera may seem expensive. However, as you saw earlier, professionals would charge almost twice as much just to create one single tour. But with your own camera, you can capture as many as you want.
Once you have the two pieces of equipment, you can capture the 360 panoramic images easily. Simply follow few smart tips and you will be good to go.
It's best to capture images of multiple scenes or locations of your house/property that you can include in the virtual tour. For example, if you are creating a virtual tour of a house, you may capture a panoramic image for each room it has.
ii. Use a reliable virtual tour creator
You will find several tools out there that you can use to create virtual tours.
However, you should go for a virtual tour builder that is
Easy to use and has actionable tutorials,
Customizable for optimized engagements,
Cost-effective with quality output.
If you run a WordPress site, then you will find a reliable plugin, called WPVR.

WPVR is currently the best virtual tour builder in WordPress that is both cost-effective and convenient as it has detailed actionable tutorials to start using the plugin immediately.

Plus, you will be amazed with some of the tours that it's users have made so far. Take a look.
Simply use the virtual tour creator to convert your captured 360 panoramic images into a virtual tour.
iii. Optimize the virtual tour for your target audience
Now, a virtual tour is only as good as its engagement potential.
Even if you use high-quality panoramic images, how well the visitors will respond to it completely depends on how you optimized it for engagement.
Most VT creators will allow you to add extra details such as tooltip hotspots, website links, custom hotspot icons, etc.
But it's up to you how well you make use of them.
For example, in an art gallery tour, it's ideal to add a small tooltip for every artwork to give more details about the art and the artist.
For restaurants, you may rather use a hotspot near the counter to add a click-to-view menu.
Plus, as I mentioned earlier, it's best to have multiple panoramic images so that you can allow visitors to move between each scene within a single virtual tour for a realistic feel.
You may also include a scene gallery to let the visitor know of all the available scenes in a quick preview.
Try to use all the relevant features you will get with the tool and aim to create a welcoming and engaging virtual experience.
For example, in the case of WPVR, you can use:
Auto-rotation.
Company Logo and Information.
Tour Location Details.
Interactive hotspots.
Custom Controls.
Gyroskop-Unterstützung.
You may also use engaging hotspot actions to view:
Text.
Audio.
Video.
Website URL.
Contact Form.
Und viele mehr.
The idea is to use the engaging elements that you think your target audience will find appealing. Give the visitor the most interactive experience possible and get him/her interested and intrigued right away.
5. Affordable Solution For Virtual Tour
By now I believe you probably can realize that a good virtual tour depends a lot on the tool you choose. But you should also look at the cost.
Simply put, using an expensive solution may not generate as many conversions as required to cover up the cost.
Choosing a tool that is both affordable and provides enough features to create engaging virtual tours is a vital factor for your business.
If you're using WordPress, then you won't have to worry about it. WPVR is a plugin that was built to meet these requirements.
Take a look.
 Virtual Tour Pricing
i. WPVR Yearly Plans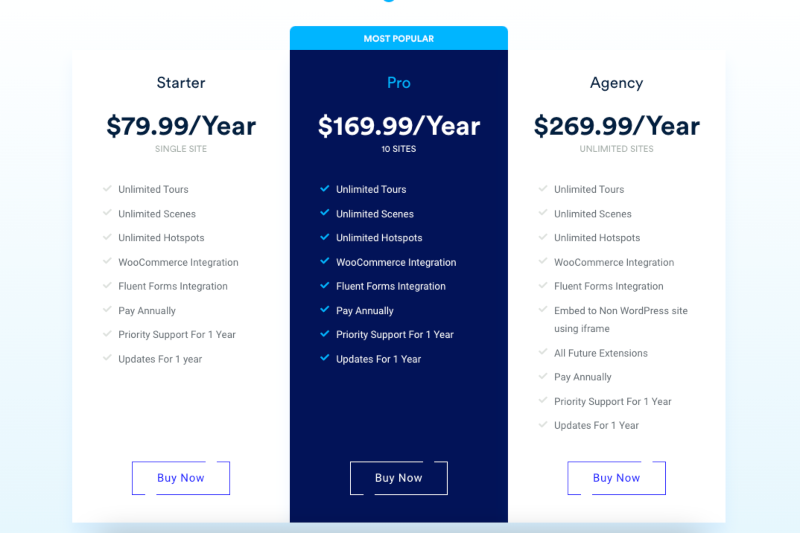 So, just for $59.99, you can create unlimited premium virtual tours and use them on your website for 1 year (Annual Virtual Tour pricing).
ii. WPVR Lifetime Plans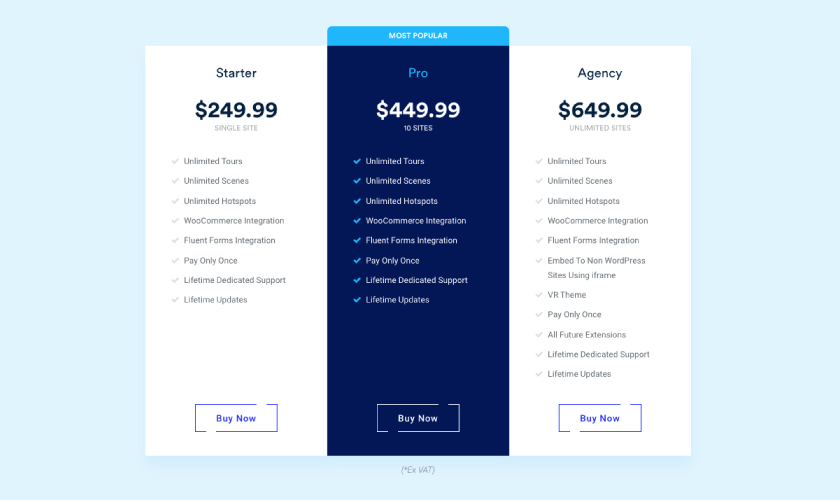 The lifetime plans may seem a bit high at first glance. But keep in mind that, you'll be paying only once and you can use the plugin for as long as you want (One-time virtual tour pricing).
WPVR comparatively costs way less than most other virtual tour creators when considering the quality of output and ease of use.
6. Some Example Virtual Tour Ideas Implementation
Below is the implementation of some virtual tour ideas that you can experience:
i. Virtual Tour of A Property
Here is a virtual tour idea of a real estate property.
Here you can see how beautifully the hotspots were used to make it engaging.
You can create a similar virtual tour for your house as well.
ii. Virtual Tour of Hotel Room
Take a look at this hotel room tour which is ideal for tourists.
**Click on the Form Icon on the yellow wall. You will see, there is a contact form to book the room.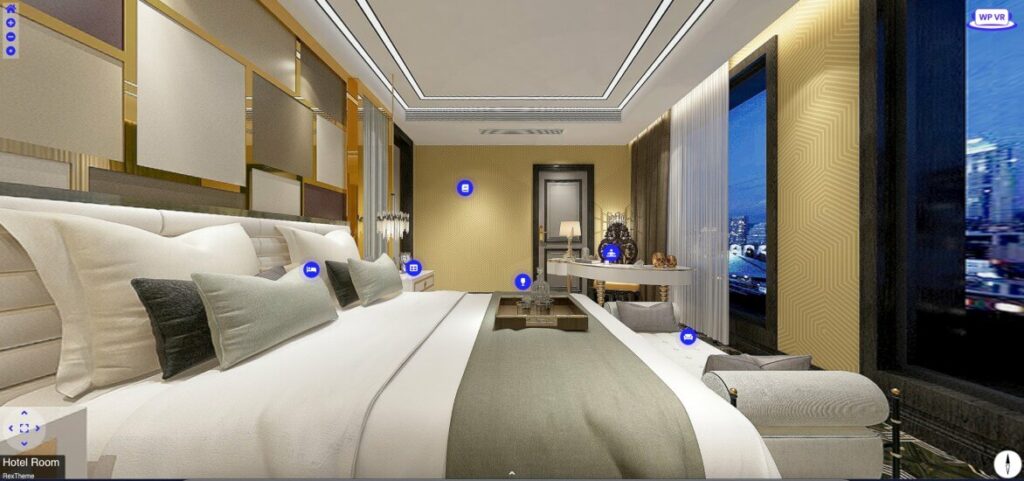 This is a great way to promote hotel room booking.
iii. Virtual Tour of A Car Showroom 
You can even promote your car showroom using a virtual tour.
**Hover on the hotspots above the cars to see how you can highlight the car details elegantly.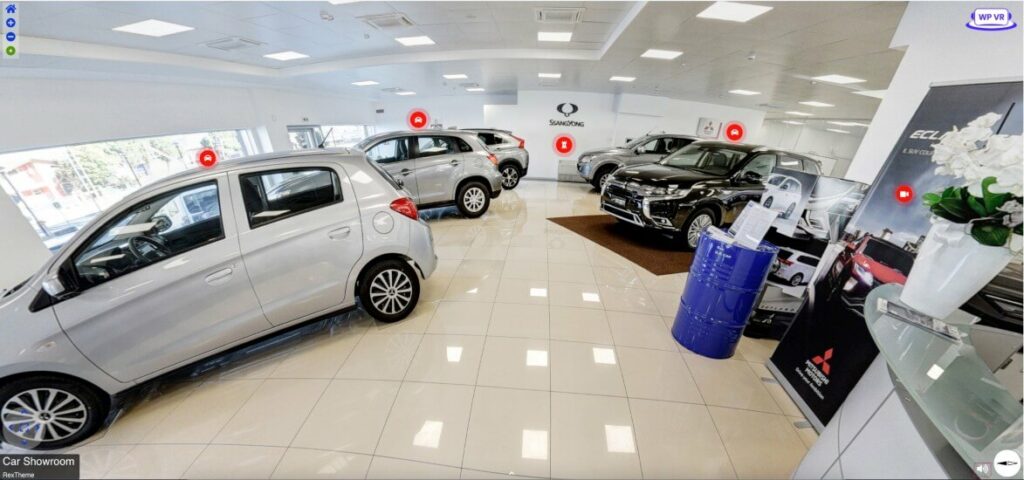 Whether you are the manufacturer or simply own a car showroom to sell cars from multiple brands, a virtual showroom tour such as this one can be a great medium to increase sales.
iv. Virtual Tour of Grocery Store
Online sales have seen a great surge since the pandemic, And online grocery sales have reached their peak this year.
And having. a virtual grocery store tour can be a great way to sell your grocery products.
**Click on the hotspot icons for each product to see how you can sell WooCommerce grocery products through a virtual tour.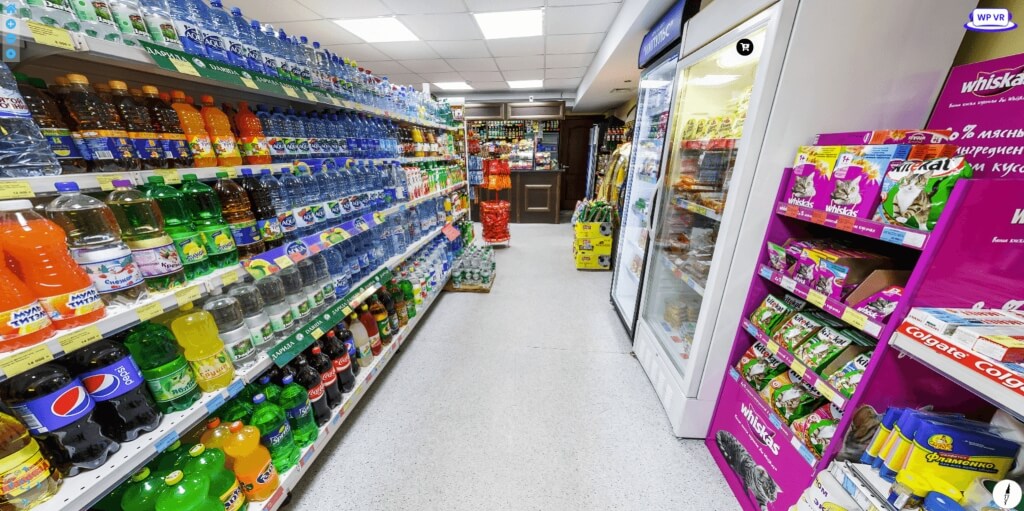 Here is a virtual grocery store tour you can check out.
This is a great, modern way to sell on eCommerce sites. You can use the same type of tours to promote a supermarket, bakery, general convenience store, clothing store, or whichever store you may have.
v. Virtual Tour of Pub
So local bars or pubs have embraced virtual tours to attract more local regulars.
Most people want to feel comfortable about how a pub looks like when visiting and a virtual tour online can definitely attract the ideal prospects.
Take a look at how this virtual tour of a Pub is so welcoming to the locals.
Just like these amazing virtual tours, you may use your creativity to craft your own virtual tours that can bring you more business.
Common Questions & Answers Regarding Virtual Tours
Let us look at some common questions people have regarding virtual tours.
1. Do People Like Virtual Tours?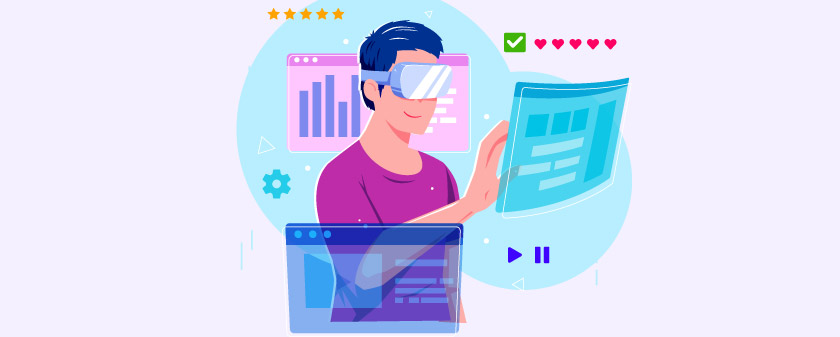 People will stay 5 to 10 times longer on your website if have at least one virtual tour.
This is justified since virtual tours are interactive and users can control and look around them.
So the answer is Yes, people love virtual tours.
2. Do Virtual Tours Increase Sales?
According to TIG Global, using virtual tours as a marketing method resulted in up to a 67% rise in conversion and successful bookings.
Remember, engagement is the key to conversion. And a virtual tour can definitely connect with visitors more effectively than texts and images, or at times, even videos.
3. How Big Is The Virtual Reality Market?
4. How Many People Are Interested In VR?
Needless to say, this is the century of the millennials, i.e., people aged between 18 to 34. Any technology that can target this age group successfully will definitely flourish.
– The millennial population of the US is 72 million.
– 44% of the millennials are interested in purchasing a VR device.
This is a clear indication that any VR content is ideal to grab the attention of millennials.
– According to Yulio Technologies, 41% of all adults would give VR technology a try, if they're more available.
So the question is how many VR users are there in 2021?
– Approximate 58.9 million people are using VR technology once a month in the US.
This number is around 17.7% of the total US population, i.e., almost 1 out of every 5 US citizens are now using VR technology every month.
Though it's hard to craft an exact number on how many people may prefer virtual tours, looking at the numbers in the US, it can easily be said that billions of users are interested in VR technology all over the world.
5. How Do I Make A Virtual Tour for Free?
Some of you may have the question "Are virtual tours free?"
Well, most VR tools are very expensive, while a few are more affordable.
The good news is, there are a few virtual tour creators that released a FREE version with limited features.
In WordPress, you will find the plugin WPVR, which will allow you to create great virtual tours for free.
Though many of its exclusive premium features are not available, WPVR free version will still let you create high-quality virtual tours which you may use on your website.
– Follow this guide to learn to make a virtual tour for free.
6.  What Makes A Good Virtual Tour?
A quality virtual tour for your business should have these features:
– Proper indications to help you move around the tour.
– List of the rooms and spaces in the tour.
– High-quality image support.
– Hotspots or pointers where you can learn more about any specific place or object.
– A way to contact your business for inquiries or booking.
At the end of the day, the tour has to be interactive.
8. How Do I Create A Virtual Tour Completely On My Own?
9.  What Is A Virtual Tour of A Property? / What Are Real Estate Virtual Tours? / What's A Virtual Apartment Tour?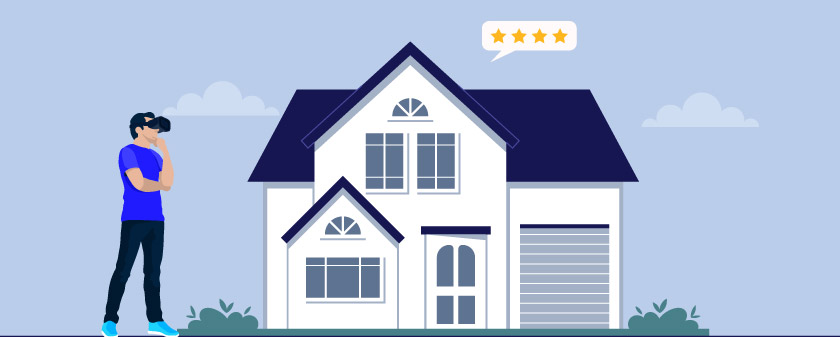 Real estate virtual tours are created using multiple 360 degree panorama images of that property combined together. They give you a realistic view of a property or apartment and move in and out inside the property.
You can visit different locations inside the house, choose to view every room, and interact with the materials inside the apartment.
10. How Do You Do A Virtual Apartment Tour? 
You can easily create a virtual tour of your property or apartment using panorama images taken by you.
Use a 360 virtual tour software to convert the panorama images into a functional apartment virtual tour.
However, if you're aiming for superior quality, you can use a camera specialized for capturing 360 degree panorama images.
Then your job will become even easier with the 360 virtual tour software.
11. How Much Does A Virtual Tour Cost? 
The average cost for 360-degree photography is around $350 in the US.
A quality 360-degree shot takes time to perfect and adjust for the photographer.
You'll be paying this price one time only and then you can keep on using them.
12. Are Virtual Tours Profitable? 
According to Entrepreneur, A virtual tour business can generate up to $100,000 per year in revenue.
On the other hand, if you're planning to use virtual tours as a marketing strategy for your business, you can consider these 2 stats:
– In the real estate industry, using virtual tours decreased wasted viewings by 40%.
– For the hospitality industry, customers aged between 18 to 34 are 130% more likely to book a place if there is a virtual tour.
13. Should I Start A Virtual Tour Business? / How Do I Start A 360 Virtual Tour Business?
If you're already providing any photography service, then adding 360-degree photography to your list will give you an opportunity for extra income.
Most of the latest DSLR cameras can capture 360-degree panoramic images and there are a few moderately priced 360 virtual tour software that will help you to create the tour.
At first, you'll have to invest some time to learn 360-degree photography and the virtual tour software itself (which is less than $100).
However, since you can charge around $350 for a single project, you can find it profitable after just 3 projects.
In the beginning, you should focus on creating virtual tours for your local businesses like:
– Your local real estate agents.
– Small shops, cafes, & restaurants.
Once you've gathered some experience and learned your way around it, you can move to expand your service even more.
14. Do Virtual Tours Help Sell Houses?
Here's a simple rundown of the impact of virtual tours in the real estate industry, run by realtor.com:
– Property listings with a virtual tour received 87% more views than the regular ones.
– 54% of the potential buyers choose to skip a listing that doesn't offer any virtual tours.
– 75% of the buyers think that virtual tours are a significant factor in taking decisions like, whether to visit the property in person & rent/purchase the property.
15. What Is The Best Virtual Tour Software? 
This actually depends on the requirements and features you're looking for in the virtual tour software.
There are 2 tools that you can check out:
– Matterport – Popular for their Dollhouse virtual tour. However, they do have a simplified virtual tour creator. Price: $200 to $7000+ per year.
– WPVR – A plugin that is currently the best virtual tour creator for WordPress. It includes the features you actually need to create an engaging virtual tour and has an easy-to-use interface. Plus, it is among the most affordable virtual tour solutions out there. Price: $79.99 to $269.99 per year.
16. What Is The Best Free Virtual Tour Software? 
If your website is made with WordPress, the best free virtual tour software for you is WPVR – Virtual Tour Creator.
This free virtual tour software has the following features:
– Unlimited virtual tours.
– Super high-quality image support.
– Image, Text, Video, & GIF file support inside the tours.
– Keyboard, mouse, & mobile control.
– Made with a mobile-first approach.  
Einpacken
"What is a virtual tour?" is probably no longer a question in your mind. You also saw how a virtual tour can help businesses attract prospects. Plus, you now have the guidelines to start creating a virtual tour on your own.
Now the next question is when will you start using a modern-day virtual tour?
If you run a WordPress site or run an agency that develops WordPress sites, I suggest you try using WPVR once just to see how you may benefit from using this virtual tour builder.
– Try WPVR Free version
– Get WPVR Premium
If you have more questions regarding virtual tours or if you find any particular topic regarding virtual tours was missed in this article, feel free to let us know in the comments section.