Zuletzt aktualisiert am:

12 Min. gelesen
5 Best Global Online Marketplaces To Promote WooCommerce Products Internationally
Running a WooCommerce store is always a challenge. You constantly need to explore different ways to generate new sales and stay ahead of the competition.
One of the most efficient ways to sustain your WooCommerce business is by promoting your products on different global online marketplaces.
According to InternetRetailing, Third-party marketplace sales will take over 59% of all global e-commerce by 2027.
But, as a beginner, you might get confused when deciding which global online marketplaces to promote to get maximum exposure and sales, especially if you are selling in an international market.
Today, we'll explore the best marketplaces where you can promote your products to reach more potential international clients.
Am Ende dieses Artikels werden Sie in der Lage sein, -
Better understand the benefits of selling on online marketplaces.
Choose reliable online marketplaces to promote your products on
Get tips on how to get started and optimize your results.
And eventually, take advantage of the renounced platforms that are designed to help you get more sales.
So, let's dive in!
5 Best Marketplaces To Sell Your WooCommerce Products Online
Following are the 5 best marketplaces where you can start promoting your products and expect to get better results.
1. eBay: Expanding Your Reach with Auctions and Buyer Offers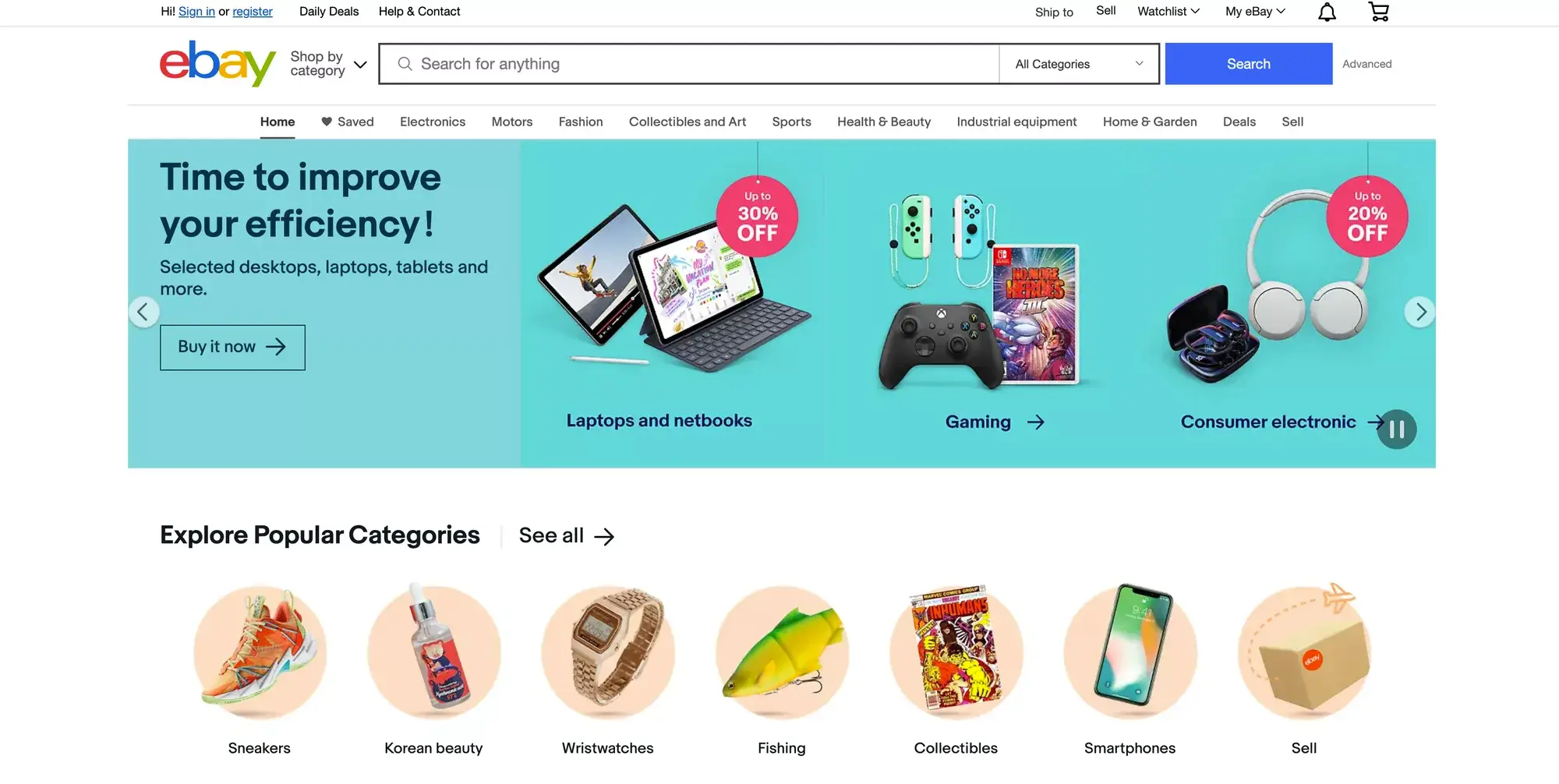 eBay is one of the best marketplaces that can provide a unique opportunity for you to reach a broad customer base.
With over 185 million active buyers, eBay can be a lucrative marketplace for your Woocommerce.
Advantages of eBay platforms:
You will get several benefits when uploading products on eBay:
Auction Format: You can auction your products and allow your buyers to bid and potentially generate higher profits.
Buyer Offers: Here, buyers are able to make offers on your products, which can sometimes be much higher than your planned sale price.
Customizable Storefront: You can create a customized store that is hosted on eBay to showcase your brand and provide a unique shopping experience.
Seller Protection: You can get benefit from seller protection policies to safeguard your business against fraudulent buyers. It also has built-in tools to manage returns and refunds easily.
When should you promote products on eBay?
If you specialize in unique or hard-to-find items like vintage records, then eBay is a great marketplace to rely on. It has a diverse audience where many actively seek rare and desirable products. You can list your items for auction-style bidding or as fixed-price options, whichever you find more feasible.
Sometimes the bidding can go very high, which is a great opportunity for you to earn extra. However, sometimes prices may not go as high as you want. Hence, if you have a product on which you do not wish to compromise the price, listing it under the "Buy it Now" format would be the right option.
You may also set up an eBay store and integrate your WooCommerce products into it. With an eBay store, you can create customized listings, showcase your brand, and organize your products into different categories.
Tips on getting started with eBay:
Create an eBay seller account to manage your listings, track sales, and communicate with customers.
Optimize your product listings with high-quality images, detailed descriptions, and relevant keywords to rank higher in search results.
Set competitive prices, considering eBay's highly competitive marketplace. Consider offering free shipping or bundle deals to attract customers.
Provide excellent customer service, responding quickly to inquiries and resolving any issues or complaints promptly.
Utilize eBay promotions such as sales, discounts, and coupon codes to attract more customers and boost sales.
Monitor your performance metrics to adjust your strategies as needed.
Thus, you can integrate your WooCommerce store with eBay and expand your online presence with a proven marketplace.
2. Google Shopping – Leverage Visibility On A Global Scale
Google Shopping is the most commonly used global online marketplace by medium to large e-commerce stores. Its specialty is you can directly get customers who search for products on Google as the products you list on Google Shopping are promoted on Google's search page and various other display Ads.
Plus, you may pay extra to run Google Paid Ads all over the internet for these products.
Benefits of Google Shopping:
Here are some advantages of this marketplace-
Visual Appearance: Through this marketplace, your products appear visually on the search results page, increasing click-through rates and potential sales.
Global Reach: You can reach a wider audience and improve search engine rankings by promoting your products on Google Shopping.
Targeted Advertising: You can target specific audiences based on geographic location, language, device type, and more with this marketplace.
Detailed Analytics: You can track ad performance, including impressions, clicks, and conversions, to measure your return on investment from Google shopping.
When should you promote products on Google Shopping?
Google Shopping is actually ideal for any type of product (as long as they do not fall under restricted product categories). As long as you submit the right product data, you can get good results.
Tips on getting started with Google Shopping:
Create a Google Merchant Center account to upload and manage your product data and listings.
Create your Google shopping feed with accurate and detailed information, including titles, descriptions, prices, and images.
Use high-quality product images that make your products stand out in search results.
If you want to showcase your products to your targeted audience, you can go for Google's paid advertising. For that, you need to choose a bidding strategy carefully in the pay-per-click (PPC) model, considering your budget and performance goals. But, if you're not sure about it and have less budget you can skip it and focus on listing your products on Google Shopping only.
You always need to monitor your performance metrics and optimize your product feed as needed.
However, when expanding your reach you may face a gap between search intent and social discovery.
You can extend your reach further by leveraging Facebook's vast user base and sophisticated ad-targeting capabilities.
Here is how-
3. Facebook – Targeted Marketplace for Potential Customers
Facebook is one of the best social marketplaces worldwide, offering an excellent opportunity to promote your products and reach a wider audience.
By listing products on Facebook, you can display your products in the 'Products Tab' and attract potential buyers you come to Facebook to purchase.
Advantages of Facebook:
Large User Base: You can get benefits from Facebook's massive user base of billions of active users worldwide.
Build stronger relationships: Facebook is such a platform, where you have a unique opportunity to build relationships with buyers in real time. make different kinds of posts to educate, have fun, or sell.
Analytics and Insights: You can also access detailed analytics to measure the performance of your ads and make data-driven decisions.
When should you promote on Facebook?
If your target audience consists of individuals who are active on social media and likely to engage with visual content, Facebook can be an effective platform for you.
For example, if you sell fashion accessories, promoting on Facebook can help you reach fashion-conscious individuals who are active on the platform.
Tips on getting started with Facebook:
Set up a Facebook Page: Create a dedicated Facebook page for your store if you haven't already. Make sure to include relevant information about your business, such as your website, contact details, and a clear description of your products.
Install a Product Feed Plugin: To streamline the process of syncing your WooCommerce products with Facebook, install a product feed plugin to list your products on Facebook easily.
Optimize your Listing: Ensure that your product information, including titles, descriptions, prices, and images, are accurate and compelling.
Categorize and Tag Products: Organize your products into relevant categories or collections to make it easier for customers to navigate and find what they are looking for. Additionally, use relevant tags or keywords for each product to improve searchability.
Amplify your brand's impact by utilizing Facebook's robust ad targeting to drive traffic to your WooCommerce store, while also tapping into the immense customer base of Amazon, the world's largest online marketplace.
4. Amazon: Promote Your WooCommerce Products Globally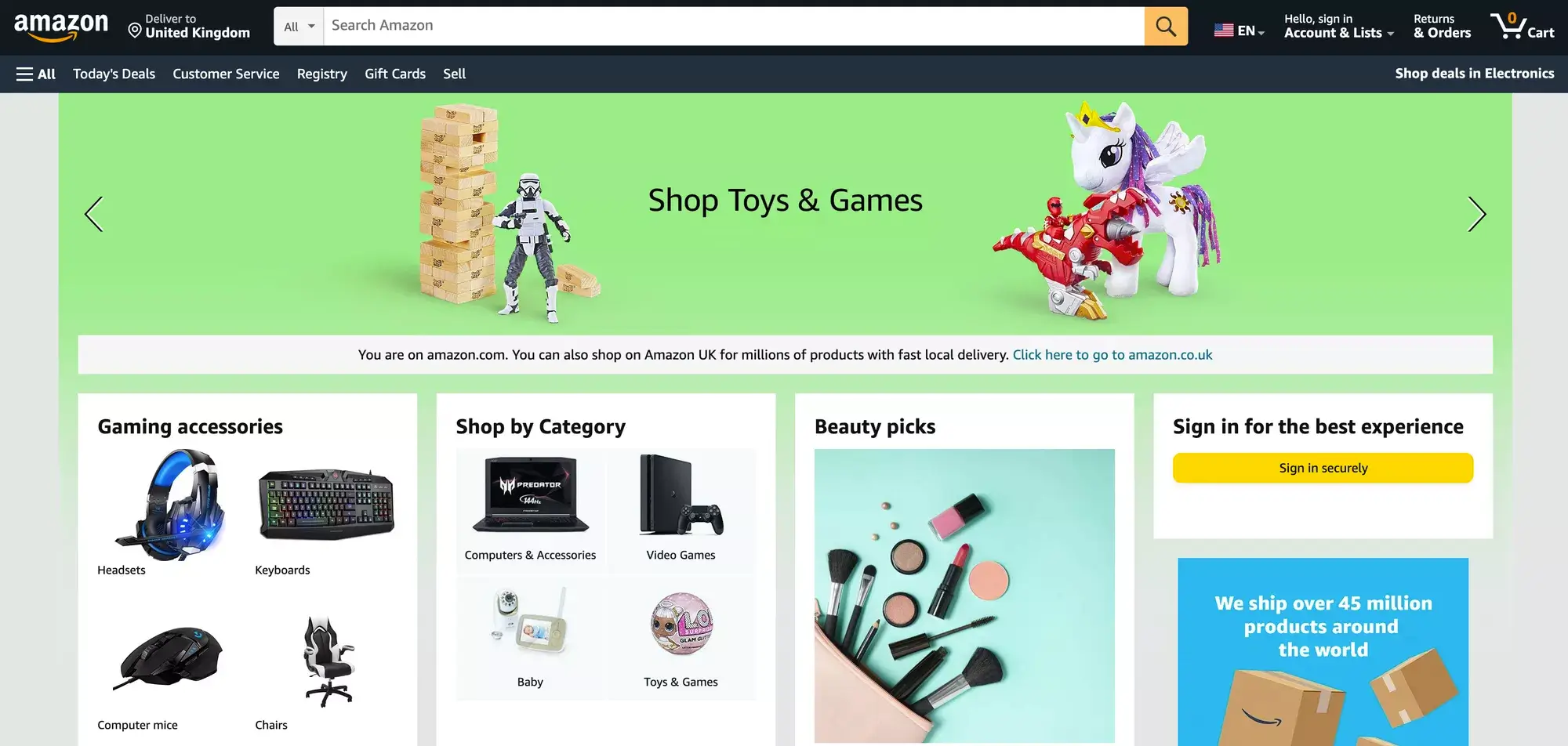 Amazon is the largest online marketplace globally, with billions of monthly visits and a massive customer base.
By selling your WooCommerce products on Amazon, you can tap into its immense reach and leverage its fulfillment services, such as Fulfillment by Amazon (FBA).
Here are some advantages of this marketplace-
Benefits of Amazon:
Vast Customer Base: You can gain exposure to millions of active Amazon shoppers worldwide.
Fulfillment by Amazon (FBA): Utilize Amazon's fulfillment services to store, pack, and ship your products, offering fast and reliable delivery.
Advertising Options: If offers different advertising options to promote products such as Sponsored Products, Sponsored Brands, and Sponsored Displays.
Trust and Credibility: Leverage Amazon's trusted reputation to build credibility for your brand and products.
When should you promote on Amazon?
If you want to reach a massive customer base and benefit from Amazon's fulfillment services, selling on Amazon is a wise choice.
However, it's essential to conduct market research and ensure your products can compete effectively within Amazon's highly competitive marketplace.
Let,s have some tips for for getting started-
Tips on getting started with Amazon:
Create an Amazon seller account and choose the appropriate selling plan based on your business needs.
Optimize your product listings with detailed and accurate information, including titles, bullet points, descriptions, and images.
Use high-quality product images that meet Amazon's guidelines.
Set competitive prices while considering fees and other costs associated with selling on Amazon.
Take advantage of Amazon advertising options to increase visibility and drive more sales.
Monitor your product performance and customer feedback to maintain a positive seller rating.
However, if you want to showcase your WooCommerce products to millions of active Pinners, who are seeking inspiration and ideas, you can consider Pinterest.
5. Pinterest: Inspiring Shoppers with Visual Promotion
Pinterest is another one of the best marketplaces for visual discovery and inspiration, making it an excellent marketplace to promote your WooCommerce products. With millions of active users, Pinterest can help increase brand exposure and generate leads for your online store.
Advantages of Pinterest:
Visual Focus: Leverage Pinterest's visual nature to showcase your products effectively.
Traffic Generation: Drive traffic from Pinterest directly to your online store.
User Engagement: Engage with users through boards, pins, comments, and collaborations.
Promoted Pins: Amplify the reach of your pins by using Promoted Pins, Pinterest's advertising feature.
When should you promote on Pinterest?
If your products are visually appealing and can evoke inspiration or aspiration, Pinterest can be a valuable platform for you. For example, if you sell home decor items, fashion accessories, or DIY products, Pinterest's user base actively seeking such ideas and products can be an ideal target audience.
Here are some tips for getting started with this marketplace –
Tips on getting started with Pinterest:
Create a business account on Pinterest to access marketing features and analytics.
Optimize your profile with relevant information and appealing visuals that align with your brand.
Create visually compelling boards and pins that showcase your products in various contexts.
Use relevant keywords, descriptions, and hashtags to improve the discoverability of your pins.
Optimize your Pinterest product feed to sell effectively on the platform.
Remember, it's essential to tailor your marketing strategies and product selections based on the unique characteristics of each marketplace and the preferences of your target audience.
(**Read this guide to digital marketing funnels to get more exposure from your target audiences)
But, when you are focusing on different woo-commerce marketplaces you may feel overwhelmed when you have to list different products of your store in different marketplaces.
Let's learn how you can do that easily.
List Your Products Easily On Reliable Online Marketplaces
After identifying the best online marketplace where you want to promote your WooCommerce products, the next question that arises is how to list them effectively.
Manually listing the products can be time-consuming and challenging.
Gladly, WooCommerce offers a range of useful plugins that can simplify this process.
One such plugin is the Product Feed Manager for WooCommerce, which enables you to generate an accurate product feed for most international online marketplaces.
This plugin comes with pre-built templates allowing you to generate a product feed in just a few clicks and list your products on your desired marketplaces without hassle.
Additionally, It offers a range of customization options that allow you to customize your product feeds to meet the specific requirements of each marketplace.
Einpacken
Promoting on international online marketplaces plays a crucial role in the growth and success of your business. You can increase your sales and reach a wider audience by taking advantage of these best marketplaces.
In this article, We have also provided tips on how to get started with the best WooCommerce product marketplaces.
Remember, it's not enough to simply list your products on these marketplaces; you also need to optimize your listings, use effective advertising strategies, and provide excellent customer service to stand out from the competition.
With the right approach and tools, you can leverage the power of global online marketplaces to grow your WooCommerce business and achieve your goals.
So, start exploring these online marketplaces today and see the difference they can make in your sales and revenue.
And if you haven't already, get Product Feed Manager for WooCommerce now.