Last updated on:

14 mins read
Best WooCommerce Checkout Plugins [2023]
If you're a WooCommerce store owner, you know that the most important step of your website is the checkout process.
An optimized checkout process makes it easier for your prospects to complete the purchase and helps to create a positive user experience.
You should optimize your WooCommerce checkout process at any cost to ensure that your prospect completes the purchase once they enter the WooCommerce checkout page.
There are many ways to optimize your WooCommerce checkout process:
Implement one-click WooCommerce checkout;
Use smart custom fields wherever you need them;
Break down your WooCommerce checkout process into multiple small steps;
Ensure a fast and responsive payment gateway process.
These methods will help you bring down the abandoned cart rate on your WooCommerce store and increase the number of loyal customers.
Today, I have gathered a list of 7 amazing plugins that can help you optimize your WooCommerce checkout process and increase your ROI.
So, let's get into the details.
1. Custom Checkout Fields For WooCommerce — Tom Anbinder
Custom Checkout Fields For WooCommerce is a light and easy-to-use checkout plugin for setting up any type of custom field on the checkout page for your WooCommerce store.
You can set up various field types such as:
Text
Textarea
Number
Datepicker
Timepicker
You can also include more customs fields for Password, Country, State, Phone, and the Search field.
The plugin allows you to add fees to the cart total depending on the value of the custom fields.
For each type of field you use, you can set various options like:
Default value
Placeholder
Required
Description
Label
Customer meta fields
You can also arrange the position options with:
Set by Priority
Set by billing section
Set by shipping section
Set by account section
Set by order section
If you want to add additional and customized fields anywhere in your WooCommerce checkout process, this is the perfect plugin for you.
Check out the premium version of Custom Checkout Fields For WooCommerce.
2. WooCommerce Buy Now — StoreApps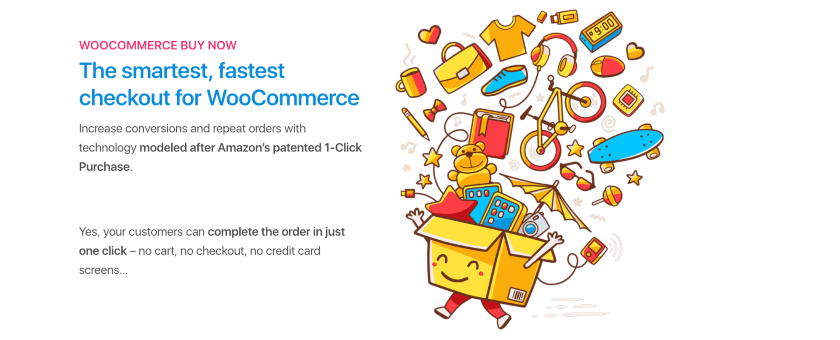 WooCommerce Buy Now is a premium plugin that allows your repeat customers to complete the full checkout + payment process in a single click!
If a customer with previous purchasing history tries to purchase again from your store, this plugin will auto-fill their information and take them directly to the checkout or payment page with a customizable Buy Now button.
Some of its premium features are:
Auto-fill billing and shipping information;
Custom Buy Now buttons on the entire store or just selected product pages;
One-click checkout with PayPal, Braintree, Stripe, Authorize.net, etc;
Quick checkout for the new and guest users;
Set up discount coupons.
This plugin is modeled after Amazon's patented and popular "1-Click ordering" that lets your customer skip the shopping cart and proceed to checkout.
So, if you're looking for a plugin to let your customers complete the WooCommerce checkout process in the easiest and fastest way possible, then this is the ideal plugin for you.
Learn more about the website of WooCommerce Buy Now.
3. WooCommerce Checkout Manager

If you're looking for an all-in-one checkout plugin, WooCommerce Checkout Manager is the one for you. This freemium tool developed by QuadLayers allows you to take full control and customize your checkout process.
With more than 90,000 active installations, WooCommerce Checkout Manager is one of the best eCommerce plugins out there.
The most popular features of Checkout Manager are:
Add, Remove and Edit Checkout Fields
Add New Fees To the Checkout (fixed or percentage)
Add Conditional Fields
Allow Users To Upload Files To Their Orders
Show Custom Fields In Order
Email Notifications
Checkout Manager is a freemium tool. The free version comes with basic functionalities, while the premium plans include more features and start at just $19 (one-time payment).
To learn more about this plugin, visit the official website.
4. Checkout Field Editor for WooCommerce – Checkoutify

Checkout Field Editor for WooCommerce AKA Checkoutify lets you optimize your WooCommerce checkout fields in just a few clicks.
With a sleek and simple interface, you can easily Edit, Enable, or Disable the default WooCommerce checkout fields.
Also, you can add more custom fields in the Billing, Shipping, or Additional fields sections in the checkout form with full control.
Some features of the Checkout Field Editor – Checkoutify:
Choose from 7+ checkout field types (Text, Password, Email, Phone, Select, Radio, Checkbox, etc)
Set a data validation (Email, Phone, State, Postcode, Number, etc)
Use a drag & drop UI to change the order of the checkout page fields easily.
Change the label name
Use a placeholder in the field
Assign a default value
Mark the field as required
Having a personalized checkout form always ensures a smooth checkout process and increases the closing rate, thus using Checkoutify can make your checkout steps more meaningful for your buyers without any hassle.
5. myPOS Checkout For WooCommerce — myPOS Europe Ltd
myPOS Checkout is an extension of myPOS Online Payments that provides European merchants with a modern and secure WooCommerce checkout solution.
This plugin allows you to accept payments from debit and credit cards in a few simple steps and integrate financial transactions with VISA, MasterCard, JCB, and Bancontact cards.
With myPOS, you'll get benefits such as:
Easy and simple installation and set-up;
Ideal compatibility for clients from The Netherlands;
Free e-money account with individual IBAN;
Fully PCI compliant;
Integration Support.
myPOS Online Payments has more exclusive features which include:
Secured page and channel communication with the merchants;
3D secure processing for direct payments from any card;
Accepting payments in many currencies in a single account.
The plugin can store merchant data such as shopping cart, amount, payment method, transaction details, etc.
If you're a merchant in the EU, who wants a secure and advanced, but easy-to-use online payment solution, you should consider using myPOS Online Payments.
Visit the website of myPOS.
6. WooCommerce Direct Checkout

WooCommerce Direct Checkout is a freemium plugin that helps you simplify your checkout process and increase conversion rates.
It is designed to reduce cart abandonment and speed up the checkout to help you boost your sales.
With WooCommerce Direct Checkout, you can get features such as:
One-Page Checkout
Quick Purchase Button
Ajax Add To Cart
Checkout Field Customization
Checkout Redirects
Quick View Option
The lite version is free and comes with basic features.
On the other hand, if you want more advanced functionalities, you can go for one of the premium plans of WooCommerce Direct Checkout starting at just $19 (one-time payment).
For more information, you can check out the premium plan of WooCommerce Direct Checkout.
7. Flexible Checkout Fields For WooCommerce — WPDESK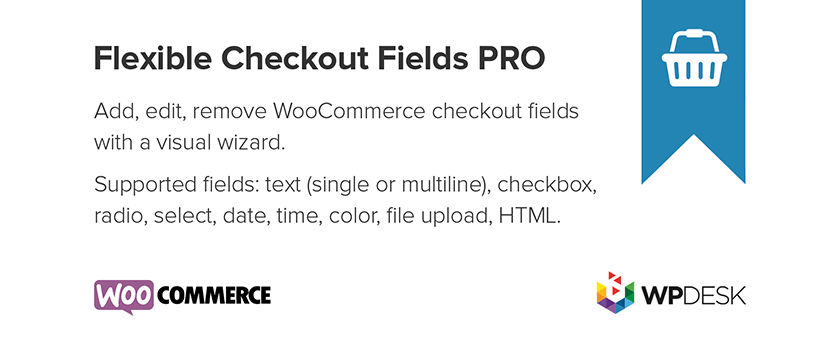 Flexible Checkout Fields For WooCommerce is a great plugin for customizing your checkout fields using an easy-to-use interface.
This plugin is beautifully integrated with the WordPress dashboard, so you will feel comfortable using it.
The free version has useful features such as:
Fields ordering;
Edit Labels and Placeholders;
Ability to show or hide fields;
Validation and make validation required or optional;
Custom field styling using the CSS classes.
The pro version has many features which include:
Conditional logic based on

fields
products
product variation
categories
shipping method
Plus it allows Custom checkout sections.
The premium plugin allows you to add 12 types of fields:
single-line text
text area
checkbox
radio button
select (dropdown)
multi-select
date
time
color picker
headline
HTML
file upload
If you want to customize the WooCommerce checkout fields fully, then you can rely on this plugin.
Check out the premium version of Flexible Checkout Fields For WooCommerce.
8. WooCommerce Checkout Field Editor and Manager – Acowebs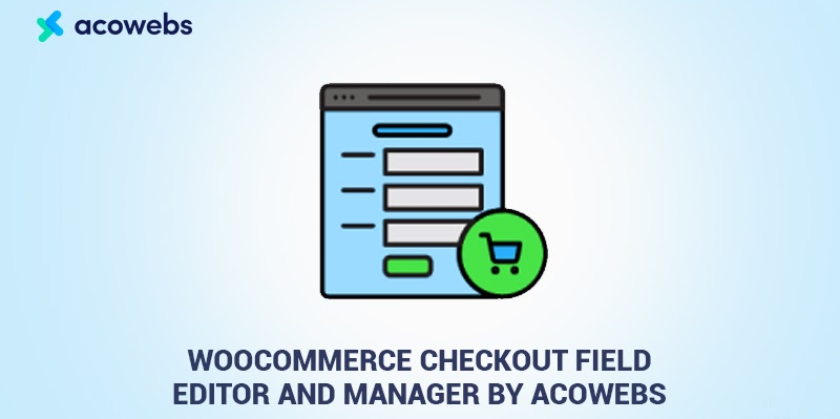 WooCommerce Checkout Field Editor is a leading WooCommerce plugin that is used by more than 6000 users across the globe.
It helps to manage (add, edit and hide) the default fields of WooCommerce checkout according to your business purpose.
One of the major highlights of this plugin, apart from its various functionalities, is its groundbreaking UX design which is highly acclaimed by many of its users.
The plugin comes with a clean user-friendly UI and a drag-and-drop form builder which makes it super simple for admins to edit the checkout fields.
The front-end UI is built using React JS which makes it a stable one even when multiple checkout fields are added.
Major features in the free version:
Edit Default Checkout Fields
Add New Checkout Fields
Hide existing Checkout Fields
Option to enable and disable WooCommerce Checkout Fields
Display inside order details
Display in Order Emails
Adjust the checkout column to half or full width
Option to set custom CSS
Compatible with WPML and Polylang
Some of the additional features in the pro version are:
More than 19 Field Types
Option to add Checkout Fields on Conditional logic
Option to add Checkout Sections on Conditional logic
Apart from Checkout, add fields to My Account registration forms
Conditional rules based on various parameters
Option to add extra fee based on the selected field
Add extra tax to the extra fee charged
The pro version of WooCommerce Checkout Manager can be purchased from the Acowebs website at a nominal yearly subscription.
There are also lifetime membership plans where you can pay just once and use the plugin for a lifetime.
To learn more, visit the website of Acowebs.
9. PeachPay for WooCommerce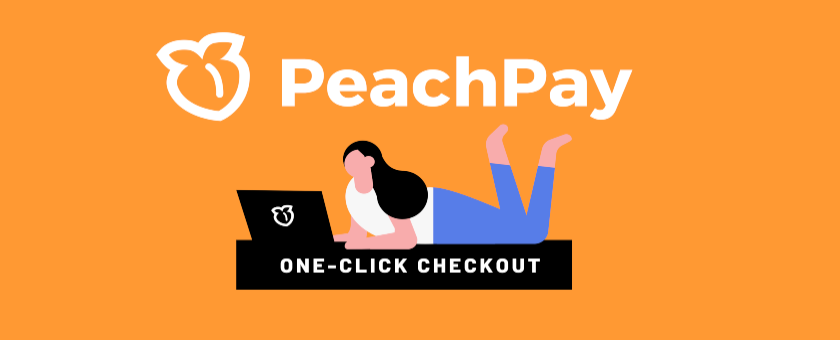 PeachPay is democratizing one-click checkout. If you're interested in increasing conversions, delighting customers, and reducing cart abandonment, then PeachPay checkout is exactly what you need.
Install PeachPay checkout in minutes so your customers can check out in seconds.
Major Features list (the plugin is entirely free):
Adds a new payment option to your site that integrates seamlessly with any existing options, managed through the Stripe dashboard without any additional hassle.
Generates a streamlined checkout form for first-time users
Gives repeat users access to passwordless one-click checkout no matter what site they are on
A supplementary mobile app gives customers access to order history aggregation, item tracking, and more, so they are more likely to return to your store
Visit the website of PeachPay.
10. Conditional WooCommerce Checkout Field — Amplify Plugins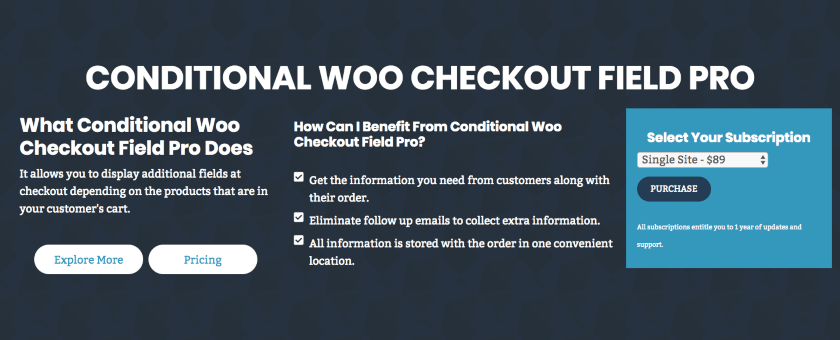 Conditional WooCommerce Checkout Field will help you to set fields for additional information that are required to complete the purchase.
Suppose you are selling customized products on your WooCommerce site, or have a service of event registration like summer camps.
In these cases, you need additional information like product customization details and requirements for the event from your prospect before they can complete the purchase.
This is important because the price of a customized product will depend on the customizations applied.
For example, the cost of an event will depend on the number of people joining, and the extra services and facilities required.
This plugin is perfect to help with these situations by adding fields that are necessary to complete a proper purchase based on the products that require custom pricing.
Here are some of the pro features you'll get with this plugin:
Unlimited number of custom conditional fields;
Conditional fields for an unlimited number of products, product variations or product categories;
Conditional field based on the number of purchased products;
Integration with WooCommerce Bookings and WooCommerce Product Bundles;
Conditional fields for all products in a single category or multiple categories;
Adjust the order of the fields.
This plugin also allows you to edit all the default WooCommerce checkout fields.
You can set input fields such as:
Text boxes
Multiline text areas
Dropdown
And more useful fields such as Country, State, Checkbox, Password, and Date.
This plugin has been improved and maintained for more than 5 years, so the developers have made it light and efficient; the plugin loads quickly and is fully compatible with any WooCommerce compatible theme.
Check out Conditional WooCommerce Checkout Field.
11. WPFunnels – Drag & Drop Sales Funnel Builder for WordPress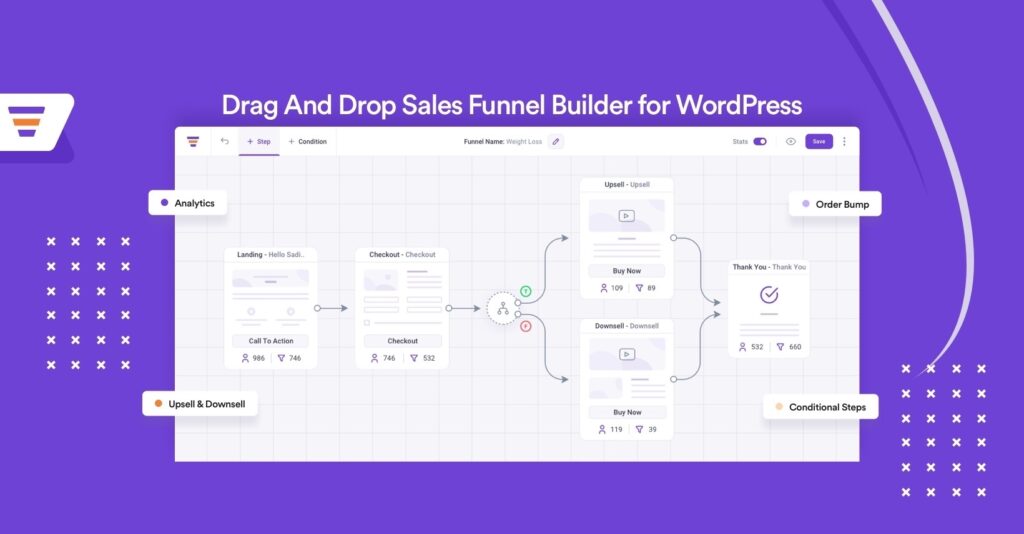 WPFunnels allows you to create complete sales funnels in a visual canvas & edit the funnel steps.
Among the Funnel steps, you completely edit & re-design the checkout step.
The plugin gives you multiple ready-to-use Checkout page templates that you can import with one click and start editing them.
You can edit the checkout templates with Elementor, Divi Builder, and Gutenberg and include any elements or apply any customizations.
Moreover, you'll be creating the checkout steps in a drag-and-drop visual canvas where you can plan your checkout process.
Learn more about WPFunnels – Sales Funnel Builder here.
12. WooCommerce Multi-Step Checkout — SilkyPress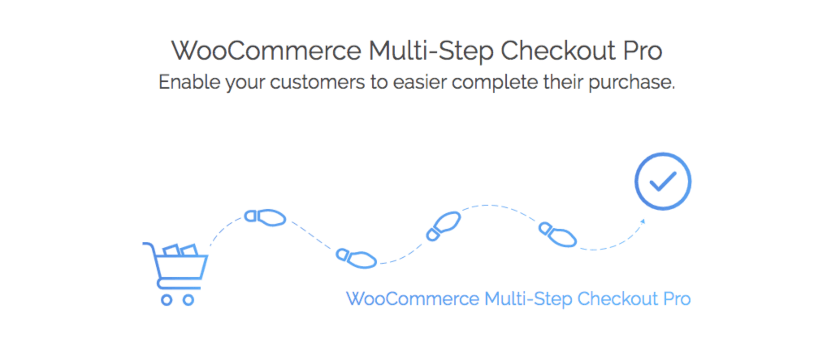 WooCommerce Multi-Step Checkout allows you to break down your checkout process into multiple, small steps.
This is often useful to make it easier for your users to understand the whole checkout process and input accurate data.
You will find the following benefits in the free version:
Mobile-friendly interface;
Smart and sleek design;
Keyboard navigation;
Responsive layout;
Inherit your button and form designs from the theme;
Adjust with the colour of your theme.
The premium version of the plugin has exclusive features such as:
Clickable steps: Your user can click on the immediate next step or the already completed checkout steps to navigate.
Validation With Steps: The step-by-step process allows you to inform your prospects of any errors before going to the next step.
Registration on The Login Step: When a new prospect goes to your checkout process, they can register directly on the login page.
Product Image on the Order Review Step: You can make your customers confident about the purchase and ensure their order with images of the products.
This plugin is WPML-ready and is compatible with most WordPress themes.
Check out the premium version of WooCommerce Multi-Step Checkout here.
13. Checkout Field Editor and Checkout Manager for WooCommerce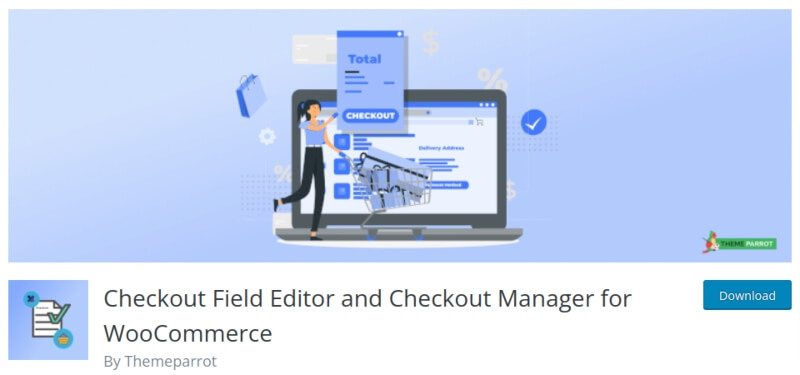 WooCommerce Checkout Field Editor and Manager plugin allow you to add personalized fields to your checkout pages.
This gives the checkout section a user-friendly interface and you'll find it easy to manage the details of customers.
It works seamlessly with most WooCommerce-compatible themes, so you'll have countless options to choose from when jazzing up your store and marketing your products.
The popular WordPress Multilingual (WPML) compatible plugin lets you translate website content into different languages.
You can change field orders with the drag & drop option.
This makes the plugin easier to use. No need to code & debug and don't suck your time in this process.
Key Features:
Rearrange, add, and edit Checkout fields.
Automatic field validation.
File upload feature.
Modify the default fields.
Section positioning.
17+ Field types.
Create and place the custom section on the Checkout page.
UI is user-friendly.
Date, Time, and Color picker features.
Checkbox and Radio groups help to capture more info.
Also can add additional CSS classes.
Lightweight and easy to use.
Checkout Field Editor and manager is a Freemium plugin.
You can enjoy the basic features on the free version and if like to move on to pro, then you'll get access to all of the premium features.
Conclusion
You can see that each of these plugins has unique features that allow you to optimize your WooCommerce checkout process for the best possible outcome.
The right plugin for you really depends on your products, and the checkout process you wish to achieve.
Also, if you're looking for some great and free WooCommerce plugins for your store, you can check out these best free WooCommerce plugins.
Try to make your checkout process as simple as possible and ensure not to confuse the users with too many fields scattered around. Yes, you have the power to customize, but use customizations only when necessary.
If you know of any better plugins for WooCommerce checkout, then please share them with us in the comments.
Or if you have used any of these plugins, then you can let us know of your experience.