Last updated on:

9 mins read
How To Use 360 Virtual Shopping Stores To Increase Your WooCommerce Sales
The ever-growing online e-commerce industries have flourished since the Covid-19 pandemic.
Buyers are now more comfortable with online shopping for anything they need and this change in purchasing behavior is still growing.
However, despite all this growth, most online store owners are still only applying the standard methods for converting their potential buyers, such as using sales funnels or running discount campaigns.
But, what if you could find a unique way to highlight your products and give your buyers an experience your buyers won't forget?
One of the most unique, but emerging ways to increase WooCommerce sales is to use a 360 virtual shopping store.
A 360 virtual store tour will take your customers on an interactive experience while shopping to make them feel like they are shopping in real life.
This will help increase sales because 71% of consumers said that they would prefer to shop more if the stores used VR technology.
Today, you will learn how you too can use a virtual shopping store to entice more potential buyers and boost your WooCommerce sales.
So let's begin.
How Virtual Shopping Stores Help To Increase Your Sales
A VR experience means your visitors will have more control over where they want to move in your store, just like they can when they visit your shop in person.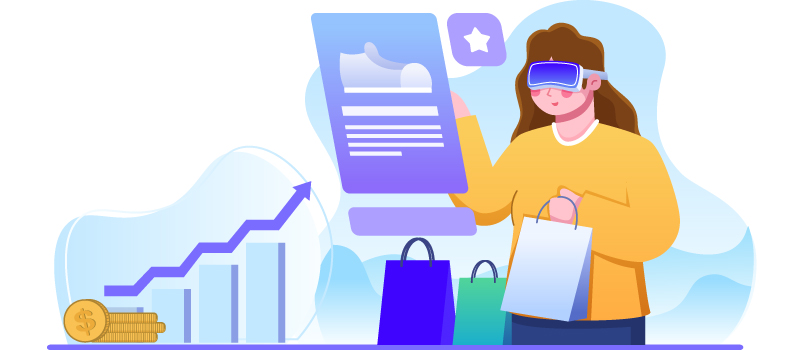 This flexibility allows your customers to buy in their comfort and helps you gain their trust. It enables you to get loyal repeat customers.
Because once your customers are comfortable shopping with your brand they are less likely to switch to another online store unless they get a better experience. And what better experience than a realistic shopping experience?
Following are a few direct benefits you can enjoy when using a virtual store tour.
1. Enhanced Customer Engagement For E-Commerce
VR will help your customers find the best products from your store without having to look at a long list on the shop page.
They will rather get to look at various items stacked in a virtual environment, just like in your store, click on them to view details, and place orders instantly.
If you can separate products in your store as per categories and then capture the panoramas, then the virtual store will be even more realistic and help your buyers find products real quickly. They won't be bored with unnecessary options and eventually place orders as happy customers.
Moreover, your customers won't have to worry about going through the crowd for shopping. Here, he will be the one in control.
Let's say it's the Black Friday season. During this time, the stores are all packed up and it's basically a hassle to buy anything due to the jostling of the shoppers.

But a virtual tour will save the customers from all that. They can peacefully move around the shop and get a near-realistic experience of shopping in a busy season.
As a WooCommerce store owner, offering such VR shopping experience will encourage more buyers to shop from your store compared to others.
2. Not Limited To Product Types Or Niches
No matter what WooCommerce showroom or store you own, you will be able to use a virtual shopping store to boost customer engagement.
Although supermarkets, clothing stores, make brands, convenience stores, and other similar stores will get the most benefits from using virtual tours, other businesses can get their fair share of business growth using VR.
For example, a Virtual Car Showroom may not get orders online, but it can certainly help you get inquiries from potential buyers. The same can be said for art galleries which can get a mix of online orders and live visitations.
51% of the customers will be more likely to buy cars if they get a better experience.
This stat indicates that a virtual showroom is definitely a good investment for car dealers.
3. 24/7 Store Availability
Virtual stores are open around the clock, allowing customers to shop at their convenience.
Let's say a customer forgot to get pancakes when going home. He can place an order through your virtual store and you can deliver it in the morning.
However, a bigger reason why this is an advantage is if you deliver internationally. For example, suppose you write books and you have an online shop where you sell them to people all over the world. A virtual shopping store of your bookshop will help people from overseas to place orders in their own free time, even if there is a time difference.
The realistic tour will definitely attract international customers more as they will admire the use of advanced technology in your online shop.
4. Never Run Out Of Products & Customers
Not all products are always in stock inside a physical store. In some cases, the product warehouse may take too long time to restock the products.
Therefore, when a customer is shopping at a store and discovers that something is unavailable, they switch to another store quickly.
But in virtual stores, customers know that it takes time to deliver. So, you get plenty of time to stock the products and ship them right to your customer's doorstep from the warehouse.
Plus, if the weather is not favorable, customers can still shop like they normally do while sitting comfortably at home. When the weather gets better, you can simply go ahead and deliver their products. They won't have to get ready and go out again to collect these products.
5. Get Visitors Even If They Don't Have Anything To Buy Thanks to VR Innovation
If your virtual shopping tour is compatible with VR glasses, then many people will visit it online even if they have nothing to buy.
This will help with branding and often trigger people to order something that may catch their eye while taking a stroll.
Marketing Strategies To Promote Your VR Technology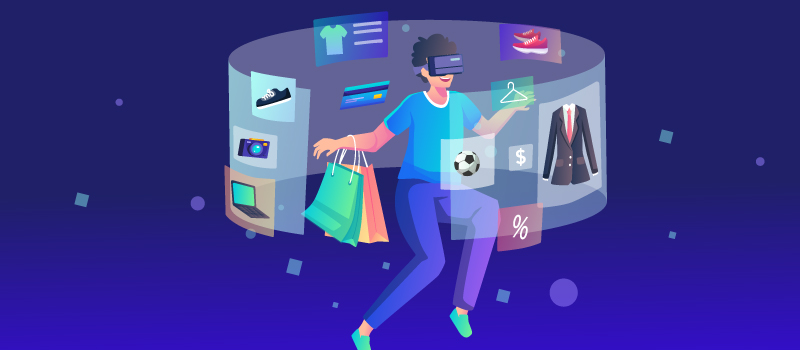 Let's say you have used virtual tours on your WooCommerce store. But now what?
Did you figure out a marketing strategy to let your customers know about the amazing virtual tour of your WooCommerce store?
Classic marketing uses traditional methods like newspaper and TV ads, while modern technology demands clever digital strategies.
1. Use Social Media To Promote Your Virtual Shopping Store
Social Media-sponsored ads are one of the most influential ways of digital marketing to promote your virtual store.
When you introduce an exceptional feature like a virtual tour in your online store and put that news on social media, you are bound to get potential customers.
Also, social media has algorithms to reach targeted customers.
So when your potential customers are searching for products related to your shop, they'll definitely stumble upon your virtual store and will be intrigued to shop in a virtual environment.
2. Hire Influencers For Brand Recognition
Influencer marketing is one of the smartest marketing strategies to adopt considering recent trends. They usually have a considerable amount of loyal followers.
So when they promote your virtual reality shopping experience, the followers are certain to take a look at your virtual store.
Also, add Explainer Video in your Virtual Store Tours where you can add a mini video of the influencer promoting your brand or service.
People believe in reviews. And if you get good reviews from a known influencer your brand can benefit from word-of-mouth (WOM) advertising. Which can eventually get you local and international brand recognition.
Create Special Virtual Store Tours For Campaigns
VR tours are itself is a unique marketing strategy that can make your customers intrigued to buy products from you. So why not utilize virtual tours in a wise way?
Virtual storefronts are basically displaying particular products on the online store's landing page or product page to attract potential customers' attention
In a physical shop, the storefront is a window that displays attractive and exceptional products to draw customers to enter the shop. And this can be utilized in online stores as well.
As a matter of fact, virtual stores can utilize Virtual Tours (VR) to create unique storefronts.
Here's how,
1. Update Virtual Tours On Your Website During Holiday Seasons
During the Holiday season, you can add virtual tours of your store decorated with holiday festivities and decorations.
You can add virtual tours specifically to showcase seasonal products according to the product types and prices.
So when your customer clicks on a product, an on-click product description along with a cart button will appear for them to purchase directly within the virtual tour.
This will let your customers know that your WooCommerce store is holiday-ready and all products are in stock.
So they get to feel the holiday vibe even when they're shopping virtually with a virtual tour.
2. Add Virtual Tours Of Discounted Products
Virtual tours open up the possibilities for all kinds of creativity. When you are arranging sales or discounts, you can organize the discounted items and take 360-degree panoramic photos of them to create a virtual tour.
This will make your customers will be intrigued to buy the discounted products within the virtual tour.
You will also be able to add different scenes to your virtual tour under different offer categories.
These ideas will also work well with best sellers, new products, and many more.
Suitable Tool To Create A Virtual Store In WordPress
One of the best tools for creating Virtual Shopping Stores is WPVR.
For your WooCommerce store, WPVR will let your customer purchase a product directly from the virtual store.
The plugin will help you create an interactive Virtual shop with exceptional features like Hotspots, Explainer Videos, Brand Marketing Information, Virtual Tour Background Music, and many other features.
With the WooCommerce Addon of WPVR, your customers will be able to purchase a product directly from the virtual shopping store.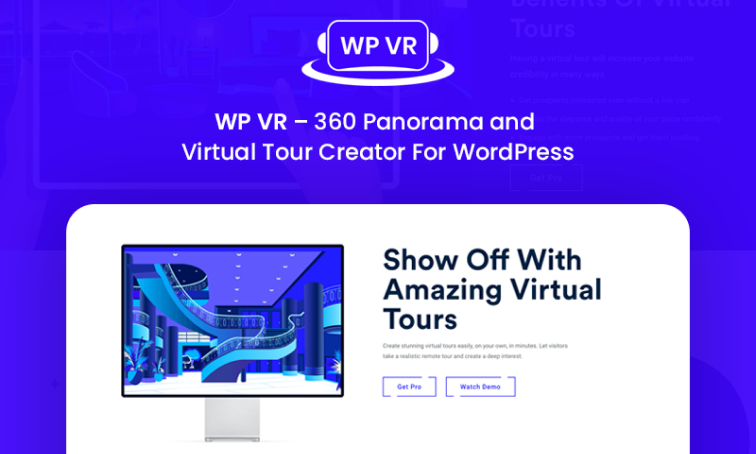 Final Thoughts
The secret to creating a successful business is leaving your customers happy. A virtual shopping store will make your customer's buying journey smooth and make them remember this realistic experience the next time they want to go shopping.
Hence, it is the perfect way to make your buyers want to come back to your store and help you boost your online sales via WooCommerce.
So go ahead and launch your own virtual shopping store now.