Last updated on:

11 mins read
How To Prepare Engaging Virtual House Tours To Sell Properties Easily [2023]
The use of virtual tours in the real estate industry has become a necessity today. In fact, most successful realtors are actively relying on VR tours to double their closing rates over the years.
– Virtual tour listings earn 87% more pageviews than house listings without tours.
– 54% of buyers avoid property listings without virtual tours.
Modern virtual house tours come with so many advanced elements such as tooltips, contact forms, embedded videos, and so on. This takes user engagement to a whole new level and viewers tend to trust you more.
According to a 2020 survey, 63% of potential home buyers considered placing bids without even visiting the house thanks to a detailed virtual tour.
Today, you will learn why virtual tours actually work and how you can create virtual tours of properties to start closing more deals.
So let's begin.
How Virtual House Tours Can Ensure More Closed Deals
Maby realtors still use images or videos of the properties when listing them on their websites. But, regular images can't accurately represent a room's lighting, ambiance, and surroundings of the property.
On the other hand, sure you can add a video walkthrough of your house. But that doesn't feel like a real tour. It still leaves a lot of doubts in mind.
And even if the videos and images are great, people still need to give you a call to find out minor details about the house such as the flooring material, the roof details, etc.
That is why most buyers look at tons of properties, and you handle several visitations before finally finding a successful client.
A virtual tour can change that. Here's why –
How A Virtual House Tour Can Give The Best Experience
A 360 view with full control

Since you will be using a 360 panoramic image, it will give a complete view of the house, unlike videos, where you decide what view to show.
Plus, the buyer will be able to look around as he/she pleases, giving more control over the tour, similar to how they would look around on a real visitation.
More details on the property without a phone call

When creating virtual tours today, you can provide more details on various important aspects of your house. For example, when in the living room, you can leave a hotspot to click and get details on the dimensions of the room, the flooring material, etc.
You may also include a short explainer video that a buyer can watch while taking the tour. This could be a pre-recorded introduction video to give certain details about the house, that a buyer would normally want to ask over the phone.
Make the virtual tour more enjoyable

You may add a piece of soothing background music to make them feel welcomed and enjoy the tour.
On the tour, you may leave several engaging buttons where people can click to get images and videos of reference to its relics. For example, if there is a swimming pool, you can add a button beside it where a potential buyer can click and watch a video of it in real life.
Make it easier for the buyer to place a bid or set an appointment

You may include a button in the tour which can be clicked to get a contact form so that your buyers can in touch with you with their bid or set an appointment to speak with you.
And at the end of the day, your buyer will get a realistic experience. In a sense, most of the questions will be answered while taking the tour.
Hence, when they contact you, you can be sure they are considering taking the house.
Both The Realtor And The Buyer Will Be Benefitted
As you saw, a virtual tour can give the best experience to the buyer. But it is more than what you think. It gives both of you extra benefits.
Benefits of a Realtor
Benefits of the buyer
1. Significant Market Exposure

The more buyers visit your virtual house tour listing, the more clients you attract to your agency.

Plus, when you sell a house with such a great display, your client is more likely to share his/her experience with many others, who may then consider working with you to find homes for themselves.
1. Detailed With More Research Time

Virtual home tours give a buyer the freedom to get a look at the complete property more closely and help them inspect it thoroughly.

Also, since it's available online, a buyer will get more time to look at it in his/her own free time. There is no rush compared to when taking a live visitation.

2. Draw Long Distance Clients

Virtual tours on your website can open the door to attract buyers even from far away. Most buyers are reluctant to travel a long way because they fear getting disappointed with the visit. A virtual tour will save them time and money to inspect a house, and they may consider buying from you even if they are from a distance.


2. Comfortable Experience

Since the tour gives more control to the buyer, they will find it more comfortable to take a tour while resting on a chair or maybe a couch.

And if he/she has a VR box, they can get the live tour while at home.

Then there are all those engaging elements in the tour that will make them love the experience compared to watching images or videos.
3. Increase Website Traffic

Once you start to reach more clients via the virtual house tours on your website, maybe via Ads or social media, your website traffic will start to increase because now, Google recognizes engaging content and ranks them faster.






3. A Better Way To Make A Decision

Normally, the process of buying a house can be quite stressful at times. Browsing through several properties, visiting the place, having a meeting with you, processing paperwork, and so much more. So people often get confused about which homes to discuss further.

Since the virtual tour answers most of the questions, a buyer is more comfortable moving forward with the process rather than staying in a dilemma between multiple houses.
Tips for High Quality 360 Images for a Virtual House Tour
You must have seen various property listing websites. They sell vacant properties and focus on showing the best prices to customers.
These websites are filled up with images of individual property or a house. But the rooms are not highlighted or shown properly in most cases.
To properly showcase a room, you will have to take images from the room's each vantage point. This results in having too many images do nothing but confuse the potential buyer.
On the other hand, a virtual house tour doesn't cause any issues like this. You can take a good quality image of each room and put them into the virtual tour easily.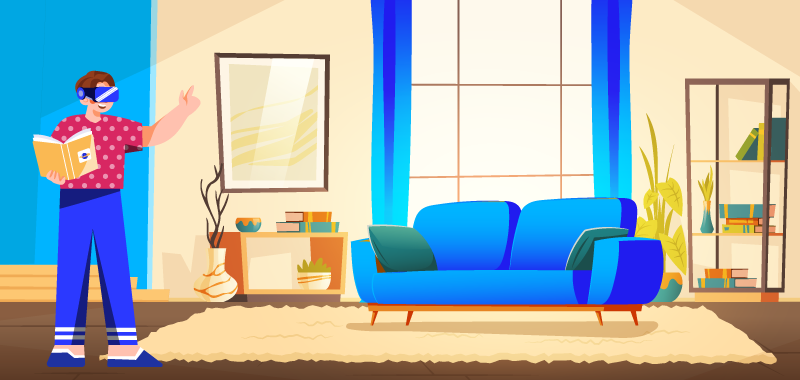 1. Proper & Clean Decoration
As I mentioned earlier, virtual tours will highlight empty spaces and extraordinary features. But too much of an empty house may seem dull.
Add enough furniture to make the virtual tour homely. But avoid adding unnecessary items inside a house tour which can make the space seem untidy.
2. Set Up Appropriate Lighting
Take the 360 panorama image in bright and appropriate lighting. The rooms will look dull if you take the photos in dim lighting or at night time.
Not only dullness, but less lighting can also make a room appear smaller or congested than actual. Raise curtains and switch on the necessary lights to increase the intensity of the room.
3. Keep The Image Location In Mind
Try to take the image from a perspective where a person will be standing. This varies from room to room.
But placing yourself in the precise center of the room is the best approach. The whole room with windows and roofs is covered when each room tour image is taken from the center.
So when your clients take the tour, they'll feel like they're standing right in the middle of the room.
4. Display Exceptional Features & Outdoors
Always show off the exceptional features inside virtual house tours. Make different tours for indoors and outdoors to make your customers understand how big the house is with front and backyards.
Let's say a listed house has a gazebo or a swimming pool in the backyard. Make sure to highlight these exceptional features in the virtual house tour.
Check Out Some Awesome 360 Cameras For Taking Panorama Images.
5. Optimize the Photos
Don't forget to check the images of the rooms before adding them to a tour. And check each image if they are good enough for creating a virtual tour.
On top of that, you will need to take high-caliber images for your virtual house tour. As a matter of fact, you can even use iPhone for great panorama images.
You'll be able to take great images without any prior experience at all.
How To Use A Virtual House Tour in Your WordPress Site
There are many virtual tour software available in the market. But one of the best Virtual Tour tools available is WPVR. It has both Free and a Pro Version available.
WPVR, a virtual tour builder for WordPress, is one of the most user-friendly virtual tour builders available.
You can convert a 360 panoramic image into a virtual house tour within a few minutes.
WPVR lets you optimize virtual tours for both smartphones and desktops. Make the tour load time and transitions fitting for the clients.
Also, the WPVR Pro Version will help you make a comprehensive virtual house tour with all the necessary elements you need.
Must-Have Features of a Virtual House Tour
Here are the features that will help you to create an engaging Virtual House Tour,
Hotspots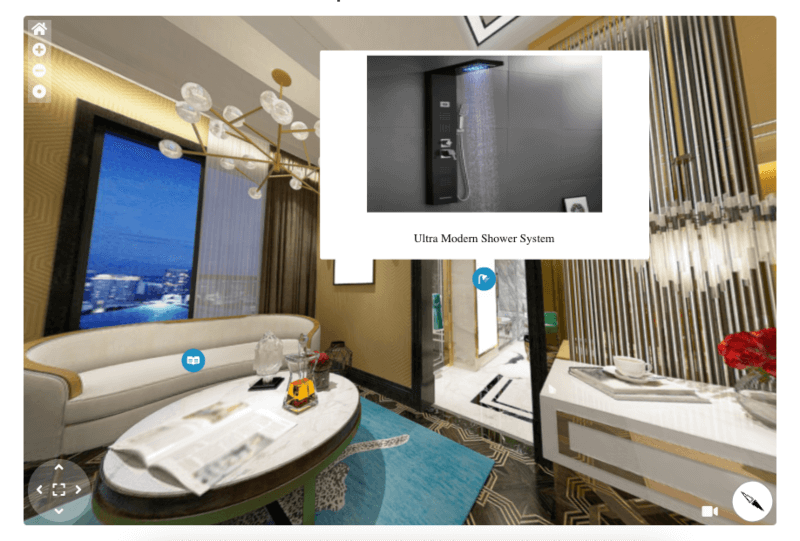 The first and foremost thing is to add hotspots to your virtual house tour.
Hotspots are usually used to pinpoint an element with details, change scenes or add a product/contact form to a tour.
Imagine, you have cabinets in a house for different use. You'll be able to give details of each cabinet with images or videos using hotspots in a virtual tour.
– Learn to set up Hotspots with WPVR
Gyroscope
Increase the comfort of your potential buyers by offering a virtual house tour on smartphones.
With the Gyroscope Feature enabled, your clients can check out the house through smartphones whenever they want.
– Learn how to set up a Gyroscope Feature in WPVR
Scene Gallery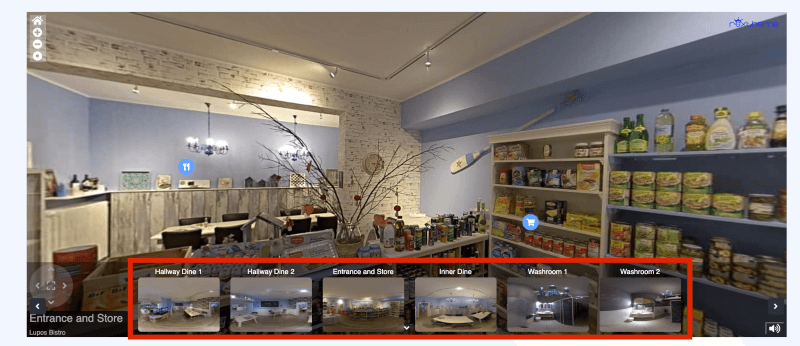 Each house has its own uniqueness with multiple rooms. With the Scene Gallery feature, add the individual room scenes into a single virtual house tour.
Your clients will enjoy the 360 tours of each room distinctly.
Scene Gallery feature displays all the rooms in a gallery section.
Your clients don't have to look here and there to go from one room to another. They can switch to any scene from the gallery within seconds.
– Set up Scene Gallery Interactively with WPVR
Compass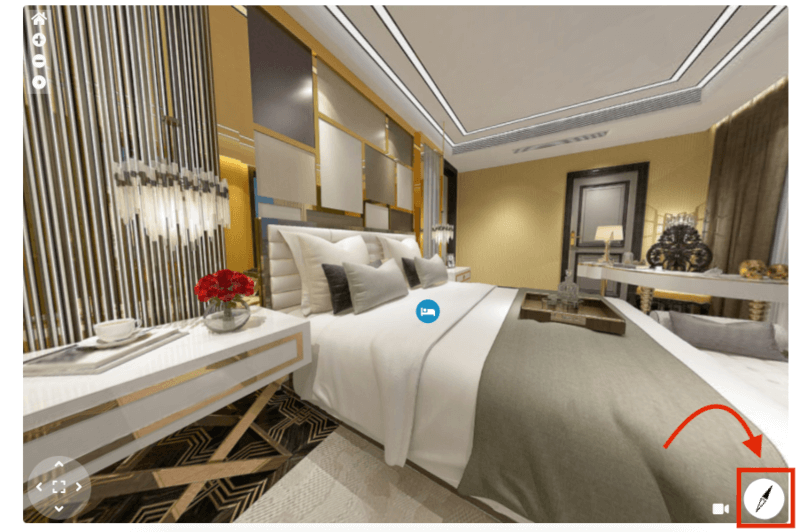 Many house buyers prefer the north view of a house whereas many like the east view. They can determine the side of a window or door in a room using the virtual house's compass feature.
Company Information
Your clients need to know about your agency and real estate company before taking any purchasing decision.
With this feature, showcase your company logo as well as give a brief description of your company.
– Learn to set up the Company Information
Explainer Videos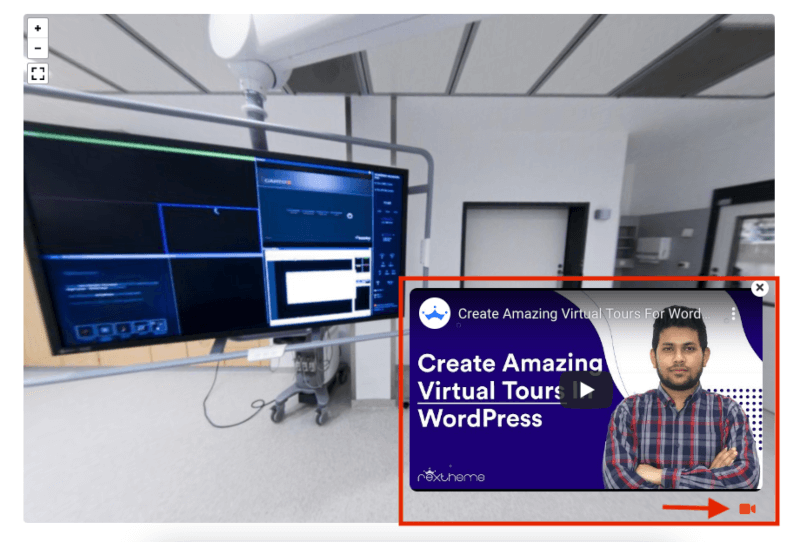 Explainer Video is the video that your clients can enjoy when they're taking the house tour.
This feature will let you add a video inside the tour. You can explain the unique attributes of a house and what your clients will gain by purchasing that particular house and all the details as you want.
So your users will be able to take the tour and watch the video at the same time.
– Learn to set up Explainer Videos
You can also add tour background music, zoom controls, and many other attributes to a virtual house tour.
Summary
Now that you know how important it is to use Virtual House Tours in the real estate business, it's high time you start using them actively to close more deals.
It will not just help you grow your business, but it will also let you avoid wasting time with fewer potential buyers and help you stay organized and focused on buyers that are more likely to purchase a house through your service.
So start using virtual house tours today!