Last updated on:

19 mins read
Virtual Property Walkthrough And The Future Of Online Home Buying
Imagine you are browsing through your favorite real estate app, looking for your dream home. You come across a stunning property, and with just a few clicks, you find yourself immersed in a virtual tour that feels almost as good as being there in person.
This experience, once a rare novelty, has now become a game-changer in the real estate industry, thanks to the incredible technological advances.
But, this also has a flip side. As a realtor, while you can make property shopping more accessible and convenient, it can also raise the bar on what people expect when viewing properties online. For example, many now assume they will get a chatbot in the tours for live communications.
Hence, as a real estate agent, you have to find ways to create a personalized property walkthrough that will make the experience more engaging and help you stand out.
And guess what, the VR industry is going to grow to a whole new level. Very soon, you will be able to use advanced VR technology through artificial intelligence (AI) and next-level augmented reality (AR), just to name a couple.
In this article, we will look at what benefits you get today using virtual tours in the real estate industry and what you can expect in the future.
So let's begin.
What Are Virtual Walkthroughs?
Have you ever been on a guided tour of an area, where a considerate guide takes you through different parts of a place while explaining its context and importance? Now, imagine experiencing this without having to leave the comfort of your couch, through a virtual walkthrough.
A virtual walkthrough has now become a core part of the real estate industry because today, we are living in an era where showing, rather than telling, has become the norm. After all, let's face it, who among us hasn't been captivated by the beautiful homes showcased on popular HGTV shows?
Virtual walkthroughs are a sequence of panoramic images or videos meticulously stitched together to create a visual experience similar to a realistic visit. In real estate, they add a new level of depth that images alone cannot provide.
Home seekers can explore the property with more control, and get an authentic feel for the layout of the house even without a live visit to the location.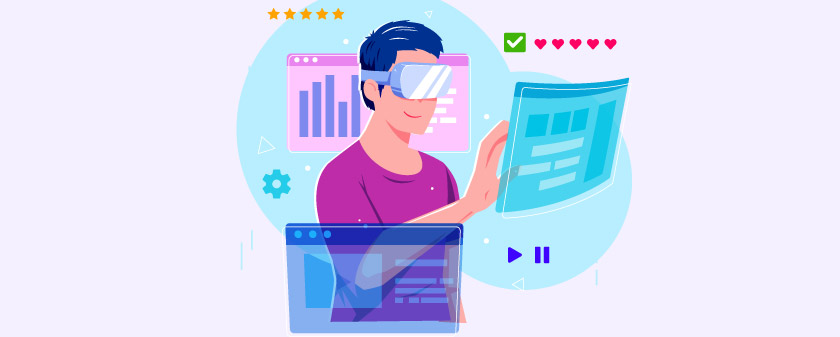 And to capture these panoramic emails, you will need to use specialized 360 degree cameras that can record every aspect of a property or space. The footage is then edited and stitched together to create a seamless and immersive experience for the viewer.
You may then use it in your real estate app or website for potential buyers to access and get an experience they will not forget.
In addition to real estate, virtual walkthroughs are also used in other industries, such as hospitality and retail, travel & tourism, education, the automotive industry, etc.
For example, hotel virtual walkthroughs are often used to give potential guests a glimpse of facilities, including guest rooms, common areas, and amenities. Retail stores use virtual walkthroughs to showcase their products and services, allowing customers to browse and explore their offerings without having to physically visit the store.
However, showcasing the location cannot be its only purpose. You will find several creative ways that people are using to make the VR experience more meaningful and engaging.
AI has helped develop algorithms to grow virtual reality technology to a more near-perfect immersion that was deemed impossible in the past. Today, you will find virtual tours with 99.99% realistic experience along with touch-sensitive experience via advanced VR glasses. More such technologies are on the way.
Benefits of Using A Virtual Property Walkthrough
A virtual walkthrough is surely an advanced technology that you would want to use in real estate marketing campaigns.
Here are a few benefits of virtual tours to offer a realistic online property walkthrough for real estate agents, buyers, and sellers.
1. Saves time for potential buyers
Suppose a person is looking to buy a house. In the traditional way, he would have to set aside an entire weekend to browse through potential properties online and then visit them in person to get a good idea if they are the right match for his dream house.
A virtual walkthrough will change this. The buyer will be able to get a realistic idea of how the property is planned out and understand what to expect in the real home. So, he will no longer need to visit the home due to confusion.
He will be able to browse multiple properties and get an in-depth understanding of if this is something he should explore. So, the buyer will only need to book a visit to the homes that he is almost certain he will buy.
Thus, it will home buyers time and allow them to make an informed decision online. At the same time, it will save you time because you will get fewer visitation requests from clients that are not interested. Most visitors will already have made up their minds to get the property and will meet you to finalize their decision real quickly before going into negotiations.
But it doesn't stop there. If you're working with a developer and have some customizations in mind, there's no need for endless back-and-forth. They can present proposed plans through these virtual tours and make necessary adjustments according to your taste.
2. Cost-effective real estate agents and sellers
Normally, you need to spend a lot of time and money when arranging live visits and hosting open houses.
However, having a virtual real estate tour will help you meet more potential buyers and avoid getting bookings through buyers who are less likely to purchase a house.
In fact, you can use a virtual tour to collect more qualified leads by providing detailed information within tours to address the most common major concerns. This will help connect with potential buyers more effectively and increase your chances of getting a higher success rate when selling real estate.
3. Increased lead generation
The immersive and interactive experience in 3D tours will help to captivate potential buyers and encourage them to spend more time engaging with the property. This realistic engagement will help you get more inquiries from potential clients, unlike your competitors who simply have images and videos.
If you are able to tie it up with a lead form, you will be able to get direct leads through inquiries from potential buyers. It's simple. When a person finds your listed property attractive, he would definitely want a visit or have some questions in mind. So, you should make it easy for them to contact you.
Simply include a contact form or a booking form within the virtual tour. Since buyers will be able to contact you immediately in just a few clicks, it will help you avoid losing leads who would probably add your property to their notebook to contact later.
The best part, these leads will be qualified because they have already seen the price range and got a live virtual tour. So you will have a higher chance of closing a deal.
4. Direct Connection Through Engaging Interactions
The latest virtual tour creators offer special features to allow you to add engaging elements such as tooltips and on-click content to provide additional information. Plus, you will be able to add background images, introductory videos, custom hotspot icons, and many more.
The fact is, people will feel they are exploring a house and getting information from a tour guide in this virtual environment. Hence, your virtual walkthrough will create a direct connection with potential home buyers and increase your chances of closing a deal successfully.
5. Realistic immersive experience for buyers
Virtual tours enable buyers to navigate through a property, room by room, and even floor by floor, getting a true feel for the layout, size, and features of the space. They can zoom in and out, rotate, and pan, allowing them to examine the property from all angles and get a deeper understanding of its design and architecture.
And if a person takes the virtual tour through a VR glass, it will make this experience more immersive and close to reality. Buyers who are shopping for a property remotely will gain a clearer sense of the property's characteristics than they would from static images or videos alone. This experience is something buyers will find more engaging and useful when making online home buying decisions.
The Future of Real Estate Virtual Walkthroughs
While the VR industry is already quite impressive, things will only get better.
Some advancement in VR is being worked on as we speak so that you will be able to create even more realistic virtual tours with automation and holographic control that you probably couldn't imagine even a few years back.
Let us look at some of these emerging technologies that you can expect in the VR industry.
1. AI Customized Virtual Tours
Sophisticated companies like Zillow are already harnessing the potential of artificial intelligence (AI) to create immersive listing experiences on their platforms, a recent example being their "Listing Showcase".
In these showcases, instead of static images, users get to navigate interactive high-resolution scrolling hero images organized by rooms. The AI system, by understanding buyer preferences, selects the suitable hero image that mainly characterizes the property across different platforms.
Moreover, Zillow uses machine learning to create dynamic floor plans for any listing, serving as a detailed digital guide to the properties. These AI-generated 3D walkthrough house plans provide an enriched perspective of a house's structural flow, something that is limited to traditional images. Intelligence gleaned by AI assists users in narrowing down their searches to homes they genuinely love.
Similar to Zillow, several private technological firms have already started working on AI integration with VR to craft a fully automated virtual tour generation just from images provided.
For example, you will expect in the future that, simply after you upload your panoramic images of all the rooms of a house, the virtual tour creator will automatically place them in order and add walkthrough buttons for people to start taking a tour immediately. You won't have to manually indicate where to click to go to the next room.
Plus, you will also see conversational virtual tour software where the tool will ask a few questions, and based on your answers, the tour will include custom audio per scene, special tooltips on specific scenes, and lead form prompts after certain intervals.
These are still a work in progress. But AI will definitely make it easier for realtors to use virtual walkthroughs actively and get more clients.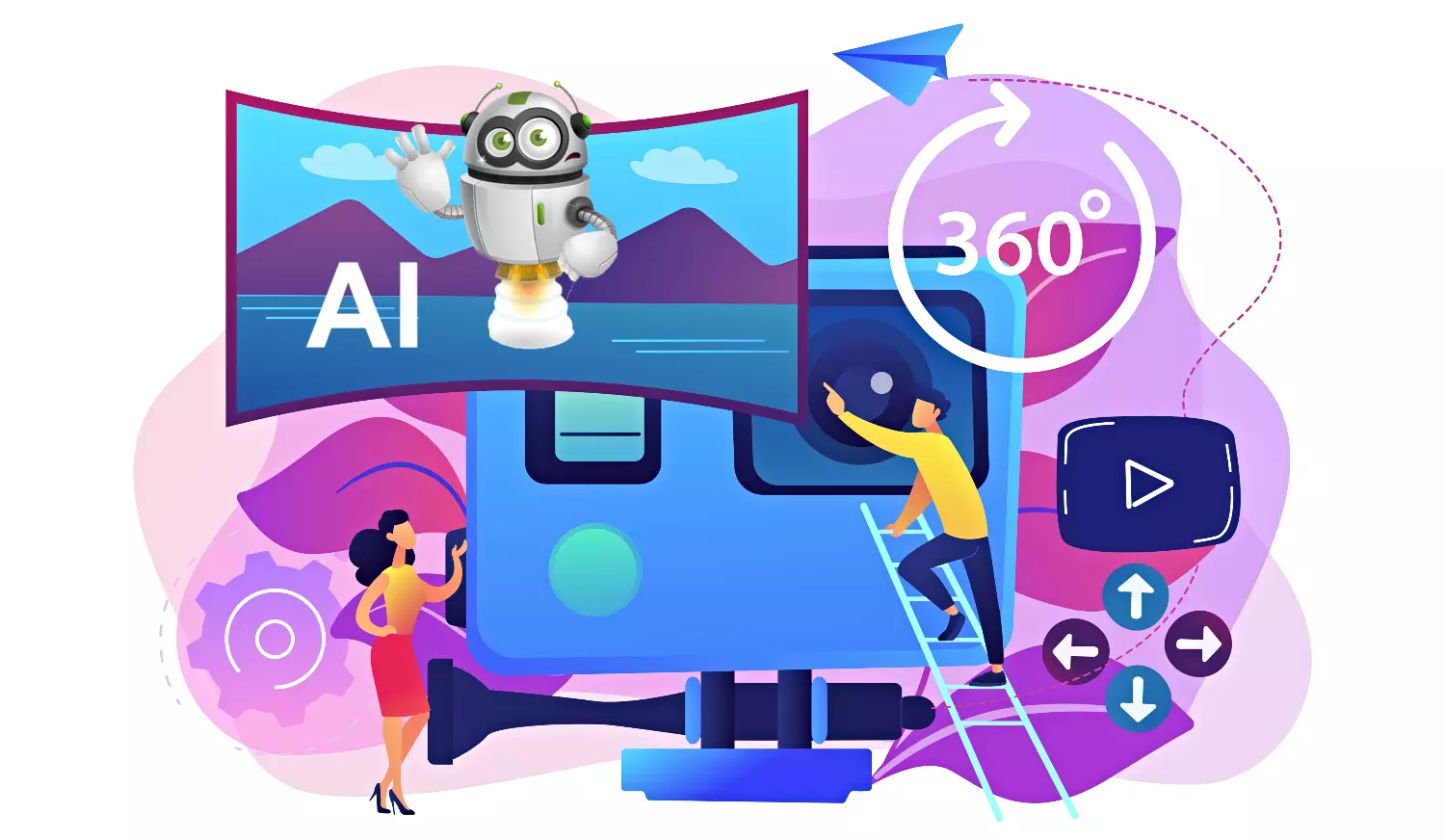 One other significant breakthrough is the use of AI tools like ChatGPT in designing real estate virtual tours. These tools can generate custom descriptions of each property, based on its unique features, providing comprehensive information about surrounding areas. The content generated is tailored according to viewers' specific interests and preferences, enhancing the overall browsing experience. And then, you may present these details to OpenAI's MidJourney Image AI to generate panoramas.
With continuous advancements in AI technology, the future holds even more enchanting possibilities for customized virtual tours tailored to individual visitor needs.
In the near future, AI might be used to design personal virtual tours, considering each viewer's distinct preferences and needs. Each property or location recommendation will be based on a thorough AI analysis of visitor behavior. This will ensure that content and presentation will be personalized according to each person's profile, interests, goals, and mood.
AI advancements could also help real estate agents analyze the popularity and efficiency of different virtual tours. It can provide insights into which features are catching the viewers' attention the most, or which aspects of the property are generating more interest.
2. Immersive VR walkthroughs
Immersive VR house tours have gained popularity in recent years. It provides a modern, innovative way to showcase realtor listings.
Through a combination of VR and 3D rendering, potential buyers or renters get to experience an astounding sense of realism.
For 3D rendering, users can almost feel the textures of walls, identify the play of natural light through windows, and sense the ambiance of a space. VR then wraps these visuals into a 360-degree experience that invites users to "inhabit" the rendered spaces digitally.
Several real estate firms, such as Sotheby's, are leading the way in employing these technologies. Clients can now use the 3D view option to explore luxury homes or experience the Virtual Reality Tour (VR) using a compatible mobile device, such as an iPhone or Android phone, coupled with a VR headset.
Goldman Sachs projects that the VR and augmented reality market in real estate will reach up to $80 billion by 2025. It's also predicted that there will be around 300,000 active users of VR and augmented reality technology in the real estate field.
In the upcoming future, VR technology will facilitate millions of virtual property visits. Just by wearing the VR headset, users can experience a three-dimensional immersive property walkthrough.
3. Virtual Tours + Augmented Reality
Augmented Reality (AR) has been a game-changer in many industries, and real estate is no exception.
By adding digital interactivity to the physical world, AR provides an immersive and engaging experiences. With AR-enabled devices such as smartphones or smart glasses, viewing realtor listings and 3D tours become both instructive and entertaining encounters.
For example, imagine touring a science museum where exhibits spring to life with animations, detailed explanations, and interactive elements.
Another distinct feature of real estate is virtual staging. AR, when combined with VR, can assist buyers in visualizing how different furniture arrangements and décor choices would transform the space. This could be particularly beneficial for those in search of a property to renovate or considering a fixer-upper.
IKEA, in 2017, launched an AR application allowing prospective buyers to virtually furnish apartments using items from their massive online catalog. This 3D walkthrough app offers users a nearly authentic experience of how chosen objects would interact within the designated space, all before making any purchase commitments.
In industries closely linked with real estate, such as construction and interior design, AR is making a significant impact. Contractors and designers now have the ability to share realistic images with detailed information.
With financial investments in physical marketing and staging, real estate agencies can lean into AR and VR technologies for a more cost-effective approach. Using tech for home staging also allows clients to check out properties from anywhere in the world where they have internet access.
Companies such as Sotheby's International Realty Affiliates, for example, have stepped up their game by launching an AR app named 'Curate'. This app allows users to design their future homes and browse through home furnishing options, all within an immersive AR experience.
Looking ahead, we may witness the emergence of interactive VR maps seamlessly integrated with AR. WPVR recently added an interactive map that allows users to explore floor plans while viewing a virtual tour.
When you place the map in your tour, your audience will get an icon in the bottom right corner to click and view it. This added layer of detail could prove invaluable to clients hoping to get a detailed understanding of the property.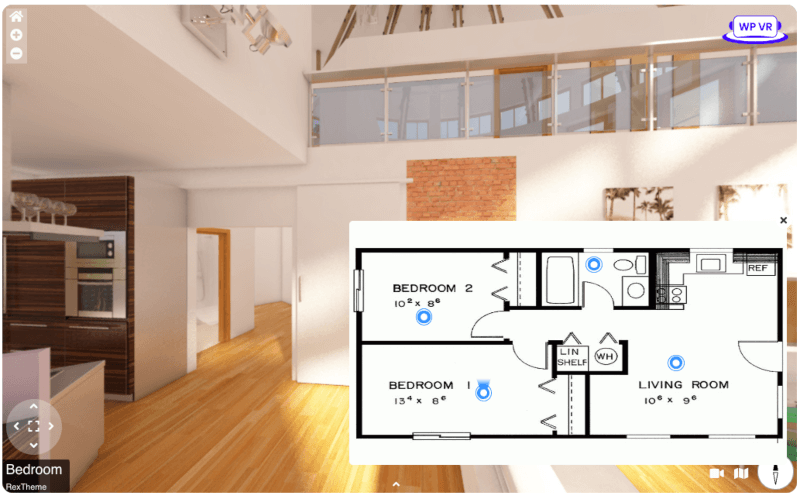 4. Virtual Commerce
As we look into the future of real estate virtual tours, we should consider the potential advancements and use cases virtual commerce technology (V-commerce) will bring to the real estate industry.
Integration with AI
A potential growth avenue for V-commerce in real estate lies in using artificial intelligence. Imagine AI algorithms suggesting furniture styles and décor options based on the user's expressed preferences or past choices while going through the VR tour. This would facilitate a more personalized viewing experience, leading to higher levels of engagement and customer satisfaction.
Seamless shopping experience within the virtual tour
Another exciting possibility is enhanced V-commerce integration that enables homebuyers to purchase furniture and decor items directly within the VR environment. It could even extend beyond visual changes, allowing for structural modifications and renovations to be modeled and priced in the tour itself.
Real-time collaborations
Virtual tours could become collaborative platforms where multiple stakeholders – buyers, sellers, interior designers, architects, and contractors – collectively 'walk' through a property, making modifications synchronized in real-time. This shared virtual space could redefine collaborative decision-making in real estate.
Blockchain technology in transactions
Secure, transparent transactions within the VR environment can be realized using blockchain technology. This can build trust with buyers who wish to finalize or make immediate purchases.
VR Showrooms & Galleries
Real estate agencies could partner with furniture brands and interior designers to create virtual showrooms or galleries within a VR tour. These partnerships could establish a new revenue stream for agencies and deliver an immersive shopping experience without users leaving the tour.
Challenges and Limitations to Creating Immersive, Personalized Virtual Tours
Creating immersive and personalized virtual tours is an exciting possibility that technology has made available to us. However, like any other technology, it is not without its challenges and limitations.
Let's explore the current limitations of virtual tour personalization and the challenges that you, developers, and users may face when trying to create an immersive experience.
1. Cost and hardware limitations
One of the significant challenges in creating immersive, personalized virtual tours is the cost and limitations of hardware technology. High-end VR hardware and custom-built VR experiences can be expensive, requiring significant investment in equipment and software.
Also, the development of hardware technology is crucial to the success of mixed reality. Hardware restrictions such as a small field of view, bulky headsets, and limits on computational power can impact the user experience.
This challenge can be a significant obstacle for individuals or businesses looking to create immersive virtual tours, as it may be really expensive for some budgets.
Moreover, the cost of hiring a team of programmers and designers to build unique VR experiences can also be a barrier to entry.
2. Accurate real-time object tracking
Continuously and precisely detecting, locating, and maintaining the position of objects within the VR environment in real-time to enhance the overall Mixed Reality (MR) experience is a challenge.
Achieving accurate, real-time object tracking can significantly impact the level of immersion and interactivity, allowing users to experience a seamless blend of virtual and real-world elements.
However, this task remains difficult due to technical limitations, including varying lighting conditions, occlusions, and computational constraints.
3. Ensuring data privacy and security
Ensuring data privacy and security is a crucial challenge in creating immersive, personalized virtual tours. As tour creators capture and share images or videos of various environments, there is an increased risk of exposing sensitive or personal information.
This information could be exploited by malicious actors for purposes like identity theft, fraud, or harassment. Additionally, Augmented Reality (AR) and Virtual Reality (VR) devices collect extensive biometric data, which can identify individuals and reveal additional insights, enhancing user experiences but also exacerbating privacy concerns.
To gain users' trust and promote widespread adoption of Mixed Reality (MR) technologies, it is essential to implement effective privacy safeguards, secure data processing, and protect user identities and information from potential breaches.
4. Current AI limitations in understanding specific contexts
AI has shown remarkable progress in processing vast amounts of data and recognizing patterns, allowing for enhanced personalization of property recommendations.
However, it often lacks the broader contextual understanding and common sense reasoning that humans possess. This limitation can lead to inaccuracies or misinterpretations in virtual tours, hindering the overall immersive experience for users.
Solving this problem means making sure that AI algorithms can understand situations and think more effectively. This way, we can provide a virtual tour that's always interesting and matches what users want and like.
Will Virtual Tours Completely Replace Physical Home Viewing?
No, virtual tours will not replace physical home viewing. Virtual tours offer numerous benefits and conveniences, allowing users to narrow down their options and potentially even finalize property purchases without leaving their current location.
Despite the advanced technology, virtual tours cannot yet fully replicate the feel of a property that can be experienced during a physical inspection.
This unique sensory experience is a significant factor in deciding to buy a home. It adds to a complete understanding and liking of the property.
However, due to the constant progress in PropTech, it's likely that virtual tours will keep improving, becoming even more engaging and impactful in the coming years. This might lead to more buyers feeling confident in making home purchase decisions solely based on virtual tours.
This change could greatly simplify the buying process, leading to quicker closings and increased efficiency in the real estate market.
Conclusion
The use of a virtual property walkthrough seems super engaging today, but VR will continue to advance, and change the future of online home buying for the better.
While virtual tours may not completely replace physical viewings, they bring impressive advantages. These include helping narrow down property options, enabling purchases from out-of-state, and providing immersive experiences that rival in-person visits.
As a real estate agent, you can embrace these innovative technologies and tools to stay ahead in the market and ensure the best possible home shopping experience for your clients.
---
Special thanks to Agnes A. Gaddis for her helpful contributions to this article.
Contributing Author Bio:
Agnes A. Gaddis is a specialist writer for real estate SAAS companies. She is a contributing writer for Credit.com, Rentals, GetResponse, and Inman News. She's a big fan of caramel coffee and mystery novels. Get in touch with her on Twitter @Alanagaddis or visit her website.