Laatst bijgewerkt op:

14 min. lezen
Beste WooCommerce Checkout Plugins [2023]
Als u een WooCommerce winkelier bent, weet u dat de belangrijkste stap van uw website het afrekenproces is.
An optimized checkout process makes it easier for your prospects to complete the purchase and helps to create a positive user experience.
You should optimize your WooCommerce checkout process at any cost to ensure that your prospect completes the purchase once they enter the WooCommerce checkout page.
There are many ways to optimize your WooCommerce checkout process:
Implement one-click WooCommerce checkout;
Gebruik slimme aangepaste velden waar je ze nodig hebt;
Break down your WooCommerce checkout process into multiple small steps;
Ensure a fast and responsive payment gateway process.
Deze methoden zullen u helpen om het tarief van de verlaten winkelwagen op uw WooCommerce winkel te verlagen en het aantal trouwe klanten te verhogen.
Vandaag heb ik een lijst van 7 geweldige plugins verzameld die u kunnen helpen uw WooCommerce afrekenproces te optimaliseren en uw ROI te verhogen.
Dus, laten we in de details treden.
1. 2. Aangepaste afrekenvelden voor WooCommerce - Tom Anbinder
Custom Checkout Fields For WooCommerce is a light and easy-to-use checkout plugin for setting up any type of custom field on the checkout page for your WooCommerce store.
U kunt verschillende veldtypes instellen zoals:
Tekst
Textarea
Aantal
Datepicker
Timepicker
Schakel het selectievakje in.
E-mail
Radio
URL
You can also include more customs fields for Password, Country, State, Phone, and the Search field.
Met de plugin kunt u kosten toevoegen aan het winkelwagentotaal, afhankelijk van de waarde van de aangepaste velden.
Voor elk type veld dat u gebruikt, kunt u verschillende opties instellen zoals:
Standaardwaarde
Plaatshouder
Verplicht
Beschrijving
Label
Klant meta-velden
U kunt ook de positiemogelijkheden regelen met:
Bepaald door Prioriteit
Ingesteld per factureringsgedeelte
Ingesteld per verzendingssectie
Ingesteld per rekeningsectie
Ingesteld op volgorde sectie
If you want to add additional and customized fields anywhere in your WooCommerce checkout process, this is the perfect plugin for you.
Bekijk de premium versie van Custom Checkout Fields For WooCommerce.
2. 2. WooCommerce Koop nu - StoreApps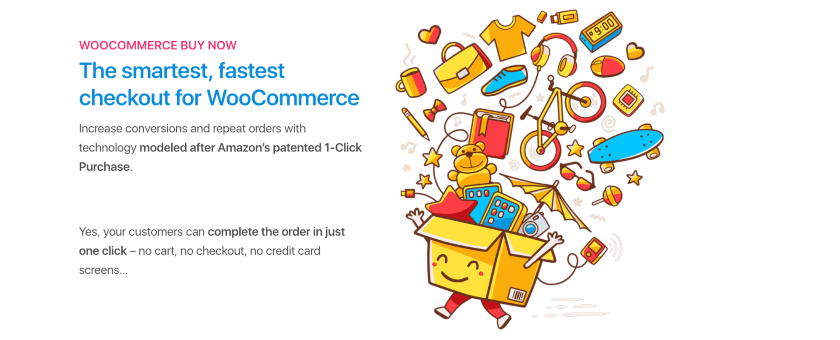 WooCommerce Buy Now is a premium plugin that allows your repeat customers to complete the full checkout + payment process in a single click!
Als een klant met een eerdere aankoopgeschiedenis probeert opnieuw te kopen in uw winkel, zal deze plugin hun informatie automatisch invullen en hen rechtstreeks naar de kassa of betalingspagina brengen met een aanpasbare Buy Now knop.
Een aantal van zijn premium kenmerken zijn:
Automatisch invullen van factuur- en verzendgegevens;
Aangepaste Buy Now-knoppen op de hele winkel of alleen geselecteerde productpagina's;
Met één klik afrekenen met PayPal, Braintree, Stripe, Authorize.net, enz;
Quick checkout for the new and guest users;
Zet kortingsbonnen op.
Deze plugin is gemodelleerd naar Amazon's gepatenteerde en populaire "1-Click bestellen" waarmee uw klant het winkelwagentje kan overslaan en naar de kassa kan gaan.
So, if you're looking for a plugin to let your customers complete the WooCommerce checkout process in the easiest and fastest way possible, then this is the ideal plugin for you.
Lees meer over de website van WooCommerce Buy Now.
3. WooCommerce Checkout Manager

If you're looking for an all-in-one checkout plugin, WooCommerce Checkout Manager is the one for you. This freemium tool developed by QuadLayers allows you to take full control and customize your checkout process.
With more than 90,000 active installations, WooCommerce Checkout Manager is one of the best eCommerce plugins out there.
The most popular features of Checkout Manager are:
Add, Remove and Edit Checkout Fields
Add New Fees To the Checkout (fixed or percentage)
Add Conditional Fields
Allow Users To Upload Files To Their Orders
Show Custom Fields In Order
Email Notifications
Checkout Manager is a freemium tool. The free version comes with basic functionalities, while the premium plans include more features and start at just $19 (one-time payment).
To learn more about this plugin, visit the official website.
4. Checkout Field Editor for WooCommerce – Checkoutify

Checkout Field Editor for WooCommerce AKA Checkoutify lets you optimize your WooCommerce checkout fields in just a few clicks.
With a sleek and simple interface, you can easily Edit, Enable, or Disable the default WooCommerce checkout fields.
Also, you can add more custom fields in the Billing, Shipping, or Additional fields sections in the checkout form with full control.
Some features of the Checkout Field Editor – Checkoutify:
Choose from 7+ checkout field types (Text, Password, Email, Phone, Select, Radio, Checkbox, etc)
Set a data validation (Email, Phone, State, Postcode, Number, etc)
Use a drag & drop UI to change the order of the checkout page fields easily.
Change the label name
Use a placeholder in the field
Assign a default value
Mark the field as required
Having a personalized checkout form always ensures a smooth checkout process and increases the closing rate, thus using Checkoutify can make your checkout steps more meaningful for your buyers without any hassle.
5. myPOS Checkout For WooCommerce — myPOS Europe Ltd
myPOS Checkout is an extension of myPOS Online Payments that provides European merchants with a modern and secure WooCommerce checkout solution.
This plugin allows you to accept payments from debit and credit cards in a few simple steps and integrate financial transactions with VISA, MasterCard, JCB, and Bancontact cards.
Met myPOS krijg je voordelen zoals:
Eenvoudige en eenvoudige installatie en opstelling;
Ideal compatibility for clients from The Netherlands;
Gratis e-geldrekening met individuele IBAN;
Volledig PCI-conform;
Ondersteuning bij de integratie.
myPOS Online Betalingen heeft meer exclusieve functies, waaronder:
Beveiligde pagina en kanaalcommunicatie met de handelaren;
3D beveiligde verwerking voor directe betalingen vanaf elke kaart;
Het accepteren van betalingen in vele valuta's op één enkele rekening.
De plugin kan merchant gegevens zoals winkelwagen, bedrag, betaalmethode, transactiegegevens, etc. opslaan.
If you're a merchant in the EU, who wants a secure and advanced, but easy-to-use online payment solution, you should consider using myPOS Online Payments.
Bezoek de website van myPOS.
6. WooCommerce Direct Checkout

WooCommerce Direct Checkout is a freemium plugin that helps you simplify your checkout process and increase conversion rates. 
It is designed to reduce cart abandonment and speed up the checkout to help you boost your sales.
With WooCommerce Direct Checkout, you can get features such as:
One-Page Checkout
Quick Purchase Button
Ajax Add To Cart
Checkout Field Customization
Checkout Redirects
Quick View Option
The lite version is free and comes with basic features.
On the other hand, if you want more advanced functionalities, you can go for one of the premium plans of WooCommerce Direct Checkout starting at just $19 (one-time payment).
For more information, you can check out the premium plan of WooCommerce Direct Checkout.
7.  Flexible Checkout Fields For WooCommerce —  WPDESK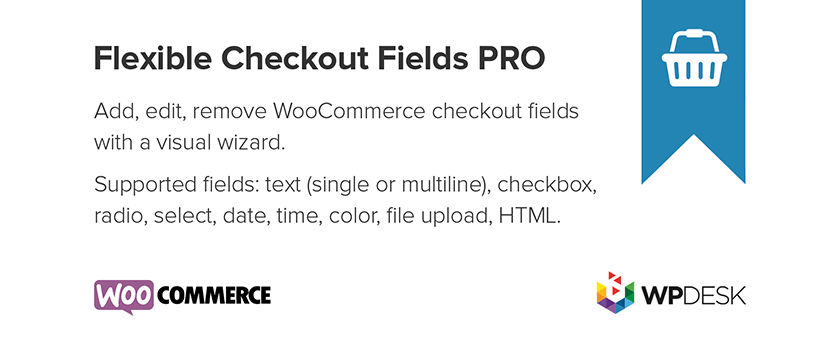 Flexible Checkout Fields For WooCommerce is a great plugin for customizing your checkout fields using an easy-to-use interface.
Deze plugin is mooi geïntegreerd met het WordPress-dashboard, zodat u zich comfortabel voelt bij het gebruik ervan.
De gratis versie heeft nuttige functies zoals:
Velden bestellen;
Bewerk etiketten en plaatshouders;
Mogelijkheid om velden te tonen of te verbergen;
Validatie en maak validatie verplicht of optioneel;
Custom field styling using the CSS classes.
De pro-versie heeft vele functies, waaronder:
Voorwaardelijke logica gebaseerd op

velden
producten
productvariatie
categorieën
transportmethode
Plus het laat aangepaste kassa-secties toe.
Met de premium plugin kunt u 12 soorten velden toevoegen:
eenregelige tekst
tekstgebied
selectievakje
keuzerondje
selecteren (dropdown)
multi-selectie
datum
tijd
kleurkiezer
kop
HTML
bestandsupload
If you want to customize the WooCommerce checkout fields fully, then you can rely on this plugin.
Bekijk de premium versie van Flexible Checkout Fields For WooCommerce.
8. WooCommerce Checkout Field Editor and Manager – Acowebs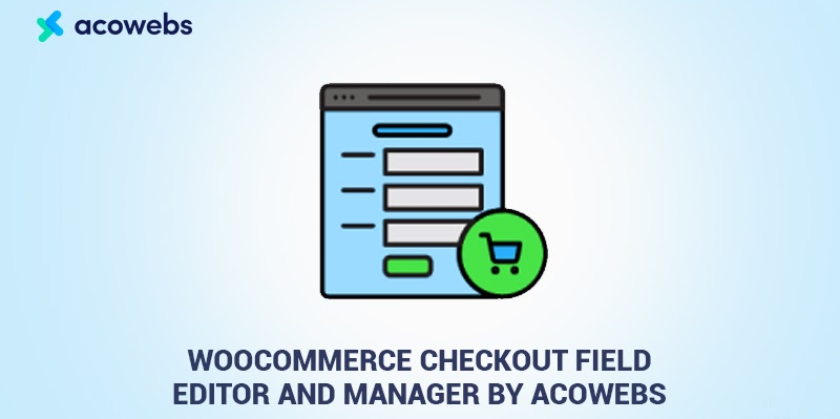 WooCommerce Checkout Field Editor is a leading WooCommerce plugin that is used by more than 6000 users across the globe.
It helps to manage (add, edit and hide) the default fields of WooCommerce checkout according to your business purpose.
One of the major highlights of this plugin, apart from its various functionalities, is its groundbreaking UX design which is highly acclaimed by many of its users.
The plugin comes with a clean user-friendly UI and a drag-and-drop form builder which makes it super simple for admins to edit the checkout fields.
The front-end UI is built using React JS which makes it a stable one even when multiple checkout fields are added.
Major features in the free version:
Edit Default Checkout Fields
Add New Checkout Fields
Hide existing Checkout Fields
Option to enable and disable WooCommerce Checkout Fields
Display inside order details
Display in Order Emails
Adjust the checkout column to half or full width
Option to set custom CSS
Compatible with WPML and Polylang
Some of the additional features in the pro version are:
More than 19 Field Types
Option to add Checkout Fields on Conditional logic
Option to add Checkout Sections on Conditional logic
Apart from Checkout, add fields to My Account registration forms
Conditional rules based on various parameters
Option to add extra fee based on the selected field
Add extra tax to the extra fee charged
The pro version of WooCommerce Checkout Manager can be purchased from the Acowebs website at a nominal yearly subscription.
There are also lifetime membership plans where you can pay just once and use the plugin for a lifetime.
To learn more, visit the website of Acowebs.
9. PeachPay for WooCommerce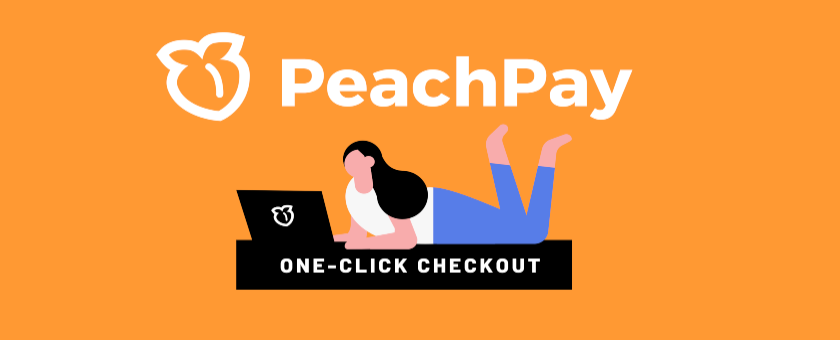 PeachPay is democratizing one-click checkout. If you're interested in increasing conversions, delighting customers, and reducing cart abandonment, then PeachPay checkout is exactly what you need.
Install PeachPay checkout in minutes so your customers can check out in seconds.
Major Features list (the plugin is entirely free):
Adds a new payment option to your site that integrates seamlessly with any existing options, managed through the Stripe dashboard without any additional hassle.
Generates a streamlined checkout form for first-time users
Gives repeat users access to passwordless one-click checkout no matter what site they are on
A supplementary mobile app gives customers access to order history aggregation, item tracking, and more, so they are more likely to return to your store
Visit the website of PeachPay.
10. Conditional WooCommerce Checkout Field  — Amplify Plugins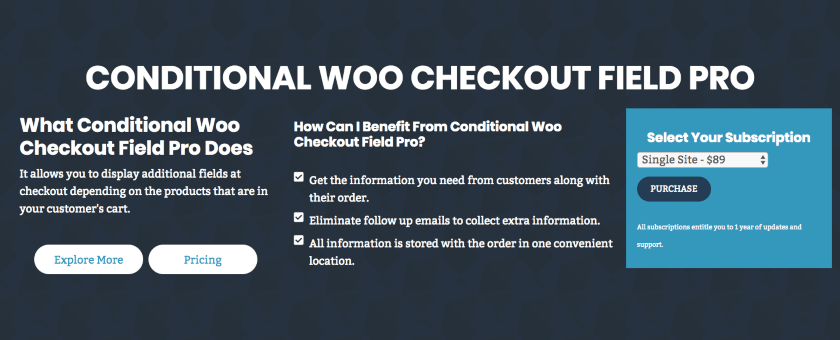 Conditional WooCommerce Checkout Field zal u helpen bij het instellen van velden voor aanvullende informatie die nodig is om de aankoop te voltooien.
Stel dat u aangepaste producten verkoopt op uw WooCommerce site, of dat u een dienst van evenementenregistratie heeft zoals zomerkampen.
In deze gevallen heeft u aanvullende informatie nodig, zoals productaanpassingsgegevens en vereisten voor het evenement van uw prospect, voordat zij de aankoop kunnen afronden.
Dit is belangrijk omdat de prijs van een product op maat afhankelijk is van de toegepaste aanpassingen.
De kosten van een evenement zijn bijvoorbeeld afhankelijk van het aantal deelnemers en de extra diensten en faciliteiten die nodig zijn.
Deze plugin is perfect om te helpen met deze situaties door het toevoegen van velden die nodig zijn om een goede aankoop te voltooien op basis van de producten die een aangepaste prijsstelling vereisen.
Hier zijn enkele van de pro-functies die je krijgt met deze plugin:
Onbeperkt aantal aangepaste voorwaardelijke velden;
Voorwaardelijke velden voor een onbeperkt aantal producten, productvarianten of productcategorieën;
Voorwaardelijk veld op basis van het aantal aangekochte producten;
Integratie met WooCommerce Boekingen en WooCommerce Product Bundels;
Voorwaardelijke velden voor alle producten in een enkele categorie of meerdere categorieën;
Pas de volgorde van de velden aan.
Met deze plugin kunt u ook alle standaard WooCommerce afrekenvelden bewerken.
U kunt invoervelden instellen zoals:
Tekstvelden
Multilijne tekstgebieden
Dropdown
En meer nuttige velden zoals Land, Staat, Vinkje, Wachtwoord en Datum.
Deze plugin is verbeterd en onderhouden voor meer dan 5 jaar, dus de ontwikkelaars hebben het licht en efficiënt gemaakt; de plugin laadt snel en is volledig compatibel met elk WooCommerce compatibel thema.
Bekijk het Conditional WooCommerce Checkout-veld.
11. WPFunnels – Drag & Drop Sales Funnel Builder for WordPress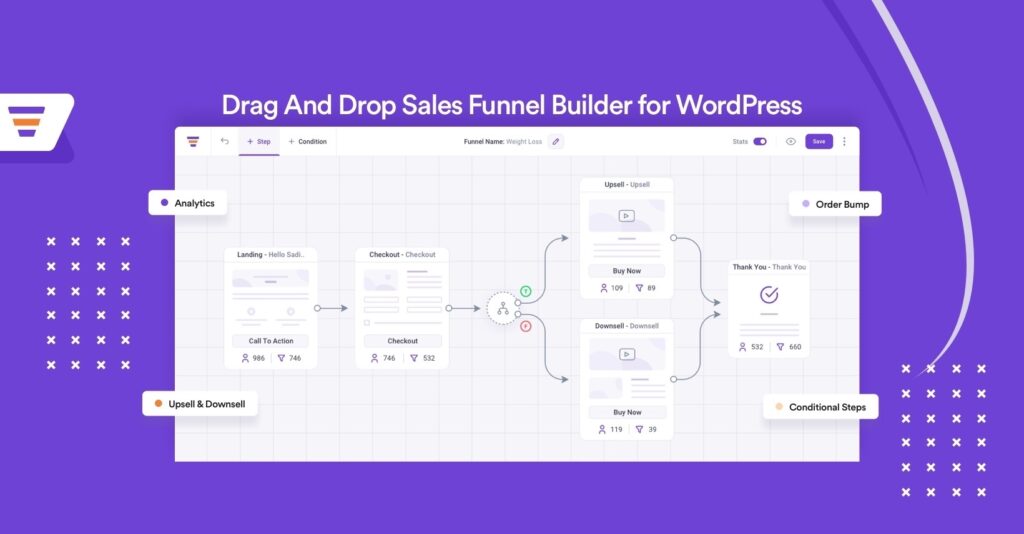 WPFunnels allows you to create complete sales funnels in a visual canvas & edit the funnel steps.
Among the Funnel steps, you completely edit & re-design the checkout step.
The plugin gives you multiple ready-to-use Checkout page templates that you can import with one click and start editing them.
You can edit the checkout templates with Elementor, Divi Builder, and Gutenberg and include any elements or apply any customizations.
Moreover, you'll be creating the checkout steps in a drag-and-drop visual canvas where you can plan your checkout process.
Learn more about WPFunnels – Sales Funnel Builder here.
12. WooCommerce Multi-Step Checkout —  SilkyPress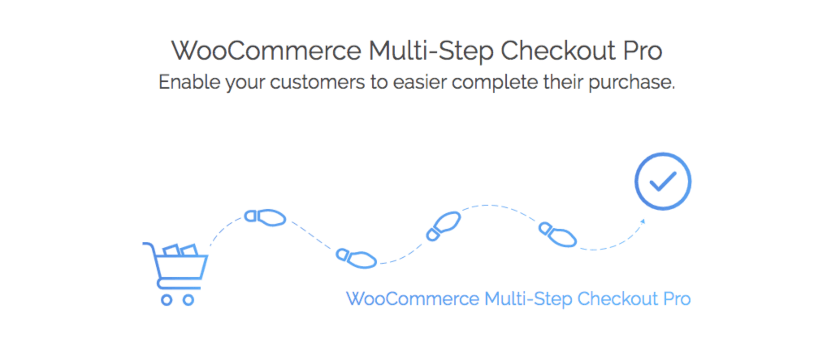 WooCommerce Multi-Step Checkout allows you to break down your checkout process into multiple, small steps.
Dit is vaak nuttig om het voor uw gebruikers gemakkelijker te maken om het hele afrekenproces te begrijpen en nauwkeurige gegevens in te voeren.
In de gratis versie vindt u de volgende voordelen:
Mobiel-vriendelijke interface;
Slim en gestroomlijnd ontwerp;
Toetsenbordnavigatie;
Reactieve indeling;
Neem uw knoop- en vormontwerpen over van het thema;
Adjust with the colour of your theme.
De premium versie van de plugin heeft exclusieve kenmerken zoals:
Klikbare stappen: Uw gebruiker kan op de directe volgende stap klikken of op de reeds voltooide afrekenstappen om te navigeren.
Validation With Steps: The step-by-step process allows you to inform your prospects of any errors before going to the next step.
Registratie op de aanmeldingsstap: Wanneer een nieuwe prospect naar uw afrekenproces gaat, kan hij zich direct op de inlogpagina registreren.
Productafbeelding op de Bestelrecensiestap: U kunt uw klanten vertrouwen geven in de aankoop en hun bestelling verzekeren met afbeeldingen van de producten.
This plugin is WPML-ready and is compatible with most WordPress themes.
Bekijk hier de premium versie van WooCommerce Multi-Step Checkout.
13. Checkout Field Editor and Checkout Manager for WooCommerce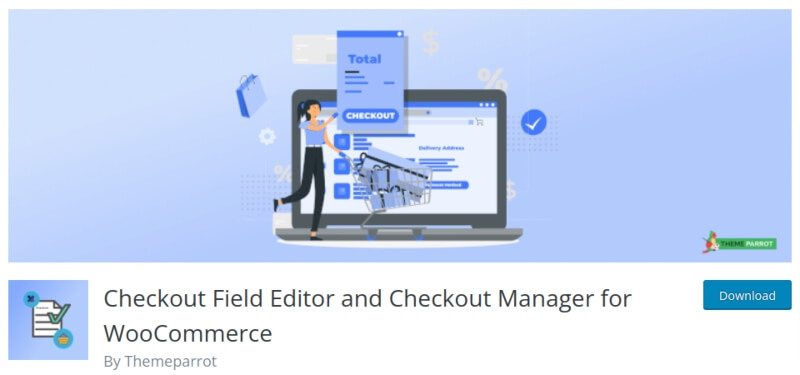 WooCommerce Checkout Field Editor and Manager plugin allow you to add personalized fields to your checkout pages.
This gives the checkout section a user-friendly interface and you'll find it easy to manage the details of customers. 
It works seamlessly with most WooCommerce-compatible themes, so you'll have countless options to choose from when jazzing up your store and marketing your products.
The popular WordPress Multilingual (WPML) compatible plugin lets you translate website content into different languages.
You can change field orders with the drag & drop option.
This makes the plugin easier to use. No need to code & debug and don't suck your time in this process.
  Belangrijkste kenmerken:
Rearrange, add, and edit Checkout fields.
Automatic field validation.
File upload feature.
Modify the default fields.
Section positioning.
17+ Field types.
Create and place the custom section on the Checkout page.
UI is user-friendly.
Date, Time, and Color picker features.
Checkbox and Radio groups help to capture more info.
Also can add additional CSS classes.
Lightweight and easy to use.
Checkout Field Editor and manager is a Freemium plugin. 
You can enjoy the basic features on the free version and if like to move on to pro, then you'll get access to all of the premium features.
Conclusie
U kunt zien dat elk van deze plugins unieke functies heeft die u in staat stellen om uw WooCommerce afrekenproces te optimaliseren voor het best mogelijke resultaat.
De juiste plugin voor u hangt echt af van uw producten en het afrekenproces dat u wilt bereiken.
Also, if you're looking for some great and free WooCommerce plugins for your store, you can check out these best free WooCommerce plugins.
Probeer uw afrekenproces zo eenvoudig mogelijk te maken en zorg ervoor dat de gebruikers niet worden verward met te veel verspreide velden. Ja, u hebt de macht om aan te passen, maar gebruik alleen aanpassingen wanneer dat nodig is.
If you know of any better plugins for WooCommerce checkout, then please share them with us in the comments.
Of als u een van deze plugins heeft gebruikt, dan kunt u ons uw ervaring laten weten.