Laatst bijgewerkt op:

8 min. lezen
Facebook voor WooCommerce - Boost uw verkoop met de beste sociale marktplaats [2023]
As a WooCommerce store owner, establishing a market presence is one of the most challenging aspects that you may face. And if you are a newly rising online store, then it may take quite some time to become popular.
At this point, selling products only in the WooCommerce store is surely not enough; you have to take a few crucial steps to reach more potential buyers.
One of the best ways to increase your market reach is to promote your WooCommerce products in the Facebook Marketplace.

According to Hootsuit, Facebook Marketplace has over 1 billion monthly active buyers.
In this article, we will discuss why you must promote your WooCommerce products in the Facebook Marketplace and how you can easily generate and upload your store products to the marketplace in just a few clicks.
So let's begin.
Why Should You Rely On Facebook For WooCommerce Product Promotion?
Facebook Marketplace has evolved to assist digital stores in promoting their products to a greater audience and is, right now, the best social marketplace in the world. Its super-friendly business features can highlight your brand efficiently.
The Facebook Business Suit allows you to manage your business profile and Facebook page & shop around the Facebook community easily. And you can leverage the marketplace to drive traffic and potential buyers into your WooCommerce store quite easily.
The marketplace allows buyers to search for products, and if your product matches their intent, they will be available for the buyer to choose from.
Suppose a buyer is looking to purchase a musical instrument. He can simply go to Facebook Marketplace and search for the desired instrument.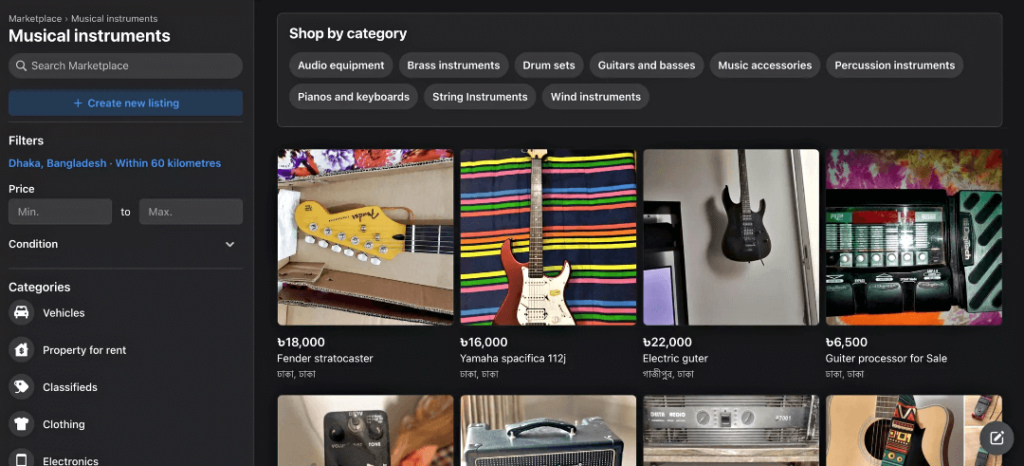 If the buyer clicks on the product, you can set it up so that it takes the buyer to your Facebook shop page or your website.
This is a great option as Facebook has a huge potential audience, and it will definitely increase your opportunity to get more buyers.
Not only do you grow your business presence via the marketplace, but you can also build up a social community via your Facebook business page. And as you know, social communities can drive a huge amount of sales if you can build it up with the right audience.
Many may say it's more convenient to sell as a Facebook shop without a website. But that's a misconception.
The main difference between selling products only on a Facebook page and selling products from your WooCommerce store on the Facebook Marketplace is that you will get more trust from the people. A buyer tends to order more from a business with its own Brand value than buying from a private seller on Facebook. So having an up and running website is crucial if you want to stay in the eCommerce business for a long time.
Having said all that, you still have to upload your product data to the Facebook marketplace.
Now, manually adding products to your Facebook shop or marketplace can be quite frustrating. But, guess what, there is an easy way to upload all of your WooCommerce products into the Facebook Marketplace in just a few clicks.
Let's see how.
Product Feed Manager for WooCommerce – Facebook Product Feed Generator
Product Feed Manager for WooCommerce (PFM) is an extension specialized for WooCommerce store owners who want to promote their products in other online marketplaces, including the Facebook Marketplace.
This tool will let you generate a product feed file in the right Facebook Catalog format with just a few clicks. And then, you can simply upload it to your Facebook Commerce Center to list all of your products in the Facebook Marketplace in just a few minutes.
Now, yes, you will get several other plugins in WordPress that does a similar function, and some may even have more active installations.
But, what makes PFM unique is its super simple UI. You can start using the plugin and generate a Facebook Catalog feed with as low as 4 clicks. And if you have certain customized data in your store, you will still need as low as 3 minutes to configure and generate a perfect Facebook product feed.
Since you are running an eCommerce business, you do not have a lot of time on your hand. The faster you can start promoting your products, the sooner you make money. And that is why this tool is designed to save you time.
You do not need to learn about the Facebook Catalog feed structure or format, and you do not need to spend hours configuring the feed generation. The plugin will lead you to achieve it real quick.
Now, let's take a look at how you can generate a product feed with all your WooCommerce products to upload to the Facebook Marketplace.
How To Quickly Generate Your Facebook Product Feed With WooCommerce Products
First, make sure you have Product Feed Manager for WooCommerce installed and activated in your WooCommerce store.
Then, follow the two steps below to generate a Facebook product feed with your WooCommerce products.
Step 1 – Create A Product Feed
Once the plugin is activated, on your dashboard menus, you will find the option Product it.
Hover on it and click on 'Add New Feed', and it will take you to the following page: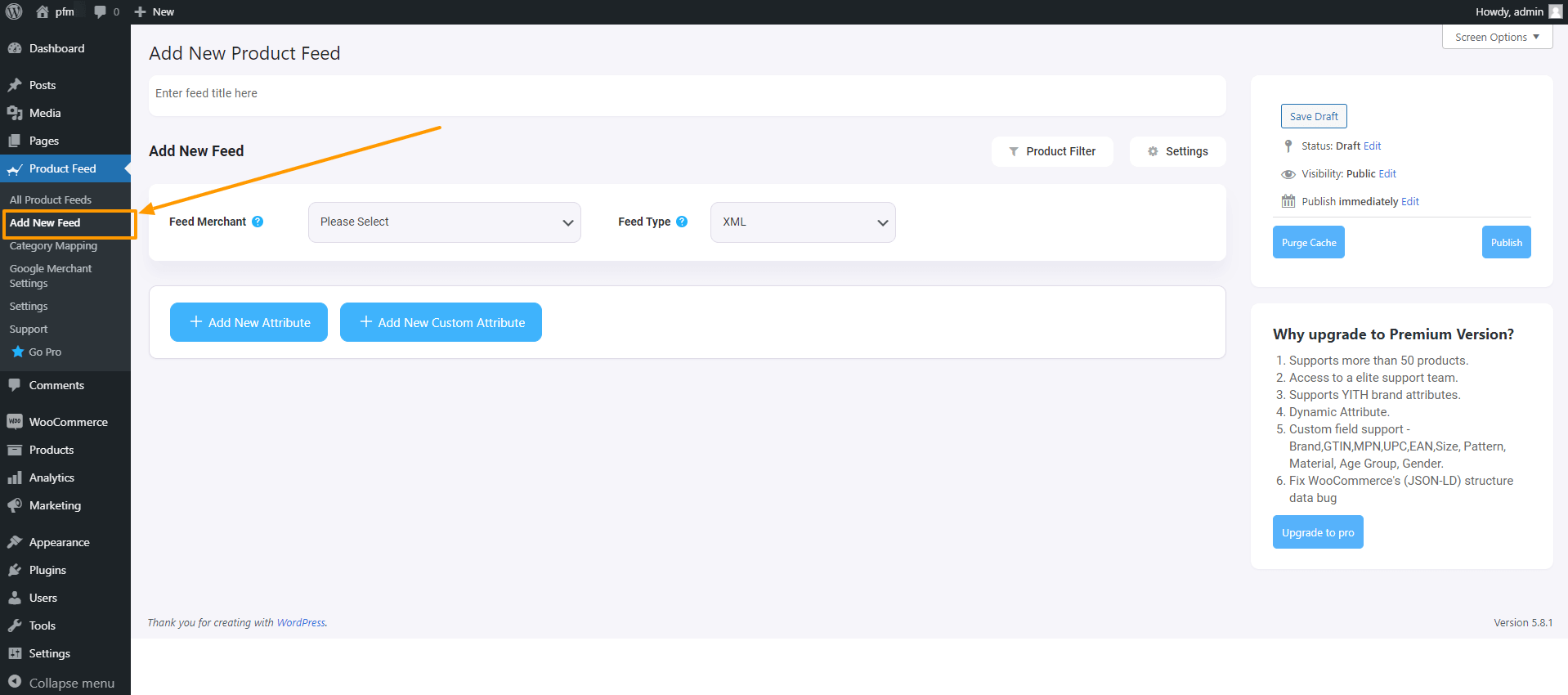 Here, first set a feed title.
Then choose the Feed Merchant as Facebook.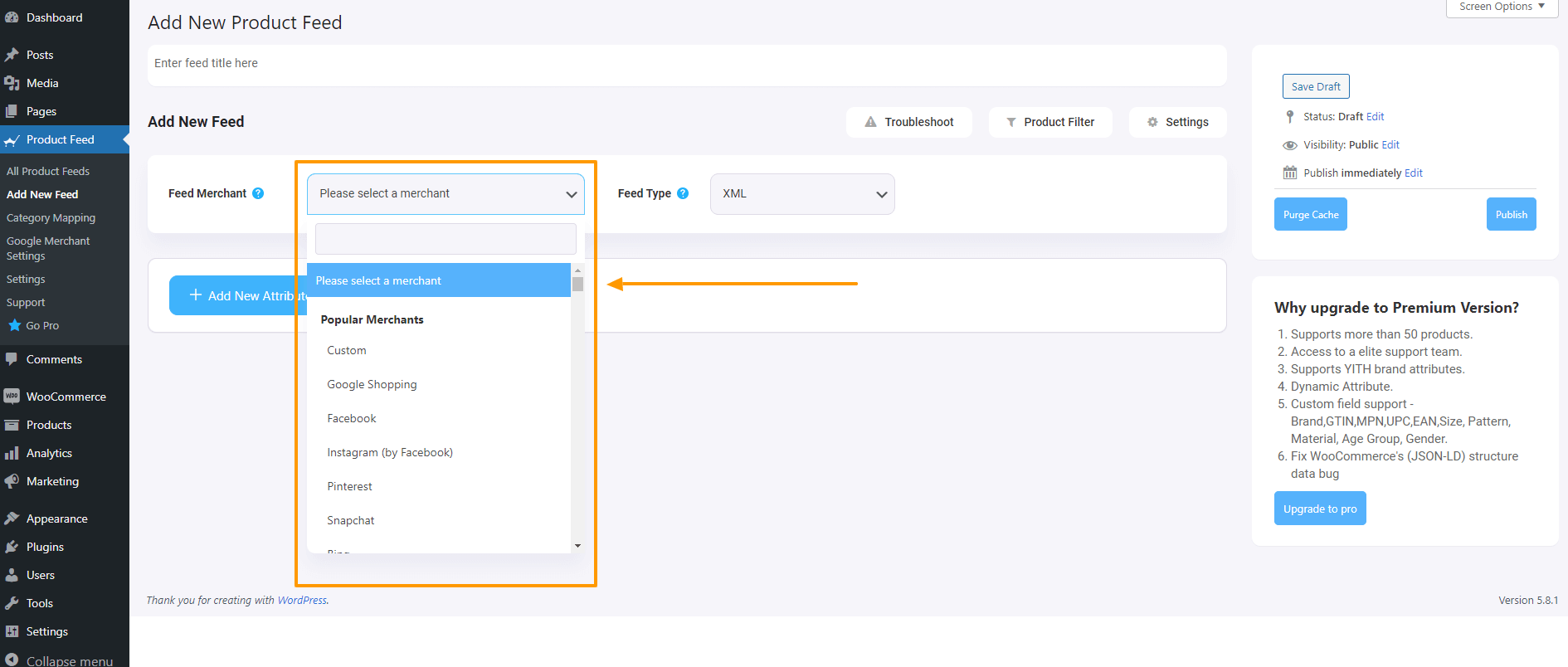 It will then load all the fields that will be included in your product feed for each of your products.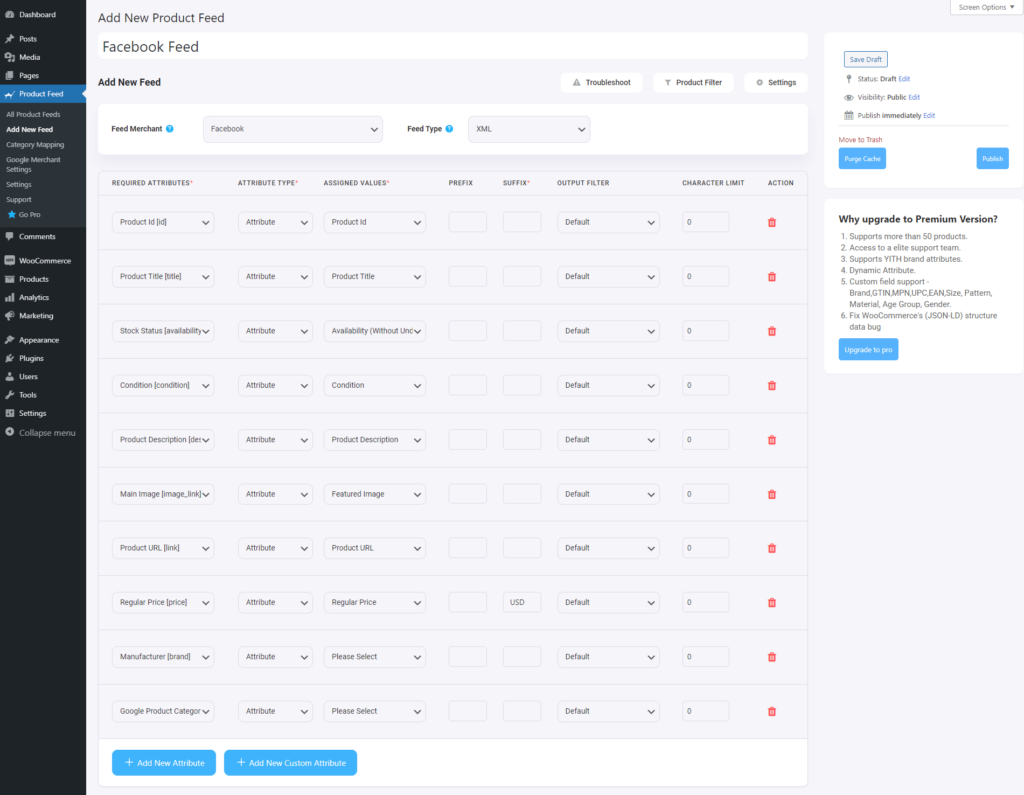 Step 2 – Configure Your Facebook Product Feed
You will notice that almost everything is already configured. All you have to do is assign the right values for the Manufacturer/Brand, and the Google Product Category.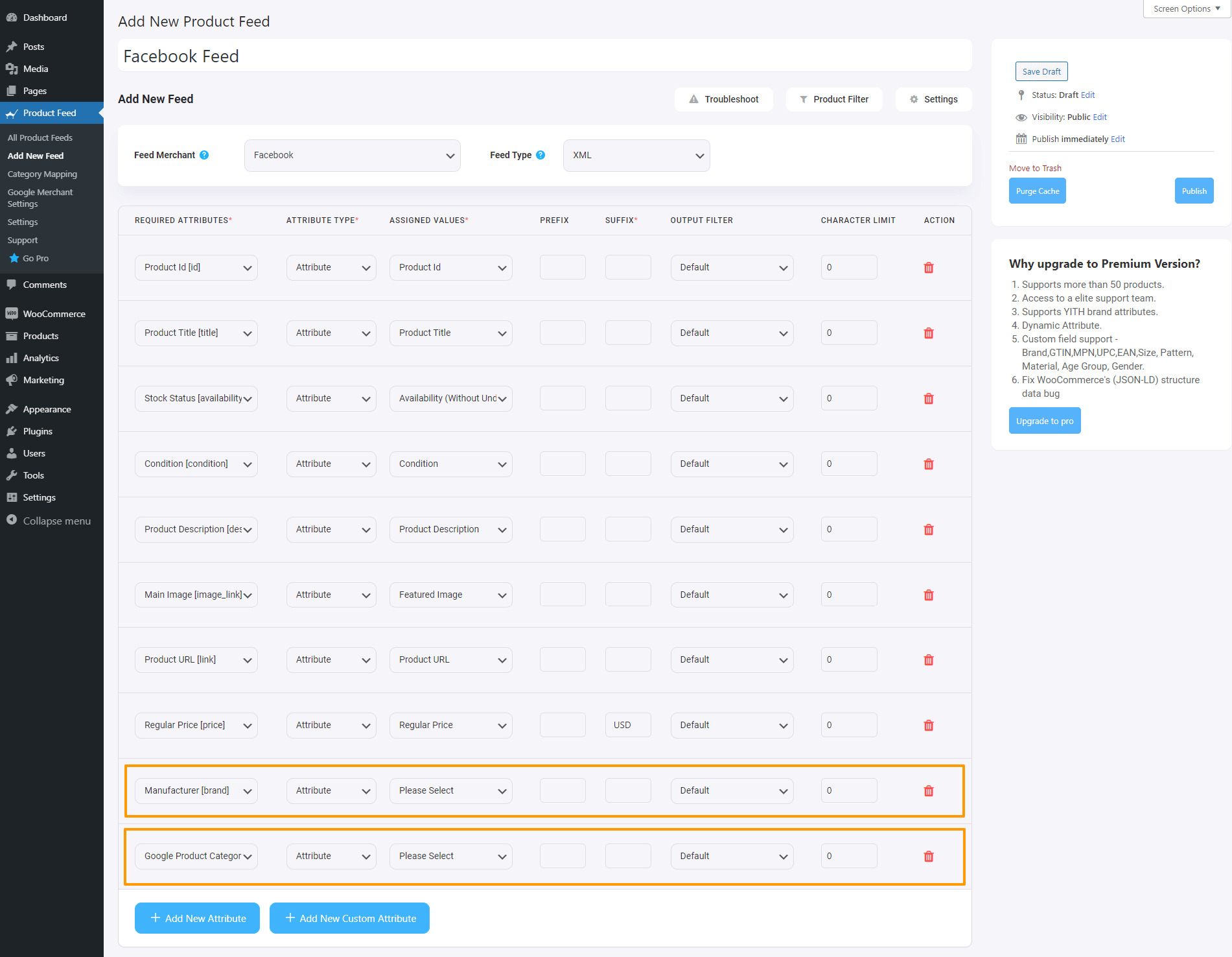 – Assigning The Manufacturer/Brand:
This should be the Brand name of the product you are selling. If you are the manufacturer, you can set the type as Static and input your company name here.
If you have different brand names for different products, you will have to save the value in a custom field or product attribute and then use that value here.
**You may also use a brand plugin, which will make it easier to assign and use brand names.
– Configuring the Google Product Category:
Facebook Marketplace has its own set of categories (that matches Google) that, most often, doesn't match the categories in your store. But you do not have to change it in your store. You can simply use the category mapping feature to set up the mapping and use it as the value here.
You can further customize the feed if you need to using Product filters, a few basic feed settings, auto-update intervals, and feed rules. Normally, they are already configured in an optimized way for the Facebook Marketplace.
Once you have configured the feed, simply click on the Publish button on the right, and the feed will be generated in seconds.
And that's it. You have successfully generated a product feed for the Facebook Marketplace. You will be able to collect the feed link or download the feed file from the right side.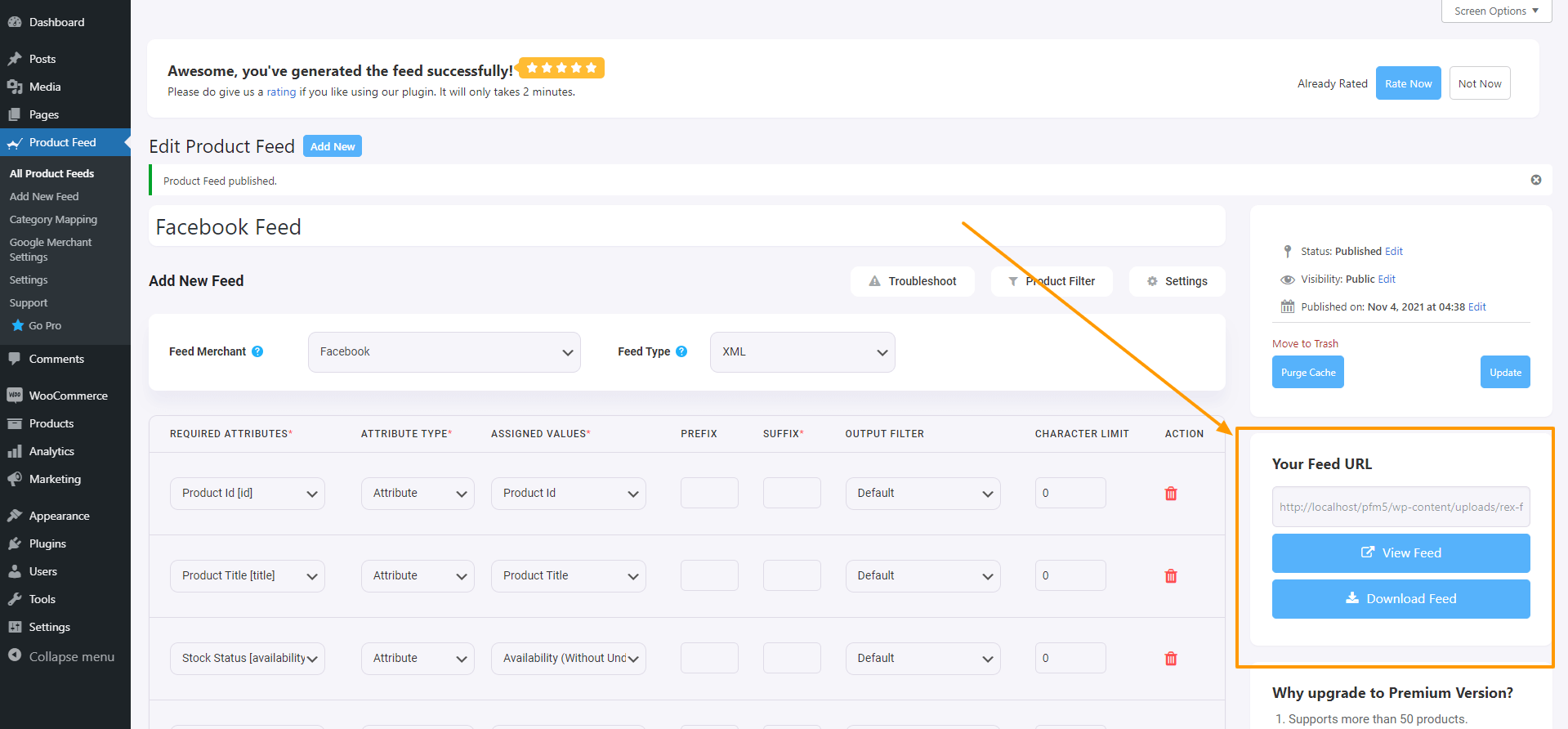 How To Upload Your Product Feed To Facebook Commerce Manager
Once you have generated the product feed, it's time to get your WooCommerce products on the Facebook Marketplace.
Before you do, it's always best to create a Facebook business page if you want to leverage more exposure from the social marketplace. You may read this guide to create a Facebook business page if you do not have one already.
Simply follow the steps below.
Step 1 – Create A Catalog
Login to your Facebook account and access the Facebook Commerce Manager.
Select your preferred way to sell your products on Facebook. Here, select the 'Create a Catalog' option. Then click on 'Get Started.'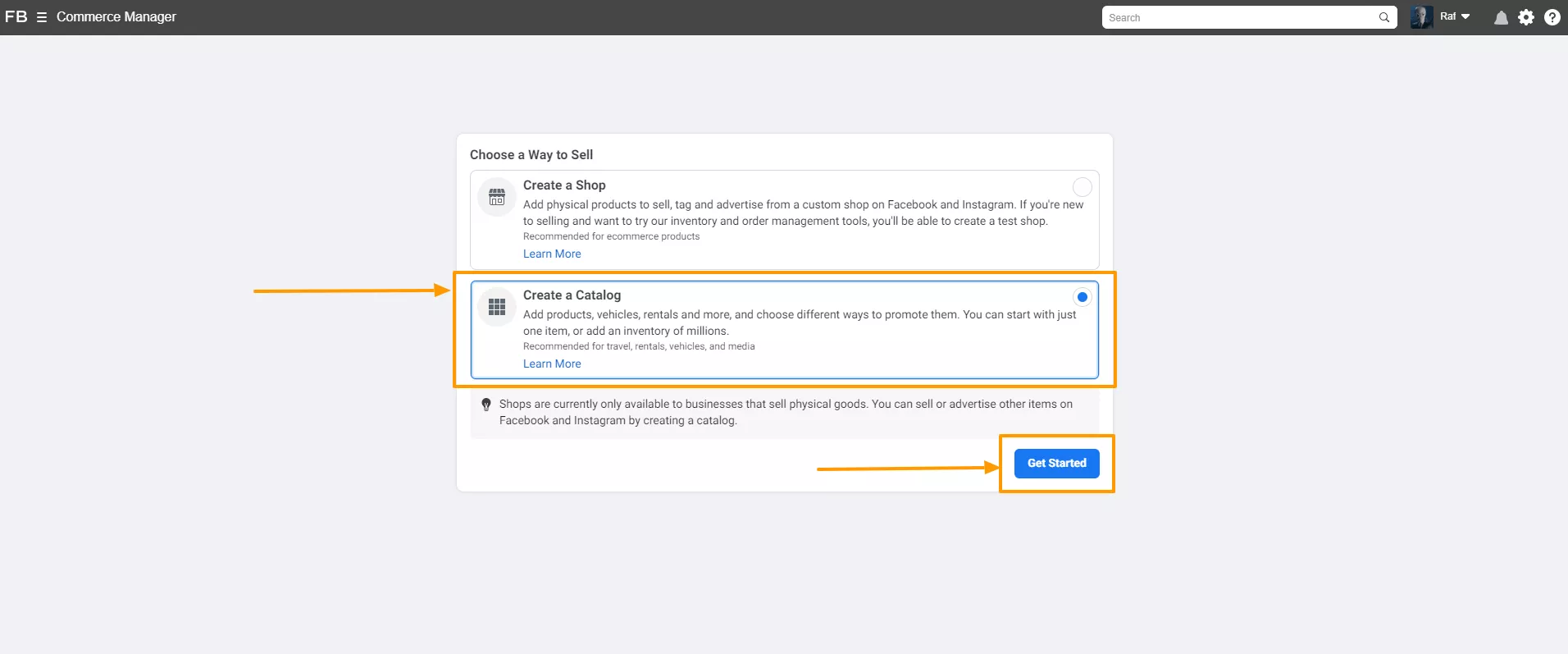 Now, choose your catalog type.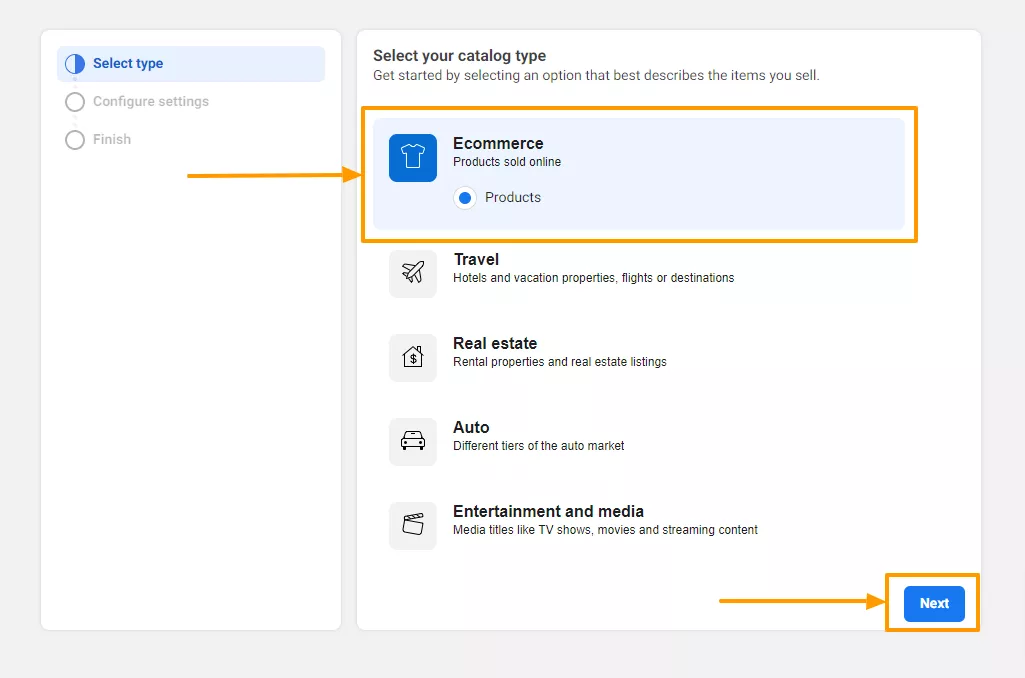 Next, Select Upload Product Info and click on the 'Create' button.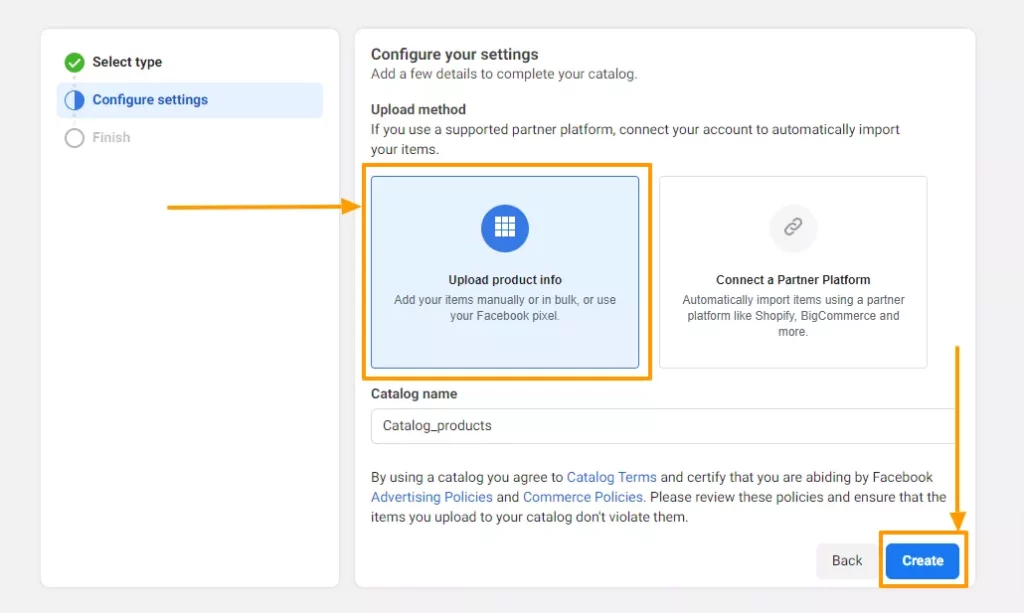 Then click on finish, and it will redirect you to your Facebook Commerce Manager Dashboard.
Step 2 – Upload Your Product Feed To The Facebook Marketplace
Now that you have the Catalog prepared, you are ready to upload your WooCommerce products to Facebook.
On your Commerce Manager menus, you will see a new menu called Catalog. Click on it, and then click on Data Sources.
Then select Data Feed.
Here, you will get three options – File Upload, Scheduled Feed, and Google Sheets.
Choose Scheduled Feed.
Then you will get the option to provide the link to the feed file. Earlier, when you generated the feed in your WooCommerce store, it gave you a feed link. Copy that link and paste it here.
Now, choose a suitable time for the schedule fetch and click on Next.
And finally, give a name to your catalog feed, choose the currency for your store, and click on Upload.
And that's it. Your feed will be uploaded in a few minutes to the Facebook Marketplace, which you will be able to view in the Items menu under Catalog.
You can further boost your sales using smart Dynamic Ads. Learn how.
Noot van de auteur
As you just saw, it's super easy to generate a Facebook product feed with your WooCommerce products.
Using Facebook for WooCommerce product promotion is one of the best approaches you can take if you want to get fast exposure to your WooCommerce store.
And Product Feed Manager can help you generate the product feed in the right format so that you can upload your products to the Facebook Catalog real quick.
So go ahead. Use PFM and start leveraging the huge audience from the best social marketplace.