Zuletzt aktualisiert am:

12 Min. gelesen
7 Best UK Online Marketplaces To Promote WooCommerce Products & Increase Sales
If you run an online business in UK, you know the struggle of reaching new customers on a regular basis.
There can be many store owners out there selling products within your niche.
One of the best ways to keep up with this competition is to promote products on popular UK online marketplaces.
The UK stands as a highly developed e-commerce market, where online sales contribute 23% of total retail sales.
You, too, can achieve significant revenue growth by tapping into these online marketplaces and leveraging many potential buyers.
Today, we have listed the 7 best marketplaces in the UK where you can promote your WooCommerce products and increase your sales fast.
By the end of this article, you will clearly know where to promote your WooCommerce products to get the best results.
So, let's begin.
Why Sell on Online Marketplaces?
Imagine you started a new WooCommerce store where you sell skincare products. Your products can be great, but how do you reach a broader audience?
As a new business or a small e-commerce website, it's quite difficult to reach more people any time soon, even if there is a high popularity for online shopping.
87% of UK consumers shop online, with 55% of them placing orders at least once a week.
This is where UK online marketplaces play a big role.
These marketplaces usually have tons of buyers who regularly visit the sites and place orders. But the main reason why you should value their audience is because you can list your WooCommerce products in these popular online marketplaces.
This means your products will be visible to a larger audience even if your business isn't popular yet. More people will be able to see your brand, especially those interested in natural skincare. If you have submitted optimized product data, then your products will appear as options when buyers search for them.
Eventually, you will start getting visitors and sales without struggling for years.
However, a small challenge you will face is deciding which marketplace can deliver the highest results for you. You have to research and find out which one is the best fit for promoting your WooCommerce products.
That is what we will help you out with today. Below, we will look into 7 popular UK online marketplaces where you will be able to list your products and get results real quick.
Some of these are great for any product, and some of them will give you extra results for certain types of products.
We will discuss all of these below.
Top 7 UK Online Marketplaces to Promote Your WooCommerce Products
Following are 7 UK online marketplaces have statistically proven to generate the highest sales for most other e-commerce businesses.
1. Amazon UK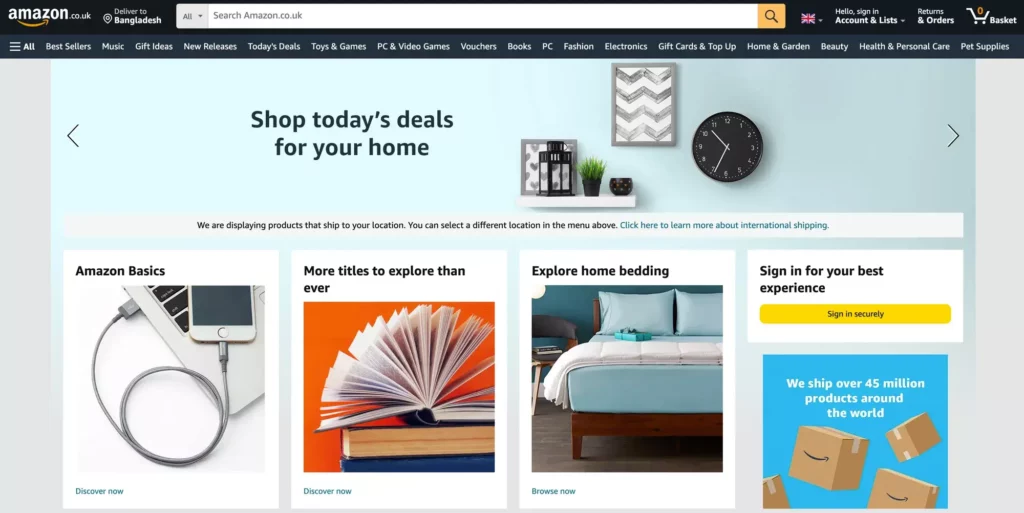 Amazon has been the largest UK online marketplace for quite a long time now.
According to cybercrew, 86% of people in UK shop at Amazon.
No matter what products you sell, you must list your products on Amazon UK if you want a significant boost without spending a fortune.
With millions of daily visitors, Amazon UK is a marketplace where potential buyers are already searching for items similar to what you offer.
Its robust infrastructure, efficient shipping options, order fulfilment, and fraud protection system ensure a trustworthy environment for both buyers and sellers.
When To Promote on Amazon UK
You should promote your WooCommerce products on Amazon UK when your goal is to expand your customer reach and your business has been around for a while.
Amazon charges quite high to list your products there. You will definitely get good results if you list your products there, but it may not be a good ROI if you are a startup.
So, the only time you may list your products there as a startup is when you have a good amount of budget available.
The monthly fee for promoting on Amazon is $39.99. Plus, every sale you make has a commission fee of $0.99.
Another important consideration is the niche you are selling. People rely on Amazon UK, especially in these niches electronics, health & beauty, Home and Kitchen, Books, Sports – DIY, etc.
While products in other categories also sell quite well, most of Amazon's customer base are consumers of products in these categories.
So you will get more benefits if you are selling products in those niches. For those interested in exploring the online trading sphere, checking out a maverick trading review could provide valuable insights."
How To Promote on Amazon UK
To promote on Amazon UK, you can follow the steps below –
Create a seller account on Amazon UK. Provide your business information, set up shipping options, and choose a product category.
List your products in the appropriate categories on Amazon UK. Make sure your listings are informative and go with Amazon's guidelines.
Choose your shipping and fulfillment options.
If you want, you can also take advantage of Amazon's advertising options.
To learn more about getting started with Amazon UK, click here.
2. eBay UK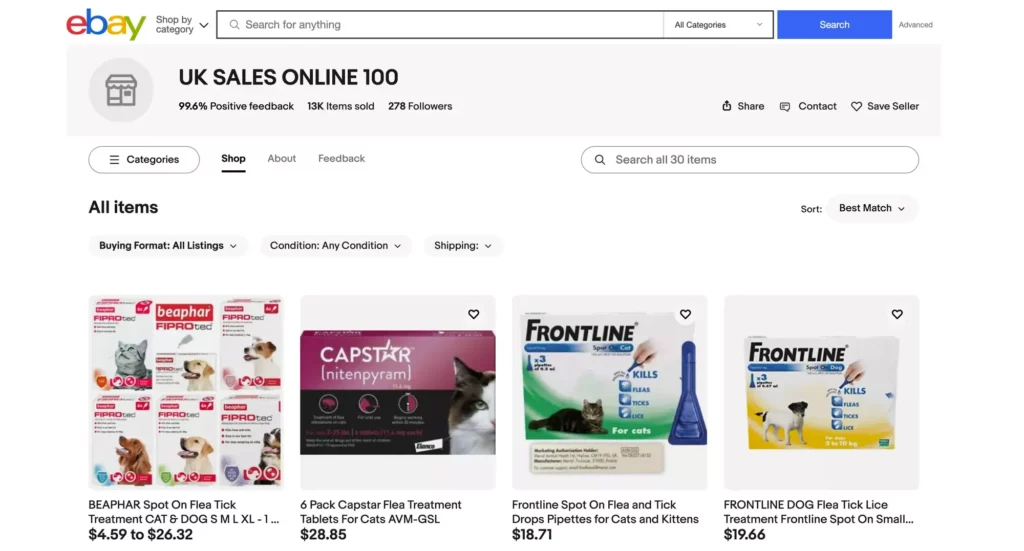 With over 159 million active buyers, eBay offers you almost the same benefits as Amazon.
The main attraction of eBay is the auction and "Buy It Now" listings, which sets it apart.
The auction allows you to sell any product, even second-hand ones, fast and often, on a higher profit margin.
If a product is in high demand but rare, it may even sell at 2 to 3 times higher prices.
eBay UK also has "Promoted Listings," which allows you to highlight your products at the top of search results to the right audience and ensure maximum visibility.
You may even observe the performance of your products on the eBay analytics dashboard to understand what changes you may require to improve your product data.
When To Promote on eBay UK
eBay serves almost all product category niches, so there's no specific category to highlight.
For any niche you are selling on, you can take advantage of different types of listings on eBay and get fast exposure. However, the different types of listings come with different selling fees.
So choose the one that suits you the most. (Most people simply go for the auction.)
How To Promote on eBay UK
To sell on eBay, you need to create a seller account and set up your store. Next, you have to upload your product listing with high-quality images and competitive pricing.
You need to optimize your product listing to get the best results regularly.
You may also consider selling on eBay MIP which gives you better visibility and control over how your products are exposed.
3. Etsy UK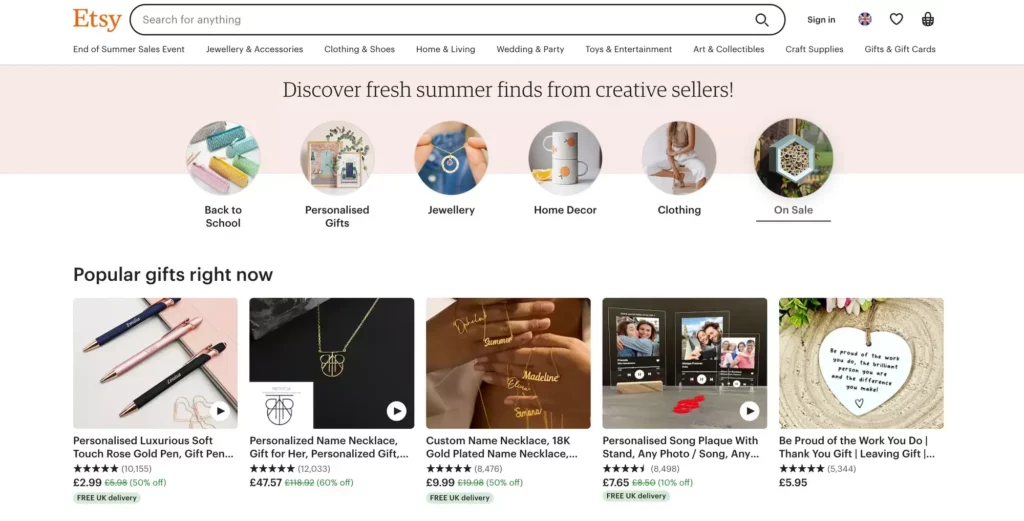 Etsy UK is the go-to marketplace for personalized, creative, and artistic products.
If your WooCommerce store offers handmade or unique products, Etsy is the best option.
Here, you are promoting products only to consumers that you know are interested. This will increase conversion rates and help you increase sales real quick.
One of the biggest advantages of Etsy is that this marketplace has a collaborative community to connect sellers with buyers.
As a WooCommerce store owner, being part of this community can help you build brand loyalty, gain feedback, and engage with customers who share your passion for unique products.
Moreover, Etsy makes it quite easy to list products, track inventory, and monitor exposure with its interactive dashboard.
When To Promote on Etsy UK
As mentioned above, Etsy will be the best option if you want to sell handcrafted and unique items.
Plus, if you are running a small business, Etsy will open up great opportunities for you because they are flexible with their fees.
How To Promote on Etsy UK
Selling on Etsy is pretty simple. You can make single listings or set up a whole store.
First, you need to answer some basic questions related to your products.
Then, you'll create an Etsy account, build your shop, set up payment info, and manage your listings.
4. Google Shopping
Google is the number one search engine in the UK and offers you a powerful advantage for product promotion.
Basically, when people search for products on Google, they get some product suggestions on top of the search results.
All you need to do here is to make sure you have submitted the correct data about your products to Google Shopping. They will verify and match every detail you submit with your website before exposing them to potential buyers.
How To Promote on Google Shopping
First, you will need a Google Merchant Account, which you need to properly configure.
Next, you need to submit your product data in their required format along with the attributes they have requested (depending on the product category).
If all the data is correct, your products will be listed immediately. If there are any errors, you will be able to see the reasons in the Google Merchant Center.
If you have a WooCommerce store, here is how you can generate a Google product feed to upload your products for Google Shopping easily, without any flaws.
5. Zalando

Zalando is one of Europe's largest online fashion and lifestyle marketplaces.
Zalando offers an intuitive shopping experience, making it easy for customers to explore and discover new products.
It has a variety of advertising and marketing options that can enhance your product visibility within its marketplace.
Moreover, you can access all your analytics and business insights through a powerful platform tool called zDirect.
When To Promote on Zalando
If your WooCommerce store specializes in fashion, accessories, or lifestyle products, then you can take advantage of a massive customer base who are interested in your niche.
Also, you might need to consider the promotion cost for selling on Zalando. The selling fee on Zalando has 2 categories:
Selling Commission
Fixed monthly charges
The commission depends on the product type and the price of the product. It usually ranges between 5% and 25%.
How To Promote on Zalando
To sell on Zalando, you need to join their partner program.
You must register your business on the platform. Then, you can decide the product range and prices.
Zalando can also handle payment processing and customer service. Plus, with additional fees, you can use Zalando Fulfillment Services and other marketing options.
6. OnBuy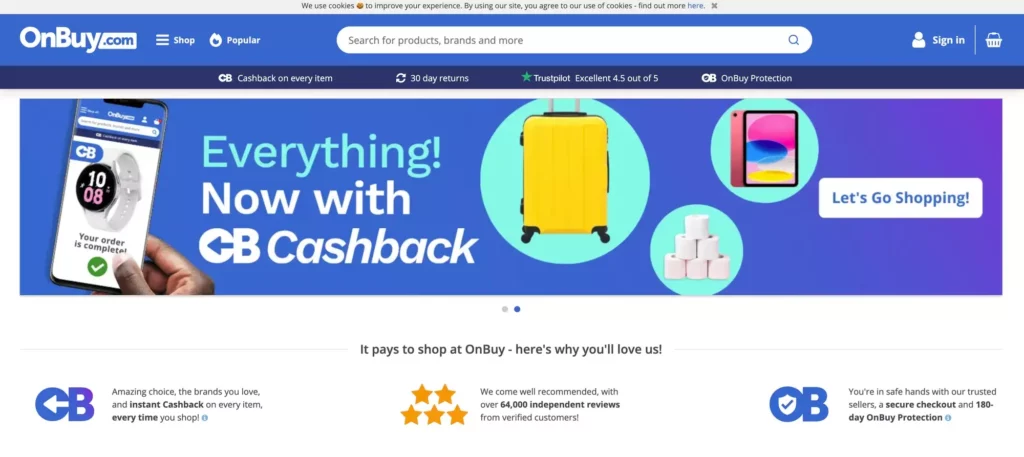 OnBuy is the fastest-growing online marketplace in the UK right now.
Since it's new, OnBuy offers a typically lower fee structure compared to most marketplaces in UK. Also, it covers a wide range of product categories, from electronics and fashion to home and garden.
So, you can easily find a suitable category for their offerings and take advantage of its diverse customer base.
When To Promote on OnBuy
The most popular categories of OnBuy are – Electronic, entertainment, home furniture, household, gardening, care, fitness, etc.
So, if you are selling products in one of these niches, OnBuy should be among your go-to marketplaces.
The fee is 5% for consumer electronics and 9% for everything else. And there are no listing fees. So it is perfect for startups to explore.
How To Promote on OnBuy
To promote OnBuy, you need to first sign up as a seller on OnBuy and provide the necessary business details. Next, you have to create your product listings.
Once you are a seller, you can use OnBuy's promotional tools like deals, discounts, and bundle offers to make your listings more attractive.
7. Fruugo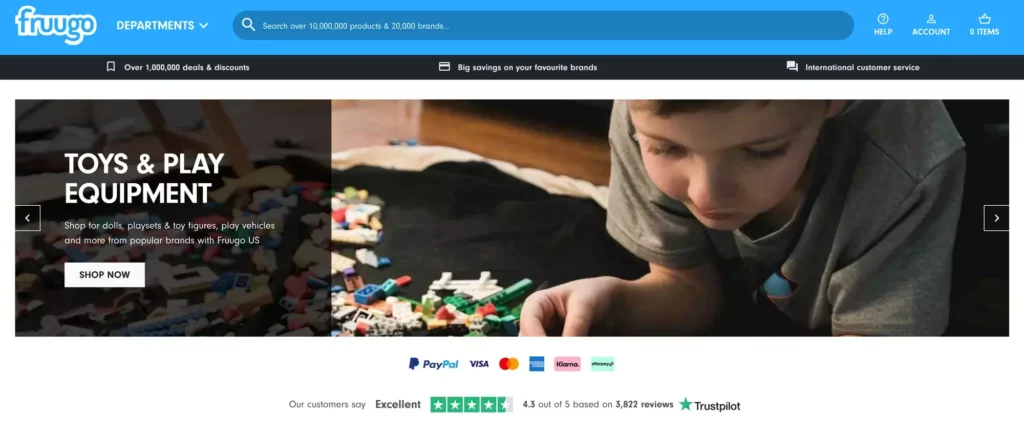 Fruugo is a UK-based marketplace that currently has sellers from all over Europe.
One of the best aspects of Fruugo is that it translates product data depending on the location of the buyer. So it's much easier for buyers to understand if they want to purchase.
As a seller, you will get a dedicated account manager to help you list products and plan proper advertisements.
This personalized approach is why many large businesses consider Fruugo as their go-to online marketing place for the UK.
When To Promote on Fruugo
Consider promoting your WooCommerce products on Fruugo when you clearly understand your target audience. You have to make sure you identify the correct category for each of your products because Fruugo's display algorithms will display products to buyers based on category.
If you provide offers during peak shopping seasons, holidays, or special events, Fruugo would be great as its traffic goes up by over 60% during such events.
How To Promote on Fruugo
To start selling on Fruugo, you need to follow some requirements of the marketplace.
You need to provide your company information, contact information, fulfillment capabilities, product information, and other technical information.
For product listing, Fruggo has some specific requirements. All your products must have GTIN, product image background, and up-to-date product information.
How To List Your WooCommerce Products on UK Marketplaces Easily
Now you have a good idea on where to promote your WooCommerce products.
But you also need to learn how to list your products on these marketplaces without spending hours manually compiling product data or spending a fortune by hiring people.
Manually listing products is quite challenging if you have a large number of products.
Since you use WooCommerce, you can use different tools to make the process much easier.
And to promote your WooCommerce products on UK marketplaces,
You will find a reliable plugin that will help you generate product data in the right format for most UK online marketplaces in just a few clicks.
It's called Product Feed Manager for WooCommerce (PFM).
This plugin has pre-built templates so that you can generate the feed for almost any online selling sites UK and list your products real quick. So you should check it out.
Einpacken
Now, it's time you start looking into your options & budget and decide which marketplace you want to embrace.
The main focus here should be a balance between how much you may earn and how much you may have to spend. Only then you will get a high ROI.
So, which UK marketplaces do you think you will list your products on?
Share it with us in the comments below.
Zum Wohl.