Last updated on:

12 mins read
5 Best Tactics To Use WooCommerce Discounts And Boost Your Sales
Discounts are a great way to boost your sales when it comes to running a WooCommerce store. However, the main difficulty you'll face is choosing the right discount offer that gives you an edge over your competitors.
Sure, you may launch a discount tomorrow and hope to get some additional sales. But will that really help? The answer is no.
You need to first plan a proper strategy so that you can use WooCommerce Discounts in the most optimized way.
Today, you will learn about 5 discount tactics that you may use to boost your online sales.
After reading this article, you will be able to –
decide when to offer discounts with the right strategy
implement unique discount strategies that convert
offer well-planned discount options
and eventually, increase your store's sales.
So, let's dive in!
3 Steps for Planning Discounts To Increase Sales
So, how do you decide on a discount campaign? Let us look at a 3-step process you may follow to choose a proper discount strategy.
Step 1 – Define Your Goal
It is always the first step of any marketing campaign – defining your goal.
You first need to understand what you are really trying to achieve with your discount campaign before implementing it.
For example, your goal could be increasing revenue, selling out a certain product, or simply to attract new customers.
Depending on this goal, you will be able to align your marketing resources and decide on an attractive discount offer.
Step 2 – How Much Discount Can You Afford
Next, it's time to see how much discount can you afford to give away while still making a profit.
It's simple. First calculate the total cost of the product (its base cost, transportation cost, storage cost, resource investment cost, and marketing cost). Now, identify the amount you actually make a profit when you sell it.
For example, if your overall product cost is $350 and you are selling it at $400, then you have a $50 profit margin.
Now, you must get at least 1% profit from the. base cost.
As per the example, that's $3.5. So if you remove that from your profit, then the remaining amount is $46.5. That's the highest amount you can afford to offer as a discount for this product. As per the selling price, you can afford around 11.63% discount.
Depending on when you are offering this discount, you may fluctuate the percentage.
Now, this is not a rule or a defined process. It's just one way you can make a proper decision on the right amount of discount without making a loss.
Step 3 – Observe Competitors And Finalize The Discount Amount
So, you know how much you can afford to let go. Now, observe what others are offered or have offered in the past successfully.
Based on that decide on a discount offer that you may offer which is better than your competitors, even if the offer is better by $1.
However, often when you have surplus product supplies, you may offer a discount at 0 profit for a limited time (maybe for 3 days) just to attract more customers and have greater grounds for instant promotion. This may also be applied to stay ahead of competitors in terms of pricing for the same product.
Step 4 – Align Your Marketing Campaigns With This Discount Offer
The next step is to start marketing your discount campaign. You should try your best to spread the news while being creative with how you make the offer.
Let's say for this example you can offer the tactics below:
Bundling products: If you offer a bundle of a laptop, a tablet, and a phone from the category, we can still offer a 10% discount on the bundle, but the overall profit margin can increase because the customer is purchasing multiple products at once. You can give this deal when customers are ready to purchase more products on occasions like Black Friday, Christmas, etc.
Focus on higher-margin products: Instead of offering a discount across the entire "Electronics" category, you can focus on products with a higher profit margin. For example, if you have a range of laptops in the "Electronics" category, you can give a 10% discount on a specific brand that has a higher profit margin, rather than discounting all laptops. You can give this discount on certain laptops that have less demand on the market.
So, set up the necessary configurations and tactics for the situation, events, and occasions keeping this in mind.
Now that you know the steps to running WooCommerce Discounts, let us look at 5 tactics you may choose to implement for your discount strategy.
5 Best Tactics To Use WooCommerce Discounts And Boost Your Sales
Following are a few tactics that have a high potential to get you great results.
Idea 1 – Custom Discount to Provide Personalized Offers
Custom discount is a great tactic that will increase the lifetime value of your customers. It's an approach where you can offer personalized offers to specific customers or groups of customers.
The idea is to make customers feel valued and appreciated by the offer and persuade them to make more purchases.
For example, you can give your customers discounts based on their previous purchase history.
Let's say, a customer frequently purchases t-shirts from your store.
Now, you can give a custom discount to him in two ways.
Discount on next T-shirt purchase: You can give him a special discount on his next T-shirt purchase. You can send him an email with a coupon, making the subject line something like '20% Off In Your Next T-Shirt Order'. As he has already bought from you, it will encourage him to claim the discount.
Discount on related items: As this customer is already buying t-shirts from your store, you can give him a custom discount for the items that he can purchase with t-shirts. You can send him an email and give him a 20% discount on the pants purchase. The subject line can be 'Get 20% Off On Your First Pants Purchase'. This way, you can attract your customers to purchase other items too.
When you apply the tactic, make sure you analyze their purchase history really well and identify their buying patterns.
This will help you to target the right offer which is relevant and appealing to your customers.
Idea 2 – Use A Conditional Discount Offer To Sell Off Your Product Surplus
As mentioned earlier, sometimes you may want to sell off products that you have a lot in stock, so you can use a stock manager plugin where you can manage your product stock automatically.
For example, suppose your store has many "Polo" in stock and you want to sell it off quality. You may use a conditional promotion offer to boost sales.
This can be done using a plugin, such. as YayPricing.
YayPricing allows you to customize any type of conditional discount. You can create discounts for customers who meet certain conditions based on previous purchase history, the customer has purchased 2 Polo, or the customer has at least 3 orders at the store.
Follow the instructions below to implement the tactic easily in your WooCommerce store:
First, navigate to the Product Pricing tab to "Add Rule". The popup window has a default discount setting, you can custom the discount rule here. The image below will specifically illustrate this.

Slide to the Condition section, here you can assign any condition to activate the rule before. With "Combined condition", you can restrict customers by configuring the condition of specific products. Then, filtered customers can receive a 20% discount.

Additionally, to gratitude customers, you should set conditions for customers who have at least 3 orders at the store.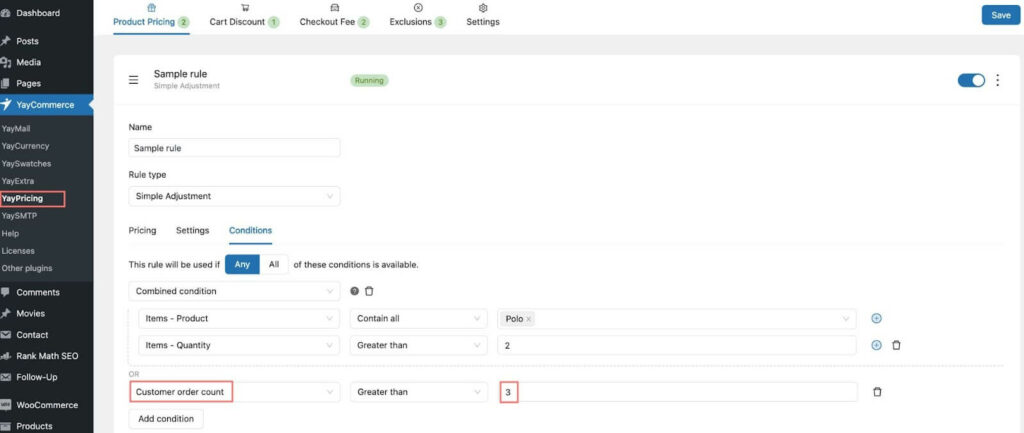 The discount rule will be applied to customers when they meet 1 of 2 conditions above.
Don't forget to click "Save" to trigger this rule.
Thus, your store can sell a large amount of Polo products in stock, and customers also can receive an amazing discount.
So, apply this custom tactic and build a stronger relationship with your customers, and eventually boost sales at the same time.
Idea 3 – One-Day Discount to Create a Sense of Urgency
This is a common tactic that will encourage your customers to make a purchase quickly. Often customers feel interested in your products, and make a trial but don't complete the order due to budget issues or higher shipping charges.
As the name suggests, you can provide lucrative deals in your store only for a day for these customers.
The goal of this strategy is to create a sense of urgency and encourage customers to make a purchase before the promotion ends.
Here, you can make a significant discount offer on a selected range of products for one day only.
Let's say you are selling online courses. You have given a free beginner tutorial to your potential customers. Some of them purchased your main course after reading the free tutorial. But, some didn't make the purchase for the budget issue.
You can offer them some discounts on different attempts. If they don't accept those, then you can offer 50% off for only those remaining customers for one day.
This can be a great way to motivate customers to take quick action. Customers who were delaying purchasing earlier will end up accepting the offer.
Here are a few tips for successfully implementing this tactic:
Make sure to plan the promotion well in advance. Decide which products to offer the discount on and what percentage discount to offer.
Highlight the offer on your landing page. You can even create a countdown bar on your website.
Use bright colors and clear messaging to make sure the promotion catches the eye of potential customers.
You can email your exciting users and post on social media to make people aware of the discount.
Keep track of the results of the promotion to determine its success.
Yes, this tactic requires you to do some promotional work, but it will surely bring you handsome sales revenue.
Idea 4 – Mystery Discounts To Create Excitement
This is a special tactic that will create instant hype on your WooCommerce store and attract potential buyers.
A mystery discount offer is to create excitement and urgency among customers by triggering their curiosity.
How it works is, that you give a target to your buyers to either spend a certain amount or buy a certain product. And in return, they will get a mystery discount coupon for their next purchase.
Now, the amount has to be random for each buyer, and you can promise a range to build up the curiosity such as, "Get up to 50% off! (5% discount guaranteed)"
But this has to be handled smartly. People will try to cheat the system by not going through with their purchase if they see the discount before checkout. Rather, you may promise a refund of the discount amount or a discount coupon for the next purchase.
In fact, many even offer non-refundable purchases to claim the discount.
This is a great WooCommerce offer strategy that you may embrace.
Idea 5 – Tiered Discounts For Bulk Purchase
This tactic will help you increase the order value of your customers.
It is an approach where you can offer customers discounts or deals based on the total amount of their purchase. The more the customer spends, the bigger the offer they receive.
The goal of this strategy is to encourage customers to spend more to receive a larger discount.
For example, you own an electronics store and want to offer a discount based on the total amount of the customer's purchase. So, you can offer –
$10 off purchases of $50 or more,
$20 off purchases of $100 or more,
and so on.
You can use this tactic on a special occasion or Holiday when people will get excited to spend more at discounted prices.
You can promote the offer by sending emails to your users. Use an exciting subject line like 'Spend more, Save more.'
You can even create a banner on the website with this tagline and engage your potential buyers.
Special Tips To Earn Profits With WooCommerce Discounts
To successfully implement any discount strategy, you should be careful of a few things.
Often WooCommece store owners give discounts, upsell, and cross-sells without proper research which leads to losses.
Follow the tips below for avoiding loss when giving discounts:
1. Keep A Profitable Margin
To ensure your store's long-term success, you need to keep a profitable margin.
Research your competitors and ensure that your prices are competitive within your industry. Keep in mind that your prices need to be high enough to cover your costs and generate profits. But not so high that they deter customers.
2. Customer Acquisition Cost
You must have a clear understanding of all the costs involved in running your WooCommerce store; especially the customer acquisition cost.
By tracking your CAC over time, you can determine whether your sales and marketing efforts are helping you to grow your customer base in a cost-effective manner.
3. Don't Over Promise Value
Over-promising value can lead to disappointed customers, negative reviews, and a damaged reputation for your business.
You need to set realistic expectations for your products or services and ensure that they deliver the value that you promised.
This means that you should avoid making exaggerated claims or promises that you cannot deliver.
It's important, to be honest, and transparent about what your products or services can offer. So that customers know exactly what they are getting.
offering too large of a discount may not always result in an increase in sales, as it can devalue the product and reduce customer trust in the brand.
4. Don't Offer Too Large
Offering too large of a discount may not always result in an increase in sales, as it can devalue the product and reduce customer trust in the brand.
Final thoughts
These were some unique but proven sales strategies for sales discounts. You can implement them in your WooCommerce store and expect to get better results.
While planning for your offer strategy make sure you will research your resources, goals, and inventories to avoid any loss. Also, you need to plan offers according to the customer journey.
So, choose the best tactic for you and start driving more sales.
If you think we missed any strategy, let us know in the comment section.
Click here to find some amazing WooCommerce guides.
Cheers!