Last updated on:

4 mins read
Big News! Introducing VR Headset Mode – The Most Immersive Virtual Tour Experience
Team WPVR is back with a massive feature!
Since the release of the plugin, one of the most demanded features was support for VR Headsets.
And after months of development and testing, we are excited to announce that it's finally here!
You can now allow your audience to experience virtual tours via VR headsets!
Offer A Realistic VR Experience Like Never Before
The VR Headset support will change the way your audience will take the tour from now on.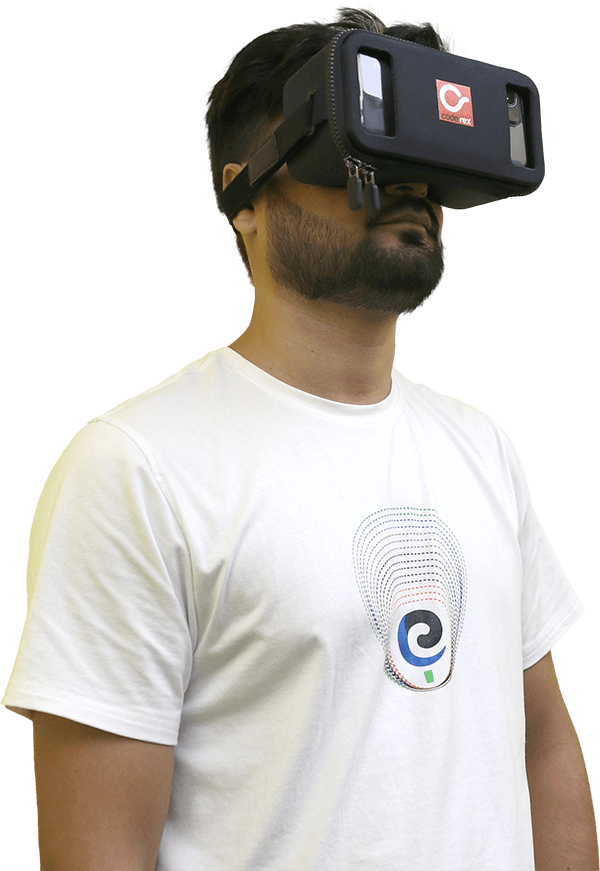 Anyone who has a VR Headset or VR Cardboard will be able to enjoy your virtual tour in a near-realistic experience as if he is physically visiting your place.
And it's really simple. All you need to do is to allow the VR Headset mode in your virtual tours and your prospects will be able to get a fully immersive experience via their mobile and the VR headset.
How does it work?
Your audience will get an option to enable the VR Headset mode right on the tour. Upon enabling it, the tour will turn into a bi-angular view as shown below.

Next, all your prospect needs to do is to place his mobile device into his VR Headset and that's it! He will be in a whole new virtual world, away from reality.
But it's not just a tour to look around. You will notice that while on the VR Headset mode, there will be a small indicator in the center of your tour.
When you look around, place the indicator on any hotspot for about 3 seconds, and it will act as a click.
So if it's an information hotspot, it will open up the details, and if it's a scene-type hotspot, then you will be taken to the next scene!
So your visitors will not just take a look around, but they will also engage and interact within the tour, thus making the tour much more appealing.
How To Allow Support For VR Headset for Mobile
This is a Pro feature, so to use this, you have to get WPVR Pro.
Once you have WPVR Pro, go to WPVR > Get Started > Settings, and there you will find an option that says VR Glass Support.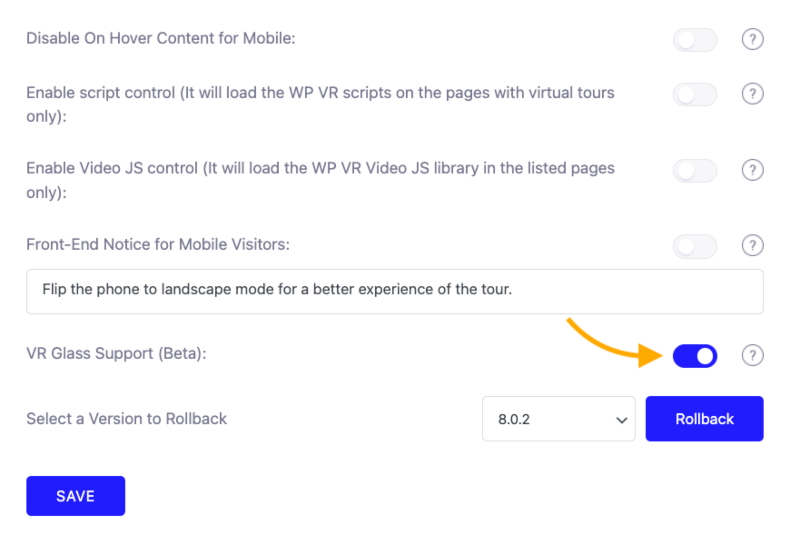 Simply enable this feature and that's it – now, all the virtual tours you created will have an option to enable VR Headset mode when viewed on a mobile device.
What's Coming Next?
The VR Headset for mobile is one of the best features yet, but this is just a start.
As promised earlier, we have refactored our plugin so that we can come up with more amazing features to help you create even better virtual tours. Hence, more amazing features are in store.
Following are some of the planned features for next quarter:
Individual Colors For Every Hotspot Icon
Right now, you can only use one single color for all hotspot icons. But we are working on allowing you to set different colors for different hotspots.
This will help you make the hotspots more meaningful, and help you highlight certain hotspots for special purposes.
WPVR Divi Module To Embed Virtual Tours
Divi is one of the best themes and builders out there. But until now, to embed tours in a Divi site, you had to use our shortcodes.
But we are working on creating a dedicated Divi Module to embed virtual tours on your site more easily.
A Fully Translatable WPVR
'Translation' is crucial and has been a barrier for many when using WPVR for a while.
But that will change soon as we are working on making WPVR fully translatable and will release support for at least 10 more languages in the core WPVR plugin.
Interactive Floor Plan
We are conducting research to bring in another out-of-the-box feature, interactive floor plan support for virtual tours.
However, as amazing as it sounds, it's still quite a difficult feature to achieve within WordPress.
But we are determined to find a way to make it happen. Fingers crossed!
Do You Have Any Brilliant Ideas Or Suggestions?
We are also looking for great ideas to work on and we would love to hear your ideas.
If you have any suggestions or ideas to improve the plugin, feel free to suggest them in the WPVR product roadmap.
Wrapping Up
The VR Glass Support is one of the many features WPVR has to help you create high-quality virtual tours in WordPress, easily.
If you want to grow your business with advanced technology, then using virtual tours is a no-brainer.
So go ahead and start using WPVR and create amazing virtual tours for your business.
Get WPVR Pro now!