Last updated on:

12 mins read
Selling T-Shirts Online Like A Pro – 7 Unique Tips To Boost Your T-Shirt Sales
The apparel industry is one of the promising sectors to be in right now.
The estimated worldwide apparel market revenue for 2021 was over 1.5 trillion US dollars, expected to rise to almost 2 trillion by 2026.
So, if you're selling t-shirts online, you will be glad to know that according to Business Insider, the t-shirt industry will be valued at more than $10 billion by 2025.
But, as much as it is a booming business niche, it is also quite competitive. There are thousands of online shops that sell t-shirts. So it is crucial for you to embrace tactics that can help you stay ahead of the competition.
In this article, you will learn about 7 unique tactics that can help you boost your t-shirt sales in your WooCommerce store.
After reading this article, you will be able to plan your sales strategy more effectively and work towards reaching your target sales.
So, let's get started.
Unique Tips To Boost Your T-Shirt Sales Online
Each of the tips you read here is a proven tactic, and it is highly recommended that you embrace as many of these tips as possible to grow your online t-shirt business significantly.
Tip #1 – Actively Embrace Famous Trends
Nowadays, being 'Trendy' is more common than ever, and people frequently purchase t-shirts that are themed with the latest trends. And if you can stock up your WooCommerce store with t-shirts from the latest trends, it will help you generate more sales.
This tactic will surely get you results, but the challenge is choosing the right trend at the right time.
Sure, you can browse through social media such as Facebook or Twitter and try to find a trend you want to follow. But a more sensible approach is to use Google Trends.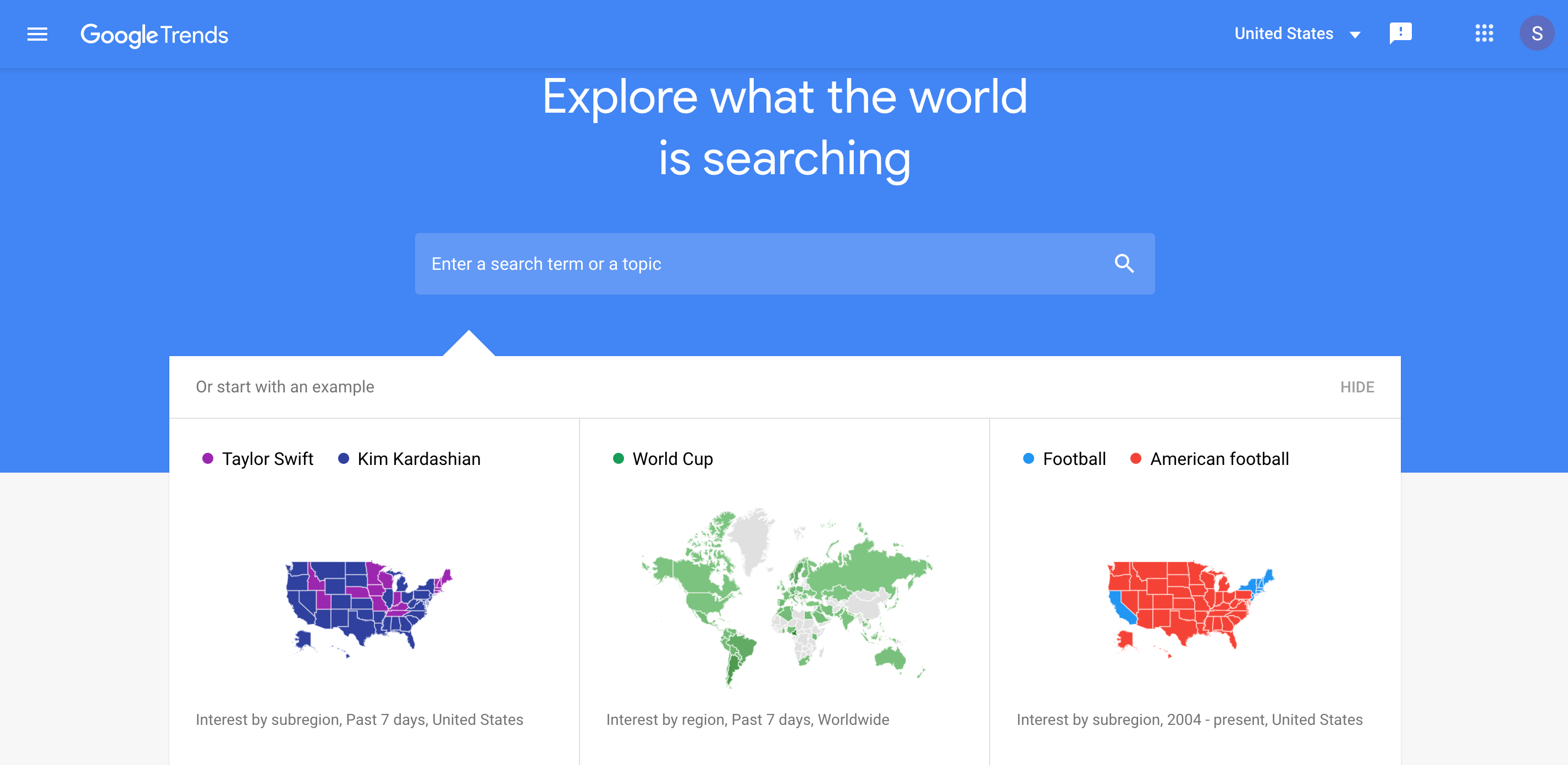 Google trends will help you find out the latest trends either locally or internationally.
The idea here is, you can find out the latest trends in your area and then re-stock t-shirts in that theme.
For example, when the famous movie 'Avengers: End Game' was released, it created quite the hype all over the world. People were busy getting tickets for the movie in the theaters, and it was the hottest topic on all social media. At that time, many online shops started selling t-shirts themed with 'The Avengers' characters which sold crazy.
Similar to this, you can look to embrace any trends. It could be a famous movie, a famous incident, a trendy occasion, etc. The main concept is to have t-shirts in the store that will attract the people that want to blend in with the latest trends.
Tip #2 – Create Irresistible Bundle Offers
People love purchasing bundles. It is one of those tactics that work with any type of product. So making bundle offers is a no-brainer.
The challenge with this approach is creating a bundle with the right combinations.
Most online stores fail to sell bundles because they fail to combine the right products together.
You cannot just bundle up two random t-shirts and expect them to sell. You need to have a plan behind it.
Let us look at a few ways you can devise great bundles for your t-shirts.
i. Out-of-the-box Themed Bundle
You can combine a t-shirt with a pair of shorts and probably a wristband of the same color to create a complete bundle. It's even better if they are all of the same themes.
For example, you can offer a Batman-themed t-shirt, shorts, and wristband together at an attractive price.
People who love Batman will find this bundle appealing and may take the offer.
Now, this seems great if your online store sells more than just t-shirts. But what if you sell only t-shirts?
No worries. Chances are, this will bring in even better results.
Sometimes it's best to surprise your audience. You can make such bundle offers in your store from time to time and amaze your audience with something different. And if you have the right bundle and an attractive theme, then this may even trigger more sales than usual.
P.S. The bundle combination should not be limited to shorts or wristbands. You can even consider jeans, chinos, or other clothes, if they fit well.
ii. Special Occasion Or Seasonal Bundle
Certain occasions or seasons call for specific clothes that people look to purchase.
For example, during the summer, women may look to purchase more cotton products, t-shirts with short sleeves, etc.
You can create a bundle of several light-colored t-shirts specifically for women during the summer.
Again, if you consider winter, you can look to offer multiple sweatshirts in a bundle at a discount.
P.S. During winter, most people will consider purchasing up to 3 of the same type of sweatshirts. So a bundle of 3 with different color variants might be a great idea.
Likewise, during Halloween, you can bundle up multiple t-shirts with the Halloween theme, such as t-shirts designed with Jack-O-Lantern.
The idea here is to honor the occasion or the season by offering a reasonable bundle.
iii. Couples Bundle
You probably already know this one, but couples usually love to wear similar t-shirts. So selling couple-themed t-shirt bundles will help to get more sales.
These are just some of the bundle tactics you can use to drive more sales.
Remember, you need to be able to define the purpose that a bundle will serve its buyer. Only then will your bundle make more sense for them to purchase.
Tip #3 – Run Category-Based Discounts From Time To Time
Much like following the trend, offering discounts on different categories at different times can be a great strategy to drive more sales.
And this will work even better if your category is related to a recent occasion.
For example, you can offer discounts on 'couple t-shirts' prior to Valentine's day. Most make the mistake of running a site-wide discount at that time and terribly fail.
You can also consider offering discounts on cotton t-shirts during the Summer or maybe offer discounts on sports-themed t-shirts during any international sports events.
Now, this tactic will only work if you have different categories of t-shirts in your WooCommerce store, such as Couples T-shirts, Biker's t-shirts, Cotton t-shirts, Sports t-shirts, etc.
If you have such categories, it will be easier for you to plan discounts during different periods throughout the year.
Tip #4 – Sell On Large Marketplaces To Maximize Your Reach
Most start-ups focus too much on optimizing the website itself but ignore the fact that you still need to work on bringing in traffic or finding more potential buyers.
Now, your WooCommerce site won't rank in one day. It will take time to start getting organic traffic. Until then, you have 3 ways to bring in traffic:
Run Paid Ads on SERPS & social media
Get referrals from friends & family via social media
Promoting on Online marketplaces
The third point is what many are not aware of.
Sure, you can successfully run paid Ad campaigns and get good traffic. But more often than not, it ends up costing a fortune.
But did you know you could actually get more value for money by promoting on large online marketplaces?
An online marketplace is a popular website where several online businesses list their products. Usually, these marketplaces are popular and have regular buyers, so listing products there often results in more sales than other methods.
If you are serious about selling t-shirts online, you can not afford to ignore this option. Promoting t-shirts on large marketplaces is a must to expand your reach.
Normally, you can look into promoting on the most popular marketplaces worldwide, including Google Shopping, Facebook Marketplace, Amazon, eBay, etc. Promoting in these marketplaces is great but is very competitive.
However, you can rather look to promote marketplaces that are more well-known locally. For example, in the USA, people prefer buying from Bonanza, Fruugo, or Etsy, and in most European countries, there is Kelkoo, PriceSpy, and many more.
So the best possible option here is to list your WooCommerce products in Google Shopping & Facebook Marketplace and then promote them on a couple of local marketplaces.
The advantage you get here is that most online marketplaces do not charge anything upfront. You only have to pay a small percentage on every sale you make. And since they have a huge audience, this amount usually pays for itself as you will get several buyers purchasing your products thanks to their loyal buyers.
Most of these sites simply list your products and when a buyer clicks on a product, they are directed to your site to complete the payments, so in a sense, you are getting both traffic and sales from them.
**Btw if you think its a lot of work to list products in those marketplaces, then don't worry; you won't have to do it all manually. Since you own a WooCommerce store, you can simply add your products there and then automatically generate product feed in the right format of any online marketplace using a reliable plugin, Product Feed Manager for WooCommerce.

So there is no reason for you to be reluctant to use this strategy. Start expanding your reach ASAP
Tip #5 – Promote Free Shipping On Selected T-Shirts
Free shipping is often a great strategy to trigger more sales.
You can run 'Free Shipping' campaigns for a selected number of t-shirts so that people are more encouraged to order them.
Waiving off the shipping fee can be a great offer on premium quality t-shirts that usually cost more.
Another ingenious way to leverage free shipping could be running a 'Weekly Free Shipping Day.' On that day, any orders placed will be without any shipping fees.
However, in this case, it's best to keep certain conditions to claim this offer. For example, all this offer on a certain quantity of t-shirts, or a certain amount spent. This will persuade buyers to order more and save you from losing money on low-cost t-shirts.
You may think of some other great ways to use Free Shipping to generate more sales. Let us know in the comments if you come up with any great ideas.
Tip #6 – Early Purchase Offer On New Collections
Often you may be excited to bring in a new collection of amazing t-shirts that you know people will love. But how to get instant hype?
You can try using the Early Purchase Offer strategy. It is when you promote a special offer on your new collection for a limited time.
For example, you can put up a banner on the home page that a new collection is here and it's on a discount for the first 3 days.
This will help to gain some instant attention.
You can share the same banner on social media, email, or via paid Ads which will drive more instant sales.
Now, you can get creative with the type of offer you want to make. You may
offer a discount on a certain quantity,
make a time based-offer,
offer a bundle with a discount,
promote free shipping,
and many more.
FYI, the discount doesn't have to be a large amount for this tactic to work. You simply need to make sure to spread the word about this offer.
Since it's a new collection, people will already be excited about these t-shirts, and a little discount is more than enough to trigger sales.
Tip #7 – Add A 'Selling Fast' Tag On Your Most Popular T-shirts
Now, this tactic sounds quite obvious, yet, many do not bother using it.
'Fear Of Missing Out,' or FOMO, has been one of the most powerful marketing tactics for ages.
A 'Selling Fast' tag not only grabs the attention of potential buyers it also gives them a sense of FOMO.
Normally, you should use this tactic on t-shirts that are genuinely popular and are frequently bought from your shop. Since it's the most popular product in your store, you know people love it. And this simple tag can get it to sell even faster.
Now, this is just a tag to highlight a product and has no offers involved with it. So why does it work?
As simple as it sounds, this tactic is rather a psychological trigger that makes the buyers think of two things:
This product seems very popular; hence, it must be very attractive or trendy.
It may get sold out soon, so let's check it out and see if I want it.
When these two thoughts are combined, most people cannot resist but visit the product page.
And many end up purchasing it, that too, with no special offer at all.
Final Thoughts
The 7 tactics above are just a few of the hundreds of other marketing tactics you may use. But these are unique and have proven to generate sales for many WooCommerce stores over the years.
It's fine if you cannot embrace all of them right away. But start using as many of them as possible as soon as possible because these ideas will surely help you grow your business and make selling t-shirts online easier.
If you have any great ideas that helped you sell more t-shirts in your WooCommerce store, then feel free to share them with us in the comments below.
If you are willing to promote on online marketplaces, then checkout our plugin Product Feed Manager for WooCommerce to generate product feed in minutes.