Laatst bijgewerkt op:

7 min. lezen
Wat is GTIN en MPN? Hoe ze toe te voegen aan uw WooCommerce Product Details?
Wat is GTIN en MPN?
Ever tried to list your WooCommerce products on Google Shopping, but it was disapproved due to Missing Unique Identifier? Not just Google, this is also frequently faced in several other online marketplaces such as Facebook Marketplace, Etsy, Rakuten, etc. But what does it mean?
By Unique Identifier, what most marketplaces refer to is a GTIN or MPN.
A GTIN or MPN is a special code that helps in getting more reach to the right potential buyers in popular marketplaces. Plus, they may also ensure that you are selling legitimate products.

Often your products may not be listed if you can't submit them.
In this article, you get a better idea of what GTIN and MPN are.
And, you will learn how you can add the respective GTINs and MPNs to your WooCommerce products easily (since you don't have the option to add them in the default WooCommerce UI).
So let's begin.
What Is GTIN?
A GTIN or Global Trade Item Number is a worldwide unique product identifier used to identify trade items.
These are a set of numbers that can be used to identify if the product is genuinely traded, and they may be called different names in different countries.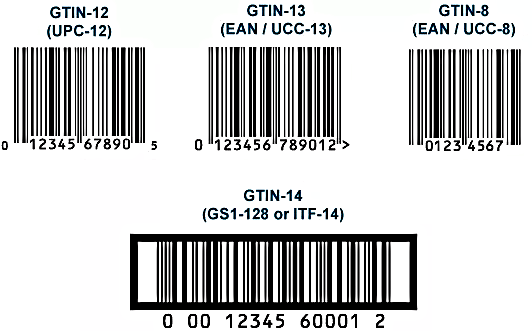 Depending on which country your business is based, you must include the right GTIN value when submitting your products to Google or any large marketplaces.
Google accepts the following types of Unique Identifiers as GTIN:
Unique Identifier
GTIN Type
Location
Product Type
No. of Digits
UPC – Universal Product Code
GTIN-12
(convert 8-digit UPC-E codes to 12-digit codes)
North America
All Products
12
EAN – European Article Number
GTIN-13
Europe
All Products
13
JAN – Japanese Article Number
GTIN-13
Japan
All Products
8 or 13
ISBN – International Standard Book Number
GTIN-13
(convert ISBN-10 to ISBN-13)
Global
Books & Published products
13
ITF-14 – Interleaved 2 of 5
GTIN-14
Global
Multipacks
13
Accepted GTINs by Google Shopping
Normally, these marketplaces are able to verify the GTIN from trade sources and determine if the product is being traded legally. If the GTIN is a fake one, most marketplaces can detect it and may unlist your product from its promotion list.
At the same time, when you upload your products, the GTIN helps to understand the type of product you are selling and may use it to present your products to the relevant audience even if the product name or description you provided isn't entirely accurate.
So in a sense, this unique identifier will help you get more sales or stop you.
**Do not include a wrong GTIN for any product. A wrong GTIN will risk displaying your product to the wrong target audience.
How Can You Find The Product GTIN?
Checking the product packaging is the simplest way to obtain the GTIN.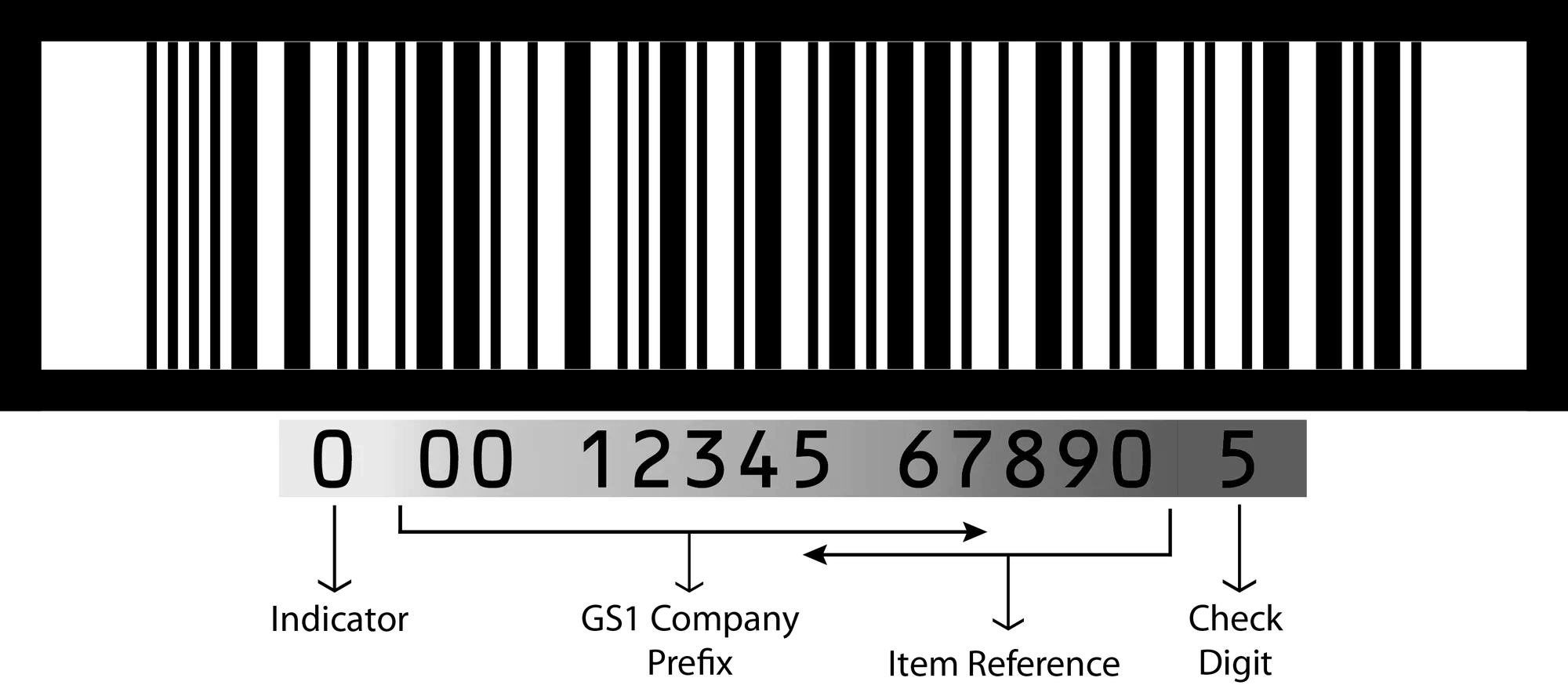 As you can see above, you can determine the GTIN just below the product barcode.
However, you can always ask the supplier to provide you with a written list of products along with their respective GTIN.
What Is MPN?
The MPN, or Manufacturer Part Number, is a number that allows you to distinguish between items from the same manufacturer. Even product produced in a factory or production house has an MPN.
However, custom products or homemade products may not include an MPN.
Many marketplaces require you to submit an MPN along with the GTIN. But a few marketplaces, such as Facebook Commerce, allows you to submit an MPN as an alternative to GTIN (when you don't have one).
A legitimate MPN will allow the marketplaces to identify the registered manufacturer, which will help to some extent with the process of ranking your product ads.
How Can You Find The Product MPN?
Most products have the MPN printed at the bottom of the product itself. If you do not find it, you may ask for it from the manufacturer or the supplier. The MPNs may also be found in the product catalogs of the manufacturer.
Marketplaces such as Google aren't too strict about the MPNs. They often accept the product SKU in your site as the MPN and consider it as a unique identifier, but there are more reasons to include MPN.
Why You Must Include GTIN And MPN In Your WooCommerce Products?
It's straightforward, you need to have GTIN and MPN so that:
You have proof of legitimately traded products.
You meet the requirements to list products on Google Shopping, Facebook Marketplace, Etsy, Idealo, and other large marketplaces.
SERPs and Social Marketplaces can find it easier to compare and display your products as part of the correct relevant product list to potential buyers.
It gets easier to fetch product data and avoid wrong product categorization.
Google does accept custom-made products or homemade products without a GTIN. But you do have to include the attribute 'Identifier Exists' with the value 'No' for these products in your product feed. Although this does limit the reach you may get from Google Shopping Ads.
How To Include GTIN And MPN To A WooCommerce Product?
Normally, WooCommerce doesn't give you the option to add a unique identifier to your products.
You have to add custom fields either by using a custom field plugin or custom code to your product details where you can store GTIN and MPN for every product.
However, there are a few plugins that you can use to easily add these fields without any manual work.
Today, you learn of a plugin that will not only help you to add these fields without any custom code but will also help you get ready to upload your WooCommerce products to the most popular online marketplaces.
Product Feed Manager For WooCommerce (PFM)
Product Feed Manager for WooCommerce is a reliable plugin that will help you generate product feed for your WooCommerce products so that you can upload or list them to large marketplaces such as Google Shopping, Facebook Marketplace, etc, easily.
One special feature this plugin includes is the ability to add dedicated fields for Unique identifiers in your WooCommerce Product details.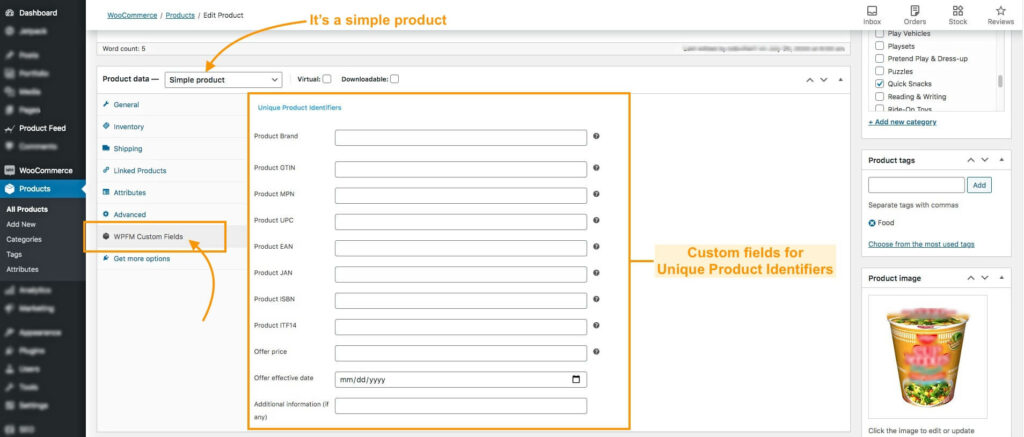 As you can see above, for a Simple product, you will get all the fields in the WPFM Custom Fields menu under Product data.
For Variable products, these fields will appear for each variant.
You can get the plugin and then follow this guide to enable these fields:
Once you enable them, you can then input your product GTINs one by one in your WooCommerce store.
These fields will be included in your Structured data for Google (or other marketplaces) to view when crawling the site at the time of fetching product details.
Plus, you will also be able to export them with your products when needed.
PFM not only solves your requirement to add GTIN and MPN, but it also helps you generate an accurate product feed for your desired marketplace in just a few clicks.
Take look at the plugin overview here:
As you can see, this plugin is optimized to help you promote your products to large marketplaces and increase your sales. It comes with all the features needed to make sure you have an accurate product feed and the GTIN & MPN fields are part of all the useful features it holds.
If you do not need to generate feed but still want to add GTIN to your products, you may choose to use a lighter plugin, EAN for WooCommerce, which simply adds a single field in your product details in the GTIN values.
Wrapping Up
Unique Product Identifiers are one of the key aspects of a product feed and without them, your product reach and marketplace conversion may be hampered.
As a result, these are must-have data that you must include in your WooCommerce products.
Get Product Feed Manager for WooCommerce now and add the GTIN and MPN values, while generating accurate product feed real quick.
Optimize your product data and list your product on Google Shopping, Facebook Marketplace, and other large marketplaces, to get more sales and boost your revenue.