Laatst bijgewerkt op:

10 min. lezen
5 Best Virtual Tour Software For Real Estate Agencies In 2023
If you are part of a real estate agency, then you know the importance of having high-quality previews of the houses or properties you have listed for sale. And basic images or video tours are no longer enough to attract the right buyers.
Today, the best way to showcase a house for sale online is by using a virtual tour.
According to a recent survey, almost 50% of potential buyers would consider making an offer on a home solely after viewing a virtual tour.
Hence, it's only logical to start using virtual tours actively if you want to stay ahead of the competition.
But, to create good virtual house tours, you will need to find the right tool that is easy to use and has the right features to make the tours engaging and enjoyable for visitors.
And today, we will look at some of the best virtual tour software for real estate agencies that you can use to start selling more properties.
Here, we will ensure you understand what features to look for when choosing a real estate virtual tour software. And then, suggest 5 tools that have all these features to help you craft the perfect real estate virtual tours.
So let's begin.
Key Features To Look For In A Virtual Tour Software For Real Estate
When considering virtual tour software for real estate, there are several key features that you must have to make sure you can create a virtual tour that is appealing to your potential buyers.
These features enhance the visual experience in a virtual tour and encourage prospects to visit the property in person or make an early purchasing decision.
Following are some of the features you should look for when choosing a real estate virtual tour software for your business:
Easy UI To Help Create Virtual Tours Quickly
You would want a tool that is not too complicated to use so that you can create 360 virtual tours without wasting hours. Since you are always busy, it is ideal to try and save time where possible.
Ability To Support High-Quality Media
High-quality images and video support are a must necessity of any virtual tour software. You would want a visitor to get a high-resolution experience rather than a blurred or jittery view of the property.
Quality Mobile Responsiveness
Today, it is an era where maximum people use mobile phones to look for properties. Hence, you need to be able to deliver a virtual tour that works seamlessly on mobile devices as well.
Engaging Interactive Hotspots
The VR tool should allow you to connect with the buyer using interactive hotspots, such as tooltips, click-to-view videos, on-hover content, etc., within the tour. This will allow you to highlight the special areas of the tour while communicating directly with your audience.
Customizable Branding
The real estate virtual tours you create should make it easy for buyers to recognize you. Hence, you need a tool that allows you to showcase your branding within the virtual tours via watermarks, company logo, etc.
Contact Form To Reach Out To You
Surprisingly, this is rather a rare feature in most virtual tour software. If you can find a tool that allows you to integrate a contact form into the tour, it will help you generate more real estate leads and make it easy for potential buyers to request a call or inquire about information.
Other than these, the more features you get to make the tour more attractive, the better. For example, having a scene gallery, interactive floor map, navigation icons, background music, etc., is great to make the tour more enjoyable.
You will even find tools that have support for VR glasses & custom introductory videos, which can be great for attracting high-value buyers.
5 Best Real Estate Virtual Tour Software In 2023
1. WP VR – Best Real Estate Virtual Tour Builder For WordPress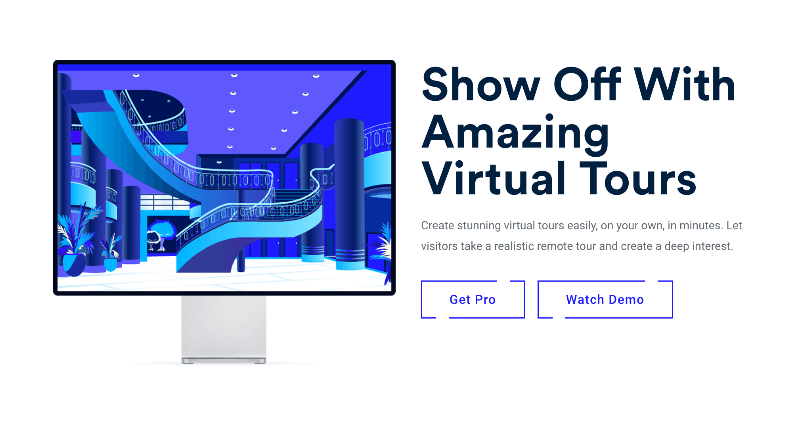 WP VR is the leading virtual tour creator in WordPress. It has the most simplistic UI that will let you create virtual tours within a few minutes without having any prior knowledge.
All you need to do is upload 360 panoramic images of the property you're selling, and the tool will help you transform each image into a realistic virtual tour.
It comes with both a free and a pro version. The pricing of this tool is very reasonable, and the best part is you can embed this software even in non-WordPress websites.
This tool comes with everything you need, such as interactive hotspots, branding media placements in the tour, floor plans, scene gallery, etc., to make the virtual tours super engaging.
If you're looking for a very reasonable way of boosting your real estate sales, WP VR will be one of the best options for you.
Key Features of WPVR
Connect multiple scenes to craft a realistic tour
Interactive hotspots to offer information and create engagement
Scene Gallery to showcase all the rooms and features
Custom navigation icons for easy control
Gyroscope support for mobile devices
Fluent Forms integration to add contact forms or book forms
Company branding info customization
Embedded virtual floor plans
VR Glass Support [Google Cardboard/Oculus Quest]
Introductory Explainer video
360 Video tour creation
Google Streetview tour creation
WooCommerce integration for virtual showrooms
Option to embed a tour on external websites.
Pricing:
Free: Available on WordPress Repository with the option to create unlimited tours with limited features.
Pro: Starting from $79.99[Annual] to Agency plans $649.99[Lifetime]
2. Kuula Virtual Tour Creator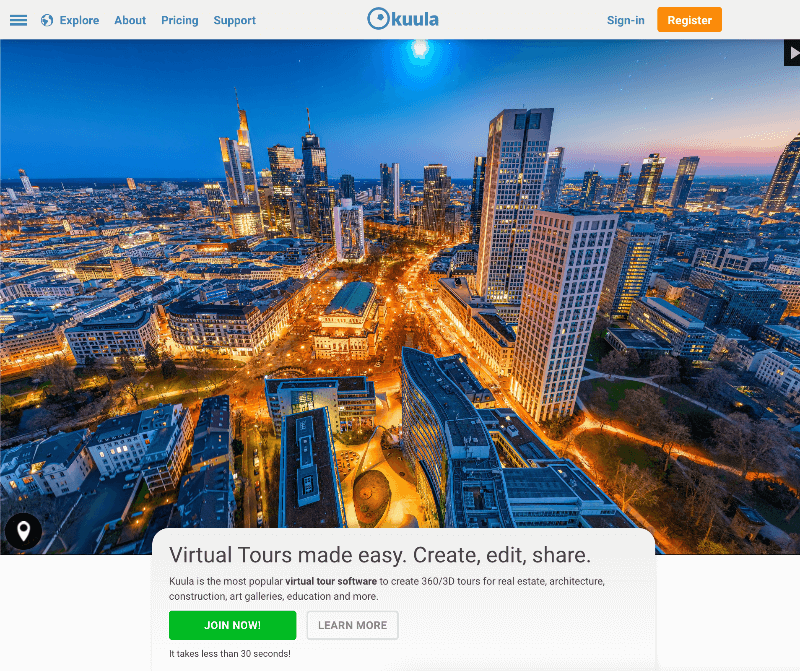 Kuula is another brilliant real estate virtual tour creator that comes with a simplistic UI. The software is aimed at smaller real estate agencies that may require minimal features to create an engaging 360 virtual tour.
Apart from generating a 360 virtual environment from a panoramic image, Kuula allows additional customizations such as pan/tilt zoom, focus customization, manual distance adjustments, and a horizon line feature.
You'll also find options like manual and automatic focus, image stabilization, image panning, seamless image integration, etc., which can be handy if you are capturing the panoramas on your own.
Key Features of Kuula
Subscription-based platform to host virtual tours
Equirectangular virtual tour
Image retouching and restoration
Embedding and sharing virtual tours on any website
Company branding info customization
SSL-certified link generation
Interactive hotspots
Custom hotspot icons
Private tour link generation
Password protected tours
Pricing:
Pro: Starting from $240[Annually] to Agency plans $432[Annually]
3. Matterport – 3D Virtual Tour Service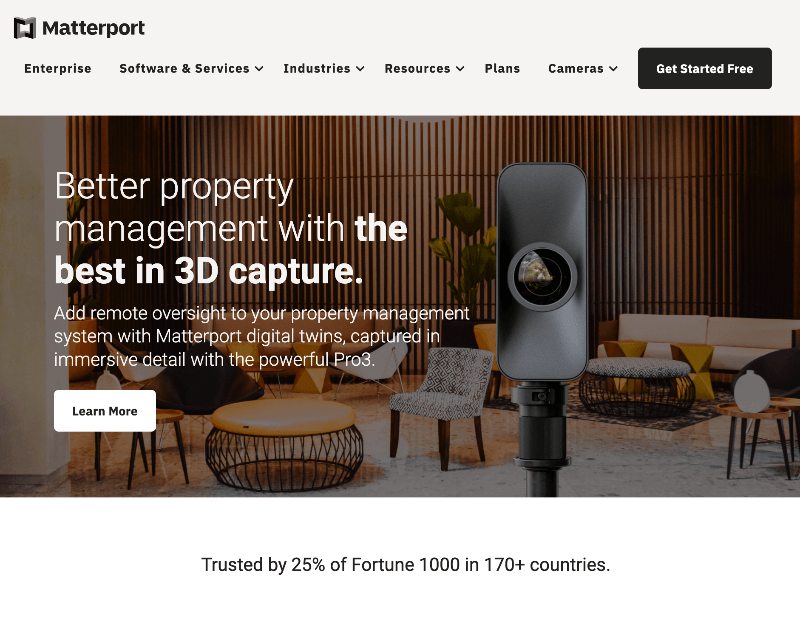 Matterport is the most iconic and popular virtual tour software for realtors that has been around for a while.
Unlike most other VR tools, Matterport focuses on helping you craft the most realistic virtual tours out there. The best feature that sets Matterport apart is the 3D walk feature. When you move from one spot to another in the virtual tour, you feel like you are walking toward it.
Having said that, there are complications involved.
First, you have to use their camera, the Matterport Pro2 and use it to capture 360 images. Then you have to use their platform software to customize and host it in your Matterport account. From there, you will find the embed link to place it on your website.
However, they did offer a mobile app as an alternative, which though great, isn't of much high quality.
With these comes the expense. Matterport is one of the most expensive virtual tour services out there.
If you have a high budget and are selling luxury homes, then this could be a great option.
But for local listings, this could be a bit overboard and will probably result in a lower ROI.
Belangrijkste kenmerken:
Pro2 Camera offers high-quality image capture.
Easy platform to edit the tour
Tags to highlight text and media inside the tour.
Professional dollhouse tour service
Custom blurring and animation within the tour
Publishable to streetview
Display dimensions inside the tours
Pricing:
Free: You can use the free version with limited features with NO option to embed the tour on your website.
Pro: Starting from $109[ Starter Annually] to $3228 [Business annually]
4. 3D Vista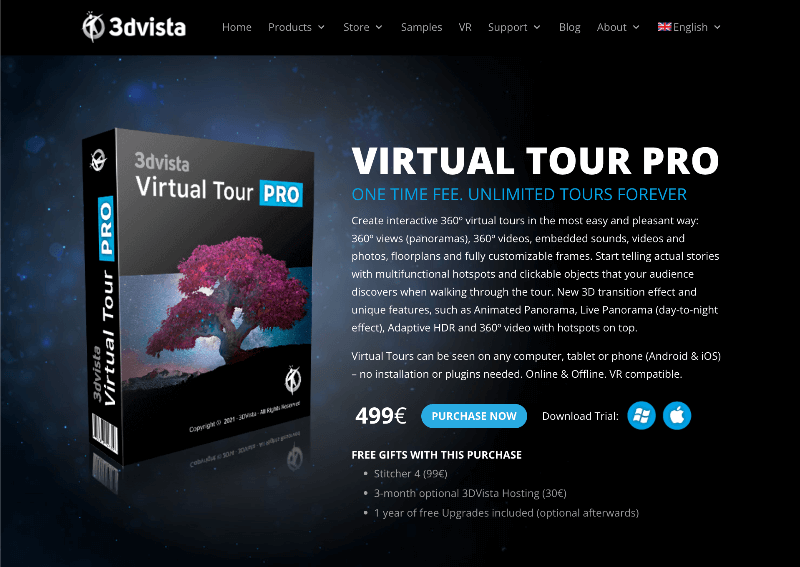 3D Vista is a downloadable software that comes with options to generate VR tours from Google Streetview or create virtual tours using 360 panoramic images.
But unlike other virtual tour software, you do not need a ready 360 image.
You can simply capture images in the right angles and then stitch them in a 360 panoramic image within 3D Vista. And then, you may turn that into a 360 virtual tour.
If you know how to handle cameras and tripods, then this is a great tool for you. Basically, 3D Vista acts as a DIY virtual tour creator.
Belangrijkste kenmerken:
Easy live panoramas creation
Batch Image uploading
360 Image stitching and sound editing support
Live tour with video call support
Offline download option
3D Transition Effect
Custom Hotspots
Floor Plan for real estate
Timelapse videos of the same spot with a 360-degree view
Icon Library to add inside the virtual tour
Customizable Branding
Pricing:
Free: This software doesn't have an option to use for free. But you can use the trial version to learn its features.
Pro: The one-time payment is $499 and you get 1 year of free software upgrades.
5. Klapty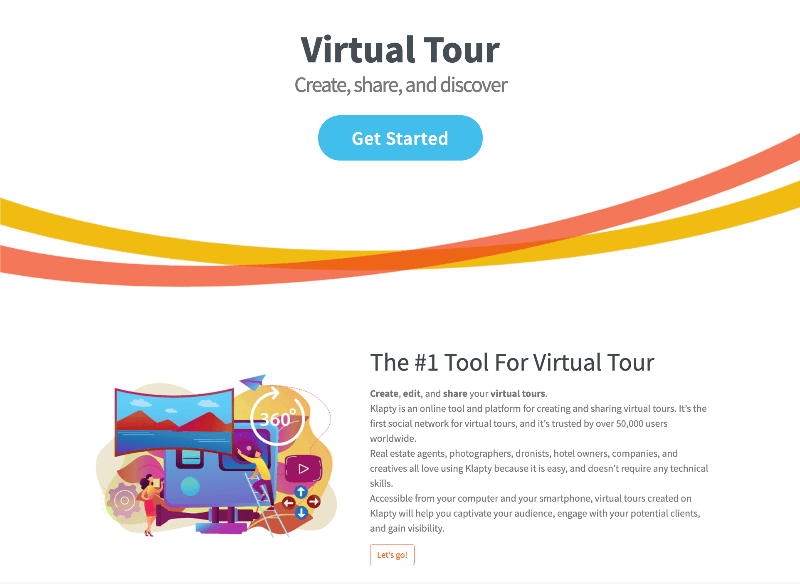 Klapty is a drag and drop virtual tour creator that lets you add 360 degree images with interactive hotspots.
You don't need to become a tech expert to use Klapty. Realtors can easily use this tool to showcase a property. Instead of just using boring pictures on your website, you can make an exciting tour that lets people feel as if they're walking around your place.
The free version of Kalpty has a lack of customization options. Klapty is definitely made with Real Estate in focus, and considering it's a free choice, it's quite good.
Let's find out its key features,
Belangrijkste kenmerken:
Clickable Floor plans in Virtual Tour
Customizable hotspots to show specific features or move between scenes
Create and share virtual tours
Embed virtual tours on your website
Post virtual tours on social media
Blurring Tool
VR Headset compatibility
Password protection for private virtual tours
Nadir logo enable/disable
2D photo gallery
Pricing:
Free: You can use a 15-day free trial for Klapty
Pro: Starting from $108.8[Annually] to $478.8[Annually]
Conclusie
Virtual tours are really important in the real estate world. It helps real estate people show properties in a cool and interactive way.
Instead of just looking at pictures, your potential buyers can explore the whole place, like they're actually there. This helps them make better decisions about buying.
Check out this guide on How To Create A Real Estate Virtual Tour To Increase Conversion
The tools we talked about here will be very useful. These tools make it easier for you real estate folks to show off properties and make customers excited about what they're offering.
So check out these tools and make your website more attractive.