Laatst bijgewerkt op:

4 min gelezen
Interactieve virtuele plattegrond voor uw virtuele rondleidingen! [2023]
Great news for all VR lovers!
We have just released one of the best features for WPVR so far!
You can now include an interactive floor plan in your virtual tour where your buyers can see where they are in your tour and navigate to different scenes from right within the map!
And the best part, it's super easy to use and can be applied to your existing tours as well.
Let us get a closer look at this amazing new feature.
Make The Tour More Meaningful With An Engaging Floor Map
Until now, you could create a complete virtual tour with WPVR and make it super engaging with hotspots, audio, and company details.
However, while a prospect takes the tour, it is often confusing to understand how the whole property is architected. What rooms are connected to the drawing room? Which direction is the balcony? Where is the kitchen in the house?
So far, your audience had to look around and find the rooms themselves, which, though enjoyable, often left many in a dilemma when taking a buying decision.
The virtual floor plan will change this completely.
If you have a floor plan ready for your place, you can now view it inside your virtual tour and map it out with your scenes so that a prospect will know exactly where they are on the property, and where to look to find various rooms or locations in your property.
It will give a clear idea of how the rooms in the house are distributed, thus making it easier to navigate on the tour.
But that's not all. You can also place pointers on the map to indicate the locations of the scenes you have created in the virtual tour. And you can connect these pointers to their respective scenes so that viewers can click on them to move into that scene.
This will make the experience more engaging and meaningful for your prospects.
How Does It Work?
When you place the map in your tour, your audience will get an icon on the bottom right corner to click and view it.
Here you can check out the video on how it works for your viewers:
Here's how it'll work on your published tours.
On the map, you can click on the points to go to the associated scenes:
Your position on the tour will be highlighted on the map so that you know where you are.
This will make your audience aware of their position and make the navigation much more exciting.
You can also double-click on it to enlarge the virtual floor plan and have a better idea of your property.
How To Set Virtual Floor Plan using WPVR
This is a Pro feature and is included in all WPVR Pro Plans.
Once you have WPVR Pro Installed and Activated, go to one of your tours, and visit the Floor Plan tab.
And Activate the Floor Plan.
You'll find options to:
Upload the Floor Plan Image.
Floor Plan Pointers List.
Color Option for Floor Plan Pointers.
Once you upload the floor plan image, you can preview it.
And on the Preview, you can click on any position of the virtual floor plan and a pointer will be automatically set for that position.
You can drag the pointer over the virtual floor plan and you can also choose to delete it.
But most importantly, you can connect any of your scenes to this hotspot.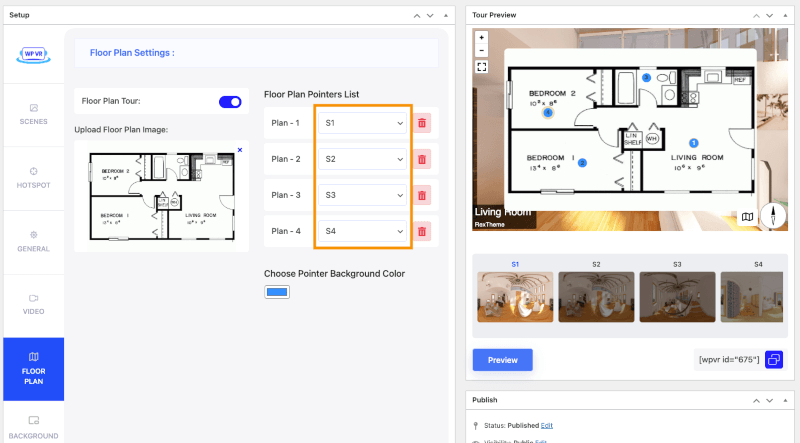 Your viewers can click on these pointers to load the scenes.
That makes the transition really interactive!
From now, not only they can visit different scenes of your tour using the hotspot directions or the scene gallery, and they can navigate through an aerial view using this virtual floor plan.
On top of that, you can choose your desired color for the pointers as well.
To learn the details on how you can utilize it, follow this guide to set virtual floor plans.
Start making your virtual tours more interactive from today.
What's Next With WPVR?
We are now focusing on making WPVR more user-friendly for you.
The next update of WPVR will Include:
We're working on making all the strings of WPVR translatable so you can start using the plugin in your own language.
This is planned for our next sprint, and at this moment, we're researching to find ideas that can help you make more engaging and impressive virtual tours.
For now, if you have any great suggestions, do reach us with your ideas and we will love to look into them.
And if you haven't already, get WPVR now to create your own virtual tours in WordPress, easily!