Zuletzt aktualisiert am:

17 Minuten gelesen
5+ Best Drag And Drop Builders For WordPress
It's not a long time ago when building a fully functional and professional website using WordPress was a developer's job.
But now anyone with a basic understanding of a Web Development can create a website without even knowing a single line of code with the help of drag and drop builder.
A few years ago building a WordPress page was time-consuming. Though you have excellent knowledge of HTML & CSS, every time you needed to start from scratch.
In this process, many of you couldn't concentrate on more work or projects.
Then the game changed. The developers introduced shortcode and following the path, drag and drop builder for WordPress.
Page builders are tools that allow anyone to build attractive and interactive web pages using a user-friendly interface.
It helps expert developers build web pages quickly and beginners to create stylish web pages they couldn't have on their own.
In this system, you use drag and drop builder elements to create a website on your own.
The important feature is most of them work with almost every WordPress theme available in the market.
Nowadays drag and drop builder is viral in the WordPress industry as it serves more value and gives more time to the developers.
As the idea gained very much popularity in a short amount of time, there was a lot of drag and drop builders for you. And maybe you encountered one of them already. Maybe it didn't fulfill what you wanted, or maybe it did.
And as there is a lot of them around you, it can get staggering to choose the best one from tons of page builder.
So, we decided to choose the 5+ best drag and drop builder in 2021 for you. You can check this list and find the perfect match per your requirement.
What Have We Considered?
This question must be answered before we go any further. Because without knowing the criteria it's not worth it for you to look on the list.
So what have we looked at?
Ease of Use –
It is the first thing we looked into when we were choosing builders. If these aren't easy to use, there is no point to use one of them.
Elements –
Drag and drop builder uses its unique elements (also referred to as blocks, modules, or widgets). It is important that you choose a solution that has everything you want, whether that be tables, styling, media support, or whatever.
Interface –
User-friendly, non-glitchy interface is necessary for a drag and drop builder. Though you need to spend some time learning the interface for the long run, the easier it is, the better. You surely don't want to waste time behind the interface.
Best Drag And Drop Builders For WordPress
Now let us look at some of the best drag and drop builders in WordPress.
01. Elementor Page Builder

Elementor is an authoritative drag and drop builder though it's relatively new on the field. It came out in June 2016. And since its release, it has achieved a reputation among developers. After the release, it has been downloaded over 807,835 times.
Originally, there was just the free version at first. Then the mother company Pojo released Elementor Pro, which offers some truly exclusive functionality.
Elementor uses a vivid user-friendly interface. The interface allows you to edit your web pages at the front-end. Currently, the page or drag and drop builder comes with 28 great elements. These items allow you to create useful web pages.
You can buy the pro version at $49 for one site.
Major Features-
You can customize web pages the way you like. Complete control over section width and height, the size of columns, column and content position, padding and margin setting, column gap, etc
There are 20+ beautiful page templates designed for a professional look (Pro version). Additionally, you can customize and save your templates and reuse them later.
Front end editing
A mobile-friendly responsive design
Support for posts, pages, and all custom post types
Support for WooCommerce (Pro version) and translation plugins
100% drag-and-drop builder capability. Realign everything you see on the screen
Works with any theme
You can import/export your custom-built pages
Custom CSS support (Pro version)
Pros-
Comes with 28 widgets which are quite enough for customizing web pages.
The premium version of the plugin comes with added widgets and advanced capabilities. You may need more advanced design changes as your website grows, so the option to upgrade may be an advantage
An intuitive front end editor that makes creating layouts a breeze
Revision history lets you quickly undo and redo changes
Support for WordPress widgets
Most major features are available in the free version
The ready-made page templates make working with the plugin much faster, not to mention giving you an already great-looking page designs to choose from. You can customize those templates freely
The mobile editing controls are awesome. They let you choose exactly what your creation is going to look like when viewed on mobile (or tablets). Basically, you get to choose the break points, adjust font sizes, padding values, and everything else that matters for a well-built layout
You can nest columns. Not a feature that's often offered in other builders
Great live previews
Cons-
If you are a WordPress beginner, it may be quite confusing for you
Elementor plugin works with your website only if the WordPress version is at least 4.4 and PHP version 5.4
Template system needs to be refined
No white label version available for developers
Form widget only supports integration with MailChimp and MailPoet
Visit the website of Elementor.
02. Visual Composer Website Builder

Visual Composer is an intuitive drag and drop builder for WordPress, with both free and premium versions available to build your online presence.
It's now has been downloaded over 1 million times and has been translated into dozens of languages.
The interface is easy to use, making it suitable for beginners without any coding knowledge.
Visual Composer comes with a built-in cloud library of 300+ beautiful templates and blocks to start with, 200+ content elements to choose from, and powerful addons to enhance your site.
Plus, any website created with this plugin is automatically fully responsive, meaning, it will look good on any device!
Have a look at the major features of Visual Composer drag and drop Builder:
Hauptmerkmale:
The most powerful design options on the market (animations, parallax effects, etc)
No shortcodes
Frontend editor
On-page SEO optimization
Mobile editing mode
Works with any WordPress theme
Beautiful pre-designed WordPress templates and blocks
Visual Composer Hub – a cloud library of content for free and premium users
Built-in popup builder (Pro)
Custom CSS & JavaScript editor
Support for all custom post types
Custom layouts made easy with a Header, Footer, and Sidebar Editor (Pro)
Unsplash and Giphy integration (Pro)
Integration with most popular WordPress services and plugins like WooCommerce, Yoast, ACF, contact form plugins, and more (Pro).
You can get started for free or purchase a premium version of the Visual Composer starting from $49.
03. Ultimate Blocks For WordPress

Ultimate Blocks is a popular Gutenberg plugin. It has 22+ versatile custom blocks to craft WordPress posts and pages with eye-catching content. Although it's unlike other traditional page builders, it has enough capabilities to design websites requiring only basic-level designs and customizations.
Some most popular blocks of the plugin are Rating, Review, Testimonial, Image Slider, Social Share, Call to Action, Content Toggle, Tabbed Content, Countdown, Progress Bar, How-To, and Table of Contents.
Developers of the plugin are constantly trying to come up with more new blocks in the coming days. Some blocks of the plugin include various schemas that can help your content become organically more visible on search engine result pages.
Key features of the Ultimate Blocks plugin –
Has an intuitive interface
Leight-weight and never slows down your website
Includes robust customization options in each block
Covers numerous features and options for content marketers
Compatible with all the other WordPress plugins
Pros – 
Offers various useful blocks
Saves time and effort in crafting wonderful content
Has a free version available
Provides priority support to pro users
Regularly release updates to ensure compatibility with other plugins
Cons –
Limited number of blocks so far (22+ blocks)
Useful as a page builder only in the case of basic-level web design
You may require additional options to implement specific customizations
Visit the website of Ultimate Blocks.
04. Beaver Builder For WordPress

Beaver Builder is another popular drag and drop builder. Over 375,000 WordPress websites have built with Beaver Builder.
The amazing thing about Beaver drag and drop Builder is, it works with your existing website. Beaver Builder's front-end interface gives you full control over your page layout.
Templates of Beaver Builder make designing easy. You can save your designs as templates, and reuse them all over your site, or export them to use on a different site.
Major Features-
Add any type of content you like choosing from the available content modules; HTML, Photo, Text editor, Audio, Video & Sidebar
The pages built with the Beaver Builder plugin is 100% responsive (Make sure the theme is responsive)
It has several beautiful page templates which you can use. Additionally, you can save the templates you designed and reuse them afterward
Live front-end editing
Support for WordPress widgets and shortcodes
Editor mode allows you to limit the permissions of clients
Support for WooCommerce, the translation plugin WPML, and WordPress Multisite (Pro and Agency plans)
Import and export functionality
Full drag and drop builder support
SEO optimized output
Works with any theme
Extensive docs and video tutorials
Pros-
Beaver Builder has deeper integration with WooCommerce plugin. Designing eCommerce pages are easy with this plugin.
Developers can easily extend and customize the plugin through widgets.
User-interface loads quickly and is very simple to use
WordPress widgets are supported
Good variety of professionally designed predefined templates
No coding skills required.
Great interface that takes you by the hand through the whole process
Cons-
Beaver Builder plugin has a limited number of modules in the free version
The cheapest Beaver Builder plan is available for $99
Content modules look quite plain
No, undo or redo buttons, so if you want to undo a change, you need to revert to the last save of your layout
Other page builders in this list offer more templates
The page builder only works with pages and cannot be used to design posts.
Visit the website of Beaver Builder.
05. Divi Page Builder

Divi is one of the earliest players in the drag and drops builders field. That's why it has a huge amount of content modules. Elegant Themes made the plugin. It powers the modern Divi theme.
All these times Divi had been criticized for not having a front-end editing system. With the release of Divi 3.0, they answered the criticism. Now, this plugin has both front-end and back-end editors.
While the front-end editor will help you to make live changes, the back-end editor will allow you to get the perfect layout.
Major Features-
Create any type of design with 3 section types, 20-row types, and 46 content modules.
If you are good at writing beautiful CSS codes, get your hands dirty. It has options for custom CSS.
Front-end and back-end editor
Fully responsive design
Professional looking interface, content modules, and templates
Support for posts, pages, and custom post types
32 languages are supported
Over 20 premade layouts are included
Import and export functionality
Drag and drop builder support when editing your content
Pre-designed content blocks, including those for text, lightbox images, quotes, testimonials, image sliders, videos, tabs, boxes, columns, and more
Integrates with every page or post on your WordPress site
Pros-
Divi has lots of options that let you build anything, any design you can imagine. It's developer-friendly and suitable for professional websites.
Elegant Themes membership offers fantastic value for your money
It allows you to turn any post or page into a custom-built landing page
The canvas provides an excellent overview of the page and individual blocks on it
A simple, user-friendly interface
Access to more than 87 themes and 3+ other plugins that come with an Elegant Themes membership.
A relatively short learning curve
Cons-
You cannot purchase this plugin only. You must purchase at least the Yearly Access package that comes with access to all themes and plugins. It's quite expensive as the minimum cost is $89 for the Yearly Access
Limited to the content modules available in Divi
No way to remove data from the WordPress database when the plugin is deactivated
Lacks some content modules available in other drag and drop builders.
06. Cornerstone Drag And Drop builder

Cornerstone is a front-end WordPress drag and drop builder that will change the way you create pages.
It's new on the market but drastically gained popularity. Cornerstone is the primary power source of the 'X' theme made by Themeco.
Cornerstone is a collection of shortcodes that can be utilized to build complex page layouts. It makes WordPress practical for any type of site by enhancing its content management capabilities.
The plugin has Skeleton Mode. It allows you to visually see the structure of your entire page without leaving the front-end interface.
Major Features-
The plugin brings about some pre-built page templates which let you build amazing pages
It has a clutter-free and intuitive interface
Front end page building
Editor mode allows you to limit permissions of clients
Easy to create layouts, styles, and effects
Fast loading when building
40+ Elements
Compatible with any WordPress theme
Edit on the fly
Free future updates
Live code editing
Excellent documentation
Pros-
Cornerstone plugin is relatively easier with its simple and clean interface
A total of 40+ elements are offered in Cornerstone
If you have good CSS skills, the plugin is awesome for you. You can add CSS styles with live previews
Skeleton mode allowing you to see the structure of the entire page
Supports posts, pages, and all custom post types
Works with any theme
Very reasonable price
Cons-
It is shortcode-based. As you uninstall the plugin, the page content may stop working and can leave a mess of shortcode in your core code structure
Not many elements can be customized when compared to other drag and drop builders
Mostly good for X theme
The recent posts element only allows you to load 4 posts on a page
Visit the website of Cornerstone.
07. Thrive Content Builder

Thrive Content Builder is the last drag and drop builder on our list. But it's not the least one. This plugin is used by 45,715 people currently. It is a front-end content builder which actually offers "what you see is what you get" functionality.
Thrive Content drag and drop Builder has a user-friendly editor. It was developed specifically for online marketers. So, it has lots of unique features. It can be used to create home pages, professional blog posts, video pages, contact form pages, and more.
Major Features-
What You See Is What You Get (WYSIWYG) functionality
Countdown timers are available on Thrive Content Drag and drop Builder
Conversion-Boosting Buttons & Calls to Action
You can add Social Proof with the Testimonial Element
Highlight important parts of your content with a (fully customizable) content box.
Customizable, Responsive Pricing Tables
Retina-Ready Font Icons for Your Content
Enhance Long Posts with the Automatic Table of Contents
Build Your List with the Lead Generation Element
Opt-in Forms
Mobile-friendly responsive design
Pros-
Replaces multiple plugins
Conversion Optimized Landing Pages
Aesthetically pleasing content design
Drag & Drop Builder Interface
WYSIWYG Editor
30+ unique elements
Lightbox Feature
Affordable Price
Unlimited updates for a lifetime
Revision history and undo and redo buttons makes correcting changes easy
Cons-
The article isn't clean coded as marketed
Squeezes Web site length while in editing mode
No Yoast SEO Plugin support
Doesn't work for old content
Takes time to understand elements
Some elements have fewer customization options
It is shortcode based
Visit the website of Thrive Content Drag and Drop Builder.
08. WooBuilder


WooBuilder is a useful WooCommerce shop page builder developed by Woostify. It helps store owners easily create interactive eCommerce sites, especially WooCommerce shop page, single product page, cart page, checkout page, empty cart page, my account page, and WooCommerce order received page.
Major Features-
Drag and drop user-friendly interface
Enrich any WooCommerce shop pages with helpful elements
Live preview any pages from the editor screen.
Choose conditions to apply the changes for any page
With WooBuilder, you can create powerful shop pages that help you increase conversion rates and drive more sales for your online store. 
Pros-
This is a built-in addon of Woostify theme, so you just need to download and install Woostify theme and enjoy all theme features including Woobuilder.
All features of WooBuilder focus on online shop, so that you can easily create powerful WooCommerce shop pages
WooBuilder allows you to design and customize checkout pages, cart pages, thank you pages that you can't do with other page builders.
Cons-
It is not a separate plugin. So if you want to use it, you need to purchase the theme.
Visit the website of WooBuilder.
09. Learndash Dashboard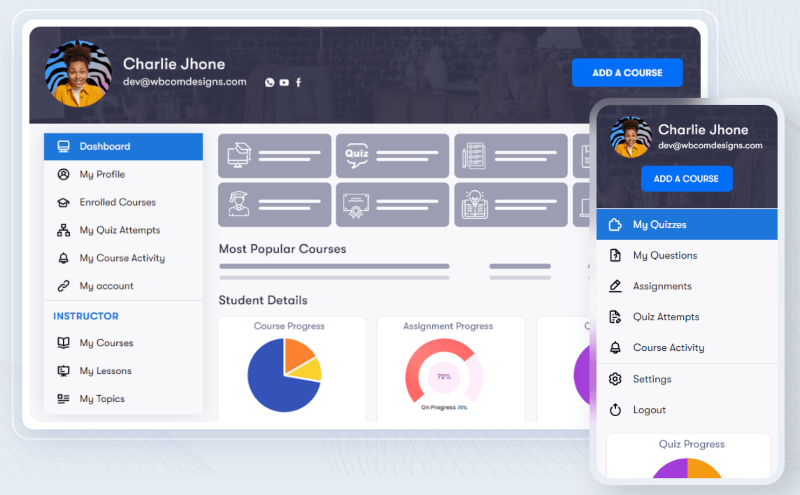 Learndash Dashboard With Frontend Course Builder – LearnDash Dashboard gives students, educators, and supervisors a personal frontend dashboard to track and control everything relevant to their LearnDash accounts.
Major Features-
The dashboard allows you to keep an eye on all the course statistics.

The plugin offers a sophisticated feature which is teacher commission and withdrawal. This allows teachers to ask for payment withdrawal, and the admin has the access to either accept or refuse their request.

Teachers can plan meetings with their students and connect with them one-on-one thanks to this plugin's integration with Zoom.
Pros –
You will receive a detailed breakdown of all courses that have been completed, the number of enrollments, the overall student population, total earnings, and much more.

In their frontend dashboard, instructors can track student and course progress information. Additionally, this data can be exported in CSV format.
Cons –
Learndash and Advanced Custom Field (ACF) must be installed and activated on your website in order to use LD Dashboard. Without these two, you won't be able to use or test the Learndash Dashboard.
Visit the website of Learndash Dashboard
Bonus-Empfehlung
⬗ Coming Soon & Maintenance Mode

If all of these builders seem too complicated for you and you are looking for something more simple and practical, meet Coming Soon & Maintenance Mode. This plugin is very easy to use, doesn't come with a ton of unnecessary features (only the ones you truly need), and provides themes that make building pages a walk in the park. With it, you can build coming soon pages, landing pages, sales pages, or under construction pages without any coding. It is user-friendly, and of course, drag&drop based. It was built using the best coding practices, so its performance is smooth and extremely fast.

Coming Soon & Maintenance Mode comes with 2+ million free images, 170+ themes, a great SEO setup, support for autoresponder, CRM, webinar & marketing software, and a lot more features.

What's more, the plugin can be fully rebranded and offers a centralized dashboard using which you can remotely control your Coming Soon pages, view your traffic stats, and do much more.
Einpacken
Drag and drop builder providers know the importance of testing their products before buying. That's why they provide da emo version to try. You can also try their free version is available.
We know that it can be tiring to test out all of them. Before working with them, spend 15-30 minutes on testing. Take advantage of the demos provided by developers and check if:
You understand the visual interface and like the way it works
The plugin includes the modules you need
It offers the value you are paying for
Btw, you can improve your website performance by using cloud storage. Read more here.
Did we miss any of your favorite drag and drop builders? There are many other best landing page builders. You can definitely choose the best option for yourself.
If you're willing to learn more about WordPress page builders, you can have a look at this list here.
Btw, if you're planning to create a website that is a bit more complex and unique, you can consider consulting with a custom web design company that can help you.
Share your thoughts with us in the comment section and feel free to share this post with your friends.