Last updated on:

4 mins read
What Is Cloud Service? – Detailed Infographic [2023]
Nowadays, cloud service is way more convenient rather than using shared or dedicated hosting servers. With data centers situated all over the world, cloud services ensure your constant uptime and superfast data transfer rate with the ultimate data backup solution.
Here, you will learn why you should use cloud services and the basic structure of cloud computing.
You will be able to get some key insights into
how cloud services are growing over the years,
public cloud adoption for enterprises, and
basic price comparison of the top cloud storage.
Take a look at the detailed infographic.

Key Take-Aways:
What Is Cloud Service?
Cloud services offer you a wide range of services over the internet. These services provide you easy & affordable access to your web applications and resources from almost any device without the need for any internal infrastructure or hardware.
Why Use Cloud Service?
Save money –
Cloud storage offers you a pay-as-you-go service, through which you will only pay for the storage space you use, hence you can reduce your overall hosting costs significantly.
Increase page loading speed –
Cloud storage optimizes your site data and serves from the super-fast web server, as a result, your site will be faster than ever.
Backup site data –
Cloud copies your data into multiple locations and syncs your data as you make changes, hence if you accidentally delete files, or if one of the server crashes, your data will still be safe.
Maximum security for your sensitive data –
Cloud providers offer you native security products such as WAF, DDoS protection, etc., which provide you the maximum security for your sensitive information.
Some Interesting Facts
53% of users leave a site that takes longer than three seconds to load
And you can overcome both of these issues by using a Cloud service!
Cloud Computing Structure
Cloud Deployment Types
Public
Private
Hybrid
Community
Cloud Service Models
SaaS
IaaS
PaaS
Cloud Service Providers
AWS S3
DO
GCS
Azure
Cloud Deployment Types –
The cloud deployment model is an infrastructure owned by a single business. It offers you a more controlled environment, through which you will have the access to the IT resources with a more centralized business model. This model can be built on external hosting or in-house.

The cloud deployment types are:

Public
Private
Hybrid
Community
Cloud Service Models –
Cloud models serve different purposes based on various businesses. Also, they can interact with each other to form one comprehensive model of cloud computing.

Cloud models come in three types:
Reliable Cloud Service Providers
Among many cloud service providers, here are some of the most reliable ones:

Amazon S3
DigitalOcean
Google Cloud Storage
Microsoft Azure
More Facts About Cloud Service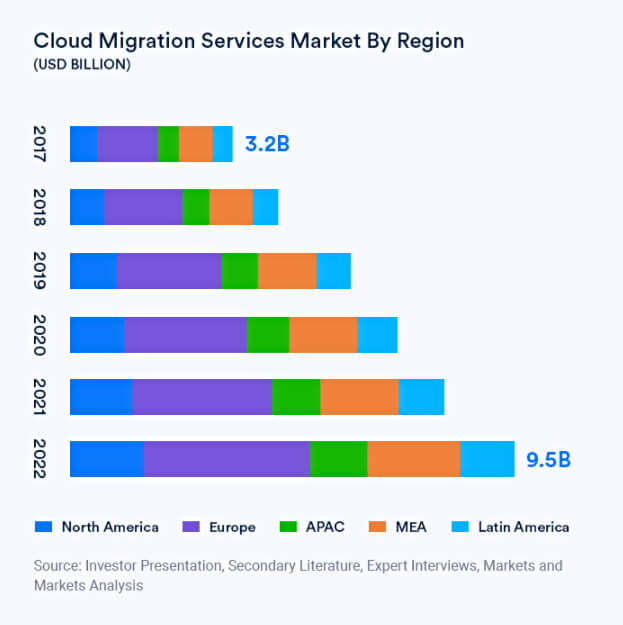 This infographic is based on the following regions:
North America
Europe

United Kingdom
Germany
France
Rest of Europe

Asia Pacific (APAC)

China
Japan
Australia and New Zealand (ANZ)
Rest of APAC

Middle East and Africa (MEA)
Latin America

Brazil
Mexico
Rest of Latin America
Compound Annual Growth Rate, 2018-2022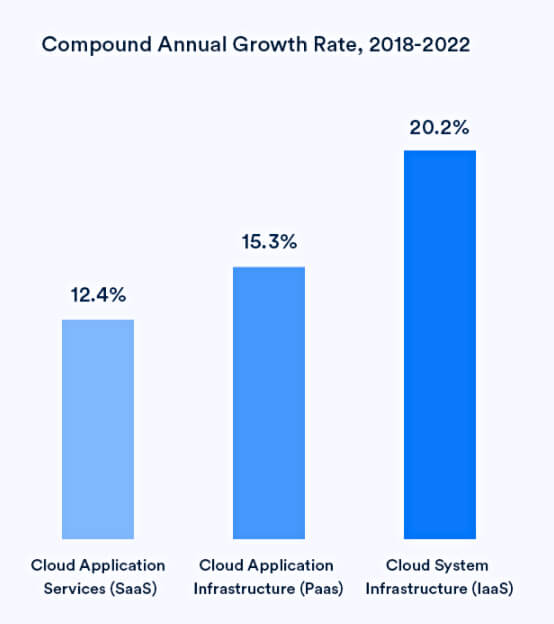 From this Comparing Compound Annual Growth Rates (CAGRs) graph, we can see the future forecast of the rapidly growing IaaS platform. In here, it is anticipated that by the end of the year 2022, Cloud System Infrastructure Services (IaaS) growth will be more than 20%.
Cost comparison between Amazon S3, Google Cloud Storage, Microsoft Azure and DigitalOcean
| | | | | |
| --- | --- | --- | --- | --- |
| | AWS Lightsail | Google Cloud | DigitalOcean | Azure |
| Memory | 2 | 1.7 | 2 | 2 |
| CPU | 1 vCPU | 1 vCPU | 1 vCPU | 1 vCPU |
| Storage | 60 GB SSD | 50 GB SSD | 50 GB SSD | 50 GB SSD |
| Monthly Price | $10/mo | $26.76/mo est | $10/mo | $28/mo |
Here's a basic price comparison chart for AWS, GCP DO and Microsoft Azure.
Public Cloud Adoption for Enterprises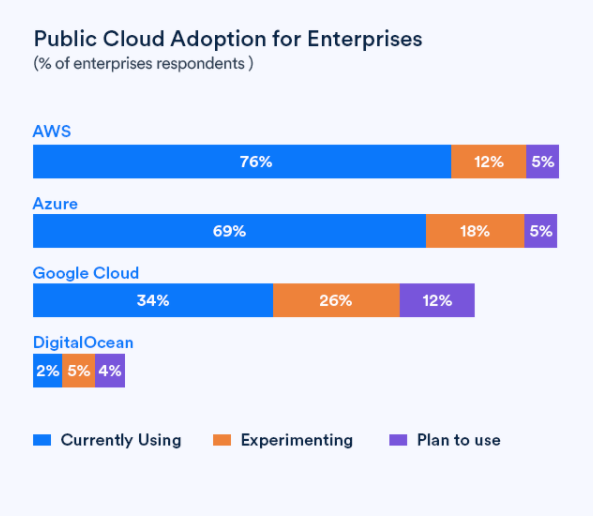 From this Public Cloud Adoption for Enterprises graph, we can see that Microsoft Azure is closing the gap with AWS, followed by Google Cloud Platform. Although DigitalOcean is far behind, it's trying to catch up fast.
Not every company will migrate to the cloud, not yet, but the way Cloud computing is advancing, the sooner you adopt Cloud service, the better your chances of staying ahead of your competitors.
So, should you use a cloud service?
The answer is Yes.