Last updated on:

9 mins read
6+ Best Managed Hosting Services For WordPress
WordPress is the best CMS out there to create a compelling website. However, you will need to make sure you have a reliable hosting service to be able to maintain a quality website.
But, once you have created your website, maintaining your site's performance requires a lot of effort.
You'll need to monitor regularly to ensure your site is fast, not broken, has enough bandwidth to tackle the traffic, and is secure from malware and hackers.
You can get relieved off all these technical stuff and just focus on growing your business if you choose to use a managed hosting service.
Managed hosting in WordPress is like having your personal tech team that helps you optimize your WordPress site.
Let the experts take care of all the technical stuff in the background, while you can focus on increasing your site's productivity without worrying about your server or website performance.
Today I will highlight 6 of the best, managed hosting providers that you can choose from, without any doubts, for your WordPress site.
Best Managed Hosting Providers For WordPress
1. WPMU Dev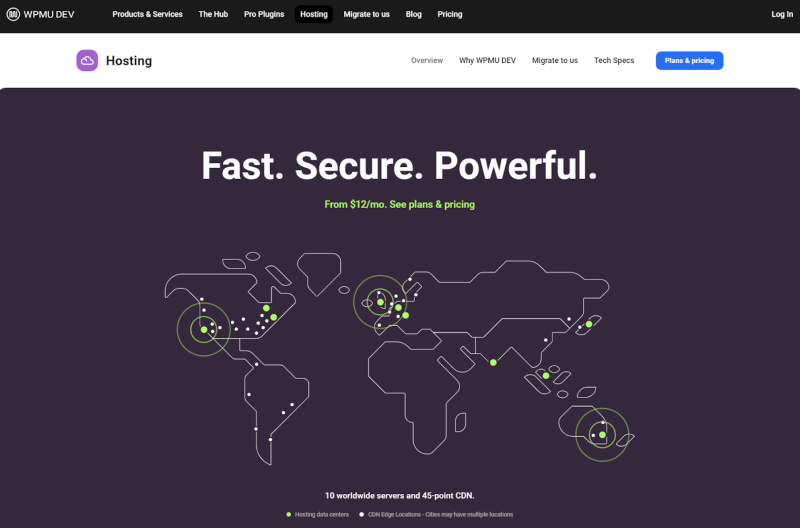 WPMU DEV's hosting platform is fully managed, optimized, virtually dedicated, and eCommerce-ready.
Their hosting service is also backed by an expert 24/7 support team and is great value for money.
Every hosted site includes its own VPS, unique IP address, fully-dedicated resources, Static Server Cache, Object Cache, and a Web Application Firewall (WAF) for added security.
Nothing is shared or disrupted.
Additional features include free SSL certificates, free migration, 10 data center locations/45-point CDN, daily/hourly backups, one-click staging, DNS management (integrated domains coming soon!), 10 free email accounts, 7 integrated WordPress plugins, and more!
All of WPMU DEV's hosting features are easily accessible from one dashboard.
From this same interface, you can also manage unlimited WordPress sites, your clients, invoices, subscriptions, and use their client billing tools, with no fees for members.
WPMU DEV offers live chat support for all hosting and WordPress-related issues 24/7/365.
Additionally, WPMU DEV provides comprehensive documentation and relevant WordPress tutorials.
Hosting plans are flexible and start from just US$12 per month (Bronze) up to Enterprise-level hosting ranging from US$250 per month (Uranium) to US$1,500 per month (Iridium).
2. WP Engine

WP Engine Hosting is one of the best-managed hosting providers available out there. The price is a bit higher compared to other managed hosting providers due to the reliability they offer.
The company maintains excellent support, fast loading times, and secured servers.
One of the best features offered by WP Engine is the one-click backup and restore process included in all of their plans.
You can simply log in to your dashboard, click on backup for instant backup of components of your choice, or choose the date to backup to and click on restore for instant restoration of your site.
They also maintain security by scanning and monitoring for hacking attempts. If your site does get hacked, the WP Engine will help to rescue your site for free.
The entry-level option, 'Personal' is generous, offering a staging environment, one-click backup, and free site migration.
It can handle up to 25,000 visitors/month, but you'll have to upgrade to unlock more resources and 24/7 phone support.
3. FlyWheel

Flywheel made their way to the top very quickly.
They are an excellent choice for non-developers who want to launch a WordPress site and make sure that it's going to work with no interruptions.
This managed hosting service is conveniently great for designers, small business owners, freelancers, bloggers, and all non-technical people in general.
It comes with a custom dashboard where you can monitor multiple websites.
Standard features include daily backups, round-the-clock security, free migration, and a helpful support team.
Flywheel offers a super-cheap basic package at $15 a month.
However, you can go for a higher pro package to unlock more intelligent features for workflow improvement with clients such as bill transfer, collaboration, and staging.
4. Cloudways

Cloudways is one of the few companies that offer a great balance between affordability and high functionality when it comes to cloud-based managed WordPress hosting.
They deliver fully managed hosting with a promise of fast loading WordPress websites and no more hosting headaches.
They offer managed cloud-hosting services on a cloud server where multiple copies of your content will be replicated throughout your chosen data center.
A sophisticated algorithm handles the switching of data. If your primary server goes down, a copy of your website is served from the available server.
Along with website speed optimization, they also provide advanced security against malware and hacking attacks.
5. Kinsta

Kinsta is one of the most preferred managed hosting providers out there for WordPress.
Kinsta provides premium managed WordPress hosting services.
Powered by Google Cloud's premium tier network, they guarantee blazing fast site speed.
They ensure a smooth and secure running of each WordPress website hosted with them.
They provide free website migrations, free SSL, free CDN, hack fix guarantee, regular uptime checks, daily backups, 24/7 support (no different level tiers), and 20 worldwide data centers to choose from on all hosting plans for Starter to Enterprise plans.
Their custom-built site management dashboard, MyKinsta takes UX to the next level; creating staging environments, requesting a migration, and choosing a data center are all made easy and they're just a click away.
6. SiteGround

SiteGround is one of the most popular options for WordPress because of its competitive prices.
It often gets more preference than a few unmanaged services in terms of cost-effectiveness.
Technically, SiteGround is a shared WordPress host, however, it manages to include some managed features, even on its cheapest plan.
This blend of essential functions at low costs makes SiteGround one of the most prominent hosts out there.
Along with its popularity in terms of price, SiteGround is also an official wordpress.org recommended hosting service.
However, even though comparatively SiteGround offers an affordable solution, they only offer yearly plans.
They commit to working with you for at least a year with top quality.
So in the long run, this actually can be a good bargain. You will have reliable hosting and overall less expense.
7. Pagely

Pagely is an excellent managed WordPress host that allows you to have unlimited visits to your site like Kinsta. 
Its architecture is powered by Amazon Cloud which ensures top-notch redundancy, scalability, and best-in-class performance, similar to a high authority website.
They have seven different plans which make it easy to pick the one that suits you. Simply choose the one that you feel will offer sufficient bandwidth.
It handles all technical stuff like PressArmor security, daily backups, and automatic updates, while you can focus on your business.
They also have world-class support provided by WordPress experts.
This is one of the main reasons why big brands such as Microsoft, Facebook, Twitter, Vonage, etc trust their service.
Tip:
If you want you can use a hosting detector tool like Hoo's Hosting to detect what hosting company is being used by really fast websites or websites you admire. This might give you a good idea about which hosting provider you want to choose for yourself.
Advantages Of Using Managed Hosting

i. Helps To Keep Website Fast
WordPress sites can become slow for a number of technical reasons. Managed WordPress hosts actively monitor these factors, while making continuous optimization improvements.
As the server is dedicated to WordPress websites, it gives visitors speedy access even during peak traffic hours.
ii. High Security And Reliability
The best-managed web hosting services for WordPress ensure tight security layers, conducting continuous scans for malware, and blocking all hacking attempts.
Security is the top priority. Your hosting will ensure your site is always prepared for any new threats.
They will always keep a lookout for new vulnerabilities and eliminate that as soon as detected.
In fact, if you do get hacked, many managed hosts (such as WP Engine) will help to retrieve your hacked site safely, for free.
iii. Professional Support
Unlike regular web hosting service providers, the staff available for WordPress managed hosting companies, are experts in their field, dedicated just to providing you with the best hosting service.
This gets you much quicker and more efficient solutions to your problems.
They employ experts in not just servers, but also PHP, MySQL, and even dedicated WordPress experts, so that you can be confident that they know how to maintain your website performance.
iv. Backup And Restore
One of the many perks of managed hosting is that they create regular backups of your website components.
When you face any issues with your site that are not curable, you can restore to an older stable version from the backups kept.
v. Automated Updates
Your managed host will keep an eye out for updates at all times and will take care of all updates automatically. You don't have to bother about keeping the site updated for SEO or any other purposes.
vi. Zero Downtime
Your website won't go down because of the traffic. The web hosts will ensure your website always has sufficient capacity to handle high traffic at all times.
vii. Development Tools
You will get extra development tools from your hosting provider to help you maintain a stable website. These tools will often vary depending on the service provider you use. But commonly you get tools like version control or staging area, etc.
Now that you know of the advantages of using managed hosting, let us look at some of the best managed hosting providers for WordPress sites.
Final Thoughts
Along with proper optimization to speed up WordPress sites, and using the right theme, choosing the right hosting service is crucial if you wish to grow your business. And a little help from a managed hosting provider can take you a long way.
For example, if you run an online store, a sudden surge of traffic will not cause a server crash, your hosting provider will maintain website capacity accordingly.
Managed hosting service security is always reliable with almost no chance of having any security breaches.
Hence, check out each of these, and choose the one that best suits you. Whether you are unhappy with your current hosting provider or you are only starting, you can choose one of these 6 managed hosting providers if you want quality service and output.
If you are using a hosting provider that's better than the ones on this list, or if you have a notable experience with any of these providers, please share with us through the comments section.