Last updated on:

13 mins read
10+ Best Free WooCommerce Themes
WooCommerce is the best plugin to set up E-Commerce sites using WordPress. Over 30% of all E-Commerce websites today use WooCommerce (according to Wikipedia) to set up their online store.
When creating an online store with WooCommerce, the first 3 things to consider is to choose a proper theme, include plugins to boost the shop, and optimize the site to get maximum conversion.
The WordPress community has contributed to creating several themes dedicated to optimizing the functionalities of WooCommerce.
These themes make it easier to customize the store, and some have built-in templates that people prefer to use.
Now one wrong concept that some people may have is when choosing a theme. They prefer the ones with high installations or high ratings. But these two are not the best things to look at.
Yes, it does increase credibility, however, since you have the option to take live previews and use the plugin on free local hosts, why not try them out before deciding?
I mentioned two themes at the end. They might not be among the best and don't have too many installations, however, I think they are really good.
Let's have a look at the 10+ Best Free WooCommerce Themes that are popular and credible.
It is important to note that despite some of these themes being labeled as accessible for people with disabilities, they may pose some challenges to some users. If you want to ensure optimal and full accessibility, you will need to use a Woocommerce accessibility plugin.
10+ Best Free WooCommerce Themes
Before you proceed to the list, please note that I have researched several themes and used many of them.
All the themes listed in this article are compatible with all the major page builders such as Elementor, Divi, Thrive, Beaver Builder, etc.
All of these themes offer multilingual integration (translation ready) and support RTL.
Now, this list is totally based on my preference in terms of features and UX, starting with the highest preferred by me.
Now let's dig in.
1. Botiga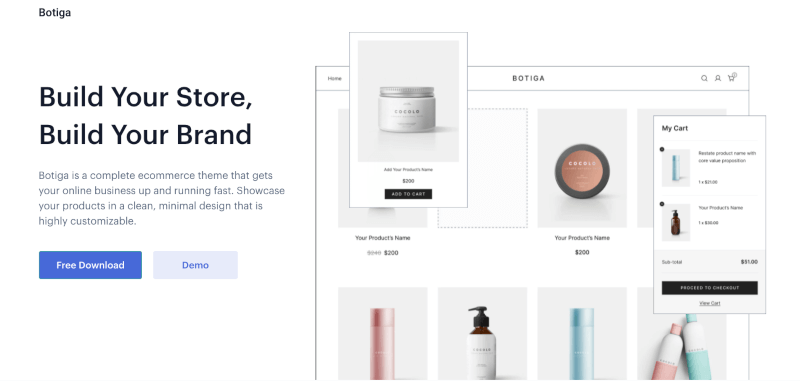 Botiga is a free e-commerce theme that is both flexible and packed with powerful features.
It showcases a clean, modern design that can be used to build a wide variety of online stores and businesses.
This multipurpose, sophisticated theme comes with a library of header and listing styles, product galleries, and over six blog archive layouts.
It enables you to customize your site in real-time using advanced typography and color palettes that are suitable for any branding style.
You can check out a demo of the Botiga theme here.
What's more, elements such as product search, product filter, and recommendations features make it easy to display your products in an aesthetically pleasing and functional manner.
Customers will be able to easily find what they're looking for, and you can effortlessly promote your best-selling items.
Additional features include multiple carts and checkout styles, as well as quick views and card layouts. All in all, this free WooCommerce theme comes with everything you need to build a stunning storefront.
2. Astra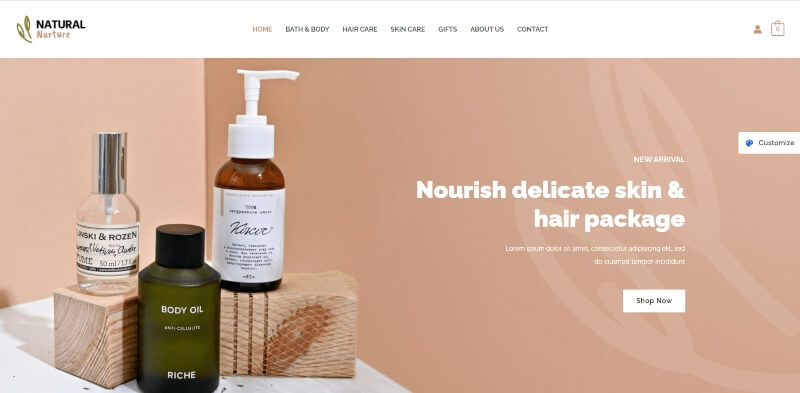 Astra is one of the most popular WordPress themes of all time with over 1 million downloads! People love Astra for its flexibility in building any type of website, especially, eCommerce stores on WordPress.
It is designed to be super-fast and optimized so your visitors can jump between products seamlessly, with almost no lag!
It also significantly reduces the time between clicking the buy button and reaching the payment page to further increase your conversion rate.
With hundreds of beautiful and high-converting premade website templates, you can get your eCommerce website up and running quickly.
Astra works best with WordPress page builders like Ultimate Addons for Gutenberg, Elementor, and other major ones so you can design websites with simple drag-and-drop functionality.
Astra also features complete flexibility with multiple page layouts, supports hundreds of fonts by default, and gives you complete control over every aspect of your website.
This is all available in the free version of Astra and there's so much more in Astra Pro.
Overall, Astra gives you all you need to design an impressive and high-converting eCommerce store with zero coding required.
3. Woostify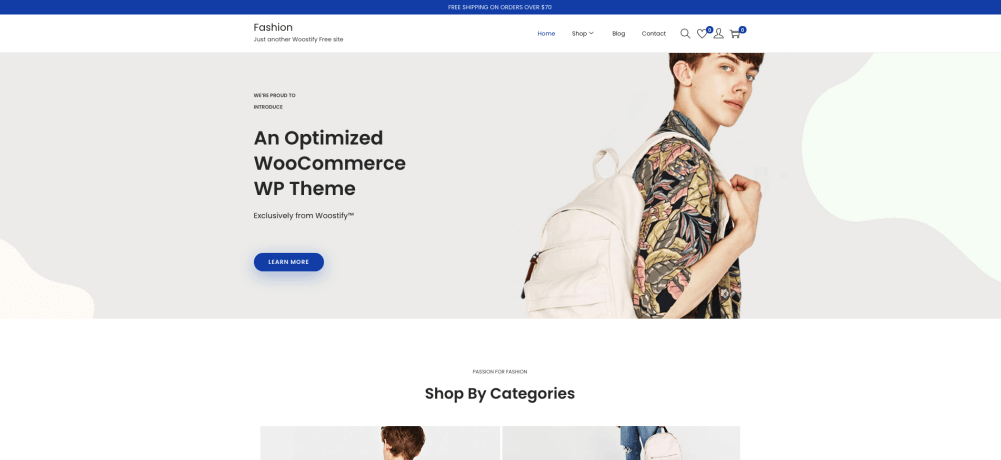 If you are looking for a free WooCommerce theme that is also fast for your online store, then Woostify, which completely focuses on the online shop, will be suitable for you.
The theme will work smoothly with almost all popular page builders such as Elementor and Divi, Beaver Builder, Visual Composer, Site Origin, etc.
However, it is specially integrated with the Elementor Theme Builder. As a powerful Elementor Woocommerce theme, Woostify allows you to fully customize all the pages such as the product page, single product page, checkout page, and cart page.
What makes Woostify really a handful are its exclusive features including Advanced Shop Widgets, Mega Menu, Header & Footer Builder, Countdown Timer, and so on.
Any type of WooCommerce store template you are looking for, this sales-boosting theme offers you an amazing demo library including 17+ pre-made sites for different industries such as food, animal, jewelry, furniture, etc.
Therefore, you'll have the most suitable template for your site whatever your niche is.
In short, Woostify is a free theme that provides WooCommerce websites with key features and functions.
And if you're willing to enhance the functionalities of this theme with more useful features, you can get the Woostify Pro Plan which starts from $39.
Whether you're using the free theme or the pro theme, you'll receive quality support from their dedicated support team.
4. Superb eCommerce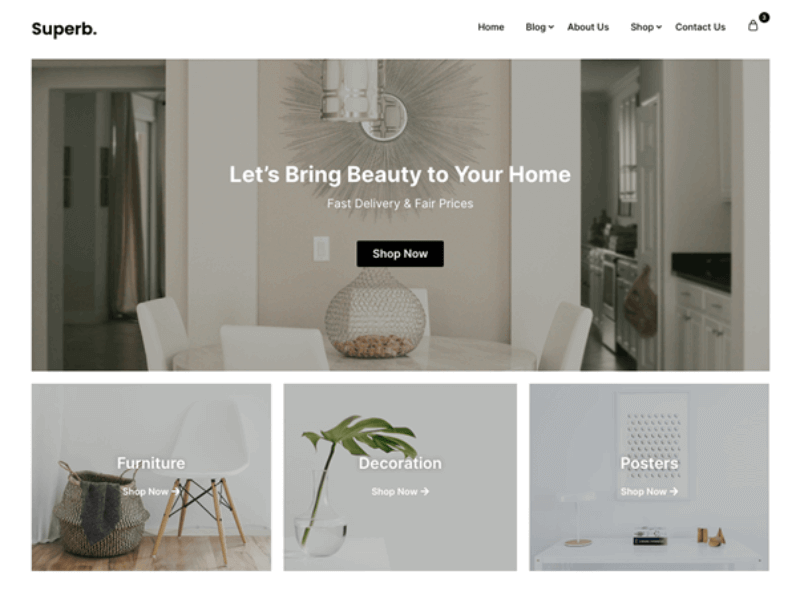 If you're looking to create an online shop store through WooCommerce or Easy Digital Downloads then look no further, Superb eCommerce is made for that exact purpose.
Both WooCommerce and Easy Digital Downloads are deeply integrated into the theme, every bit is custom designed to fit the theme.
Besides being an eCommerce theme it's a fully functional landing page builder and blog. Every Gutenberg block is beautifully designed.
It works with every page builder available, for example, Elementor, Brizy, Beaver Builder, Visual Composer, SiteOrigin, and more.
You can customize every single color, and the theme has 30+ layout options. It comes with pre-built demo content and much more – Superb eCommerce is definitely worth looking into.
5. Modern Store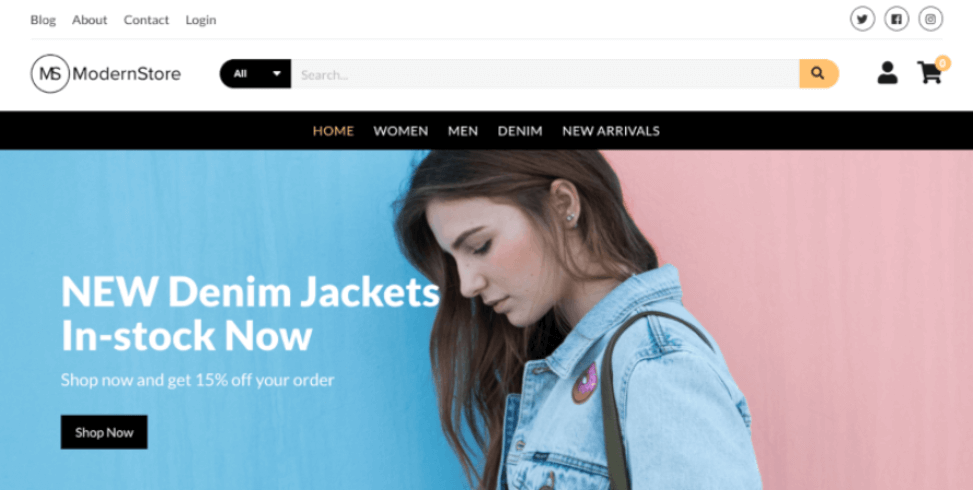 Modern Store is a clean and simple theme for eCommerce stores that you can use this flexible theme for a clothing store, jewelry, t-shirts, consumer electronics, etc.
Any kind of products you can sell with WooCommerce you can sell with the Modern Store theme.
This WordPress theme features a customizable large header promo box that allows you to add a background graphic and insert a call-to-action over top. You can use it to drive traffic to your most popular or most profitable products.
There's also a universal product search bar integrated at the top, so visitors can find new items easily. Any visitor can click the icon in the header to view the contents of their cart, and if they're logged in, their Gravatar image will appear linking them to their member profile page.
Modern Store also includes social media icons to link visitors to your profiles, complete blogging support, simple layout options, and a fully responsive design.
6. StoreFront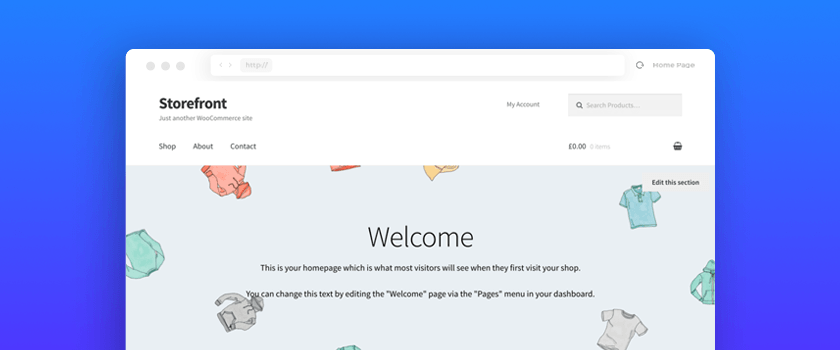 Developed by the core developers of WooCommerce, StoreFront is a theme specialized for online shops. Without fail, the site is responsive to all devices and is very fast. It is currently among the most preferred free WooCommerce themes out there.
The theme is compatible with all WooCommerce plugins and is ideal for a store with a lot of features. The site allows 6 widget areas and comes with valuable features such as 'Top-rated Products Section,' 'Recent Viewed Products,' 'Featured Products,' 'Promotional offers' and many more.
The theme has an elegant design and is SEO optimized. They have an organized support team and provide credible support.
According to WordPress.org, this theme currently has over 30,000 active installations.
7. Shop Mania by ThemeHunk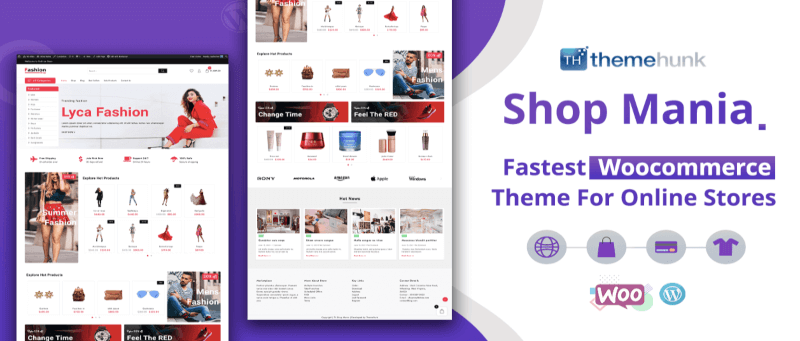 Shop Mania is Elementor Based Fastest Multipurpose WordPress WooCommerce Theme for creating WooCommerce online stores that provide a super-fast interface for the ultimate user experience.
Once you use Shop Mania, you'll find it hard to move into another WooCommerce Theme.
This is one of the best in the niche. Shop Mania uses a powerful AJAX tech to give users a very fast and seamless online shopping interface without the need to constantly refresh pages.
Main Features:
20+ Elementor Demo Templates.
Fixed Footer & Header Layout.
Fast & Responsive.
Sticky Header Effects.
Off-Canvas Sidebar.
Unique Header Layouts.
Advanced Woo Cart Support.
Product Quick View.
8. OceanWP – Multi-Purpose Theme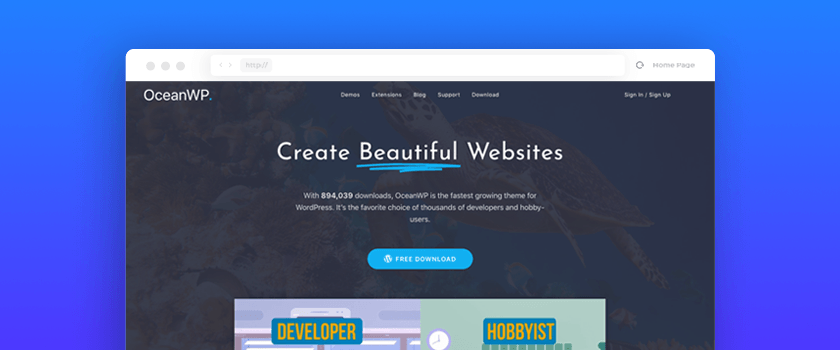 OceanWP is a brilliant multi-purpose theme. This is a lightweight theme with a seemingly fast loading time and is easy to customize. It is responsive to any device and is SEO optimized.
Although this site is not limited to being used just for WooCommerce, it is integrated with WooCommerce in a way so that you can directly create an online store without having to do much of any customizations.
The theme automatically includes the features 'Native Cart Popup', 'Floating Add to Cart Bar,' 'Off Canvas Filter', and 'Quick View Enhance' for the store. Plus the site automatically features built-in icons and a mega menu.
This theme is pretty popular due to its support team. They handle any queries real quick.
According to WordPress.org, this theme currently has over 200,000 active installations.
9. Online Shop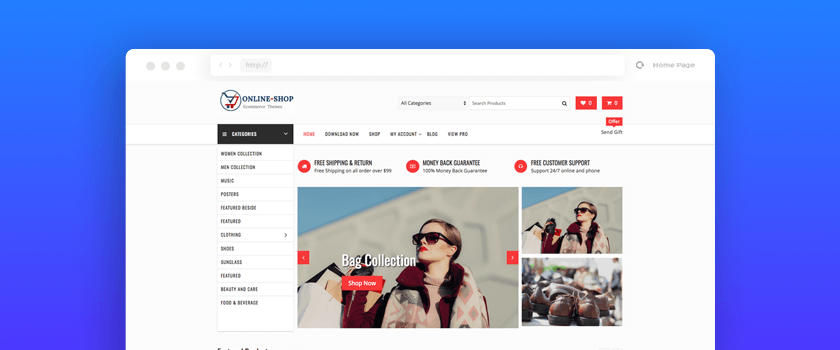 Online Shop is a dynamic WordPress theme that is focused on E-commerce. This is a highly responsive theme with a fast loading time.
This theme is well-integrated with WooCommerce. It gives great customization facilities, with widgets to edit every section of your website, and has 9 different widget areas to work on.
It comes with several free customized widgets including 'Repeated Fields,' 'Unlimited Slider' and 'Unlimited Pages on Section.'
Online Shop allows extensive 'Menu Customizations, Advance Logo' options, 'Featured Product Display' options, and several headers and footer editing options.
According to WordPress.org, this theme currently has over 9,000 active installations.
10. Customify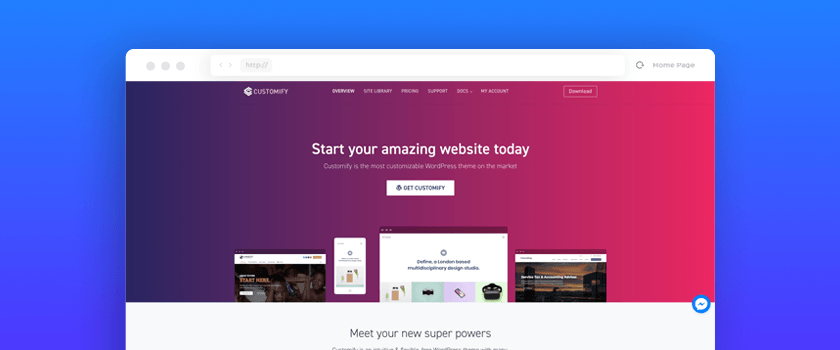 Customify is a fast multi-purpose website that is simple and user-friendly. It is a lightweight theme and comes with WYSIWYG Header and Footer builder for attractive customization.
This theme is simple to use and is WooCommerce compatible. The theme contains the features to edit 'Product Catalogues' and 'Single Product Editor.'
Customify is a simple theme that is responsive to both desktops and mobiles. This theme is fast and SEO optimized.
For people who want a basic online store without too many complications, this theme is favorable. Besides, this theme has pre-built website templates that people can use for free.
The best part about Customify is its support team. Although they almost never had any issues due to having expert developers, the support team is fast with response and accurate with guidance.
According to WordPress.org, this theme currently has over 20,000 active installations.
11. Flexia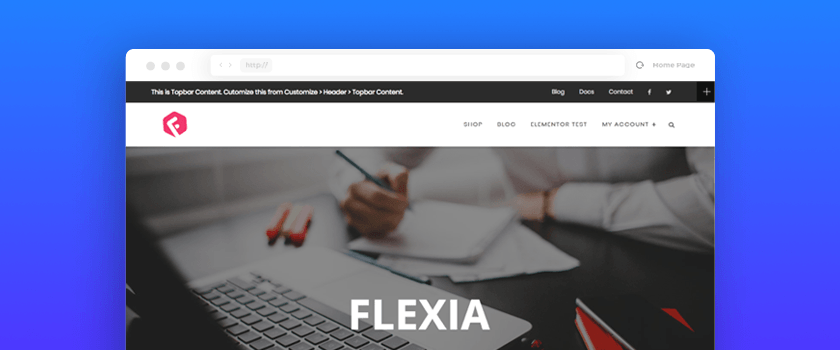 This is a simple, lightweight theme suitable for small stores. If you have a WooCommerce store with fewer products, then this is a great theme to create a lucrative website.
Flexia is responsive to all devices and includes SEO optimization. It has 10 different areas for widgets.
Being WooCommerce compatible, this has an organized customization menu that allows easy-to-design capabilities. It also has features that include 'Product Catalogues' and 'Single Product Editor.'
The customer support is really good. They are fast in response and thrive on giving proper solutions to any queries you may have.
According to WordPress.org, this theme currently has only about 1,000 active installations.
12. MetroStore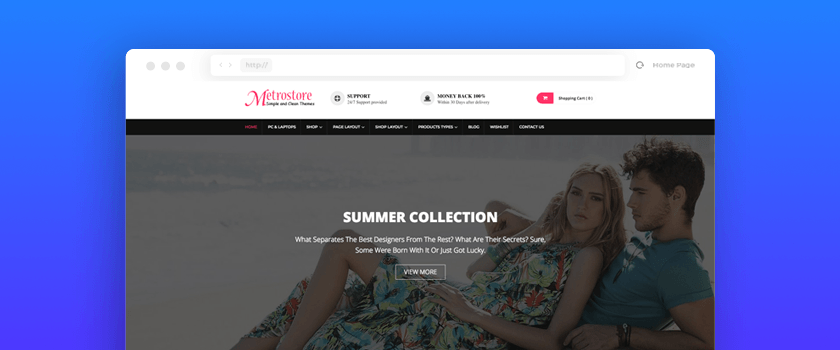 Metrostore is a brilliant theme that is great for WooCommerce. The theme is fast and responsive.
This theme is optimized for SEO and allows us to include social media links. It allows 8 different widget areas. It comes with around 10 built-in widgets which include 'Promo Video Area,' 'Category Collection,' and 'Product Promotions.'
The theme also suggests you install the plugins 'YITH Wishlist' and 'YITH WooCommerce Compare' which are actually pretty good for customer attraction.
According to WordPress.org, this theme currently has about 6,000 active installations.
13. Blossom Shop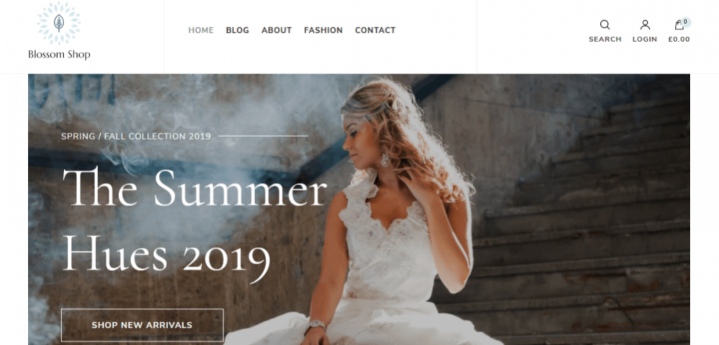 Blossom Shop is an easy-to-use and SEO-friendly multi-purpose theme for your WooCommerce store.
This theme is designed to highlight your products and provide an excellent user experience to your store visitors.
If you're creating a WooCommerce store for fashion, cosmetics, accessories, furniture, and lifestyle products, this theme is suitable for you.
The Blossom Shop theme is mobile-friendly and optimized for speed performance.
This theme has features for similar products, hide/show sale ribbons on products, and changes previews in real-time.
Schema integration, mega menu compatibility, social media integration, and newsletter subscriptions are among the most amazing features of this plugin.
Until now, you have read about the best free WooCommerce Themes you can use for your WooCommerce store.
However, if you're willing to invest in the WooCommerce theme you'll be using, you can try premium WooCommerce themes by 8Themes.
They have a pretty solid collection of WooCommerce themes you can choose from.
It is important to note that despite some of these themes being labeled as accessible for people with disabilities, they may pose some challenges to some users. If you want to ensure optimal and full accessibility, you will need to use a Woocommerce accessibility plugin.
Conclusion
As I mentioned, these are themes that I prefer, based on their features and UX.
But I suggest you check each of their websites, take a live preview, or test them out on localhost servers before deciding which one is best for you.
Since you're looking to create a professional-looking WooCommerce website, then you may want to check out the premium templates available at TemplateMonster as well.
With a vast selection of high-quality themes, you're sure to find the perfect design for your e-commerce store. Their templates are easy to use and fully customizable, allowing you to create a unique online store that stands out from the crowd.
And remember, the highest installed or highest ratings for the themes is not always the best thing to look at. It is better to check the most recent reviews and try them out before selecting a theme.
Once you have chosen a theme, the next task is to include plugins that can boost your shop, and you should also optimize your store for maximum conversion.
All the best to your store.