Last updated on:

8 mins read
5 Best WordPress Job Board Plugins [2023]
While growing your business, you need to hire new talents in your team.
However, the hiring process consumes a lot of time, and many businesses spend a good amount of money on several job-posting websites to find the right talent. This might seem normal but you can do better.
If you have a WordPress website, you can enjoy the benefits of WordPress job board plugins to integrate a full-fledged job board on your company website.
Placing job boards directly on your website allow applicants to submit their job applications directly to you. This will give you three specific advantages:
You will most likely get highly qualified candidates. Most people applying through your site will go through your website. This means they know your company's niche and will be able to realize if they are qualified for the job.
You do not need to rely on third-party job board websites to get the right candidate for your site. Hence, you will be saving on the fees of such sites.
It will save you time from creating job posts and filling out forms on other job board websites. You simply write your job post and make it live with all settings already configured.
Now, there are tons of WordPress job board plugins out there, but today I will list 3 of them, that I personally believe are quality job board plugins.
But before we look into the plugins, let us look at what you should look for in a job board plugin.
What To Expect From An Ideal WordPress Job Board Plugin?
Best WordPress Job Board Plugins For Your Site
Based on all the necessary requirements, I have researched and screened out the 3 best WordPress job board plugins that are easy to use and efficient.
1. WP Job Manager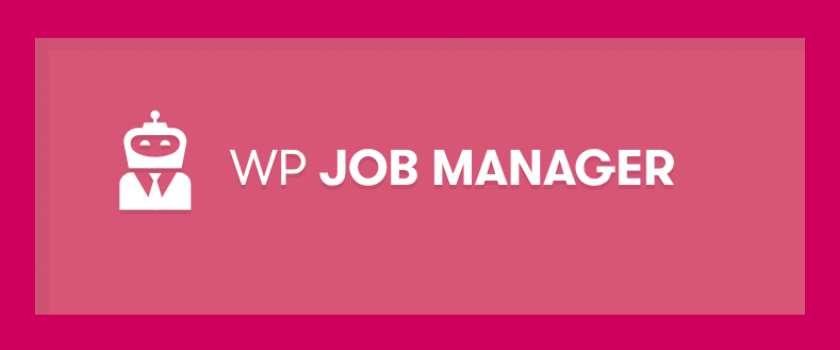 WP Job Manager is a lightweight plugin for creating a job listing on your website. It is easy to set up, easy to use, and compatible with any theme because of being based on shortcodes.
The free version has features such as:
Manage, Categorise, and add job listings.
Search and filter options on the job listing.
View, edit, mark filled, and delete active job listing options for employers.
Preview option for the listings before it goes live.
Alert job seekers of new jobs matching their searches by displaying RSS links.
The free version runs smoothly and will take care of most of your requirements.
• Add-ons For WP Job Manager
— Resume Manager
This add-on adds a resume submission form, filters resumes, and shows a preview before submitting the resume.
— Job Alerts
This will allow job seekers to set daily, weekly, or fortnightly email alerts for jobs based on their searches and customize their alerts.
— WC Paid Listings
This extension allows you to sell job packs for creating multiple listings, featured job listings, and jobs that expire after a predefined time period.
• WP Job Manager Price
The basic version is free. The add-ons cost different prices, but you can buy the Core add-on Bundle of 11 add-ons for $125 per year.
• WP Job Manager Rating
This plugin is rated 4.5 stars out of 5 stars on the WordPress repository by more than 200 users. Currently, it has more than 100,000 active installations.
Visit their website, to learn more about WP Job Manager add-on and features.
2. Simple Job Board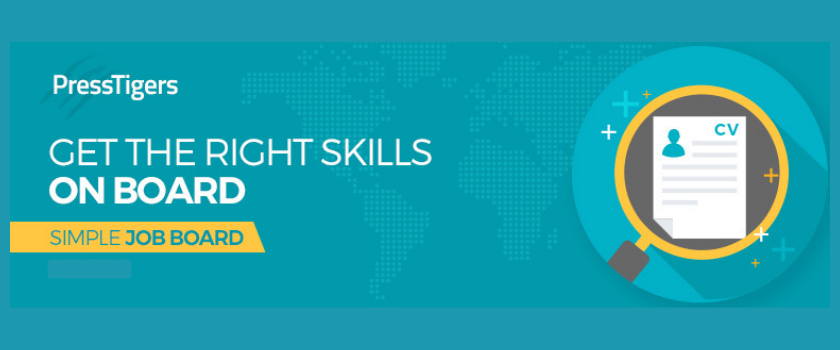 Simple Job Board is an exclusive plugin for adding a job board to your website. This plugin is extendable and easy to use, making it one of the most preferred job board plugins.
It has features such as:
Add, categorize, and manage all jobs from the backend.
Upload documents in various extensions.
Add job types in the job listing.
Job location option for individual jobs.
Anti-hot-linking option to ensure the security of your documents.
• Simple Job Board Add-ons
— Multiple Attachment Fields
This plugin allows you to add multiple file upload fields on the job application form and supports .pdf, .doc, .docx, .odt, .txt, and .rft.
— Email Application Attachments
Using this plugin, you can receive an applicant's resume directly in your email. This plugin allows the applicants to apply for a job without a website login.
— Company Details & Filter
This add-on provides a company listing for hob and front-end filters. You can add companies, company taglines, company websites, logos, and company email, so you don't need to add them again for a future job post.
There are more add-ons but these are the most useful ones.
• Simple Job Board Price
This plugin itself is free. The add-ons cost $10-$20 each.
• Simple Job Board Rating
This plugin is rated 4.5 stars by 94 users and is currently installed on over 20,000 websites.
Visit the website of the Simple Job Board, to learn more about this plugin.
3. Jobs For WordPress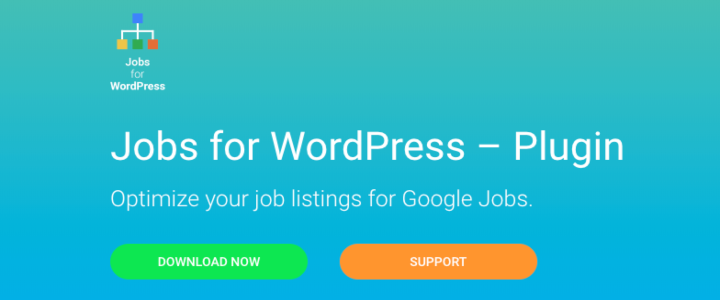 Jobs for WordPress is a powerful plugin for adding job listings on your website in a structured data form. 
This plugin allows you to filter job advertisements and format them according to schema.org markup with JSON-LD as well as intuitive Microdata., making the job listing on your website easy to read by Google.
Some of the features of this plugin are:
Add, manage, and categorize job listings.
Preview job listings before they go live.
Edit job posting styles with live preview.
Automatically format job listings with structured data.
Each job posting can be attached to an email address for receiving applications.
Listings are customized with drag-and-drop options like modules, structure, paragraph namings, orders, etc.
• Jobs For WordPress Price
This plugin is free to use.
• Jobs For WordPress Rating
It is rated 4.5 stars out of 5 stars by 32 users. It currently has more than 3000 active installations.
If you want a free and super light job listing plugin to rank higher on Google with your job listings, then this is among the ideal choices out there.
Visit the site of Jobs For WordPress to learn more.
If you're looking for a job in the USA, then visit Jooble, a perfect job search engine to help you out.
4. Apply Online – WordPress Job Board Plugin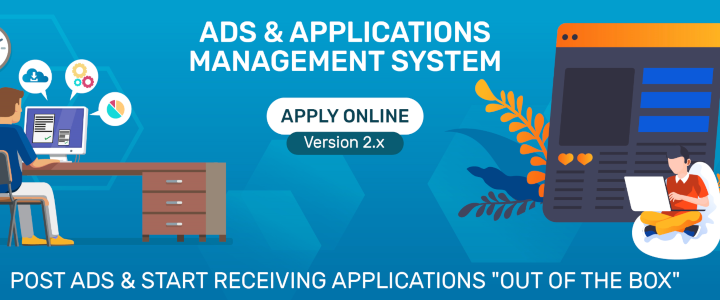 With the Apply Online plugin, you can create a WordPress job board and advertisement board for your company. You can also open online registration for courses and classes or other forms of signups.
This plugin has features such as:
Unlimited ad types creation.
Add, categorize, and manage ads.
A form builder with all HTML form fields.
Ads filter option on the front end.
Detailed ad page with a description, features, and an application form.
• Apply Online Add-ons
— Application Tracking System
With this, applicants can signup & log in to save, edit, submit & track their application.
— Application eMailer
This add-on will email you the full application detail along with any attachments.
— Application(s) Exporter
This allows you to export an application as a CSV link and download the application as a PDF.
You can also get the Power Package of 5 add-ons or the Premium Pack of 6 add-ons at a discounted price.
• Apply Online Price
Add-ons range from $15 to $89. The power pack costs $49, and the premium package costs $119.
• Apply for Online Rating
This plugin is rated 4.5 stars out of 5 stars from 30 users and currently has more than 5,000 active installations.
Visit the website of Apply Online to learn more.
5. WP Job Board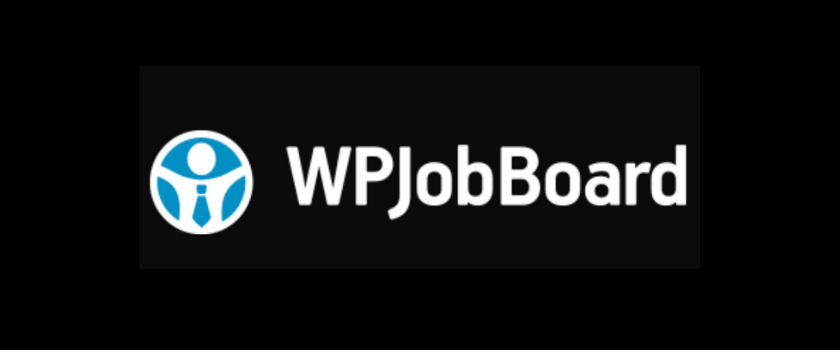 WP Job Board is a premium WordPress plugin for adding a job board on your website that allows you full control of the data and structure.
Some of the features of this premium plugin are:
Applicant tracking system.
Job listing & job description.
Employer portal.
Smart shortcodes.
One-click install and activation.
Auto-post new listings on Twitter.
Job alerts through email notification.
Sync job listings with Indeed, Simplyhired, and Juju.
• WP Job Board Add-ons
Mailchimp Integration.
Candidate Anonymizer.
Upload from Dropbox.
Sliced invoices integration.
Google Analytics integration.
Application Methods.
• WP Job Board Price
It costs $97 for a personal license and $199 for a business license.
Visit the site of the WP Job Board to learn more.
Conclusion
You will probably find many other articles talking about tons of WordPress job board plugins. But I decided to let you know of the 5 that I believe are the best.
If you ask for my preference, I would rather go for WP Job Board, however, it is at number 3 in my list because the other two are more accessible and preferred by most people in the WordPress community.
Please leave a comment below to let me know if you have any other plugin that you find is better.
**Feel free to check out some of the plugins we created to help businesses.