Last updated on:

9 mins read
5+ Best WordPress Contact Form Plugins [2023]
When creating forms, it is necessary to have a smart and easy way to do it. Hence, WordPress contact form plugins come in handy.
One reason to use WordPress Contact Form plugins is to have an easy way to contact you on your website and having a WordPress contact form does the trick.
About 10 years back, just leaving your e-mail address and phone number on your site was enough. People would e-mail you or call you with queries.
However, nowadays, people are often hesitant to manually copy your e-mail and send out queries. They either feel lazy to write a mail, or they think they will e-mail a bit later and end up forgetting about it.
Moreover, leaving your e-mail on your site often falls into the hands of spammers who e-mail you regularly with useless data.
Hence, it is best to use a WordPress contact form that lets prospects reach out to you without hassle.
5+ Best WordPress Contact Form Plugins
Today we have listed the 5 best WordPress contact form plugins that can help you set up attractive and suitable contact forms on your site.
And not just contact forms, these plugins will help you set up any other web forms that you may require, without hassle.
So let's dive into it.
1. Gravity Forms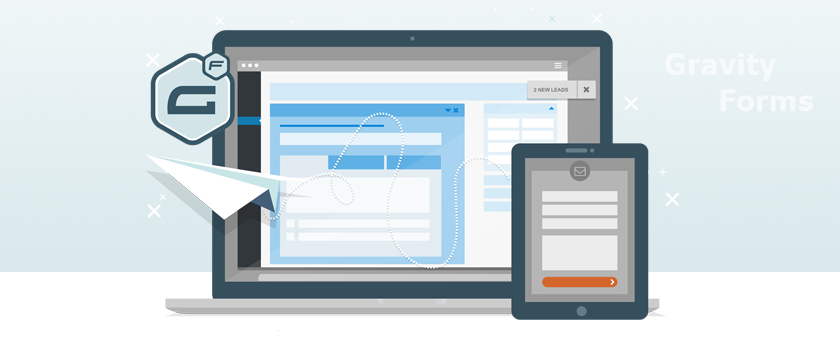 Gravity Forms is a premium WordPress contact form plugin with enormous popularity due to its excellent features that proved it as one of the most modern contact form plugins for WordPress.
It is well-known for its powerful yet simple forms. You can drag and drop, and customize your form fields.
Gravity Forms is popular among developers for its ability to build complex forms and its exclusive multi-page form creation feature. It comes with 30+ ready-to-use form fields to create your own form. (I personally prefer using Gravity Forms over other WordPress contact form plugins).
Key Features:
Create surveys, quizzes, and web directories.
Schedule availability of form.
Set a limit to the number of entries per day.
Advanced conditional logic.
Smart protection from spammers.
Price:
Basic $59, Pro $159, Elite $259
Click here to learn more about Gravity Forms.
2. Contact Form 7

Let's talk about the elephant in the room, Contact Form 7 — the oldest and the most actively used WordPress contact form plugin.
Contact Form 7 incorporates an advanced way to add contact forms on your site.
If you have some expertise, then you can create any type of contact form that you want.
Moreover, Contact Form 7 is completely free and can be used on multiple sites.
Key Features:
Single plugin to work on multiple sites.
Multiple forms on the same page.
Supports over 58+ languages.
Price: Free
Contact Form 7 is one of the most downloaded plugins ever in the WordPress plugin directory.
It has more than 5 million active installations and has an overall rating of 4 stars in the WordPress repository.
Click here to learn more about Contact Form 7.
3. WPForms

WPForms is not just a WordPress contact form plugin, it is rather a drag-and-drop contact form builder.
You can create a modern form using this user-friendly drag-and-drop form builder in minutes. It enables you to create contact forms, feedback forms, subscription forms, and any other types of forms that you may require, with its smooth and easy user interface.
It also comes with pre-built form templates which you can just choose and start to work with instantly. So, it is perfect for beginners.
Key Features:
Spam Protection.
Mobile & SEO Friendly.
Custom Captcha.
Smart Conditional Logic.
Price:
Basic 31.60, Plus 79.60, Pro 159.60, Elite 239.60
There is a WPForms Lite which is free. You can use it to test it out, and if you are satisfied, then you can upgrade to premium to enjoy all of its features and better support.
Having over 2 million active installations, this plugin has a 5-stars rating on the WordPress repository.
Click here to learn more about WPForms.
4. Ninja Forms

Ninja Forms is a great WordPress contact form plugin that is completely free and comes with many outstanding features that you would only expect in a premium plugin.
You can create unlimited interactive forms, with dedicated fields for emails, date-picker, phone numbers, addresses, etc for easy customization.
Key Features:
Export and Import forms and favorite fields.
Data format correcting.
Several anti-spam field options such as Google Recaptcha.
Tons of premium add-ons are available for better customization.
Price:
The plugin offers several membership plans to allow add-ons and multi-site features.
Personal Plan $49, Professional Plan $199, Agency plan $499
It has over 1 million active installations and holds a 4.5-star rating on the WordPress repository.
Click here to learn more about Ninja Forms.
5. Formidable Form

Formidable is preferred by many when using WordPress contact form plugins. It is a simple plugin to create unique custom form solutions such as directories, event management, rating systems, etc.
It even has advanced calculator fields to create order forms, forms for mortgages, etc.
It is also compatible with every payment and email marketing platform.
Key Feature:
Simple drag-and-drop interface.
Compatible with every email marketing platform.
Web calculators.
Price:
Personal Plan $49, Creator Plan $99, Business Plan $199, Elite Plan $399
It has a basic free version which has most of the important features. However, to get better customization options, you will need to upgrade to premium.
Its free version currently has over 200+ thousand active installations, with a 4.5 stars rating on the WordPress repository.
Click here to learn more about Formidable Form.
6. JetFormBuilder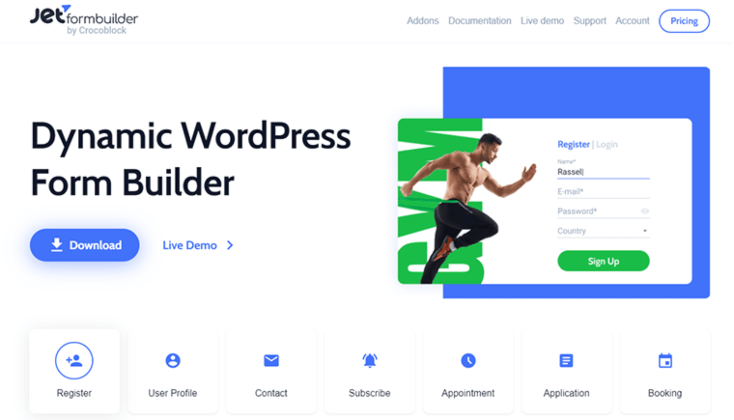 JetFormBuilder is a free Gutenberg editor form plugin with broad functionalities: PayPal integration, webhooks, conditional logic, etc. This form builder plugin styles your Gutenberg forms with the help of the JetStyleManager plugin.
As JetFormBuilder is built for WordPress, you can integrate it with any WordPress page builder with the shortcode.
Key Features of JetFormBuilder Free Plugin:
Field types (18+): form break, heading, media, time, data, etc.
11 post submit actions: update user, redirect to page, send mail, etc.
Multi-step form.
Calculated field.
Hidden fields.
Payment methods integrations: PayPal, Stripe, WooCommerce checkout.
With the JetFormBuilder Pro, you can find even more add-ons for your needs:
Address autocomplete.
Save form progress.
Limit form responses.
Schedule forms.
Select field autocomplete.
Email marketing tools integrated: MailerLite action, MailPoet, ConvertKit.
Moosend marketing automation tool integrated.
Price:
Free.
JetFormBuilder Pro 1 website per year- $39.
JetFormBuilder Pro unlimited websites per year – $79.
Click here to learn more about JetFormBuilder.
7. Jotform WordPress Forms

Jotform WordPress Forms Jotform is a custom online form builder that has everything you need to collect data for your business.
Simply use their embed form plugin in your WordPress-powered site and start automating your data collection tasks.
Use one of their many templates to get a head start on your forms. Integrate with your favorite apps to instantly send submissions to Google Sheets, Mailchimp, and more.
Save time by eliminating manual actions.
Collect payments, set up contact forms, and do it all without writing any code.
You can also use their mobile app to edit forms on the go.
Key Features:
110+ form templates.
Embed forms using their plugin.
100+ app integrations.
Integrations with payment gateways.
Optional HIPAA compliance.
Secure forms with GDPR compliance and anti-spam fields.
Price: Free plan included, Bronze $34, Silver $39, & Gold $99.
Jotform Embed Form has 20000+ active installations and a 3.5-star rating on the WordPress repository.
Click here to learn more about Jotform WordPress Forms
Bonus:
We've already listed the best 5 WordPress contact form plugins in this article.
But there are a lot of other great Contact Form plugins available for WordPress and the developers are continuously improving these plugins.
If you're willing to try out something new or looking for a contact form plugin with specific features, you can check out these WordPress contact form plugins.
Live Forms – Easy Drag and Drop Form Builder Plugin for WordPress

WordPress Live Forms Plugin is an elegant way to build and manage any type of form simply using the Drag and Drop Method.
Whether you want to build a contact form, subscription form, client review form, payment form, or a form for managing your product support section, Live Form – Visual Form Builder Plugin could be a great choice for you.
The plugin will give you the capability to assign and manage the support agent to each of your forms.
Agents can manage and reply to support tickets from the front end easily without any admin access.
Key Features:
Visual Builder.
Extensive Data Validation.
Detailed Form Stats/Analytics.
Form Entries.
Actions and Filters Hooks to increase its extendability.
Conditional Logic ( PRO ).
Captcha Protection ( PRO ).
File upload ( PRO ).
Accept Payment with the payment field ( PRO ).
Build awesome donation/fundraising forms easily ( PRO ).
Offer free download on form submission ( PRO ).
Price:
The Pro plan is $49, the Business Plan is $99 and the Developer plan is $199 annually.
This relatively new form builder plugin has 900+ active installations in the WordPress repository.
It also has a 4.5 out of 5 stars rating including 40+ Five star reviews.
Click here to learn more about Live Forms.
Conclusion
Having a contact form on your website can increase more prospects reaching out to you.
Plus, with these plugins, you can create any sort of form such as application forms, polls, directory forms, and many more.
Btw, if you want to control your forms through your mobile devices and have well-designed mobile-responsive forms, there is an application called Mobile Forms which you can download on your mobile.
With this application, you can create forms online or offline with collected data, and then share the form to receive submissions.
It can be very useful for collecting data on a professional level, surveys via survey tools, event management, or even simple opinion collection. You should check it out.
Anyways, personally, I prefer using Ninja Forms due to its easy interface.
However, you should check out all of these plugins before choosing the ideal one for you.
If you have any questions or if you use a WordPress contact form plugin that is not on this list, please share it with us in the comments. Cheers.