Last updated on:

10 mins read
How To Use A VR Museum Tour To Increase Live Visitors [2023]
People constantly seek new ways of experiencing art and history. Museums are one of those places that they can visit and get an immersive understanding of human history and art.
If you are part of the museum niche, then you know the difficulty in attracting more visitors. Sure, you may get many locals to visit without much effort. But how will you take your museum reputation to such a high level that people from overseas come to visit?
The answer is a VR Museum Tour.
You can now create a 360 virtual tour of your museum and use it on your website to attract more visitors to your museum.
You do not need to create a VR tour of the whole museum. All you need to do is showcase some of the best collections, along with their historical details in the online virtual museum, just to pique the interest of prospects. That's all you need to captivate a few long-distance viewers to visit your museum to watch the whole place around.
Today, you will learn how you can create an attractive VR museum tour on your own, easily in WordPress.
Why Use VR Museum Tours?
A virtual museum will let your visitors go around and explore the museum just like they would in person while sitting comfortably at home. More importantly, it comes with several significant benefits.
i. Help Attract More Visitors From All Over The World
We all know that museums are not just for visitations. You can have a museum for much bigger reasons.
A public museum by the government may seem like it simply exists to allow people to explore several historical items and cultures. The low entry fee is just a small compensation for maintaining the whole place.
However, let's look at the bigger picture. A public museum is a great attraction for tourists. It may be one of the reasons travelers come to your city, which is a great source of remittance, then helps to increase the economy. (Some museums even charge a higher amount from foreigners as an extra source of income.)
Similarly, universities can have private museums to attract international students and culture-loving local students. Private collectors can have museums to support charity firms. Even large corporations or industrial companies can have their own museums, which is a great attraction for both clients and new employees.
Whichever purpose you may have, you would definitely want to attract more visitors.
This is where virtual reality plays a big part. If you create a VR Museum of your original one, it will help attract people from all over the world. And, if you can promote it actively, you will start seeing more and more prospects inquiring about a visit.
ii. Get Tickets Booked Online
You could easily integrate an online ticketing system into your virtual museum so that visitors can get tickets while taking the tour.
This means, that as soon as someone gets interested in your museum, they will be able to collect tickets and start planning their schedule to visit.
It will avoid too much confusion and make long-distance visitors more comfortable to travel & explore the full collection in person.
iii. Educate About Local History And Culture
It is important that people know about their history. Yes, people do learn a bit from school. But, it's even better if they can get a visualized experience.
So, if you are willing to spread more knowledge about your local cultural history, creating a virtual tour would be great.
You may create a custom environment with historical figures and monuments in the tour, along with tooltips and click-to-view text or video to learn more about each character/item.
This will be super useful for students to learn with more interest, and help keep the locals well-informed about their own history.
**You may even create a premium VR museum experience where people may pay a small amount to get access to the complete museum in VR rather than partial access to some of the collections.
iv. A Great Medium To Preserve History Online
You never know how long you can preserve the actual historical items or monuments.
Books may whither away or museums may shut down. But, if you create a VR museum, that piece of history will remain online as long as you have your website.
So, this is a great way to preserve history.
v. Tie It Up With Premium Packages In Universities or Virtual Learning Schools
Some universities are creating custom virtual museums (with no physical local) that cover almost any historical items, characters, or events. This, they may offer as part of their paid packets.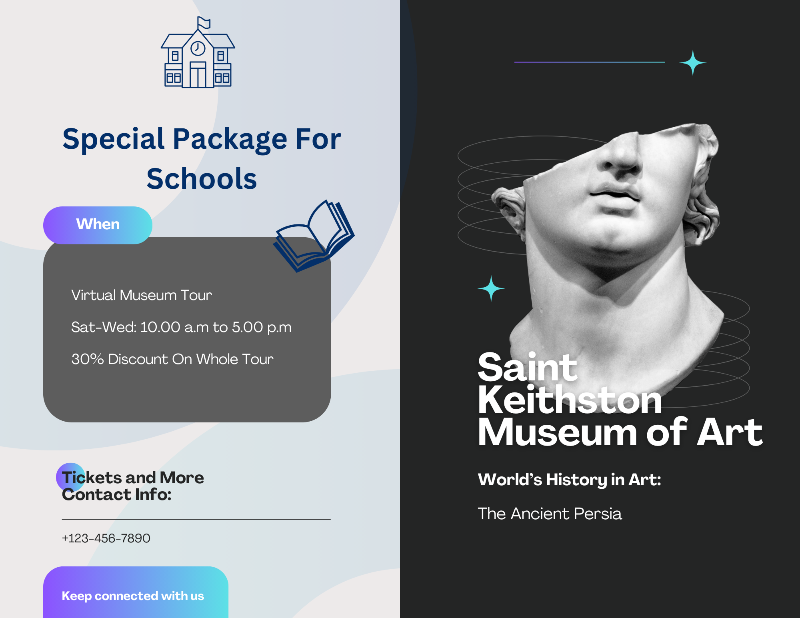 Similarly, education is now very popular online. Certain virtual schools may include access to a VR museum on certain subscription levels.
**You may also create a detailed online virtual museum and sell it to educational institutions on a subscription basis. This will allow universities to educate their students more effectively while you have a good source of income.
As you saw, using a virtual museum tour is quite beneficial. Now, let us learn how you can create a VR museum for your WordPress site.
How To Create A VR Museum That Will Hook More Visitors
1. Use High Quality 360 Panorama Image For Your Museum Virtual Tour
To create a virtual tour of your museum, you first need the right equipment to capture 360 panoramic images of the areas you want to include in this online tour.
2. Use A Reliable VR Tool
Once you have your images ready, you need to use a reliable virtual tour creator. You may use WPVR to convert and connect your panoramas into a virtual tour.
3. Embed This Tour On Your Website, Preferably On The Home Page.
Once your tour is ready, you may easily embed it on any page either using a shortcode or using an Elementor widget/Gutenberg block/other supported page builders.)
4. Make the VR Museum More Attractive & Engaging
The main challenge here is to ensure people spend more time on the tour to build up their interest.
At this point, you may use the following features:
i. Tooltips With Basic Details About The Character/Item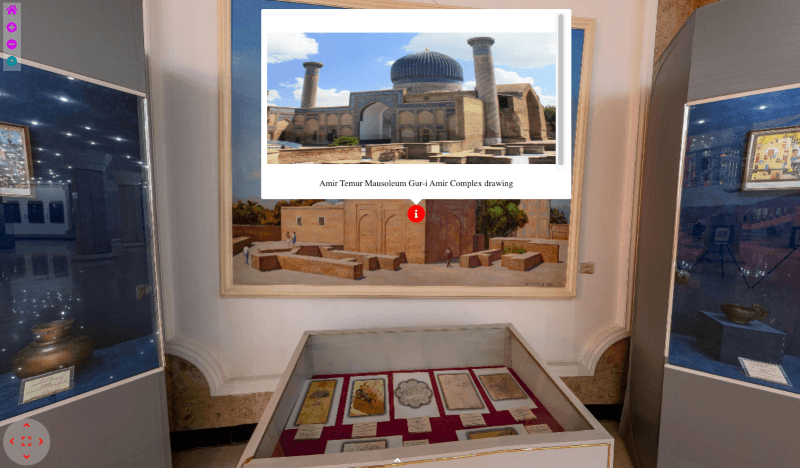 Use Click-to-view text/video to get detailed historical knowledge. You can add tooltips containing on-click and on-hover content inside the virtual tour for your visitors to check the history details of a particular piece of art.
Then again, video content is more interactive for your audience to learn something in detail. Add YouTube & Vimeo videos to the hotspot of your virtual tour.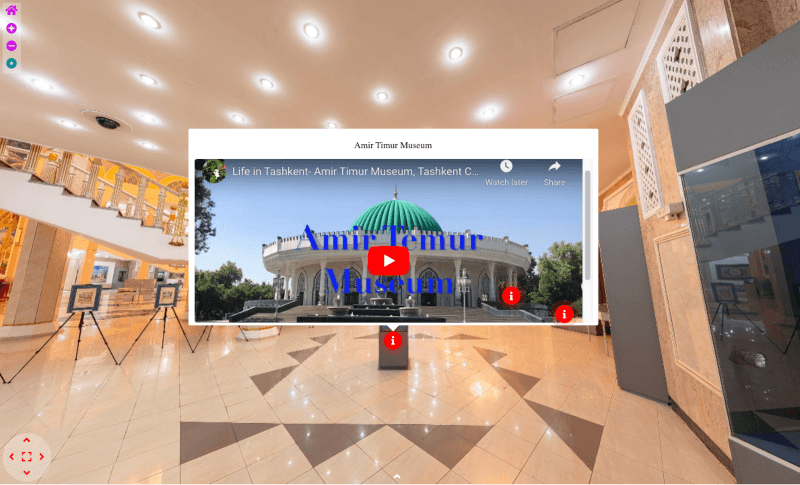 ii. Connect All Scenes Into a Journey For People To Visit Around
With Scene Galleries like this, your visitors will be able to move from one scene to another with a click. They don't need to switch tabs or do a bunch of stuff to go to another section of the museum.
And, not only that, but you can also add titles to each Scene to let your audience know where they are.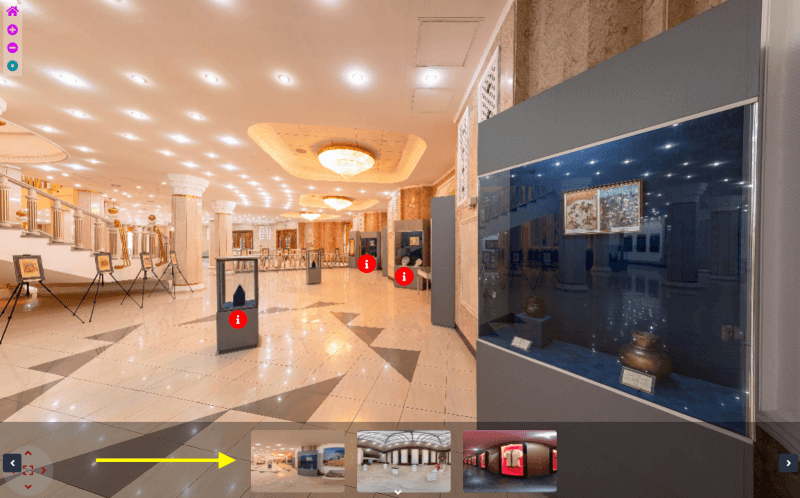 iii. Use An Introductory Mini-video To Invite People To Visit Your Museum
You can not only add videos to specific tooltips but also set a mini explainer video globally in your virtual tour for the visitors.
In the video, you may describe what the whole museum is about, the sections it has, and what historical era and its features have been introduced.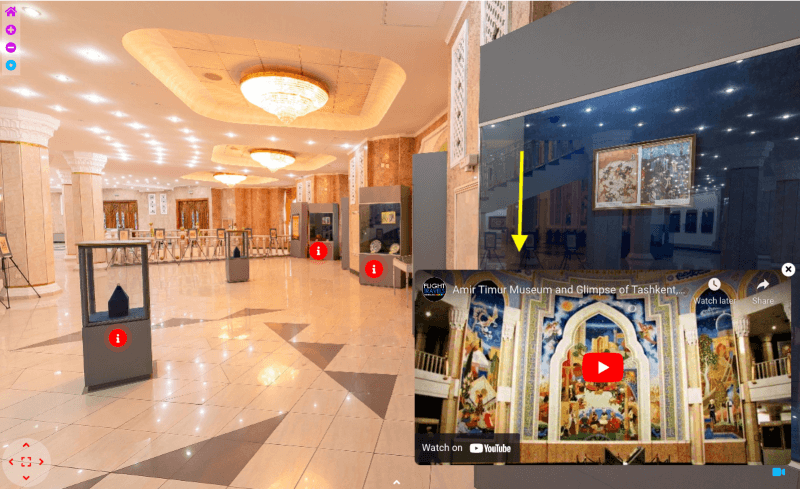 iv. Add A Floor Plan Of Your Museum For Easier Navigation
Include a floor plan of your museum to indicate the areas available compared to the areas visitors have access to in this VR Museum.
Usually, museums are built in large areas with a lot of units. So, while taking a virtual tour of a museum, your visitors might get confused about how they are going to go forward.
So adding a floor plan will help them go to a section of a museum in less time. By using specific pointers in a Virtual Floor Plan, visitors will be able to click and go to a section instantly.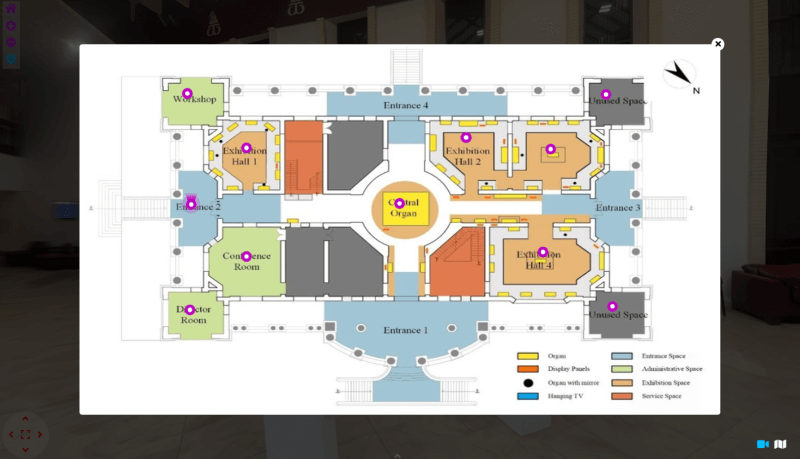 5. Share Your Virtual Tour With The World
Now that your virtual tour is ready, it's time to actively promote the page where you embedded the tour. Share that page on social media, VR groups, and other such platforms.
You may even consider running paid Ads to bring in more potential traffic. Since your tour is detailed and well-groomed, you may use proper copy to convince people to take the virtual tour. And in the virtual tour, you may add CTAs from time to time and an enhanced ticketing system to allow people to order tickets online.
This will not only attract locals but also be a prime tourist choice for foreigners who visit neighboring areas.
**You may also consider collaborating with a few local and international influencers to spread the word and share your virtual tour. This will help attract a lot more audience than you would normally get. Since they have loyal fans, many will surely try out the virtual tour and, down the line, visit your museum.
And that's it. That's how easy it is to create and use a virtual museum tour in WordPress to get more visitors and grow your online presence.
More Enhancement Opportunities
If you'd like to enhance the experience of your virtual museum tours more, then you can add these extra enhancements that will make your virtual tours more attractive to your users.
Add Inquiry Forms Inside The Virtual Museum Tours
WPVR allows you to include forms in the tour which you can use to collect inquiries for tickets.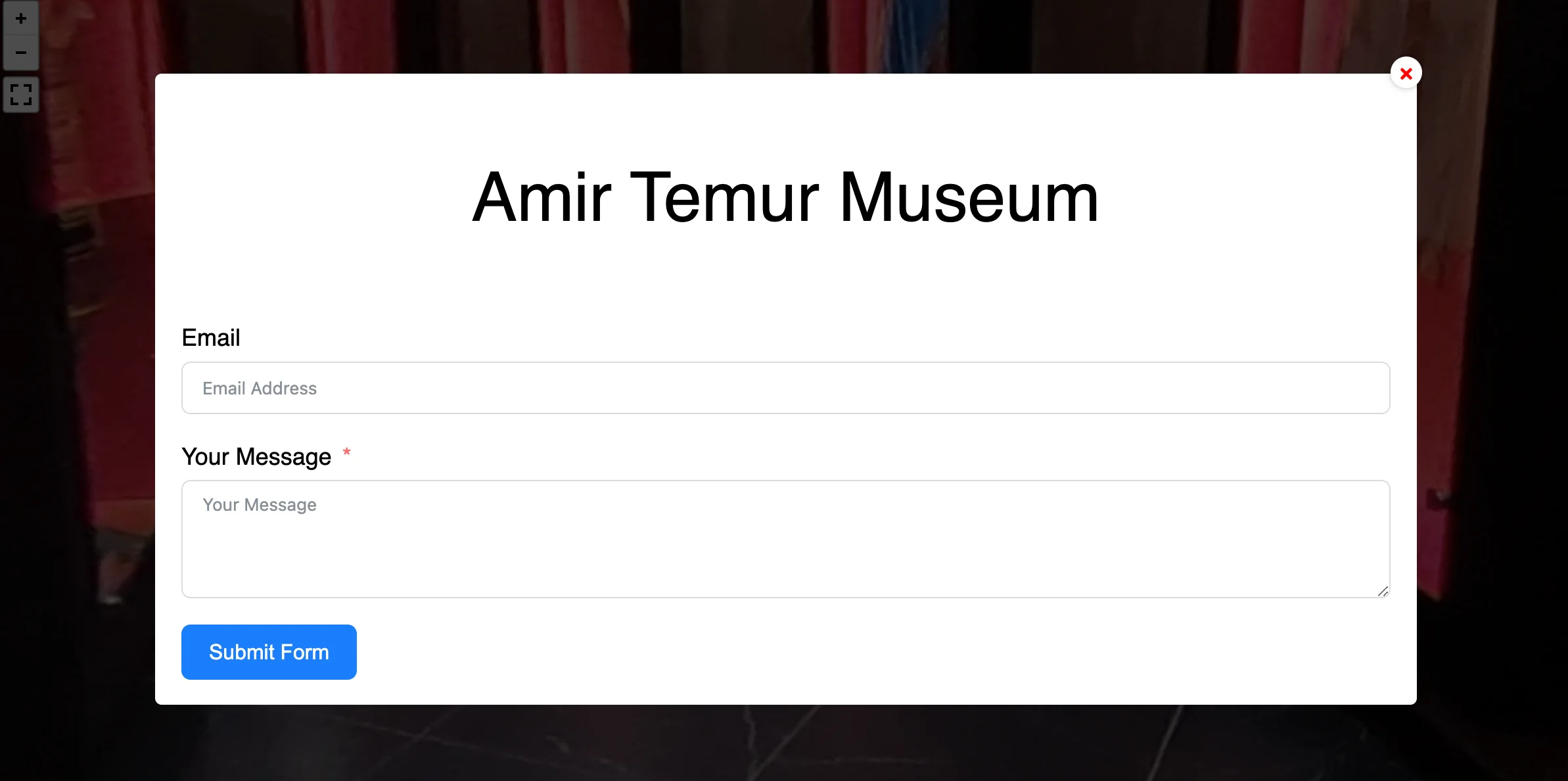 VR Headset Support For Immersive Museum Tour Experience
VR Headset Support will let your visitors experience a virtual tour from a realistic visual standpoint.
Your viewers will be able to move around from one scene to another easily, wearing VR headsets as if they are moving inside the museum itself.
This will benefit people who might not otherwise be able to attend museums due to inconveniences.
Sell From Your Museum Virtual Tour's Gift Shop
You can also add a scene of your museum's gift shop and sell souvenirs directly from the museum virtual tour.
Some museums offer Auctions, so you may add the sellable antiques as products and directly let sellers buy them from the Museum Virtual Tour.
Author's Note
Virtual Museum Tours will be mainstream in the next few years. Visitors will demand them to interact with famous collections in ways that aren't feasible in physical spaces.
Virtual tours, however, need to be immersive. You must take into account all the mentioned features to design an experience for your visitors that is genuinely engaging.
You must develop interactive user content for your visitors to provide the best online virtual museum tour they can experience.