Last updated on:

11 mins read
How To Setup WooCommerce For The First Time As An eCommerce Startup [2023]
eCommerce is probably one of the best businesses to go for today. However, it takes a lot of effort to create and manage a complete online store.
One of the best tools to make this easy for you is WooCommerce. It is a WordPress plugin that comes with everything you need, from adding products, managing orders, and accepting payments to setting up shop pages, shipping methods, carts, refunds, etc.
Today, you will look at how you can setup WooCommerce for the first time before adding your products and launching your eCommerce store. This guide will cover all the basic settings you need to configure when you install WooCommerce for the first time.
So let's begin.
Why Use WooCommerce?
Generally, as a startup, you would want to start with an affordable plan. Investing too much right from the start would probably lead you to spend more than required. In the case of eCommerce, It's natural that there will be several bumps here and there which you can learn from. So, in the beginning, it's best to start by keeping expenses to a minimum while organizing everything and getting used to the business process.
Then gradually you may spend more on in order to improve your store and increase revenue.
In this case, a WordPress site, along with WooCommerce, is literally the best option. WooCommerce is completely free, and the hosting fees for a WordPress site are quite affordable. That is why it has been the leading eCommerce platform for a while now, with over 25% of all eCommerce businesses in the world using WooCommerce.
In a nutshell, WooCommece is
Cost-effective
As explained above, WooCommerce is free, and the tools you may want to use along with WooCommerce are not at all expensive.
For example, you can get hosting at as low as $4 a month and get a funnel builder at as low as $9 a month (billed annually), unlike SAAS tools which charge $100 to even thousands of dollars per month.
Flexible With Customization
You may easily customize your whole online store, whether it is the Shop Page, Product Page, or even the Checkout page.
P.S. You will find a plugin for almost any custom changes you may want in your store.
Makes Marketing Products Easy
The product page, shop page, and product data are all well-organized and programmed for SERP ranking, plus you can easily customize the pages using a theme or page builder. Plus, you will find several marketing plugins, such as discount plugins, feed manager plugins, or sales funnel builders, to help you market your products more easily (some of which are free).
Use-Friendly Even For Beginners
One of the strong suites of WooCommerce is its ease of use. As you read along, you will find out that WooCommerce actually doesn't take too much effort to set up.
Now, let us look at how you can setup WooCommerce for the first time and configure the basic settings.
Get Started With WooCommerce
Follow the steps below to install and configure your WooCommerce store for the first time.
Step 1 – Install & Activate WooCommerce
If you have a running WordPress website, you can easily install WooCommerce from within your WordPress dashboard.
Go to Dashboard > Plugins and click on Add New. Then, on the search bar, write the keyword WooCommerce. You'll see the plugin in the first search result.

Click on Install Now and wait for a few seconds. Once it's ready, click on the Activate button.

Step 2 – The WooCommerce Setup Wizard
When you activate the plugin, it will take you through a setup wizard.
Here's how you should go through it.
On the first page of the setup wizard, you will need to input your location and business address. Fill them up and click on Continue.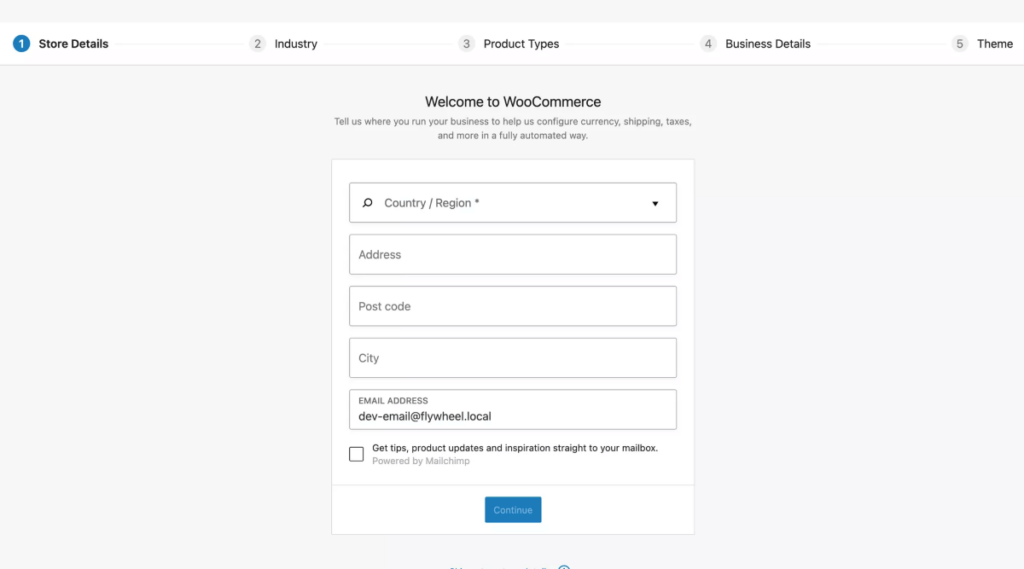 Once you click on Continue, you'll see a pop-up that says, "Build a better WooCommerce."

**These are data that help WooCommerce to learn a few non-sensitive data on how you use WooCommerce so that they can come up with better improvements in the future. So you may choose "Yes, count me in!" Or you may choose not to allow it. It's totally up to you.
Next, you will be asked which industry your business is a part of. You may choose one of the options there or choose Other and define your own industry. Then click on Continue.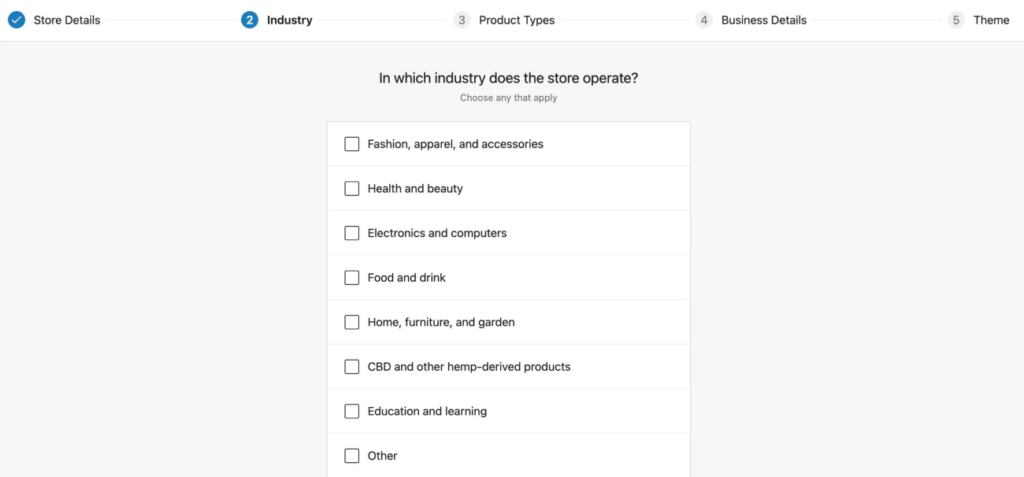 Now, you will be asked what type of products you sell.

For products that you have to deliver physically, choose Physical products.
If you sell downloadable products, choose Downloads.
To sell subscription-type products with recurring fees, you may choose Subscriptions.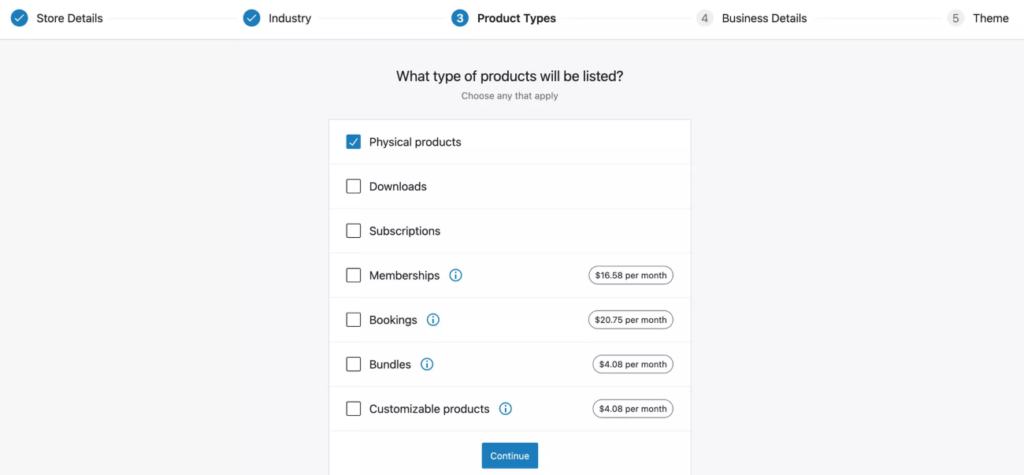 Then click on Continue and it will ask a couple of business-related questions. Answer and click on Contibue.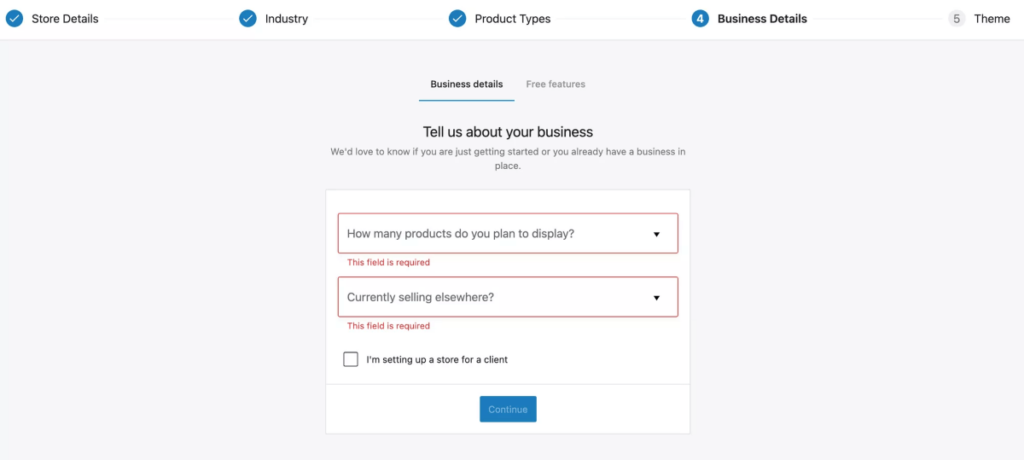 Right after these, you will be referred to install a few free WooCommerce plugins that they recommend. We recommend unchecking this option.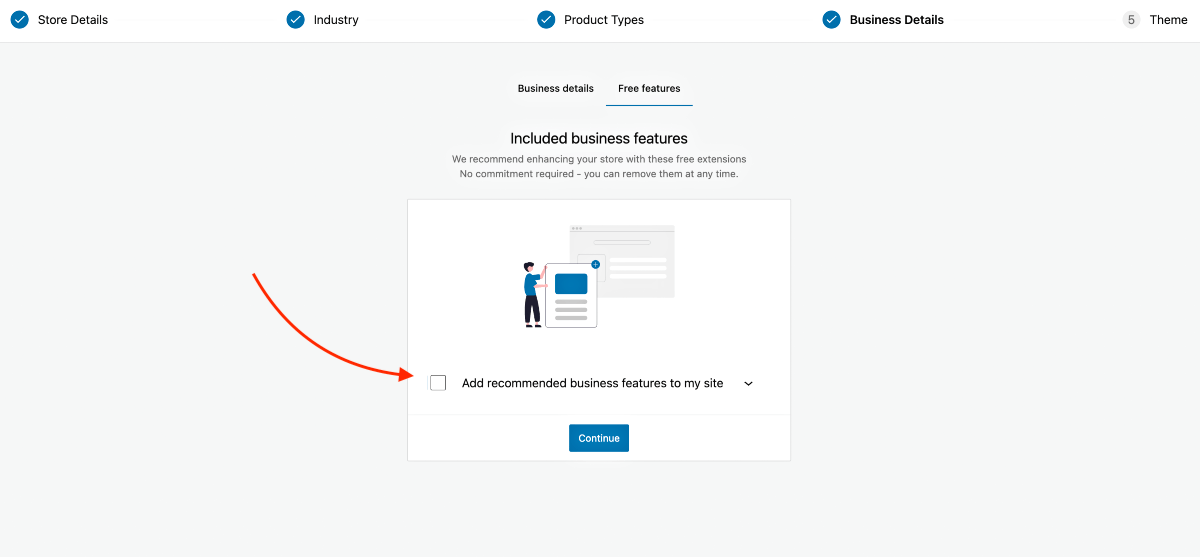 P.S. As a beginner, so many extra plugins may be too overwhelming for you. It's best to go step-by-step. So we recommend not to get these plugins now. We will create more guides to help you choose the right plugins later on when the time comes.
Finally, you will be asked to install a theme that's more suitable for WooCommerce.
We recommend StoreFront as it is built by the creators of WooCommerce and is fully compatible.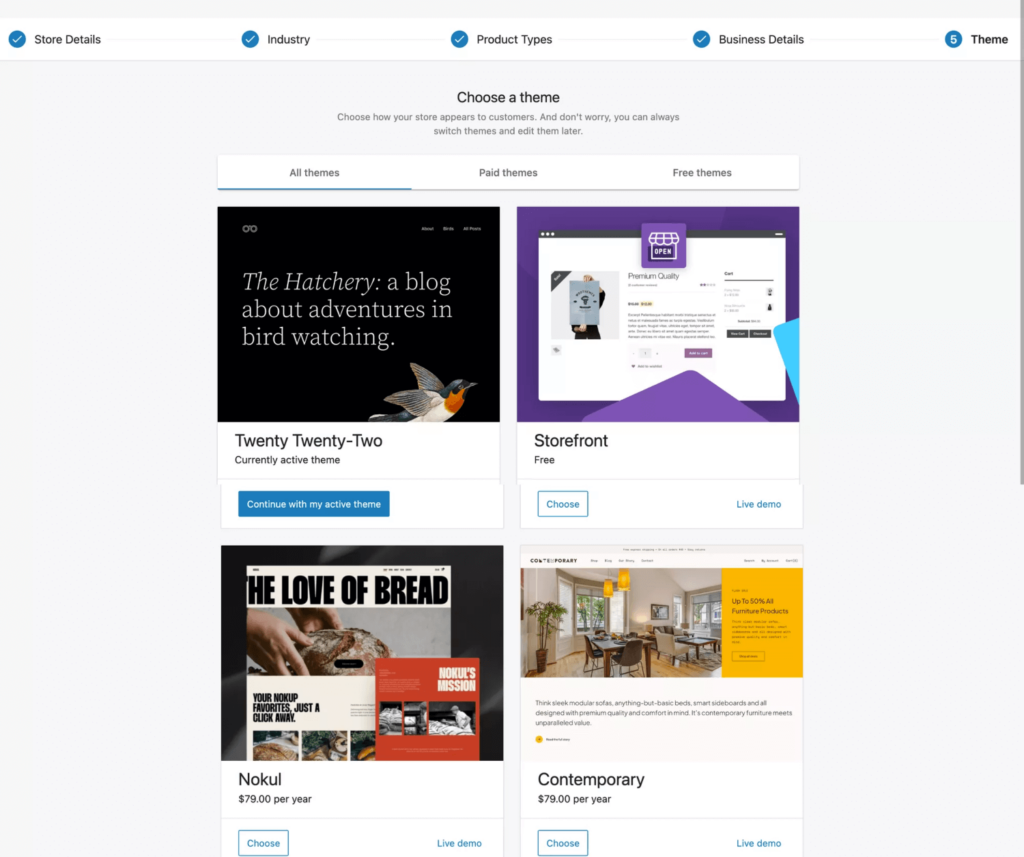 **Later, you may consider going for better premium themes that allow more customization options, such as WoodMart, Bloksy, Porto, etc., to improve buyers' experience.
Step 3 – Configure The WooCommerce General Settings
You now have access to WooCommerce. But before adding products or other setting up other necessary elements, you first need to configure a few basic settings.
Go to WooCommerce > Settings, and you will see several tabs to configure. For now, we will focus on the General, Products, and Accounts & Privacy tabs.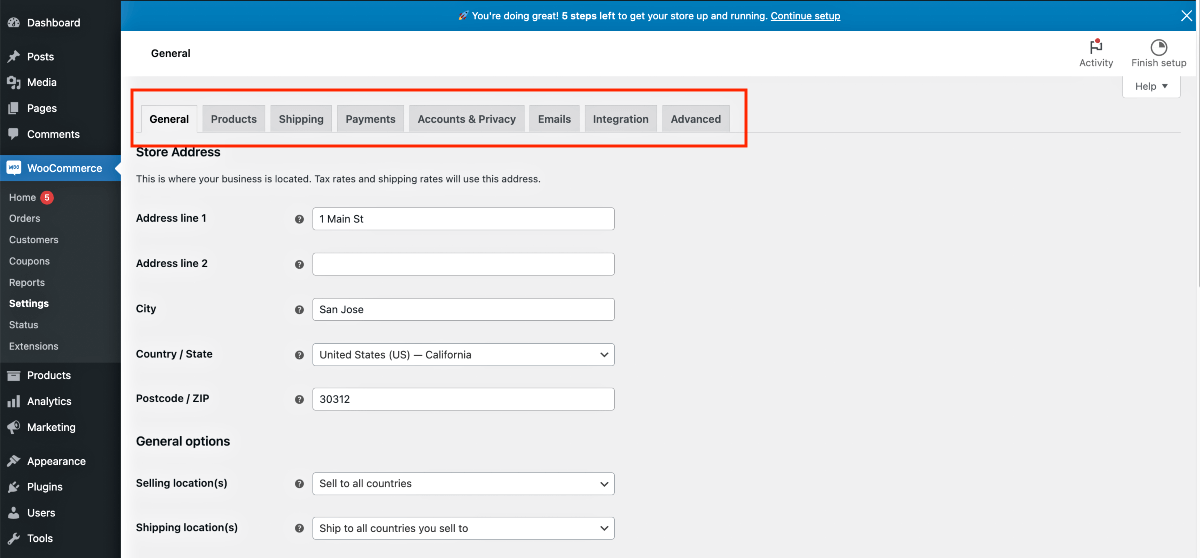 Initially, you will be on the General Tab. Here, first, Input your Store Address (if you haven't during the Setup Wizard).
Next, configure where you want to sell your products.

You will get the following options:
Selling Location
This will let you define the country where people will be able to view and purchase your products.
Shipping Location
Here, you will define where you ship your products to in case you sell physical products.
Default Custom Location
This option will let you geolocate a customer and automatically input the address on the checkout page. If you choose an option here, it will install a plugin that you need to configure for geolocation tracking. For now, let's not use this option.
Next, choose if you want to enable Tax rates and calculations. You will need this option but for now, let's leave it unchecked. At a later guide, we will teach you when to enable this and what to do next.

Right after the tax option, you have options related to coupons.

Select "Enable the use of coupon codes" if you plan to run discount promotions via coupons in the near future.
The next option, "Calculate coupon discounts sequentially," is not so commonly used as people usually do not allow a stack of discounts via multiple coupons in the same order.
And finally, you have the currency options, where you define the currency and other useful settings for price.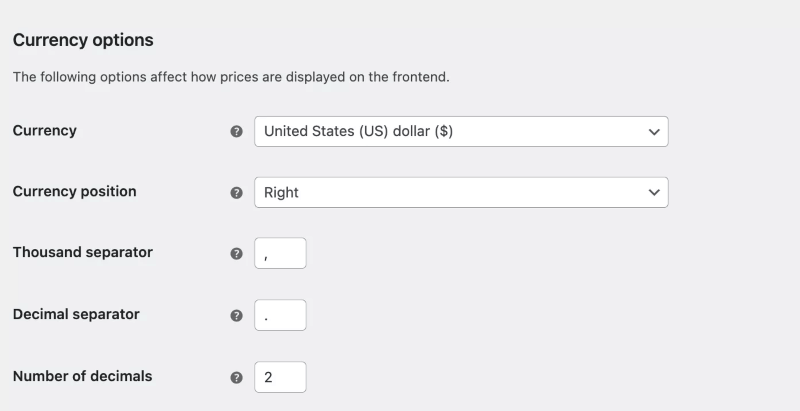 Once the data are ready, make sure to save them.
Step 4 – Configure Basic Product Settings
Go to the Products tab. You will see there are a few important settings that need to be configured before you proceed with adding products.
For now, we will look into the General and Inventory settings. The other options you see there are pre-configured and don't require much change.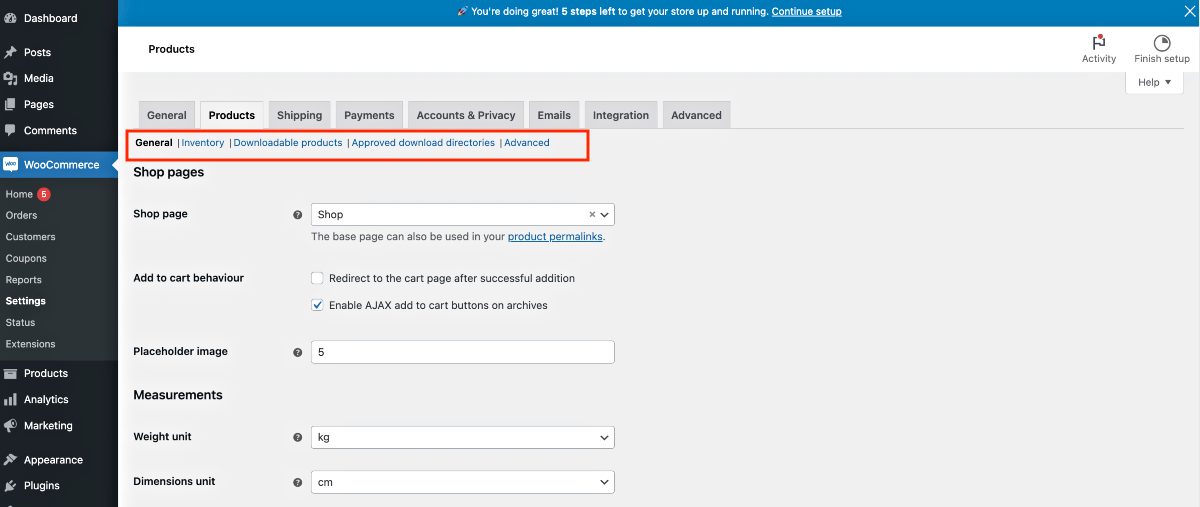 Let's configure each of them 1-by-1.
1. Products > General
In the general product settings, you will get the following options:
Shop Pages:

Shop Page
To choose which page should be considered the shop page. You may leave it as is for now.
Add to cart behavior

Enable "Redirect to the cart page after successful addition "if you want the buyer to be re-directed to the cart page after adding a product to the cart.
"Enable AJAX add to cart buttons on archives" option will allow you to show the "Add to cart" button for products on archive pages as well.

Placeholder image
Here, you may input an image URL or the image ID you want as the placeholder image for products for which you did not upload an image.
Measurements:

Weight unit
Dimensions unit
These values are useful, especially for shipping purposes.
Reviews:

Enable Reviews

Here, first, you may Enable product reviews and ensure that the person is a verified owner, as in, the review was left by someone who has an account.

Product Ratings

You may also allow star ratings on the product page.
2. Products > Inventory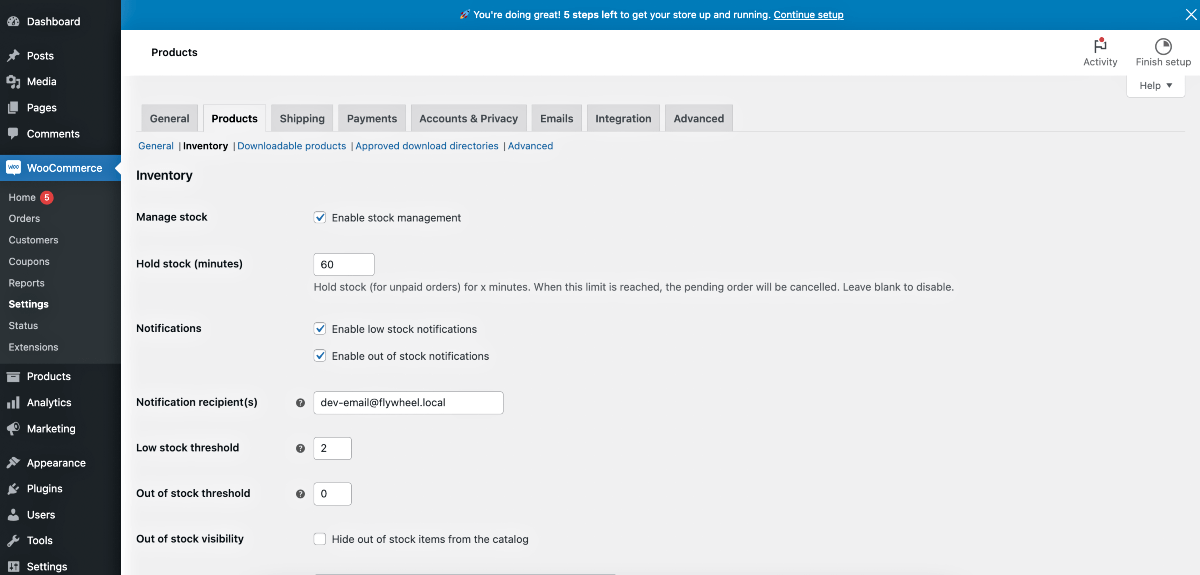 Here, you will get important options to configure how you want to manage your product stocks and other inventory-related aspects.
Enabling it will mean you will mention the quantity of the products you have available, and WooCommerce will keep count every time a product is sold until it gets out of stock, i.e., buyers won't be able to place orders anymore.
The following are the options:
Manage stock

If you check "Enable stock management," then it means you are willing to input product quantities.

Hold stock (minutes)

Here, you can define a time, in minutes, to hold stock for an unpaid order. So, let's say someone tried to purchase a product, but the card declined. So this product will be held for the time you define here before someone else can buy it instead.

Notifications

The "Enable low stock notifications" option means if you have fewer units of a product remaining, you will get an admin notification email to inform you about it.
The "Enable out of stock notifications" is similar except you get an email notification when all units of the product are sold out.

Notification recipient(s)

Email address where you want to receive notifications.

Low stock threshold

Mention what number is considered as low stock.

Out of stock threshold

Mention what number is considered out of stock.

Out of stock visibility

Enabling "Hide out of stock items from the catalog" means people will see this product on the shop page but won't be able to order.

Stock display format

You choose if you want to show the quantity of the product on your product page or not, or only show it when stock is low.
Step – 5 Accounts & Privacy Settings
Account and privacy settings are important because you want your customers to be able to create accounts where they can track the products they ordered, change the delivery address, etc.
Plug, you may choose various checkout settings such as allowing guest checkout, create account during checkout, etc.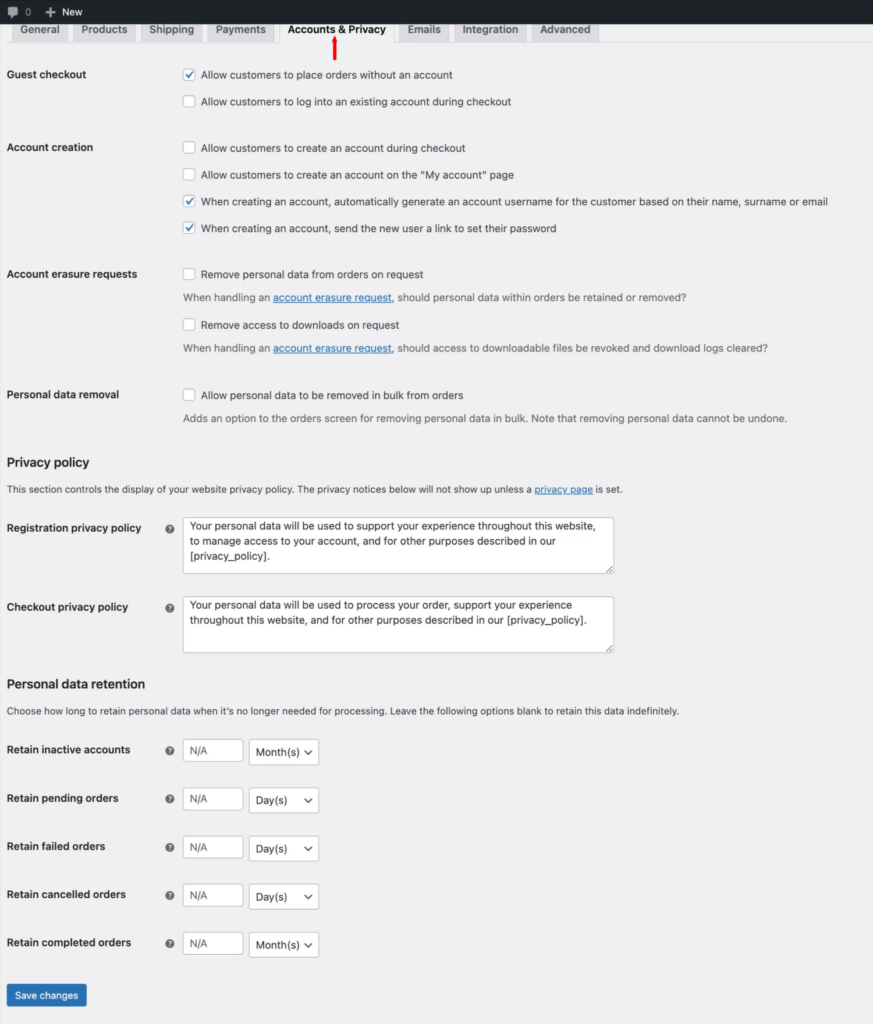 Here you will get several self-explanatory options.
Guest checkout
You will get a couple of options to define if you would accept an order without an order or allow the user to log in while on that page.
Account Creation
Under this, you will get a few options for controlling the account creation of prospects, such as creating an account during checkout, auto-generating the username and password during checkout, and so on.
Account eraser requests
Here, you may define if you want the buyer to have control over his data.
Personal data removal
Allow users to remove their personal data.
Privacy policy
You may provide privacy policy details during registration and checkout.
Personal data retention
Here you can define how long you want to retain one's personal data.
And that's it.
Make sure to Save the changes you made and you are ready for the next step of running your eCommerce business.
The Next Step
So far, you saw how easily you managed to configure your WooCommerce store. The next step is to add your products, define shipping options, and setting up payment options.
We will be creating guides for each of them very soon.
For now, you may consider learning more about WooCommerce here: