Last updated on:

18 mins read
5 Best Photo Gallery Plugins – WordPress [2023]
There is an English idiom, "An image is worth of thousand words." Images or Photos can convey your message and connect with your target audience more effectively.
Images work especially great if you highlight the main message at the photo editing stage with the help of different techniques.
In case you lack time or skills to make such delicate adjustments, you can always delegate the task to photo enhancement services.
If you own a website, photos are important to make your site more attractive. But sometimes managing photos in the gallery can be overwhelming and messy.
Though WordPress comes with a built-in photo gallery feature, it lacks functionality and aesthetic appeal.
As a result, you will need to find an alternative solution for your photo gallery.
There are many WordPress photo gallery plugins out there that have amazing features to help you organize and manage photos.
However, most of these plugins have three common problems.
Most photo gallery plugins will slow down your website. There is a lack of quality in the coding base of many such plugins which can hamper your site performance severely.

Some of these plugins jumble up too many features in one interface, thus making them more complicated to use. More features are good, but only if they are organized. It takes a long time to learn many of these plugins which is a waste of time. (Although the main reason is a lack of proper guidance.)

Most of these plugins are not responsive. Your photo galleries might get disoriented on different devices.
These are serious issues and it's hard to detect which plugin to trust. However, let me make it easier for you.
I have listed the 5 best photo gallery plugins for WordPress that are comparatively better than all other photo gallery plugins and have none of the issues I mentioned earlier.
While making this list, we considered problems most of the plugins face, how often the authors update plugins, and the number of active installs, and selected the best five out there.
Let's dive into it.
1. WordPress Gallery Plugin – NextGEN Gallery

Some call NextGEN Gallery plugin the mother of WordPress photo gallery plugins. It has been the most popular image gallery plugin ever since its first release.
NextGEN Gallery offers a complete WordPress gallery management system with the ability to batch upload, import metadata, make a group of galleries into albums, and more.
You can add images to a gallery from the Media Library or from your computer.
– NextGEN Gallery Free
The free version of the NextGEN Gallery plugin allows you to use 3 gallery styles:
Slideshow Gallery
Thumbnail Gallery
Imagebrowser Gallery
You can also use 2 different album styles in the front end:
Compact style
Extended style
You can control the size, style, timing, and transitions of your photo galleries.
The plugin will also allow you to set controls and Lightbox effects to your galleries.
Active Installations: The NextGEN Gallery currently has 800,000+ active installations on the WordPress repository.
Rating: The NextGEN Gallery currently has 4.3 stars rating out of 5 stars on the WordPress repository by 3750+ users.
It also has an impressive 2800+ 5-star reviews from its users.
NextGEN Gallery Pro
The NextGEN Gallery Pro provides you with multiple useful extensions and features that you can use to enhance your WordPress image gallery even further.
Here are some of the extensions and features of NextGEN Pro:
E-commerce
Proofing
Print Fulfillment
Auto Tax Calculations
Stripe Gateway
PayPal Gateway
Pricelists
Coupons
Lightroom Plugins
Digital Downloads
Mosaic Gallery
Masonry Gallery
Filmstrip Gallery
Film Gallery
Blog Style Gallery
Side scroll Gallery
Tiled Gallery
Pro-Grid Album
Pro List Album
Pro Lightbox
Price: The NextGEN Pro price starts from $24/year.
2. Modula Image Gallery – Customizable WordPress Photo Gallery Plugin

Modula is a user-friendly, intuitive, and responsive plugin that will help you build and display professional-looking galleries on your website.
With a strong community that's growing fast, Modula is one of the best photo gallery plugins when it comes to WordPress photo gallery creation right now.
Free Version of Modula Image Gallery
The free version of Modula Image Gallery is very easy to use thanks to its drag-and-drop functionality and it is built in a way that any type of user can master it from the very beginning, no matter their previous experience with such tools.
The plugin allows you to customize fonts and borders and set hover effects that you can use to fit in with any modern WordPress theme.
It also has a social sharing option that lets you or your viewers share your galleries on social media easily.
Active Installations: The Modula Image Gallery has 80,000+ active installations on the WordPress repository.
Rating: The plugin currently has 4.5 stars rating out of 5 stars by 300+ users.
It's also rated a complete 5 stars by 270+ users.
Pro Version of Modula Image Gallery
Every feature available in Modula Pro is highly customizable, so you get to add a personal touch to your galleries.
You get to choose from over 40 hover effects, a lightbox gallery powered by Fancybox, different image loading effects, and grid types, as well as easy album creation and the possibility to password-protect your galleries.
Moreover, Modula comes with a bunch of useful extensions:
Speed-up Extension: So your galleries load fast like lightning
Video Extension: So you can insert videos or even create video galleries,
Migration Tool: If you're already using some sort of gallery creation tool and want to start over with Modula, but not lose your progress.
And many others.
Another cool fact is that you can even multipurpose this plugin and create a photography portfolio on your website!
Price: The Modula Pro price starts from $25/year.
If you haven't made up your mind on which image gallery plugin to use, you can go ahead and try the free version of the Modula photo gallery plugin and see for yourself what this plugin is about!
3. FooGallery – Image Gallery & Responsive Image Gallery

If you're going to choose a photo gallery plugin on user experience and ease of use, FooGallery is the ideal solution for you.
This photo gallery plugin uses a simple user interface that is easy to use with little guidance for even entry-level WordPress users.
Free Version of FooGallery
When it comes to features, FooGallery is one of the best solutions for you.
This plugin is feature-rich, and you will get tons of useful things such as:
6 Useful Image Gallery Templates: Responsive Image Gallery, Image Viewer Gallery, Masonry Gallery, Simple Portfolio, Justified Gallery, and Single Thumbnail Gallery.
Customization Options: Thumbnail size, spacing, alignment, Loading Icons.
Hover Effects: For colors, scaling, icons, and captions.
Lazy Loading.
Gallery Widgets.
Retina Display Support.
Gutenberg Block Support.
And many more.
Active Installations: FooGallery – Responsive Photo Gallery Plugin currently has 200,000+ active installations on the WordPress repository.
Rating: FooGallery has almost a perfect 5 out of 5-star ratings by 600+ users.
FooGallery Pro
You can add videos to your photo gallery using the pro version of FooGallery. It also has a built-in album as an extension.
Go to the extension page and enable the extension, and can easily add albums like galleries. You can even build custom extensions of your own.
Useful features of FooGallery Pro:
Advanced Photo Gallery Templates: Polaroid Gallery, Grid Gallery, and Slider Gallery.
Video Support: YouTube, Vimeo, and Self-hosted videos.
Tag Filtering.
Multi-level Filtering.
Dynamic Galleries.
FooGallery Lightbox.
And many more.
Price: The FooGallery pro pricing plan starts from $59/year.
These are the top three photo gallery plugins I personally recommend.
Before we discuss the next image gallery plugin, here's some exciting news: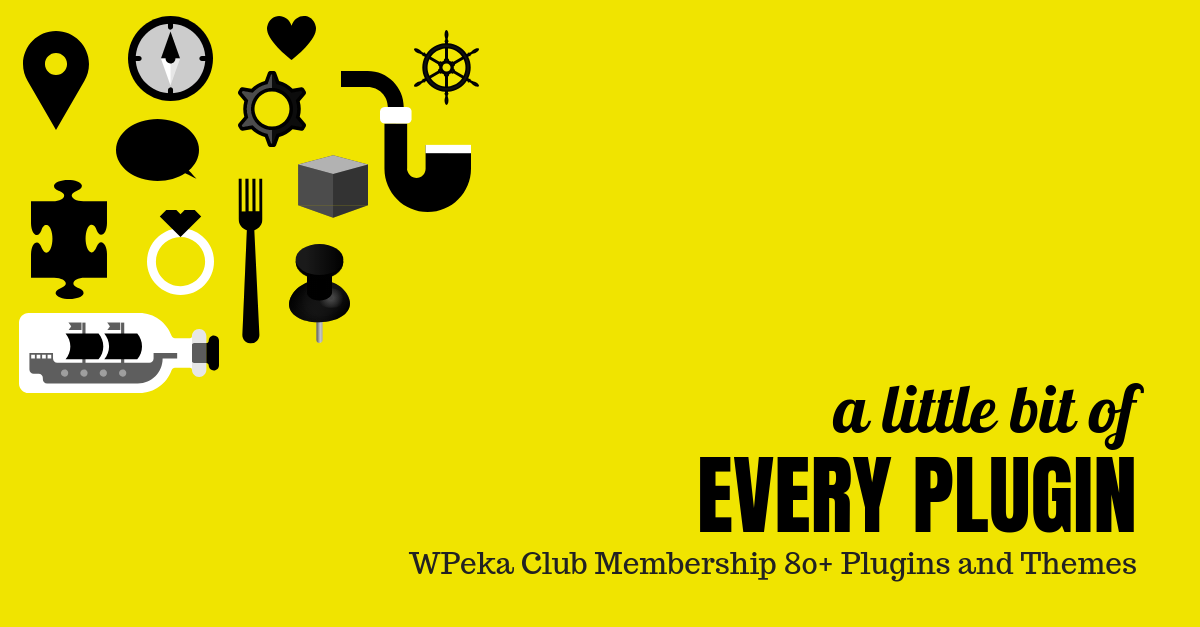 As a WordPress user, you know how crucial can be survey plugins for your site.
Here's a good news for you. WPeka is running a special membership offer.
WPeka club is a plugin and theme shop. They have more than 80+ WordPress plugins and themes.
Right from creating a survey to making your website legally GDPR compliant.
This WPeka club membership offers plugins for every need of your WordPress website.
The list goes on and on.
Members get access to all themes and plugins, as well as any new ones that are released and updated.
Apart from awesome support services they also keep releasing new plugins and adding them to the list.
Check out the plan here – Premium WordPress Plugins
Now let me show you three more plugins that are pretty good if you don't find the previous three suitable for you.
4. WordPress Photo Gallery Plugin – Envira Gallery

Envira Gallery, a responsive WordPress plugin, is one of the most popular and quality photo gallery plugins you will find in the WordPress plugin repository.
This simple drag-and-drop photo gallery plugin uses a simple user interface that is easy to use, fast and powerful.
You will also get various templates to make your gallery editing more hassle-free.
After installing Envira, it will add the "Envira Gallery" option to your WordPress dashboard. Setting up and adding photos to your gallery is easy and fun. The free version also comes with a gallery theme.
The plugin is optimized for web and server performance as well as SEO and conversion, and it's focused on image and gallery load times.
Free Version Of Envira Gallery
The free version of the Envira Photo Gallery plugin has the features such as:
Responsive and Optimized for Speed: Envira is 100% responsive and mobile-friendly by default. Plus, you have the option for metadata, deep links, standalone galleries, and pagination.
Social Media Integration: With Envira Gallery you can integrate with social media, WooCommerce, and Images easily.
Built-in Templates and Layouts: Quite a few templates are provided in the free version, cutting out the amount of time it would take to build a completely new gallery.
And many more.
Active Installations: Envira Photo Gallery currently has 100,000+ active installations on the WordPress repository and 2,994,729+ downloads till now.
Rating: Envira Gallery has almost a perfect 5 out of 5 stars rating by 1225+ users.
Envira Gallery Pro
With the pro version of Envira Gallery, you'll get more exciting features like:
Video Supp

ort – Not just for photos you can embed YouTube, Vimeo, Wistia and custom embeds into your gallery.
Deep linking & Pagination – Envira Gallery lets you Make your gallery SEO friendly with deep linking and pagination.
Social Media Integration – You can easily add share buttons, and integrate with Pinterest, Instagram, and more.
Price: The Envira Gallery pro pricing plans start from $20/year.
5. Photo Gallery By 10Web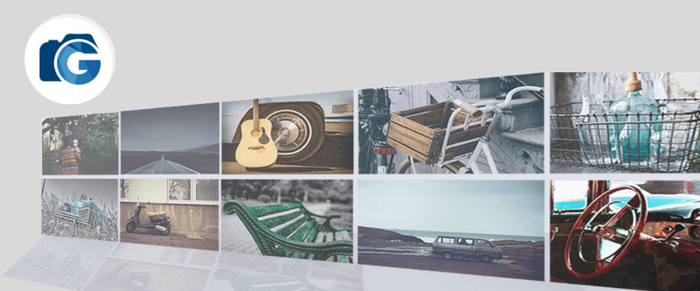 Photo Gallery will take your gallery to a whole new level.
The plugin is fully responsive with advanced functionalities. It uses a user-friendly interface which makes it easy to use.
The Photo Gallery is the leading plugin for creating beautiful mobile-friendly galleries within a few minutes.
You can add a photo gallery and album, to post and page, providing detailed gallery descriptions and tags, and add an audio track to your image slider.
This plugin also has video support on it. It will enable you to create a Youtube gallery or Vimeo video gallery.
This plugin has one special feature. It adds an e-commerce add-on to their add-on shop with which you can sell digital photos and prints.
Free Version Of 10Web
If you're looking for a user-friendly and feature-rich plugin to add responsive galleries and albums to your website, the Photo Gallery plugin is a suitable option for you.
It adds the "Photo Gallery" option to your WordPress dashboard. From there you can add a gallery the same way you add a post.
The free version of the 10Web Photo Gallery plugin allows you to:
Customizable Views – The photo Gallery provides some view options to organize your galleries and albums in beautiful views, including Slideshow, Thumbnails, Image Browser, Extended, and Compact Albums.
Unlimited Photo, Gallery, and Albums – With this plugin, you can have as many galleries and albums as you want.
Audio and Video Support – The Image Gallery plugin allows you to include both videos and images within a single gallery. It will enable you to create YouTube, Vimeo, Instagram, Flickr, or Dailymotion videos within Galleries.
And a lot more.
Active Installations: 10web Photo Gallery currently has 300,000+ active installations on the WordPress repository and has more than 12,657,975+ downloads till now.
Rating: 10Web Photo Gallery has a 4.5 out of 5 stars rating by 1,144+ users.
Photo Gallery by 10Web Pro
The Photo Gallery plugin by 10Web is right now one of the leading plugin choices for photographers, visual artists, and imaging professionals.
It is also highly configurable and extendable for developers or freelancers.
Useful Premium Features of the Photo Gallery plugin:
Advanced Lightbox – The photo Gallery plugin provides a customizable lightbox with 15 lightbox transition effects, full-width view options, and film strips.
Gallery Views – In the premium version of Photo Gallery access to views like Thumbnails, Masonry, Mosaic, Slideshow, Image Browser, Carousel, Blog Style, and more.
Gallery Groups and Tags – The photo Gallery presents multiple galleries in well-organized gallery groups and organize your photos by adding tags to them.
Instagram Integration – You can easily Import images from Instagram with just one click.
Social Sharing – With the Premium version you can allow users to share photos on Facebook, Twitter, Google+, Pinterest, and Tumblr with social sharing buttons.
Price: The 10Web Photo Gallery pro pricing plan starts from $30/year.
Bonus: A Couple of WordPress Plugins For Images, Videos, and Media Files
You've already learned about the best image gallery plugins for WordPress in this article.
Now I'll tell you about a couple of good WordPress plugins that will help you to edit, optimize, and manage the images, videos, and other media files of your WordPress website.
Let's have a look at them.
i. WP Paint

WP Paint is an HTML5 WordPress Image Editor plugin. It comes with an intuitive interface paralleling popular Desktop-based image editing software.
WP Paint Pro offers a wide variety of Image Editing, Photo Manipulation, and Photo Editing Tools and Features.
The WP Paint plugin also comes with a free version that you can try from WordPress.org.
Some of the common features in both the free and pro versions are:
Intuitive Editor Interface,
Ability to Manage Layers,
Basic Image Editing Tools (Crop, Flip, Rotate, or Resize Images),
Add Texts and, Lines and Shapes,
Color Picker Tools,
Drag and Drop more images.
Drawing with Brush, Pencil, Color Fill,
Adjust Image Brightness and Contrast,
Drag and Drop more images.
Adjust Image Brightness and Contrast.
Pro Features Include:
Watermark,
Stickers,
Clone Tool,
Pixabay Insert Images,
Revisions,
Image Effects,
Auto-adjust Colors,
Photo Manipulation.
Click here to check out the WP Paint plugin.
ii. Portfolio Designer WordPress Plugin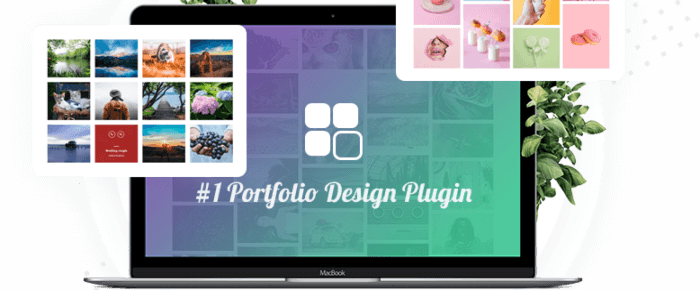 Portfolio Designer is an all-in-one plugin to create stunning portfolios, galleries, showcases, and projects in an engaging layout.
It offers to create a new custom post type with audio or video thumbnails. The plugin is fully supported with WooCommerce, so you can build a portfolio where a user can add the selling details. It is a completely responsive and mobile-friendly gallery plugin.
Free Version of Portfolio Designer:
Portfolio Designer Lite allows the creation of a user-friendly portfolio with 2 default layout styles.
The free version of the plugin contains advanced features such as:
4 Different Content Positions – Overlay on Image, Bottom of Image, Left Side of Image, Right Side of Image.
18 Effective Hover Effects – Zoom Out, Overlay Slide, Corner Slide, Rotating Zoom Out, etc.
Manage your 'Show All' text with 'Filter Settings'.
Square/Circle social share buttons.
Alternative Background color selection for posts.
And many more.
Pro Version of Portfolio Designer:
The premium version of the plugin has intuitive features that make your gallery more impressive. It is a highly flexible plugin that a user can add a look and feel according to the website layout.
Moreover, a feature-rich plugin comprises a bunch of useful features:
It comes with 50+ powerful hover effects using CSS3 and HTML5.
The plugin has unlimited layout style with the help of Grid layout, Masonry layout, Slider layout and Justify layout, and Slideshow Layout.
Import or Export your portfolio layouts easily for future usage.
It has 4 in-built Popup boxes.
Portfolio Designer is an easy-to-use plugin with no expertise needed. Even a beginner can also easily use it on a WordPress website.
iii. EmbedSocial's Social Media Plugin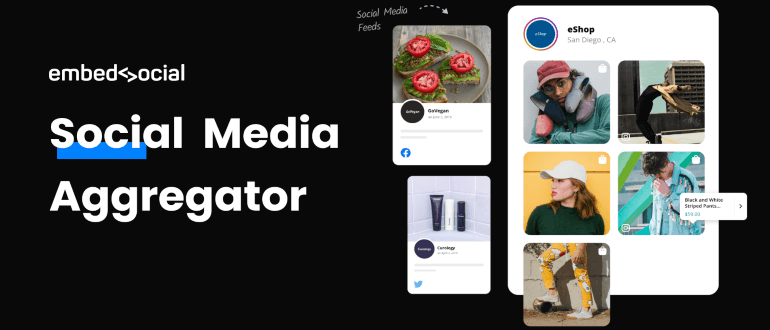 EmbedSocial is an all-in-one platform that helps you showcase photos, reviews, stories, or feeds from social networks right on your website.
This platform integrates your social media presence with your website and makes it more dynamic and user-centric.
This is what EmbedSocial's WordPress social media plugin consists of:
This tool allows you to easily display your Facebook, Twitter, and Instagram photos on your website using simple copy/paste codes.
EmbedFeed
This tool helps you embed the entire Facebook and Instagram Feed on your website. You can showcase your Facebook or Instagram images and posts for your website visitors on a beautiful web feed.
EmbedReviews
EmbedReviews is a platform for managing your social reviews. It allows you to generate and display reviews from Facebook, Google My Business, and other sources on any website.
EmbedStories
This is an advanced tool that will allow you to fetch and embed your Instagram stories on your WordPress website using simple shortcodes.
Please note that the official WordPress plugin works for all EmbedSocial tools, so you'll never need to install or maintain multiple plugins.
Feel free to check their free and paid versions to see what fits your needs best.
iv. Qi Addons for Elementor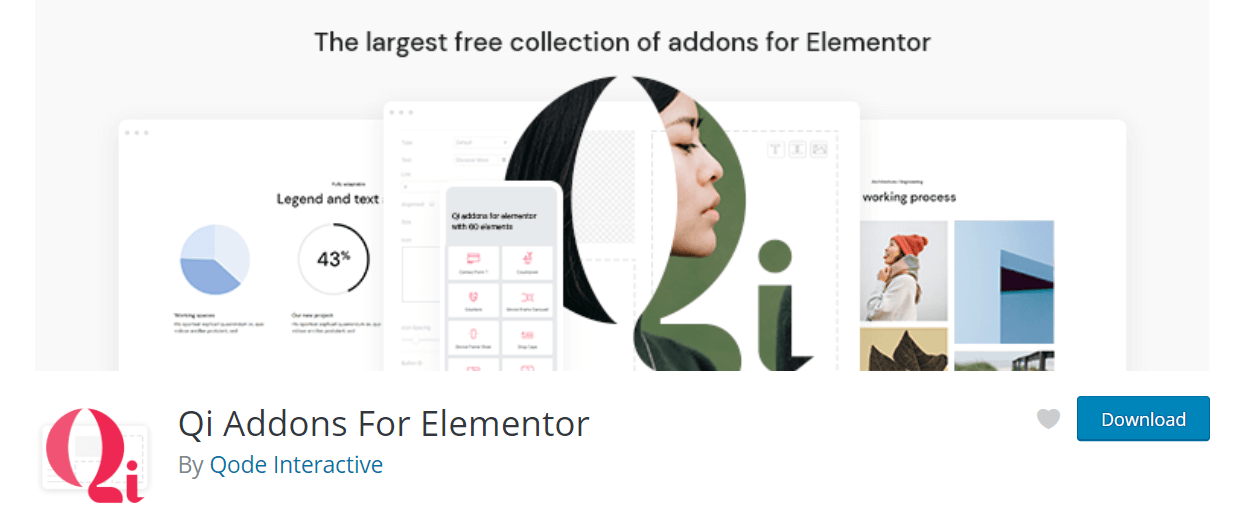 Qi Addons for Elementor is a brand new, feature-rich Elementor addon that comes packed with 60 super practical widgets. These widgets will not only visually upgrade your website but also uplift its functionalities. 
What makes Qi special is its ease of use. You can change the widget's settings without leaving the Elementor editor – everything can be adjusted within the selected widget itself. Also, every change can be seen instantly.
When it comes to image gallery functionalities and layouts, this plugin won't disappoint you either. Choose between standard galleries, masonry and Pinterest layouts, card galleries, and more.
Qi offers some great customization options and has practical video tutorials that demonstrate some of the various styles you can achieve.
Besides beautiful gallery widgets, this plugin offers many other elements that allow you to showcase your images in an eye-catching way including image sliders, before/after comparison sliders, parallax showcases, and more.
Free Version of Portfolio Designer:
So, let's sum up the most important features of the Qi Addons for the Elementor plugin:
The free version of the plugin contains advanced features such as:
It's made for the extremely popular Elementor page builder.
It's fully responsive and highly flexible so your galleries will look stunning on different screen sizes.
It allows you to choose between different layouts and set the number of columns.
There are different hover effects and color overlay options that will make your image galleries more interactive.
It lets you easily create captivating parallax sections
And many more.
Conclusion
You can select a couple of images within your WordPress media library and turn them into an image gallery without using any photo gallery plugin.
The problem is that this default WordPress photo gallery lacks important functionalities like – keeping the gallery and pictures responsive on mobile devices, opening them during a lightbox popup, showing them as a slideshow, etc.
An image gallery plugin isn't required only by photobloggers any longer right now.
Most WordPress sites and blogs now use multiple images to showcase their services, products, and everything else.
The simplest way to showcase these images is by using a photo gallery plugin so your viewers can easily navigate them.
The photo gallery plugins I've mentioned above can help you to make attractive and appealing galleries for your website.
You can check them out and choose the one that has a comfortable user interface and the right features you require.
One thing I can assure you is that you can rely on any of these photo gallery plugins to give you quality output.
Did you use any of these photo gallery plugins before? Or, did we miss any plugins that you think should be on the list? What is your experience?
Share with us in the comments.