Laatst bijgewerkt op:

9 min. lezen
WordPress.com VS WordPress.org - Nuttige review & vergelijking [2023]
WordPress is the world's most popular content management system, often being the CMS of choice for small businesses and large organizations.
Did you know that The Huffington Post runs on WordPress? Pretty amazing, isn't it? Many small-time bloggers start with a simple WordPress blog, as it's easy to set up and use.
However, what many people don't realize is that there are two versions of WordPress – WordPress.com and WordPress.org.
To unsuspecting users, this just looks like a simple difference between URLs. However, the fact is that WordPress.com and WordPress.org are very different platforms.
People who want to start a website using WordPress must know how WordPress.com and WordPress.org differ, and what they offer.
In this post, we are going to help you understand these two platforms.
After you have finished reading this article, you will be able to decide which one suits your business best and you should choose it.
What is WordPress.org?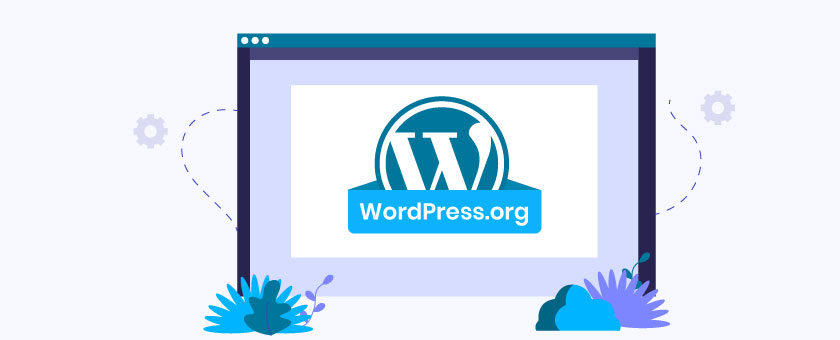 WordPress.org is also known as 'self-hosted WordPress' or 'the real WordPress.' Being self-hosted, it requires users to install it manually on a local or online server.
This means you will have to get web hosting and a domain name to use WordPress.org.
Naturally, there are pros and cons to using this WordPress variant, which I will discuss in the later sections of this article.
To put it shortly, the main advantage of using WordPress.org is that it gives you full control over the platform, allowing you to customize anything. Also, it's completely free to download and use, as well.
Advantages of WordPress.org
Listing only a few advantages of using WorPress.org is a hard job. But today, I have rounded up the major ones.
1. Customizability
As I mentioned earlier, using self-hosted WordPress opens your door for customization.
Here's how it benefits you:
WordPress.org is open-source, so you can modify anything (if you have the skill) to your heart's content. Of course, to take advantage of this, you will have to be pretty good at PHP and other coding concepts.
This customizability is what gives WordPress.org the edge over competing platforms such as Squarespace and Wix.
You'll never see a big publishing site use Wix or Squarespace, as they're quite limiting when it comes to customizability.
Basically, it makes you free from the limitations.
2. Free
WordPress.org is completely free to download, use, and modify, even for commercial purposes. All you need for using WordPress.org, is a web hosting plan, a domain name, and that's it.
Many web hosts even offer 1-click WordPress.org installation, so you don't actually have to set it up at all.
Put simply; technical complexity is not going to be a reason for turning down WordPress.org.
3. Data and Privacy
WordPress.org requires you to arrange your own web hosting. But, this can actually be an excellent thing.
Here's how:
Since all your website data, including customer information, is being kept on your hosting plan, you're in charge of it.
Some blog sites such as Tumblr have implemented rules over what kind of content can be shared, and have deleted data that goes against these rules.
With WordPress.org, you don't have to worry about any rules. You'll be in charge of what gets uploaded and what gets deleted.
4. Plugins, Plugins, Plugins
Let's get straight here.
WordPress is known for its massive library of plugins. There are literally thousands of free and paid plugins to choose from, catering to all kinds of feature needs you might have from the CMS.
The only problem is that WordPress site owners tend to go overboard with the usage of plugins, which can make websites sluggish and buggy.
So, how to avoid it?
Simple. Only use plugins you have a genuine use for, and vet them by reading online reviews before installing them.
**Btw, you can check out these amazing WooCommerce extension plugins.
5. WooCommerce
WooCommerce is an eCommerce plugin that transforms WordPress from a great content management system to a great eCommerce platform.
WooCommerce is used all around the world by eCommerce businesses of all sizes. It is highly customizable, scalable, and is of course, free to download and use.
WordPress's parent company Automattic has acquired it. So, it is regularly updated, and any security flaws are patched swiftly.
It's an excellent choice for you if you want to start an eCommerce business today.
Drawbacks of WordPress.org
WordPress.org is undoubtedly an excellent choice when it comes to content management systems. But like everything, there are certain drawbacks to be aware of before you choose it.
What might be confusing is that these drawbacks can be considered beneficial by some people, but I have tried to keep them simple.
1. Domain and Web Hosting Costs
Domain & web hosting costs can become your headache.
Here's how:
Self-hosted WordPress(.org) requires you to arrange your own web hosting and domain, which, of course, carries a cost.
The amount of money you spend on this will depend on your requirements. For small businesses, this won't amount to much more than $25 to $40 per month.
However, as your business grows and you require dedicated hosting, that's when things can get quite expensive.
Dedicated servers are expensive to rent, and this cost can catch you off guard if you don't have the budget for online growth beforehand.
2. Security and Maintenance
This one is a kind of 'Suffering From Success' issue.
Being the most popular CMS in the world, it's bound to be a prime target for hackers and other malicious actors.
Users need to be vigilant about their WordPress installations, as security patches are released quite frequently.
As such, WordPress must be updated immediately to the latest patch to avoid any unfortunate events.
What is WordPress.com?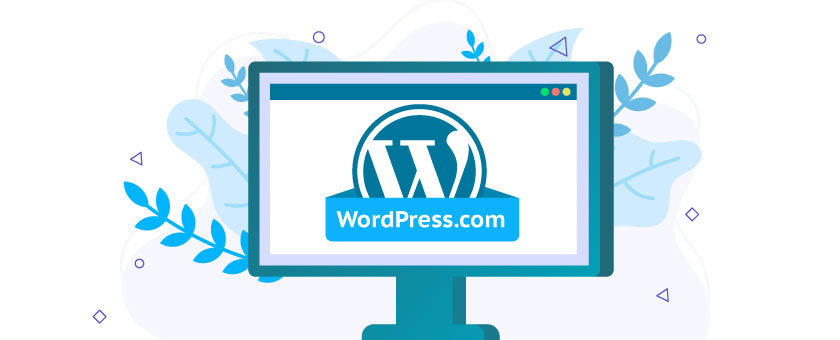 WordPress.com is the hosted version of WordPress and operates in a similar fashion to Squarespace and Wix. Users just have to register for an account, and they're immediately granted access to their own WordPress control panel so they can start customizing their site.
This is, of course, true for the free version, as WordPress.com is available in several price tiers.
The main benefit of WordPress.com is that you don't have to worry about WordPress installation or dealing with web hosting or domain names. All of the difficult work is taken care of by WordPress.
And you can take help from many WordPress customization services to personalize your website.
WordPress.com is what you'll see being used whenever you come across a site like 'xyz.wordpress.com.'
It's the popular choice for starting bloggers because this service can be availed for free, albeit with limitations.
Also, for both small and growing businesses you can manage WordPress websites with quality web hosting services. Hosting services that are specifically built for WordPress sites offer dedicated memory and storage space. A good hosting service allows you to access specific tools and services that can facilitate the creation, management, and fine tuning of your website.
To get your own domain name and remove ads placed on free WordPress sites, you'll have to opt for a paid WordPress.com plan.
WordPress.com Pricing
Here are the pricing plans for WordPress.com
Free plan
Personal – $5 per month (billed yearly)
Premium – $8 per month (billed yearly)
Business – $25 per month (billed yearly)
The plan worth talking about here is the Business plan, as it's the only plan which offers users the ability to install WordPress plugins.
Plans below it simply don't have this feature, which is a huge omission. WordPress's appeal comes from its plugin library, and without that option, you don't have much flexibility when it comes to features.
WordPress.com Advantages
Let's have a look on the most significant WordPress.com advantages.
1. Convenience
The biggest reason to consider WordPress.com over WordPress.org is convenience.
Simply put, all you have to do is to sign up for a WordPress account, and you're immediately given access to the WordPress Dashboard. From there, you can begin creating web pages and customizing your WordPress site as you like.
This makes it a lot easier for beginners to use WordPress and is the reason why the platform is so popular.
2. Security and Maintenance
Unlike WordPress.org, where you have to manually update the installation to the latest security patches and bug fixes, WordPress.com is automatically updated.
This is quite similar to how Wix and Squarespace operate, as it means users don't have to worry about security.
With WordPress.com, your site will always be on the latest version with security patches taken care of.
WordPress.com Drawbacks
Now. let's check out the WordPress.com drawbacks.
1. Data Privacy and Control
With WordPress.com, all your data is stored on WordPress servers, which gives you absolutely no control over it.
If you violate the site's terms of service, this data can be erased, and you'll simply be banned from the platform.
2. Customization
WordPress.com is not as customizable as self-hosted WordPress, and lower-tier plans do not have access to the huge plugin library.
The Business plan lets you install plugins but is very expensive at $25 per month.
3. Website Analytics
Other than the expensive Business plan, WordPress.com disallows any sort of Google Analytics integration.
While WordPress's built-in analytic is fine for basic use, users looking for more data will be sorely disappointed.
Final Thoughts    
So there you have it, an overview of the major differences between WordPress.com and WordPress.org!
Choosing between the two comes down to what you want now and what you might want in the future.
If you see your website growing, WordPress.org is the obvious choice. It's easy to customize, and you're not being charged a premium just for access to the plugin library.
For small-time bloggers who're not interested in tinkering with the features or functionality, WordPress.com is a great CMS.
We're not listing technical reasons as a deciding factor between the two as web hosts these days provide 1-click WordPress installation.
---
Special thanks to Ammar Zahid for his helpful contributions to this article.
Contributing Author Bio:
Ammar Zahid from Logic Inbound is an editor and a passionate writer. He is very knowledgeable about WordPress and very reliable with his research and execution.