Laatst bijgewerkt op:

4 min gelezen
How To Create WooCommerce Custom Product Attributes [2023]
WooCommerce product attributes are very useful when creating a shop.
In the last guide, you learned how to create and use Global Product Attributes in WooCommerce. If you haven't read it already, you may read it here.
In this guide, we will focus on WooCommerce custom product attributes.
The purpose of a custom product attribute is the same – it is used to represent a certain feature of a product. However, unlike global product attributes, a custom attribute is used to define a feature of a specific product; it is not applicable to most other products.
Today, you will get a step-by-step guide on how you can add Custom Product Attributes to your WooCommerce products easily.
Dus laten we beginnen.
How To Create And Use A WooCommerce Custom Product Attribute
Unlike global product attributes, a custom product attribute has to be created while adding/editing a product, from within the Product Data section.
Once you follow the steps below, you will then be able to use custom product attributes easily.
Dus laten we beginnen.
Go to 'Products' from the left menu bar. You can add either a new item or edit an existing one.
1. Edit or Create a Product and scroll down to the Product Data Section.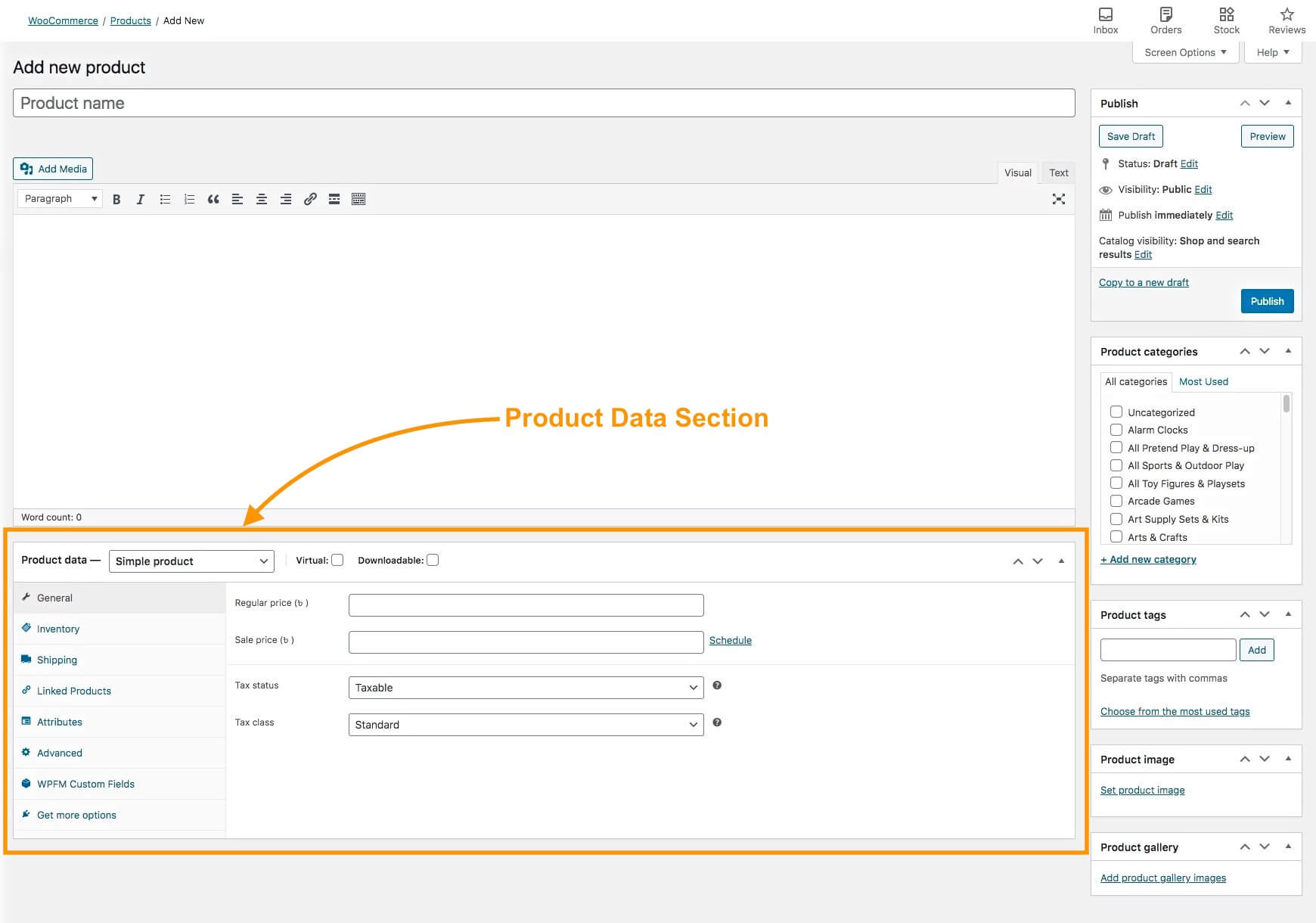 Kies hier het producttype (bijvoorbeeld Eenvoudig product of Variabel product) en vul de vereiste basisgegevens in in de menu's Algemeen, Inventaris, Verzending en Gekoppelde producten.
2. Go to the Attributes menu.

3. Here, you can see there is a dropdown menu that says Custom product attribute and an 'Add' button beside it.

Click on the 'Add' button.
4. You will see that a custom attribute section has been created.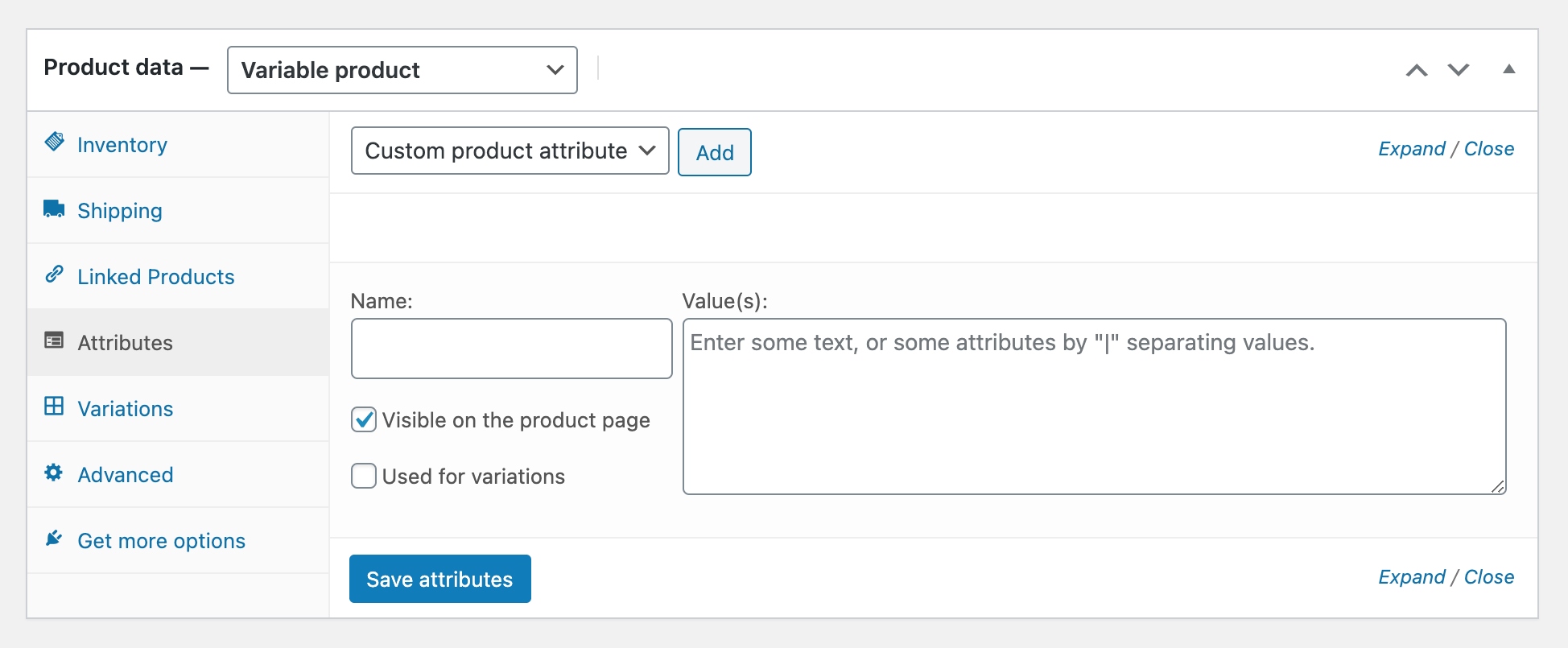 The 'Name' field refers to the Attribute name, and the 'Value(s)' field refers to the Attribute terms. Fill them out as required.
5. Fill out the required values as per your requirements.
Let's say I am selling a t-shirt that has both Long sleeves and short sleeves. So let's name it 'Sleeves'.
For the 'Value(s)', you have to add values with a '|' separator. So let's add the terms 'Long|Short'.

En aan de linkerkant ziet u de optie "Zichtbaar op de productpagina". Dat is standaard aangevinkt, wat betekent dat deze attribuutterm wordt weergegeven op de productpagina.
If it's a variable product, then you may wish to use these attribute terms to create variants. In that case, you can mark the check box that says used for variations (right above the Save Attribute button), and later, generate variants from the Variations tab on the left side.
6. Then click on the Save attribute button and this attribute will be saved for this product.
Dus op basis van uw thema zal dit attribuut worden weergegeven op de productpagina.
When Should You Use Custom Product Attributes
As mentioned earlier, a custom product attribute can be created when you edit or add a product in the product data section.
You should use the custom product attribute when you want to define a feature for a product that is applicable to that product only.
For example, if you are selling 'Organic Tea' in bulk, you might want to sell them in packs of 10 Sachets, 20 Sachets, and 50 Sachets per order. However, this sort of custom order package might not apply to other products in your WooCommerce store.
In this case, you should use a custom product attribute to define this feature, and possibly use it for variations.
So to conclude, you should create and use custom product attributes when you want to define a feature that applies to a particular product only.
This will save you time from creating a global attribute separately and help to optimize the use of server resources.
Conclusie
As you can see, it is often more convenient to use a custom product attribute, and hopefully, this guide was easy to follow.
Laat ons gerust weten wat je van deze gids vindt in de commentaren hieronder.
Proost.