How To Implement Social Media Automation For Blogging Success [2021]
Last updated on:

12 mins read
Guide To Social Media Marketing — Strategies Part 3
Use Social Media Automation For Successful Blogging
Once you complete working on any content, it's best to start working on the next content as soon as possible to make the most out of your content plan.
Sharing your newly published blogs on social media may take some time as you have to post it on several social media accounts.
Plus, it's quite tiring to manually log in and post on every social site, every time you wish to share your content.
So, to reduce this hassle, you should start implementing Social Media Automation.
Social media automation is one of the latest trends to follow in order to increase the efficiency and effectiveness of blogging.
You can focus more on creating content and spend less time in making social posts, while still getting high social reach.
After reading this article, you will learn about
Why use social media automation?
Actionable tactics to automate social sharing
Guide to a reliable social automation tool for WordPress
So let's get started.
Why Use Social Media Automation?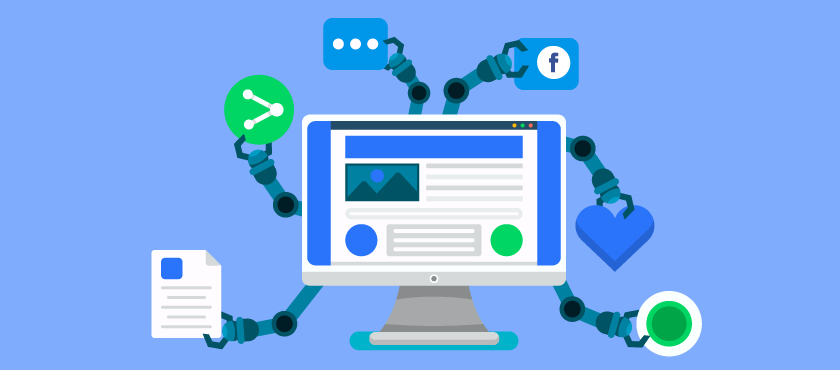 As a blogger, a social media automation tool will help you share blogs on social channels without having to log in to every social site.
The is idea is to stop wasting time manually logging in and posting on social media for every content you produce.
Rather use a social media automation tool that is easy to use and efficient.
There are several tools out there that will allow you to share your published content on all of your social channels with just a single click.
The advantages of using a social media automation tool are
No need to take the hassle of copying and pasting the captions, while logging in to various social channels. It will all be done from one place without any complications.
You won't have to keep track of where you posted and where you did not. The tool will keep track of it.
You no longer have to waste time logging in and manually posting on every social channel. Simply share from one place with a single click. Then you can move on to your next tasks such as researching for new content or analyzing past content performances.
Eventually, you will be producing more content and still get social traffic without any complications.
Actionable Tactics To Automate Social Sharing
Now, let us look at a few actional tactics that you can use to get the most out of social media automation.
i. Use A Reliable Tool To Make Instant Shares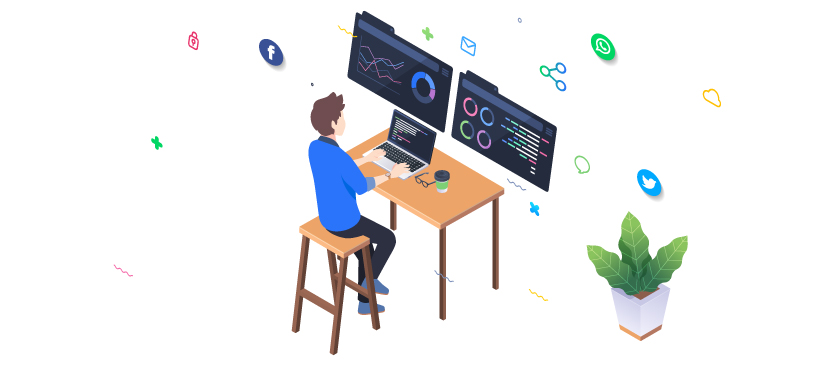 One perk of social media automation is to share your blog content on social media as soon as you publish it.
Let's say you have a content plan to write two long articles in a week. Now, to maintain quality, you will already be using a lot of time in researching for useful data, and constructing a proper structure, let alone preparing the whole content.
Once you publish the article, if you are moderately active on social media, then chances are you have accounts in over 4 social channels.
Now, it sure takes some time to manually access and post the article and set the caption over and over again.
You would rather prefer to start working on the next article.
In this case, you may use a reliable social automation tool that is integrated with your social channels. You can simply set the caption once and with just a click, your published post will be shared on social media.
You will find great tools such as SocialBee, Buffer, Hubspot, or Hootsuite to help you with social media automation.
However, if you have a WordPress site, then you should try using Social Booster.
It's a social automation plugin for sharing WordPress content (pages, blogs, images, video, products, etc) on multiple social sites at the same time.
The best part about this plugin is that it will allow you to instantly share your published post directly from the post edit page.
You don't even need to leave your article's edit page. Just Publish, scroll down to the plugin options, and share on your social media with a single click.
You can also use social automation tools to schedule posts to be shared on specific hours and days, which is very handy. We will be discussing tactics regarding this matter within this article.
**I will give a guide about Social Booster later on in this article.
Another effective method you can follow is reviving old blog posts. You can revamp old blog posts that are no longer performing, and schedule shares (resharing) on your social media for great results. We will discuss this matter in detail in a later article.
ii. Schedule Social Shares On The Most Productive Hours
The performance of content shared on social media depends a lot on the day and the hour you share it on.
It is important to consider the audience you are trying to reach and the channel you are sharing on.
For example, according to Sproutsocial, the best time to share posts on Facebook is 11:00 A.M. to 01:00 P.M., Wednesday.
There are more data for other social channels such as Instagram, Twitter, and LinkedIn and people on different social channels have different times when they are more active.
Other than the basic active hours when you should post, you can also choose the hours based on what type of audience you are trying to reach, whether businesses or consumers.
If you are trying to reach businesses, then you have to consider that businessmen are mostly busy and hardly browse during working hours, except for a few specific times.
For example, as per Hootsuite's report, people in businesses are more active on LinkedIn
during the early hours between 07:45 A.M. to 10:45 A.M.
on lunch breaks such as at around 12:45 P.M.
during the end of the shift at about 05:45 P.M.
Moreover, they are more active on Wednesdays and Thursdays (since the rest of the days are usually packed with more work).
Reaching consumers will work best at slightly different hours.
According to a survey report from CoSchedule, consumers are more active on Twitter in the morning between 08:00 A.M. to 10:00 A.M., at noon i.e. 12:00 P.M., and late on the day between 07:00 P.M. to 09:00 P.M.
We will be discussing more with exact best hours to post for every social channel at a later article.
You will find many such reports available online, and they will mostly be similar with slight differences in hours. You may consider following these timings as they have proven to work for many.
So, every content you wish to share, use a social media automation tool to schedule the post. Set the schedules according to the best day and hours as per various social channels, mentioned in these statistics.
You may use Social Booster to schedule any WordPress content to be shared on your social channels at your desired time and day.
You won't have to manually post on social media even if you have published the content a lot sooner than the best hours.
In fact, it will allow you to schedule the post for sharing at your preferred time on your preferred social channel, right from the post edit page or from the plugin dashboard.
iii. Schedule Consecutive Post Shares For Promotional Campaigns
Often it is necessary to share the same post multiple times in a span of a few days for maximum results.
Yes, you can manually re-share or retweet on social sites like Facebook or Twitter. However, that will require you to log in and manually share the post for each social channel.
Rather, use your social media automation tool to schedule the articles to be shared on the social channels, on a few consecutive days at the best hours.
Let me explain why you should share your post on consecutive days.
Let's say, as an example, during Black Friday, you may create a post to display your latest discount plans for your prospects.
Now, there are tons of others that are sharing similar discount posts on the occasion of the event. Within a few hours of sharing your post, it will no longer be visible on people's timeline.
But, it is most likely that you are running a discount campaign for about a couple of days to a week. So it is necessary that people see your shared post more frequently.
The best option here is to schedule consecutive post shares for a span of a few days.
You may use an automation tool to schedule your discount post to be shared on your social channels every day (on the most active hours) until the number of days you wish to run your discount campaign.
That way, your article will appear as a new post every day on the timelines of your followers.
Tip:
Some social channels see this as spamming if you share the same post for too many days. So we advise you to share such consecutive posts with a day's gap in between every post. So in a span of 5 days, you may share it on the 1st day, 3rd day and the 5th day.
The schedule share option of the plugin, Social Booster, will allow you to create multiple schedules for the same post, which you can keep track of via the content calendar on the plugin dashboard.
Now, throughout this article, I mentioned Social Booster. Let me give you a short overview and guide on this social media automation plugin for WordPress.
Using Social Booster For Instant Or Scheduled Social Posts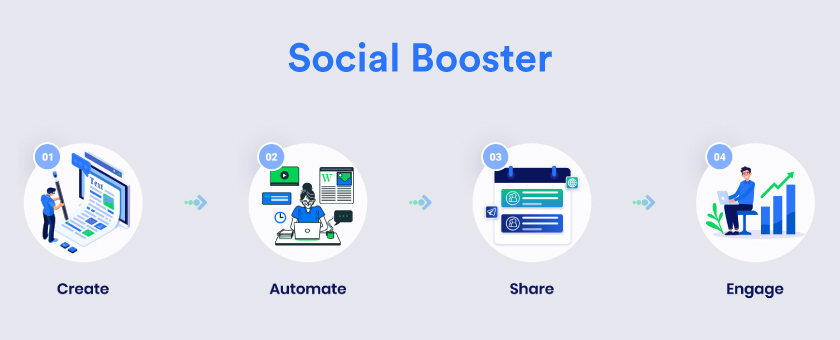 Social Booster is an automation plugin that will help you to automate the process of sharing your WordPress posts or pages, or any content to your social channels in a few clicks, right from the post edit page or from the plugin dashboard.
The best part of using this plugin is that the shared post has no trace of you using a tool to share posts. Viewers will think that you shared it on your own, manually.
You can download Social Booster and test it out yourself.
Here is how you can use Social Booster for social media automation:
i. Connect Social Media Accounts
Once you've installed the plugin, you can connect your Facebook, Twitter, LinkedIn, Tumblr and other major social media accounts easily.
The plugin has an instruction tab to help you with connecting your preferred social channels.
You may also follow these documentations to connect your social media accounts to the plugin.
ii. Instant-Share New And Old Posts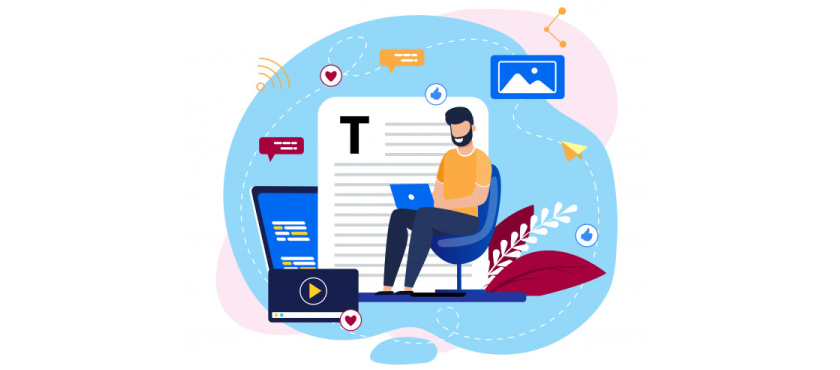 Once you are all set with connecting your social channels, you are ready to start social media automation for successful blogging.
You will find the Social Booster Options at the bottom of the post edit page for every post where you can instantly share on your desired social channels.
You can do the same from the Plugin dashboard under the Post & Sharing Tab where all of your published posts are listed.
Follow this documentation to share your old and new website content instantly on every social media account.
These are the website contents you can share on social media using Social Booster:
Images
Pages
WooCommerce Products
iii. Customize The Caption For Each Social Channel
When sharing a post using Social Booster, you will have the option to choose your desired social channels out of the ones you connected.
And, you will also get the option to set custom caption (along with hashtags) for every channel you will be sharing to.
You may wish to use different captions for different social channels since each social media platform varies in terms of UX and user mentality.
iv. Use Open Graph Titles And Description
By default, the plugin uses the post title and meta description when sharing your post on social media.
However, you might wish to set a different Title or Description for that post when sharing on social media.
This plugin has a special feature called "Open Graph" which lets you set custom titles and descriptions for every channel.
Example –
We have an article with the following Title.
Best Marketplaces To Sell Clothes Online In The USA That You Did Not Know [2020]
Now, though this title fine based on my website format, it is very long, and most social channels won't be able to display the full name, resulting in a view as follows.
Best Marketplaces To Sell Clothes Online In Th….
This reduces "viewer impression". I can use the open graph option to set a shorter title.
Best Marketplaces To Sell Clothes Online In USA [2020]
Now, this title is short and perfect to display on most Social Channels.
The description is also a good thing to focus on The meta description we set for any post is optimized for SERPs. However, the description section on most social sites is very small. So it's best to use Open Graph and give a shorter, more precise description to the post shared.
Use this documentation to set open-graphs of your posts using this plugin.
Final Thoughts
One of the latest trends in Social Media Marketing is implementing social media automation when sharing blogs on social channels.
The schedule feature is specifically useful as it takes time and effort to remember and share your post on various social media manually. Rather, set schedules and the post will be shared on the social media channels automatically.
I suggest you try using Social Booster and hopefully you will see higher results soon.
In the next article, we will discuss how you can revive your old blog posts and increase website traffic.