Laatst bijgewerkt op:

12 min. lezen
Beste digitale 360 camera's om 360 panoramische beelden vast te leggen [2023]
Virtual tours are now more popular than ever, and it is natural if you are interested in creating virtual tours and promoting properties or your business.
In fact, did you know that it's super easy to create and embed virtual tours on your website?
All you need are 360 panoramic images and a virtual tour creator, and you can create a virtual tour in minutes.
Now, you might think taking 360 panoramic images is difficult and require professional assistance.
Well, guess what, you can take 360 panoramas ON YOUR OWN, even without any expertise or professional help.
How? You just need the right digital 360 camera.
You will find a lot of new digital 360 cameras that will let you capture panoramic images in just a few minutes. And once you capture the images, simply upload them to a reliable virtual tour creator, such as WPVR, and they will be converted into engaging virtual tours. Real simple.
Today, you will learn about the best digital 360 cameras that you can get and start taking 360 panoramic images on your own without hiring a professional.
After reading this article, you'll be able to:
Get an in-detail review of the specifications and features of every 360 digital camera.
Choose between the best digital 360 cameras that suits you.
Start planning on creating your own virtual tour without professional help.
Dus laten we beginnen.
Best 360 Cameras For Capturing 360 Panoramic Images in 2022
Here is the list of the best 360 cameras for capturing panoramic images.
1. GoPro Max
GoPro Max is one of the best digital 360 cameras you can buy right now for the outdoors. Its waterproof and rugged body makes it the perfect outdoor 360 camera that you can use to capture the moments during sports, traveling, and adventures.
Unlike most other 360 cameras, once you take a 360 photo, you do not need to take the hassle of stitching or polishing.
The camera automatically does all the necessary to deliver a ready 360 panoramic image or video.
Its lens covers a complete 360 view, i.e., you do not need to worry about changing directions or angles – there are 2 GoPro 180 Degree Hero cameras on each side and aspherical 360 cameras.
The Max HyperSmooth feature allows you to stabilize your 360-degree captures, and you can switch between a total of 4 digital GoPro lenses- Max SuperView, Wide, Linear, and Narrow.
It also has 6 microphones around the camera that will allow you to capture audio from all directions when taking 360 videos.
⭐ Best Camera Feature: Near Perfect Horizon Leveling
The GoPro Max now has probably the best Horizon Leveling feature of all 360 cameras.
If you're using this camera for vlogging while in movement or action, no matter how much you move or shake the camera, it will use the horizon to balance the footage and make it stable.
Suppose you are hiking in a mountain and capturing a great natural view at 360 degrees using your GoPro Max.
You will see that no matter how many uneven grounds you cover or stand on, the 360 videos or panoramic images that you capture will be viewed at a perfect horizontal level.

So no need to worry about controlling direction when attaching it to a monopod every time you capture images.
💡 Even though most people use videos in their traveling blogs to showcase the amazing places they've been to, did you know using virtual tours instead will increase the engagement and curiosity of the readers? You may try it.
GoPro Max  Specifications: 
5.6k spherical video with up to 30fps
1440p 2D video with up to 60fps
16.6 Megapixels Still resolution
Wide 8.9mm focal length
Max HyperSmooth
Max Timewarp
Slow-motion
1080p live streaming
Waterproof up to 5m(16 ft)
Built-in mounting
PowerPano
Spherical audio
App control & In-camera switching
14 voice commands
Touch screen & buttons
Basic Details:
Weight: 163g.
Battery Life: 108 minutes in 1440 pixels & 78 minutes in 5.6k.
Dimensions: 64x69x40 mm.
Mount: Flip-out mounting feet.
Price: $449
 2. Insta360 One X2
The Insta360 One X2 is one of the sleekest, clever, and creative 360 cameras.
Like GoPro, this camera was also built with outdoor activities in mind but with a bit of unique software that allows instant customizations on the go.
Though this one is great for vlogging, it is more focused on taking personalized images and videos as it comes with several instant effect templates that you can apply while capturing a photo or a video (or afterward).
Its invisible selfie stick feature makes sure you do not have to implement Nadir Image editing after capturing.
The camera automatically removes the selfie stick (or monopod) from the 360 panoramic images or 360 videos that you shoot.
Another great feature it has is the MultiView video capture, where one lens acts as the main camera with a wide-angle view, while the other lens can be used to capture your face, which is added via a small box on the edge of the video – a perfect vlogging video format.
⭐ Best Camera Feature: Ghost Town Effect
When you visit a popular tourist spot, almost all the time, the place seems to have other visitors. So when you capture images or videos, a lot of unnecessary presences are there.
The Ghost town effect on Insta360 detects and removes people-like figures from the image and generates a capture without the people around you.
So whether you are trying to create a vlogging documentary or simply willing to capture a 360 panoramic image to create a virtual tour, you won't have to worry about a few people being there.
💡 People love to take 360 video tours, and it gets even more personalized if there aren't other people around in the video to create distractions.
Insta360 One X2 Specifications:
2 fisheye lenses
Full spherical view
18.5 megapixels still resolution
Video Resolution:
5760 x 2880, 30fps
3840 x 1920, 50fps
3840 x 1920, 30fps
3008 x 1504, 100fps
Mp4 (Log mode and Vivid mode)
360 and non 360 live streaming
FlowState Stabilization
OLED touchscreen and buttons
Waterproof up to 10 meters (32 feet)
360 Audio
Voice Commands
AI Editing
TimeShift
Basic Details:
Weight: 149g
Battery Life: 80 minutes.
Dimensions: 462x113x29.8mm.
Mount: Flip-out mounting feet.
Price: $429.99 
3. Ricoh Theta V
Ricoh Theta V is among the most popular 360 cameras out there for professional interior capture.
It's mostly used by realtors or interior designers — It is perfect for capturing 360 videos or 360 panoramic images of rooms or interiors of a house.
The camera is simple and easy to use with minimal complicated features, and you can start using the camera real quick.
Ricoh is among the earliest digital 360 cameras with auto 360 image-stitching and comes with two 180 degree fisheye lenses on either side that covers a full view from all directions.
⭐ Best Camera Feature: Wireless 360 Capture
Ricoh Theta V ensures you can avoid getting yourself captured in the 360 images or video with its wireless control through its mobile app and Bluetooth remote control.
You can set up the camera on a monopod in the middle of a room. Next, go to the other room and watch a preview of your capture on your mobile. Then you may record or capture with a click of a button on its Bluetooth remote control.
The wireless capture makes sure that your 360 images and videos are ready for professional use without much effort, i.e., they are ready to be used on VR apps to generate instant 360 virtual tours.
💡 Virtual tours are the latest trend to sell real estate properties. And having a 360 camera that you can operate on your own is always handy and cost-effective over hiring professionals, especially when you have a lot of properties to sell as a realtor.
Ricoh Theta V Specifications:
14 megapixels still resolution
3840 × 1920 at 30fps (4K) video resolution
360 degree live streaming in 4K
Dual 12 megapixels sensors with Twin-lens system
4 channel microphones
Image stabilization with Gyro sensor and Accelerometer
Basic Detail:
Weight: 121g
Battery Life: 80 minutes
Dimensions: 45.2 x 130.6 x 22.9mm
Mount: Tripod.
Price: $376.95
4. Kandao QooCam 8K 360
If the quality and resolution of your 360 images and videos are your concern, then Kandao QooCam is the ideal 360 camera you need. This is the only camera in this list that can capture 8k videos at 30fps.
It's even considered by many the best among 360 cameras with the highest resolution.
Kandao QooCam is specially made for personal video enthusiasts that focus on creating high-quality 360 videos for commercial use or vlogging.
Many Youtubers or online monetizers that specialize in stunts prefer this camera to take high-resolution videos or capture 360 videos while performing their stunts.
⭐ Best Camera Feature: Professional Editing With 8k Resolution
As mentioned earlier, its 8k resolution is unbeatable by other cameras. Plus, it comes with a mobile app, 8K Express Edit, that lets you apply effects and customizations in real-time.
You will also get access to the QooCam Studio that lets you make professional edits after capture. A perfect tool for commercial videos, and at times, personal videos as well.
The camera is super easy to learn and provides everything you need to prepare any type of video and image. Other than its initial cost, Kandao QooCam is by far one of the best digital 360 cameras for personalized commercial videos.
💡 8k resolution is not always the best option as most devices nowadays do not support such high resolution. However, using such high-quality videos will create a better impression on the viewers and help get sponsors more easily.
Kandao QooCam 8K 360 Specifications: 
8K video at 30fps
4K video at 120fps
29.4 megapixels still resolution
4K 360 Live stream
2.4″ OLED touchscreen and buttons
10-bit color
1/1.7″ sensor
6-axis gyro environment
Refocusing & time-lapse feature
Depth-mapping technology
SuperSteady image stabilization
AI Slow-motion effect
Invisible Selfie-stick
Basic Details:
Weight: 228g.
Battery Life: 70 minutes
Dimensions: 145 x 57 x 33mm
Mount: Tripod.
Price: $559.99
5. HumanEyes Vuze XR
HumanEyes Vuze XR is a unique multitasking camera that allows you to capture both 360 and 180-degree videos.
You can easily switch between recording 360 degrees 2D and 180-degree 3D modes by clicking only a button on its handle. It means you get the functionalities of two 360 cameras into one.
The camera is created with two things in mind:
>>Capturing memorable moments in a fun and unique way.
>>A high-quality companion camera when traveling and exploring.
⭐ Best Camera Feature: 60fps 4K Recording With 6-Axis Gyro
Vuze is among the few 360 cameras that can record 4k videos at 60 fps.
And it comes with a 6-axis gyro motion control that ensures you have steady recording no matter how roughly you are moving – its steady motion is even better than most other popular 360 cameras.
💡 With affordability in mind, we recommend this camera if you want to capture 360 or 180 videos while on tour with your family. Or you can use this camera while on the go when traveling alone, maybe on a bicycle.
HumanEyes Vuze XR Specifications:
18 megapixels 5760 x 2880 stills resolution.
5760 x 2880 video resolution at 30fps.
360-degree video 4K at 60fps.
360 degree 2D and VR180 degree 3D dual mode.
Two 210 degree fisheye lenses.
Live streaming through the mobile app.
Waterproof with case (up to 30m).
Basic Details:
Weight: 212g
Battery Life: 60 minutes
Dimensions: 152 x 56 x 39mm
Mount: Tripod socket.
Price: $399
---
Comparison of The Best 360 Degree Cameras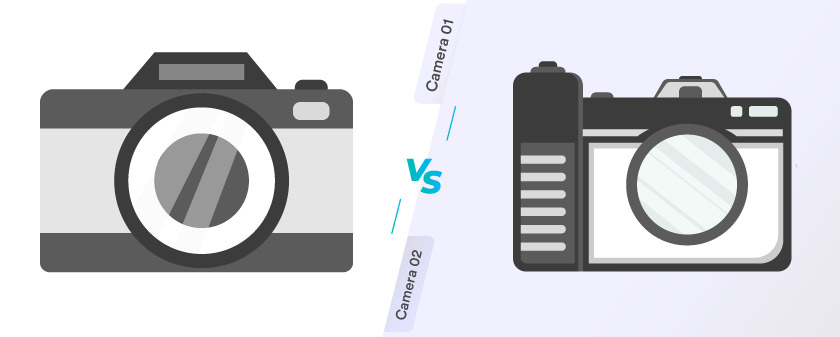 Now that you know all the details about each of the best 360 cameras, now let us look at a few comparison tables to understand which one is ideal for you to choose and which 360 cameras are affordable.
Video & Image Resolution
360 Cameras
360 Video Resolution
360 Image Resolution
GoPro Max
⬩ 5.6K Spherical Video (30fps)
⬩ 1440p 2D Video (60FPS)
16.6 Megapixels
Insta360 One X2
⬩ 5760 x 2880, (30fps)
⬩ 3840 x 1920, (50fps)
⬩ 3840 x 1920, (30fps)
⬩ 3008 x 1504, (100fps)
18.5 Megapixels
Ricoh Theta V
⬩3840×1920 (30fps 4K)
14 Megapixels
Kandao QooCam 8K 360
⬩ 8K Video (30fps)
⬩ 4K Video (120fps)
29.4 Megapixels
HumanEyes Vuze XR
⬩ 5760 x 2880  (30fps).
⬩ 360 Degree 4K (60fps).
⬩ VR180 Degree 3D
18 Megapixels
Audio, Mounting & Durability
360 Cameras
Audio
Mounting
Waterproof
GoPro Max
⬩ 6 built-in microphones to capture immersive 360 audio.
⬩ Directional audio for vlogging.
⬩ Wind noise reduction & stereo quality sound.
Flip-out Mounting Feet (Built-in)
Yes (Up to
5m)
Insta360 One X2
⬩ 4 Mic 360 Degree Audio.
Flip-out Mounting Feet
Yes (Up To 10m)
Ricoh Theta V
⬩ 4 microphones to record 360 degrees of spatial audio.
⬩ Option to use an additional external microphone.
Stands, Sticks, &
Smartphone holders (Optional extra)
No
Kandao QooCam 8K 360
⬩ 4 MEMS 48KHz Microphones.
⬩ 3.5mm Mic Port for external professional Mic.
Third-party stands
and sticks
No
HumanEyes Vuze XR
⬩ 4 MEMS 48KHz Microphones.
Tripod Socket
With Case (Up To 30m)
Control Options & Pricing
| 360 Cameras | Mobile App | Touchscreen | Voice Command | Prijs |
| --- | --- | --- | --- | --- |
| GoPro Max | Yes | Yes | 14 Voice Commands | $449 |
| Insta360 One X2 | Yes | Yes | 4 Voice Commands | $429.99 |
| Ricoh Theta V | Yes | Yes | Only for Image Capture | $376.95 |
| Kandao QooCam 8K 360 | Yes | Yes | No | $559.99 |
| HumanEyes Vuze XR | Yes | No | No | $399 |
You can now compare different features and aspects of these 5 cameras and decide which one matches your requirements best.
Which Digital 360 Camera Is Your Best Option?
All the 360 cameras on this list are of high quality and worth spending on. But throughout the article, you probably realized that each of them has its best uses.
If you are a realtor and want to create virtual tours for your properties, then Ricoh Theta V would be the ideal digital 360 camera for you. It's also ideal to capture 360 images of office interiors, restaurants, hotels, or any interior captures.
If you are a travel blogger, then GoPro Max would be the best option, but then again, if you are a personal vlogger that requires you to explain what you are doing, then Insta360 would be a good option (while compromising the quality of the capture).
Kandao QooCam is the best option for commercial video makers or short filmmakers to maintain top quality capture, while HumanEyes Vuze XR is more suitable for family events, or personal traveling captures.
Sure, there are tons of other 360 cameras out there. But these 5 are currently the best digital 360 cameras that you can consider purchasing, based on your requirements and affordability.
If you think you know of or are using another camera, that is better than the ones on this list, then please let us know in the comments and share with us how that is the better option for you.
Proost.