Best WordPress Booking Plugins [2022]
Laatst bijgewerkt op:

14 min. lezen
It is often difficult to manage your bookings and appointments on your website. Whether it is to arrange meetings, book your services, or make plans for events, it is important to use a tool that has a simple, well-organized interface.
Misschien heeft u het geluk te weten dat er weinig briljante WordPress-boekingsplugins zijn die u kunnen helpen al uw boekingen en afspraken zonder stress te beheren.
Using these plugins, you will experience an automatic online booking and scheduling process interface, where you will be notified of all schedules, set scheduling conditions, and use many other features to help you manage your appointments easily.
Of u nu een hotel, resort, spa, reisbureau, adviesbureau, verhuurwinkel, marketingbureau of een dergelijk bedrijf runt dat prospects in staat stelt om diensten te boeken of afspraken te maken, u zult veel baat hebben bij het gebruik van deze handige WordPress-boekingsplugins.
De beste WordPress-reserveringsplugins
In this article, I have listed 10+ booking plugins that you may consider using if you want to have a comfortable way to manage your booking process on your site.
Each of these plugins is amazing and has its own special features that you may find useful. We have tested several booking plugins before coming to a selection of these 7 plugins.
Dus laten we in detail treden.
1. 10to8 Online WP Boekingssysteem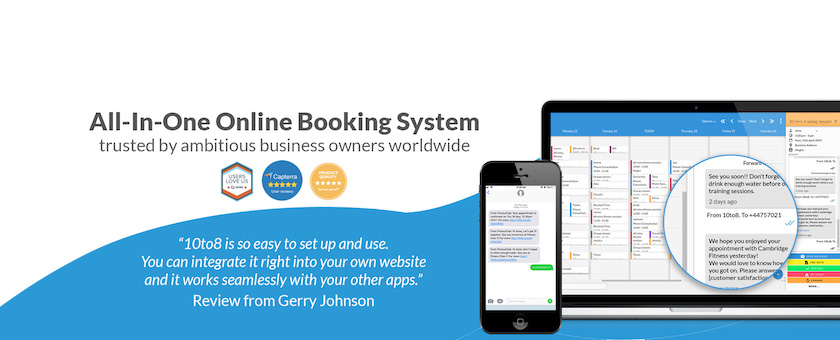 10to8 Online WP Booking System is een briljant WordPress online boekings- en afsprakensysteem gespecialiseerd voor professionele bedrijven.
You will be able to set available times for others to book your service. Plus there is a 2-way chat option for prospects to request changes or cancellations through SMS, Slack, email, and Facebook. You will be able to manage all your data from a simple plugin interface.
Het heeft andere geweldige functies zoals:
Live calendar sync with iCal, Google, and Outlook.
Integratie met meer dan 500 apps.
Automated reminder for both you and your prospect about a new booking or an upcoming appointment.
Online payment option for your prospects through Paypal, Stripe, and SagePay.
Coordinate multiple staff, calendars, rooms, and locations.
Track changes, histories, payments and control the access of your staff.
The plugin allows you to use 2 staff logins and an SMS notification feature for free, which makes it ideal for small businesses.
Op dit moment heeft deze boekingsplugin een 5-sterren waardering op de WordPress repository met meer dan 4000+ actieve gebruikers.
Als u een groot bedrijf heeft en meer personeel nodig heeft om het boekingssysteem te beheren, dan kunt u de pro-versie bekijken. 
Het heeft een 4.5 sterrenclassificatie op de Capterra met 560 gebruikers.
2. 2. Boeking & Afspraak Plugin voor WooCommerce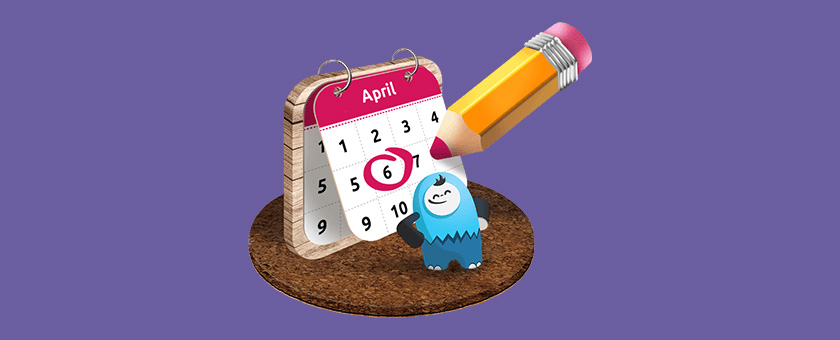 Deze Premium Booking Plugin behoort tot de beste WordPress-tools om uw WooCommerce-website om te zetten in een krachtig boekingsplatform. 
You can activate time or date-based booking on your WooCommerce Store. You may use its widgets to allow your users to search for available dates and times and book faster. It also has a duration-based booking feature, where you can set a fixed number of hours to be available for booking.
Onlangs is er een tijdzone functie toegevoegd aan deze plugin, die de beschikbare tijdvensters naar prospects bekijkt op basis van hun lokale tijd, vandaar dat mensen geen verwarring zullen hebben met de tijd. Deze functie is zeer nuttig voor internationale prospects.
U kunt meer nuttige functies vinden zoals:
Bekijk de boekingsdetails bij het uitchecken.
Special prices for weekdays, time slots, or special dates.
Automatic export of bookings to Google Calendar.
Importing bookings to websites from iCal feed URLs.
Automatic reminder emails for booking.
Op dit moment heeft de plugin een 4.5 sterrenclassificatie van 156 gebruikers.
3. 3. WP Hotel Reservering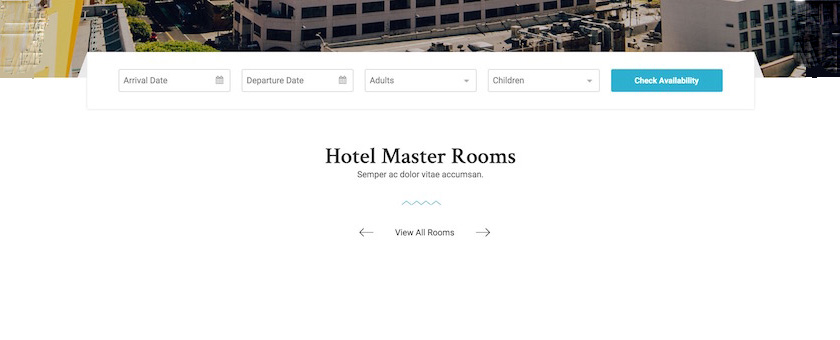 WP Hotel Booking is one of the best hotel booking plugins available for WordPress. With this plugin, you can easily take care of room management, coupon management, bookings management, customer management, and many more.
This plugin has additional packages and management features including your hotel's extra services like WiFi availability, car parking, and taxi service. Plus plugin supports multi-currency and special date features.
Voor deze plugin zijn ook enkele gratis handige add-ons beschikbaar:
Authorize Payment.
Stripe Payment.
Block Room.
Booking Report.
Coupons.
WooCommerce Compatible.
WPML Support.
Deze plugin is volledig gratis.
De ontwikkelaars van de plugin, ThimPress, hebben twee premium thema's ontwikkeld, Hotel WordPress Theme - Zeilen en Hotel & BnB WordPress Theme - LuxStay, die zeer populair zijn voor het maken van hotel websites en deze plugin werkt het beste met deze thema's.
Met meer dan 10.000 actieve gebruikers heeft deze boekingsplugin momenteel een 4 sterren classificatie in de WordPress repository.
4. 4. WordPress Hotel Reservering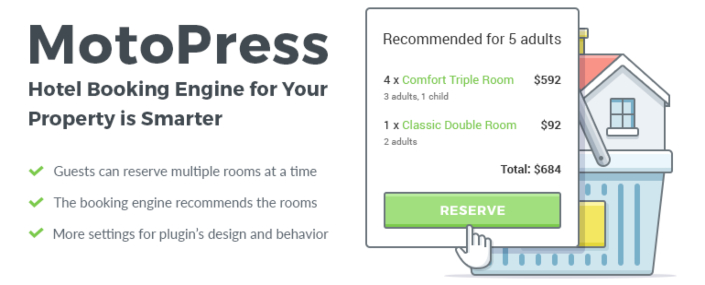 Hotel Booking is one of the most powerful and multifunctional tools for managing an online rental business of any scale. It's a smart online management system with built-in tons of accommodation options that make the Hotel Booking plugin an all-covering, universal solution for hotel managers.
Diving into the functionality core, you receive flexible booking rules with easily configurable custom rates depending on the season, the number of guests, and holidays.
Apart from that, with the Hotel Booking plugin you receive:
Onbeperkt aantal zoekbeschikbaarheidsformulieren;
Naadloze synchronisatie met externe OTA's (Airbnb, Booking.com, enz.);
Wekelijkse en maandelijkse tarieven;
Online en offline betaalmogelijkheden (PayPal, 2Checkout, Braintree, Stripe, Beanstream/Bambora, etc.)
Mogelijkheid om extra diensten te tonen en te verkopen;
Veel bevestigingsmodi voor reserveringen;
E-mailberichten voor gasten.
En vele anderen!
Bovendien kunt u kiezen uit meerdere hotelreserveringsadditieven voor specifieke doeleinden: Hotel Booking WooCommerce betalingen, Hotel Booking Notifier, evenals gratis Hotel Booking Integraties met Divi en Elementor en meer nuttige addons.
De Hotel Booking Lite versie heeft meer dan 5000+ actieve installaties. Het heeft ook uitstekende recensies en een grote gemeenschap op Facebook.
wpAmelia is an amazing WordPress online booking appointment and event scheduling system specialized for professional and small businesses.
You can set up a fully-featured automated booking system on your WordPress website, set the employees working times and special days, the duration of your appointments/events, and construct the booking form to match your business best.
You can also enable SMS or Email notifications and use Zoom integration to make your services online.
It has other useful features such as:
Live calendar sync with Google and Outlook.
Integration with Zoom.
SMS and Email notifications.
Custom fields.
Lots of booking form designs.
Special days for your employees.
Recurring appointments.
Packages feature.
Employee and Customer front-end panel.
Online payment option for your prospects through Paypal, Stripe, and WooCommerce.
Insightful dashboard and reporting.
Multiple employees and locations.
And many more.
Currently, this booking plugin has a 4.2 stars rating on the WordPress repository with over 20000+ active users.
It also has a 4.9 stars rating on the Capterra.
WordPress Appointment Booking WordPress Appointment plugin by MotoPress helps handle online appointments on the website of any service business. 
It works hassle-free for medical centers, beauty and spa salons, yoga studios, career coaches, tutors, and other related industries. 
You are provided with a booking wizard for a step-by-step scheduling process. The plugin lets you create any number of services, set custom duration, and assign personal schedules for staff members. 
In addition, they may include buffer times, lock-out hours, lunchtimes, holidays, and days off. Employees can have the booking details synchronized with the Google Calendar. 
The clients will be allowed to make a schedule for a group or individual. It is possible to set service capacity and multiply the service price by the number of people. 
The plugin works with Elementor, Gutenberg, and Divi builders. 
With this WordPress scheduler plugin, users can:
Accept payments via Stripe, PayPal, direct bank transfer, or upon arrival.
Create employees' profiles.
Easily manage bookings from the admin dashboard.
Allow multiple bookings.
Centralized bookings in a calendar.
Assign different user roles.
Build different website sections with a set of dedicated widgets.
Configure automated email notifications.
Appointment Booking Lite version is a WordPress Appointment booking plugin free of use in case you need a tool with basic functionalities.
BookingPress WordPress Booking Plugin is a free booking plugin that is simple and easy to use. You can use it for your service-based business website. 
It's a versatile booking plugin packed with useful features that help will your website's online appointment booking process run smoothly.
Without the use of a third-party plugin, you can create and manage it directly from the admin dashboard. 
You'll have complete control over the customer list and filtering options, as well as a list of your customers and bookings that you can sort, filter, and search.
Key Features:
Excellent admin dashboard.
It has an excellent user interface and user experience.
Translation Ready (In-built translations for French, German, Russian, Dutch, and Arabic languages).
Email notification (You can customize as per your need).
Payments can be made online using PayPal.
Options for Quick and Easy Setup.
In-built anti-spam protection for more site security.
BookingPress Plugin is an ideal online booking plugin for Salons, Spas, tutors, Barbershops, Consultants, Wedding planners, etc. 
Download now and try out today!
Being perfect for various industries, Booknetic automates the online appointment bookings of businesses with its flexibility and customization opportunities.
Starting from hair/beauty/nail/spa salons, gym/fitness studios, law consulting firms, medical/dental clinics, dance/art studios, private tutoring classes, and auto-repair centers to tattoo studios, its full responsiveness enables the users to benefit from such a comprehensive appointment Booking Plugin for WordPress.
Key Features:
Zoom integration. Online meetings with clients are now only one click away to talk everything about the appointment.
Track your appointment schedule by connecting Google Calendar to Booknetic.
Receive your payment directly by integrating PayPal, Stripe, and other on-site methods.
WooCommerce payment integration is yet another advantage.
SMS, email, and WhatsApp can be used to send notifications to clients.
Multi-location, Multi-level service categories, and Multi-templates are what businesses are seeking in WordPress appointment scheduling plugins.
To prevent spam scheduling and ensure security, users can also access Google ReCAPTCHA.
Convert into any language by using the Visual Translator feature.
For pre-appointment details, Form-builder is the best option to use.
Create and send your invoices directly from the plugin.
You can group appointments or set them as recurring.
Gift cards and Coupons.
Endless color possibilities.
Reports module.
Booknetic is in the "best sellers" category on CodeCanyon with a strong rating of 4.9 out of 5.0.
Plus, Booknetic is one of the most preferred plugins in the sector because of its full dedication to customer service and support that receives high appreciation.
9. Event Monster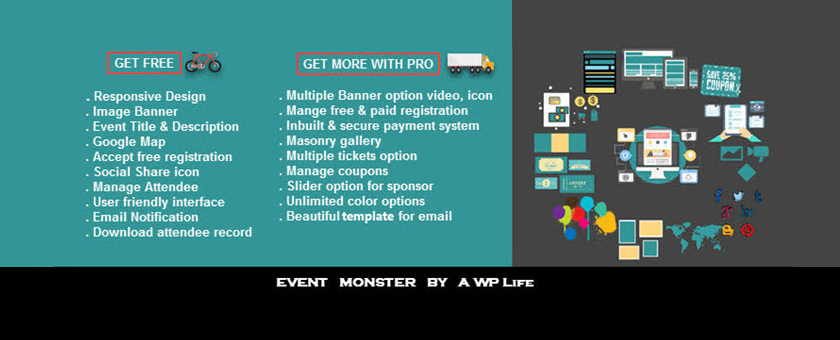 Event Monster is een verbluffende WordPress-evenementmanagement- en boekingsplugin waarmee u gebeurtenissen kunt toevoegen, creëren, bewerken en beheren via een responsieve gebruikersinterface.
The free version of this plugin allows you to add or modify all information of an event, like event logo, description, event banner style, image, event starting and ending date and gives you access to visitors and attendees list.
However, this premium version of this plugin is more popular. It gives you more features such as adding event artist and speaker information, creating event gallery and gallery customization, and event registration features.
Hoe meer premium functies het omvat zijn:
Optie voor een annuleringsbericht voor een evenement
Gratis of betaalde evenementenregistratie
Evenementssponsor en sponsorlogo & website link optie
Ticketbeheer & optie voor het bekijken van de ticketgegevens
Spannende aanbiedingscouponmodule
The free version of the plugin has a 5 stars rating on the WordPress repository.
Echter, als u een evenement management bedrijf runt, dan dring ik er sterk op aan om de Event Monster premium versie te gebruiken om volledige controle te hebben over het evenement management.
10. BMA – WordPress Appointment Booking Plugin For Enterprise.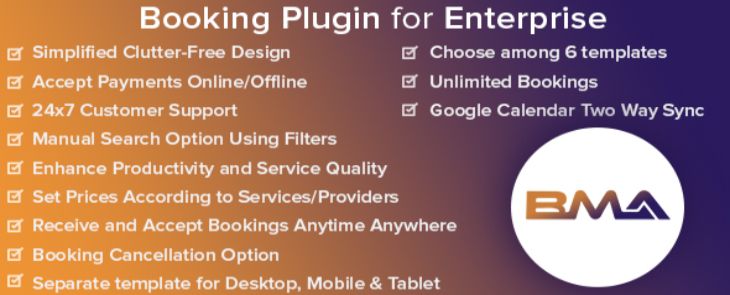 BMA – WordPress Appointment Booking Plugin is a light, easy-to-use, and highly responsive plugin for WordPress websites.
It serves you as a notification generator by sending reminder messages to clients via email and SMS.
Je zult meer verbazingwekkende functies hebben zoals:
Couponmodules;
Boekingsannulering;
Sortering op categorie;
Afzonderlijke sjabloon voor pc's en mobiele apparaten;
Google Two Way Sync;
Paypal en Stripe ondersteuning.
Ook als een prospect een boeking wil annuleren, kan met deze plugin een minimale opzegtermijn worden ingesteld. Deze plugin maakt het ook mogelijk om onbeperkt te boeken.
The WooCommerce Bookings and Appointments plugin is a powerful plugin that helps you accept and manage online bookings on your website. 
You can offer to schedule your time, sell services, and offers products for rent by setting up the desired cost and timings.
This is the only Bookings plugin that can handle all business types that require some type of booking or event management system that also works 24/7. 
Moreover, this plugin supports partial payments, staff management, multiple vendor support, recurring bookings, and much more!
The PluginHive WooCommerce Bookings plugin offers a ton of useful features that you could use and create the perfect online booking system for your website.
You can offer single-day bookings, multiple-day bookings, or bookings with a fixed date and time.
You can manage costs, availability, resources, participants, buffer time, etc.
Native support for 2-way Google Calendar sync, WPML, Dokan Multivendor, etc.
You can also add custom fields to add more options.
Option to change the calendar design and colors to match your website's theme.
Email notifications and reminders for you and your customers.
12. Bookly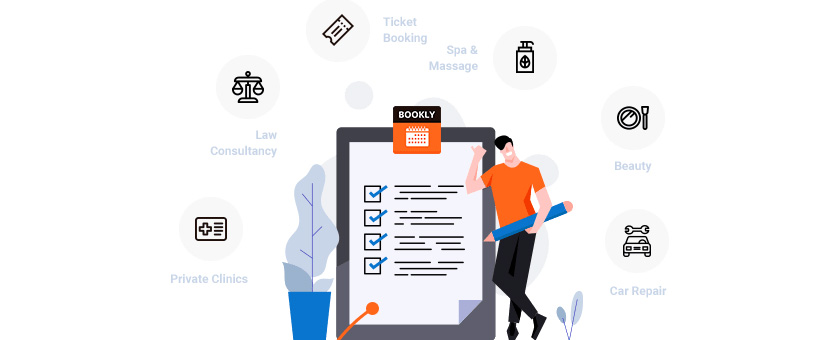 Bookly is a simple, and easy-to-use appointment booking plugin, ideal for salons, gyms, clinics, doctors, dentists, private lessons, and other private professional services.
With the free version, you get features such as a fast online booking feature, an unlimited number of booking forms, and a monthly, weekly, or daily calendar view.
U krijgt meer nuttige functies zoals
Customized booking form.
SMS & email notification.
Categorizing your services.
Intuitive admin panel.
Volledige controle over de klantenlijst en de filteropties, en een lijst van uw klanten en boekingen die u ook kunt sorteren, filteren en zoeken.
However, you can also get more features by using the Bookly Pro which lets you choose from several useful add-ons such as Service Extras, Location, Checkout, Custom Bookly invoices, and many more.
De plugin heeft momenteel meer dan 30.000 actieve installaties.
13. Team Booking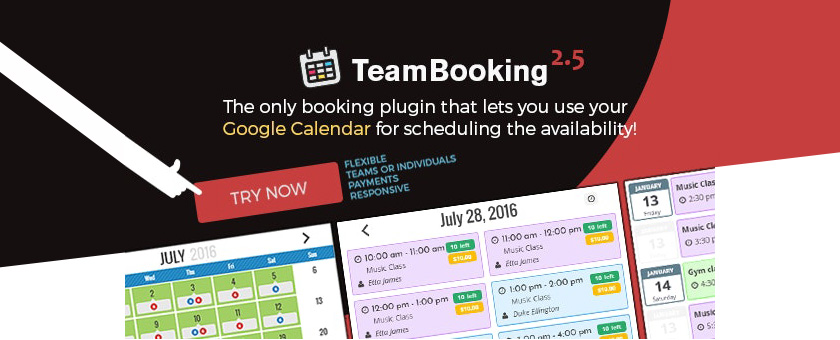 Team Booking Plugin is een andere geweldige WordPress boekingsplugin die een vaardige boekingskalender heeft waarmee je een actieve en dynamische boekingskalender kunt maken.
Plus you will be able to create custom forms, set reservation parameters and time frames, and integrate with Google Calendar.
Dus andere geweldige functies die je kunt krijgen zijn:
Staff collaboration.
Shortcode for placing a calendar.
Timezone option for prospects.
Discount coupons.
Custom e-mail integration.
WPML support.
Export data easily.
Dit is een premium plugin met meer dan 4.900+ verkopen op CodeCanyon met een 4.7-sterrenclassificatie.
The Team Booking plugin additionally comes with a user-friendly interface that enables you to oversee reservations and appointments.
Noot van de auteur
By now, you have learned about 10+ WordPress booking plugins that are ideal for different businesses with unique features.
Nu is het tijd voor u om te analyseren en te beslissen welke het beste bij uw bedrijf past. Welke u ook kiest uit deze lijst, u zult niet teleurgesteld worden.
Btw, if you're running an educational site, the quiz maker plugin will help you create quizzes, tests, and exams easily. 
There's a chance that we have missed out on any good booking plugins or rental software for WordPress.
In that case, do let us know in the comments.
If you're looking for similar content like this, here is a similar listicle comparison on WordPress booking plugins:
9 Best WooCommerce Bookings and Appointments Plugins (4,000 words of in-depth comparison).