How To Generate WooCommerce Google Product Feed – 10 Easy Steps
Last updated on:

8 mins read
Having a WooCommerce store can be a great blessing, but it requires you to put some extra effort when promoting your products.
One way most WooCommerce stores find success is by promoting their products through Google Shopping.
Google Search is the most used online tool today and their very own marketing portal, Google Merchant Center allows you to promote WooCommerce products and reach to more qualified prospects all over the world.
However, there is a big issue that people face. Uploading products for Google Shopping Ads requires you to upload product feed in the format that Google suggests.
Google even has a set category list with which you need to map the categories of the products in your store before uploading product feed.
But this issue is no longer a barrier.
Now, you may use Product Feed Manager For WooCommerce to generate WooCommerce Google product feed with just a few clicks.
Tool To Generate WooCommerce Google Product Feed
First, you need to make sure that Product Feed Manager For WooCommerce (PFM) installed and activated.
Next, you need to use the 'Category Mapping' feature to map your store categories with Google product categories.
Here's how you can use the category mapping option:
Now, you can proceed to generate WooCommerce Google product feed efficiently.
WooCommerce Google Product Feed Generation
You can watch the video tutorial or follow the step by step guide below.
10 Easy Steps To Generate WooCommerce Google Product Feed
To be able to generate accurate WooCommerce Google Product Feed, you have to follow the 10 simple steps below:
Now let's follow the steps in details:
Step 1 – Add New Feed
Go to Dashboard > product feed > Add new feed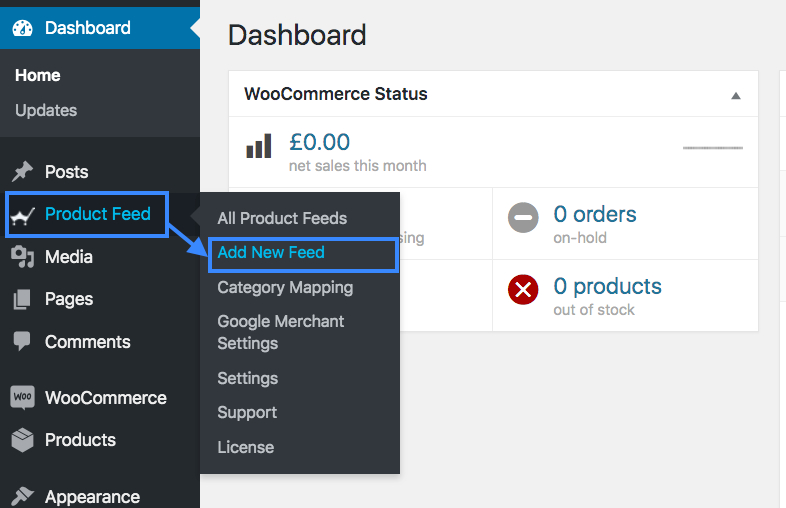 It will take you to the following page: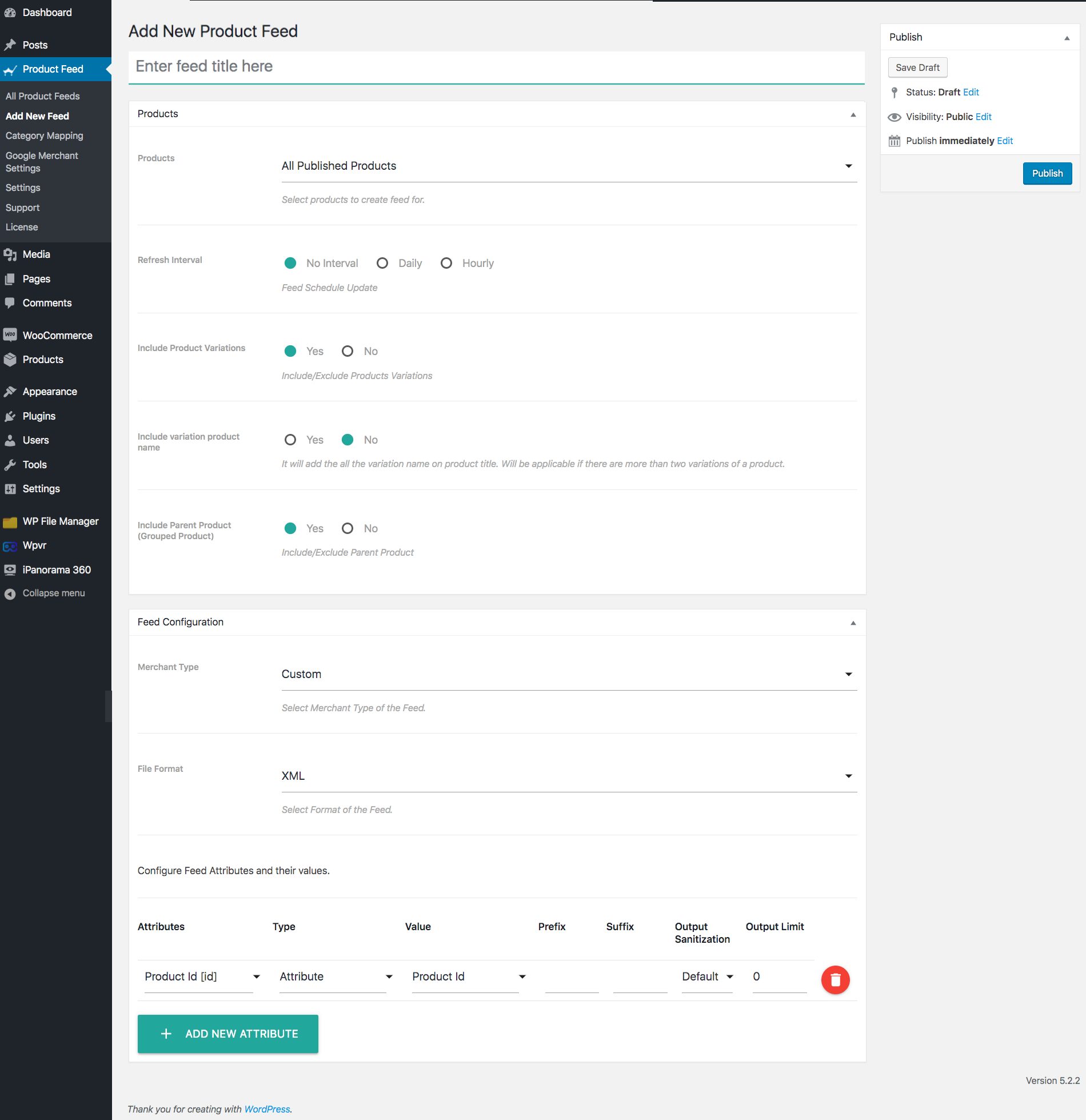 Now, give a title to this product feed.

Step 2 – Decide Products To Generate Feed With
As you can see, here the products option is assigned as 'All Published Products.'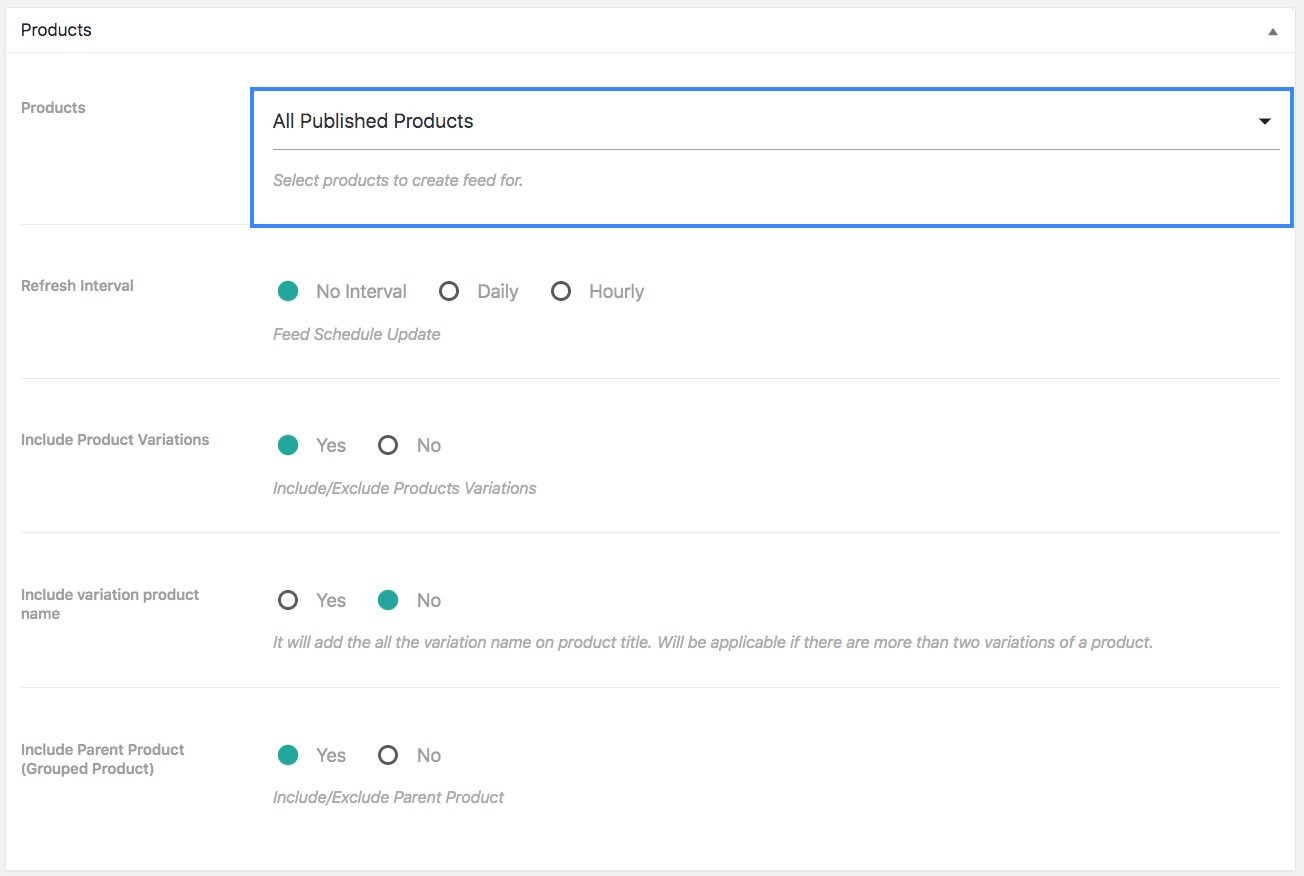 You may leave it like that if you wish to generate a product feed for all the products in your WooCommerce store.
However, you can click on "All Published Products" to get filter options and rather choose to include some specific products only.

Step 3 – Set Refresh Interval To Schedule Auto-update Of The Feed
This will automatically update the product feed with any changes you make in your store, according to the schedule you set.
You can set the schedule to be either once daily, or once every hour.
However, if you prefer to update the feed manually, then you may choose 'No Interval.'
Step 4 – Choose Whether You Wish To Include Product Variations Or Not
You may choose to include or exclude product variations.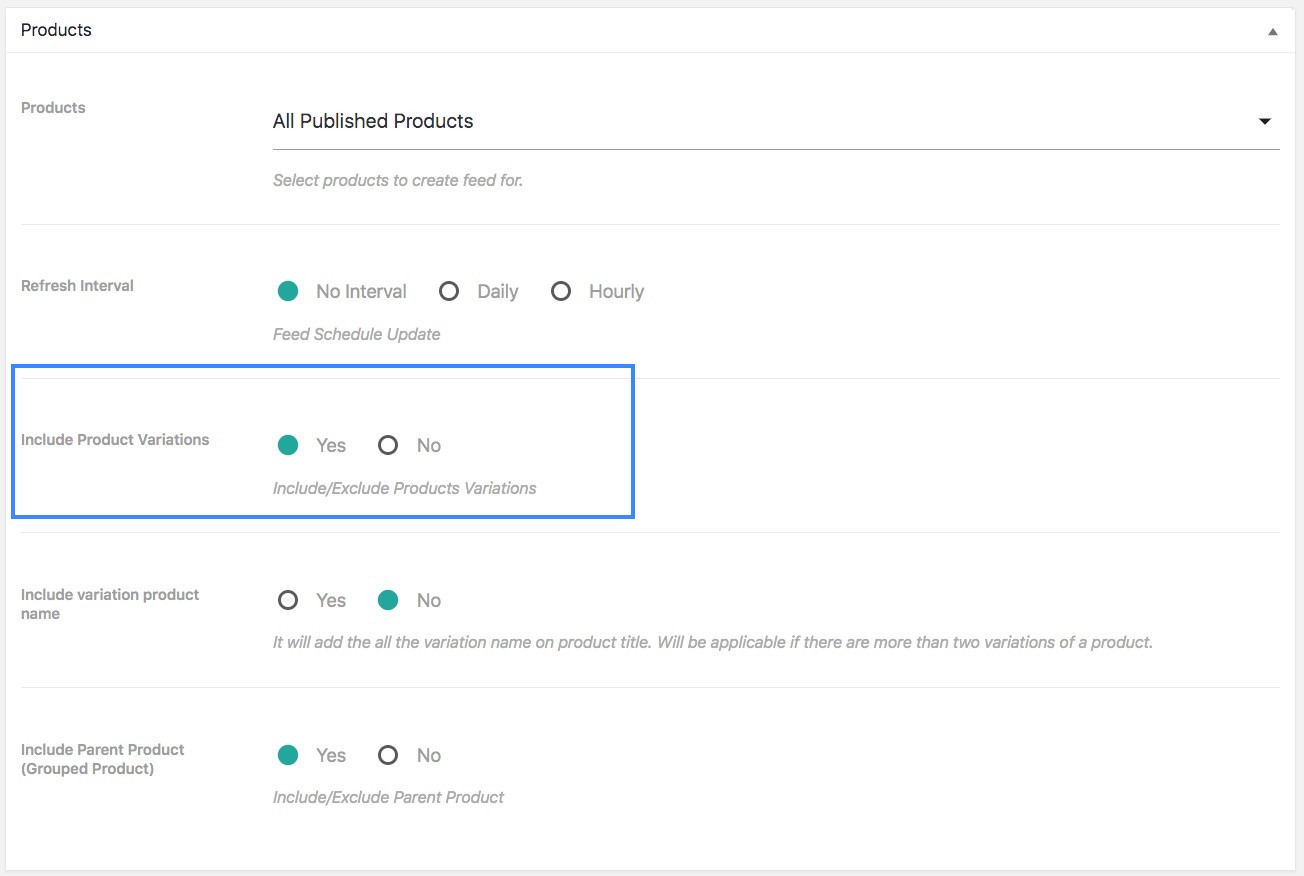 If you chose 'Yes', then all products that have variations will be added. And if you choose 'No', any product that has variations will be excluded.
Step 5 – Add Variation Name To Product Title
It is suggested by Google that you should include variation names to the product title of each variation of a product.
For example, let's say you are selling t-shirts on your online store, and one particular t-shirt might have 2 different colors, let's say red and blue. So the red t-shirt can be named Red Crew-Neck T-shirt, whereas the blue one can be named Blue Crew-Neck T-shirt.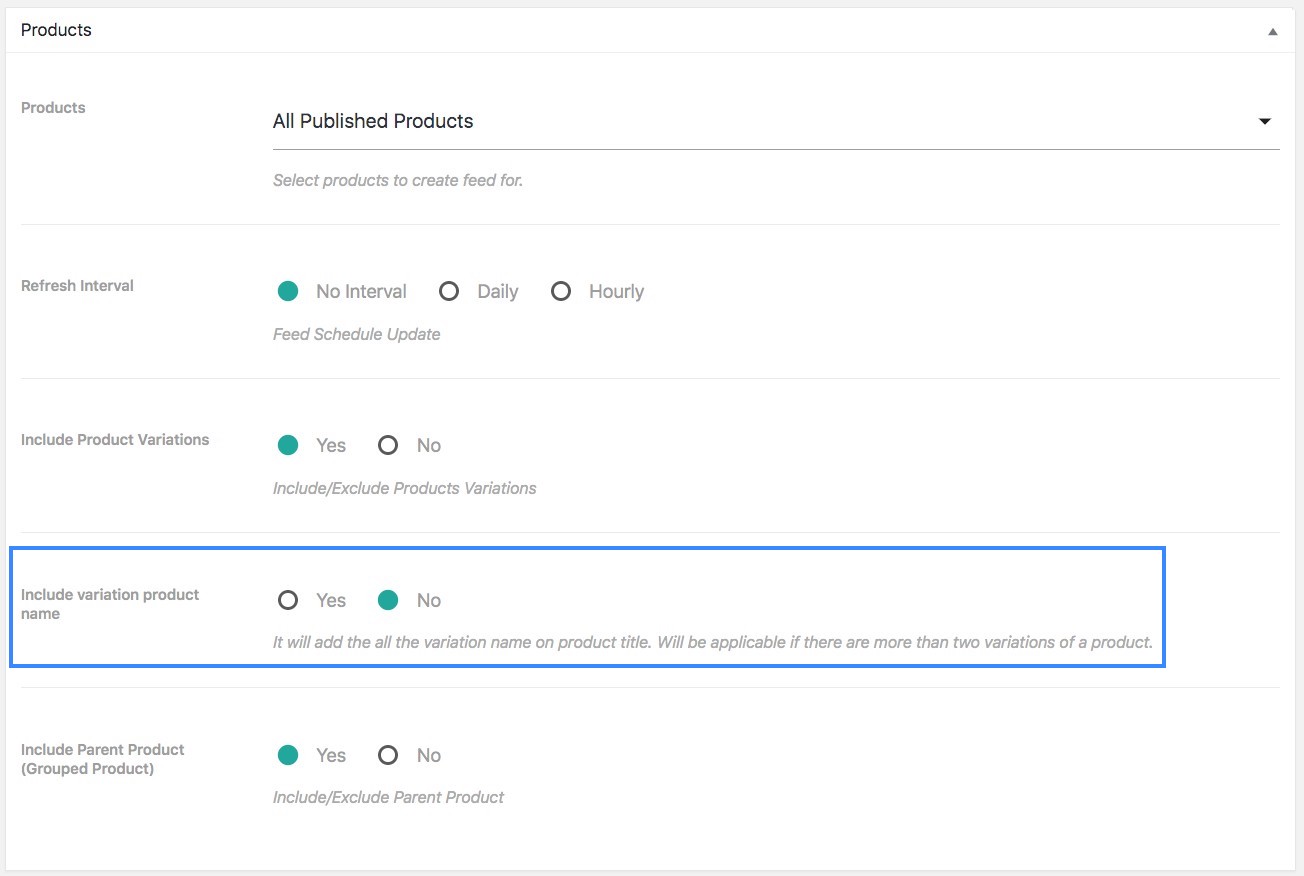 Assign it to 'Yes' if you wish to add variation names to the product title.
In case you do not want to add the variable names to the product title, simply choose 'No'.
Step 6 – Decide Whether To Add Parent Products Of Group Products Separately
Grouped products are not necessarily a variable products bundle. It could be different products that are somewhat related and sold as a group.
You can consider adding a parent product of a grouped product, along with all the products that are part of this grouped product.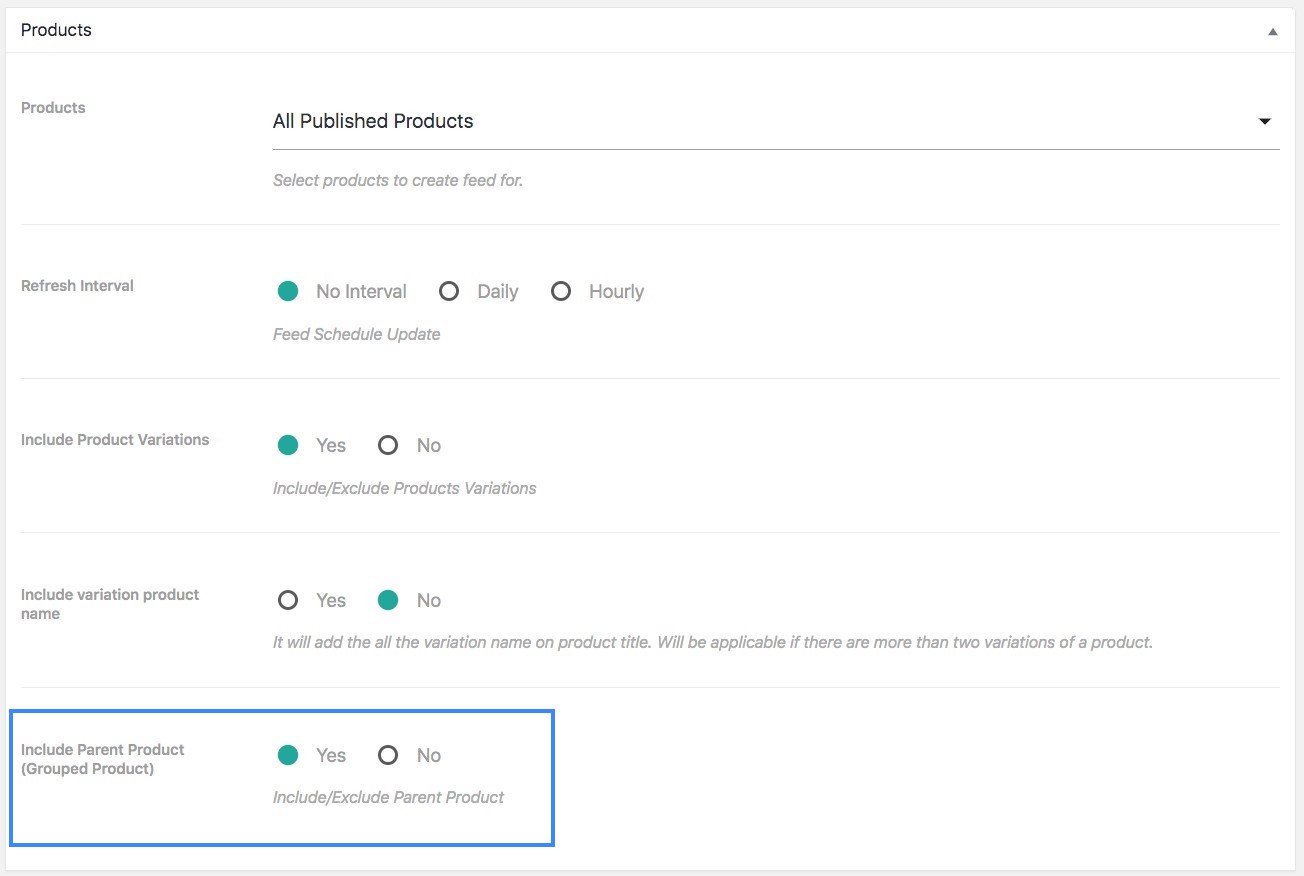 Choose 'Yes' if you wish to include a separate parent product for grouped products.
Up to Step 6, you configured which products to include or not. The next few steps are to configure the product feed that you will generate using these products.
Step 7 – Choose Merchant Type
First, you need to change the merchant type to Google.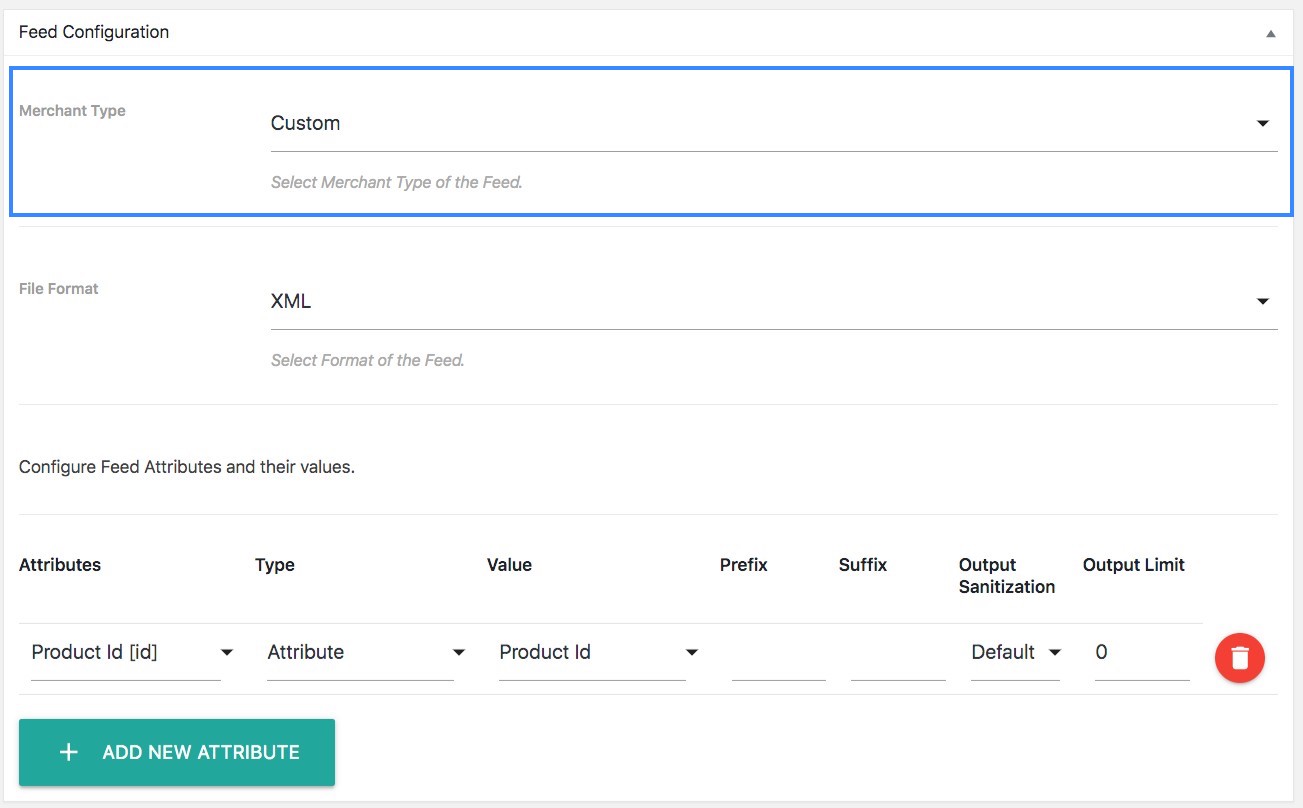 Click on 'Custom' and you will get a drop-down list of all supported Merchants.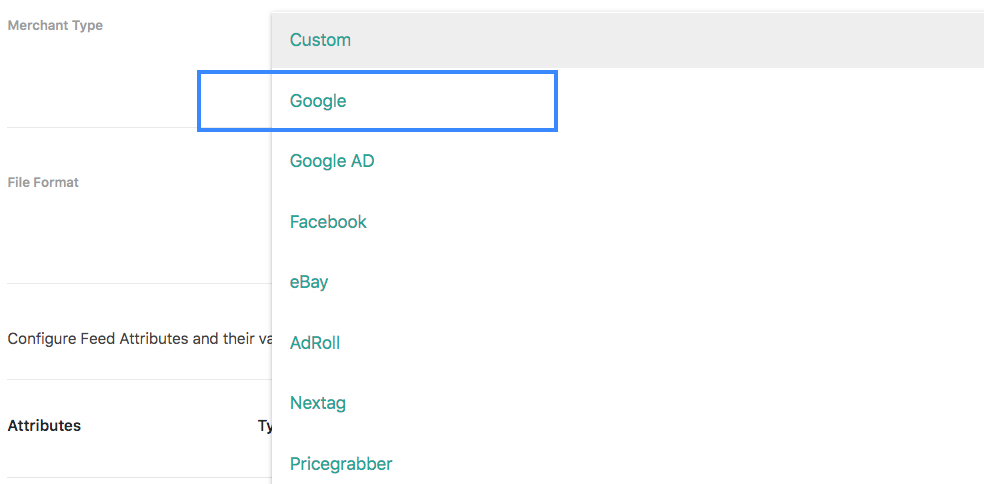 Choose Google.
This will cause the page to refresh and all the mandatory attributes needed for Google Shopping will appear below.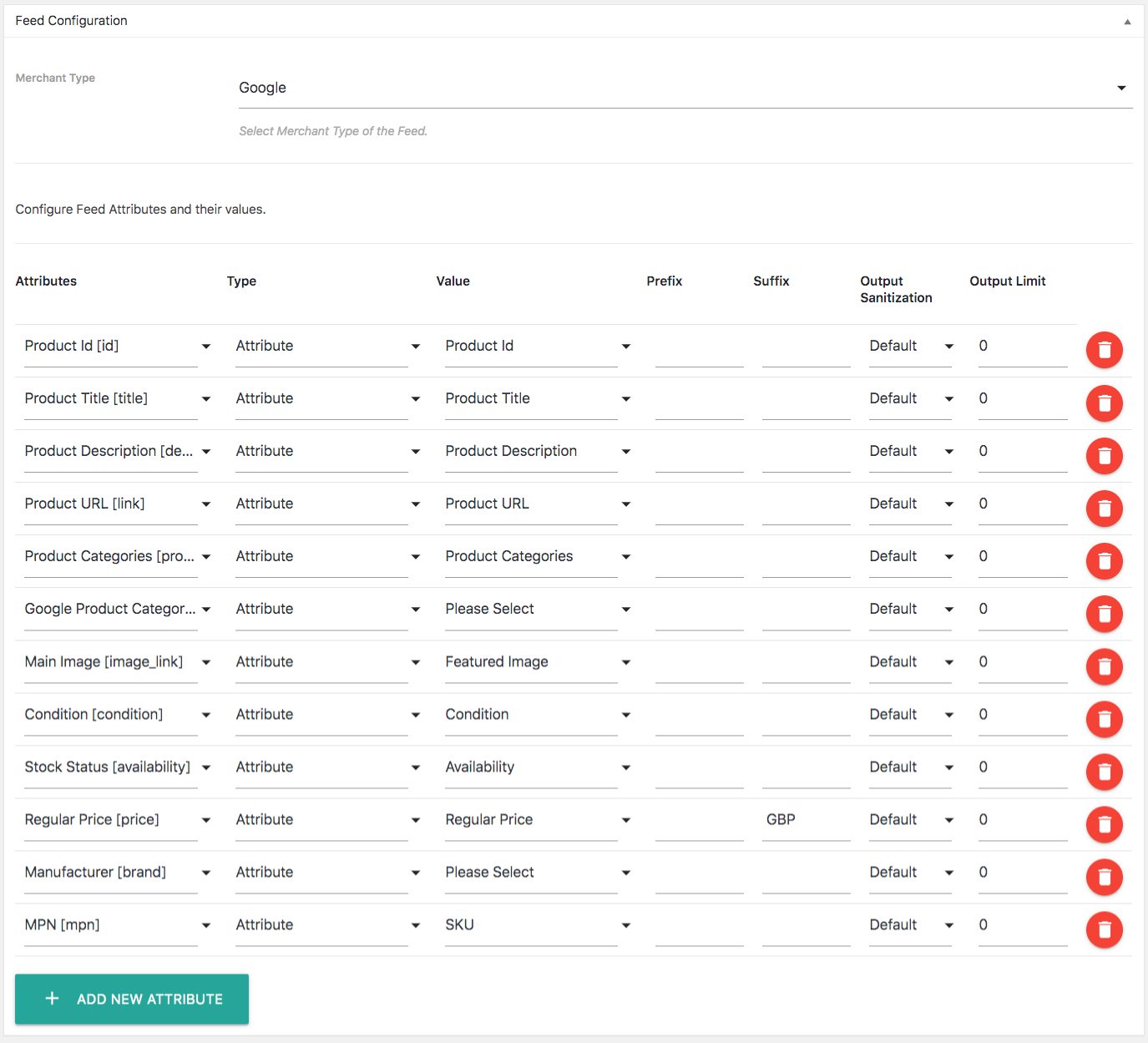 Google only supports product feed in XML format, so you do not need to select feed type; it's set to generate in XML format by default.
Step 8 – Assign Correct Attribute And Values
As you can see, all the attributes are there with their values set accordingly.
But for Manufacturer (brand) and Google Product Categories, the values are not set.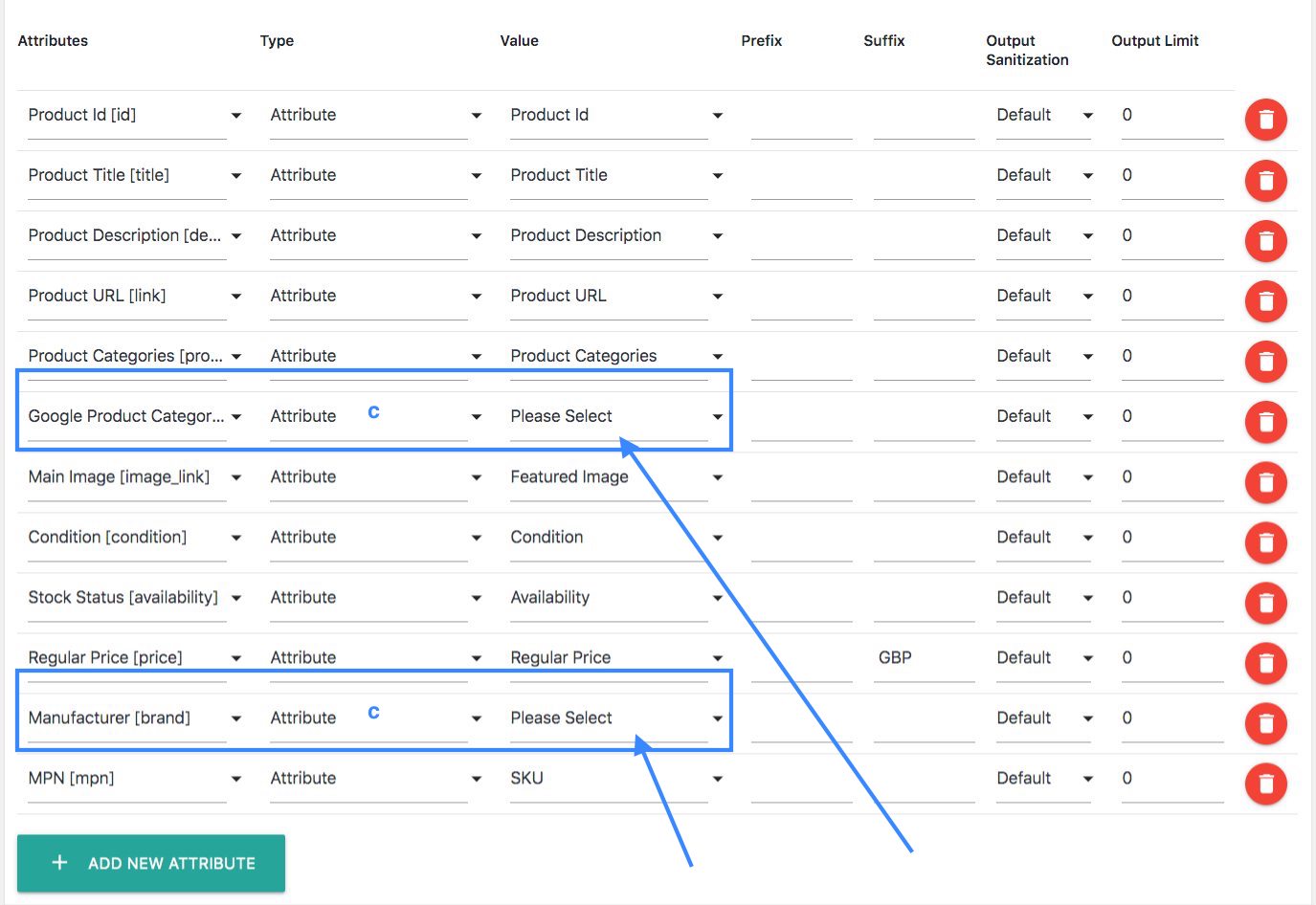 For Google Product Categories, click on Please Select and you will get a list of values to assign.

Scroll at the very bottom of this list and you will find the category mapping lists that you created.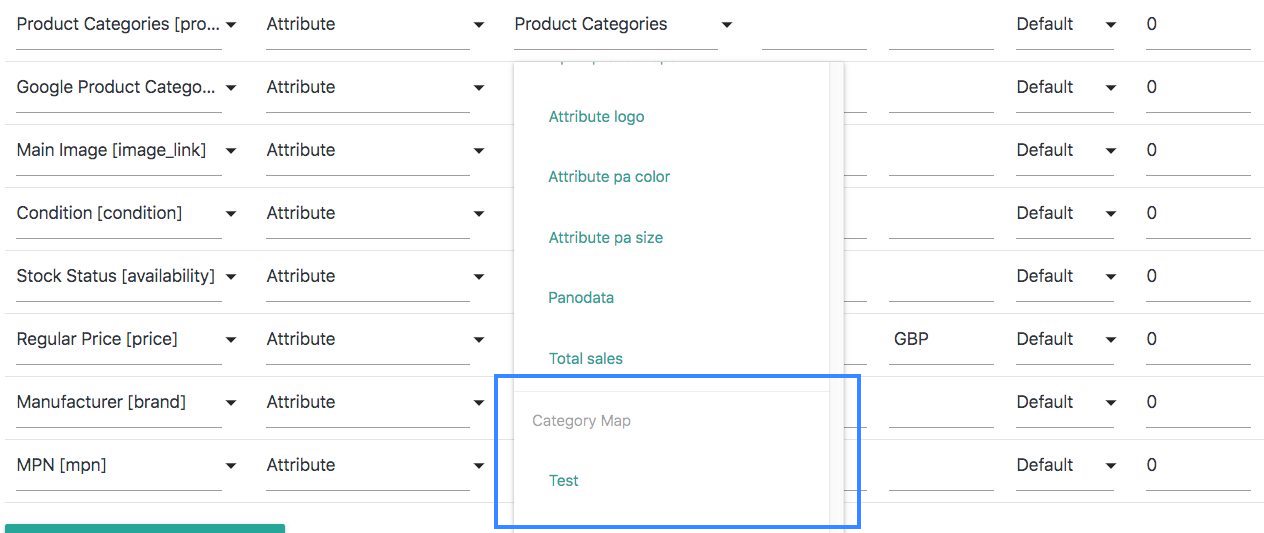 Choose the category map list that you set up earlier.
To assign Manufacturer (Brand), if you are using the custom fields that are generated by Product Feed Manager For WooCommerce, then you can click on 'Please Select', scroll down and look for the value 'wpfm product brand.'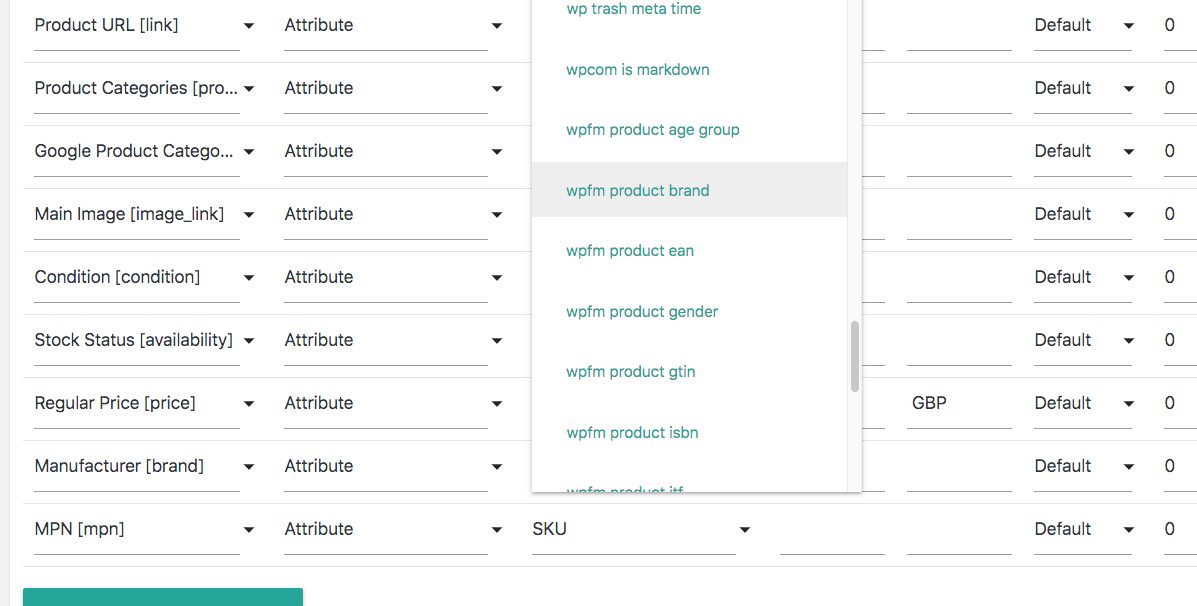 In case every product you are generating feed for are from the same Brand, then you can rather change the Attribute type to Static and assign the Brand name manually.

All products will have the same brand attribute in this case.
Now that your brand is set, you can also see that there is another information missing and that is GTIN.
For certain products, if you provide a Brand Name, Google requires you to submit a GTIN or MPN number for each of those products respectively.
But that's not a problem. You can add the attribute and assign its respective value.


Also, if you do not have GTIN or MPN but you still wish to put a brand name, then you need to use the attribute 'Identifier exists' and the set value as 'Identifier exists calculator,' for the product feed to be accepted by Google.

Step 9 – Generate The Product Feed
Once all the configuration is in place, scroll to the top right side and publish the feed.
This will show you a progress bar for feed generation.

Once this bar is full (green colored), the page will refresh and you will be able to get the feed link or view and download the WooCommerce Google Product Feed Generated.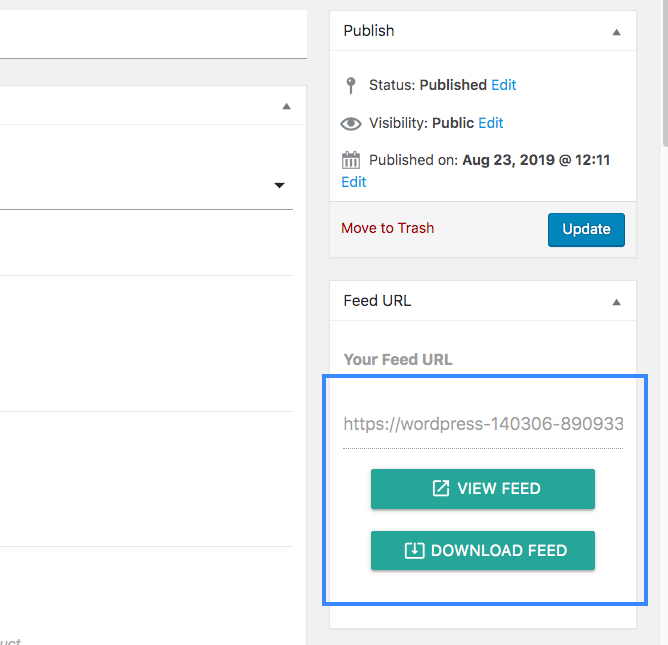 Now you can click on the 'VIEW FEED' button to view the WooCommerce Google Product Feed, or you can click on the 'DOWNLOAD FEED' button to download the product feed generated.
Step 10 – Upload WooCommerce Google Product Feed For Promotion
You can now download the generated product feed and upload it on your Google Merchant Center.
If you have auto-synced your WooCommerce store to Google Shopping using our plugin, then you can directly send it from the 'Send to Google' section which is on the right side just below the 'Feed URL' section.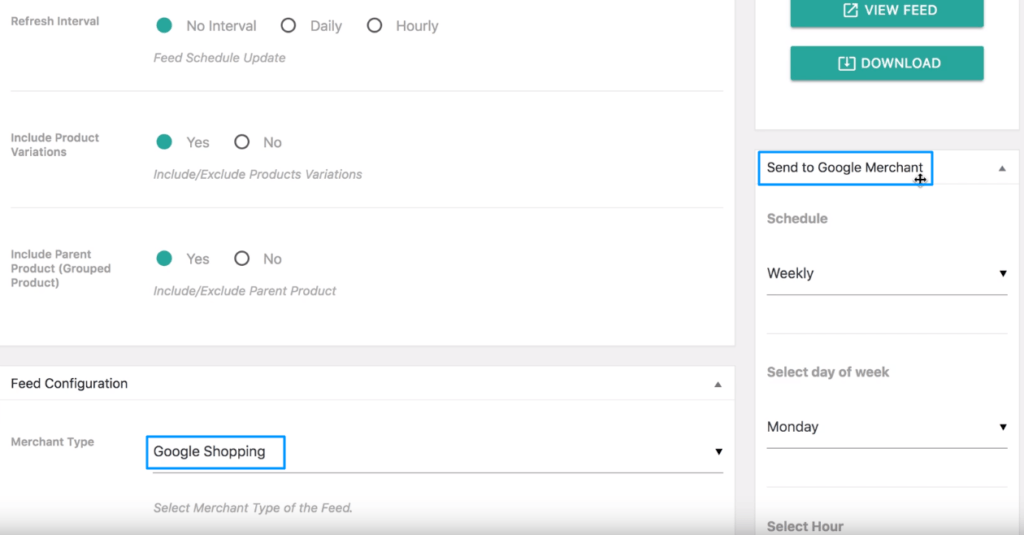 Under this option, you can set your schedule according to your own will, either Weekly, Monthly or Hourly basis. Once you select the schedule, click on the Green button Send To Google.
And that's it, the feed will be sent to Google and regularly updated as per your set schedule.
In case you do not know how to auto-sync your WooCommerce store with Google using Product Feed Manager For WooCommerce, read this article.
Conclusion
Hopefully, after this tutorial, you will have no issues in generating WooCommerce Google Product Feed.
You can get Product Feed Manager For WooCommerce here.
The plugin has a free version which lets you test out the features for a limited amount of products. If you are satisfied, you may upgrade to Pro to generate unlimited product feed.
If you need help in understanding the product feed for Google and wish to know how to optimize it, then read this Complete Guide to Generate WooCoomerce Product Feed.
So go ahead and start promoting your products through Google Shopping and start seeing a rise in conversion rate.