Zuletzt aktualisiert am:

7 Min. gelesen
How to Use Special Halloween Variation Swatches To Increase WooCommerce Sales [2023]
Trick or Treat! The spooky Halloween season is here.
Halloween is currently the fourth most lucrative holiday for WooCommerce businesses, after Christmas, Thanksgiving, and Easter.
It's an event that WooCommerce entrepreneurs cannot afford to ignore.
During Halloween, it is expected to get huge online sales, especially in the last 3 days till Halloween, as people are making last-minute preparations. And you can get huge sales if you do it right.
The first thing to do is give your buyers a Halloween festive feeling as soon as they come to your site. Along with that, little customizations to create engagements can take your store a long way.
You must specifically focus on customizing product pages to grab the buyers' attention such as changing Add to Cart button text, or by adding an on-page offer, etc.
A more simple but effective way to attract buyers is to use beautiful image variation swatches to present product variations.
Today you will learn how you can present different types of Halloween products in an attractive way using variation swatches on the product page and possibly, get higher engagements.
Also, lassen Sie uns anfangen.
Special Halloween Variation Swatches Ideas You Can Use
People love to decorate their homes during Halloween and naturally, decorative sell the most during this time. But besides that, people are also fond of t-shirts, masks, candies, costumes, and many other Halloween items.
If you do sell some of these products, it's best to make sure your buyers know all about your offers in the most simple way possible, while still getting the Halloween vibes.
I'm not talking about a costly re-design of your website. Rather than making your Halloween offers easier to redeem, and adding simple visuals such as variations swatches can catch the eye of the buyers during Halloween.
Here's a quick Actionable Tip
You might often think that adding tons of Halloween products will attract more buyers. But that is not really the best concept.
The best way to sell more is to tell your buyers about all the products and offers you have for Halloween, as soon as possible.
The easier they find to buy your products the better.
One way to make it happen is, rather than posting multiple products of the same type, add them as variants.
For example, if you sell Masks in different shapes, simply create one variable product called, let's say, 'Spooky Halloween Masks' in WooCommerce, and add the different types of masks as the variants.
That way, people will be able to choose the masks from one place and make a faster purchase decision, rather than spending a long time through the shop when browsing different masks from the shop page.
You can do the same for costumes in different patterns, candies in different shapes, lanterns in if various shapes and colors, and even t-shirts.
Let us look at how you can use cool icons as variation swatches for common Halloween products.
Catchy T-shirt Icon Variation Swatches
For t-shirts that are available in various colors, you can present the option to choose the colors using attractive image swatches.
This can be a great attraction around a holiday to the buyers and they will know which colors are available for that design.
For example, a Halloween themed t-shirt might come in several colors. So using colored image swatches of t-shirts is a great way to grab the buyer's attention.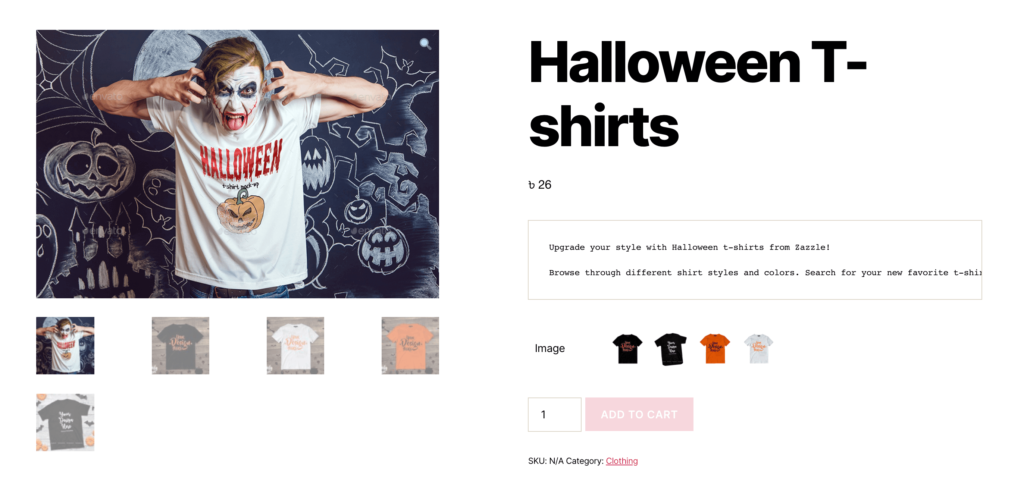 As you can see above, you can specify the available colors for this t-shirt and make it look charming using tiny image swatches.
This will often get buyers curious to click and choose multiple colors of the same t-shirt, even if they did not intend to in the first place.
Delicious Fancy Candy Swatches
Candies are the most desirable delicacy during Halloweens and kids get well dressed in costumes to collect candies in the neighborhood. So you can expect to get a lot of orders for various candies.
And you can offer your candies in an exciting way using tiny candy icons.
The idea is to put up different shaped candies as variants and present them using attractive variation swatches on your WooCommerce store.
This will work really well especially if you have fancy candies that are prepared and shaped just for Halloween.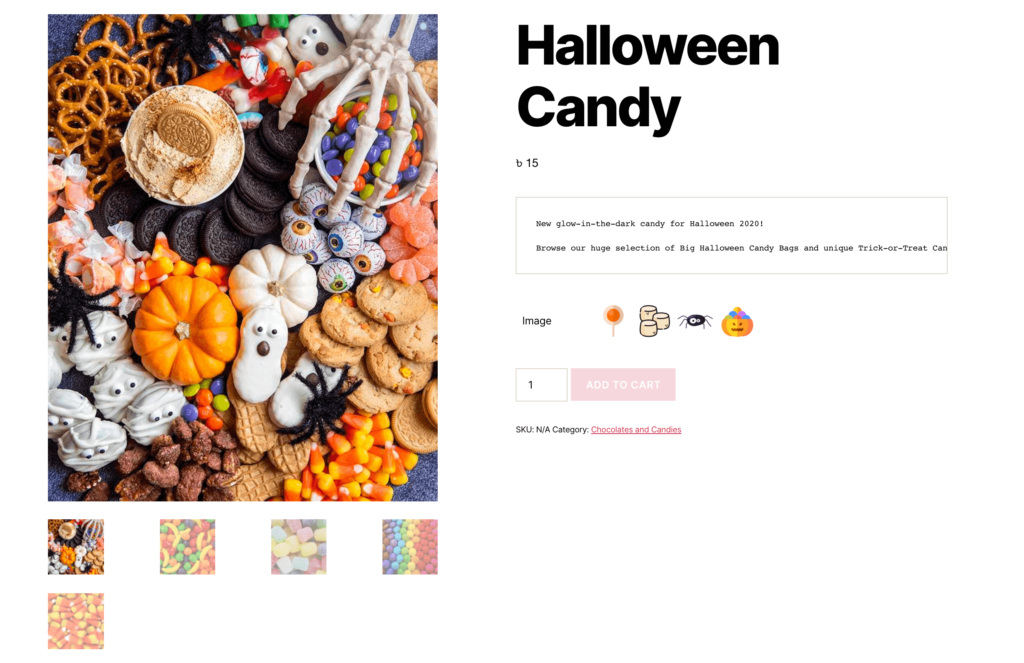 For example, you can use image variation swatches such as a spider icon to represent spider-shaped candy, and pumpkin icons to represent pumpkin face candies, and so on.
The swatches will let the buyers know that you have all the Halloween candies they were looking for and will surely help to trigger more sales.
Spooky Mask Image Swatches
Costumes are in high demand during Halloween, so naturally, they are a bit expensive during the occasion. So many rather buy scary masks along with Halloween t-shirts.
If you are an online clothing store or costume store, I am expecting that you will consider stocking up Scary Masks to sell at least during Halloween.
And to get people excited about the different masks you have, you can present the variants using mask icons.
For instance, if your store is selling V-killer venomed masks this year, make sure to include a gallery with the different types of killer masks you have in stock.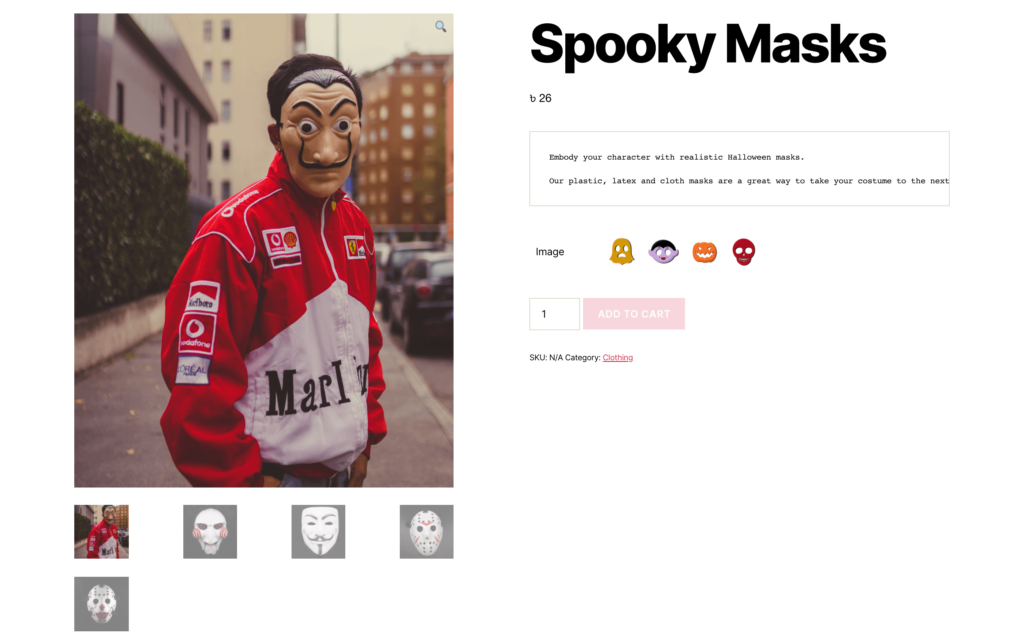 And spice it up a little more with tiny mask icons to choose the shapes. This might seem like small customization, but it will help to make the buyer more curious about what they might get.
Haunting Lantern Icons To Choose From
On Halloween, the witching hour starts as soon as the sun sets, so people love to decorate the house with some festive lanterns.
If you do sell lanterns, get various lantern icons to use as variation swatches and offer the buyers the different shapes and colors you can deliver.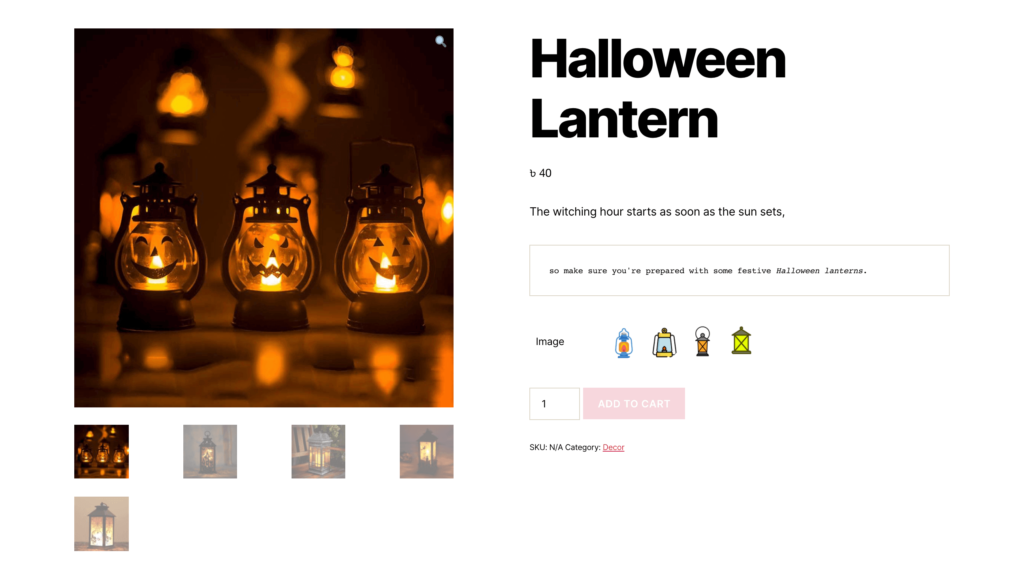 Normally, images for lanterns look amazing. But the dull dropdown selection on default WooCommerce doesn't look too appealing.
You can see in the image above, the small image swatches of the lanterns look much more festive for Halloween.
Witch Hats In Various Spooky Patterns
As I said, costumes have high demand during Halloween, and witch hats are among the most popular ones that girls and ladies love to wear at Halloween parties.
Offer witch hats in various patterns using relative image swatches on the product page.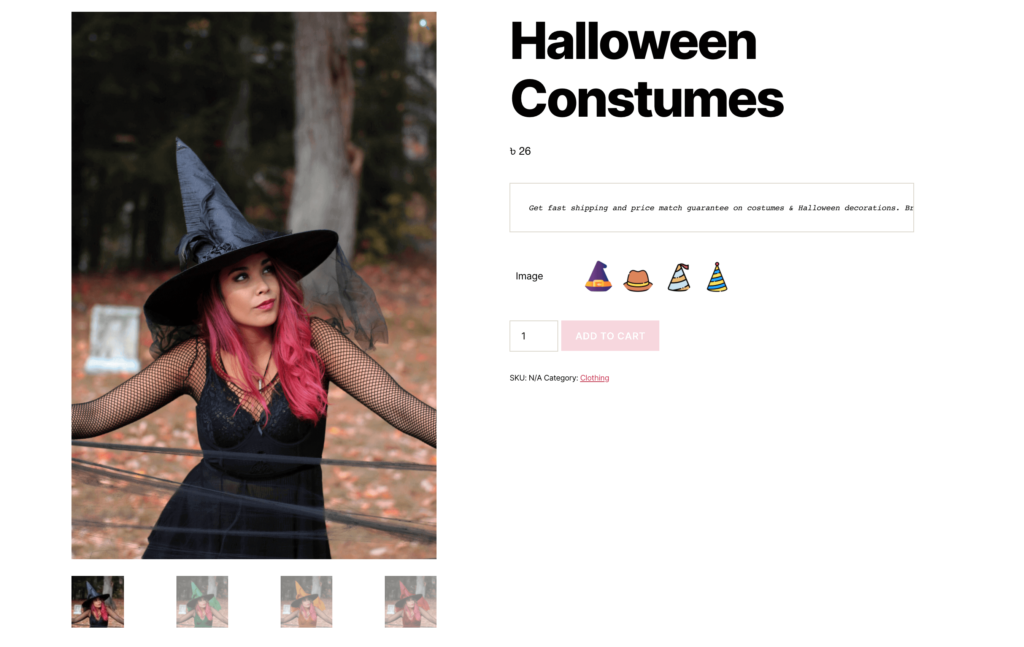 Clicking on the icons will display the hats in that pattern. A great way to engage with interested buyers.
How To Find Halloween Icons For Variation Swatches
So far you just saw how it will look with variation swatches, but how will you get those icons?
It's best to use images or icons that are relative to the product itself when using image variation swatches.
I only showed you examples of 5 products, but there are tons of other products, and preparing custom swatches might be a hassle. Rather you can find these icons or vector images to use as Halloween variation swatches easily.
Here is a list of sites where you can collect your desired icons or images in high quality, and most often, for free.
How To Use Image Variation Swatches Real Quick
Adding variation swatches is really easy in WooCommerce.
Simply use the plugin Variation Swatches for WooCommerce, and in just a few minutes, you can set up image swatches for product variants.
This is probably the smallest customization you can make, for a great advantage in increasing your sales.
Moreover, you are able to do it without any extra cost. So go ahead and start using smart variation swatches to boost your Halloween sales.
Schlussbemerkungen
Special occasions should always be considered a great opportunity for any WooCommerce store to increase sales, and Halloween is one of the biggest occasions there.
So it's best to find unique ideas to boost your Halloween sales, and using smart image variation swatches can be a great way to attract more buyers.
There are many more unique techniques you can use to make your Halloween more profitable. Here is an actionable guide you can follow to successfully sell more products during Halloween:
I wish you good luck to get a high number of sales this year.
Happy Halloween!!