Zuletzt aktualisiert am:

4 Minuten gelesen
Big Update! The Revamped Product Feed Manager is Here! [ Simplified Mapping, Advanced Controls, Faster Feed Generation & More]
When it comes to promoting your WooCommerce products on online marketplaces, we understand the challenges you face. 
You probably find it difficult to list products manually or may face product disapproval on the merchant site.
The whole WooCommerce product promotion process can be complex and leave you frustrated.
But don't worry anymore!
Today, We are thrilled to announce a major transformation of our Product Feed Manager for WooCommerce plugin, designed to revolutionize your marketplace promotion.
Over the past few months, we have listened to your suggestions, feedback, and pain points. Based on that we made a solution that will make your feed generation simpler and more efficient than ever before.
The improved version of the plugin will ensure:
Seamless Feed Mapping
Enhanced Product Filtering
Faster Feed Processing
Let's dive into the key enhancements you can expect from the latest version of our Product Feed Manager:
Improvement 1: Seamless Feed Mapping In 3 Simple Clicks
Feed mapping is the major part of the product listing. Because this is where you select the attribute values you want to display in your feed.
You might have tried different plugins where you need to go through sequential steps for feed generation.
We wanted to reduce this confusion and make the feed creation easier.
When you open the Add New Feed tab, you will see this page –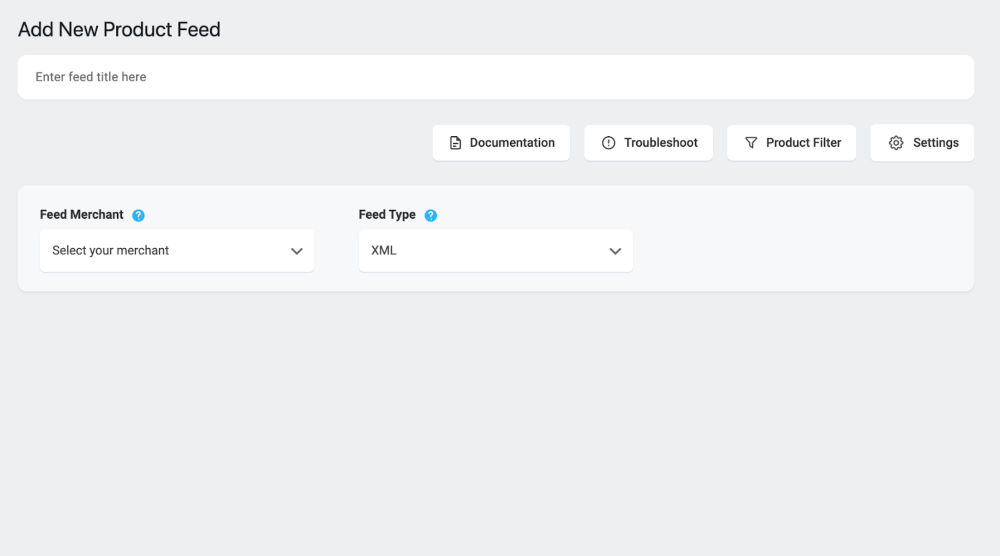 With our new user interface, configuring your product feed is now just a few clicks away. 
By selecting your desired merchant, you'll automatically gain access to all the required attributes. 
For example, if you select Google Shopping, you'll see the listed attributes below –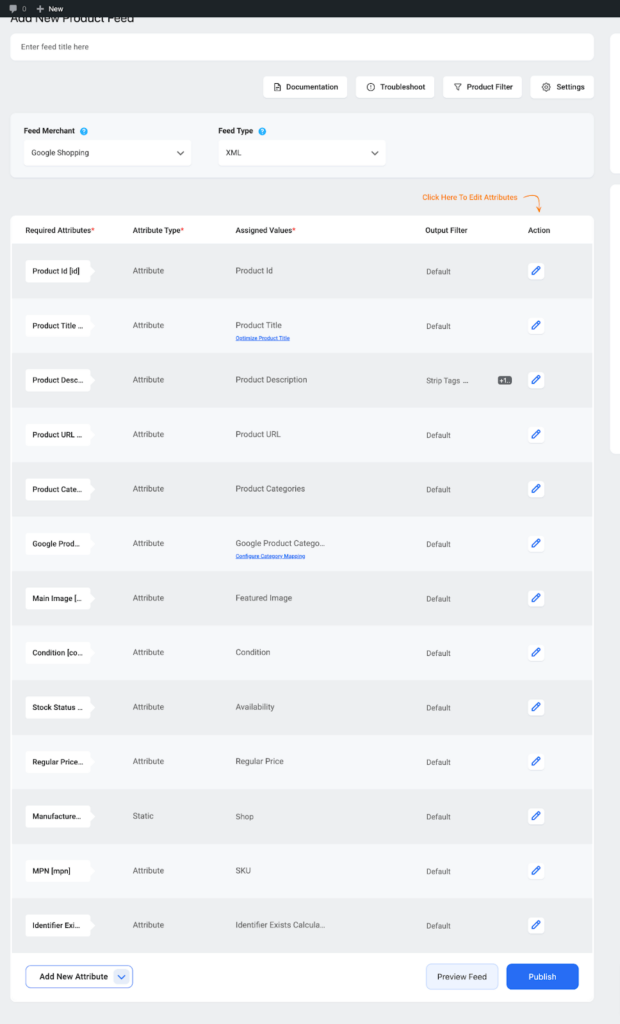 Now, you don't need to worry about where to configure the attribute values. As you see, almost everything is pre-configured.
But, if you want to make any changes you can do selecting the action button.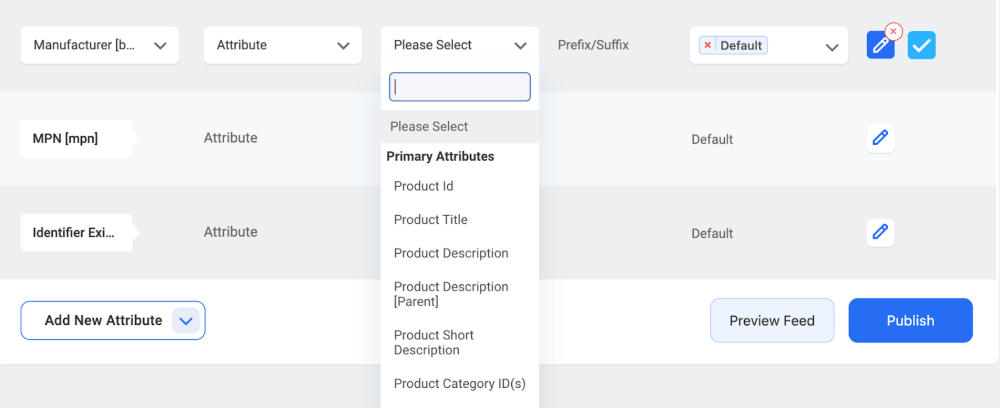 Once you're done configuring the feed, you can just publish it.
We've eliminated all the unnecessary additional steps. It ensures a streamlined experience where you're always in control.
Improvement 2: Enhanced Product Filtering For Better Feed Optimization 
You can now take full control of your feed with our advanced product filtering capabilities. 
In this version, we've introduced AND/OR conditions in custom filtering, allowing you to filter your products even more effectively. 

You can set up conditions and decide if all the conditions apply together or any of will be applicable in the feed. 
Let's say, you want to include only the 'Gucci'' branded products.
So, you'll set this condition – 
But a product (id =28) is out of stock, so you want to exclude it.
So, you'll put another condition if product availability is out of stock exclude.

Now, this two condition goes together, so you'll keep it under AND condition.
But if there's a situation where you have to select any of the condition, you'll choose OR. 
Now, imagine a different scenario. 
Suppose,have to go for either 'Clothes' category or 'Shoes' category. 
Then you'll put OR between these two conditions.

See, that's how easily you can filter your products and get the maximum results out of it.
Improvement 3: Faster Feed Processing For Hassel-Free Feed Management
We've listened to your concerns and taken action to ensure seamless feed processing. 
You will now no longer face feed processing stuck issues or data loss, especially when dealing with a large number of products. 
With the implementation of the action scheduler, you can now generate error-free feeds faster than ever before. 
Now there will be no frustrating delays and only efficient, hassle-free feed processing.
What's Next?
This update is definitely one of the biggest upgrades, but it's not the last! We have some exciting features lined up for you in the upcoming weeks….
Table Rate WooCommerce Shipping Support
Display Google Analytics in the feed
Facebook API
So, are you ready to take your WooCommerce product promotion to new heights? 
Try out the all-new Product Feed Manager for WooCommerce and experience the difference it can make in your online selling journey.