Last updated on:

23 mins read
Best WordPress Christmas Deals And Holiday Sales [2022 – 2023]
It's December 2023!!! Merry Christmas & Happy Holidays!!
This Holiday deals season, Santa is not the only one who has kept you on his good list.
You've got the whole WordPress community offering you awesome New Year and Christmas deals!!
In this roundup, we've hand-picked the best and the largest discounts for WordPress products and services of this holiday sales season.
Here, you'll find the Holiday sale offers of 2022 to New Year's Eve deals of 2023.
So, dive in and get your desired WordPress plugins, themes, and services at huge discounts.
Best Christmas Deals, Holiday Sales, & New Year's Eve Deals on WordPress: 2022 – 2023
Here are the best Christmas deals, Holiday sales, and New Year discounts on WordPress this year.
Details of Best WordPress Christmas Discounts, & New Year's Eve Deals
This was the most updated roundup of the best Christmas deals of 2022 and the largest New Year discounts on WordPress.
But we know you want to learn more about the Christmas Deals and New Year discounts.
So, here are the details on each and every Holiday Sale and New Year's Eve Deal listed above.
Product Feed Manager for WooCommerce – 25% Off
WooCommerce Product Feed Manager allows you to easily create accurate product feeds to promote on over 170+ popular marketplaces.
You can easily create dedicated product feeds for every popular marketplace in minutes, which includes Google Shopping, Facebook Ads, Kelkoo, Amazon, eBay, Instagram, Rakuten, Walmart, AdRoll, Pricegrabber, Target, etc.
Exclusive features of WooCommerce Product Feed Manager:
Category Mapping with Google.
Extensive Filter Options.
Schedule Auto-Update of the feed.
Advanced Custom Fields,
Google Analytics Support
Facebook Pixel Support to Track Products
And many more.
For Holiday Sales and New Year discounts, you'll get a 25% discount on all plans of WooCommerce Product Feed Manager.
Cart Lift – Recover Abandoned Carts 25% Off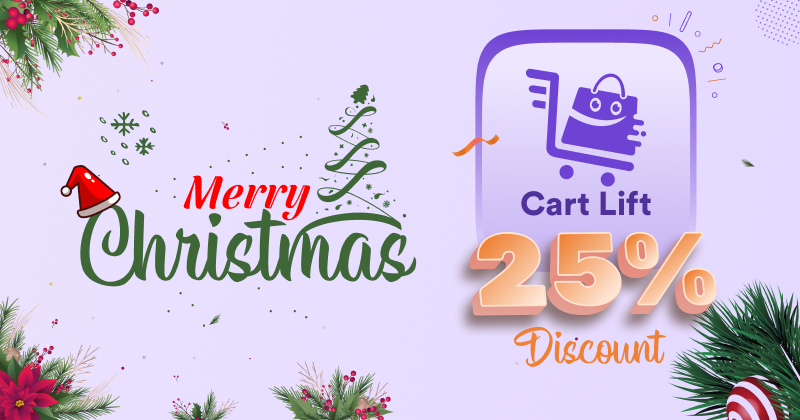 Cart Lift is an abandoned cart recovery plugin for WooCommerce and Easy Digital Downloads.
It will help you track the customers who abandoned carts on your site and automatically send emails to remind them about their product choices.
This plugin will help you set up multiple email campaigns for abandoned cart recovery and give you full control in customizing your own email.
The main goal of the plugin is to win you back as many abandoned customers as possible and help boost your revenue.
Exclusive features of Cart Lift:
Track Abandoned Cart Automatically (GDPR compatible).
Set Up Your Campaigns In A Few Clicks.
Set Strategic Intervals To Send Emails.
Full Analytics On Revenue Recovered.
Easily Build Up Your Mailing List While People Shop.
Exit-intent Pop-up To Avoid Losing Customers
This Christmas, you'll get a 25% discount on all plans of Cart Lift.
WooCommerce Product Table Pro – 30% Off
If you need to create a streamlined ordering process with the most efficient one-page order form for WooCommerce, download WooCommerce Product Table Today!
List WooCommerce products with searchable, filterable, and responsive product tables. Perfect for product list views, restaurant, and music shops, order forms, wholesale, book store, product catalogs & more.
The WooCommerce Product Table plugin lets you create multiple tables and selectively include products in them, including variable products.
WooCommerce Email Customizer – 30% Off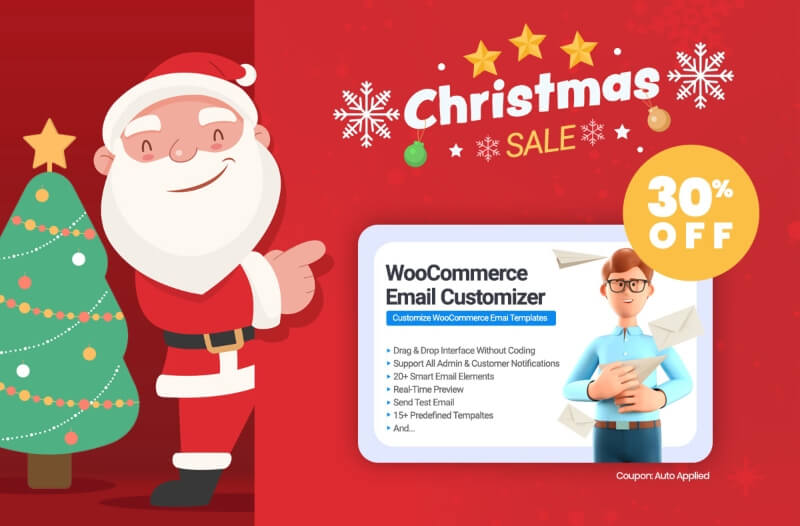 WooCommerce Email Template Customizer Plugin is a useful marketing tool that helps you create and customize WooCommerce email templates.
This easy-to-use plugin lets you customize WooCommerce emails and quickly create email messages of any complexity, with no limits and no coding skills, just by using a drag-and-drop designer interface.
Fluent Forms – 30% Off
Fluent Forms is an easy-to-use WordPress form builder that provides a wonderful user experience with great functionality. It has dozens of pre-built form templates for quick form building.
One of the best features of Fluent Forms is conversational forms. Another great feature is the Quiz Module. Creating quizzes in Fluent Forms with customized scores and grading is a breeze.
With 45+ native integrations, Fluent Forms provides you with the ultimate freedom of adding more functionality to your forms. Get Fluent Forms at a crazy discount now!
Conclusion
With these offers, you can have the best WordPress Plugins, Themes, Hosting, and tools at the lowest price this holiday sales season.
Bookmark this page, because I'll continue to add more exciting Christmas deals and Holiday Sales for WordPress in this post for you.
Have a good time with your family, friends, and WordPress.
Merry Christmas and happy holidays.