5 Best Free WordPress Backup And Migration Plugin [2020]
Last updated on:

6 mins read
It's essential to have a WordPress backup and migration plugin if you want to avoid all the hassle and cut down the time it takes to backup, and migrate a website.
Generating backup for your website is must if you want to avoid nasty things from hacker attack or server crash. It's the most important things to guard against losing all your data. You don't know when your site will be hacked or attacked.
It may be the slow service of web host provider, you get tired of poor support or just wish to clone an installation to speed up your site.
Migrating a site manually can be complicated. You risk losing data and messing things up if carrying out incorrectly.
There is plenty of plugins in the market and WordPress directory but now all are the best choices.
Today we have enlisted the best five plugins (apparently free) for WordPress backup and migration.
Duplicator – WordPress Migration Plugin

Duplicator helps you to duplicate, clone, backup, move, and transfer an entire site from one place to another. It's a powerful tool for any website administrator.
The plugin currently has one million plus active install, and overall rating of 4.9-star on the WordPress Plugin Repository. The free version of Duplicator is ideal for small to medium websites.
This plugin requires some professional experience. If you want to migrate WordPress or backup WordPress using duplicator, use it at your risk. And don't forget to backup your files and databases beforehand.
UpdraftPlus WordPress Backup and Migration Plugin

UpdraftPlus is one of the highest-ranking WordPress backup and migration plugin on wordpress.org, with over a million currently-active installs. Widely tested and reliable.
UpadraftPlus allows quick and easy creation of backup copies of all your website files and folders.
You can create backup into the cloud (Amazon S3 (or compatible), Dropbox, Google Drive, Rackspace Cloud, DreamObjects, FTP, OpenStack Swift, UpdraftPlus Vault, and email) and restore with a single click. Backups of files and databases can have separate schedules.
You'll need to upgrade to the premium version of this plugin or buy the addon for migration. Prices start at $70 for the premium version of two licenses and $30 for the migration addon.
All-in-One WP Migration

All-in-One WP Migration is an excellent tool for WordPress backup and migration. The plugin allows you to export/import your database, media files, plugins, and themes. That means it handles all aspects of migration.
The plugin does not depend on any extensions, making it compatible with all PHP hosting providers. It exports and imports data in time chunks of 3 seconds. It keeps the plugin below the max execution time, which most providers set to 30 seconds.
They use chunks to import your data. If your host restricts upload to a specific max, it will bypass web server upload size restriction.
Currently, it has more than 400,000 thousand active installs and 4.9 star rating from users.
BackWPup – WordPress Backup Plugin

BackWPup is a popular and free solution with more than 500,000 active installs. But it's not as well rated as some of the others.
It can save your complete installation including wp-content and push them to an external backup service, like Dropbox, S3, FTP and much more.
BackWPup provides excellent, easy-to-follow instructions. It also provides an intuitive dashboard. It is very straightforward to use when setting up backup options.
You can not only set a backup destination and send an email to yourself but also it has options for database backups, file backups, WordPress XML exports, installed plugin lists and an area to check database tables.
WP Clone by WP Academy

WP Clone is another advisable WordPress backup and migration plugin that Coderex would like to recommend to you. It received excellent reviews on WordPress Plugin Repository with more than 300,000 active installs and an overall 4.3-star satisfaction rating.
It is one of the smoothest and most secure ways to move or copy your WordPress site to another domain or hosting server.
You can also use the plugin to move your site to/from local server hosting, create copies of your site for development or testing purposes, backup your site, and install pre-configured versions of WordPress.
It doesn't require FTP access to either the source or destination site and just copies the user's content and the database, not the WordPress system's files, which improves security and speeds the process.
Remember, the developers fully admit that this process will fail on 10-20% of WordPress installs.
That's the reason WP Clone isn't higher on this list. Though it's the easiest and fastest way, just be sure you have a full backup before starting anything.
Special Recommendation: Migrate Shopping Carts to WordPress
If you're looking for migrating Shopping carts to WordPress, here is a tool for you:
LitExtension – WordPress Migration

The Migrate Shopping Carts to WordPress app helps you automatically migrate every important data from your current Shopping cart to WordPress with the highest level of accuracy and security.
The process is simple and straightforward. You do not need technical or coding skills, only 3 steps to run a migration.
Especially, they ensure no downtime for your current Shopping Cart, which means it will serve customers normally, no sale lost!
Once the migration process is started, you do not need to keep your browser open or sit and wait for the process to complete, you are free to close your computer and get notified by email when migration is done.
Price:
Free to install and then pay for what you need, starts from $19.
Features:
Supports migration from 100+ website builders to WordPress.
Transfer every important data including products, customers, orders, and other related entities.
Plenty of additional options for you to expand the migration possibility such as: Customer Password Migration, Migrating SEO URLs and Creating 301 Redirects.
Free and unlimited Recent Data Migration, Re-Migration, Smart Update within 3 months since your full migration.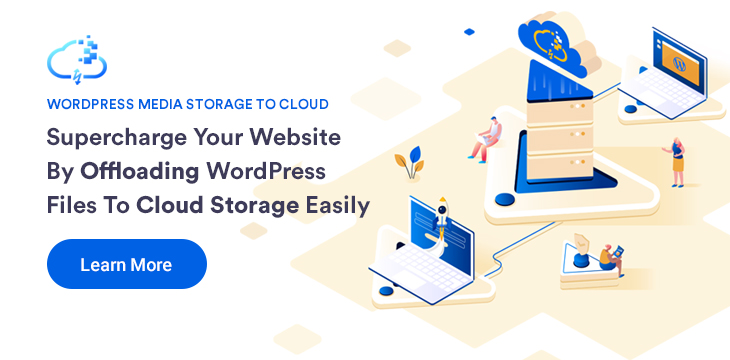 – Special Recommendation –
Backing up is crucial and sometimes you might just wish to move media files for backup on cloud servers. In that case, you should check out WordPress Media Storage to Cloud. The plugin is clean and even lets you serve media from cloud to your website. So I suggest you try it out.
Here's the free version for you to take a test run.
Author's Thoughts
Moving and Backing up your site will be simple with above WordPress Migration and Backup Plugins. You will spare your valuable time and effort.
If you've picked any of the plugins we suggested above, we'd love to find out about your experience. Did we miss any plugins that you think should be on the list? Comment if you have any suggestions for us.