Last updated on:

12 mins read
Amazing WPVR Virtual Tours Created By Users [2023]
If you're thinking of a new and innovative marketing strategy to convert more website visitors to real customers, a virtual tour is the most suitable solution for you.
Especially, if your business has a physical location of any kind, a virtual tour is a great way to show your service, products, and facilities to your prospects online.
For a WordPress site, WPVR is right now the easiest plugin to create quality virtual tours.
Since its release, the plugin has gone a long way, with great interface improvements, and now it is considered a reliable plugin to create virtual tours.
And within that time, many WPVR users have created a few amazing virtual tours. You will be amazed at their creativity in using the plugin to create stunning virtual tours.
So, we've decided to share some of these WPVR virtual tours with you so you can take ideas and inspiration from them and hopefully, make a few great ones yourself.
In this article, I will highlight some of the virtual tours that WPVR users created for their businesses.
And I have classified them within different industries so that you can find the ideal ones to learn from for your business.
So let's get started.
Stunning WPVR Virtual Tours Created By Users
I am really excited to show all these virtual tours as I am sure you will find something to learn and you will be able to understand how people in your industry are using virtual tours.
1. Virtual Tours of Real Estate Properties and Housing
If you're in the real estate industry, you can create a virtual tour of your properties and add them to your online listings.
It will allow your prospects to have a realistic experience of your place and thus a better idea about the property.
This, in turn, will increase the conversion rate as people calling with inquiries will probably already be interested in how the property looks.
Here is a virtual tour of a real estate property created by a WPVR user.
You can navigate this tour, move around between the scenes, and check out all the features on this tour.
Here are some virtual real estate tours created by WPVR users:
Click on the images to visit the tours.
ii. UN Reality
UN Reality is a Real Estate Service Provider operating in South Korea.
They've created multiple virtual tours for their properties using WPVR and are using them to highlight their properties to potential buyers through their website.
Here are the virtual tours they created.
Click on the images to visit the tours.
2. Virtual Tours of Hotels, Motels, Resorts, and Guest Houses
If you're involved in the hotel or resort business, then you can largely benefit from using virtual tours on your site.
Most people who want to visit a resort or book hotel rooms, browse through the websites of several places. And if you provide an engaging virtual tour, it will surely create a great experience online.
This will increase the possibility to get more bookings and create a good first impression of your hotel/resort.
Using a quality virtual tour that is informative and realistic, will get you a higher rate of conversion over using only stale images.
Here is an informative virtual tour of a hotel room created using WPVR:
You can navigate this tour and check out all the features on this tour.
Here are a few virtual hotel tours created by WPVR users:
i. Pearl Tree
Pearl Tree is a 4-star boutique hotel located in Purulia, West Bengal. They have created a few wonderful virtual tours for most of their hotel rooms.
Click on the images below to take a tour of their hotel.
ii. Shar Barr Casa
Shar Barr Casa is a beautiful vacation home in the Caribbeans. They've created virtual tours of both the interior and exterior of the home.
You can take a tour and experience their enjoyable resort by clicking on the images below.
3. Virtual Tours of Pubs and Bars
We all love to take a break every now and then and spend some time in a pub or bar.
And you will be surprised to know that many do search online for good pubs to hang out in. If you provide a virtual tour of your pub and can present a great environment, people will be hooked immediately and will probably visit soon.
A virtual tour that represents your service quality and interior well, will make them more likely to choose you as their regular pub.
Here is an example of a Pub virtual tour that represents the interior really well.
Try clicking on the hotspots in the virtual tour and see how more information is provided.
Here are a few more virtual tours of pubs and bars that WPVR users created.
i. KluBar Gastropub
Located in Kranj, Slovenia, KluBar Gastropub is a concert space, a day bar, a nightclub, a cafe, and an exhibition space altogether.
Klubar Gastropub created a virtual tour using WPVR. Take a tour and experience their place.
You can see the tour on the website of the KluBar Gastropub.
ii. Whiskey Licker Up
Whiskey Licker Up is a bar and cafe in Las Vegas. They have created a simple virtual tour that looks amazing.
Here's their tour. Click on it to take a visit.
4. Virtual Tours of Restaurants and Cafes
Locally, people tend to search online for good restaurants and cafes on a regular basis.
Besides good food and ratings, a person also values the environment. If you manage a restaurant, you can consider using virtual tours to attract more customers and increase sales under your management.
If you can show how great your restaurant is using a virtual tour, it will surely attract people to try your restaurant out.
Here are a couple of restaurants that used virtual tours to highlight their lovely interior. Click on the images below to experience their virtual tours.
5. Virtual Tour of Beauty Parlors and Salons
When a person looks for a beauty parlor or salon, they usually prefer the ones that feel peaceful to visit with a lovely interior.
One way to highlight your sweet beauty parlor is to use a virtual tour on your site.
Here is an example of a virtual tour for a beauty salon.
You can see how you can use hotspots to provide information about each of your services and showcase your parlor easily.
A couple of WPVR users happened to be owners of Beauty salons. Take a look at the tours they created.
You can have a look around their entire salon and learn about all of their services easily.
6. Virtual Tours of Schools and Colleges
When choosing schools, parents do value the campus and the interior of the school. It creates an impression of where their kids will study and if they feel safe about it.
A virtual tour is a great way to showcase your school's environment online so that the parents know beforehand how amazing your school is. And whether the students enroll or not, they will definitely take a live visit if they enjoy the virtual tour, which increases your chances of taking a new student onboard.
i. Sherborne International School:
Sherborne International School created virtual tours of their classrooms, dorms, and other facilities.
Here is the virtual tour of their school premises:
You can see their chemistry lab in this scene. On another tour, you can see the common room of their dormitory.
This tour clearly speaks with the parents about the reliability of the school.
7. Virtual Tours of Museums, Art Galleries, and Exhibitions
If you own a museum or art gallery, creating a virtual tour of them is a great way to attract more visitors to your site.
This way, you'll not only get popularity online but people will be tempted to visit your gallery or museum in person.
In fact, if you regularly host art exhibitions, you can create virtual tours of your past events and use them to promote your upcoming exhibitions.
Here are some virtual tours created by WPVR users for museums and art exhibitions.
i. Melissa Morgan Fine Art
Melissa Morgan Fine Art created a stunning virtual tour of their entire exhibition and it's so amazing.
These are the scenes from the entrance and the inside of the exhibition. Click on the images to visit the tour.
ii. Rolling Hills Studio
Rolling Hills Studio has created a clean and simple virtual tour of its fabric art studio. They used a high-quality 360 panoramic image and the virtual tour elegantly showcased the whole place.
Click on it to take a look.
iii. Mao Jianhua's Personal Website
Mao Jianhua is a renowned artist and entrepreneur from China whose paintings are often a symbol of 'Zhuo Weng', which translates as a wise man dedicated to a simple and austere life.
His paintings have been exhibited in the famous galleries of Italy and the United Kingdom.
Here is a virtual tour of one of his exhibitions. I request you to take a tour of his exhibition:
iv. Virtual Museum of the National Institute of Health (Peru)
In commemoration of its 126 years of its creation, visitors will find a gallery of the Chiefs who led a firm response to various diseases and epidemics that devastated Peru.
Additionally, They have access to the Book of Royal Orders and Acts relating to the philanthropic vaccine expedition which details the events from 1806 to 1820 that served to avoid the smallpox disease.
Here's how they used WPVR to create Virtual Tours,
More Brilliant Virtual Tours Created By WPVR Users
Apart from these virtual tours, there are also a lot of amazing virtual tours created by WPVR users of other industries and businesses.
Let's take a look at more virtual tours created by WPVR users.
i. Far Out Ride – Van Tour
This is a unique virtual tour of a mobile home created by Far Out Ride.
They're specialists in building custom automobile homes for all your living accommodations.
Here is a virtual tour of one of their mobile homes:
ii. Virtual Fair and Virtual Stalls by EEST
ESST created some really professional virtual tours with custom-made high-quality 360-degree images.
This is mind-blowing as they created the image from scratch and used WPVR to turn it into a masterpiece.
I insist you take this tour. You won't be disappointed.
iii. 360 Degree Drawing and A 3D Self Portrait By Karen Nijst
Karen Nijst is a Web Developer from Hapert, the Netherlands who made some wonderful 360-degree drawings of herself and her surroundings.
In her own words:
"As you can see, I like to draw a lot.
Because I also enjoy making animations, you will find a fully drawn digital tour through our living room and garden (where I prefer to draw) and through our village Hapert (Noord-Brabant NL) below."
Click on the images to visit her virtual tour and experience these beautiful images.
iv. Patrick Gerola's Atelier
Patrick Gerola is an artist painter from Belgium.
Here are the virtual tours of his excellent studio:
Click on the images to visit these tours.
v. Zirzow Gallery by Amanda Zirzow
Zirzow Gallery was formed in 2020 with the desire to showcase the beautiful, unique art of Amanda Zirzow.
Zirzow Gallery sells original art, fine art prints, and gift items. It is also the hub of her artistic community.
Click on the images to visit her gallery.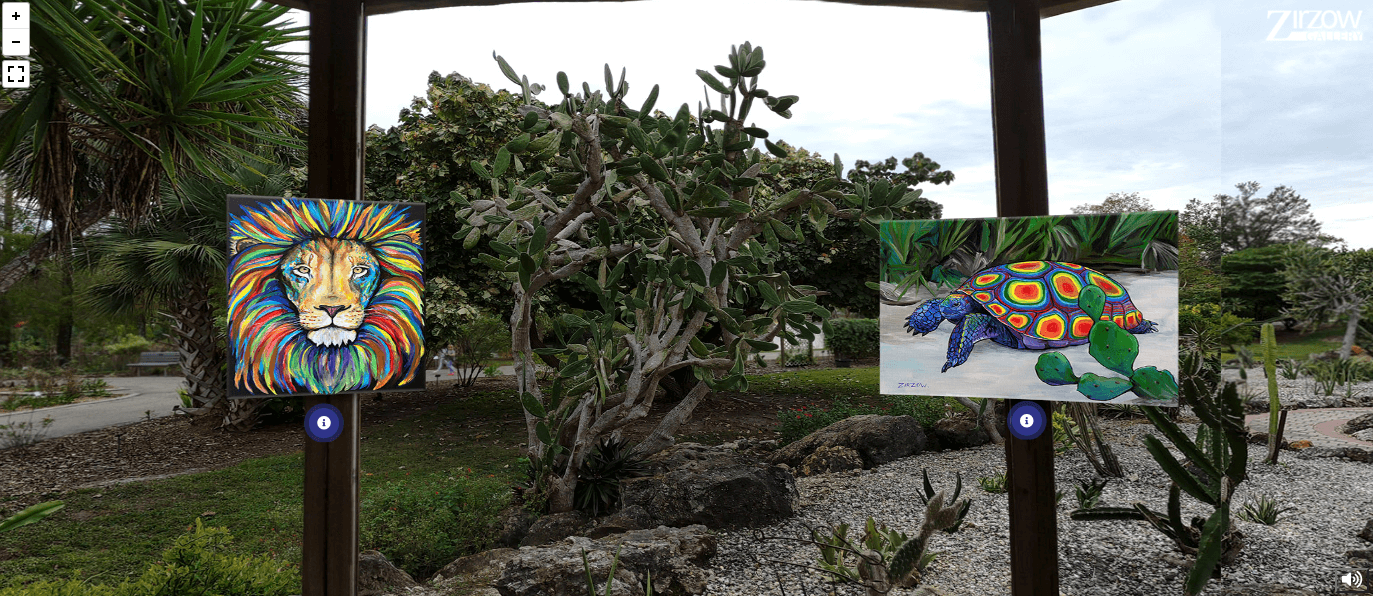 Inspiration for Amanda's paintings comes from her experiences in nature, adventures, and stories.
Through her art, she captures impressions from her imagination and infuses her subjects with color to bring them to life.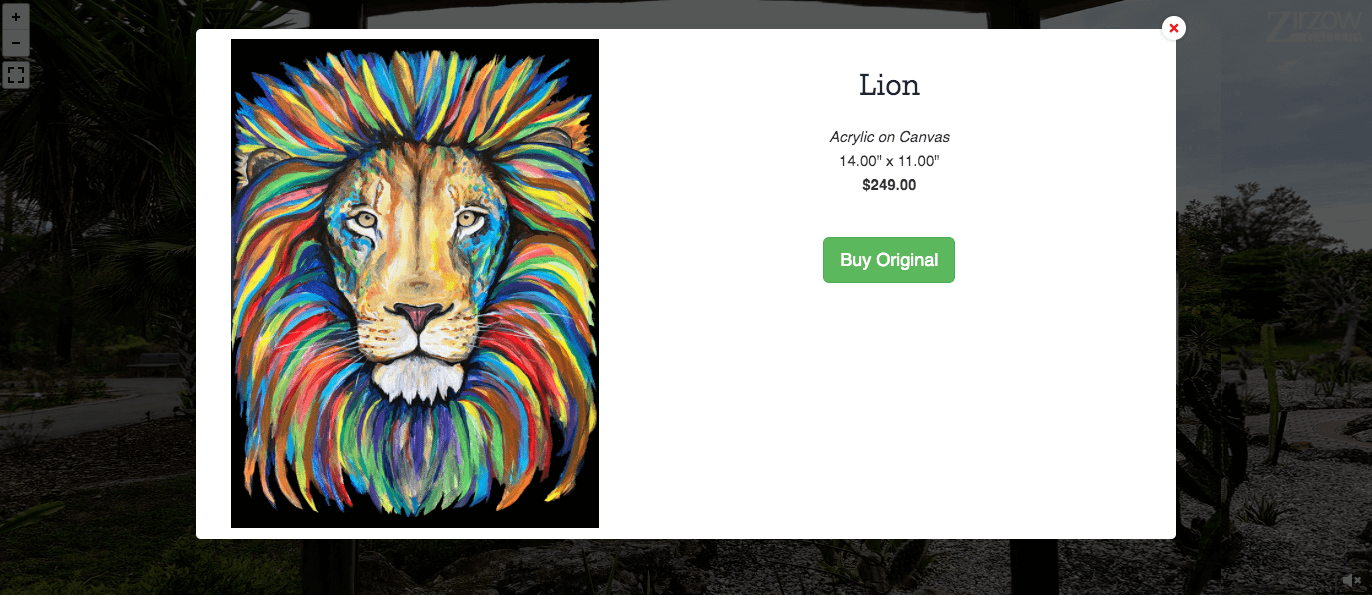 Amanda's mission is to share her artwork to inspire and help others. She is an active member of her community, a teacher, and an artist based in Fort Myers, Florida.
vi. Studio immobiliare Valsesia
Studio Immobiliare Valsesia gives you access to Valesesian real estate, and they'll handle everything needed for selling or renting a property for you.
They have a huge number of properties listed on their website, so you can easily find your desired property here.
They have created virtual tours for almost every one of their properties using WPVR.
Click on the images to view the actual virtual tours on their website.
They're right now in collaboration with Fiaip, the largest association of Italian professional real estate agents.
vii. CBS Spol – Virtual Tours with Areal Photography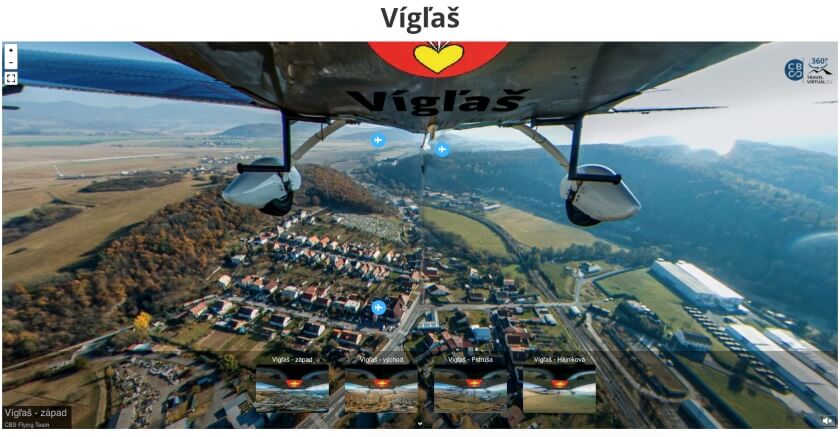 CBS Spol, s.r.o. is a Slovak airline company and also the publisher of the largest edition of books on aerial photography in the world.
CBS's mission is to provide a unique view of the landscape, and aerial view is one of the most unusual for humans.
Shooting is performed by a small fleet of Slovak-made aircraft.
You can check out one of their 360-degree videos here.
viii. Fischhalle – Cultural Center
If you own a restaurant that also hosts musical events, Fishchhalle's virtual tour of its cultural center is a perfect inspiration for you. Take a look.
ix. Web Multimedia Solutions By Matt Jones
Matt works as a multimedia professional in Tampa, Florida. He produces websites, brand films, and 3D animations that let companies communicate their passion with the world and come to life.
Here is one of the Virtual Tours he created,

Conclusion
As you saw earlier, just like them over 10000 WPVR users are actively using WPVR to create brilliant virtual tours.
I'm sure you've learned a lot from these virtual tours that you can apply.
I'd love to see your creation with WPVR.
So, let us know once you've created a virtual tour yourself.