Leave A 5-star Rating For Your Favourite RexTheme Plugins
If you are using one of our plugins, then we would really appreciate it if you could take two minutes of your time and give us a rating.
We are constantly working hard to improve our plugins and provide you with the best service & support possible.
Every 5-start rating we get on our plugins will help us grow and motivate us to do better.
Hope you understand.
Leave A 5-star Rating For Your Favourite RexTheme Plugin
Right now we have 3 major plugins which you are possibly using:
WPVR – Virtual Tour Builder For WordPress
Product Feed Manager for WooCommerce
Cart Lift For Abandoned Cart Recovery
We are glad our plugin is helpful to you, and we request you to help us out with a 5-start rating.
How To Leave a 5-Star Rating For Your RexTheme Plugin
Whichever RexTheme plugin you found useful here's how easily you can leave a 5-star rating.
And, it takes less than 2 mins!!
All you need to do is follow 3 simple steps:
Go to the plugin's rating link.
Drop an small appreciative quote as the title.
If possible leaving a single sentence explaining how it was helpful to you.
Just like this: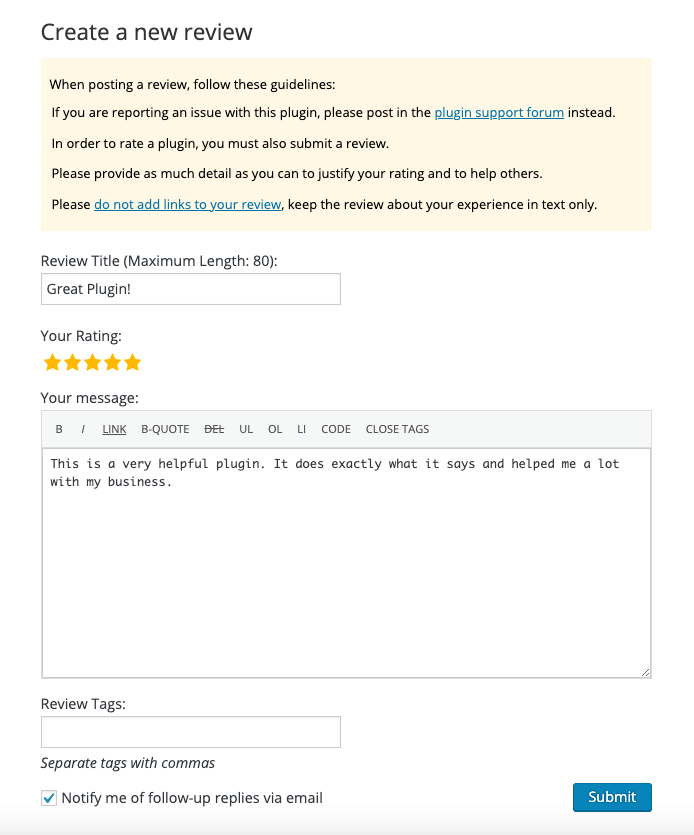 Then simply click on Submit and that's it. Your rating has been placed.
In fact, let me make it easier for you. If you do not have time, simply copy the quotes below and use them:
This is a very helpful plugin. It does exactly what it says and helped me a lot with my business.
So, go to your desired plugin's rating link below, and help us out with a good rating.
Thanks in advance for your contribution and for helping us out with your valuable 5-star rating.