10+ Beste Themen des freien WooCommerce
Zuletzt aktualisiert am:

11 Min. gelesen
WooCommerce is the best plugin to set up E-Commerce sites using WordPress. Over 30% of all E-Commerce websites today use WooCommerce (according to Wikipedia) to set up their online store.
When creating an online store with WooCommerce, the first 3 things to consider is to choose a proper theme, include plugins to boost the shop, and optimize the site to get maximum conversion.
The WordPress community has contributed to creating several themes dedicated to optimizing the functionalities of WooCommerce.
Diese Themen erleichtern die Anpassung des Shops, und einige haben integrierte Vorlagen, die von den Benutzern bevorzugt verwendet werden.
Ein falsches Konzept, das einige Leute haben könnten, ist das bei der Auswahl eines Themas. Sie bevorzugen diejenigen mit hohen Installationen oder hohen Bewertungen. Aber diese beiden sind nicht das Beste, was man sich anschauen sollte.
Yes, it does increase credibility, however, since you have the options to take live previews and use the plugin on free local hosts, why not try them out before deciding. I mentioned two themes at the end. They might not be among the best and don't have too many installations, however, I think they are really good.
Let's have a look at the 10+ Best Free WooCommerce Themes that are popular and credible.
10+ Beste Themen des freien WooCommerce
Bevor Sie mit der Liste fortfahren, beachten Sie bitte, dass ich mehrere Themen recherchiert und viele davon verwendet habe.
Alle in diesem Artikel aufgeführten Themen sind mit allen wichtigen Seitenbauern wie Elementor, Divi, Thrive, Beaver Builder usw. kompatibel.
Alle diese Themen bieten mehrsprachige Integration (übersetzungsfertig) und unterstützen RTL.
Nun, diese Liste basiert vollständig auf meiner Präferenz in Bezug auf Merkmale und UX, beginnend mit dem von mir bevorzugten höchsten.
Jetzt hauen wir rein.
1. Botiga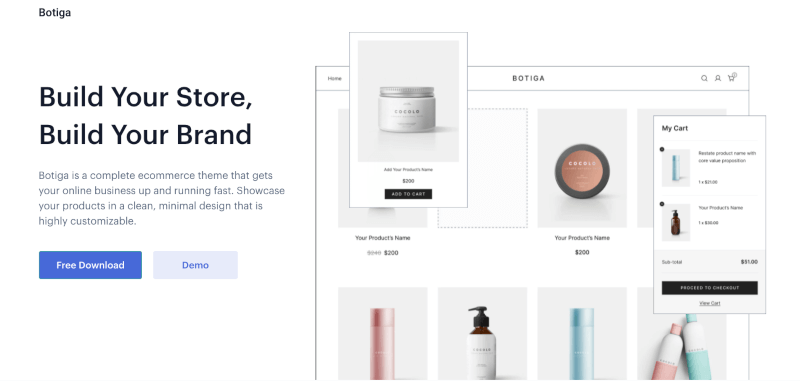 Botiga is a free e-commerce theme that is both flexible and packed with powerful features.
It showcases a clean, modern design that can be used to build a wide variety of online stores and businesses.
This multipurpose, sophisticated theme comes with a library of header and listing styles, product galleries, and over six blog archive layouts.
It enables you to customize your site in real-time using advanced typography and color palettes that are suitable for any branding style.
You can check out a demo of the Botiga theme here.
What's more, elements such as the product search, product filter, and recommendations features make it easy to display your products in an aesthetically pleasing and functional manner.
Customers will be able to easily find what they're looking for, and you can effortlessly promote your best-selling items.
Additional features include multiple carts and checkout styles, as well as quick views and card layouts. All in all, this free WooCommerce theme comes with everything you need to build a stunning storefront.
2. Astra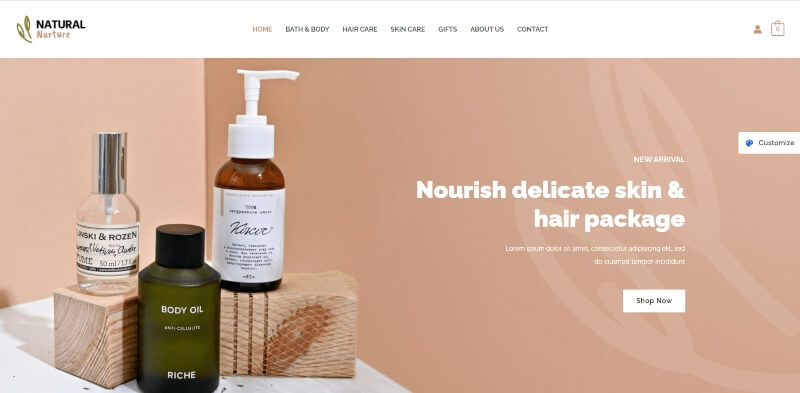 Astra is one of the most popular WordPress themes of all time with over 1 million downloads! People love Astra for its flexibility in building any type of website, especially, eCommerce stores on WordPress. 
It is designed to be super-fast and optimized so your visitors can jump between products seamlessly, with almost no lag!
It also significantly reduces the time between clicking the buy button and reaching the payment page to further increase your conversion rate. 
With hundreds of beautiful and high-converting premade website templates, you can get your eCommerce website up and running quickly.
Astra works best with WordPress page builders like Ultimate Addons for Gutenberg, Elementor, and other major ones so you can design websites with simple drag and drop functionality. 
Astra also features complete flexibility with multiple page layouts, supports hundreds of fonts by default, and gives you complete control over every aspect of your website.
This is all available in the free version of Astra and there's so much more in Astra Pro. 
Overall, Astra gives you all you need to design an impressive and high-converting eCommerce store with zero coding required. 
3. Woostify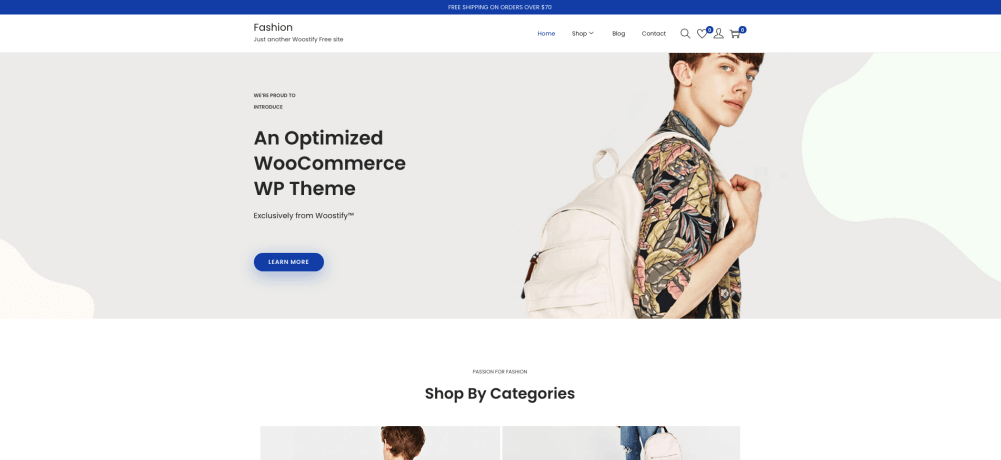 If you are looking for a free WooCommerce theme that is also fast for your online store, then Woostify, which completely focuses on the online shop, will be suitable for you.
The theme will work smoothly with almost all popular page builders such as Elementor and Divi, Beaver Builder, Visual Composer, Site Origin, etc.
However, it is specially integrated with the Elementor Theme Builder. As a powerful Elementor Woocommerce theme, Woostify allows you to fully customize all the pages such as product page, single product page, checkout page, and cart page.
What makes Woostify really a handful are its exclusive features including Advanced Shop Widgets, Mega Menu, Header & Footer Builder, Countdown Timer, and so on.
Any type of WooCommerce store template you are looking for, this sales-boosting theme offers you an amazing demo library including 17+ pre-made sites for different industries such as food, animal, jewelry, furniture, etc.
Therefore, you'll have the most suitable template for your site whatever your niche is.
In short, Woostify is a free theme that provides WooCommerce websites with key features and functions.
And if you're willing to enhance the functionalities of this theme with more useful features, you can get the Woostify Pro Plan which starts from $39.
Whether you're using the free theme or the pro theme, you'll receive quality support from their dedicated support team.
4. Modern Store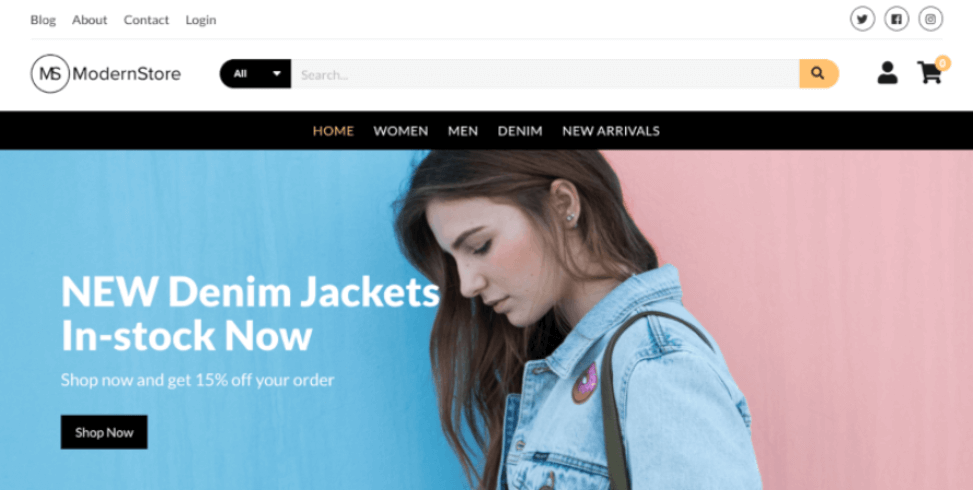 Modern Store is a clean and simple theme for eCommerce stores that you can use this flexible theme for a clothing store, jewelry, t-shirts, consumer electronics, etc.
Any kind of products you can sell with WooCommerce you can sell with the Modern Store theme.
This WordPress theme features a customizable large header promo box that allows you to add a background graphic and insert a call-to-action over top. You can use it to drive traffic to your most popular or most profitable products.
There's also a universal product search bar integrated at the top, so visitors can find new items easily. Any visitor can click the icon in the header to view the contents of their cart, and if they're logged in, their Gravatar image will appear linking them to their member profile page.
Modern Store also includes social media icons to link visitors to your profiles, complete blogging support, simple layout options, and a fully responsive design.
5. StoreFront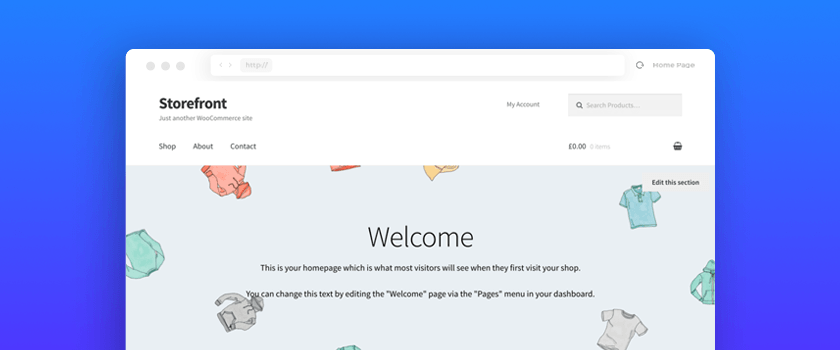 StoreFront wurde von den Kernentwicklern von WooCommerce entwickelt und ist ein auf Online-Shops spezialisiertes Thema. Die Website reagiert auf jeden Fall auf alle Geräte und ist sehr schnell. Es ist derzeit eines der beliebtesten kostenlosen WooCommerce-Themen.
Das Thema ist mit allen WooCommerce-Plugins kompatibel und eignet sich ideal für einen Shop mit vielen Funktionen. Die Website ermöglicht 6 Widget-Bereiche und bietet wertvolle Funktionen wie 'Abschnitt für Produkte mit Top-Bewertung', 'Zuletzt angesehene Produkte', 'Ausgewählte Produkte', 'Werbeangebote' und viele andere.
The theme has an elegant design and is SEO optimized. They have an organized support team and provide credible support.
Laut WordPress.org hat dieses Thema derzeit über 30.000 aktive Installationen.
6. Shop Mania by ThemeHunk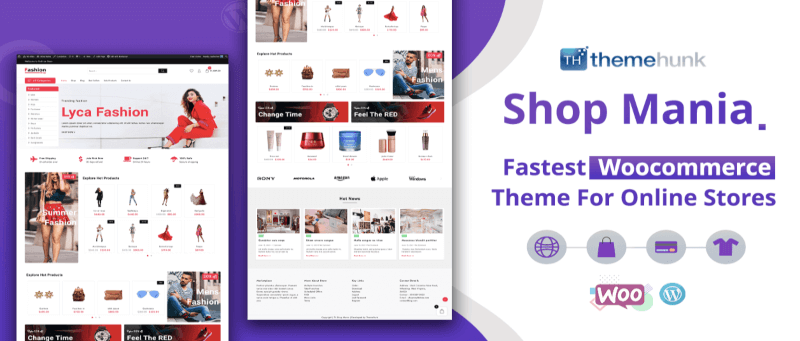 Shop Mania is the Elementor Based Fastest Multipurpose WordPress WooCommerce Theme for creating WooCommerce online stores that provide a super-fast interface for the ultimate user experience.
Once you use Shop Mania, you'll find it hard to move into another WooCommerce Theme.
This is one of the best in the niche. Shop Mania uses a powerful AJAX tech to give users a very fast and seamless online shopping interface without the need to constantly refresh pages. 
Main Features:
20+ Elementor Demo Templates.
Fixed Footer & Header Layout.
Fast & Responsive.
Sticky Header Effects.
Off-Canvas Sidebar.
Unique Header Layouts.
Advanced Woo Cart Support.
Product Quick View.
7. OceanWP – Multi-Purpose Theme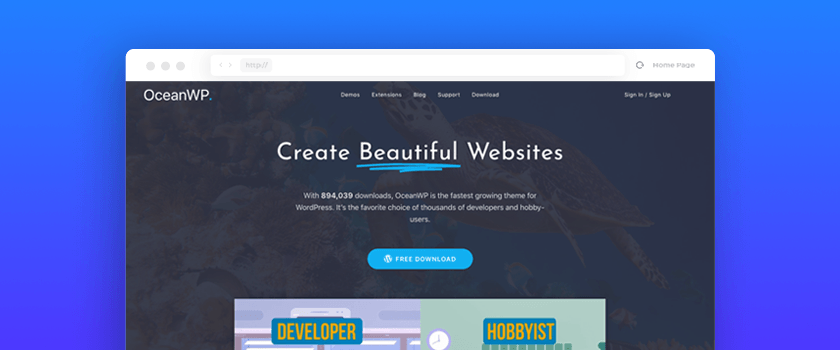 OceanWP is a brilliant multi-purpose theme. This is a lightweight theme with a seemingly fast loading time and is easy to customize. It is responsive to any device and is SEO optimized.
Although this site is not limited to being used just for WooCommerce, it is integrated with WooCommerce in a way so that you can directly create an online store without having to do much of any customizations.
Das Thema enthält automatisch die Funktionen 'Natives Warenkorb-Popup', 'Fließendes Hinzufügen zur Warenkorb-Leiste', 'Off-Canvas-Filter' und 'Schnellansicht-Verbesserung' für den Laden. Außerdem verfügt die Website automatisch über integrierte Symbole und ein Megamenü.
Dieses Thema ist wegen seines Unterstützungsteams ziemlich beliebt. Sie bearbeiten alle Anfragen sehr schnell.
Laut WordPress.org hat dieses Thema derzeit über 200.000 aktive Installationen.
8. Online Shop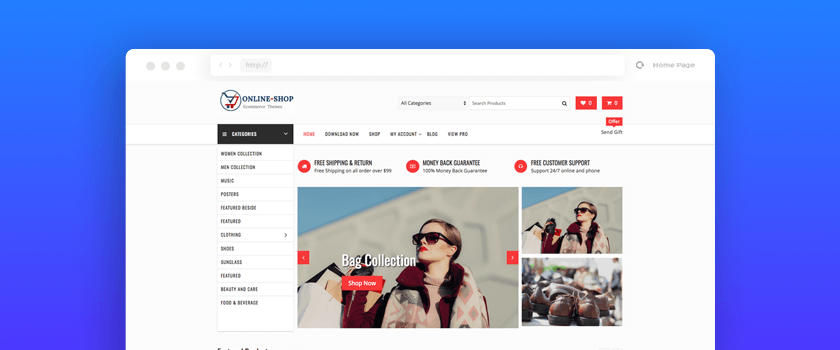 Online Shop ist ein dynamisches WordPress-Thema, das sich auf E-Commerce konzentriert. Es handelt sich um ein Thema mit hoher Reaktionsfähigkeit und schneller Ladezeit.
This theme is well-integrated with WooCommerce. It gives great customization facilities, with widgets to edit every section of your website, and has 9 different widget areas to work on.
Es wird mit mehreren kostenlosen, benutzerdefinierten Widgets geliefert, darunter 'Wiederholte Felder', 'Unbegrenzter Schieberegler' und 'Unbegrenzte Seiten im Abschnitt'.
Online Shop allows extensive 'Menu Customizations, Advance Logo' options, 'Featured Product Display' options, and several headers and footer editing options.
Laut WordPress.org hat dieses Thema derzeit über 9.000 aktive Installationen.
9. Customify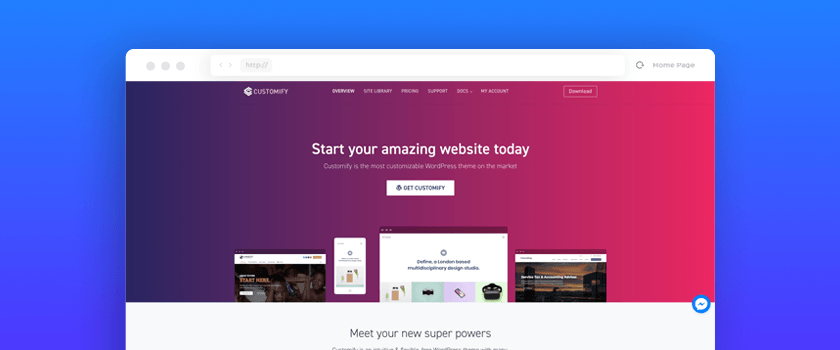 Customify ist eine schnelle Mehrzweck-Website, die einfach und benutzerfreundlich ist. Es ist ein leichtgewichtiges Thema und wird mit einem WYSIWYG-Header- und Footer-Builder für eine attraktive Anpassung geliefert.
Dieses Thema ist einfach zu verwenden und ist WooCommerce-kompatibel. Das Thema enthält die Funktionen zum Bearbeiten von 'Produktkatalogen' und 'Einzelprodukt-Editor'.
Customify ist ein einfaches Thema, das sowohl für Desktops als auch für Mobiltelefone geeignet ist. Dieses Thema ist schnell und SEO-optimiert.
For people who want a basic online store without too many complications, this theme is favorable. Besides, this theme has pre-built website templates that people can use for free.
Das Beste an Customify ist das Support-Team. Obwohl sie fast nie Probleme hatten, weil sie erfahrene Entwickler hatten, ist das Support-Team schnell und präzise in der Beratung.
Laut WordPress.org hat dieses Thema derzeit über 20.000 aktive Installationen.
10. Flexia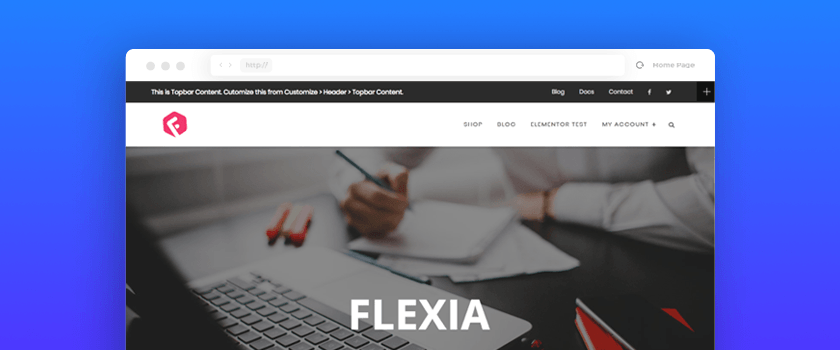 Dies ist ein einfaches, leichtes Thema, das sich für kleine Geschäfte eignet. Wenn Sie einen WooCommerce-Shop mit weniger Produkten haben, dann ist dies ein großartiges Thema, um eine lukrative Website zu erstellen.
Flexia reagiert auf alle Geräte und beinhaltet SEO-Optimierung. Es hat 10 verschiedene Bereiche für Widgets.
Da es WooCommerce-kompatibel ist, verfügt es über ein organisiertes Anpassungsmenü, das einfach zu gestaltende Funktionen ermöglicht. Es hat auch Funktionen, die 'Produktkataloge' und 'Einzelprodukt-Editor' umfassen.
The customer support is really good. They are fast in response and thrive on giving proper solutions to any queries you may have.
Nach Angaben von WordPress.org hat dieses Thema derzeit nur etwa 1.000 aktive Installationen.
11. MetroStore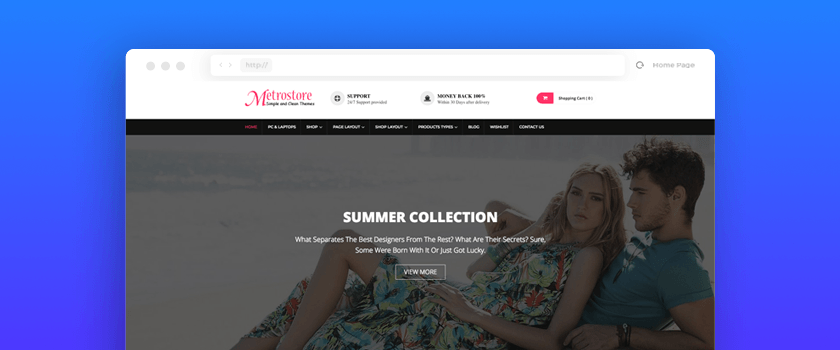 Metrostore ist ein brillantes Thema, das sich hervorragend für WooCommerce eignet. Das Thema ist schnell und reaktionsschnell.
Dieses Thema ist für SEO optimiert und erlaubt es uns, Social-Media-Links einzubeziehen. Es erlaubt 8 verschiedene Widget-Bereiche. Es wird mit etwa 10 eingebauten Widgets geliefert, darunter 'Promo Video Area', 'Category Collection' und 'Product Promotions'.
Das Thema schlägt auch vor, die Plugins 'YITH Wishlist' und 'YITH WooCommerce Compare' zu installieren, die eigentlich ziemlich gut für die Kundengewinnung sind.
Laut WordPress.org hat dieses Thema derzeit etwa 6.000 aktive Installationen.
12. Blossom Shop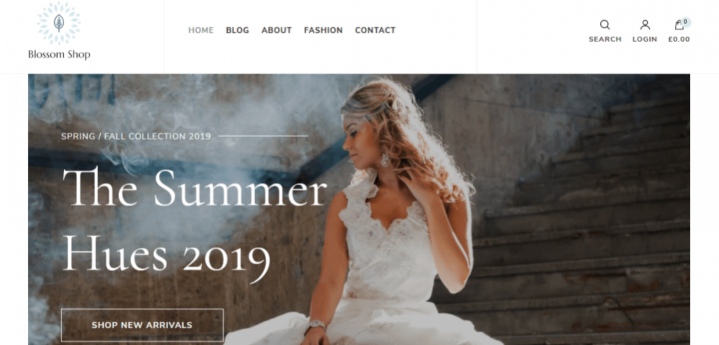 Blossom Shop is an easy-to-use and SEO-friendly multi-purpose theme for your WooCommerce store.
Dieses Thema soll Ihre Produkte hervorheben und den Besuchern Ihres Geschäfts eine hervorragende Benutzererfahrung bieten.
If you're creating a WooCommerce store for fashion, cosmetics, accessories, furniture, and lifestyle products, this theme is suitable for you.
Das Blossom Shop-Thema ist mobilfreundlich und auf Geschwindigkeit optimiert.
Dieses Thema bietet Funktionen für ähnliche Produkte, das Verstecken/Anzeigen von Verkaufsbändern auf Produkten und das Ändern der Vorschau in Echtzeit.
Die Integration von Schemata, die Kompatibilität mit Mega-Menüs, die Integration von Social Media und die Anmeldung zu Newslettern gehören zu den erstaunlichsten Funktionen dieses Plugins.
Until now, you have read about the best free WooCommerce Themes you can use for your WooCommerce store.
However, if you're willing to invest in the WooCommerce theme you'll be using, you can try premium WooCommerce themes by 8Themes.
They have a pretty solid collection of WooCommerce themes you can choose from.
Schlussfolgerung
Wie ich bereits erwähnt habe, sind dies Themen, die ich aufgrund ihrer Merkmale und UX bevorzuge. Aber ich schlage vor, dass Sie sich jede ihrer Websites ansehen, eine Live-Vorschau machen oder sie auf Localhost-Servern testen, bevor Sie sich entscheiden, welche für Sie die beste Lösung ist.
Remember, the highest installed or highest rated is not always the best thing to look at. It is better to check the most recent reviews and try them out before selecting a theme.
Sobald Sie ein Thema ausgewählt haben, besteht die nächste Aufgabe darin, Plugins einzubinden, die Ihren Shop ankurbeln können, und Sie sollten auch Ihren Shop für eine maximale Konversion optimieren. Alles Gute für Ihren Shop.