Optimize Your WooCommerce Checkout Form Easily In Just A Few Clicks!

Use Checkoutify, your trusty Checkout Field Editor For WooCommerce, and control the fields in your WooCommerce checkout page. Give your buyers a meaningful checkout process without any hassle.
The plugin comes with a simple user interface. You can easily Edit, Enable, or Disable the default WooCommerce checkout fields. And you can add more custom checkout fields in the Billing, Shipping, or Additional fields sections in the default WooCommerce checkout form to optimize the user experience.
Plus, you have full control to choose the field type, assign a default value, set data validations, change the label and placeholder, enable required or optional fields, and many more.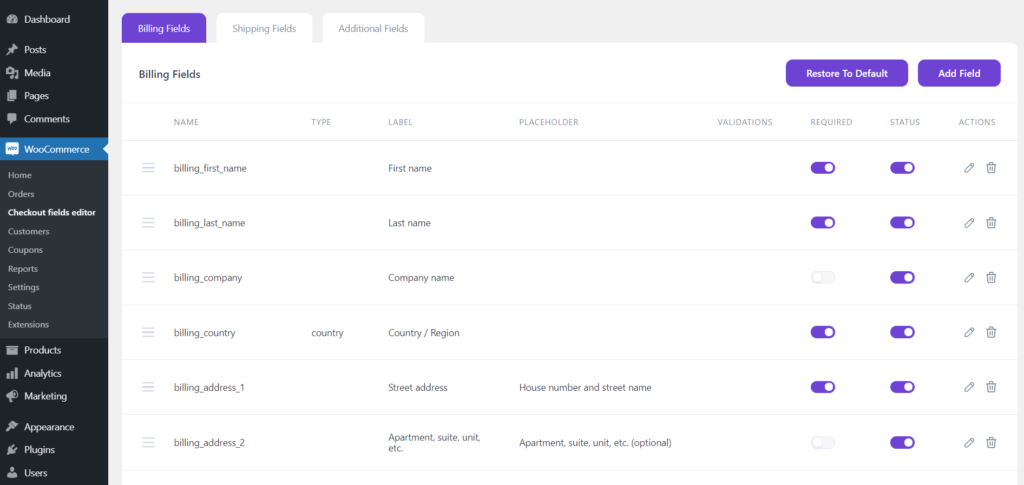 Why Use Checkoutify – Checkout Field Editor For WooCommerce
WooCommerce has a default checkout form but it is very generic. You may want to customize it to make it personalized according to your niche.
This will ensure a smooth checkout process and an increased closing rate. Besides, it is a best practice only to view the necessary fields in the checkout form and make the process faster.
FYI, too many unnecessary fields during the checkout are distracting and long checkout forms can lead to abandoned carts.
With Checkoutify Checkout Field Editor, you will be able to control what fields you want to view in the checkout form and configure each field property as required.
Choose From 7+ Types Of Checkout Fields
Configure Every Checkout Field Properties
Using Data Validation For Efficiency
Organize The Checkout Fields' Order Easily
Add Custom Checkout Fields As Required
So get Checkoutify Now!!