Last updated on:

15 mins read
How To Create A Virtual Showroom Tour [2023]
Ever since COVID-19, a lot of things have changed. Most buyers nowadays rather purchase online than visit the store. The pandemic has taught people how easy it is to order online while they are free at home.
If you own a showroom of any sort, then it's highly recommended that you too should start selling via your own website and social media.
But it's as easy as it sounds.
You see, each and every industry is now more competitive than ever. So it is crucial for you to find unique ways to attract more buyers.
Introducing 'Virtual Showroom'

While others have been struggling to find potential clients, a few businesses have turned their store into a 24hrs sales hub using virtual showrooms. It has proven to generate more sales than usual.

People are able to visit their stores remotely, anytime they want, and order products while sitting comfortablely at home.
People love virtual showrooms and 2 out of 3 prospects want more businesses to use VR.
In this article, you will get a good idea of what a virtual showroom tour includes, and how you can use it in your business.
So let's take a look.
What Is A Virtual Showroom Tour?
A virtual showroom gives your potential customers a chance to visit your store and get a realistic experience, even if he is sitting at home, traveling to a distant country, or on break time during work.
The fact is, it creates a virtual experience of what your store is in real life, which the audience finds more engaging. While on the tour, they can look at the products and decide to purchase one just like they would on a live visit, except, they won't have to speak with anyone, stand in a line for checkout, or walk with a crowd while shopping.
This creates a sense of personal satisfaction and your prospect will be more comfortable shopping whenever they are free. They won't have to find time from their busy day to visit your store.
Plus, this is a unique experience for the buyer. Rather than browsing through a boring page with product listings, they will get an interactive tour on a 3D view, and move around of their own free will. This will help to emotionally connect with them and they will find it exciting to shop in such a unique environment.
Businesses That Can Benefit From Using Virtual Showrooms

Plenty of businesses are utilizing the idea of virtual showroom tours at this moment. Let us look at some of the niches that can benefit from it.
Virtual Fashion Showroom
It's predicted that this year there's going to be an uptake of tech usage in the Fashion Sector.
And many modern designers have embraced virtual reality as one of the ways to promote their pieces.
If you own a fashion store, then a VR tour can have a huge impact on exposing your designs and collection. This will rather feel like an exhibition where they can purchase the products they want.
Benefits of a Virtual Fashion Showroom Tour
Virtual Fashion Showroom tour offers many opportunities to showcase fashion products to clients in an immersive way and you can benefit from it more than just getting visitors.
1. Detailed Feature Description
In the virtual tour, you may add an option to view details of each clothing along with images and videos. This will keep them hooked on the tour and allow them to take buying decisions on the go.
2. Smartphone-Friendly Virtual Shopping
Most people shop using smartphones, which is even better when using virtual showrooms. Viewing a tour on a mobile on a gyroscope mode will allow the buyer to move and look through just like he would do in the store in person, thus making the journey more exciting.
3. Instant Order Of The Product
You may also include a way to order the product right from the virtual tour, or at least give a CTA that will take the buyers to the product sales page.
This will increase the possibility of increasing sales.
4. Real View Of The Clothing – More Reliable
Normally, images on the website are edited and many often enhance the clothes to look much better than it really is. This creates a trust issue among buyers who are often reluctant to order expensive dresses due to a fear of anomaly.
A virtual tour will have the dresses highlighted just like you would in your real store, thus giving an idea of how it looks in real life. This will help to make buyers trust your product's authenticity.
5. Get More Inquiries
If you can put together a good virtual fashion showroom, then you can expect to get more inquiries about your products. In fact, you can include a contact form in the tour to allow potential buyers to reach you before ordering a dress. This will help in selling more expensive dresses.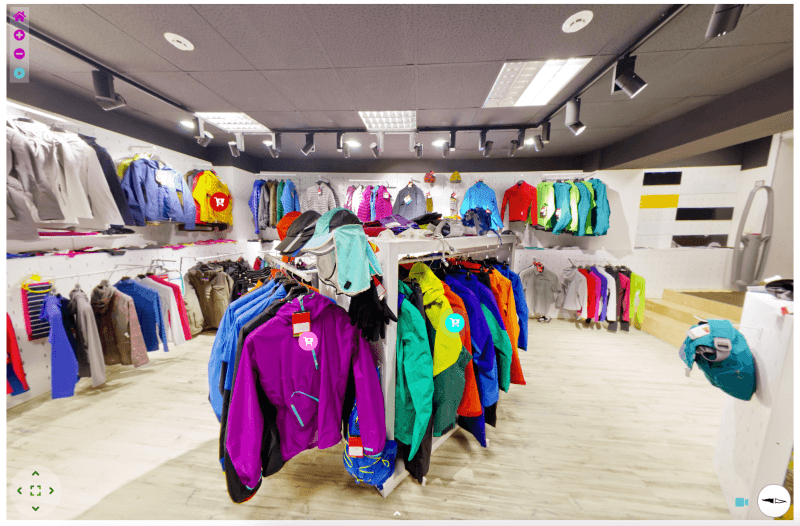 Virtual Furniture Showroom
Furnitures are difficult to shop online due to the need for virtual observation. Hence, traditional eCommerce sites struggle to sell more furniture directly from the website. Most people view the products and then visit the store to find out more.
However, recently, it has been proven that virtual showrooms can be used to increase furniture sales online. For example, IKEA has its own Virtual Reality Showroom which has resulted in a spike in online sales.
Let us look at some of the benefits of selling furniture online.
Benefits of a Virtual Furniture Showroom
The furniture industry is pretty competitive since large brands such as IKEA and Pottery Barn have already won over several loyal buyers.
But using sensible virtual showrooms can attract a few back here.
1. A Visualized Attractive To Sell Furniture
The best option to make the furniture virtual tour more attractive is rather than creating a tour of the actual showroom, you may furnish a small house with the furniture and create a virtual tour of that place.
This will give the buyers a clear idea of how the furniture will look in a real house, thus helping to take a buying decision.
2. Highlight Furniture Details With A Virtual Tour
In the tour, you can include small icons to hover and get further details on the furniture you are selling.
For example, you can let the audience know about the color, wood materials, size, etc. You may even add extra promo videos of your most expensive products to make the experience even better.
3. Connect With Prospects Personally
In the tour, you may include a small promo video that the visitor can view while taking the tour so that you can pitch your products personally and may even inform them of a promotion you are running.
You can do the same with pre-recorded background audio.
This will allow you to connect directly with the buyers on a personal level and the buyers will feel you value them.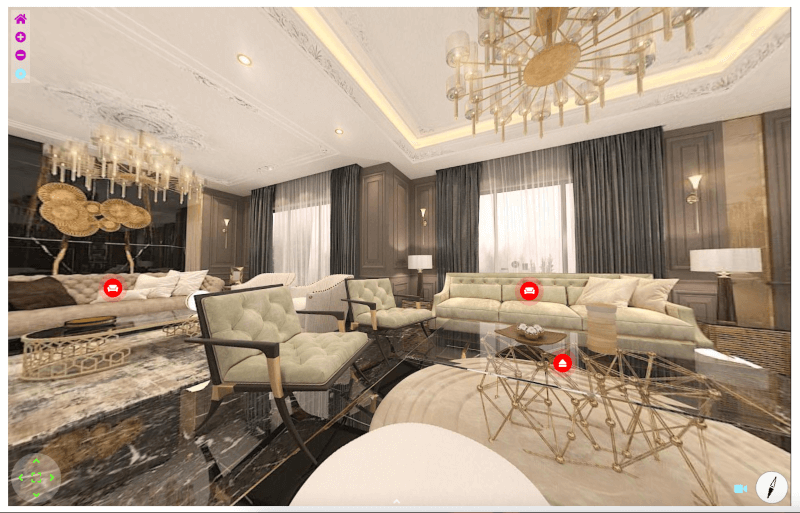 Virtual Kitchen Showroom
Visiting kitchen showrooms is an exciting adventure for most women that handle a family with responsibility. And a virtual kitchen showroom can get you more potential buyers than you would normally expect. Let us look at why.
Benefits of a Virtual Kitchen Showroom
A virtual kitchen showroom will not only let you personally connect with potential buyers, but it will also make it easier for buyers to make time and take a visit. Hence, it comes with great benefits.
1. The Ideal Choice Of A Responsible Housewife
Most housewives are busy maintaining a healthy family and even if they want to, they may not get time to visit your showroom. So they resort to buying online from an eCommerce site.
However, since it's time-consuming to find what you need on an eCommerce site, many even avoid that. A virtual kitchen showroom can change that.
If you can create a virtual tour of your showroom, then housewives can take a tour and get a realistic experience. This will let them shop around just like they would in your real store, and will keep them excited to purchase more products – a win-win for both of you.
2. A Better Way Of Highlighting Kitchen Appliances
Try and provide more details about your products within the virtual tour. Let's say, you may include an icon that buyers can hover over to get details such as material, special features, color, etc. And then you can set it up so that clicking on it will load a CTA to purchase the product.
This will let you highlight the specialty of your products to potential buyers.
3. Show Different Kitchen Showcases
Again, rather than simply making a virtual tour of your shop, you can decorate multiple kitchens with different appliances and then create virtual tours for each of them.
This will give the buyers a clear idea of how the products look in real life.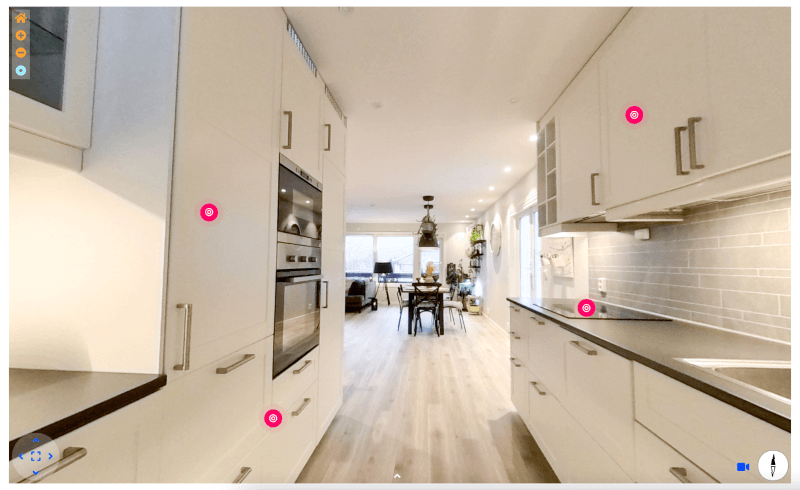 The Most Affordable Virtual Showroom Software
As amazing as virtual showroom sounds, you might be in a dilemma about how you can create one.
In fact, due to the high technological impact it has, you may even think it's expensive.
But that's not true. You can get amazing virtual tour software out there that is both affordable and of high quality.
The real concern here is how you can make it more engaging.
An Ideal Virtual Showroom Software Should Have The Following
Navigation features with zooming options.
Full-Screen Feature
Gyroscope Feature for Smartphone Users
On Click / On Hover content information
On Click "Add to Cart" Product
If you use a WordPress site, then the good news is, that you will find just the right tool to create stunning virtual showrooms – WPVR
WPVR is the #1 virtual tour builder in WordPress that will allow you to create 30 virtual tours easily. And it has all the features needed to make the tour more engaging.
In the following guide, you'll learn how to build a captivating Virtual Showroom Tour.
Then you can move on and build a specific one for your own industry.
How To Create A Virtual Showroom: Step by Step Guide
Step 1 – Take Good Quality Images of Your Store
Taking better quality images of your showroom is a must-do task before creating a virtual tour. To capture the product details of your store, you can use a nice DSLR camera or even an iPhone.
A good tour with a clear 360 panoramic image will always ensure that the buyer sees what you're trying to demonstrate.
Step 2 – Install & Activate WPVR
The first thing is for you to move ahead and install & activate WPVR on your WordPress Website (It's Free!)
WPVR should be installed and activated on your WordPress site.
Hover over Plugins in the WordPress Dashboard.
Choose "Add New."
Look for WPVR. Install and activate it once you've found it. (Alternatively, you can download and install the plugin directly from the WPVR page on wordpress.org)
Next, download and install WPVR Pro.
The WooCommerce Addon is also required.
Note: The Free Plugin will allow you to create a great tour. But with the pro plugin features you can make the tour more captivating.
Step 3 – Create A Virtual Showroom
Let's get started with creating a virtual showroom for your website,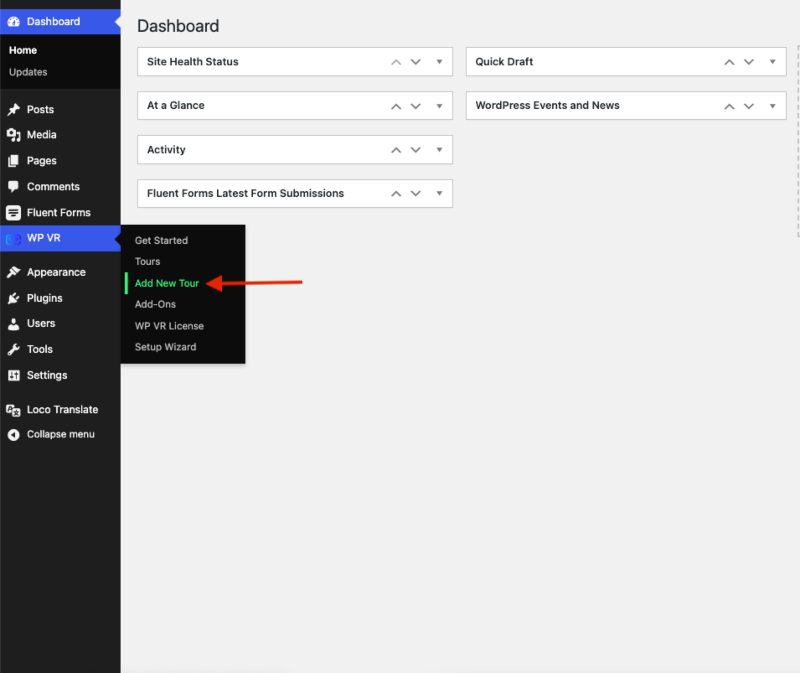 From your WordPress Dashboard, hover to the WP VR Plugin and Select "Add New Tour".
Add a Title to your Tour in the annotated section.
Then configure the basic settings which are Tour Autoload, Show Controls, Auto Rotation, etc.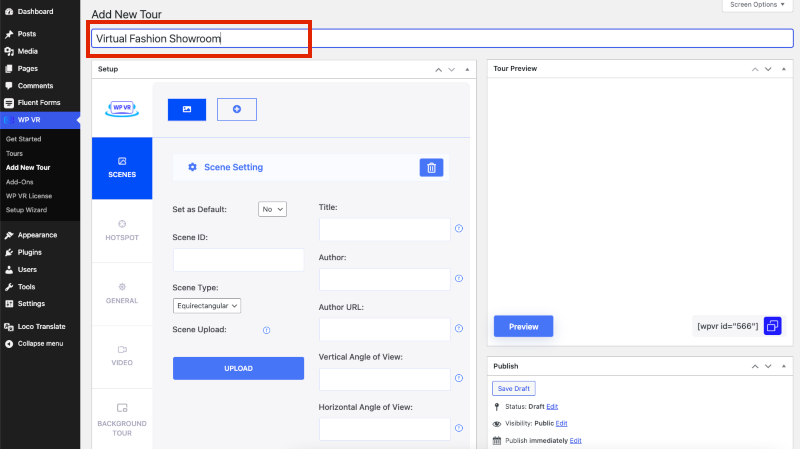 Now, the step is to upload a scene from the Scenes Tab,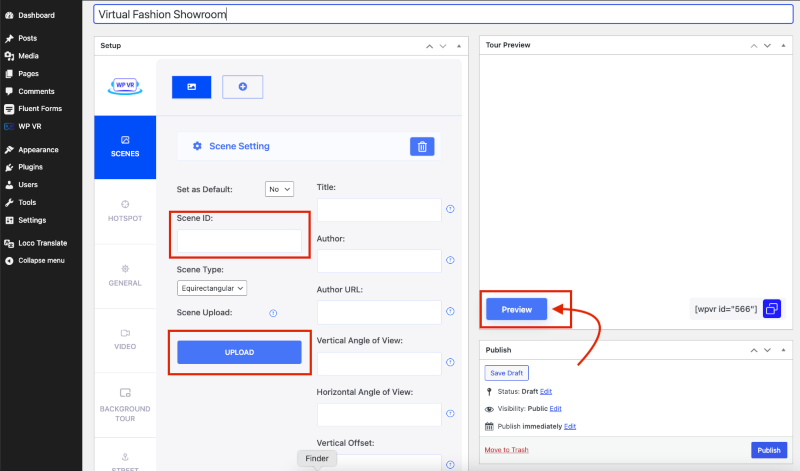 Provide a Scene ID and Click on Upload
Note: Don't use any space or special characters in the Scene ID.
Upload the scene you want and hit Preview. You'll then find a Tour Preview on the Upper Right of the Dashboard. Provide a Title and extra information about the image if needed.
Once you've updated all the necessary details, Publish the tour,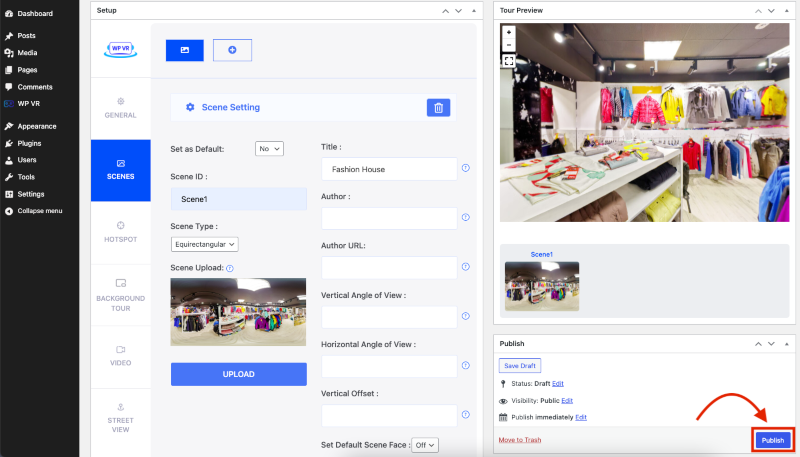 Step 4 – Use Advanced Controls & Control Buttons
The Pro version of WP VR Plugin has two exclusive control features. One is Advanced Controls & the other is Control Buttons.
You should use these features within the Advanced Controls,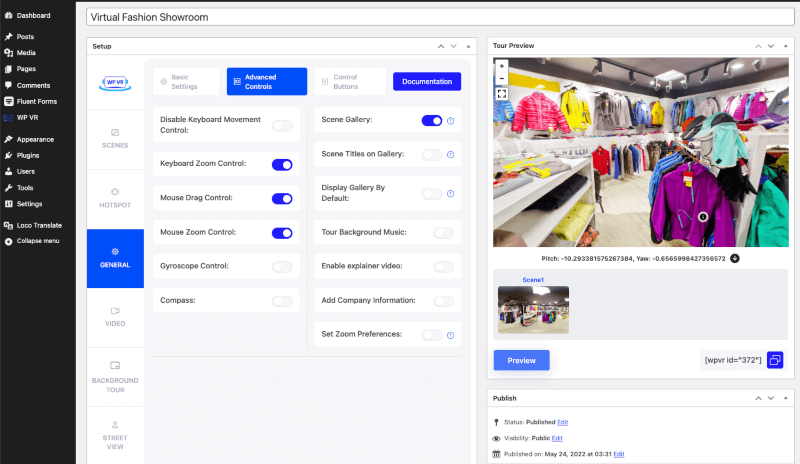 Gyroscope
This feature will provide your clients with an enhanced smartphone experience of your Virtual Showroom tour.
Your clients will be able to thoroughly experience the tour from your virtual showroom tour.
Scene Gallery
Add pictures of different sections of your showroom and display them with this feature.
Your virtual showroom might have different sections with different products. WP VR lets you add different scenes in a single tour. Your clients will be able to flip between sections from the scene gallery when you add them as separate scenes.
Tour Background Music
Enabling this option will allow your clients to have a pleasant journey while they're shopping from your showroom.
Add Company Information
Your brand is your identity. Display your brand logo and showroom information with this feature.
Zoom Preferences
Set necessary zoom preferences to help your prospects determine product quality. So your clients can zoom in and out when needed.
And, there's another option to edit Control Buttons. Enable the options you need accordingly.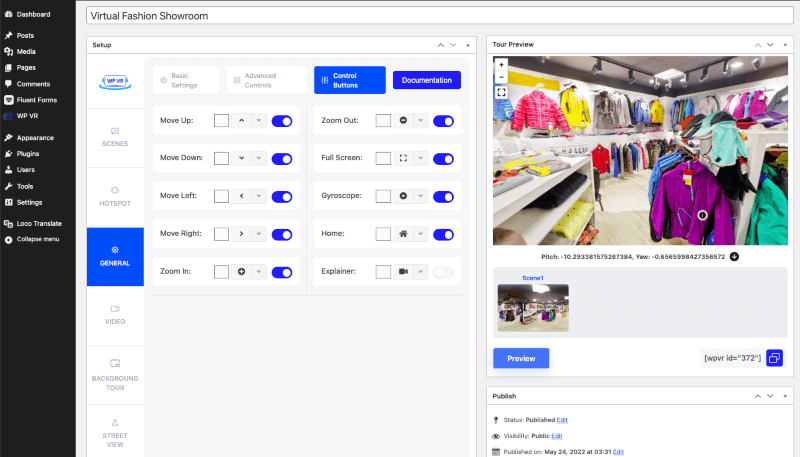 Step 5 – Refine The Tour With Hotspots
Hotspots are the most iconic feature of WPVR. Make your virtual showroom tour immersive with Hotspot Feature.
How to Add Hotspots
Go to the Hotspot Menu from the Menu Section. You'll find it just under the Scenes Menu.
Add One and Provide a Hotspot ID. Hotspot ID refers to giving a unique name of the point you want to identify.
Then you'll find four types of Hotspots.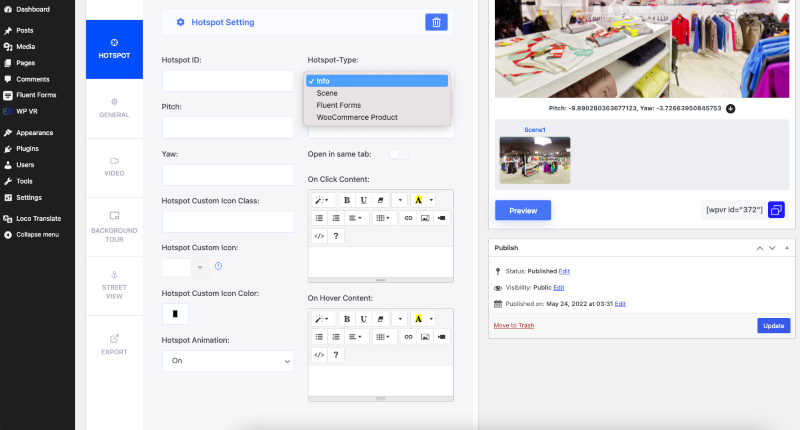 Info Type:
You may view details by clicking or hovering over an info-type hotspot. You can even add images or gifs inside the hotspots. – Learn More about Info Type Hotspot.
Scene Type:
Let's say you have multiple images of your showroom. If you'd love to display both ladies' and gents' dress sections and want to move from one section to another, the scene type hotspot is perfect for that purpose. – Learn More about Scene Type Hotspot.
Fluent Forms:
Fluent Forms help with Form Submission. If you'd like to get customer reviews about any product or want your customers to contact you for product info, use this addon. – Learn More about Fluent Forms Addon
WooCommerce Product:
This hotspot is best for a Virtual Showroom Tour. The user can directly click on a product and then proceed to add the product to the cart. – Learn More about WooCommerce Addon
Let's Add an Info Type Hotspot to our Scene.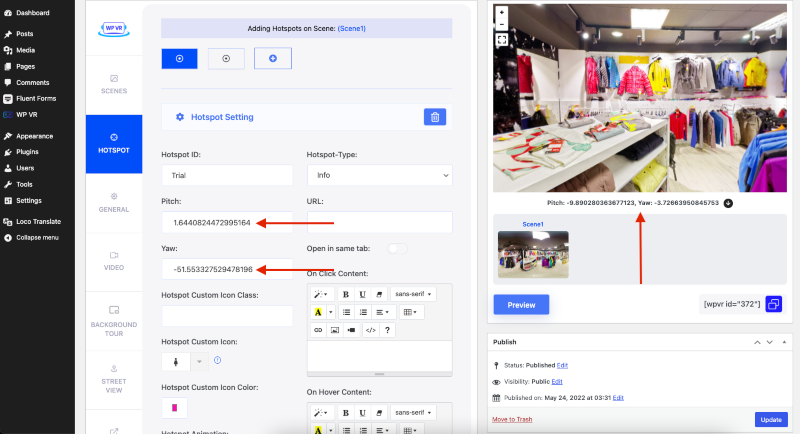 Let's say, you want to add information that the trial room is there.
Provide a hotspot ID here.
Then, on the tour preview, Pin the hotspot icon to the desired location.
Then you'll notice some values updated underneath the preview. When you click the button next to the Pitch & Yaw, the values on the left side will update.
You can also customize the hotspot custom icon and color for the hotspot.
Afterward, update the scene, and you'll find an icon that has appeared on the tour. But you can only see the custom icon after you embed the tour onto a page or a post.
Step 6 – How to Add a WooCommerce Product
A great thing about WooCommerce Addon is your prospects can directly shop from your virtual tour.
Before adding a product to your virtual tour, make sure you have the product enlisted in your WooCommerce store. At first, you'll have to specify the Hotspot as "WooCommerce Product".
Add a hotspot. Provide an ID
Find what product you want to enlist.
Select Pitch & Yaw
Then Add the Product, Hotspot Custom Icon & Color, and On Hover Content.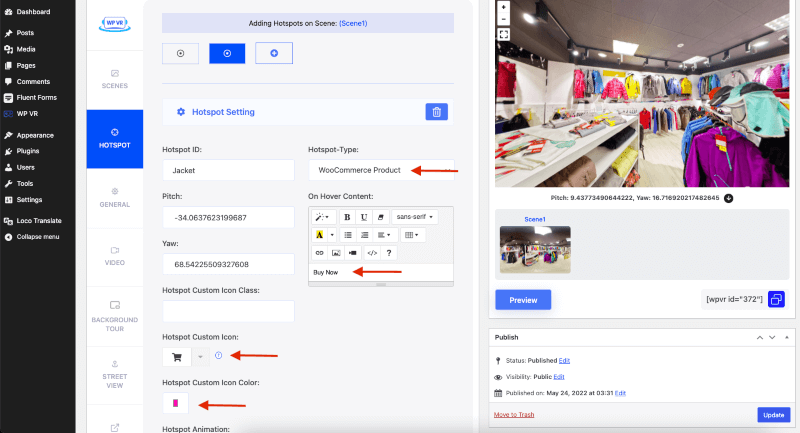 Try to keep your On Hover Content that speaks action. Keep the content like "Buy Now" or "Add Dress to Cart Right Away".
Once you've completed setting up the WooCommerce Product. The modifications will be stored once you update the tour.
Frontend Preview
Let's have a look at the frontend preview of WooCommerce Addon. This window appears when you click on the Hotspot.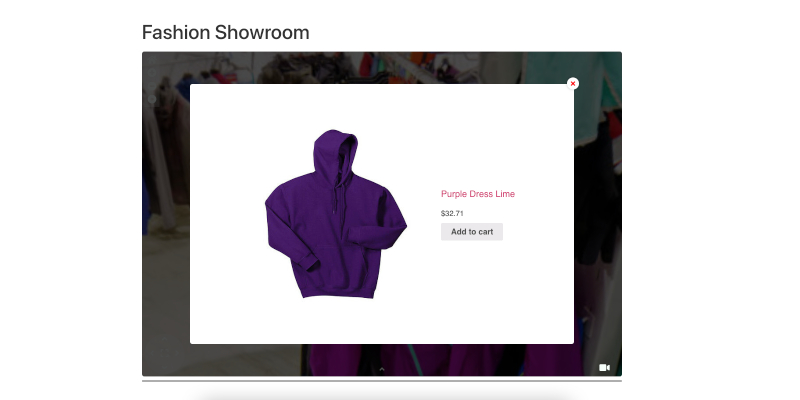 Let's add the Product to the cart and see what happens.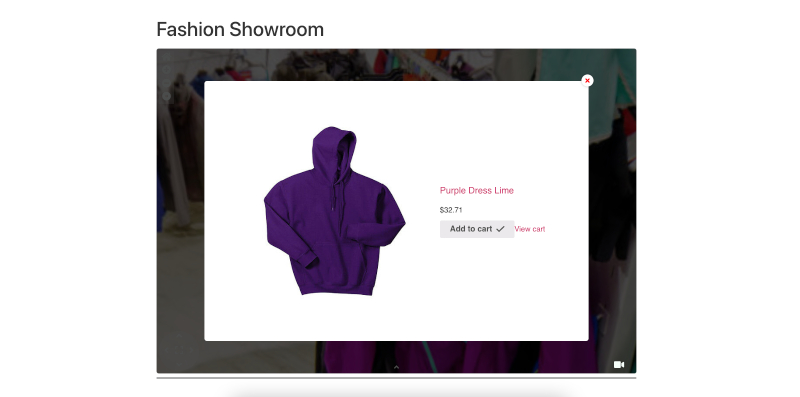 And to make sure that the product has been added to the cart, let's redirect to the "View Cart"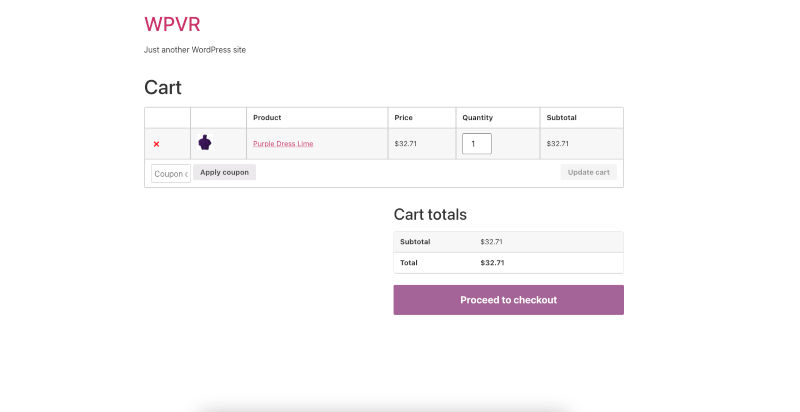 And that's it. Your Product has been added to the cart.
That concludes the discussion. Now, step up your game and impress your prospects by building an amazing virtual showroom tour. With perfect virtual reality showroom tours, make your prospects fall in love with your brand.
Summary
Virtual Showrooms will improve your sales along with lowering the cost of the physical showroom. Your business will almost certainly reach a greater audience if you choose the virtual approach.
It doesn't matter if you own a furniture showroom or a fashion house. Your ultimate goal should be to provide the best service to your potential clients.
And a virtual showroom tour might just be the game-changer you were looking for.
So go ahead, and create your own virtual showroom tour now using WPVR.