WooCommerce Product Feed Manager by default comes with feed templates of 66 major supported merchant shops:
Google Shopping
Google Adwords
Google Dynamic Search Ads
Google Local Products
Google Local Products Inventory
Google Merchant Promotions
Amazon Seller Ad
Facebook Dynamic Ads
AdRoll.com
Yandex
Billiger.de
Pricerunner
Twenga.nl
Beslist
RSS Feed
Kelkoo.nl
Pricemasher
Pricesearcher
Tweakers
Kieskeurig
Heureka
Scoupz
Pixmania
Trovaprezzi
Coolblue
Kleding
Ammoseek
Ladenzeile
Zbozi
Liveintent
Skroutz
Idealo
Uvinum/DrinsksAndCo
Walmart Marketplace
Instagram
Pinterest
Rakuten
Nextag
Pricegrabber
Kelkoo
Bing Ads
Become
Shopzilla
Shopping
Vergelijk.nl
Marktplaats
Choozen
Fashionchick
Crowdfox
Shopmania
Daisycon
Spartoo
Sooqr
Koopkeus
CDiscount
Ceneo
Ciao
Pricespy
Prisjakt
Powerreviews
Winesearcher
Otto
Sears
Fnac
Zalando
Preis
However, the with WooCommerce Product Feed Manager Pro, you can get 9 more large supported merchant site product feed templates:
EBay (MIP)
EBay Seller Center
Bol.Com
Google Remarketing (DRM)
Google Product Review
Fruugo
Leguide
Connexity
Wish.Com
Enable more supported merchant sites (Pro)
You will need to have the Pro version of the plugin to get this feature.
Go to Dashboard > Product Feed > Settings.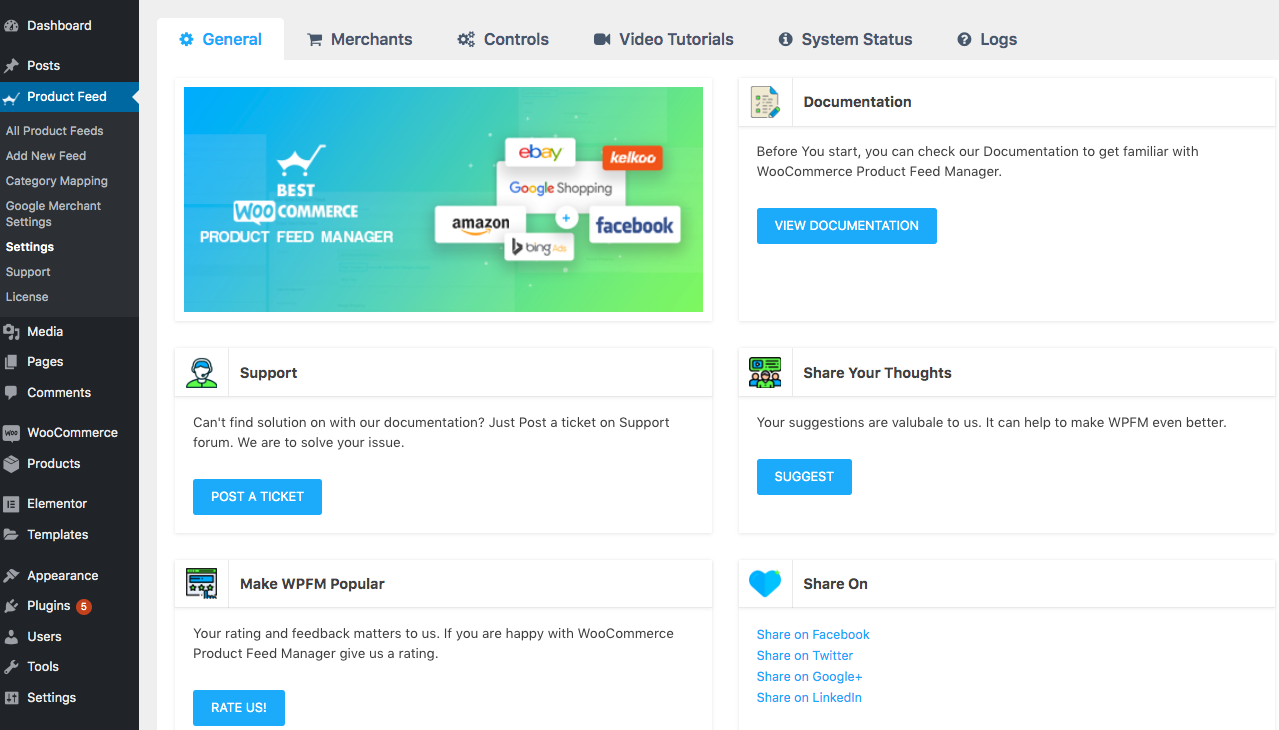 On top, click on the tab called Merchants.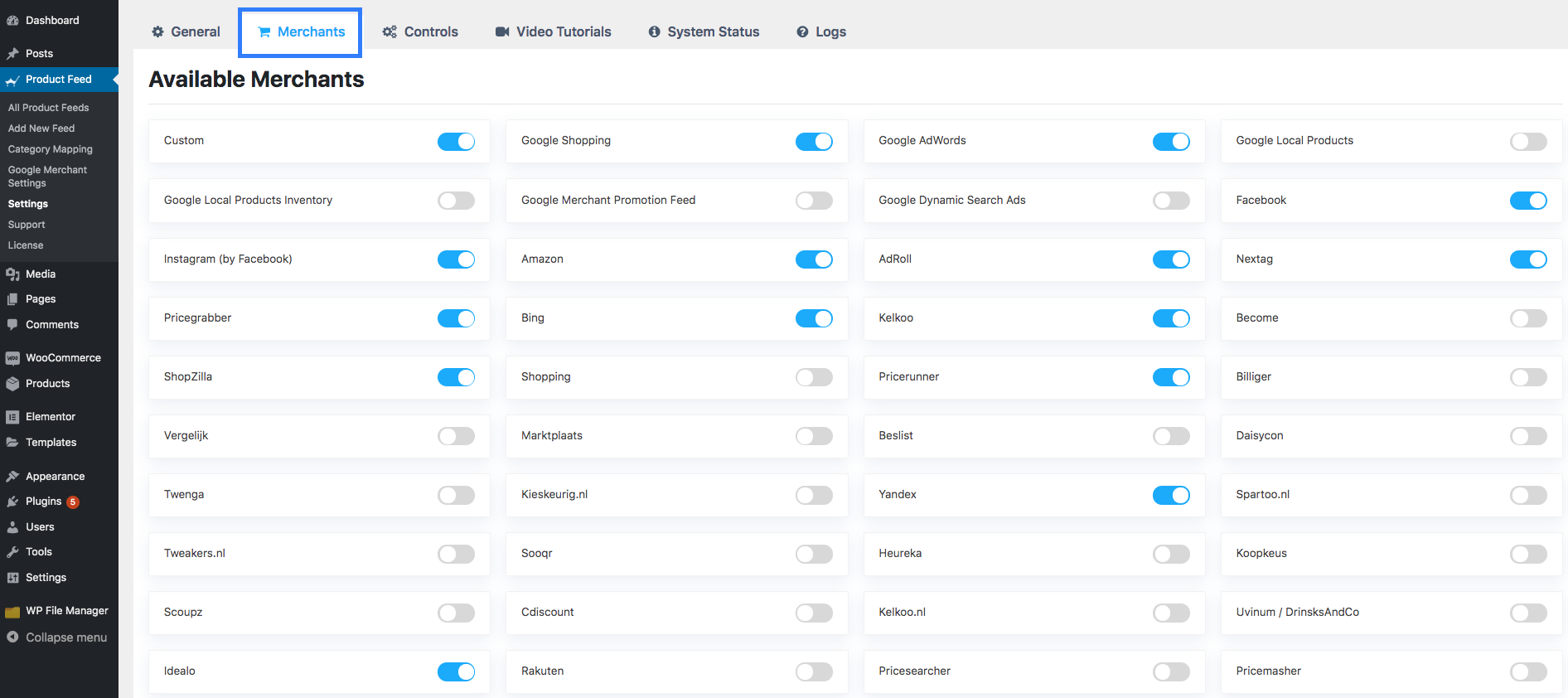 It will give you options to enable or disable merchant feed for all 66 supported merchant shops.
Simply toggle the button beside the merchant site in question.
**Blue means enabled and Grey means disabled.
Let's say you enabled eBay (MIP).

Then check if it was added.
Edit an existing feed or add a new feed. Scroll down to the Feed Configuration section and click on the field for Merchant Type and you will find eBay (MIP) added to the list.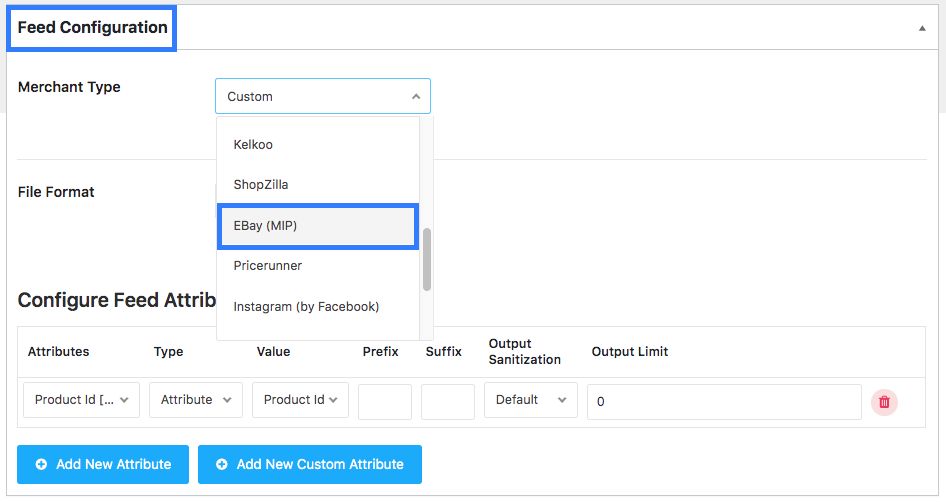 eBay (MIP) feed generation
Unlike most merchant sites, eBay (MIP) has a different product feed format.
However, you can generate the required product feed that will be approved by eBay (MIP).
To generate a product feed for eBay (MIP), you can follow the same way as you do to generate product feed for other merchants such as Google Shopping or Facebook Dynamics, expect one small step.
Once you set all the options for generating a product feed, and choose eBay (MIP) as the merchant type, you should get all the required fields ready.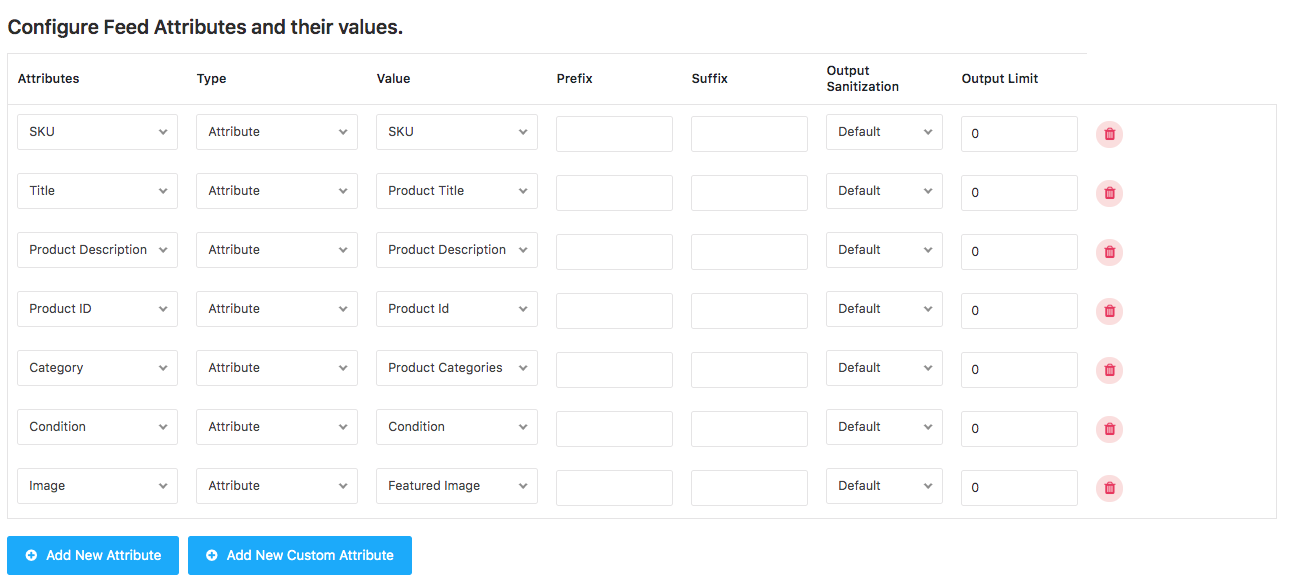 Now, you can see that all the Attributes are assigned as 'Attribute' under the Type column.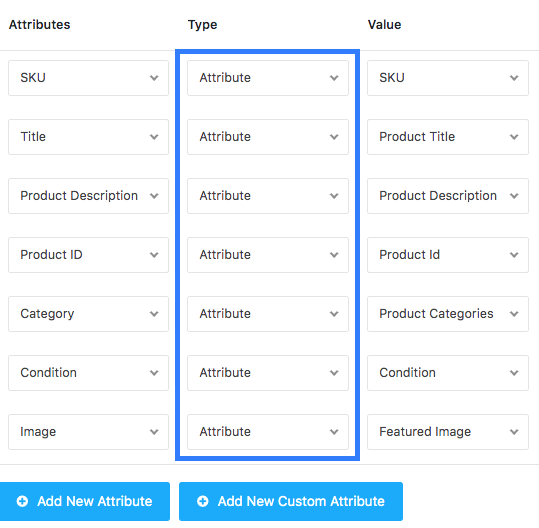 Here, you need to change Type to eBay Attribute for all the Attributes.
Simply click on the dropdown arrow and you will get four options, Attribute, Static, eBay Attribute, and eBay Shipping Attribute.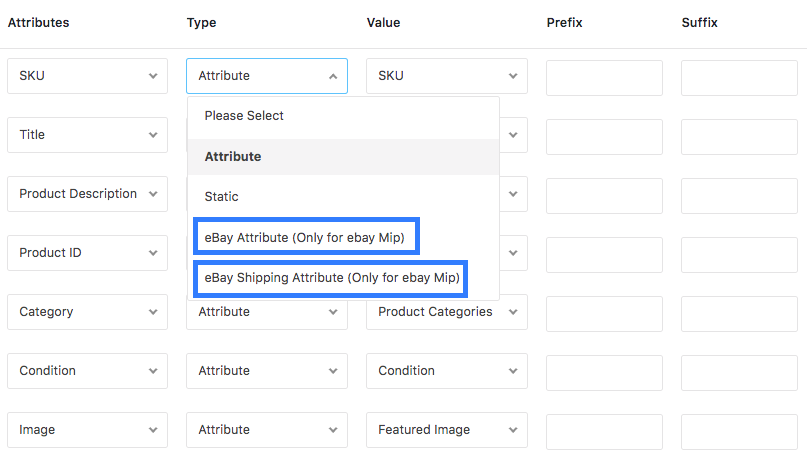 Choose eBay Attribute. Do this for all the Attributes Type.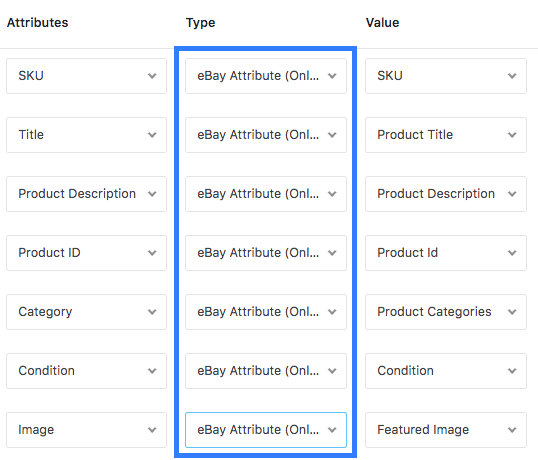 If you want eBay shipping attribute, Choose eBay Shipping Attribute. Do this for all the Attributes Type.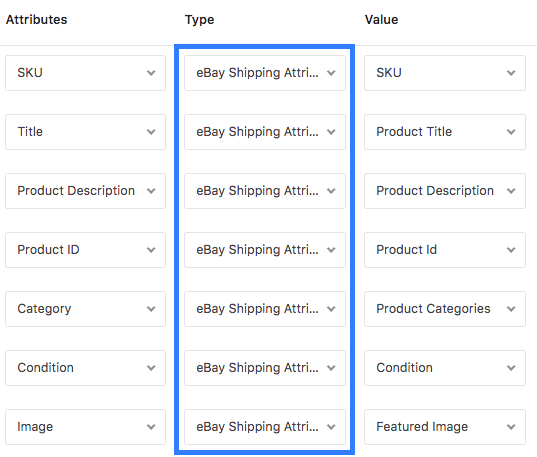 That's it. Now you can go ahead and publish or update the feed file, and it will be generated in the right format for eBay (MIP).