Plugin Dashboard
Once the plugin is installed and activated, you will find the plugin and its features on your dashboard as shown in the image: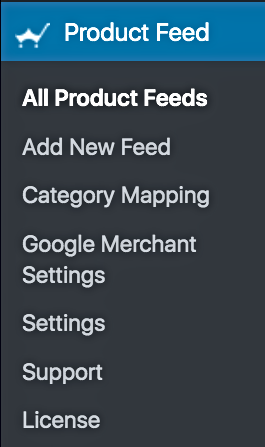 You can see, it has the following options:
All Product Feeds
Add New Feed
Category Mapping
Google Merchant Settings
Settings
Support
License
All Product Feeds
All the product feed you generate will be listed here.


Here, you will be able to get stats about the feed you created which includes:
Feed Title
Merchant/Marketplace you generated feed for
Feed URL
The refresh interval you set to auto-update the feed
The feed status
Options to view or download the feed
Total product count with a breakdown for each product type
Date of publishing
Add New Feed
Go to this menu if you want to create a new product feed list.
More details on it here: How to generate a product feed?
Category Mapping
Some merchants/marketplaces such as Google has their own set of rules regarding assigning the category for products.
However, it does not make sense to change the product category of your store to match the category list of the required merchant.
You can use the category mapping feature where you will be able to map the categories of your store according to the category list of your required merchant.
When you generate feed, you can assign these mapped categories to be included in the feed and not the category in your store.
More details about it here: Category Mapping Set Up
Google Merchant Settings
You can auto-sync your store's product feed directly with Google Merchant Center using WooCommerce Product Feed Manager.
Once you set this up, your feed will automatically be uploaded on Google Merchant Center; you will not have to download and upload manually.
More details about it here: Auto-sync with Google Shopping
Settings
This menu will provide you with documentation, tutorial videos and a way to contact our support team.
Plus, you have the option to upgrade to Pro (in the free version) here, choose required merchants and enable pro features such as custom fields, set batch limit, etc.
Here, you can see several useful tabs on top:

Here, you will be able to get stats about the feed you created which includes:
Merchants
Controls
Video Tutorials
System Status
Logs
>Merchants
There are over 50 supported merchants & marketplaces for which you can generate product feed using WooCommerce Product Feed Manager Pro.
This tab will let you enable or disable the merchants as per your requirements.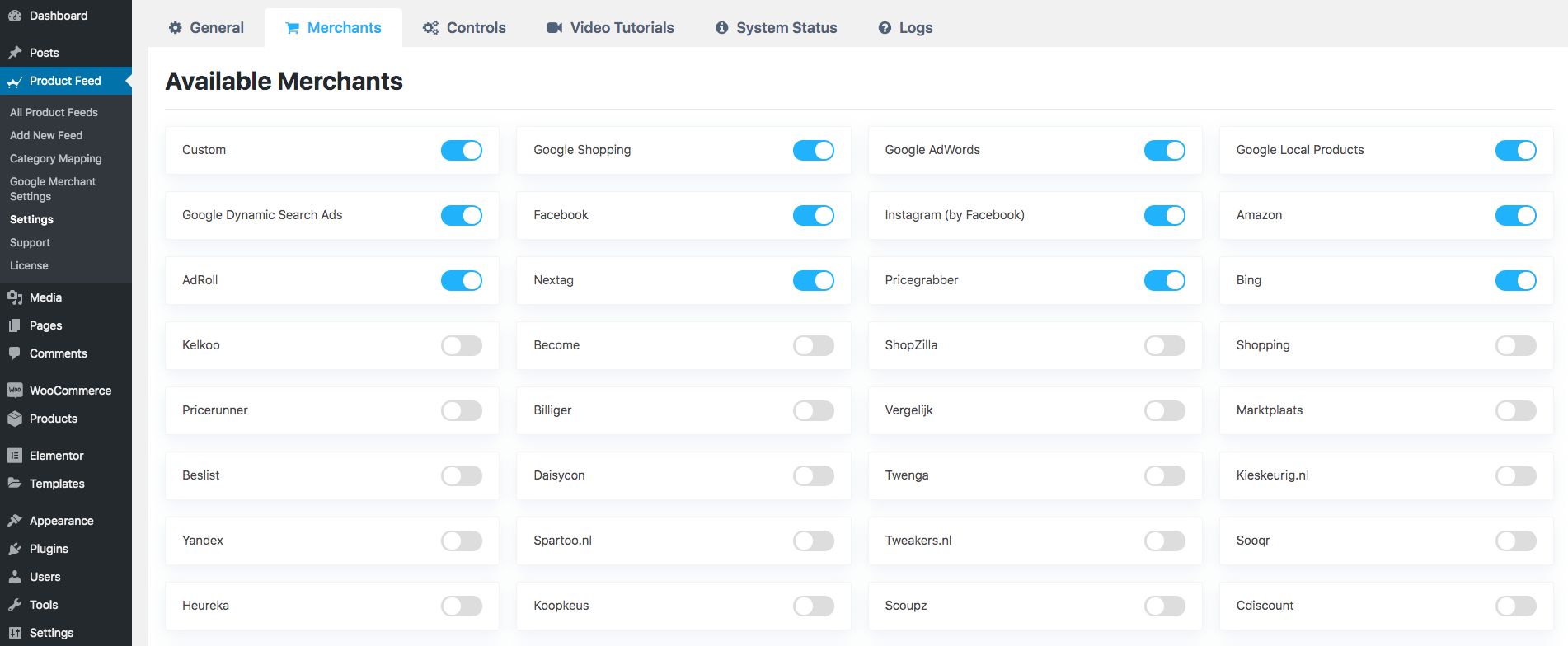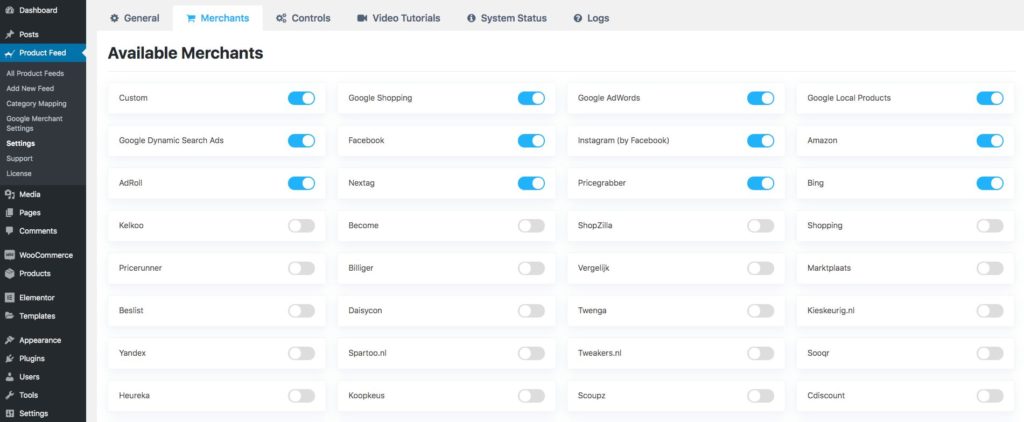 As you can see, when you click on the button on the right, it will turn blue when enabled and ash when disabled.
Once you enable your required merchants here, when you try to generate feed, you do not need to scroll through a long list, you will only see the merchants on the list that enabled.
FYI:
There are about 9 merchants/marketplaces that are only available in the Pro version and will be disabled here by default unless you activate the Pro license.
Here are more details about it:
How to enable merchants in Pro plugin?
>Control
In this tab, you will be able to enable/disable custom identifier and attribute fields, JSON-LD for structured data, edit batch limit and Excluding TAX from structured data prices.

More details about it here:
Enable custom fields and other Pro features
>Video Tutorials
Here you will be able to view video tutorials on using the plugin, without leaving your site.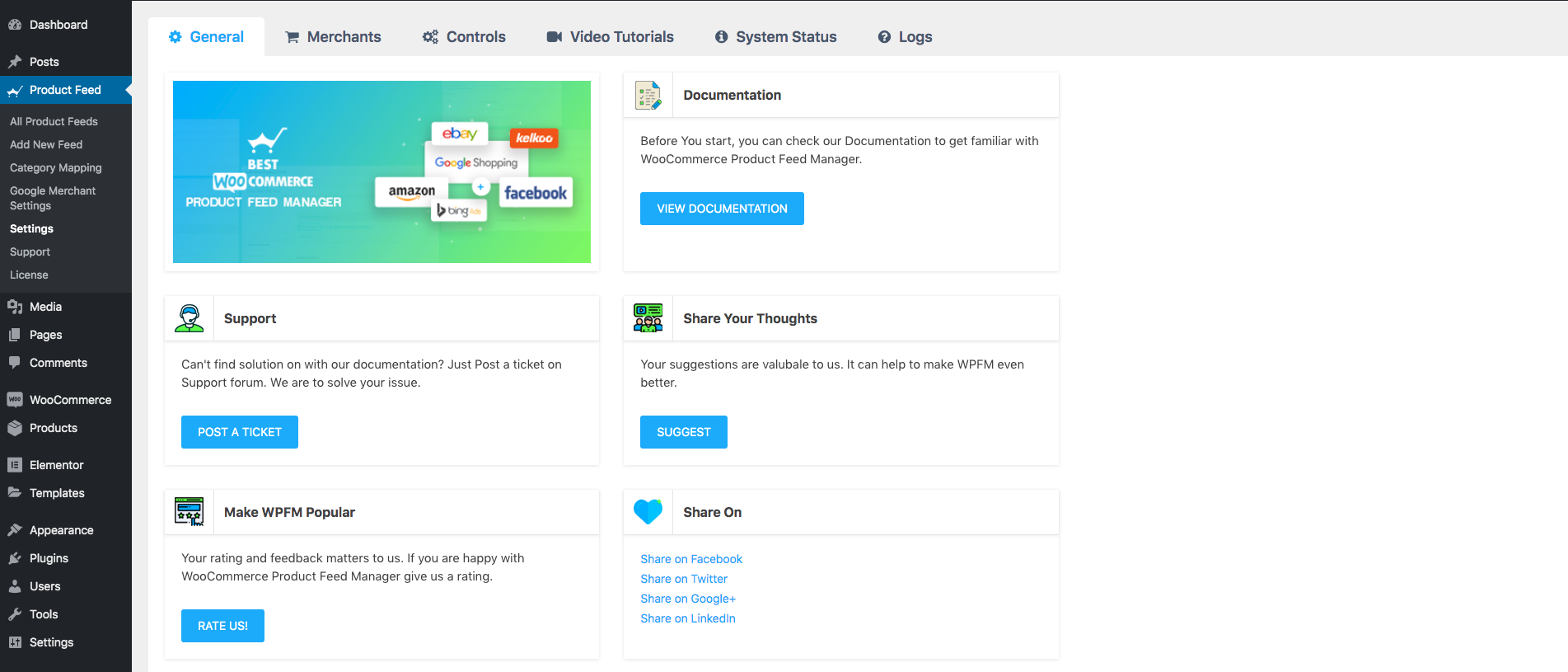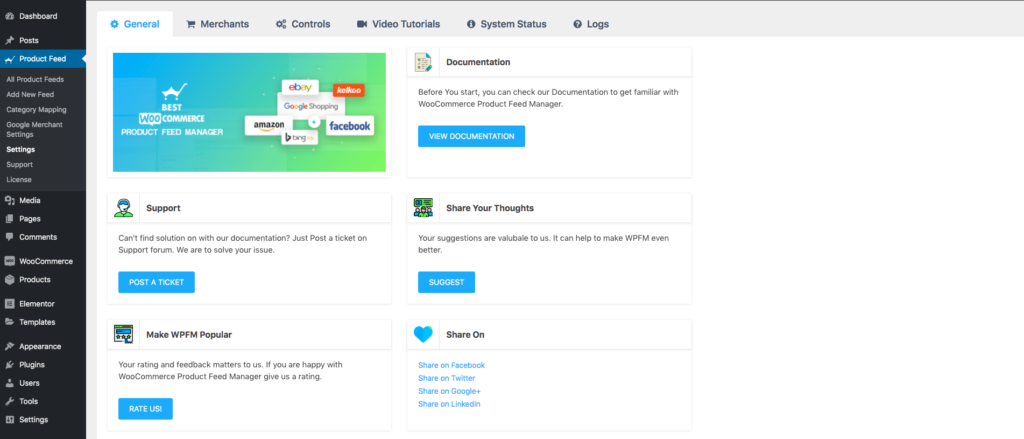 Here's our Youtube tutorials playlist.
>System Status
In this tab, you will information about your system to understand it's compatibility with the plugin.


It provides the following data:
Here, you will be able to get stats about the feed you created which includes:
PHP version
WordPress version
WooCommerce Version
Memory
Upload Limit
WP Cron
Product Feed Directory Writable
As you can see above, the data are in green color. This is because the requirements are met for plugin compatibility.
If any of the requirements are not met or insufficient, then they will appear as red.
>Logs
All plugin activity logs are kept here.


The logs are especially helpful to identify issues.
Support
Clicking on this menu will redirect you to our support forum, where you can open a thread to discuss any issues you face.
License
When you have the free version, this menu will rather say 'Upgrade To Pro' which you can click to be redirected to the Pro landing page.
Once you have the Pro plugin installed and activated, this Menu changes to 'License'.
Here you can activate or deactivate the Pro license when required.
Here're more details on upgrading to Pro:
–How to upgrade to Pro?